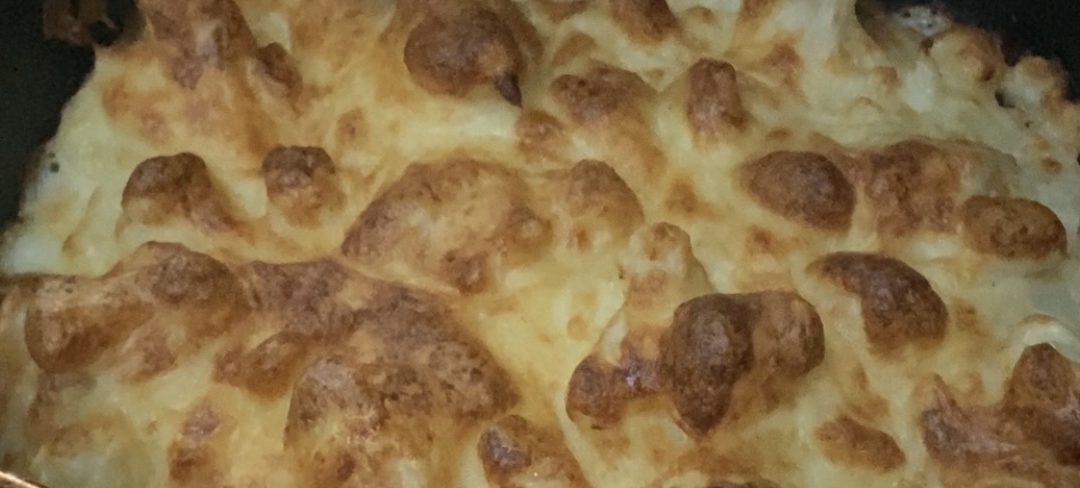 Delicious, healthy and easy to make – this low-carb cauliflower bake will have you begging for seconds!
Serves 5
Ingredients:
1 large head of cauliflower, broken/cut into florets
6-8 rashers bacon, chopped
1 brown onion, sliced
6 Tbsp chives, chopped
1/2 cup cream cheese
1/2 cup sour cream
2C cheese, grated (a combo of mozzarella and tasty is good)
250 g mushrooms, sliced
1 zucchini, grated
1-2 tsp garlic powder
1 tsp herbamere (optional)
Method:
Preheat oven to 180C (omit if using air fryer).
Steam cauliflower lightly.
Fry onion and bacon in a pan. Add garlic powder and cook until onion is transluscent.
In a large bowl, combine sour cream, cream cheese, 1/2 of crumbled bacon & onion, mushroom, zucchini, 3 Tbsp chives, 1 cup cheese, cauliflower and herbamere. Mix well.
Place mixture in baking tray and top with remaining cheese and bacon.
Bake in oven or air fryer for 15-20 minutes or until cheese is golden and bubbling.
Top with remaining chives and serve.
Everything is optional! Use what you have. This picture is a super basic one using what I had in the fridge which was just cauliflower!