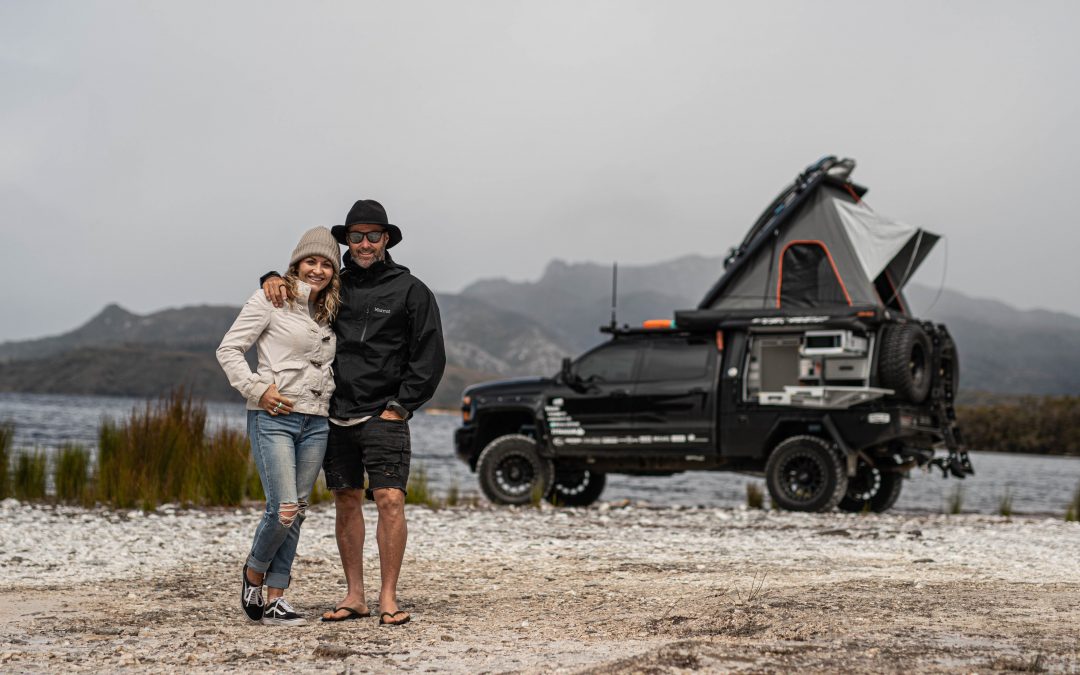 WHERE IS YOUR TRUCK BUILD VIDEO??? Yes, we hear you! And we feel it's time we give you some answers.
We had really hoped that by now we would have had a full Chev build/run-down video posted … and we know you were hoping for the same thing as we get so many requests for it every day! We thought we'd better explain exactly what's going on and why there's no build video to be seen.
It's a pretty straightforward reason really – the truck isn't actually finished yet. Covid really made this build a tricky one; parts went missing (lost at sea ), wrong parts were sent, and some parts are still on backorder with no known arrival date.
So, what we have decided to do is a complete run down on the GCI Traytec canopy as this is one of the most common questions we get asked.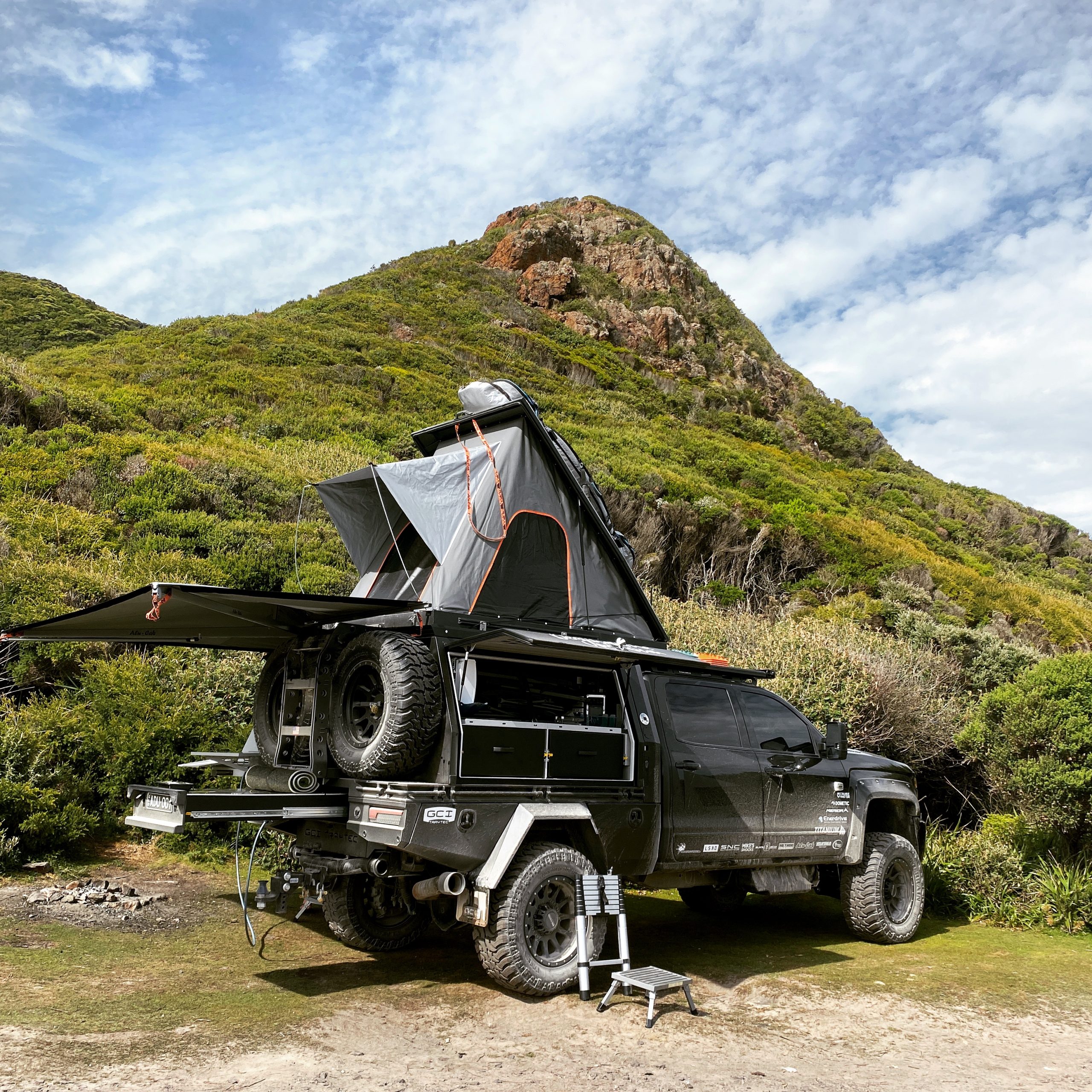 Why GCI Traytec? We believe without a doubt, that they are the best in the business. The innovation, styling, design, quality and precision are just some of the qualities that set them apart and has us being pulled over in the street!
The design is 100% Australian with all the work being completed at GCI Traytec which is part of GCI group. GCI group is one of the largest sheet metal fabrication businesses in Australia. The majority of the trays and canopies are manufactured at GCI, however the zinc plating on the mounts and some plastic CNC machining is outsourced.
Design, programming, laser cutting, CNC folding, welding, machining, powder coating and assembly is all done under the one roof in South East Queensland. The aluminium grades used are 5005, 5052, 5083 and 6061. There are zero raw aluminium surfaces as everything is powder coated.
Mounts are made from mild steel to ensure strength yet allowing for flex and copping a beating off-road without cracking or failure. The mounts are also zinc plated which means they don't rust.
THE TRAY:
Specs: 2000mmx2000mm tray, 900mm high, with a 200mm thick headboard.
HEADBOARD:
The headboard is designed in this way to match the C-pillar, allowing the tray to flow with the design on the car. In the headboard there is a 60L 316 grade (food grade) stainless steel water tank that gravity feeds into an under tray 100L stainless tank that is made from the same 316 stainless steel. It's then pumped using a 9.5L/m 65PSI pump to the twin outlets on the rear of the tray. One outlet is for the hot water system/shower, the other is for the kitchen. Every component of the water system from filler to outlet is food grade.
The headboard also houses options for dual water and fuel fillers. The fuel fillers work with truck pump high flow diesel with zero splash back.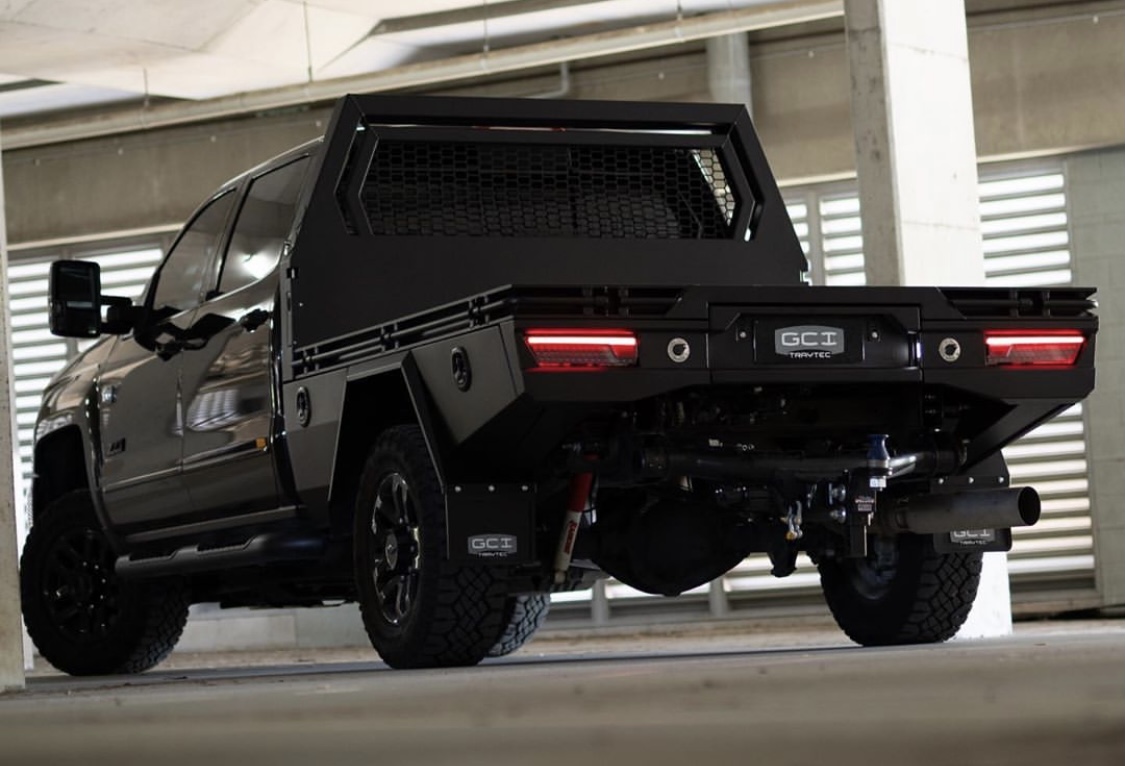 TOOLBOXES:
We have opted for toolboxes all round – these are actually drawers.
Front boxes are 51L and rear boxes are 32L. All boxes are on 16" (406mm) HD slides and are rated to 40kg per box.
They are all "box in a box" construction meaning there is an inner drawer and an outer box which gives the toolboxes their water and dustproofing. All side boxes have internal lighting.
The rear tunnel drawer is 1200mm long, 625mm wide and 150mm deep with stainless flip lid that doubles as a table. The rear tunnel drawer is also box in a box, meaning the stainless lid doesn't add or subtract to the water/dust proofing.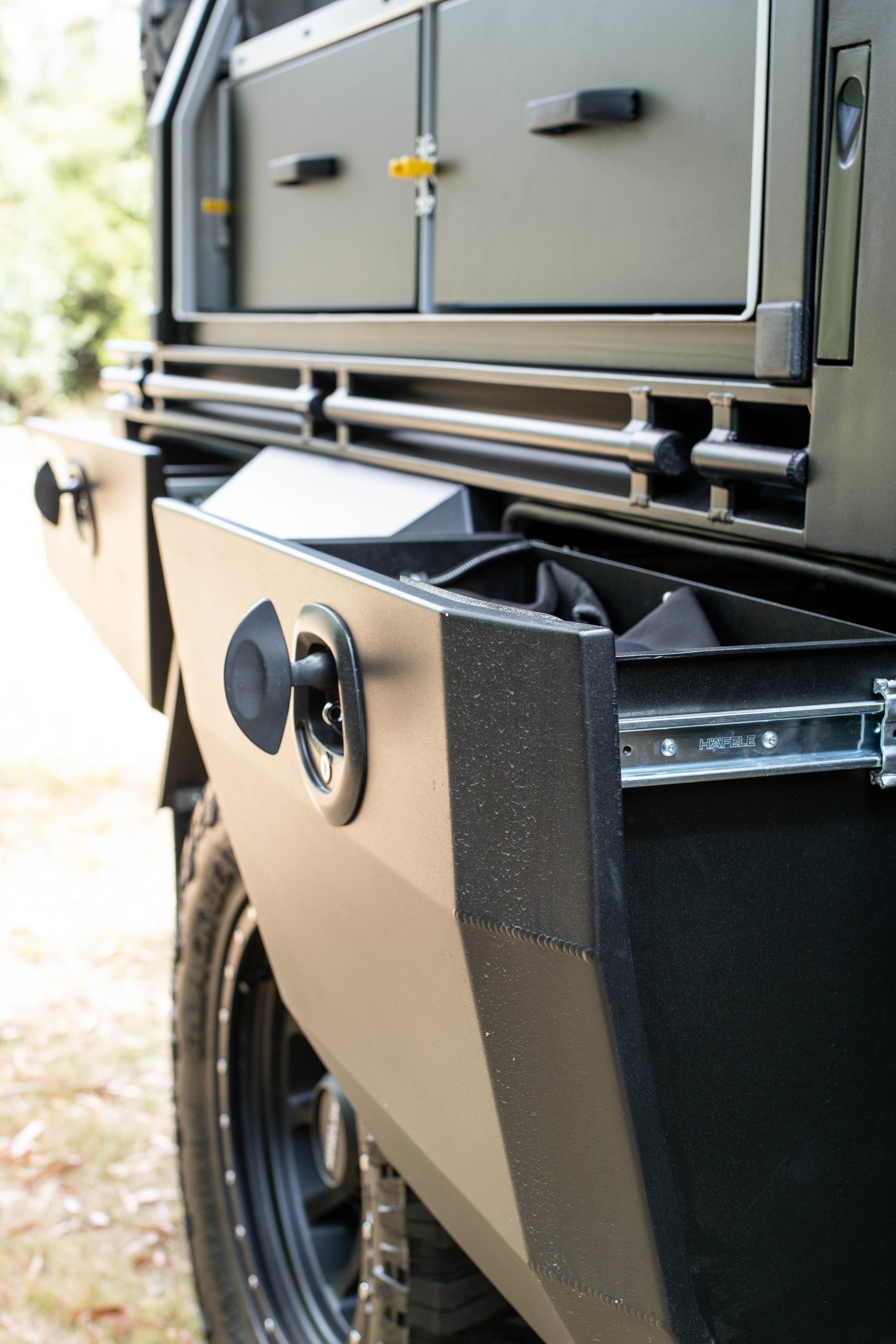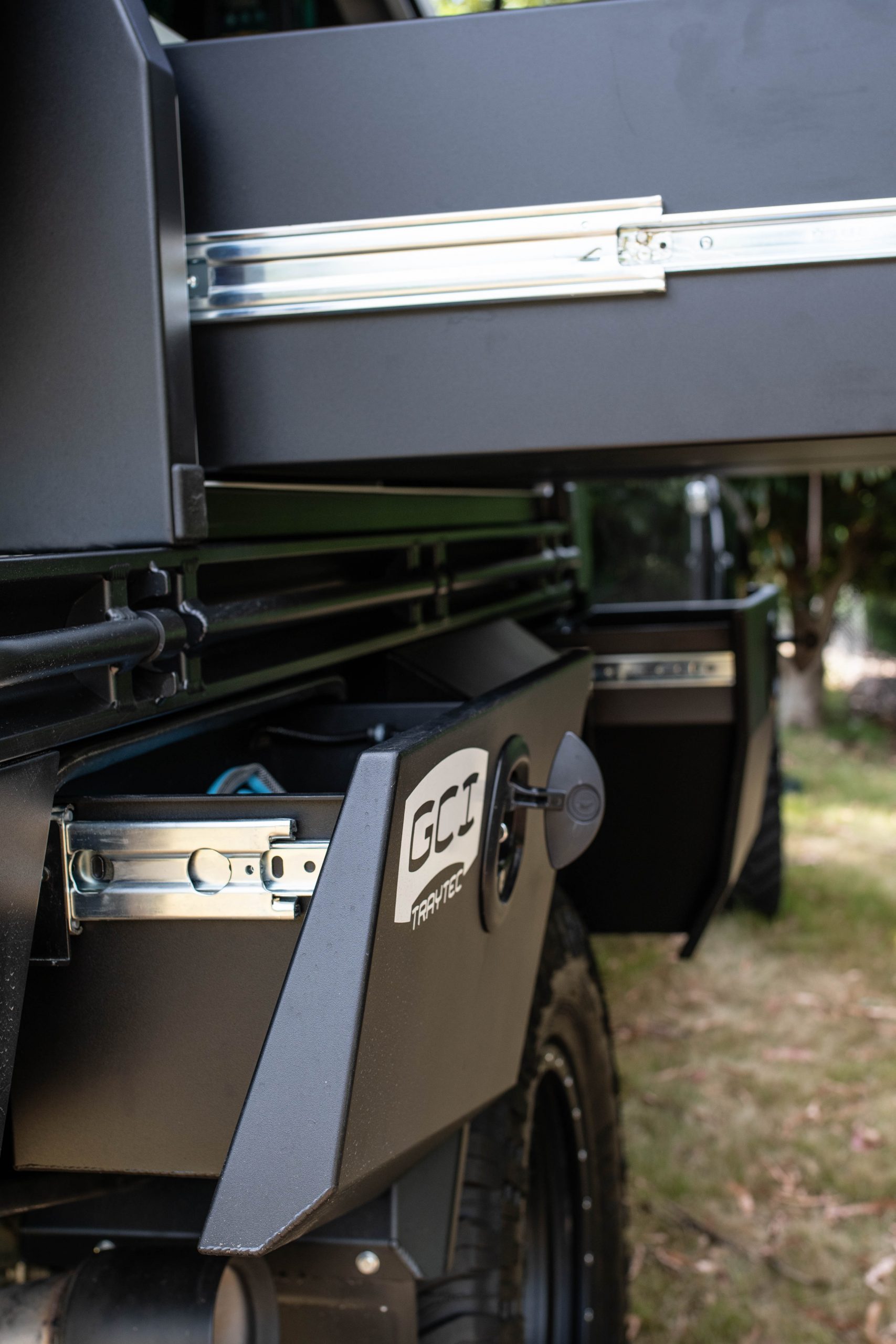 MODS:
• Extra wide mudguards for our 37"x 13.5" wide tyres. This is not a standard feature, but this stretched standard design is to ensure truck is legal.
• Winch infill plate (winch to go in at a later date)
• Window protector. You can't see this, but there's one on there!
• Central locking on entire canopy– wired into OEM remote.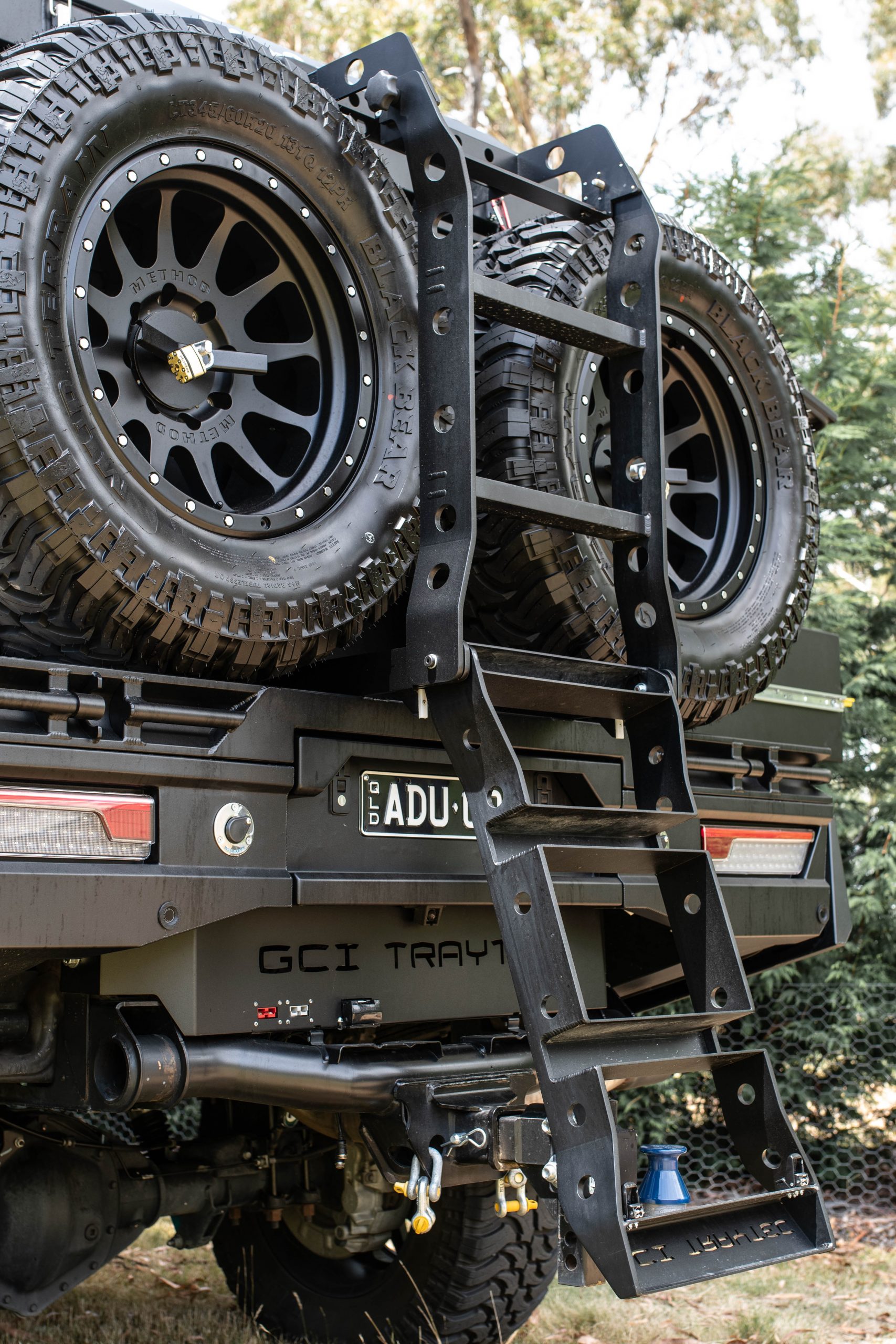 CANOPY
Size: 2000mmx1750mm
EXTERIOR
• Spare wheel holders to suit our 37" tyres
• Double folding rear ladder. Very similar to standard ladder, but it has had a redesign to allow for the 37s.
• Ladder uprights are 10mm thick, 5083 marine grade aluminium.
• Powder coat. This is a scratch resistant powder which is very hard wearing and super easy to clean with dust not sticking like it would to traditional 2-pac paints.
interior
• COLOUR
The internal colour is mercury silver. We chose this light grey colour as it is light enough to give an open feeling to the canopy but won't be blinding in bright sunlight and doesn't show every bit of dirt.
• LIGHTING
Both main doors have three colour strip lighting: white, warm white and amber.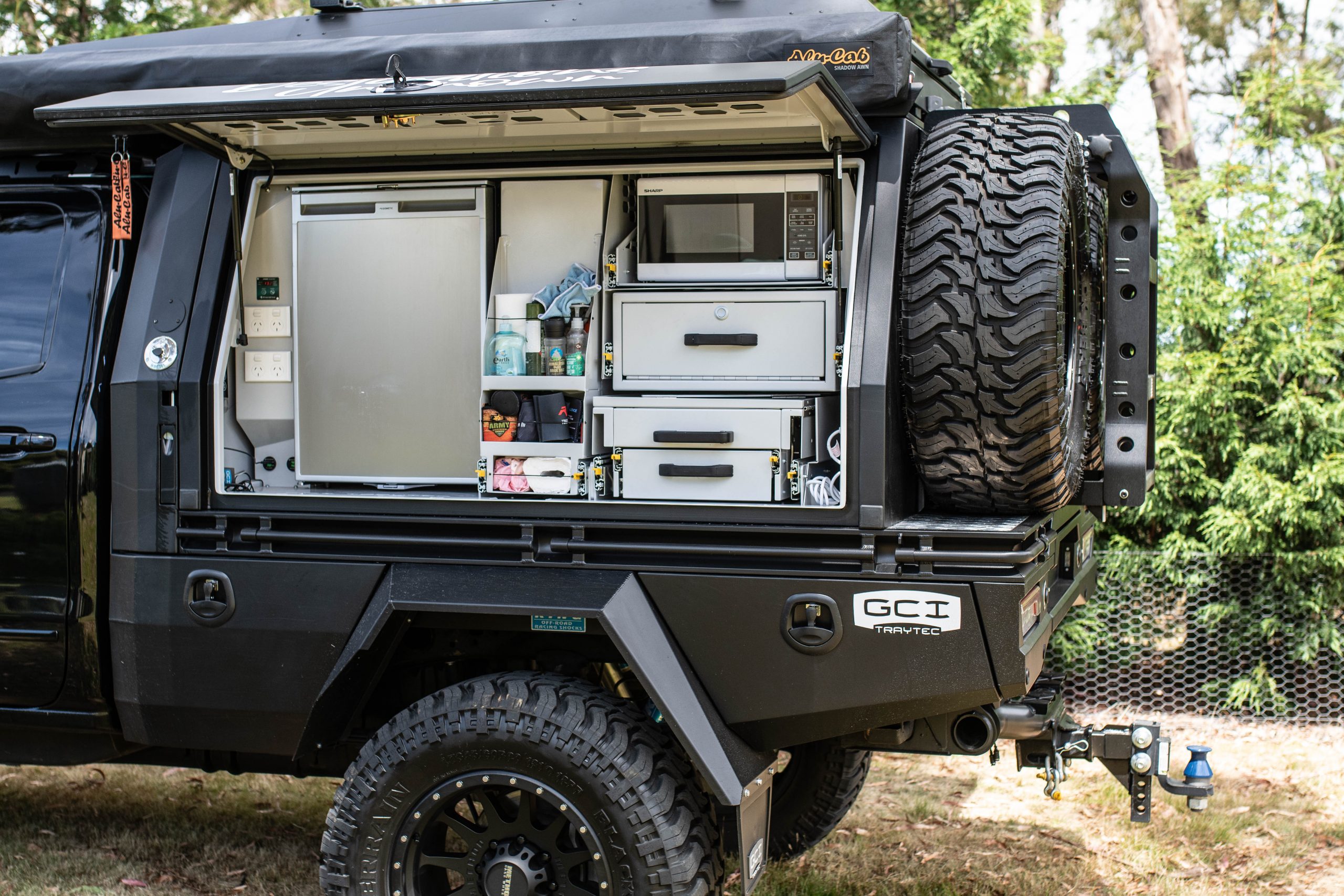 BATTERY SYSTEM
Enerdrive and GCI Traytec's design teams have worked together to create a fully integrated lithium battery power system. This entire system is housed on the driver's side front wall. Our system consists of the following:
• BTEC 300AH Generation 2 Lithium Battery (located under false floor)
• ePower DC2DC Charger capable of producing in excess of 40 amp per hour while traveling and supporting up to 800watts of solar.
• ePower Battery Charger that charges at a rate of 60 amps per hour via mains power or generator.
• ePower Inverter – suitable for running 240V household appliances rated to up to 2000W, complete with remote switch & RCD
• Simarine Battery Monitoring System
• External GPO in between spare wheels
• 6 x double GPOs
• 6 x double USB sockets
• 1 x standard 12v socket
• 2 x Anderson plug sockets
Don't forget you can get a discount on Everdrive products (and anything else you're after!) by heading to this page: https://www.aussiedestinationsunknown.com.au/caravan-rv-camping/ This is where you will find all the discount codes that can be used on the caravan rv camping website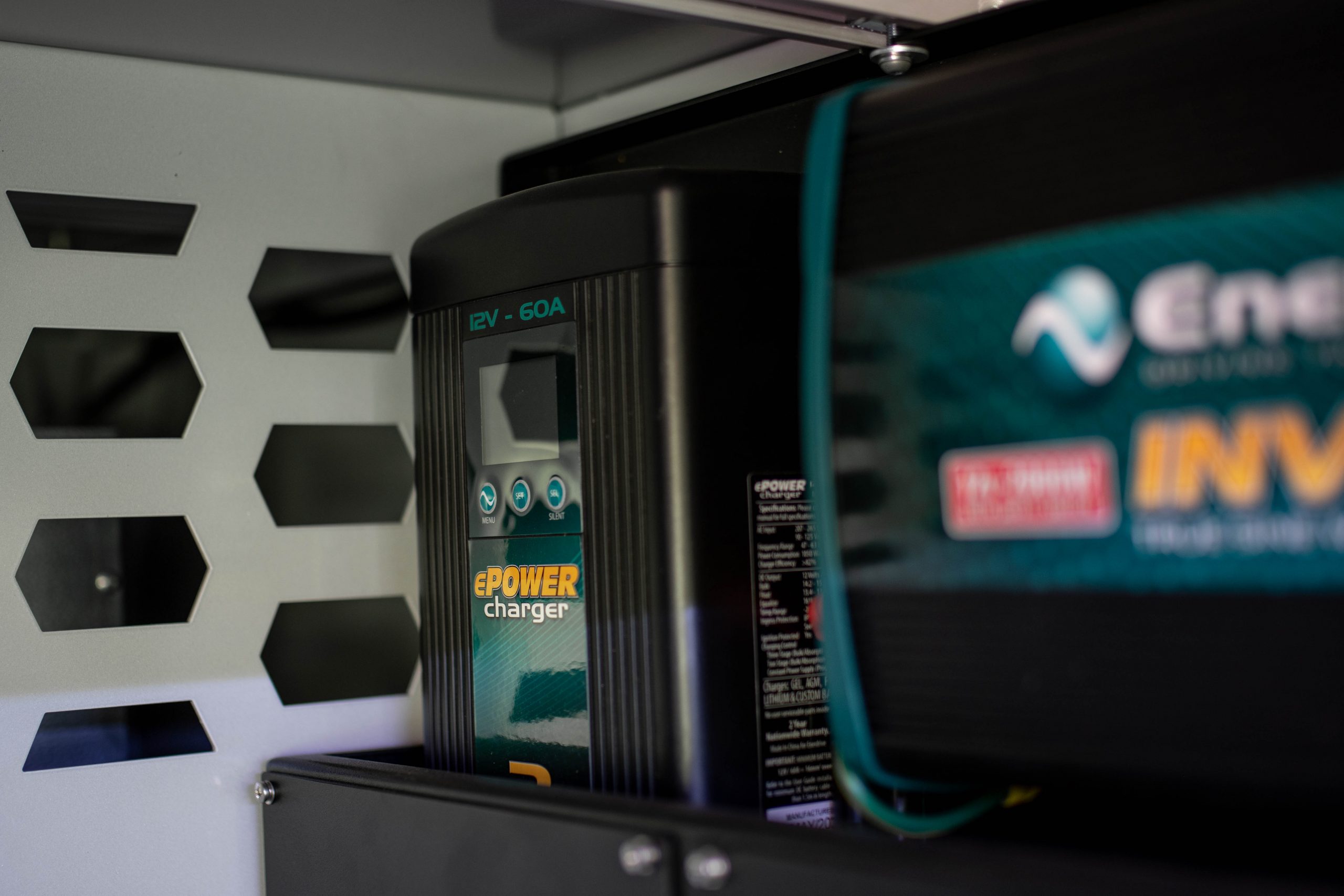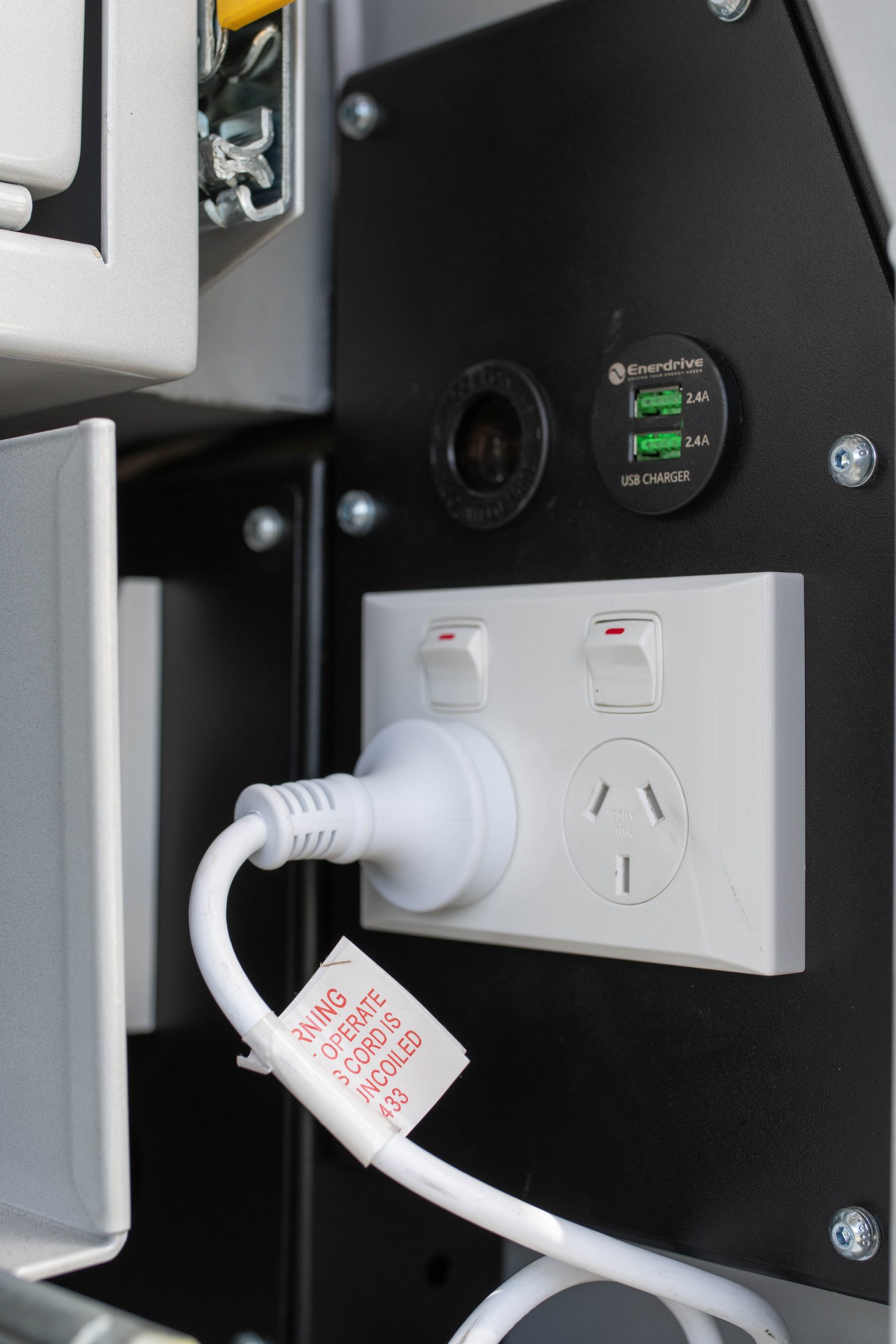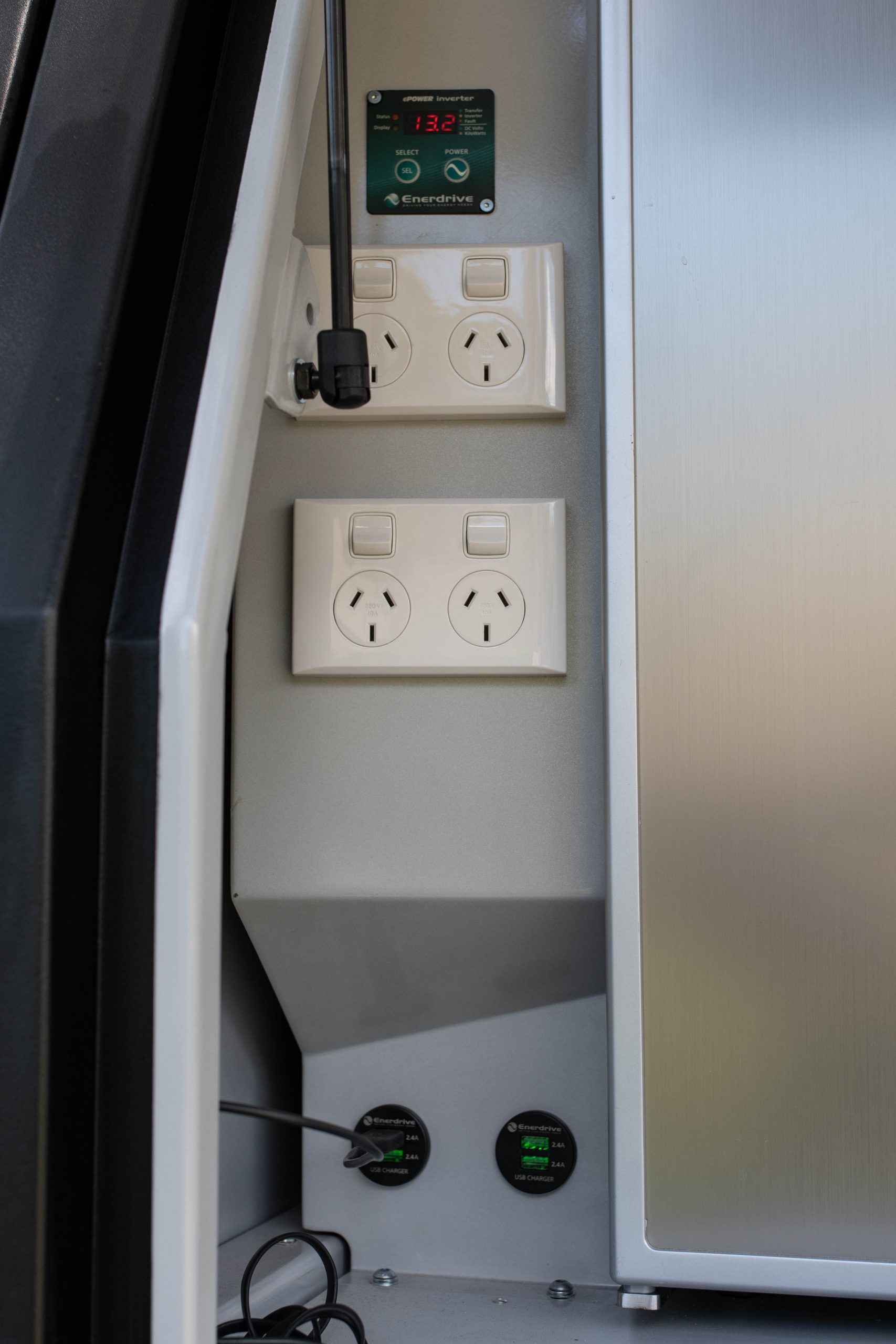 Also, on the driver's side of the canopy we have two large drawers and the Companion hot water system. This is mounted on a slide/pivot bracket which also has a storage area for our gas line, hose and shower head. The rest of the area has been left open for storage purposes (ie. Camp chairs, table, folding solar panel etc).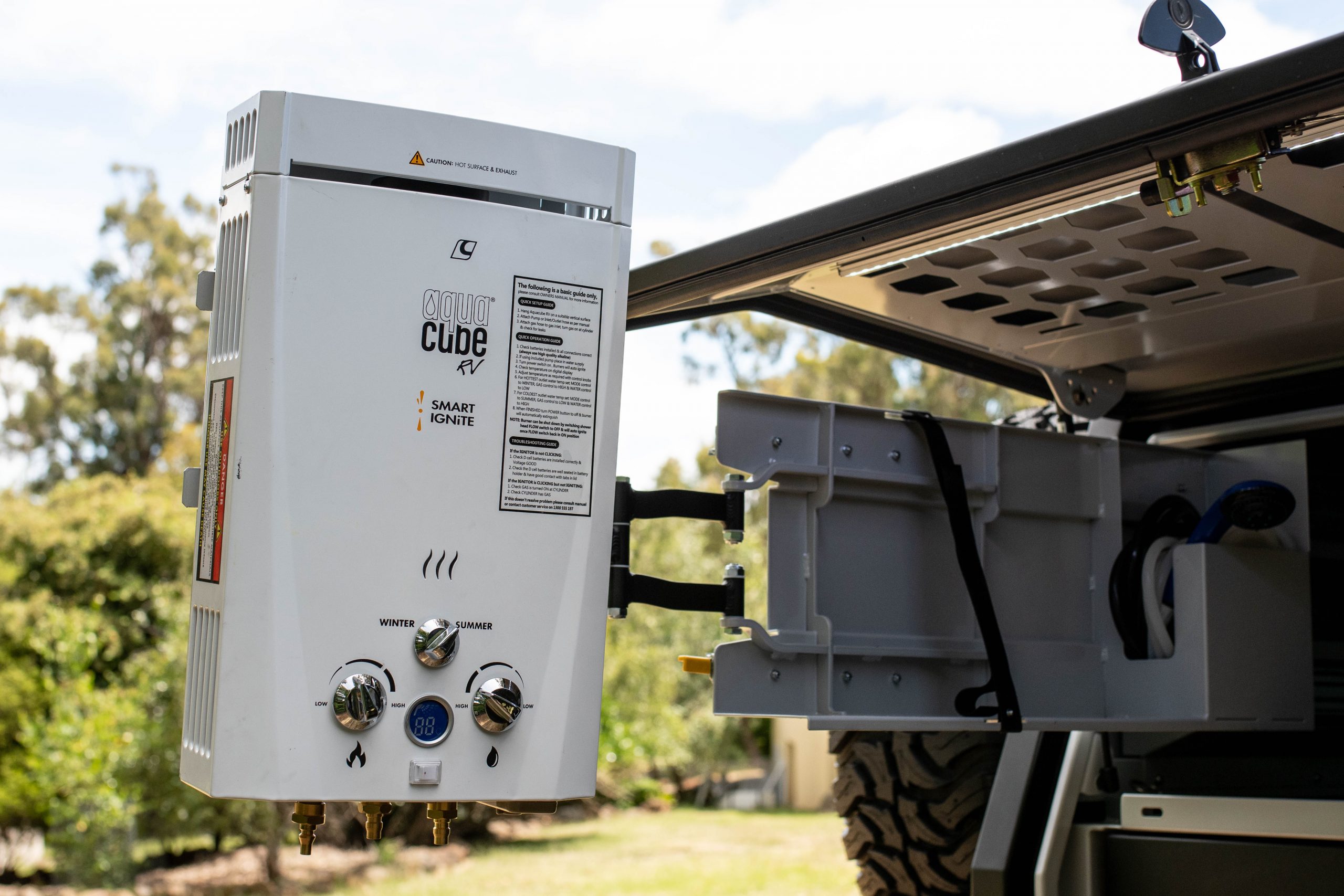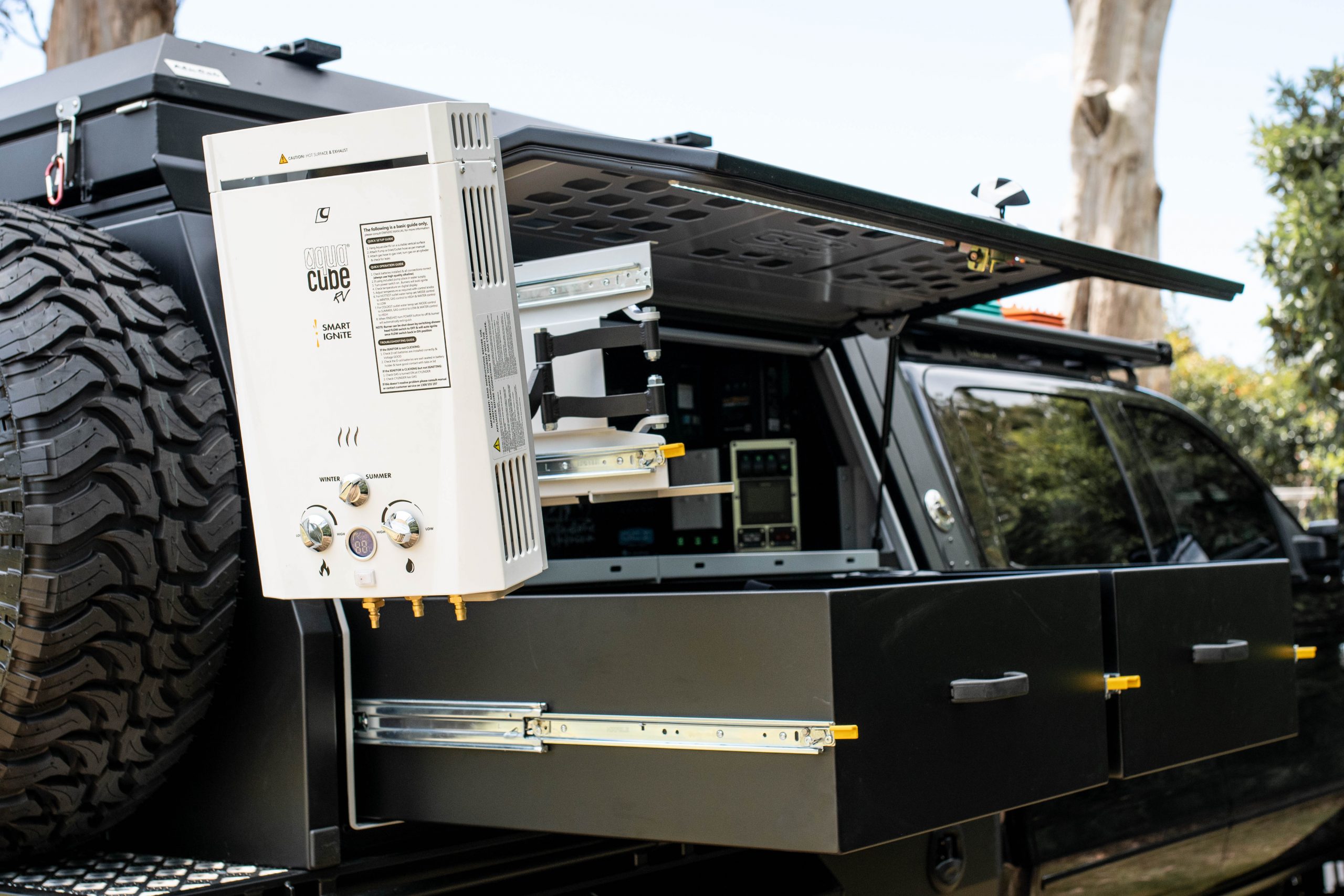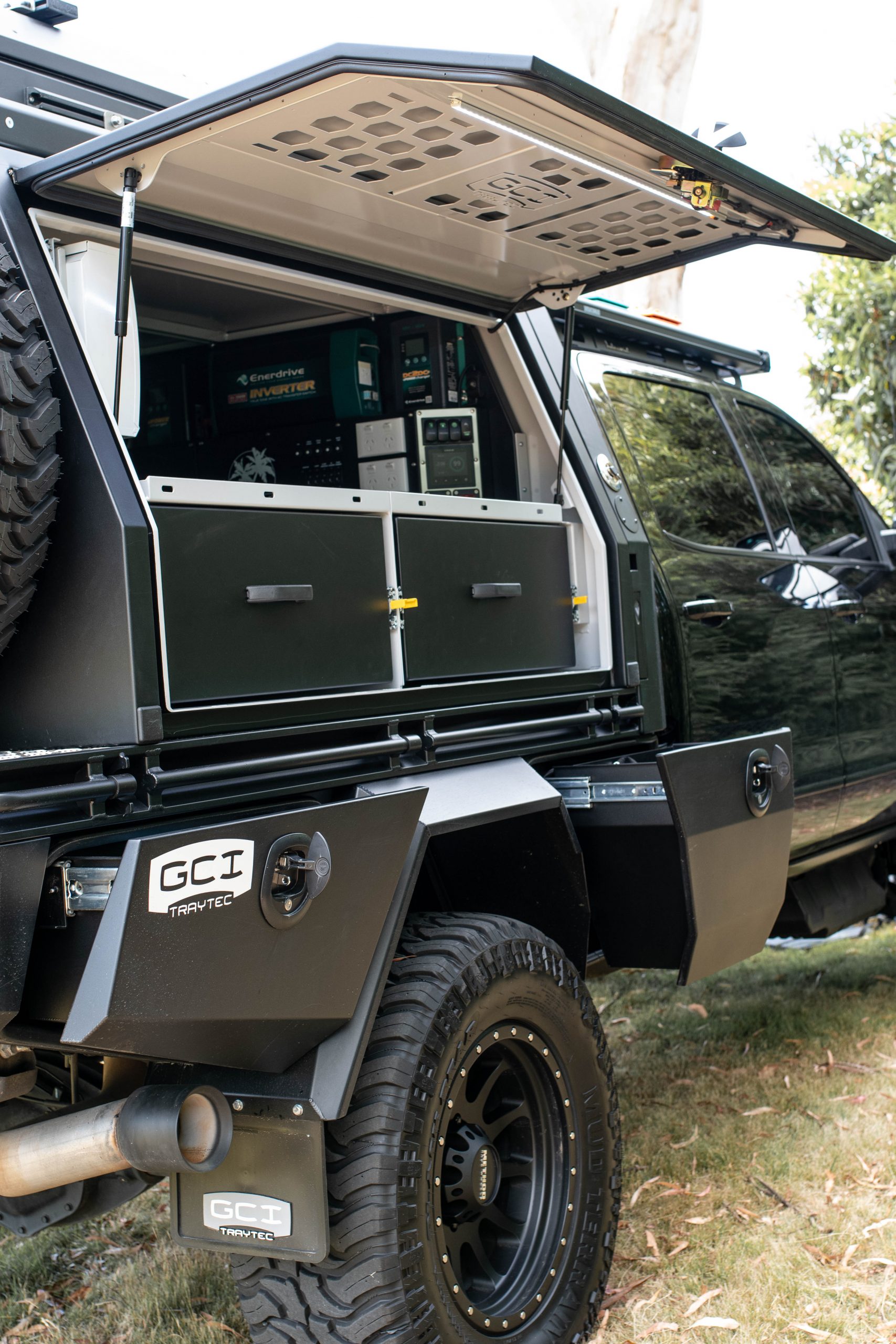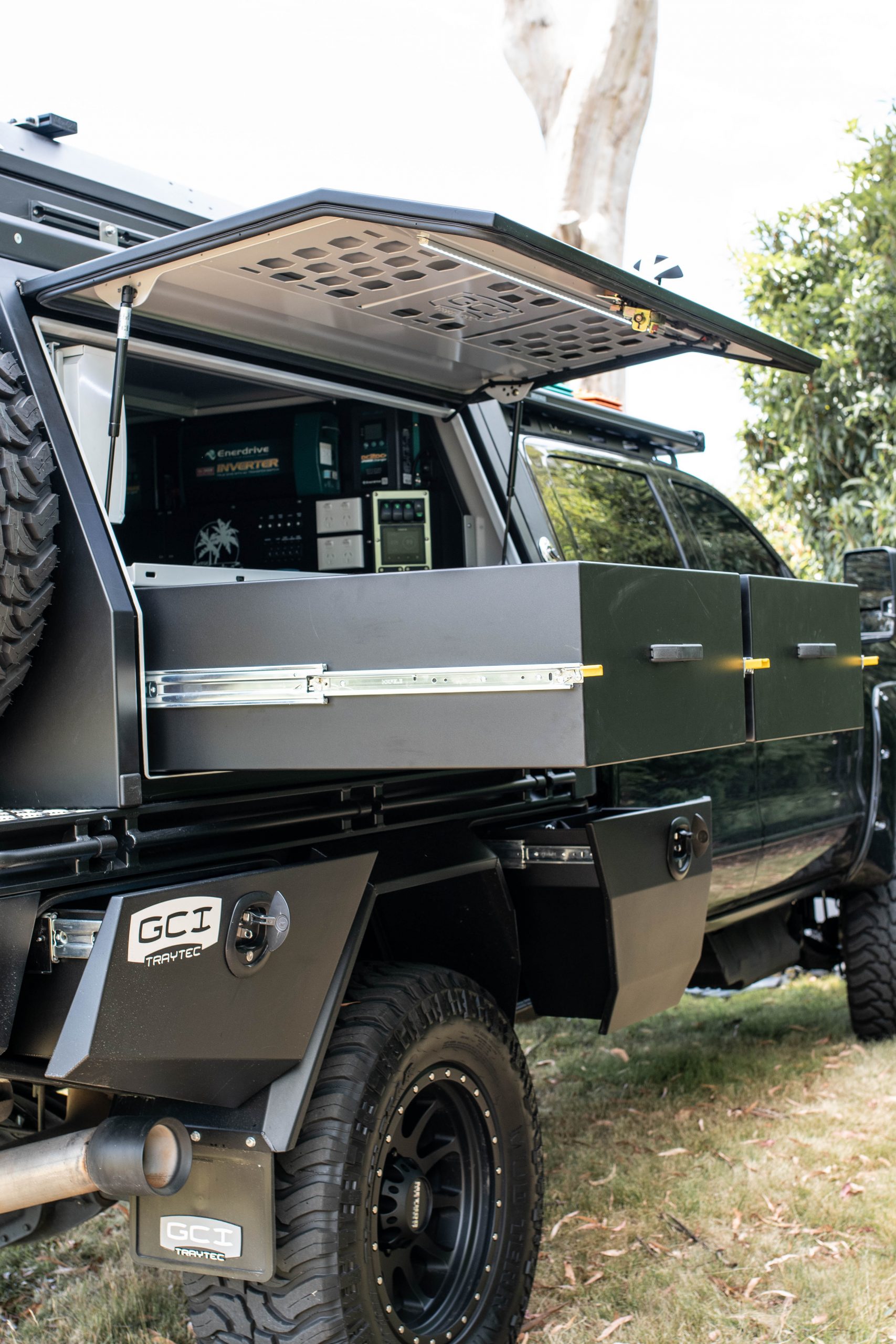 Moving onto the passenger side of the canopy you will find 'Le Chev' aka Chris's kitchen.
Starting from the left we have 110L Dometic upright fridge which sits snugly next to our slide out pantry. In this pantry we have heaps of space for our food, condiments, coffee machine, soda stream and other bits and pieces.
The kitchen is next level and has to be seen to be believed.  It slides out, and then drops, folds and slides again before sliding, folding out and sliding out yet again. It gives us so much storage and bench space while allowing us room for our flush mount, stainless housed double induction cooktop and yes, we even have a sink!
Above our transformer-like kitchen we have a large open top pull out drawer with front access and above that we have a microwave that also slides out and gives us more storage behind.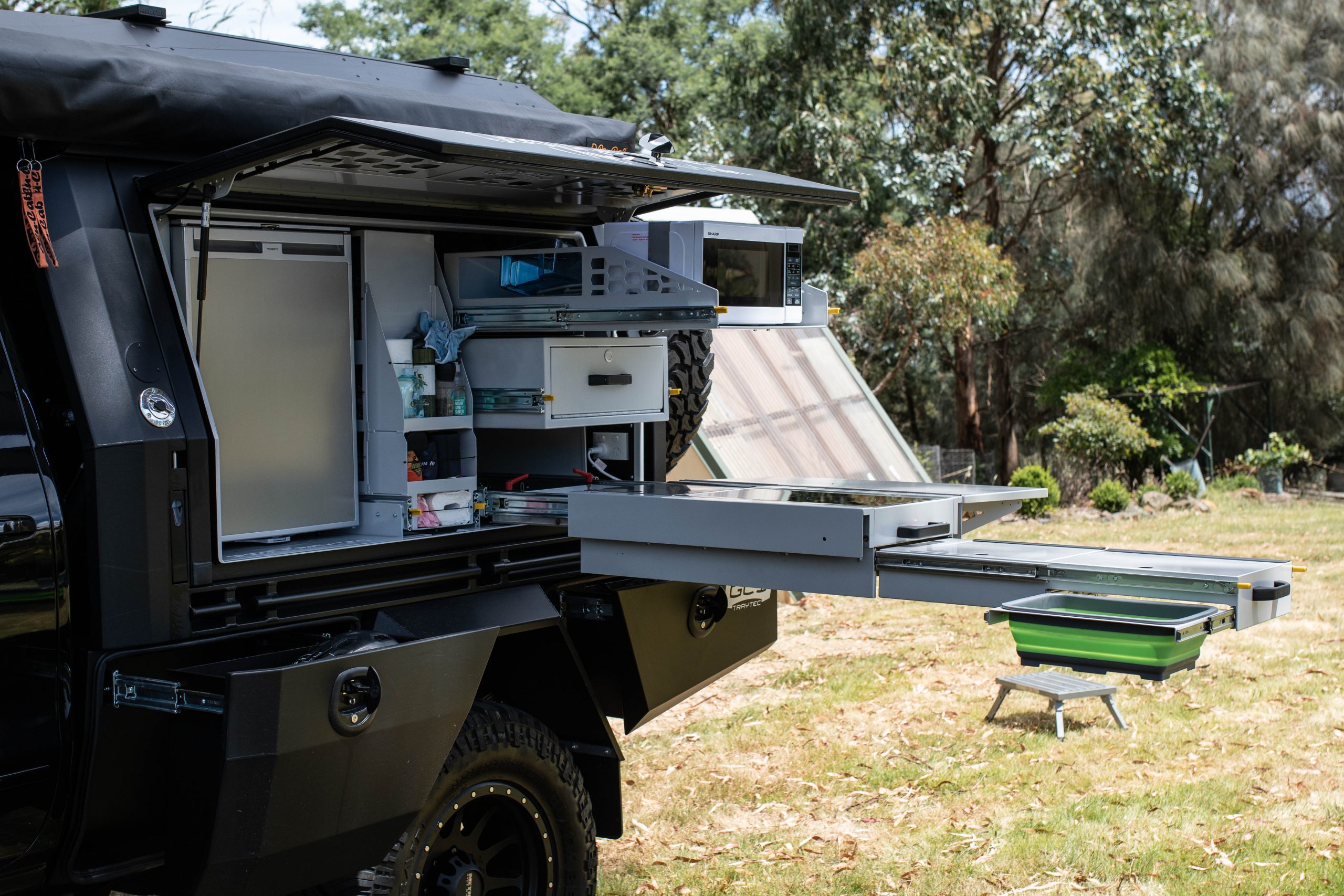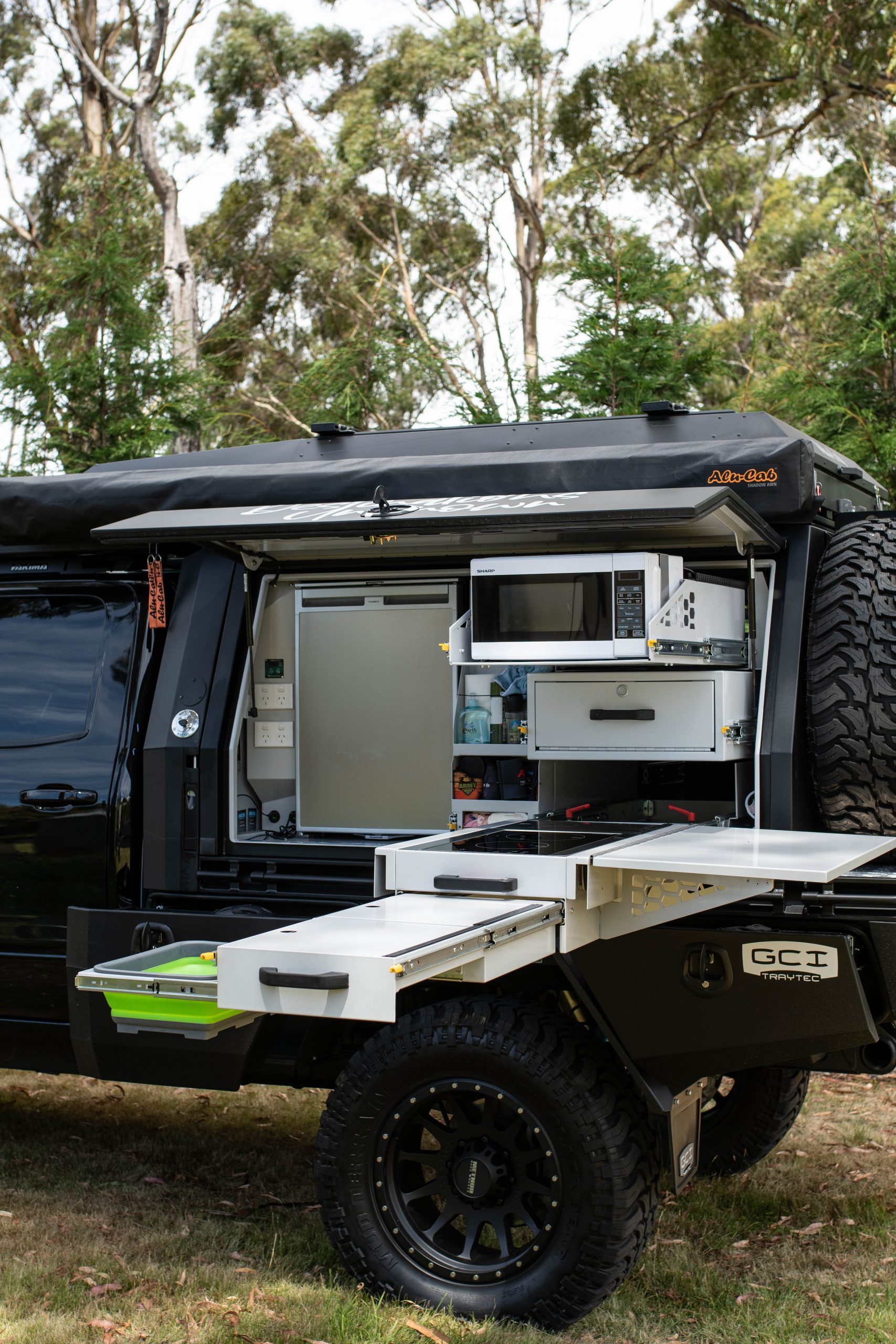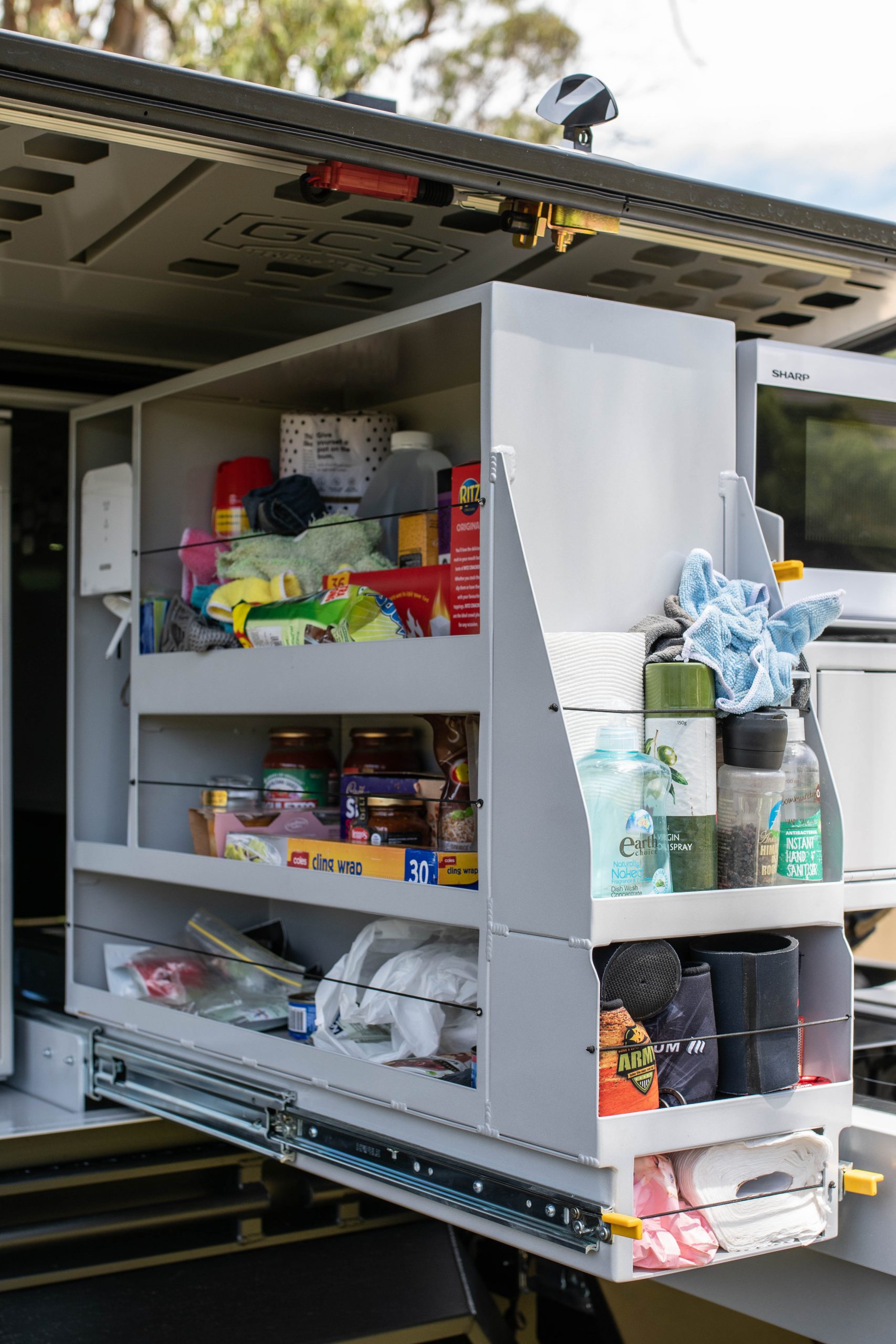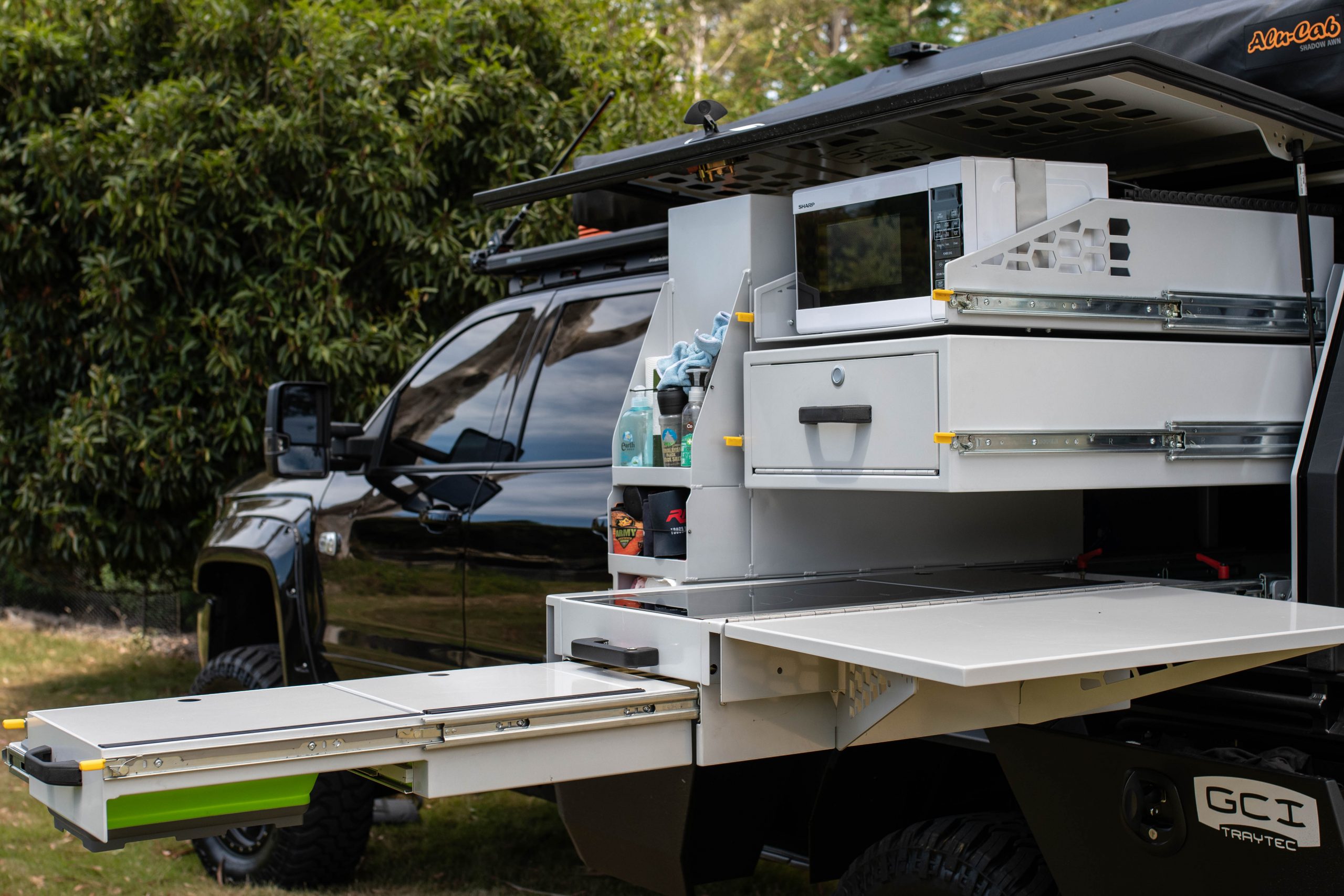 Upstairs we have the
Alucab
Gen 3 Rooftop Tent and 270 Shadow Awning. The Shower Cube will be installed as soon as it arrives, and we will run through the Alucab gear in more depth in a separate post.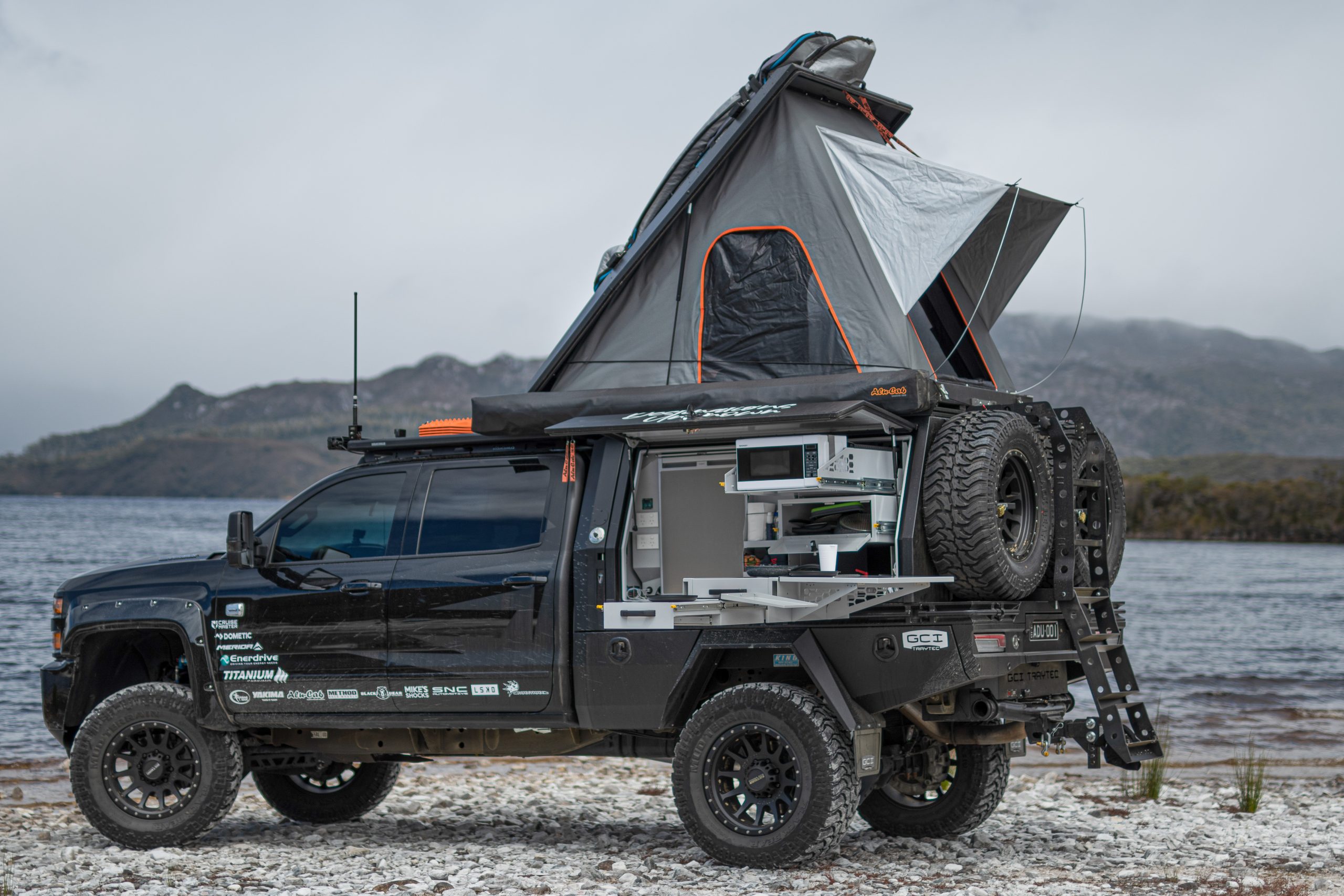 This is a dream build for us, and it's now our way of life! It's our home away from home (the caravan being our home!). By not compromising on quality, we have given ourselves the peace of mind to know that we can get on with our adventuring without worrying that something might go wrong.
If you want to see this 'in the flesh' we will be at most of the major national 4x4 shows and some caravan shows this year (covid pending).
If you are interested in a top-quality tray or canopy, contact the legends at GCI Traytec. They are one heck of a team!