This is a bit of a rundown on what gets us where we like to go, how we use it and why we've chosen it.
Everything plays an important part in our adventures from the laptop I'm typing on, to the cloud based programs we use to store our photos right down to the BBQ we have, the cameras we use, the cars we drive, the caravan that we tow and much more.
We are proud ambassadors for GM Specialty Vehicles and currenlty drive a 2019 Chevrolet Silverado 2500HD LTZ Z71 Midnight Edition. Our brand new 2022 Silverado HD will be hitting Australian shores late 2022, and we can't wait! Big Dog Builds will be managing the build.
Our currenty truck is set up for touring and towing and is our ultimate tourer!  The Chevy enables us to tow our large off-road caravan safely and easily as well as being a total off-grid vehicle itself. We can unhitch the van and be very comfortable in just the Chevy. We have the Alucab rooftop tent and awning plus all the gear inside. 
When the time came for us to upgrade from our Hilux, Chris spent quite a while looking  into what vehicle would be best. We almost went down the road of a chopped 200, but it soon became clear that an American Truck was what we needed. 
These trucks have had the GVM downgraded to 4491 kg during the conversion to allow for Australian car licensing. It's very simple to get a GVM upgrade without effecting the BTC and 9800 kg GCM. This does require an LR drivers license. 
In regards to safety, reliability and vehicles that were built to do the job the HSV converted Chevy 2500 jumped out at us. We did test drive the Rams and F250's but we both have a soft spot for the Chevy. 
The heart of the truck is a 6.6ltr Duramax turbo diesel V8 producing 1245 nm and 450 hp all driving through a 6-speed Allison automatic transmission. It all makes for a bulletproof drive train. 
GM offers a great warranty and awesome after sales service with dealerships all around the country. And to be very honest, all it took was 10 minutes on the road and we were sold. This truck feels like a limousine inside but the power and brute torque is class-leading when it come to towing and touring.  The size, weight and wheelbase makes for a very stable and planted platform. It tows our heavy caravan like a dream and we often have to check the mirror to make sure the van is still there! We couldn't be happier with our decision.
It started with a 4WD and a tent. We then moved on to a camper trailer that Chris designed and built in our backyard. It wasn't long before we sold that and upgraded to a Jayco Discovery Outback. From there we upsized to a 22.6 Jayco Starcraft Outback triple bunk. We had some issues with our next van and didn't have it for long before moving onto our first Titanium Southern Star Hardcore from Caravans Coffs Coast. You can see our van tour here and read all about it here. Check out the Enerdrive lithium battery system that we had in that van here. Our current van is the limited edition Titanium Destination X, a collaboration between us and Titanium Caravans. Watch our van build and walk through videos here. We also have an Alucab rooftop tent permanently on the Hilux for those quick weekend getaways or hard to get to places. Our Chevy is fitted with a GCI Traytec canopy that allows us to be fully self-sufficient, even without the van. Both the canopy and caravan are fitted with Enerdrive Lithium battery systems.
We can park our van almost anywhere and have it feel like home instantly. Whether it be free camping, in caravan parks, perched on the edge of a cliff, on the beach or at a bush retreat, we love it all.
It takes a lot of time, hardware, software, many apps and hours of finger power to get our adventures onto a screen near you. This is some of what we use and why.
I use a variety of apps for photo and video editing (see the photography section) and we use certain apps for researching,  planning, keeping track of fuel and so on.
Hipcamp
Fuel Map Australia
WikiCamps (we plan our long trips this way)
Campedia
TripAdvisor (great for researching places!)
Waze when in cities/towns(the best map for smart phone (IMO) that gives you real-time traffic updates/road closures etc.
Hema (the actual screen, not the app) for offline maps and trip planning
DropBox (for storing photos and files)
I (Miriam) use a Macbook Pro as I do all the editing and online side of things (website, socials, writing etc). I find this works seamlessly with our iPhones, iPads and iPods.
Chris has a Windows Surface.
DJI MAVIC 3 5.1k drone                         Nikon D7500              PANASONIC LUMIX GH5
Iphone  13Pro                   GoPro Hero 9 (x2)                    GoPro (Max)
 We have a variety of cameras that we like to use. Originally we started with a GoPro and iPhone and that was plenty! But we are always looking at ways to improve the quality of our content.
All our camera gear is housed in 2 bags. We have a GoPro Seeker backpackwith for all the GoPro's and a large Tenba Axis 32L backpack for everything else. Usually it's all plugged in and charging in the back of the Chevy though!
Our video editing is done in  Final Cut Pro and photo editing is done using a variety of apps and programs (mostly Adobe). Of course if I stumble across something else that is amazing, I will use that too! 🙂
Adobe Photoshop
Adobe Lightroom
PS Express
Pic Pro
Enlight
Lumyer
Photo Editor
Chris has always loved his toys, and his enthusiasm has certainly rubbed off on me over the years. I can see the value in having all these things to 'enhance' the experience 😉
Mountain bikes, BMX bikes, cruisers, skateboards, surfboards, stand up paddle boards, canoes, the jet-ski … our list is always growing and changing! We are limited now that we live and travel fulltime in our caravan. and I have no idea what will be next, but I love seeing Chris's eye light up when he finds something new and exciting to introduce to our collection. Stay tuned for the latest additions!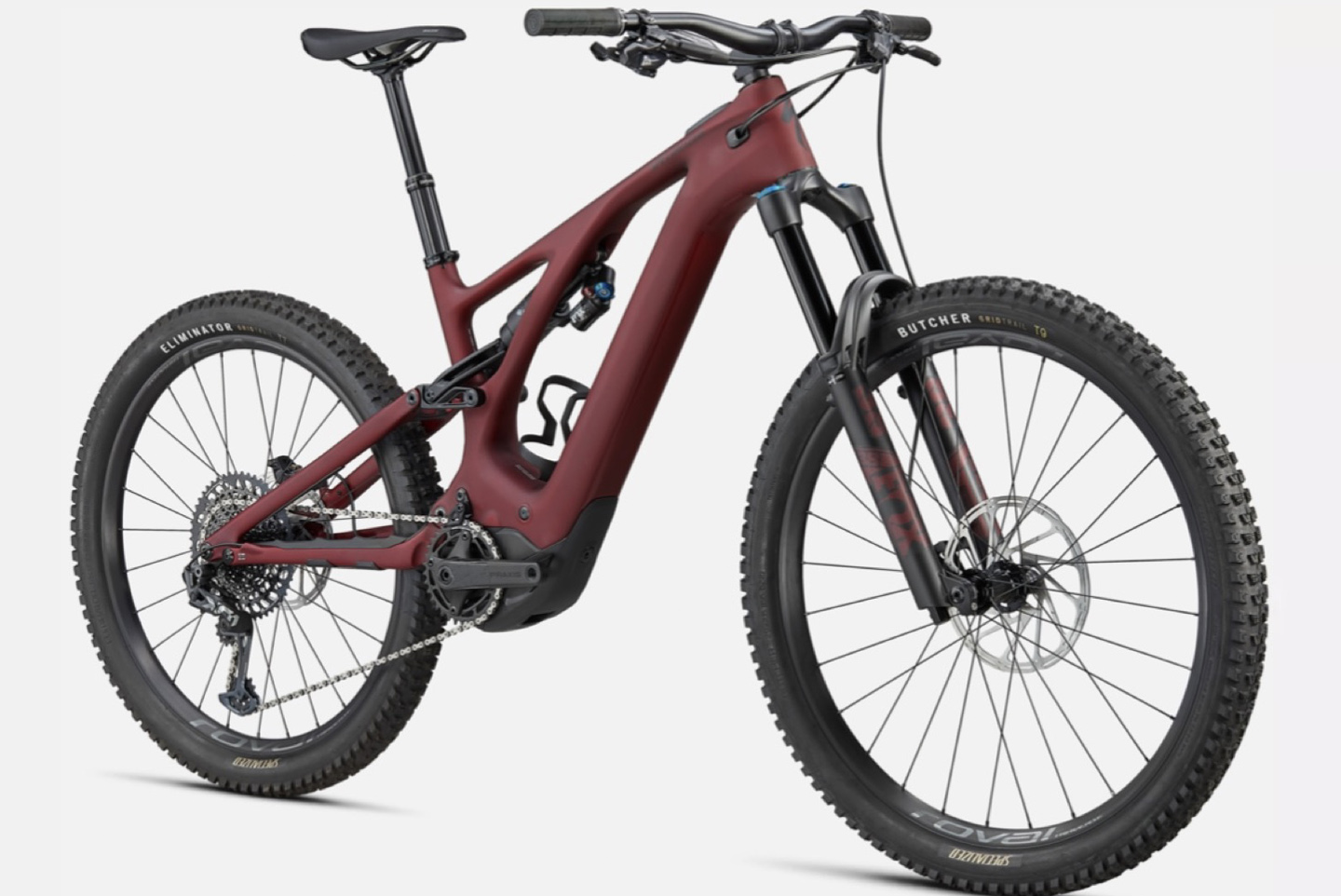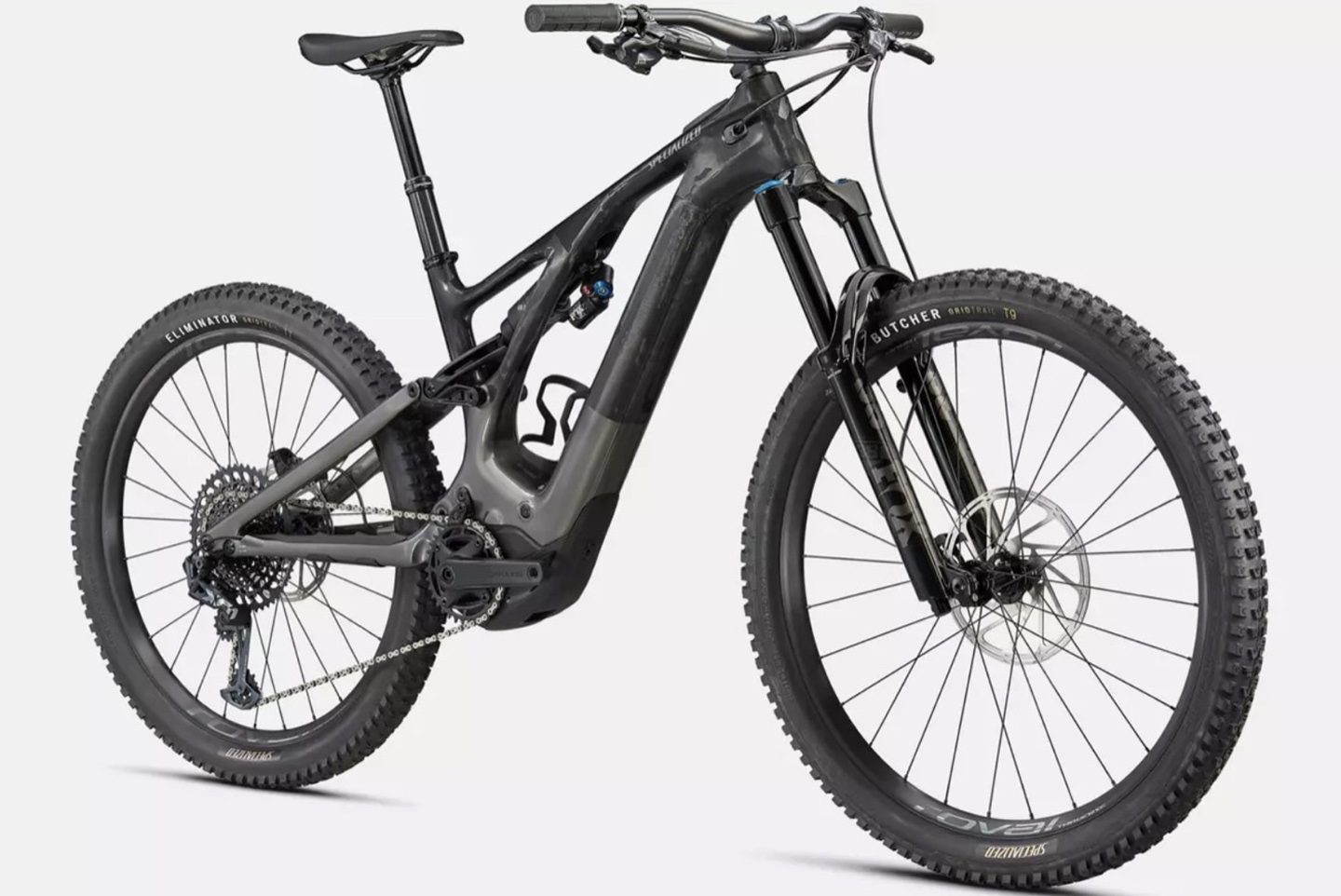 Chris rides the carbon/smoke/black and mine is the stunning maroon/black. The Levo Expert brings it with SRAM's robust X01 Eagle 12-speed drivetrain, dialed-in FOX Performance Elite suspension, and a high-performing Roval Traverse wheelset. Read more about them here.

Chris's passion for mountain biking stretches back far before we even met, and over the years his love of the sport has spilled over and started to toy with me a bit too: even more so now we have eMTB's.
Chris's purchased his first eMTB (e-bike) quite a few years ago, while I still had the 'old school' NON motor assisted bike. This didn't make our rides much fun at all! He was able to go much further and up much steeper hills than I was, and he was already right up there with his 'King of the Mountains' and even competing – while I was still learning to keep my elbows up, look where I was going and sit up straight!
Chris spends hours researching all the new bikes that are going to be released and when the opportunity to work with Pump n Pedals and rent our bikes through Studio 19 popped up, allowing us to both ride some of the best eMTB's on the market – we jumped at it! eMTB technology is advancing so quickly that we find it hard to keep up! By renting our bikes, we are able to swap, or upgrade every 6 months if we find something new or different we would like to ride for a while.
Our current bikes, the Turbo Levo Expert, run the Turbo Full Power 2.2 motor and MasterMind Turbo Control Unit (TCU), which provide a smooth and seamless amplification of effort – 4x you power for up to five hours of trail time. And the optimized chassis boasts 150mm of custom-tuned rear suspension and adjustable geometry that delivers a stable and natural ride.
We love our eMTB's and can't wait to get out on some more pedal powered adventures! Not only do we love hitting up Australia's best trails (like Blue Derby) but these bikes are our ticket to exploring some incredible destinations that would otherwise take too long to reach or be inaccessible.
If you've not yet ridden an eMTB – get down to your local dealer ASAP and give them a go. They are a game changer (and no, it's not cheating!)
Cheers Specialized. You've nailed it.
When I first met Chris and saw how many surfboards he had, I though it was excessive to say the least. But now I'm happy to say that I get it – and I know that each board serves a specific purpose.
These boards come almost everywhere with us. They even made the trek all the way up to Cooktown 3 years in a row. Why? For the stop off at Agnes Water on the way up and back down. You've got to be ready for when the swell is just right 😉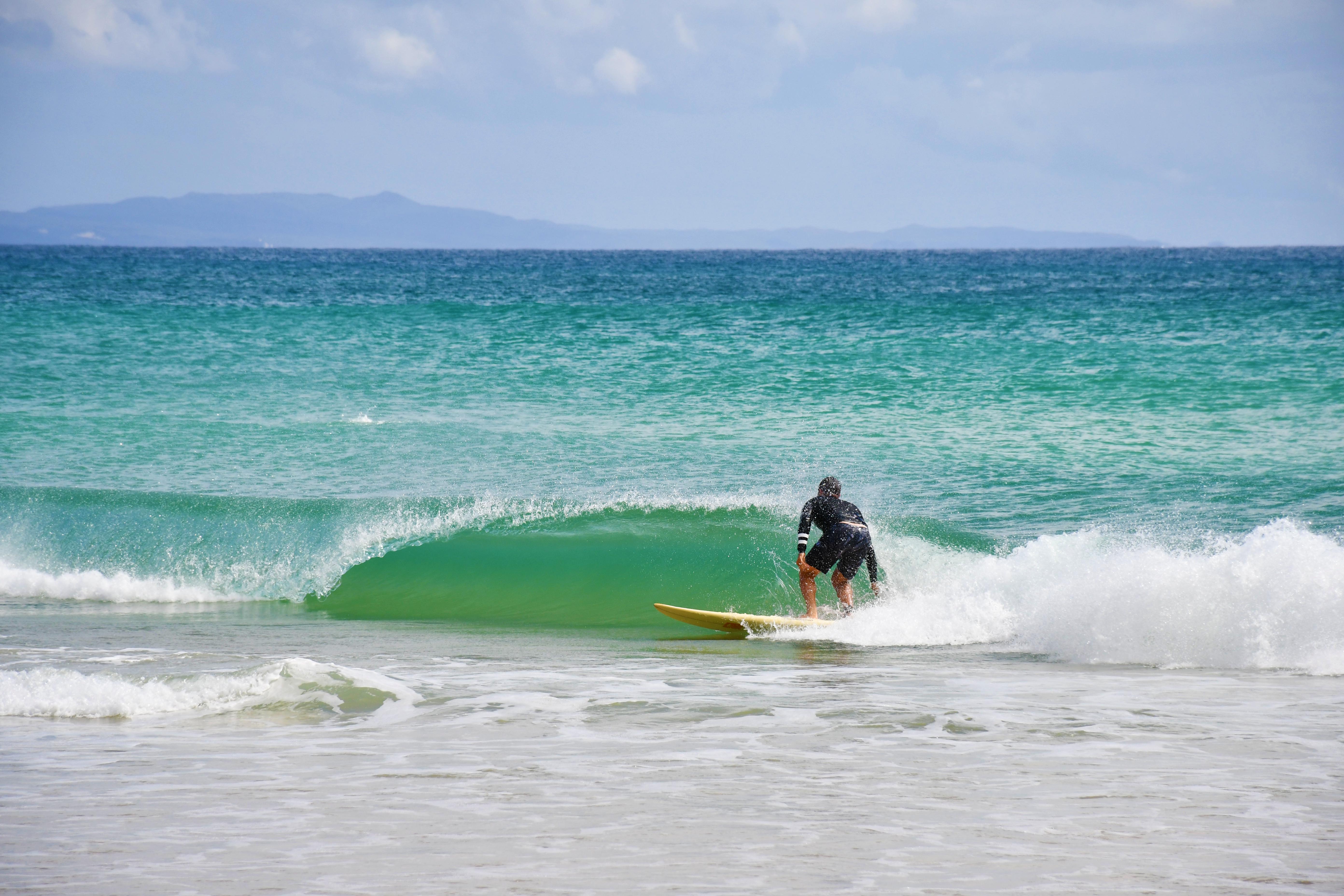 Chris has been riding a skateboard since he was a kid, and a One Wheel for quite a few years now  … so he's a bit of alright on the One Wheel.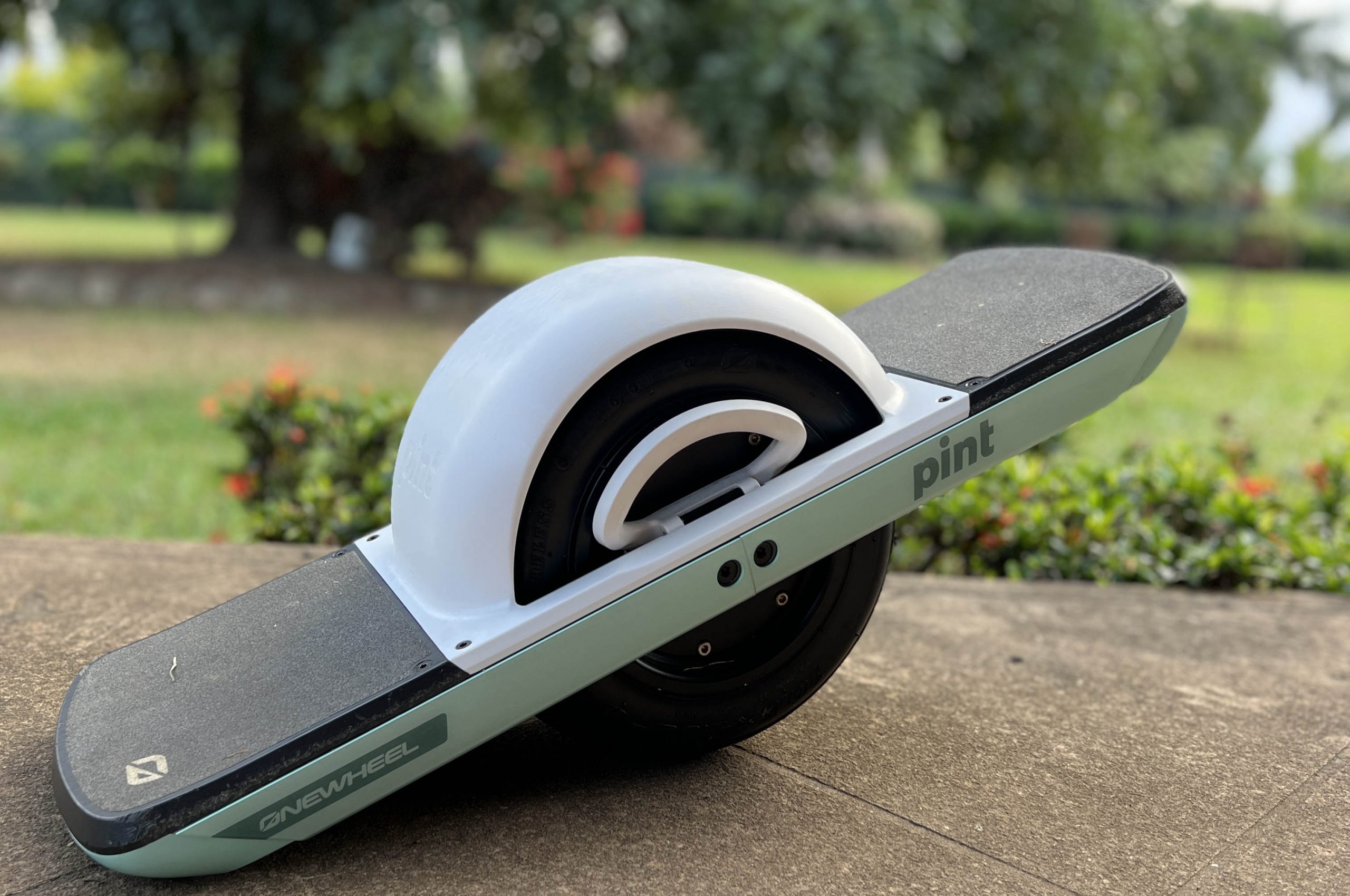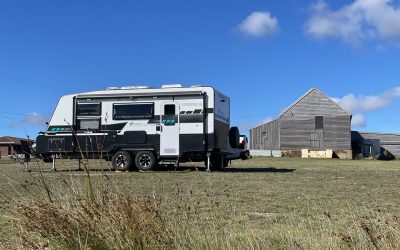 The Old Barn Paddock is a must-stay campground near Hobart, Tasmania. Named after the very old barn that Callum and Natalie have painstakingly transformed into a superbly rustic function venue. Don't miss this beautiful spot!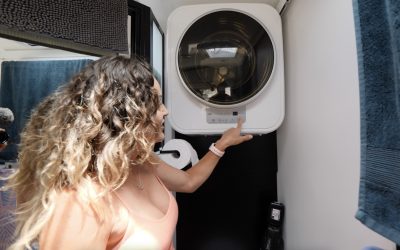 What washing machine is best for your caravan, a top loader or a front loader?
Burrum Shores, Burrum Heads By Karen MaceJust 30-40 minutes from Hervey Bay, on the iconic Queensland Fraser Coast is a small village called Burrum Heads. It's a seaside village with only a few shops, a caravan park, and a delightful waterfront area. It won't be a...
(Visited 6,184 times, 158 visits today)