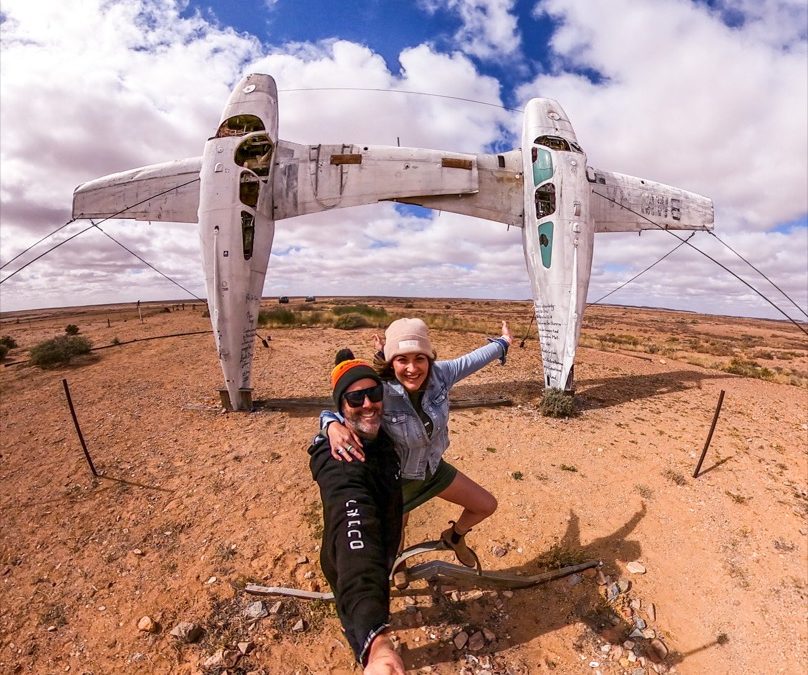 Is this the most bizarre park in Australia? We think so. It was so strange, we couldn't figure it out!
Talk about a random way to end our epic adventures along the Oodnadatta Track. 'Rust in Peace' … retired mechanic now artist Robin Cooke has quite the sense of humour! He started the park back in 1997 and has been 'wowing' (and confusing) travelers ever since. I did read that he returns with a new sculpture every year! I'm not sure how current that info was though. Quite a few of the sculptures here now look like they need a little tender loving … repairing! All of the sculptures are made from recycled rubbish, and there are no information signs, so it's up to the individual to guess sculpture names and figure out what they might mean. 

This is the brilliantly weird Mutonia Sculpture Park in Alberrie Creek, 30 km west from Marree along the Oodnadatta track in South Australia. It used to be a railway siding on the Old Ghan line. But no trains live here any more. Nope – this is all about planes. And a bus, a car, a windmill, a dragonfly … ok. It has lots of stuff – just no trains that we could see. 
We parked up and headed off exploring the creative randomness that was all over the place. And while we were there, numerous others pulled up, had a quick look at few pieces of art near the gate then left! What? Nooooo! Just keep walking – at least until you get to the Love Bus (named by Chris♥️). It has 'GHAN' HOVER BUS SERVICE painted on the side and a (real) rabbits head, amongst other things, inside. 
Stone Henge, the Time Tree (that follows the cycle of the moon), a Windmill Flower, a lady bug, and plenty of other artistic bizarreness is waiting for you when you head off on your own Oodnadatta adventure! 
Have you stopped by the Mutonia Sculpture Park? If so, what did you think? Leave us a comment below!