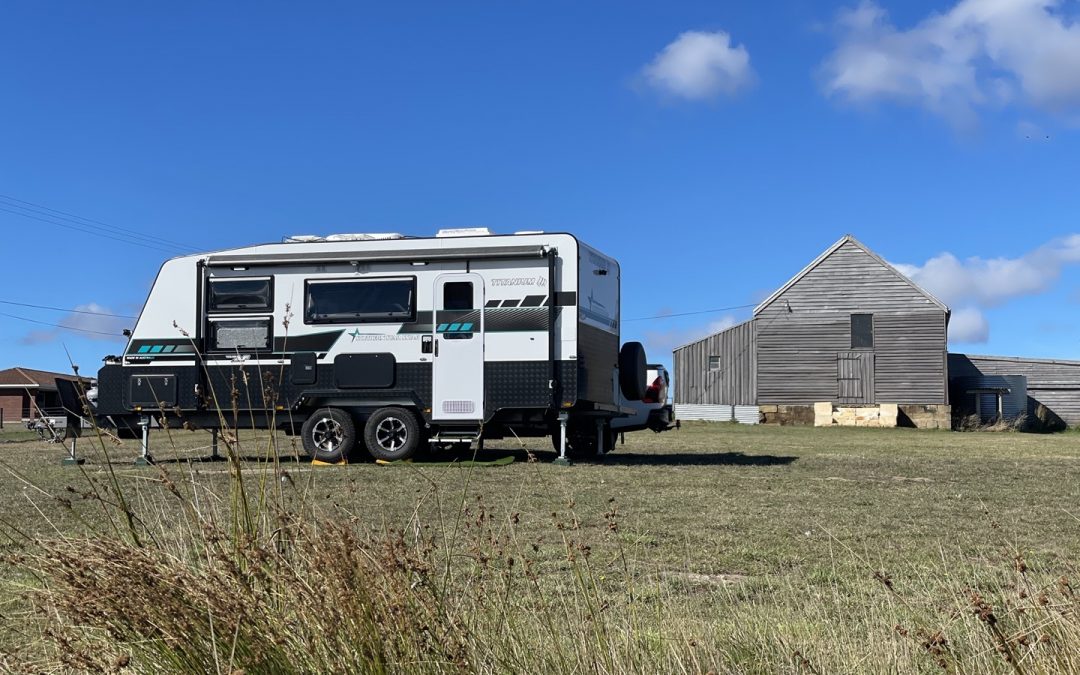 Callum and Natalie Murphy – A Couple with a Vision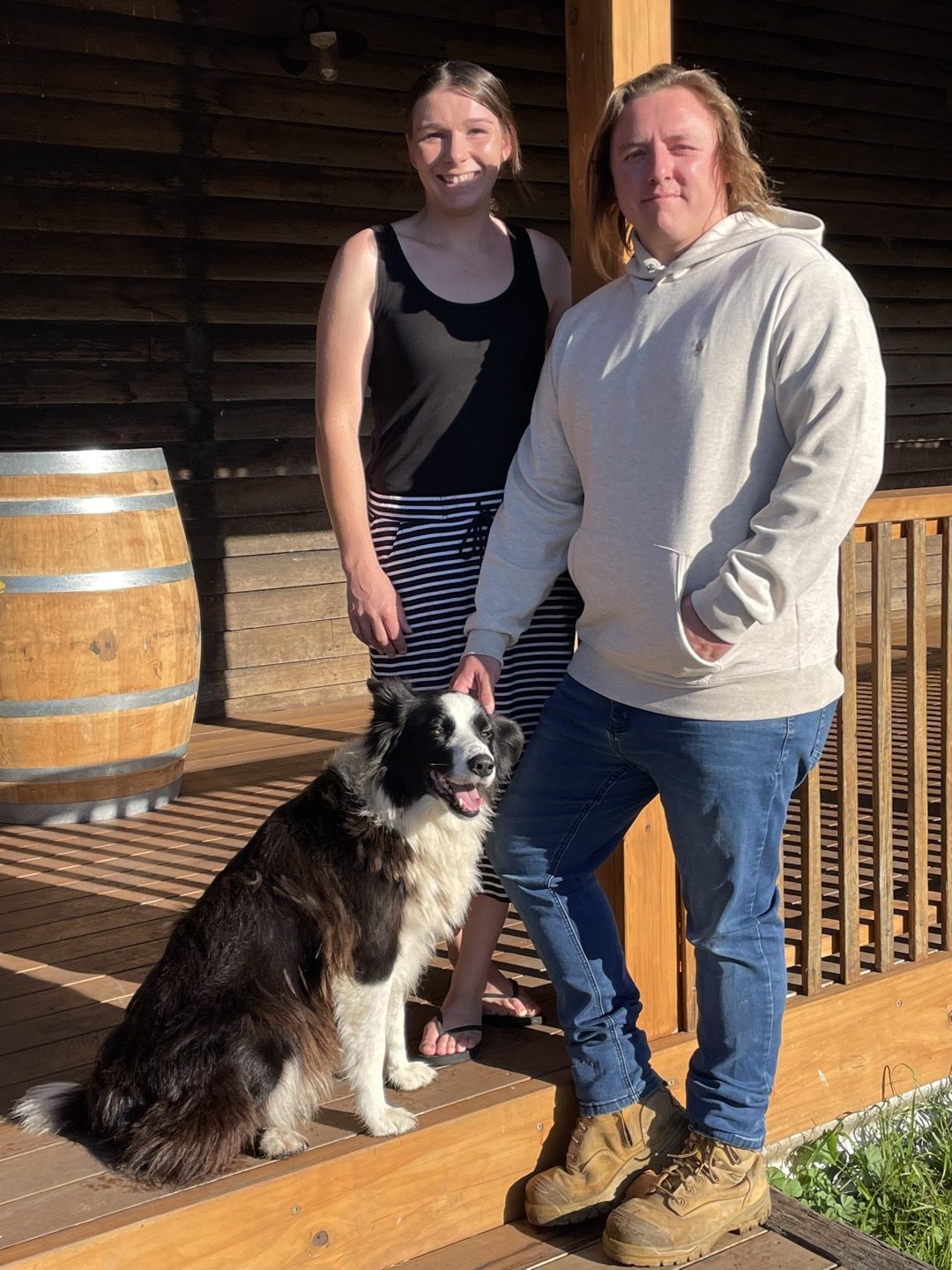 The Old Barn Paddock is a must-stay campground near Hobart, Tasmania. It takes it's name from the very old barn that Callum and Natalie have painstakingly transformed into a superbly rustic function venue. Don't miss this beautiful spot!
Located around 53 km north of Hobart on the B31 between Richmond and Oatlands, the small hamlet of Colebrook is nothing more than a blip on the map for many.
 It was for us too until I decided to attend a retreat in the unlikely town. I thought it was too far to travel down and back to our home in the north of the state in one day – well, for me it is too far – so I suggested to Ross (my husband) that we take the caravan down and find somewhere to stay.
 I had it in my head that we'd probably stay at Richmond as I couldn't imagine there would be anything in or near Colebrook. But … when I want to know about great places to stay, my go-to person is Miriam of ADU. It helps that she is my daughter :). Miriam was quick to message back with details about a place called the Old Barn Paddock.
 'Mum, you need to download the Hipcamp app. It's on there.'
 So, it was thanks to Miriam, and the Hipcamp app, that we found ourselves parked up by the Craigbourne Dam that laps at the edges of The Old Barn Paddock.
 Just outside of Colebrook, Callum and Natalie Murphy have made their home a delightful place of rest for weary travellers. The Old Barn Paddock takes its name from the very old barn that Callum and Natalie have painstakingly been transforming over the past year into a superbly rustic function venue.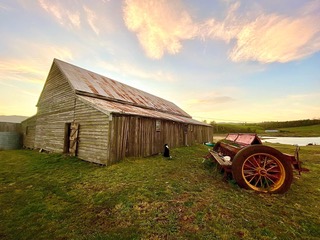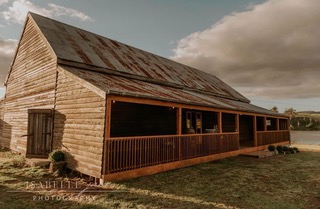 I ask them how they came to live on such a beautiful property.
'I've always wanted to live on the Craigbourne,' Callum says, 'and Nat's brother was going on at me about when we were going to buy a house, so I told him I would when one came up on the Craigbourne, and just a short time after that, this place came up.'
They both laugh as they recall the first time they looked at the property; they bypassed the house and headed straight to the barn. They shared a vision for making it into something lots of people could enjoy, although anyone else who looked at it would have been considering how quickly they could pull it down!
 'We took out 300 bags of sheep poo and couldn't believe it when we saw an intact concrete floor underneath it all.'
As they talk about the transformation, the excitement is obvious. It's taken lots of hard work, with more to come, but they have persevered and it's beginning to pay off. They are sought out now as a wedding venue and are excited to continue to grow that part of their vision.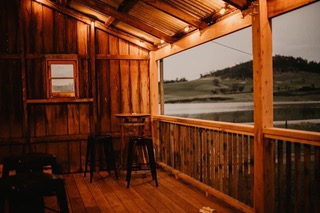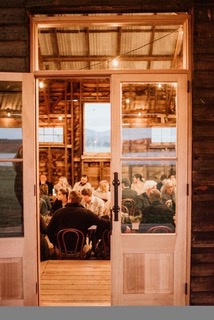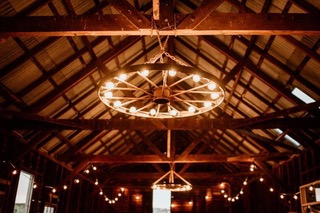 So where does that leave people like us, I ask? People who want to camp here and enjoy the beauty it offers?
Fortunately, they plan to balance the two. They'll run events for a few months each year but will still open up in between for those who are self-contained campers. In fact, Callum and Nat have some great ideas for transforming the old barn, when there isn't an event booked, into a communal meeting place for campers. Callum's face lights up as he talks of music nights, pool tables, and a general coming together of people.
'It's always been about the community', he says. Nat nods as Callum waves a hand towards a group camped in a corner of the paddock. 'They were some of our very first campers. They've been really supportive and come back regularly. We consider them friends now and I dropped over there last night for a beer and a bit of a chat. I'd like to see the barn become the meeting place for campers to do that.' 
A little later I chat with another couple. It's their first trip in their new Jayco. They had a look at Richmond Caravan Park and also at Oatlands. Both parks were full. For them, The Old Barn Paddock was an unknown and they love it.
'We live just down the road in Howrah,' they said, 'so we'll be here again soon.'
Natalie and Callum love people, and it's evident in the way they greet you when you arrive, and in the way they are always open for a chat or to help with anything you might need. So, next time you are in Tasmania, plan to stop for a night or two, parked up in The Old Barn Paddock, by the water of Craigbourne Dam. You won't regret it!
Bookings: If you haven't already, download the Hipcamp app! It works well for the Natalie and Callum, as you can quickly see which days are blocked out.
While you're there make sure you don't dismiss Colebrook. There's a lot of history in the little town. Take a look at the following website for a few ideas of what to see.