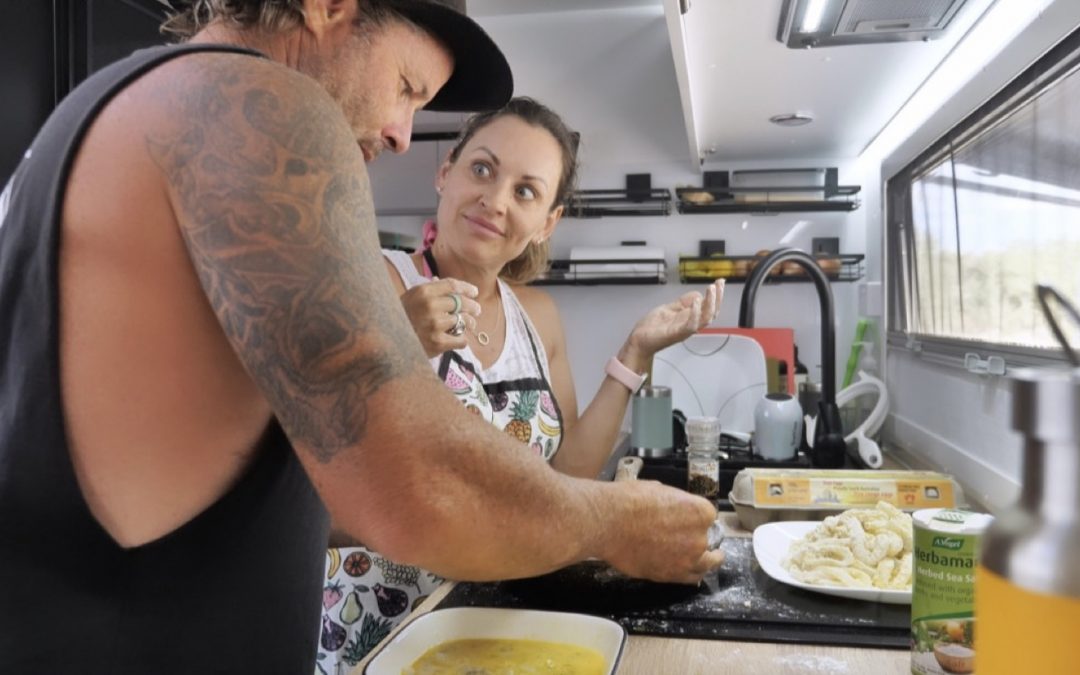 We are very new to this whole cooking squid thing, but with a few tips from a pro named Malcolm from the Point Turton Caravan Park, we've nailed it! We now make the BEST calamari ever. Yep, better than from your fav seafood restaurant! Sure, it's a big call, but we are willing to make it!
INGREDIENTS: (the amounts vary according to how many tubes you are prepping)
Squid tubes, cleaned
Kiwi Fruit
Rice Flour
Eggs
Seasoning of choice. We like garlic powder, onion powder and Herbamere.
Avocado oil to fry (deep or shallow). You can use any oil but we love the flavour of this oil
PREPARATION:
To be fair, we've only done this with fresh squid that we've just caught. We've also been told that if you 'karate chop' the squid, it will be more tender.
Freeze it. This is SUPER important. Even if you're going to eat it later that day. Freeze it for as long as you can. Whole in tubes is fine. We often freeze them in the plastic bag we put them in after we've cleaned them.
Take them out of the freezer and slice them up into your desired thickness. We like ours pretty thin.
Smoosh up some kiwi fruit and leave the rings to marinate in the kiwi fruit for at least half an hour but not too long! See note below.
Place some rice flour into a bowl and stir in your seasoning.
Crack an egg or two into another bowl and whisk.
Chris and I do this next part together so his fingers get all eggy and mine stay dry!
6. Dip the rings into the egg. (Chris's job)
7. Transfer them into the flour. (Chris's job)
8. Roll until well coated.
9. Heat your oil until quite hot and then fry the squid in batches.
10. Make your friends try it and tell you how AMAZING you are at cooking calamari!
PLEASE NOTE: DO NOT marinate in the kiwi fruit for too long. We left it overnight and until lunch the next day once and it turned to absolute mush. Whoops!