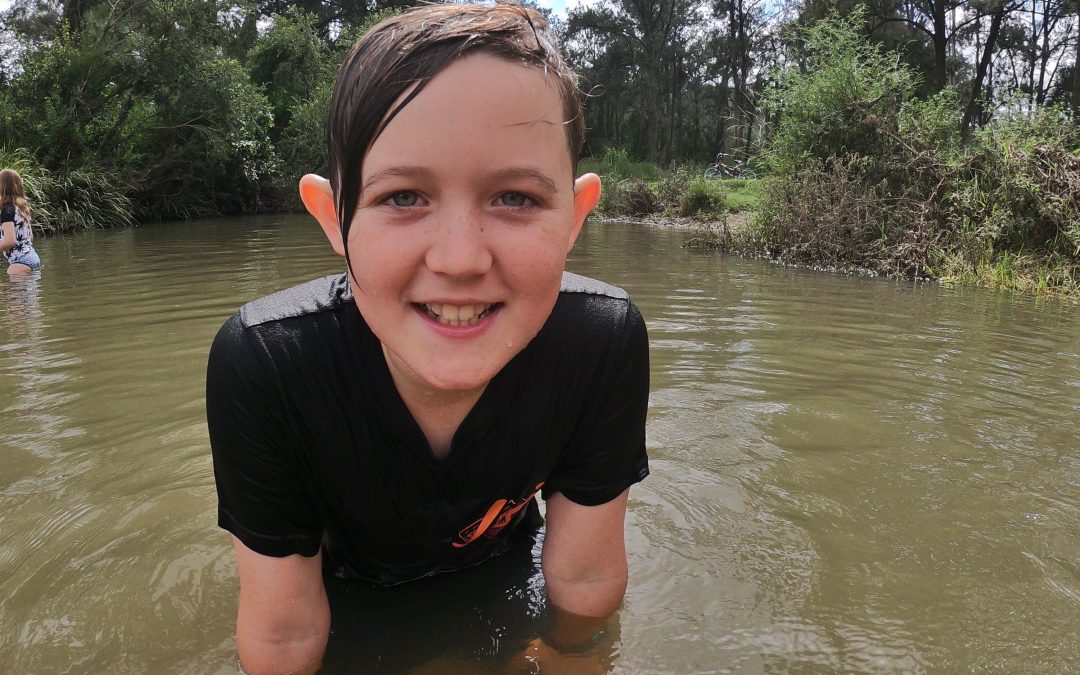 The best bit was da da da da daaa
The worst bit was da da da da daaa
The funniest bit was da da da da daaa
The most annoying bit was da da da da daaa
That's Miriams example of a blog. This is my first blog, so don't judge me….???. Just kidding I think I'll be pretty good at it, maybe ?. Anyway today you will be reading about Bigriggen Bush Retreat, a place about an hour and half from Brissy.
We started off in the car waiting for Miriam (of course) and Charli, Aylah and I had all had our phones taken off us (of course) and I was just sitting there reading the "52 Story Tree House" (great book by the way), Aylah was reading "Diary of a Wimpy Kid" and Charli was reading a book called "Then" (no idea what it's about).
Miriam and Dad were doing adult stuff (again, no idea). We stopped at Shorties which is a little cafe just near our house, so Dad could get a coffee. Just as he left Charli let out the biggest fart I have ever heard.
Miriam, Aylah, Charli and I all laughed while Charli blamed the fart on Aylah (even though we all knew it was her) then after a couple of minutes we set off.
It was a pretty boring drive. The kids just kept reading and the parents kept talking about parent stuff until we got to Rathdowney where Dad got his second coffee and we took a couple of photos before getting back on the road.
We finally got to Bigriggen, checked in then we started to set up. Charli, Aylah and I started exploring on our bikes. First we went to the little BMX track. We rode on that a bit then we went to the toilet. Now the only reason I'm talking about the toilet is because when we left the toilet Charli fell off her bike and on to her butt.
When we finished with all that, we jumped into our swimmers and went down to the creek – the water was fareeeeeeezing……..❄️❄️❄️ Charli, Aylah and I still jumped in. We took a few photos then we went over to the rapids, (my favourite part of the trip). The rapids were probably one of the most awesome things I have ever done.
The water was super shallow and there were rocks everywhere but we kept moving along. Once we were a few meters away from the first little rock dam we got to the actual rapids. The water was so strong it would sweep you over like that if you weren't careful. When we started to get down to the faster rapids Charli got swept down to the crazy rapids where you couldn't get up. I decided to go and help her back up but then I fell down. When Charli and I finally got back up Aylah tried to help us but then she knocked Charli which knocked me and so we all fell down on the rapids. That was the end of that.
When we finished at the creek, we went back to the caravan and started writing our blogs. When we got sick of that we went and played some board and card games. First we played 5 Second Rule, then we played a couple games of UNO. After that we had some lunch which was sausages and zuchinni and egg salad. That was very yum. When we finished with lunch we went back to the creek for a bit and then played some ball and frisbee games and relaxed.
As we were eating dinner, Vaughn (one of my dad's friends) got to the camp site. We started to talk to them and Vaughn pulled out this amazing 3 second tent. All he did was pull the tent out and throw it on the floor, then BOOM!!!, the tent was up. When Vaughn had finished setting up we sat around in a little circle talking. After we finished talking, Dad fired up the Webber and we started roasting marshmallows, then we all went to sleep. Zzzzzzzzzzzzzzzzzzzzzzzzzzzzzzzzz.
The next morning we decided to go for a bush walk. When we got ready it was pretty boring but we still were having fun.
When everyone was ready we set off. After about 15 minutes on the 4wd track Dad popped a drive shaft. Dad and Vaughn tried to fix it but didn't have the tools so they had to drive about half an hour to buy some. We all waited about 2 hours for them to get back. When they got back we were all waving in joy. They fixed the car and we went back to Bigriggen, packed up, then drove home.
Over all I would give Bigriggen a 7 out of 10. It could be pretty boring but if you know how to have fun it is AWESOME!!!!!!