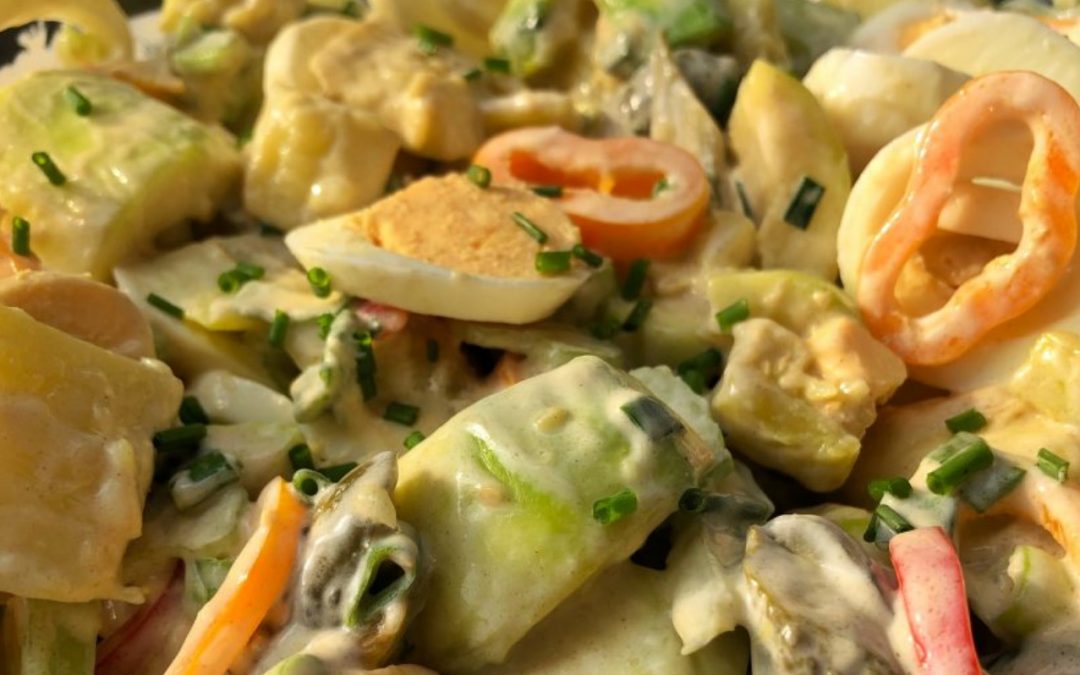 This salad is insane … it really is THAT good. Every time I make it I am asked for the recipe, so I thought it was about time I shared its low-carb deliciousness This is like a potato salad without the carbs as we use zucchini in place of the potato. Feel free to make it using potato if that's more you style.
A lot of the taste comes from the type of mayonnaise that you use – so make sure it tastes delicious before you mix it through!
Ingredients:
1 kilo of zucchini (more or less depending on how much you want to make)


2 Tbsp.

butter/ghee or olive oil

4

hard boiled eggs, sliced

½

red capsicum, seeded and sliced


2 celery stalks, thinly sliced

About 10 cornichons, chopped (

mini gherkin cucumbers

)

2 stalks of spring onion, chopped

2 Tbsp.

finely chopped fresh chives

1 cup

mayonnaise (recipe here)

½ Tbsp.

Dijon mustard

salt and pepper

Optional celery leaves
Method:
Peel and cut the zucchini into bite size pieces.
Place in a colander over a bowl and sprinkle liberally with salt.
Leave for 5-10 minutes and then tip the zucchini out onto paper towel or a clean tea towel. Press gently to soak up the moisture.
Preheat a large frying pan over medium heat and saute in butter/ghee/oil for a couple of minutes. Don't brown them up – cook just long enough for them to soften.
Set aside to cool.
Meanwhile, combine remaining ingredients in a large bowl.
Add zucchini once cool, and stir to coat well in the mayo dressing.
Store in the fridge in an airtight container.
Tips:
If using the celery leaves, add them to the pan and saute with the zucchini.
Add sliced jalapenos for a bit of extra bite.
Add sliced cucumber for some extra crunch.