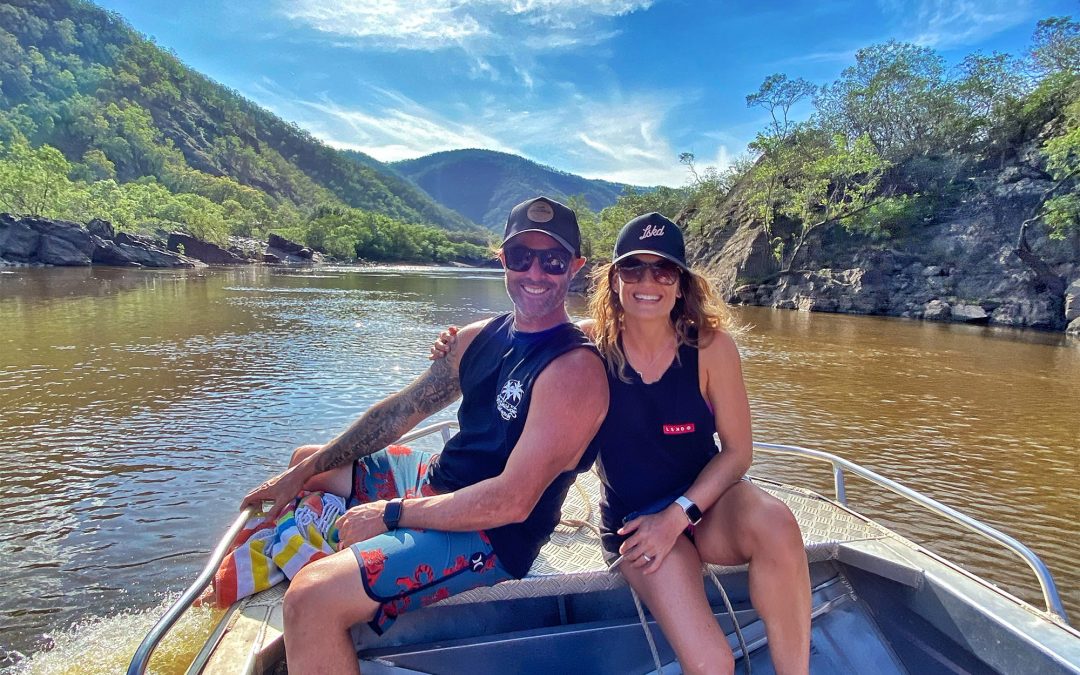 We were so lucky to stumble across The Gorge on the Clarence River!
After spending some time on the stunning white sandy beaches of the NSW North Coast, we felt it was time to head inland and swap sand and saltwater for grass and the fresh, running waters of the Clarence River, also known as 'The Big River'.
Chris had spotted a couple of sites that looked good on Wikicamps and asked me to pick one. After seeing the photos and read the existing reviews of The Gorge, I knew this was a place we had to explore. When we couldn't get through on the phone to make a booking, we decided that we would drive to the property and if they were booked out, we would simply drive back.
Located 75km north-west of Grafton, the drive to this property is almost as exciting as spending time there!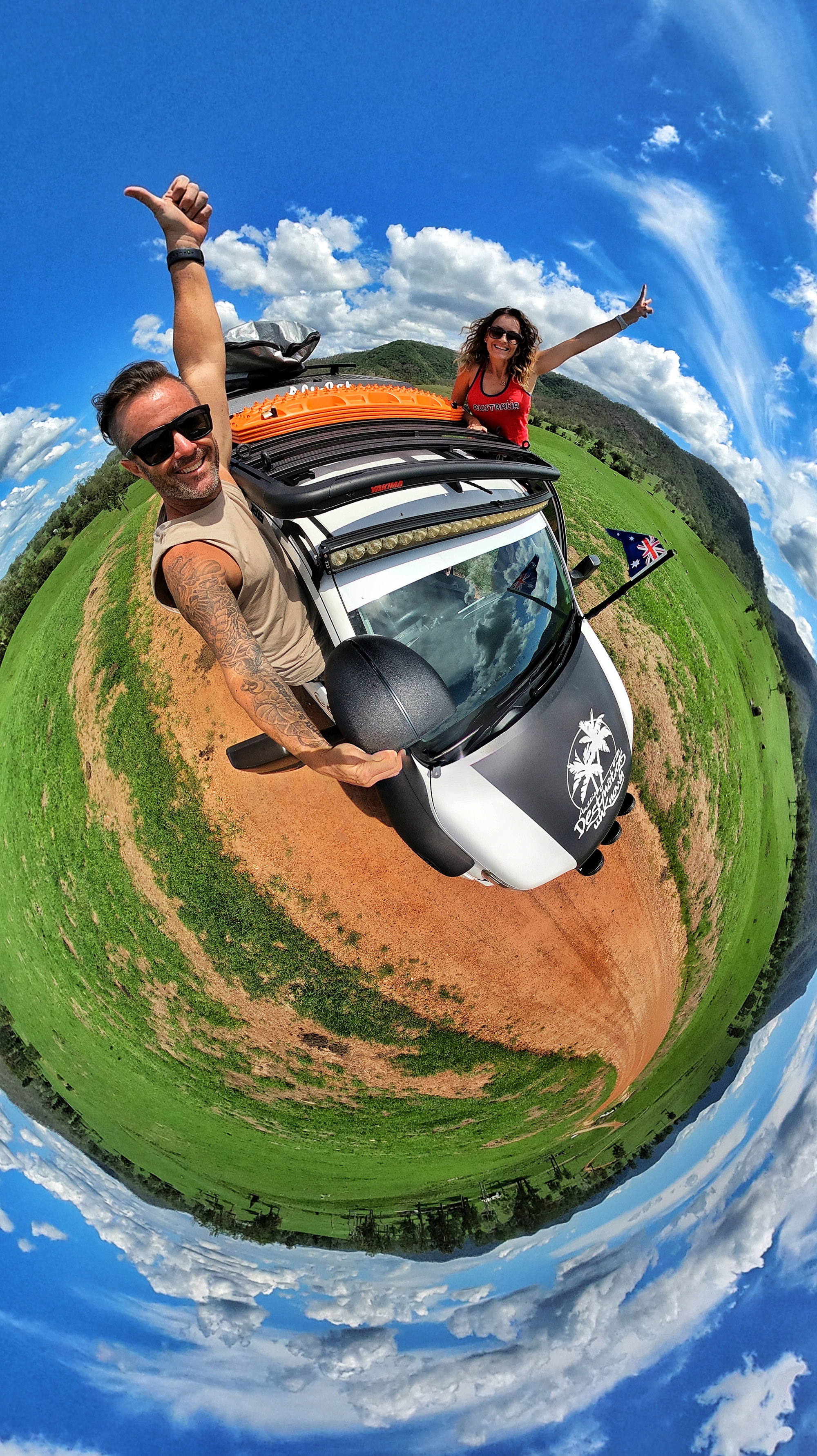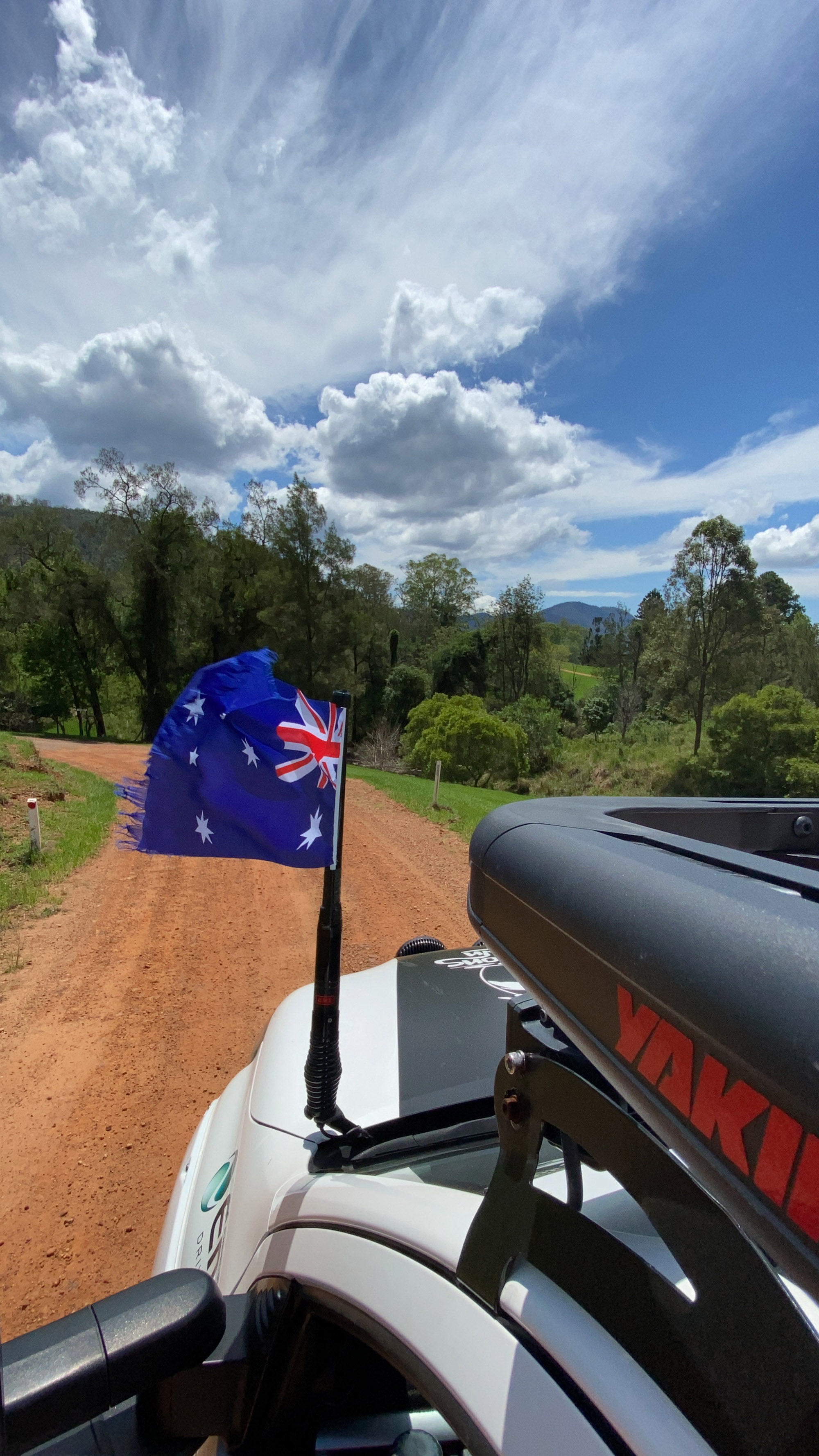 The way in was a long, windy, corrugated dirt road that bumped us all over the place with views so spectacular that we didn't mind the bumps one bit! The road winds its way along the ridges, giving you glimpses of the Clarence River below on one side and incredible mountain views on the other. (luckily you drive out the same way you drive in, so I had the river views on the way out!)
We saw cows grazing on some of the greenest grass covered rolling hills we have ever seen, coupled with the bluest of blue skies with a smattering of fluffy white clouds. We were literally lost for words. There was something beautiful from every direction as far as the eye could see! I ended up putting the camera down and just soaking it all in as there was no way I could capture everything.
Crossing grids and splashing through causeways is all part of the fun, all the while keeping an eye out for cows and other wildlife like kangaroos.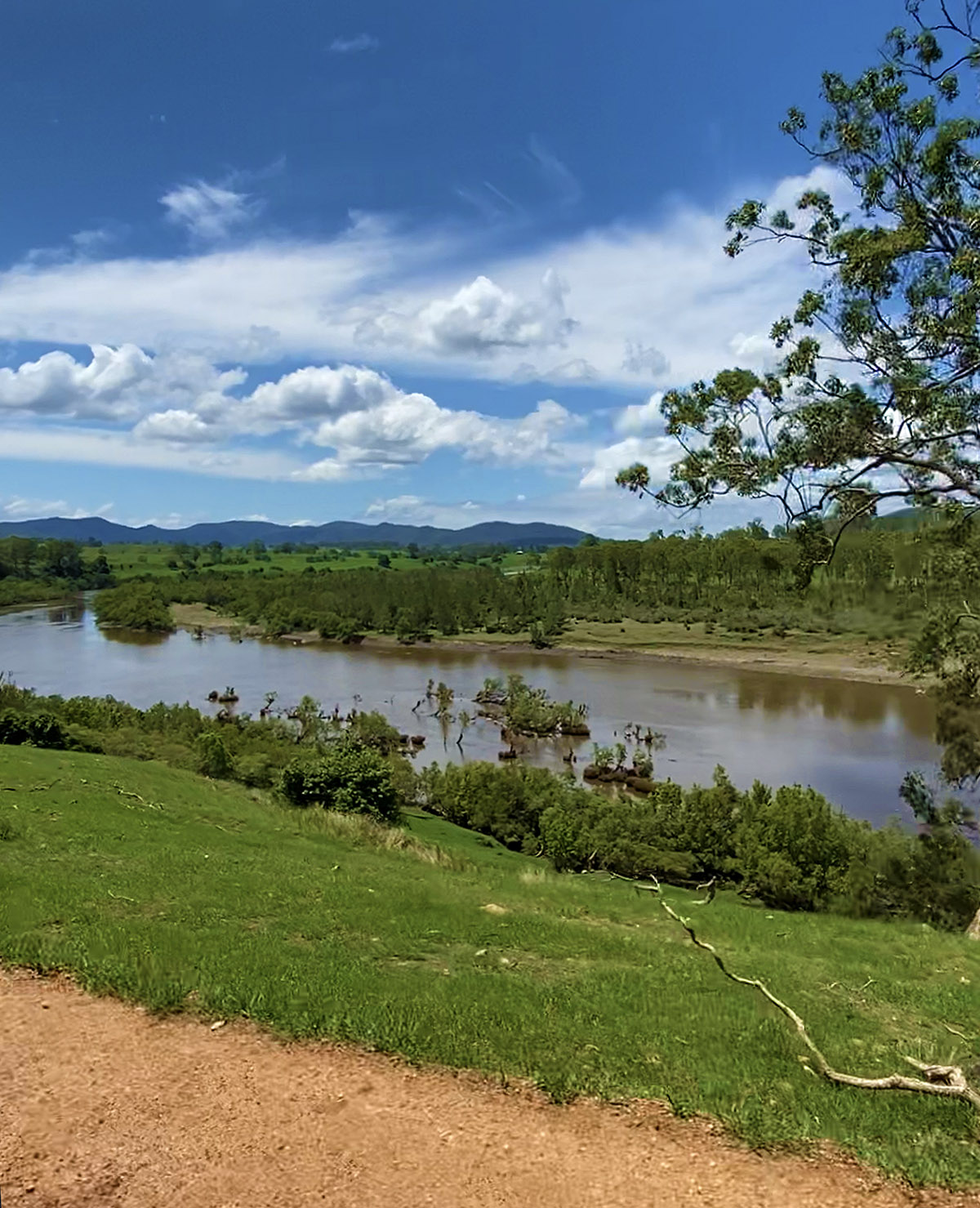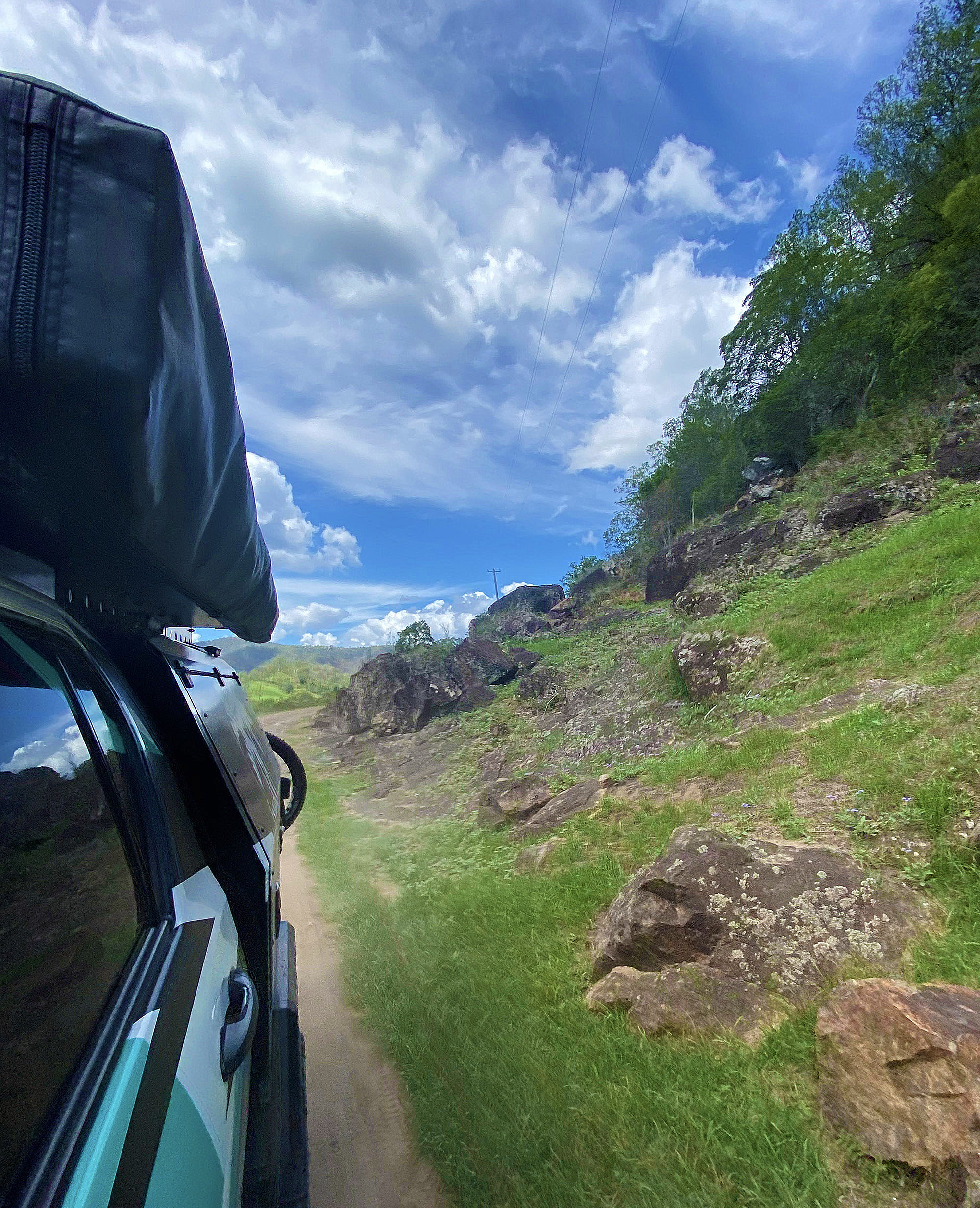 After passing through 2 giant trees with signs displaying 'You are entering The Gorge. All Welcome', 'Private Property', 'Day Visitor Permit Required $10' and a phone number to call to make a booking, we rumbled over a wooden bridge and looked at each other in confusion as we both asked if we heard voices! When I popped my head out the window, I could see a family splashing away in a rockpool below the bridge. That was when we started to get really excited; stunning scenery beside the mighty Clarence River, little rockpools and no phone service. This was beginning to feel like paradise.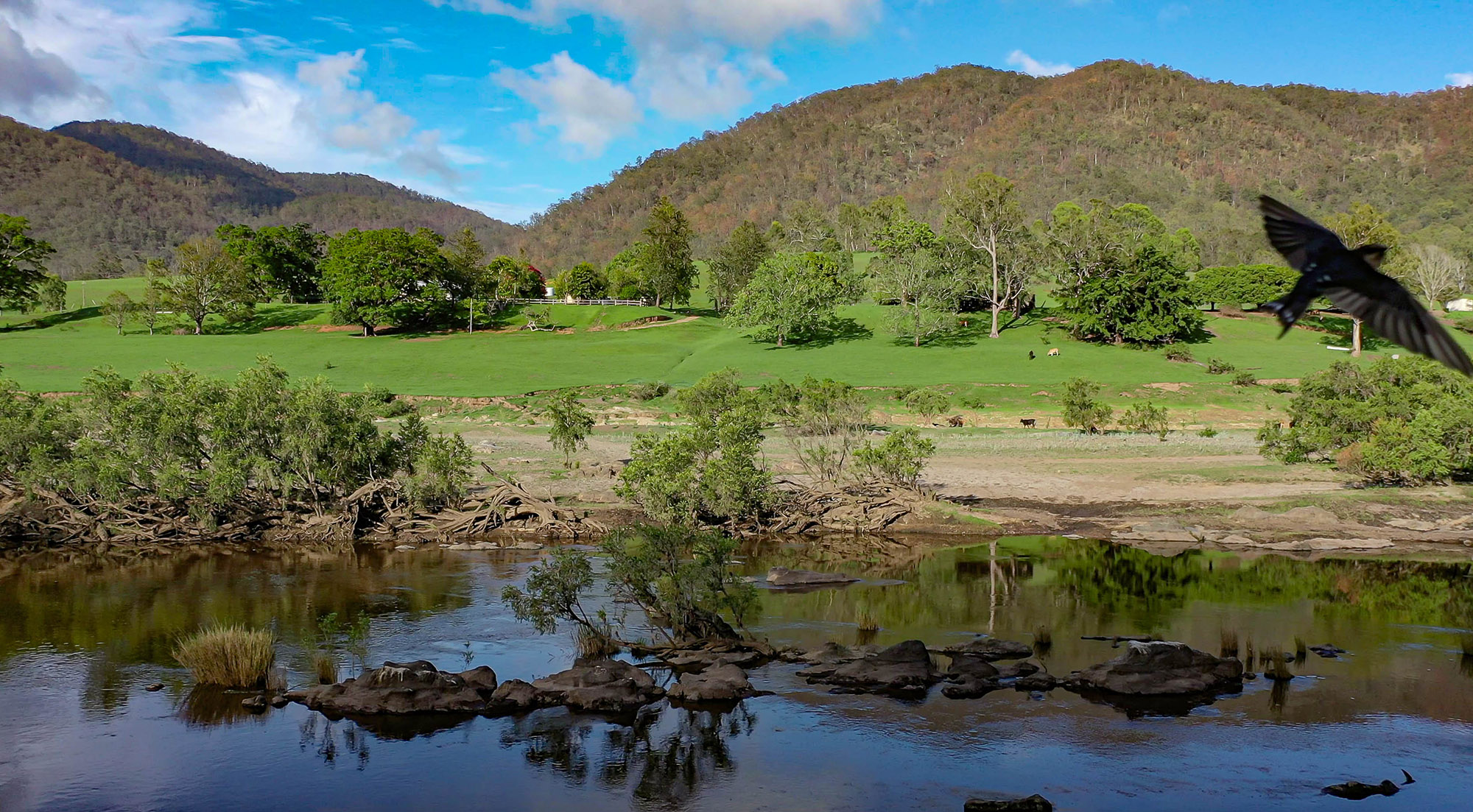 We made our way along another 4km of windy dirt road, across some more of those tiny wooden bridges until we came to the homestead. A man was standing out the front in thongs, shorts and a singlet and he came up to welcome us as soon as pulled up.
We met Buck and Belinda (say that 3 times quickly! Lol) who are just lovely! They explained why we couldn't get through to make a booking. Frustratingly, their phone lines have been down for ages and there is no service at all on the 8000+ acre property, home to over 30 different campsites with 10km of river frontage on the Clarence! And to complicate things further, as they are new owners, they don't have the passwords for any of the website Facebook or Instagram pages! So, your best bet is to take the long, windy, bumpy and most spectacular drive right up to the house and say, 'I'm here!' just like we did 😁
They told us there were showers and toilets up near the Homestead, but nothing else around the property. And as most campsites are a fair way away, it makes life much easier if you are self contained! Bathing in the river is always refreshing 😉
They suggested we camp below the homestead on the river and guided us down in their bright orange Kubota. They walked us in to check out the site (known as Old Boat Place) before we drove the Hilux in.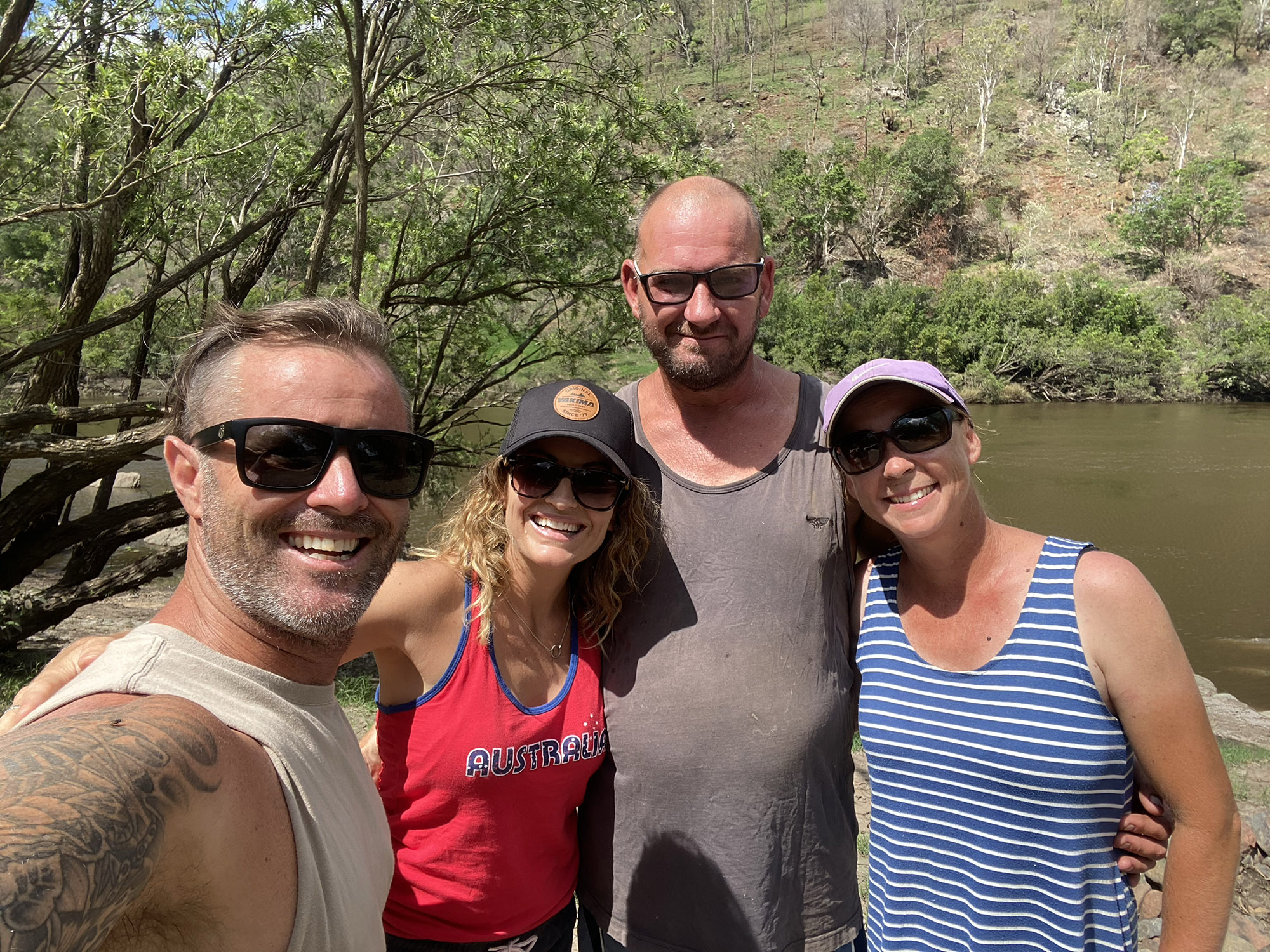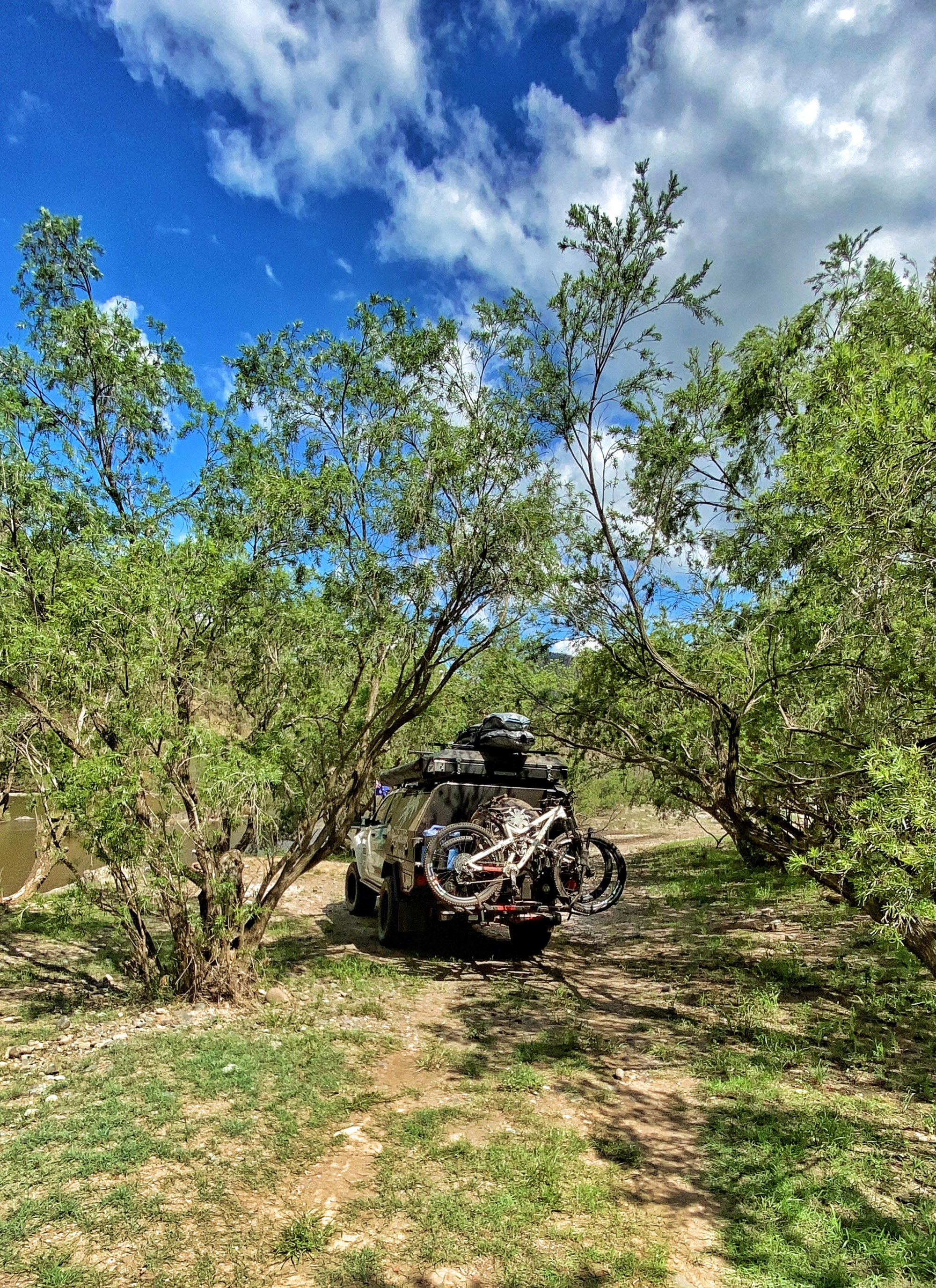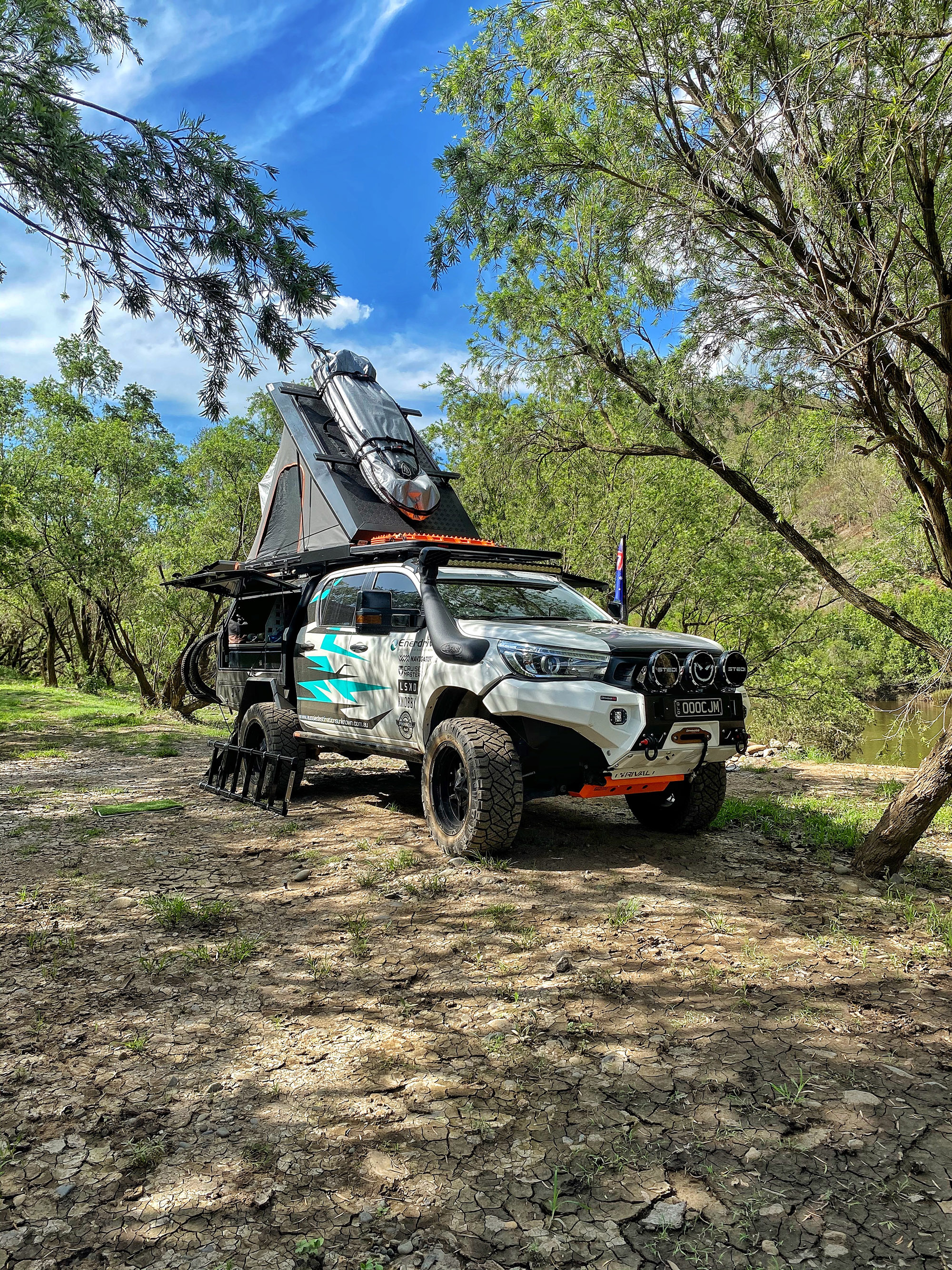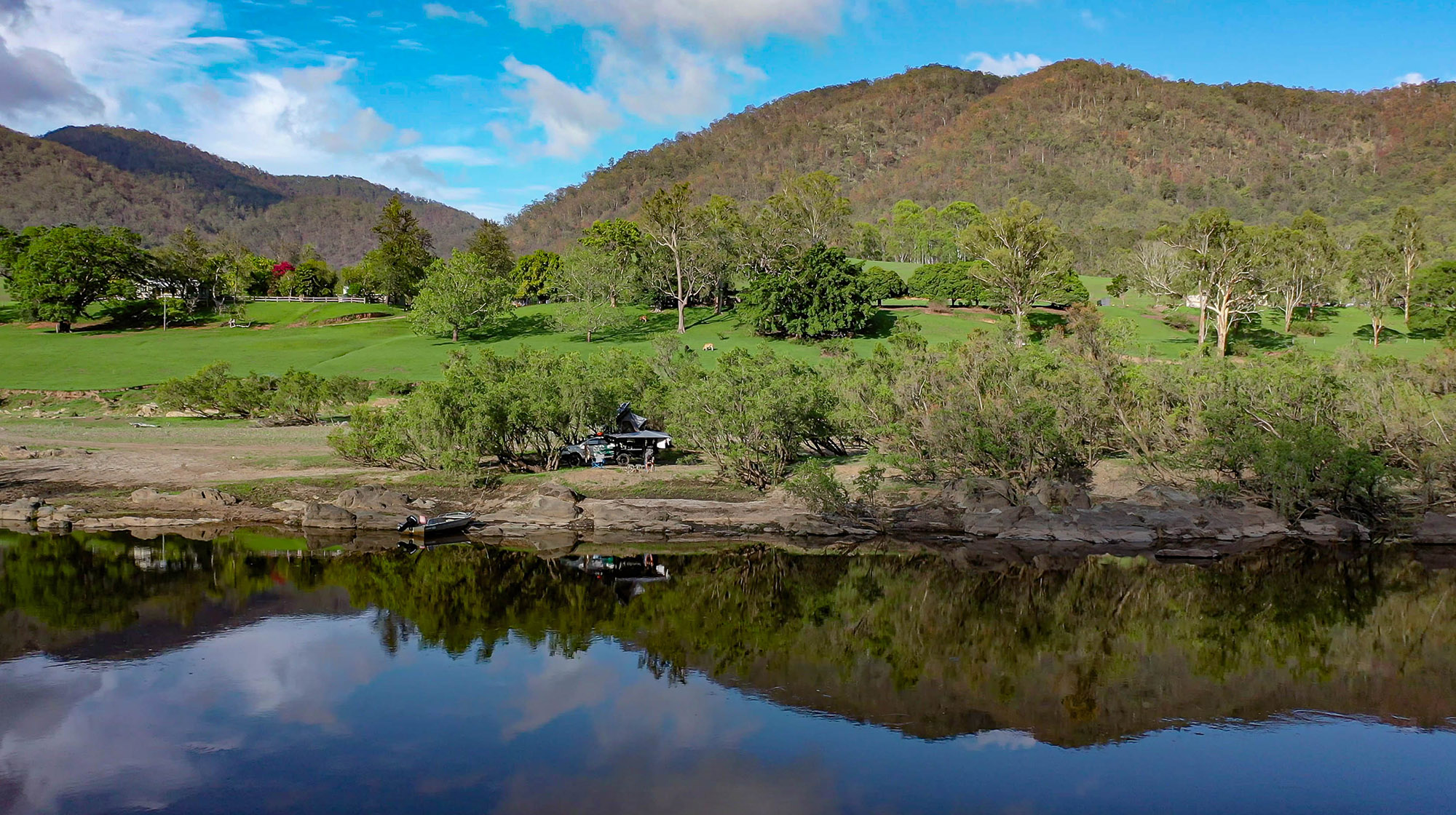 We asked them how business was over Christmas and that's when the stories of the bushfires were shared.  When they showed us videos of the hills glowing red, smoke blanketing the river and gorge and the water bomber helicopter dropping in to fill up right beside the boat, we realised just how close and how dangerous it had been for them.
Belinda explained that the property had been in drought for as long as the they had been there, with calm and crystal-clear river water, but recently the heavy rains had lifted the waters to levels they hadn't seen before and some of the campsites were still very muddy. What a start for this lovely couple on their new property! Drought, heavy rain and bushfires, all within a matter of months!
The river is now wide, flowing and quite muddy – but still beautiful and most definitely swimmable. As we were setting up, a truck was returning from dropping campers into the river further up so they could float their way down on their inflatables. Not long after they came bobbing down, hats on with drinks in hand. How relaxing!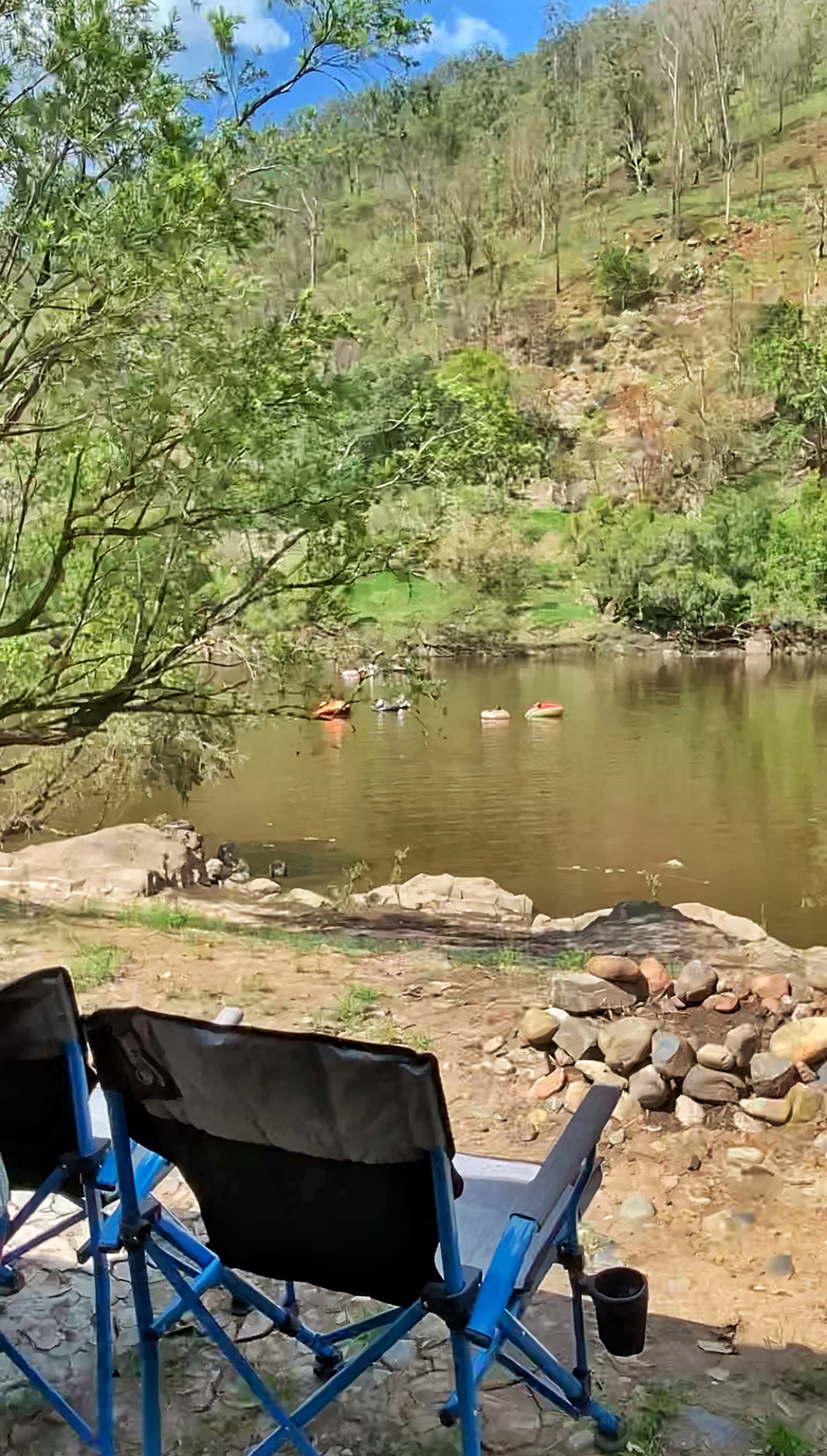 Buck said they were about to head up the river and see what it was like with so much water flowing after the floods and asked if we would like to join them. Of course we said yes, and within an hour we were set up, had swum in the river with the turtles while tiny fish nibbled at our toes, and were ready when they arrived on the Kubota to take us first to Skinny-dipping Waterhole (I think that's the name!) and then up the river in the tinny.
But first … the waterhole. Once again, we bounced along the road in the Kubota, over the bridge and down until we came to a secluded little corner with the most inviting stream babbling along and over some rocks into a deep waterhole.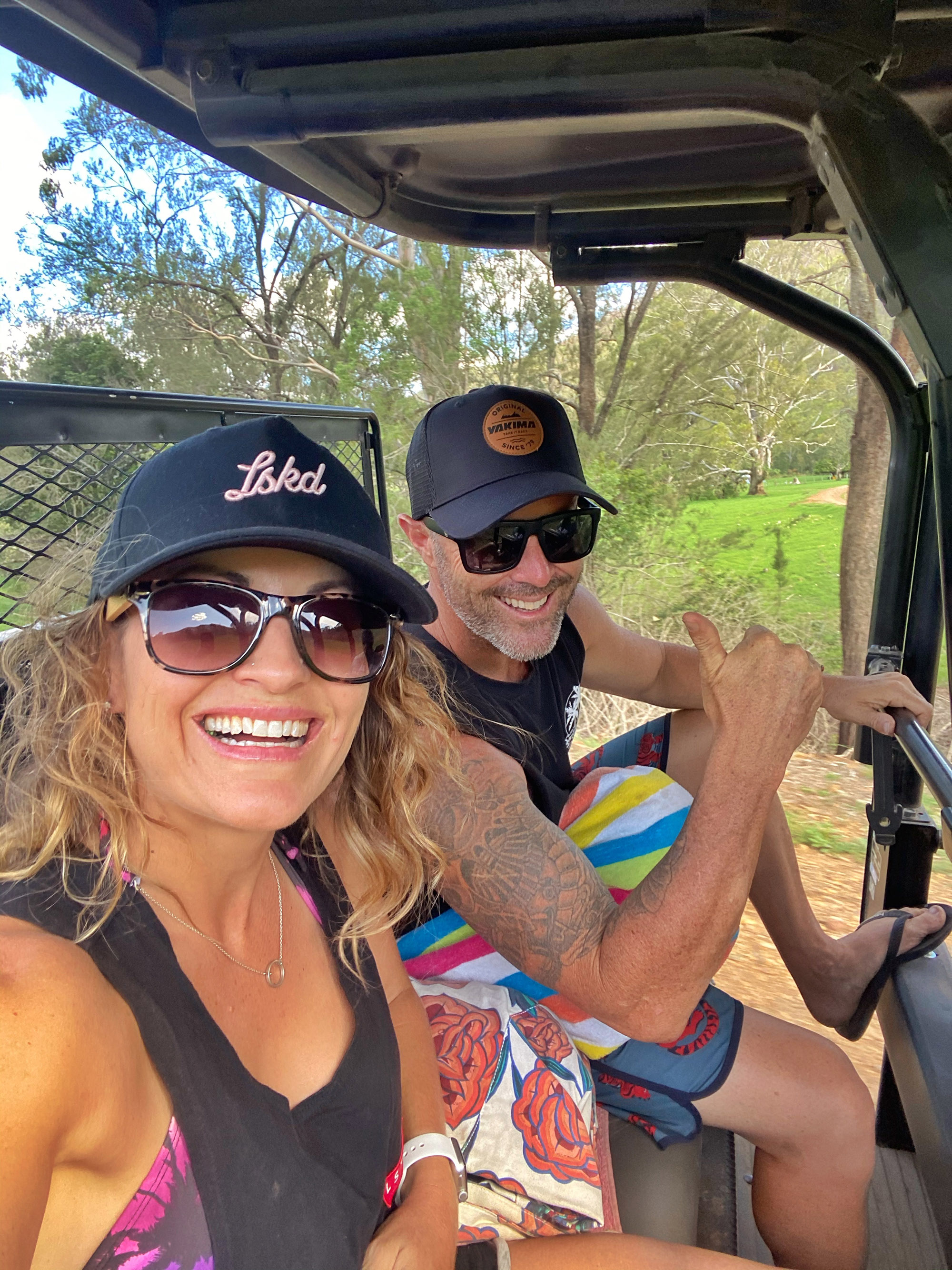 We all got into the clear water and Chris and I paddled over to the little waterfall. I didn't want to get out! But it was already 4:30 and we had a river and some incredible waterfalls to explore!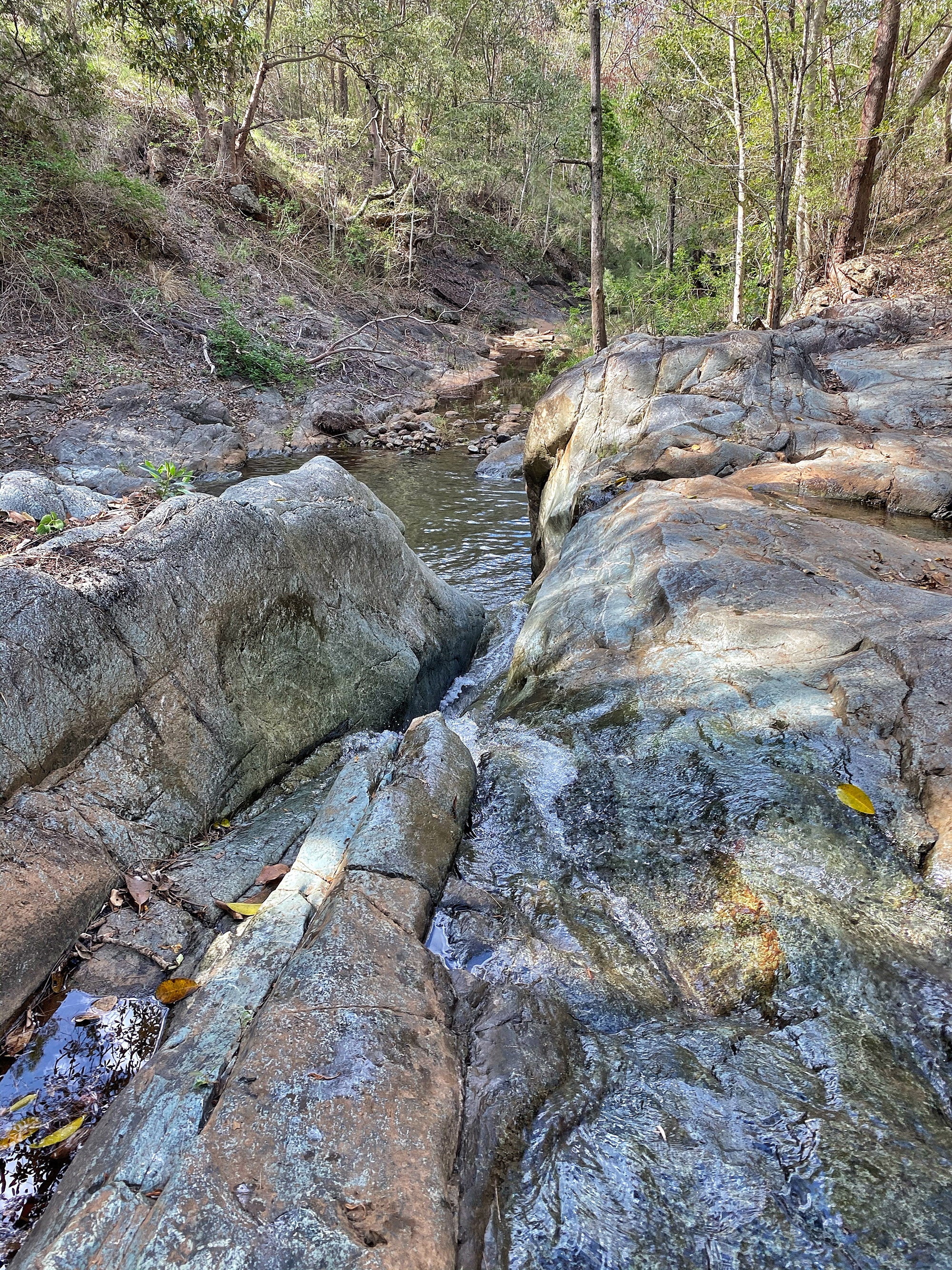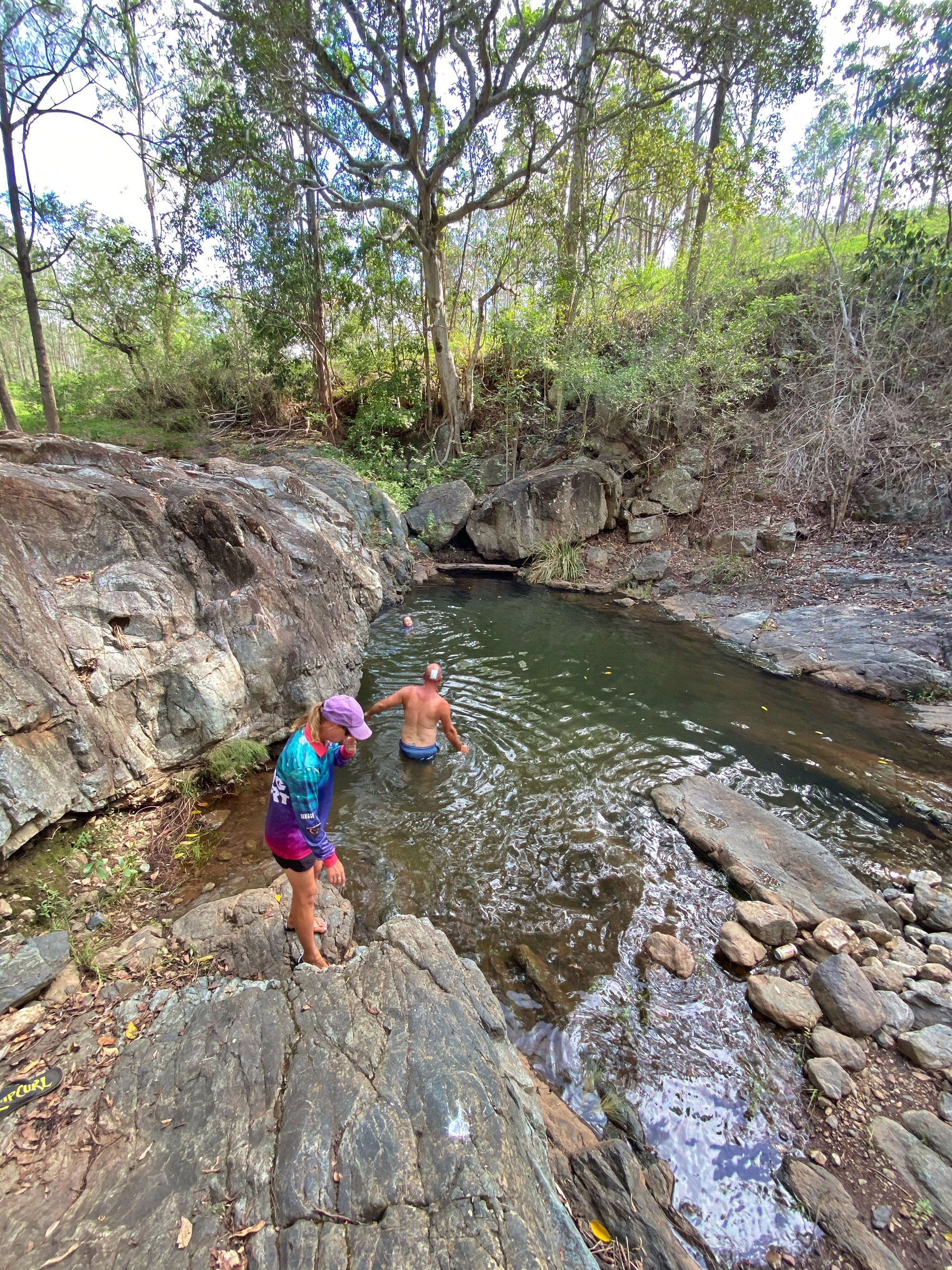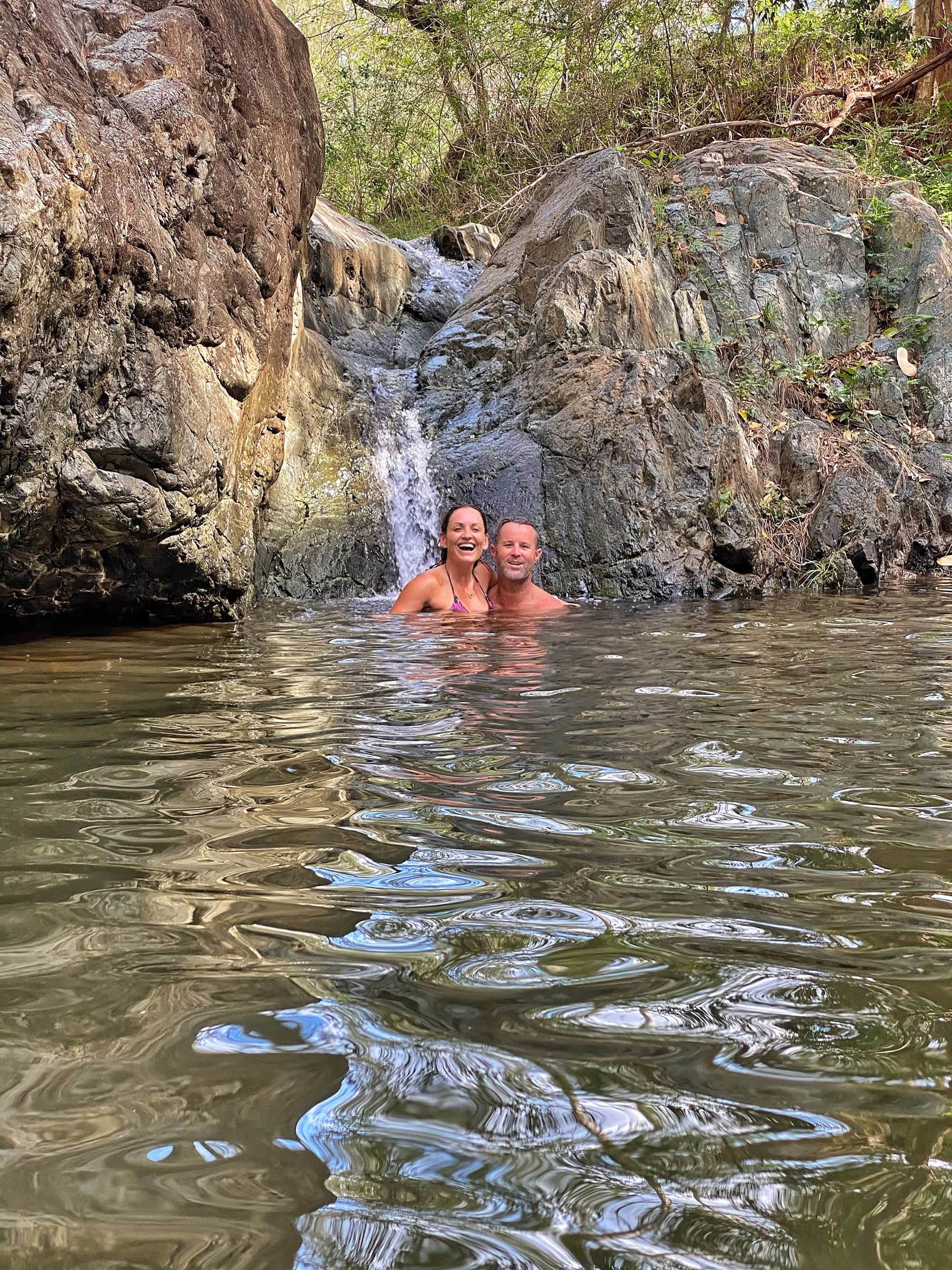 We drove back to our campsite where the tinny was moored, jumped in and headed off up stream. The further we went, the more spectacular the scenery became. Fish, birds, cliffs, waterfalls and incredible rock structures once again made for a moment where the camera just had to be put down, and we tried to take it all in.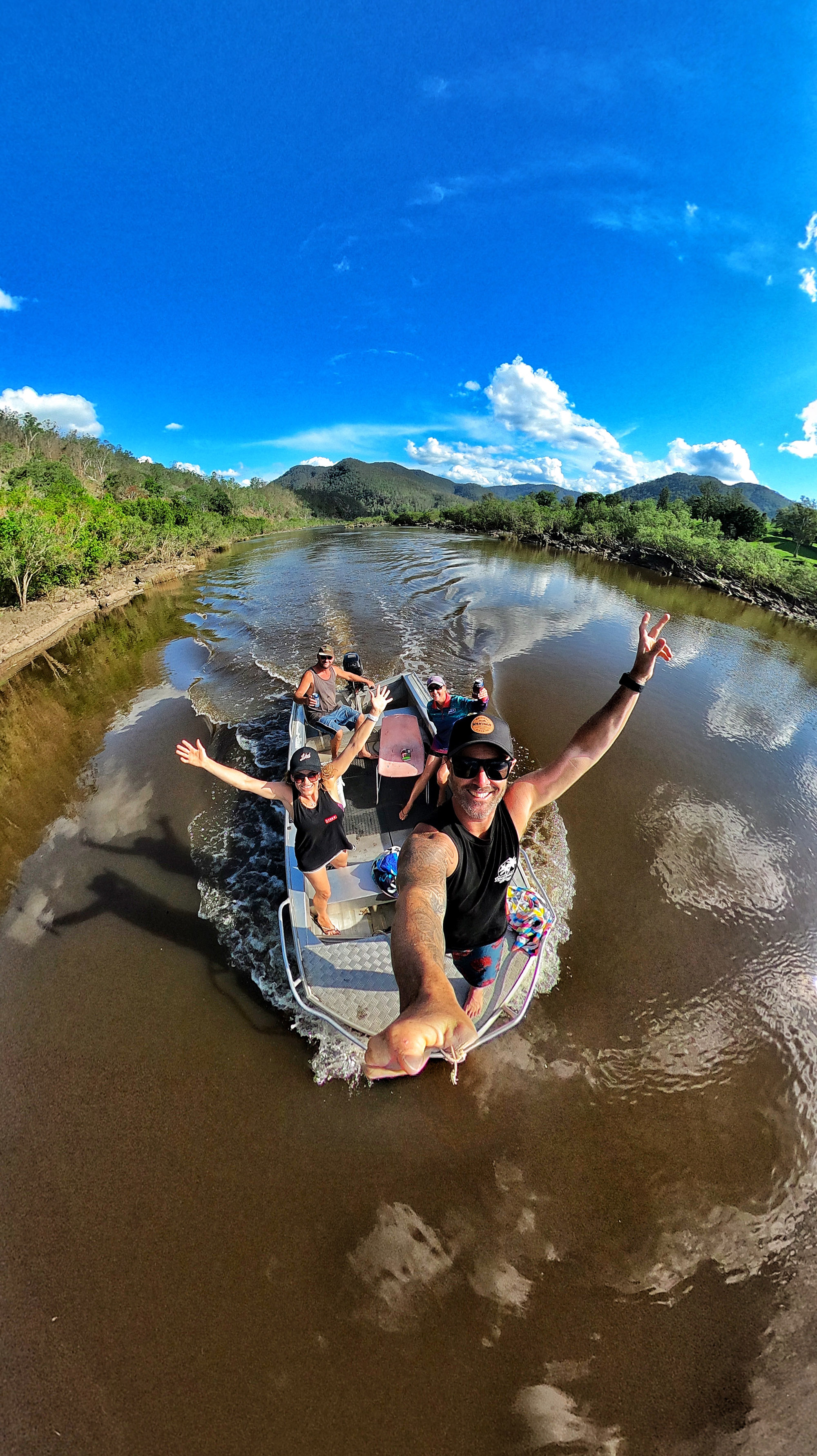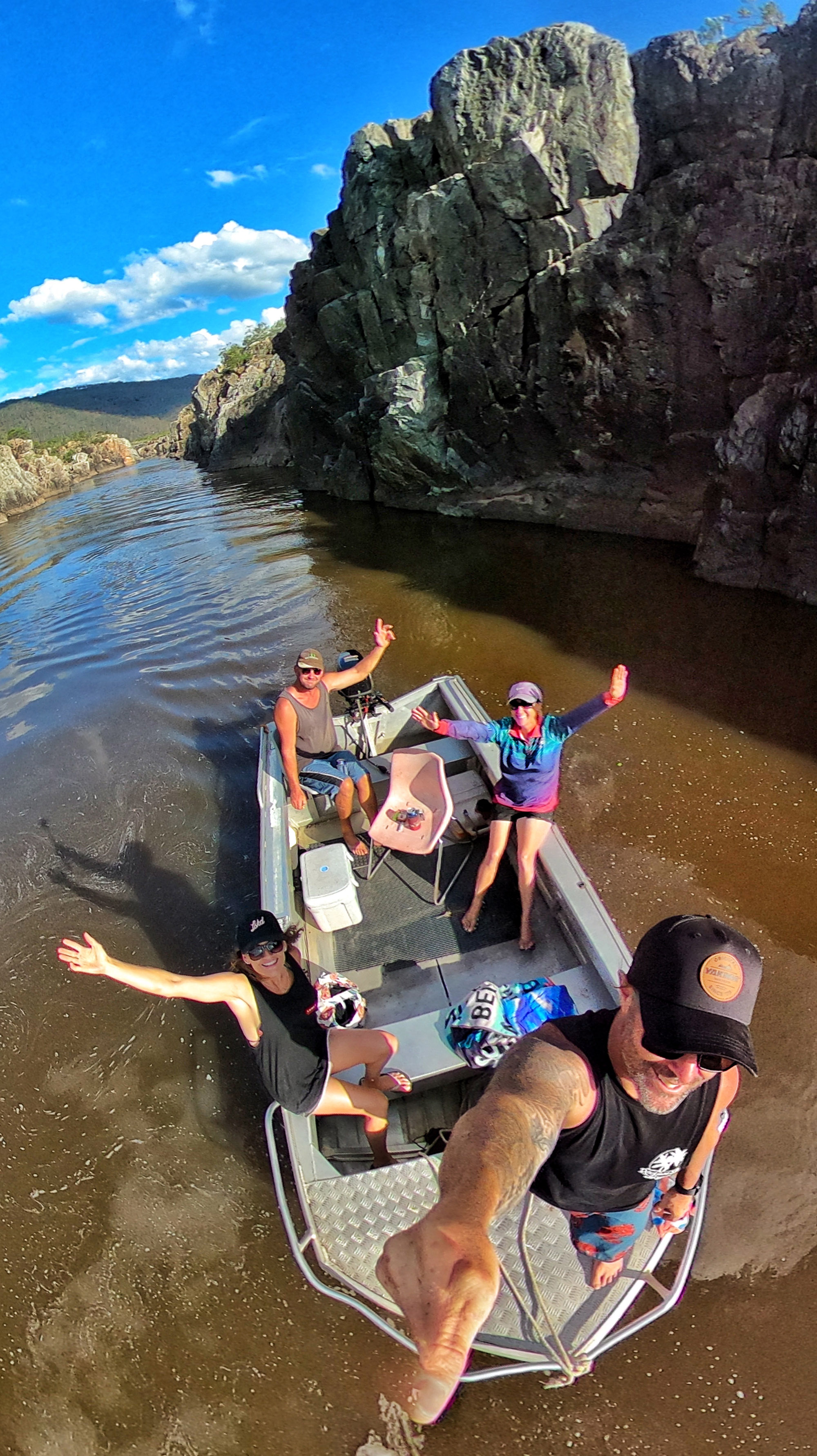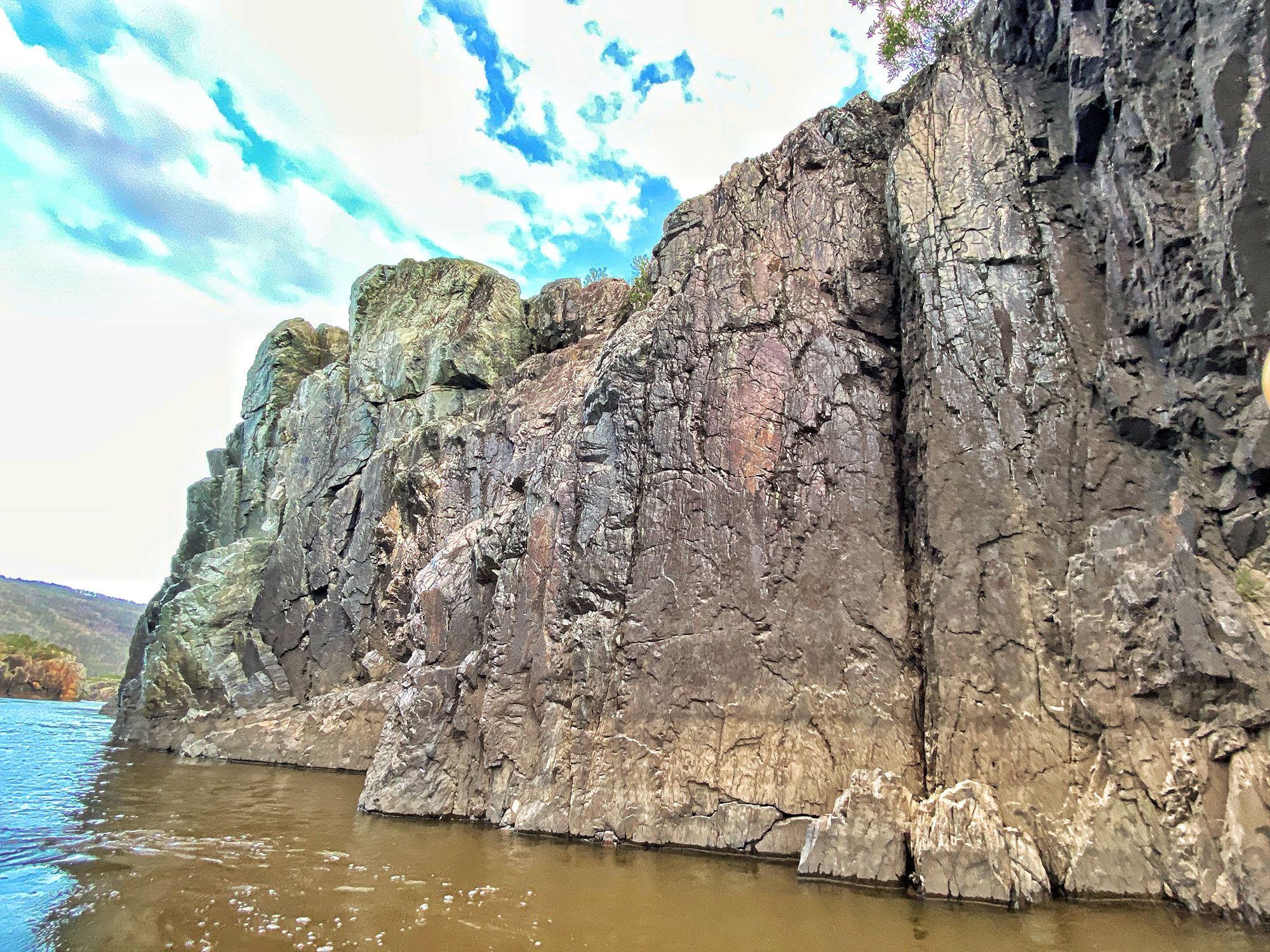 We pulled in, tied the boat up and decided to do the rocky 2km walk along the river's edge to see the falls. I wasn't sure how I'd go in thongs and Chris being barefoot, but we were fine and so very happy we decided to do it.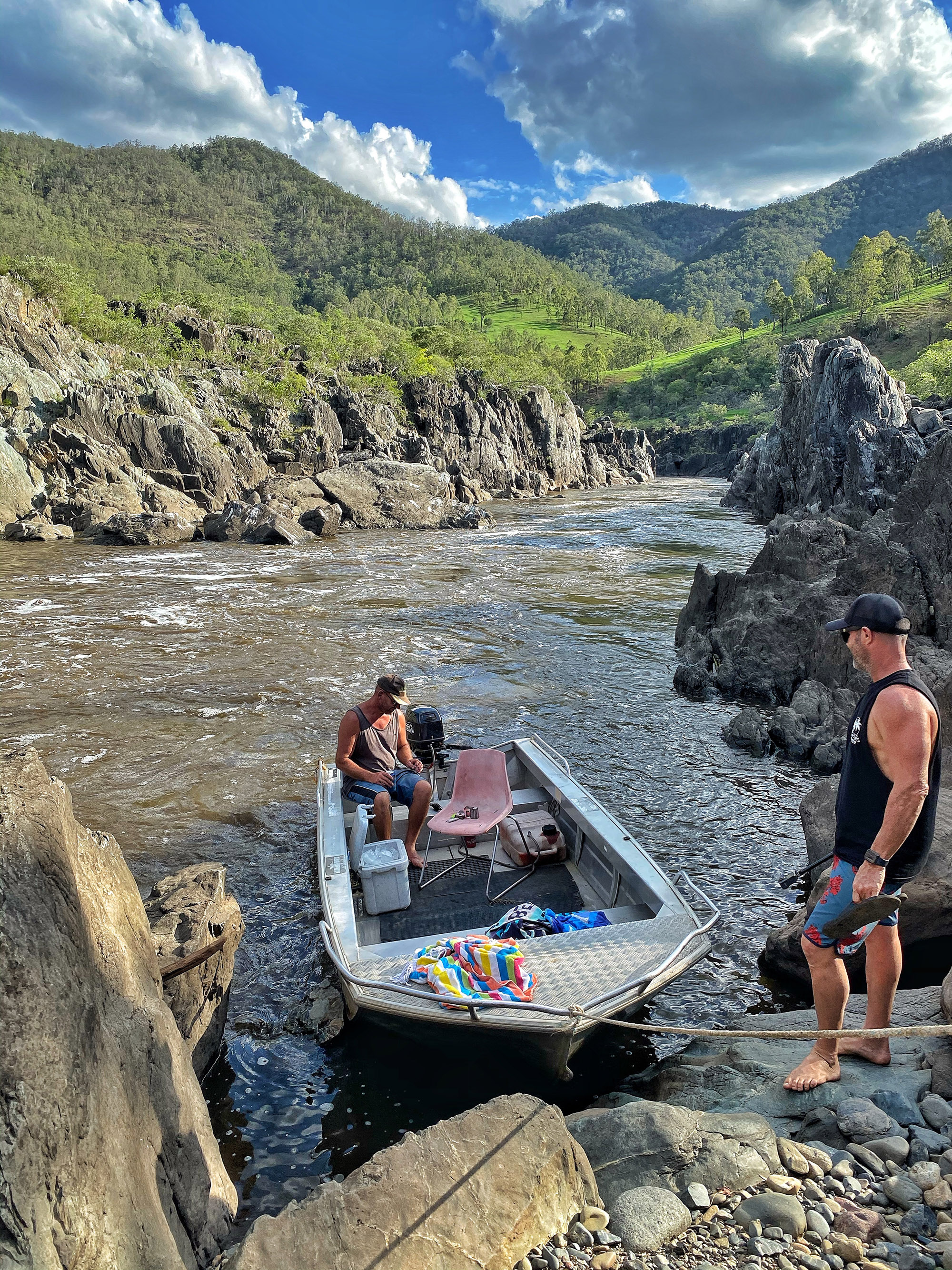 The first falls, Willowtree Falls, were affectionately known as the 'baby falls' … but not this time! Water was barrelling over the top and there was no way you'd get in for a quick dip at the bottom.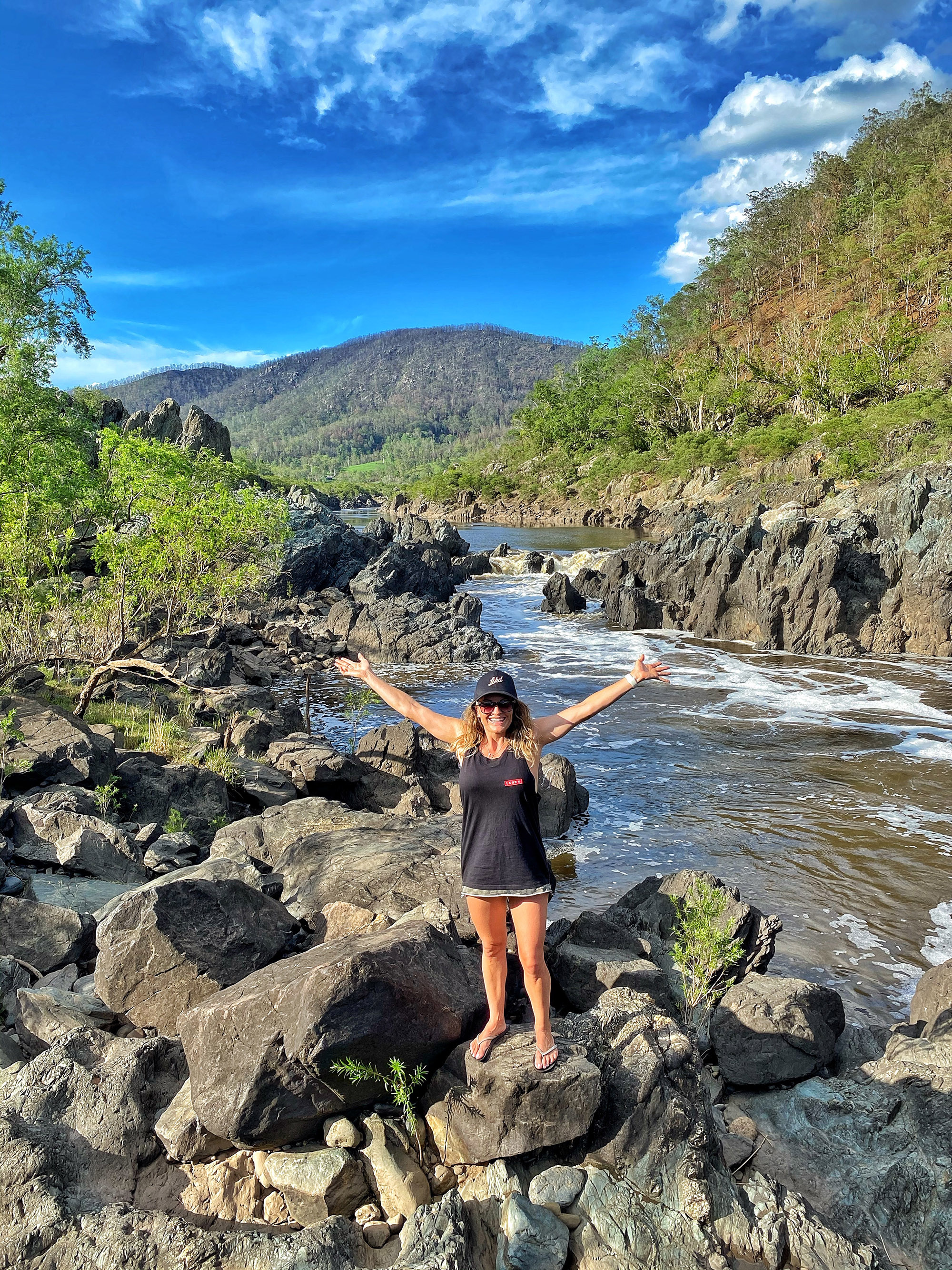 Belinda assured us that as beautiful as these falls were, the best was yet to come. We continued on over grassy hills, up rocky walls, under shrubbery and across water covered plains until we reached the magnificent Rainbow Falls. There is no need to ask why the name, as you can clearly see a rainbow directly in front of the falls created by the mist spraying gently onto your face and body as you stand and admire what was once a lovely swimming spot that is now a raging waterfall!
We just sat, mesmerised until we realised it was nearing 6:30 and we still had to walk back to the boat, ride down the river and Chris still had rocks to jump off and ropes to swing off before we could head back to camp.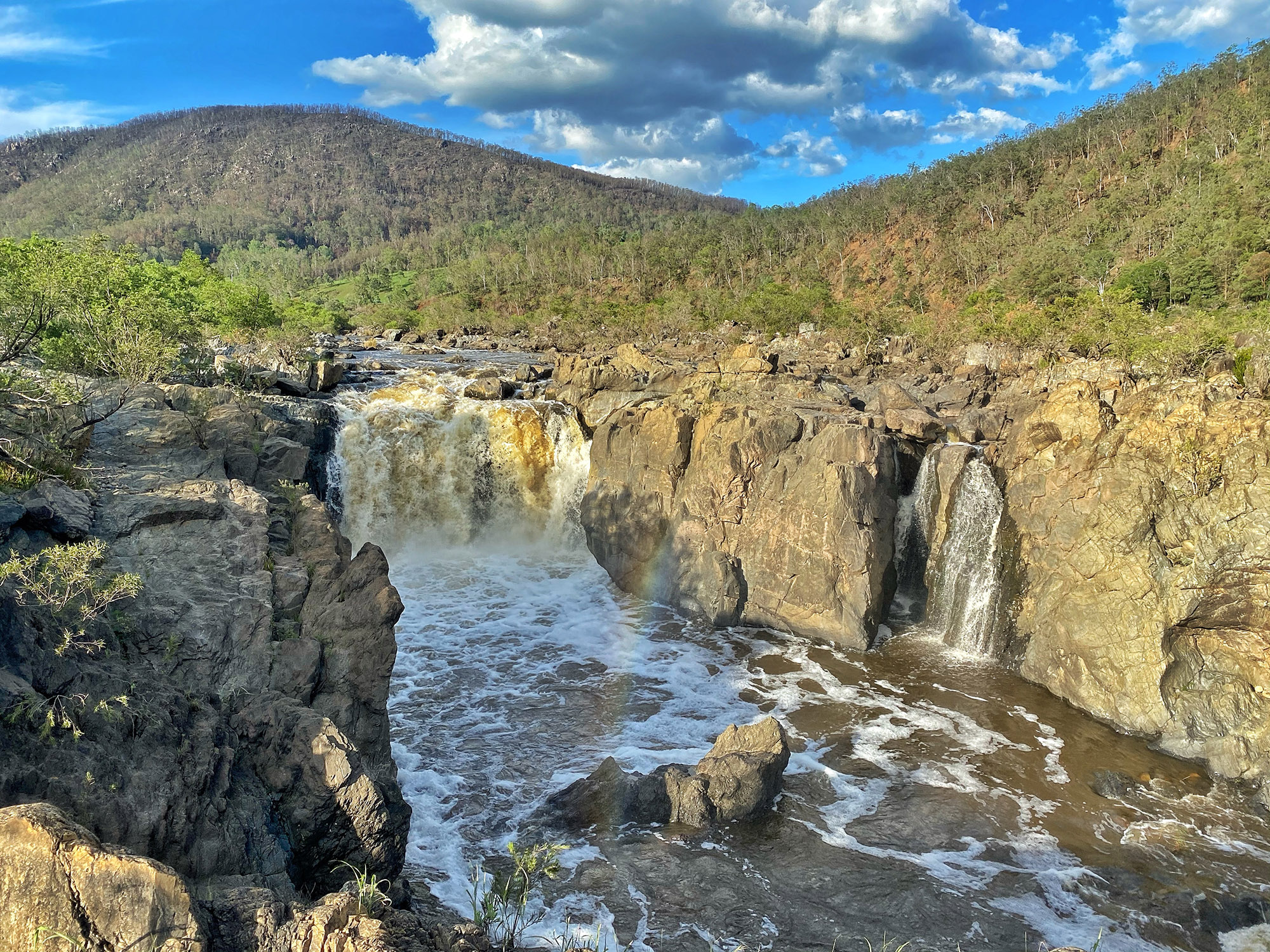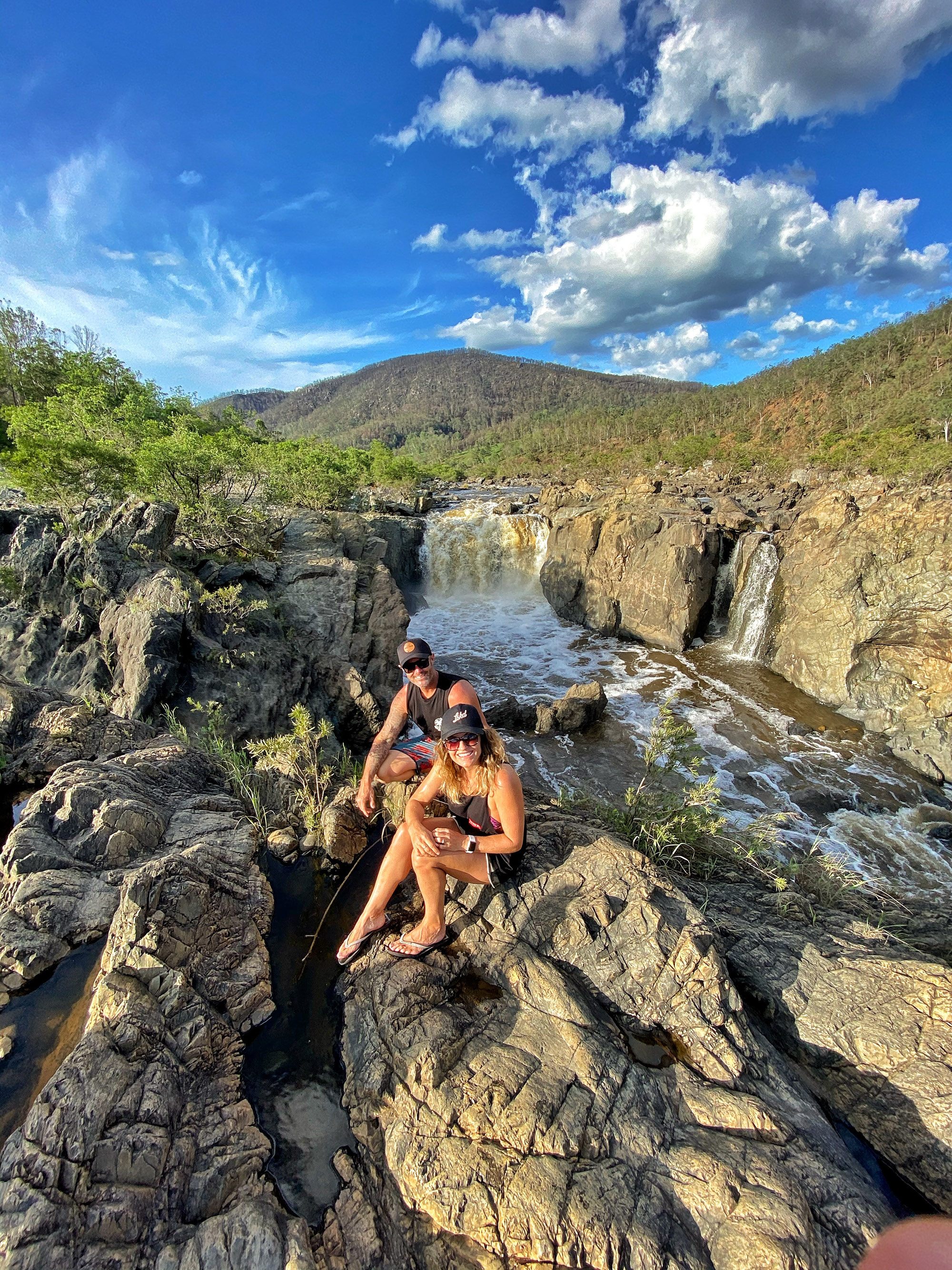 The river was flowing quite fast, so we decided to see how far we could get with no motor – but it wasn't long before we were leaning over the side and pushing the tinny off the rocky walls, and Buck was firing the motor up to stop us side slamming into a large rock that was looming right up in our path!
When we could, we just drifted in silence, listening to the birds, fish, turtles and all the stories Buck and Belinda had to share about this incredible place.
The property has long been a working cattle station, and Buck, Belinda and Belinda's mum are in the process of bringing their own herd of cattle to run here.
Chris was shown all the best jumping spots and gave them a go (except the first one as we'd forgotten to stop!). He also climbed the riverbank and swung off an epic rope swing after Buck showed us all how it was done!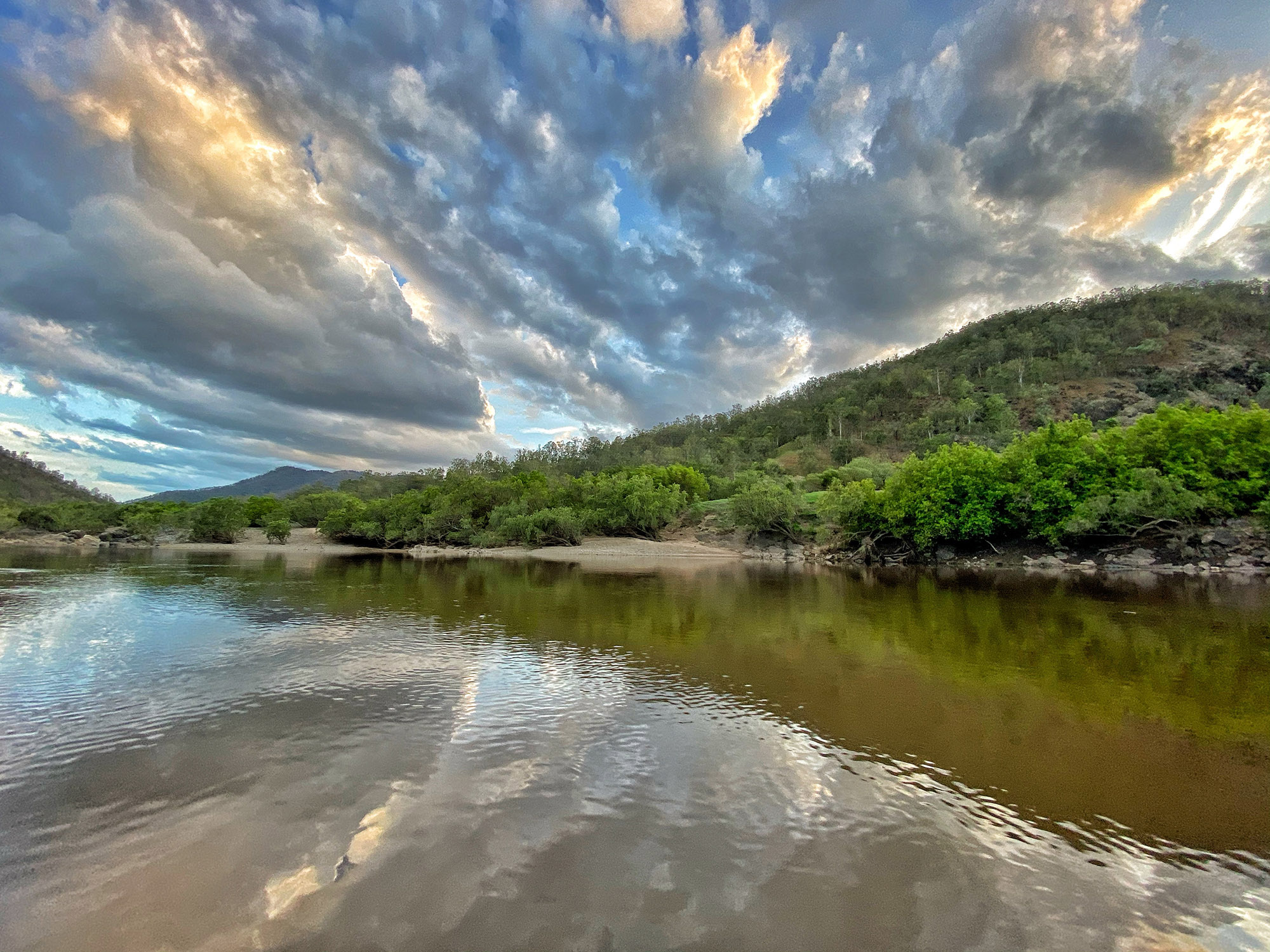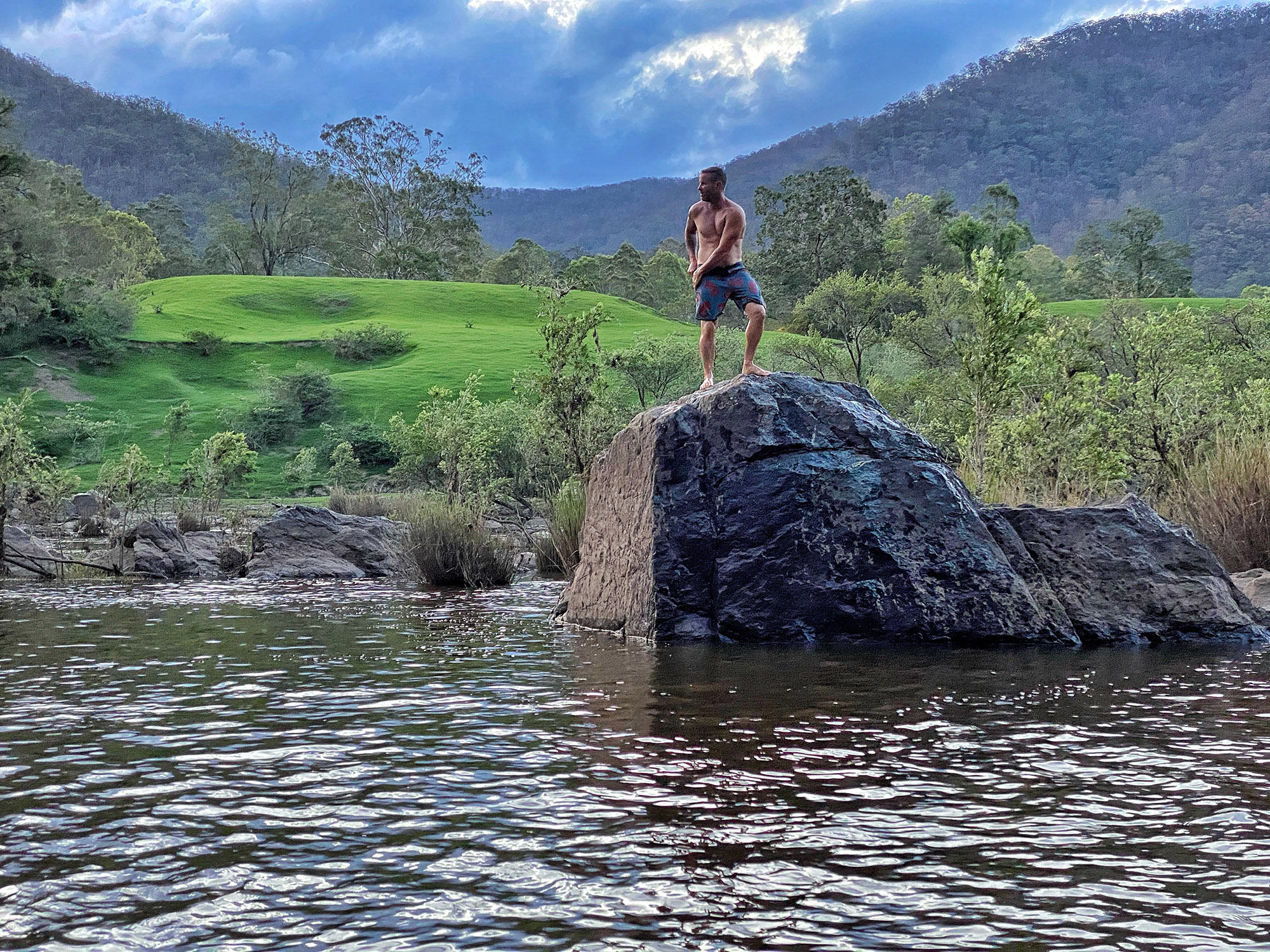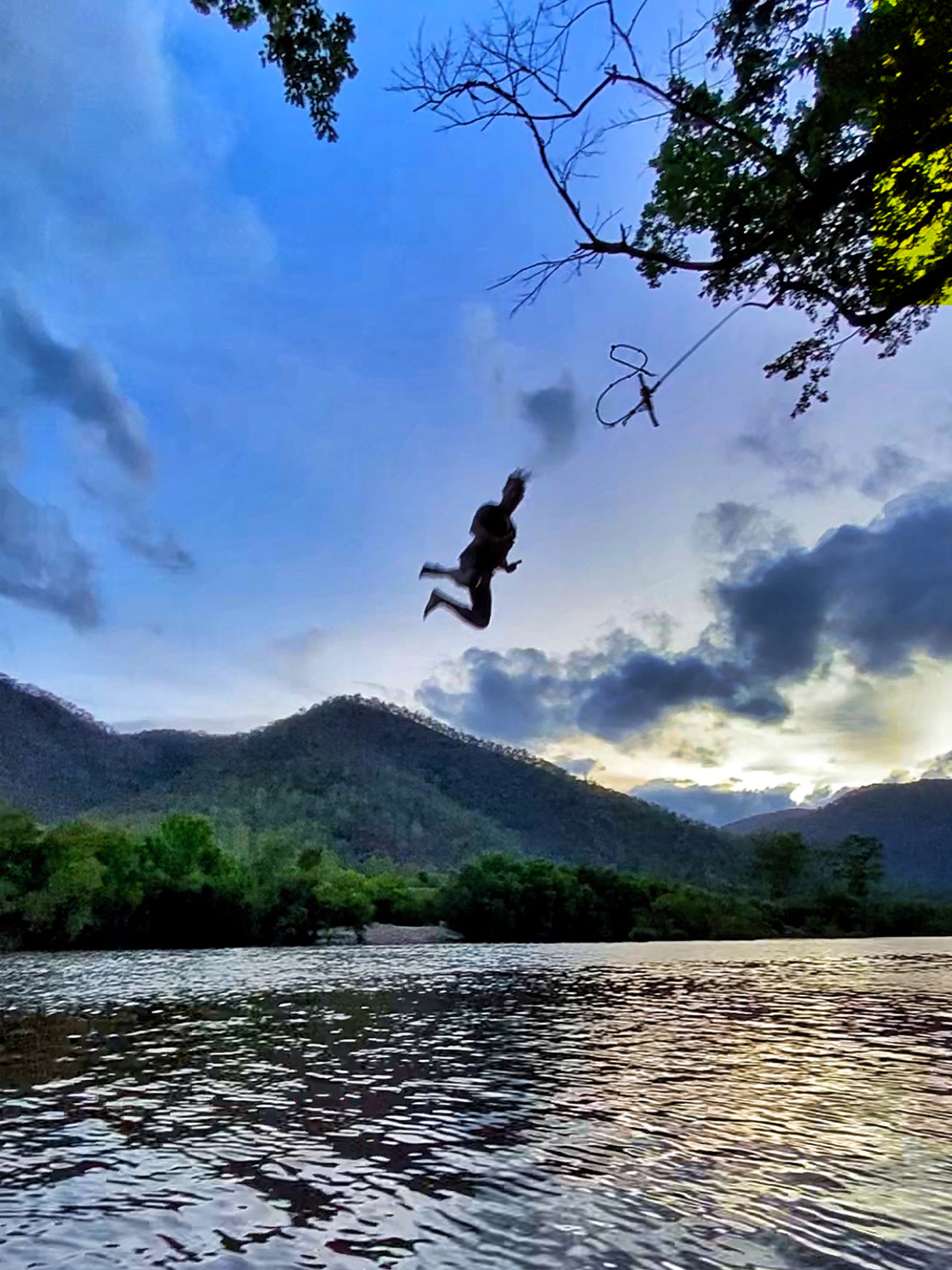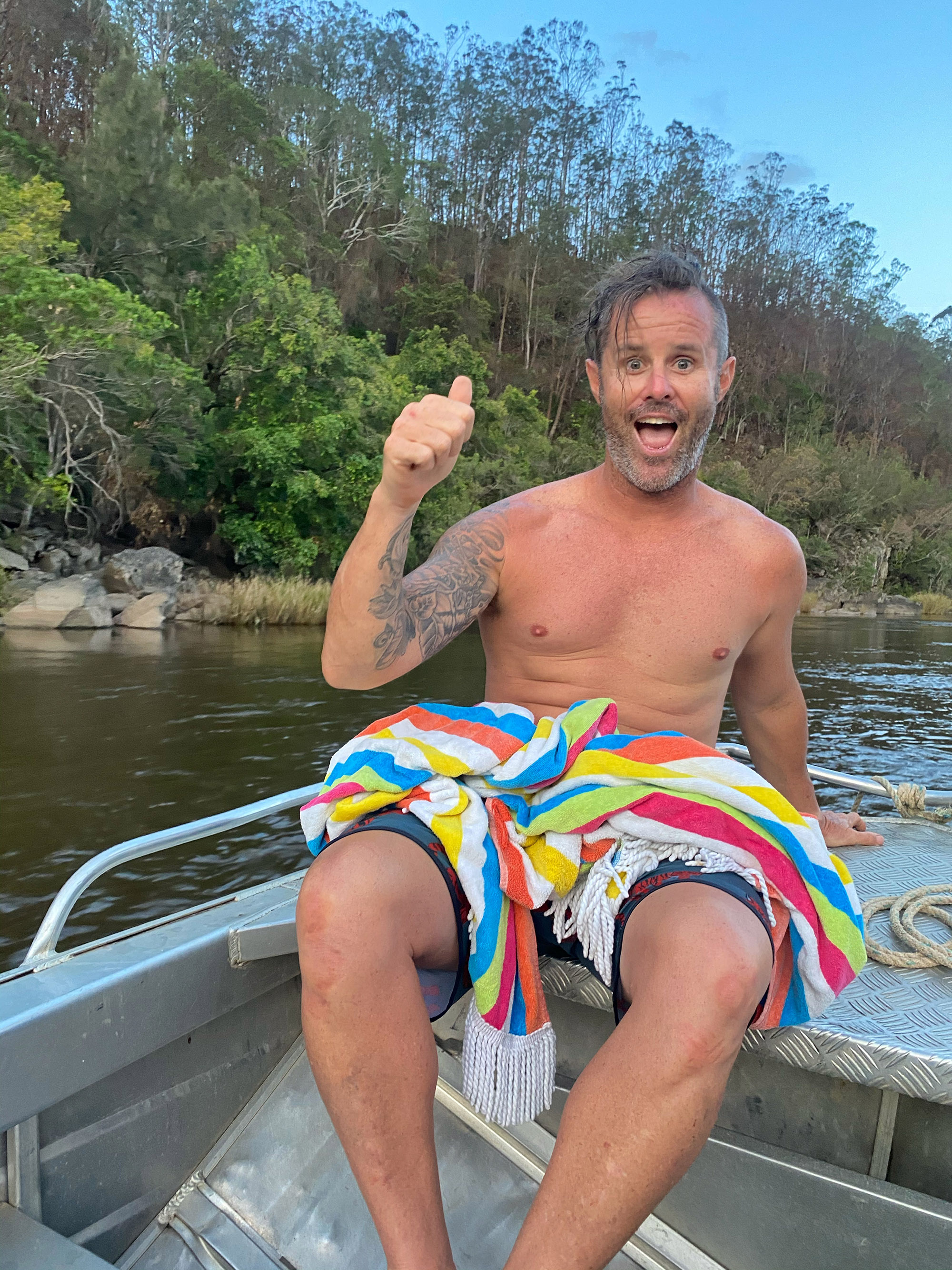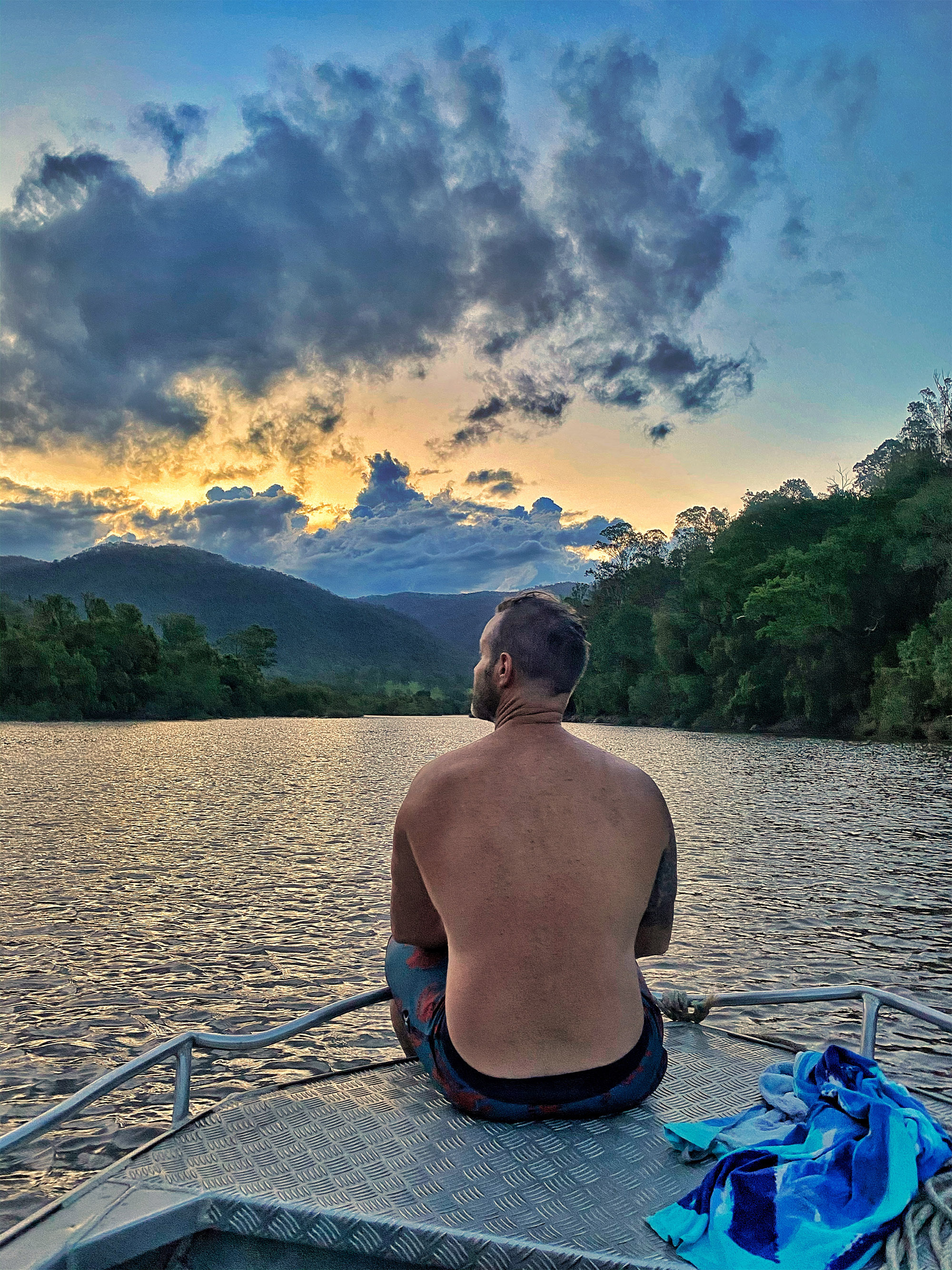 It was past 8:30 and dark by the time the boat pulled back into our campsite. We were tired, hungry and exhilarated! What an amazing way to spend Australia Day!
Buck and Belinda went back to the homestead and we cooked up our lamb steaks and salad.
It wasn't long before Chris was up in the rooftop tent and I was laying back in my camp chair staring in amazement at how many stars there were and how brightly they were shining!
The next morning, we were up as the sun was peeking over the hills, lighting up the glassy river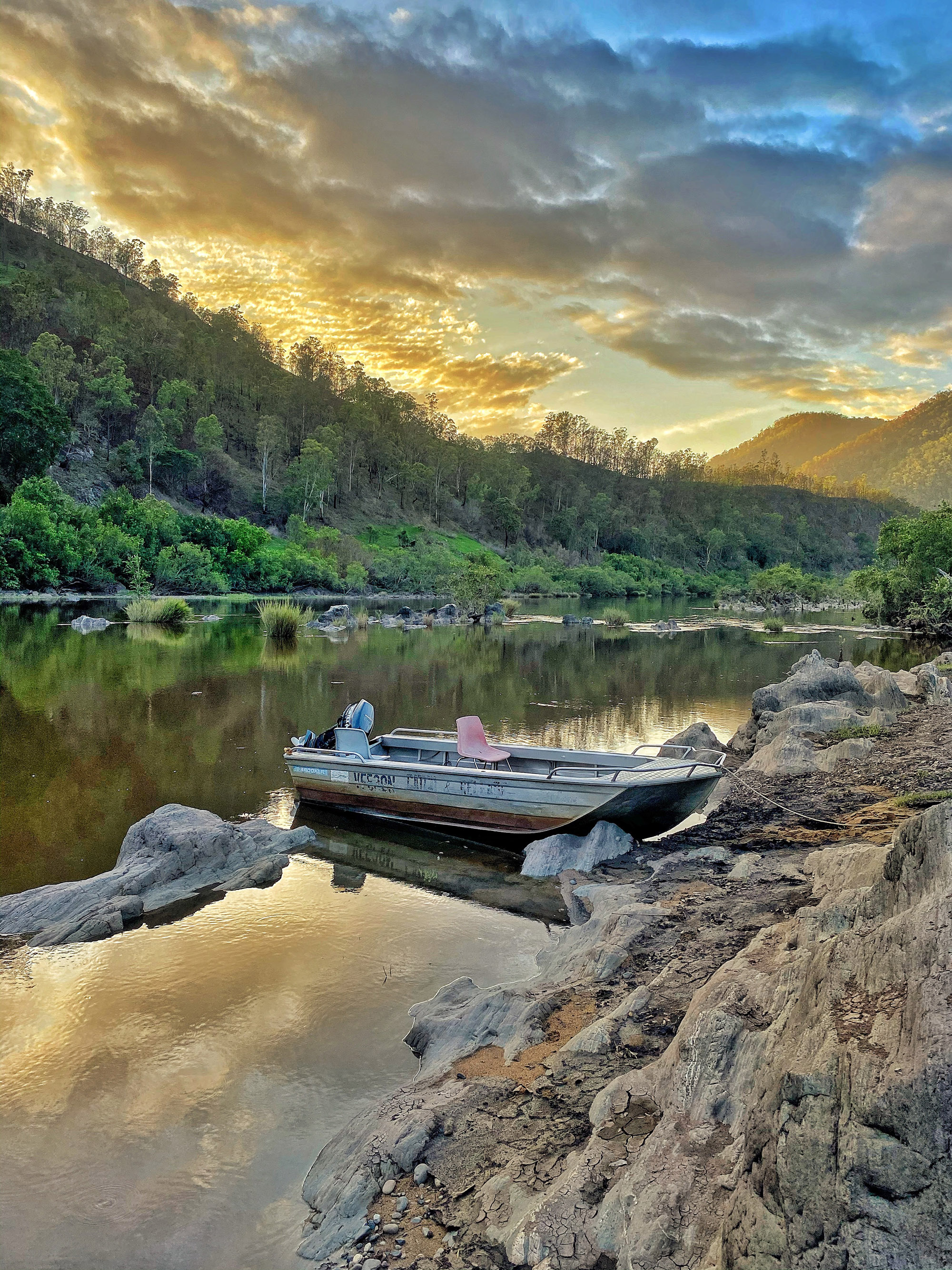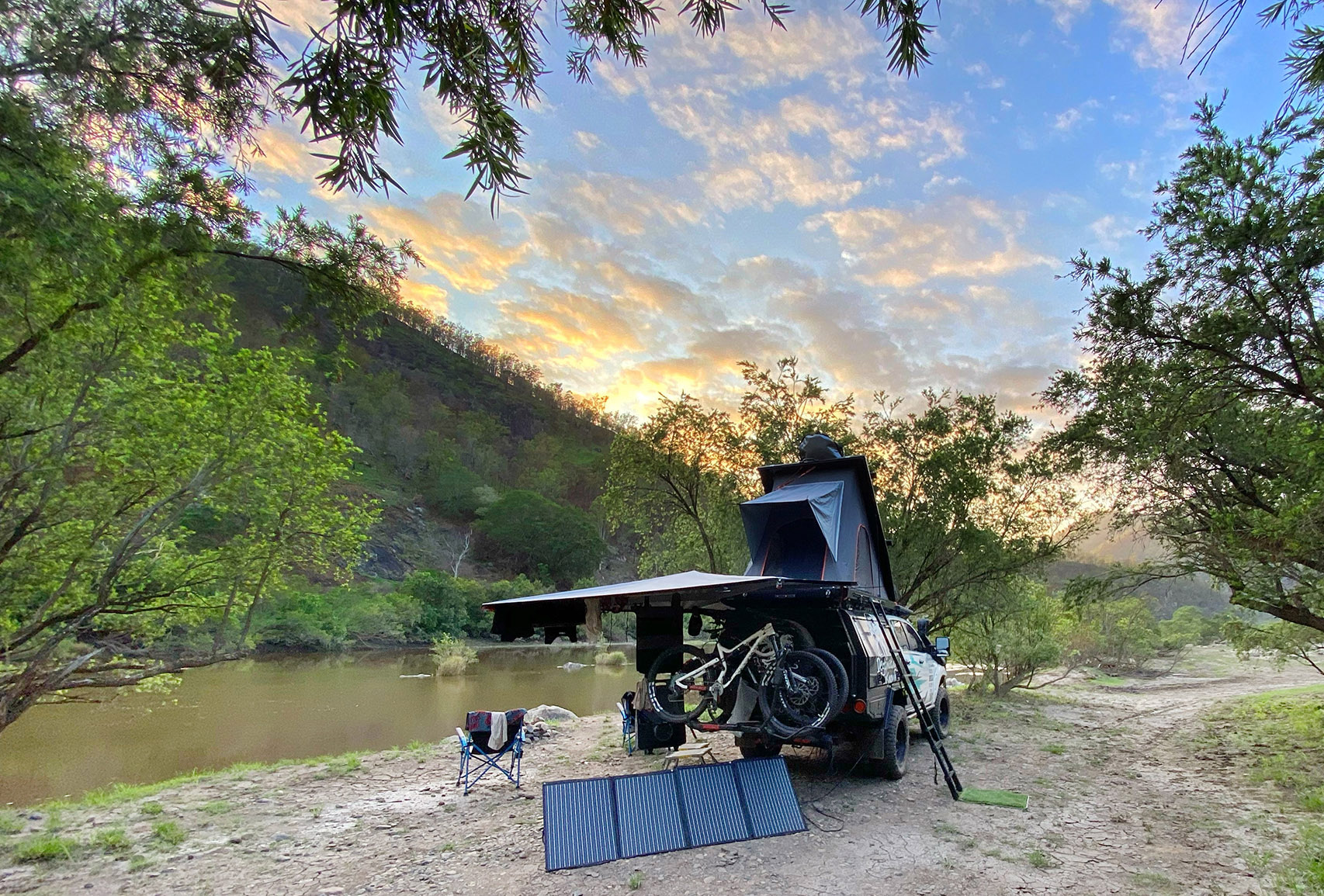 By 9:30 am we were saying our goodbyes, wishing we had more time to spend at, and making plans to return to The Gorge here on the mighty Clarence River.
How to get here:
Drive out and pass through Copmanhurst, keeping an eye out for a large sign saying 'Appletree Flat Road'. You will also see a sign saying, 'The Gorge Station.'
Not long after you will come across Lilydale Bridge, a very low bridge where you will find plenty of campers (this was also on our list). We actually stopped here and had brunch on the rocky riverbank on our way home.
After crossing the bridge, turn right at the sign for The Gorge and then just keep driving for about 35km. This is where the scenery is spectacular no matter where you look!
You will see the welcome sign for The Gorge Station and continue on a further 4km until you reach the homestead.
MAP HERE: