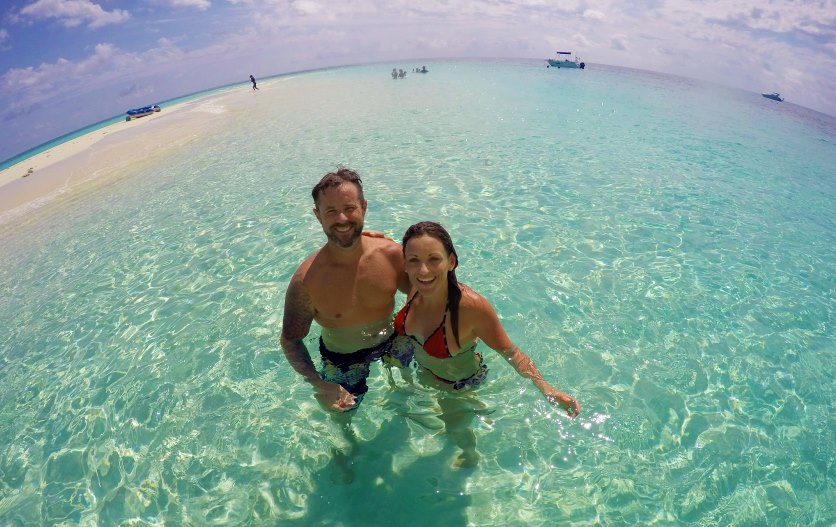 We have travelled to north for Christmas 3 years in a row now. Why? Because we LOVE IT! The rest of Australia (and most tourists) tend to steer clear of North Queensland and it's 'scorching summer heat', while we embrace the heat, the availability of sites in caravan parks, the uncrowded beaches and the whole experience. Yes, we love it!
Read Part 1 here.
I must let you know right at the very beginning, that this post is almost 5000 words long! I have thought about ways to minimize it, but we saw so many amazing places, that it would be a shame to cut any of them out! So please don't feel as though you need to bore yourself by reading everything. I have highlighted the names of locations in BOLD so you can skip to the parts you are interested in.
If you are planning your adventure from Brisbane to North Queensland, I hope this gives you some ideas.
As I have mentioned before, we share our kids which means we usually have them with us for half of the holidays. This has allowed us to do so much more, and with all that we've seen and experienced, I could easily write a novel! But I'll try not to.
I will keep this brief and expand on our favorite locations as I have the time to break each of the best bits down properly.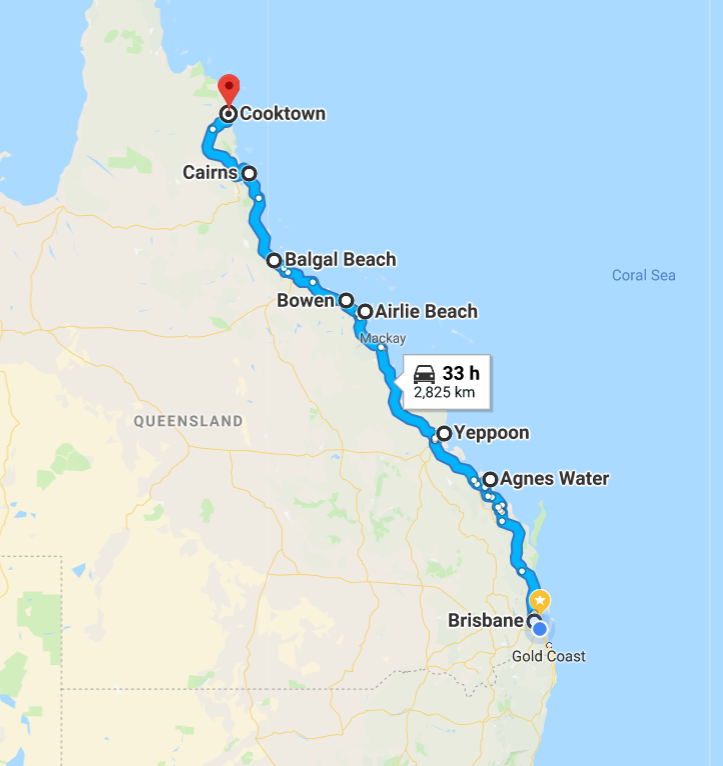 EN ROUTE
AGNES WATER/1770 – 1 night

Lookout of 1770
Agnes Water Beach and Park

YEPPOON – 2 nights

AIRLIE BEACH 2 nights
EN ROUTE

Bowen
The Big Mango
Horseshoe Bay

BALGAL BEACH 1 night free camp

Balgal Beach War Memorial

EN ROUTE

The Frosty Mango
Lucinda
Hinchinbrook Lookout
Cardwell

CAIRNS (home base)


Redlynch
Crystal Cascades Waterfalls
Crystal Cascades National Park
Night Markets
Cairns Esplanade
Palm Cove
Kuranda Scenic Rail and Skyrail
Mena Creek (Paronella Castle)
Babinda (The Babinda Boulders)
Atherton Tablelands

Lake Barrine
Lake Eacham
Malanda
Curtain Fig Tree, Yungaburra

Great Barrier Reef

EN ROUTE from Cairns to Cooktown

Palmer River Roadhouse
Black Mountain

COOKTOWN

Grassy Hill Lookout
FInch Bay
Esplanade/Waterfront
Elim Beach (day trip from Cooktown)

ARCHER POINT 1 night
DAINTREE (day trip from Cairns)


Cape Trib Beachouse
Bloomfield Track
Emmagen Creek
Daintree Ice Cream Company
Cape Tribulation Lookout
Luckily Chris has lived in QLD since he was just 2 years old and has family both here in Brisbane and up in Cairns. He spent his childhood between the two places and knows so many secret little spots here, there and everywhere in between that we were able to visit. And what he didn't know, his family did! Having 'connections' sure makes things so much more fun 🙂
Our first trip up was in December 2015. We spent the first 2 weeks travelling with our friends and their kids, and we had our 3 kids for the second half of the holidays.  This was a wonderful trip in our old 2014 Hilux and Jayco Discovery Pop Top.
---
AGNES WATER
December 19th was day one. We met our friends at the Nudgee service station, as so many people do, and headed on up to Gin Gin where we had a toilet stop and grabbed something to eat. After a bit of a lie down in the grass and a chat, we kept going until we reached Miriam Vale (great name for a town by the way!) and we got out to stretch our legs.
From then it was a straight trip up to Agnes Water where we set up for night one. There was no room for both of our vans at the caravan park on the water in 1770, but the Captain Cook Holiday Park was lovely. It had a great pool and the amenities were clean and tidy. The staff were lovely, and the park was well kept and in a lovely, tranquil bush setting. The boys were a bit upset that they weren't right on the beach at the Agnes Water Beach Caravan Park, so they could surf, but I'm not a surfer, so I was happy with the pool! I think the kids were as well.
We had a wander up to the lookout of 1170 and explored the town a little before heading off to Yeppoon.
---
YEPPOON
Yeppoon has to be one of our favourite places … every time we go it just gets better!
We stayed at the Big4 Capricorn Palms Holiday Village with our sites backing right on to the pool. The kids swam, and we had a bit of a relax. I find that every trip we take, Yeppoon is the most relaxing place of all. It might be because we stay a few nights, or it might just be the place itself. Either way, I love it! 🙂
We had a wander around Yeppoon; went up to a lookout and down to a beach, we grabbed ice cream in town and wandered along the esplanade as the kids checked out the waterpark that was under construction.
---
AIRLIE BEACH
The 20th of January meant time to make our way through Mackay and on to Airlie Beach. We stayed at the Airlie Cove Caravan Park which was a cute little park with a deadly little waterslide! Far out did the boys (the adult ones!) have some fun on that slide!
We went and had a look around Shute Harbour before heading back into the Esplanade for a walk and some fish and chips as the sun went down.
The next day we headed back into Airlie and had a quick dip in the pool. We got the bikes out and went for a ride. It's such a lovely little spot when it's not teaming with backpackers.
---
BOWEN
Bowen was next on the list with the obligatory pics taken in front of the Giant Mango, the Whitsundays sign and the Mango thief sign. Our friends headed off to find a waterpark for their kids, while Chris and I discovered the most gorgeous little beach, Horseshoe Bay. We lay on the rocks in the sun, swam in the crystal-clear water and eventually I got a sunburnt bum! I was annoyed with myself for getting burnt so early into the trip. But this turned out to be of zero significance as it rained non-stop for the next 2 weeks!
While Chris has done this trip too many times to count, it was all a brand new experience for me, and our friends – and Chris was the best tour guide! We had walkie talkies and he was pointing things out and explaining as we went along.
The Burdekin Bridge, also known as the 'Silver Link' was the next landmark that made us go 'wow'! It's longer than the Sydney Harbour Bridge, took 10 years to build … and was built on sand! Chris explained that this bridge provides a vital pathway between Northern and Southern Queensland during the floods. And he should know! He was stuck in Cairns for weeks during the floods about 5 or 6 years ago.
---
BALGAL BEACH
Balgal Beach was our first 'free camp' … and it was also my first experience with a Northern QLD beach. I was sooo disappointed! Everything was brown. The water, the sand … gosh. I wondered what I'd got myself in for. Why had I left the stunning beaches of South East QLD during the best months of the year.
There were 'Atchung' signs everywhere warning me of crocodiles that the swim nets were there to protect me from. In fact, there was a resident crocodile that lived in the inlet right near where we camped. I actually ventured out at about 1pm while sleep was evading me, trying to catch a glimpse of the giant beast through the fog that was sitting low over the water. But no crocodile was seen much to my disappointment.
The grassy area was actually lovely with manicured lawns, BBQ's, an Anzac memorial and various shelters, and the amenities were quite clean too. Once I got over the 'brown' … it was actually quite a cute little spot. (It wasn't until much later we realized the Rollingstone Big4 was right around the corner!)
---
Frosty Mango was next, and we stopped and had our pics with the cute little mango wearing the big black bow tie, grabbed a mango smoothie (our friends had what looked like delicious ice creams!) and we kept on going.
We stopped in to see what turned out to be the longest Jetty I'd ever seen! Or not seen – it was so long that I wasn't able to see the end until this trip in 2018 when we sent the drone up!
Lucinda Jetty is actually the longest service jetty in the southern hemisphere at 5.76 kilometres long, supported by 660 concrete and steel pylons. It takes the sugar 22 minutes to travel along the conveyor from the on-shore storage to the shiploader.
There are little signs dotted along the foreshore walkway filled with very interesting information about the location and the sugar terminal. There's even part of a plane that that crashed nearby on display.
There were more 'atchung' signs scattered around, more brown sand and swimming nets that had some keen tourists splashing around in as they tried to cool off.
There was also a giant mango tree that had mangoes falling off it everywhere! Our friend's kids were in heaven as they ate them right off the ground and gathered up what they could to take with them. It was pretty funny to watch!
We kept heading north along the Bruce Highway until we came to Hinchinbrook Lookout which is about 20ks north of Ingham. We pulled over and took the short pathway up to the most amazing lookout that provides uninterrupted views of Hinchinbrook Channel and Hinchinbrook Island. It is just stunning, even with the low-lying cloud that was around that day.  This only takes a few minutes, so we were back on the road in no time.
CARDWELL
Cardwell … this always means time for a feed and a happy snap or two. But never really much more than that. It wasn't until this last trip up in 2017 that we stopped for a couple of nights and explored the area. It is absolutely breathtaking! The rock pools are just a few minute's drive and will blow your mind! But hey – that didn't happen on this trip!
---
CAIRNS
It was about this time that the rain started (the rain I mentioned earlier that didn't stop for 2 weeks straight!) and we arrived at the Big4 Crystal Cascades Holiday Park on Christmas Eve to the news that there was a cyclone forming somewhere on the horizon somewhere not too far away. Oh how fun!
This resulted in a very, very wet couple of weeks and some spectacular waterfalls. The closest one to our caravan park being Barron Falls. That was something we have only seen once and will never forget!
---
That night Chris's Aunty, Uncle and cousin came around for a BBQ and a beer or 3.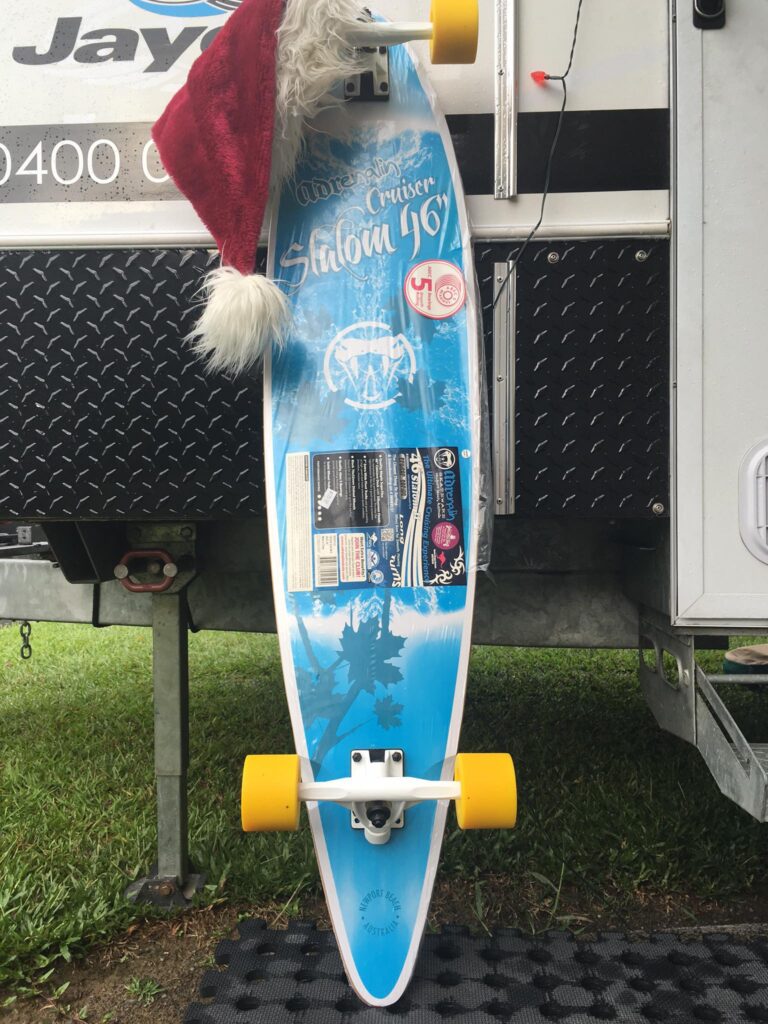 Christmas morning was bacon and eggs on the BBQ with Chris cruising around on his new longboard that I had sneakily asked our friends to hide for me while we were in Airlie! He loved it and was seen flying down the almost empty streets in the caravan park with his Santa hat on for hours.
We had Christmas lunch with the family and then set off to do some more exploring. We wandered into Cystal Cascades – one of those hidden gems I was talking about earlier. Crystal Cascades is one of the secrets of Tropical North Queensland that locals wish they could hide from visitors and is accessible only by self-drive. No bus loads of tourists here! 🙂
It's a secluded freshwater swimming hole that is hidden away in the tropical rainforest. A series of small waterfalls flow into large pools surrounded by large impressive granite boulders. Rainforest trees hang over the mountain water, keeping it cool and refreshing. As it had been raining for a while, it was a bit too 'cool and refreshing' for me to get in! But the others did and seemed to enjoy themselves 🙂
---
We had planned to head all the way up to Cooktown, and we didn't let a little cyclone warning put us off! We hooked up the vans and hit the road.
Our first stop was the Palmer River Roadhouse – where they serve the most ginormous, tasty burgers! There is a great little museum inside where you will find a collection of artefacts related to the goldrush of 1877. Why? Because this was the area of the last great goldrush in Australia, which led to the establishment of Cairns, Cooktown and Port Douglas. There's quite a bit of history that was made right there in that spot. If you have time, be sure to check it all out. The kids loved it! (We took our kids there when we went back up the following year).
---
COOKTOWN
The clouds continued to hang low as we continued on our way to Cooktown. As we took in the ever-changing scenery, we couldn't help but notice a huge mountain range made out of massive granite boulders jutting up into the sky. We stopped at Black Mountain to read about this fascinating 'mountain of death'.
Apparently because there is no soil between the boulders and rocks, there is a maze of gaps and passages which can be used to penetrate inside the mountain. These rocks can become extremely hot when it's sunny (unlike when we were there!)
Why is it known as the 'mountain of death'? We read that numerous people and those searching for the missing have disappeared without a trace. Hmmm. I'm glad the kids didn't run off!
---
Next stop – Cooktown! I absolutely loved our first trip to this remote little town. We had booked in to the Peninsular Caravan Park, to be greeted by … no one! The owners had gone on holidays and left a sign on the locked door and the lady down the road in charge. There were no other vans in sight, and with the constant rain and grey clouds, it felt kind of eerie! Ok … Not 'kind of' but seriously eerie! I think even the men were a bit creeped out. It was an experience none of us will forget! What an adventure 😛
We set off exploring Cooktown –  a charming little place nestled between the Endeavour River and Grassy Hill, that is absolutely jam packed full of history. This place is ideal for a self-guided walking tour!
It was like stepping back in time as this little town is completely unspoilt by the urgency of modern life.
We wandered down the main street (still in the rain!) and down to the esplanade where the beautiful gardens are filled with historical artefacts and signs filled with fascinating facts of what went on in years past. We saw where Captain James Cook first set foot on land, the Cook Monument, the Milbi Wall and much more. I could have spent ages there – but it was pouring with rain and we had other places to be! Luckily, we were able to make a return visit with the kids the following year and see much more (see Part 2!)
We spent some time at Finch Bay, which used to be the local swimming spot many years ago (and is now apparently filled with crocs), we explored Grassy Hill where we saw some of the biggest centipedes I have ever seen, and we had dinner at the Sovereign Resort Café Bar watching the lightening flash and listening to the thunder booming around as we waited for another storm roll in.
---
ARCHER POINT
Storm or no storm, we decided to spend a night at Archer Point, even though we were told we could be cut off if it rained while we were there! We towed our vans through the muddy roads and parked right up on the edge of a cliff with the most amazing views of the ocean, islands and the reef.
We waited the storm out and by morning, it was back to paradise. We took the Stand Up Paddle board out, and went for a dip. The water was deliciously warm, and we had it all to ourselves. There were about 3 others camped close to where we swam, but not a soul in the water.
We went for a drive up to the Archer Point Lighthouse where we came across a local lady and her kids who had come up to release the biggest snake we had ever seen! This beautiful python had eaten one of the lady's chickens and it was quite clearly visible in its belly. We took a few pics before letting her slither off to digest her lunch. The views form the lighthouse were some of the best I've ever seen. Words can't begin to describe it – you'll have to take the time and go see for yourself 🙂
We packed up and headed back, a tad concerned that due to the rain we would be forced to stay another night, but the Toyota's towed the vans through the water without a problem and in no time, we were back at the deserted caravan park for night 2.
---
ELIM BEACH
The next day we left the vans behind and took a daytrip up to Elim Beach. It's meant to be one of the most spectacular beaches in Queensland, but I was sorely disappointed when we arrived. It had taken hours of the most horrendous roads, and we were greeted with water so high we couldn't get to where we wanted to go, lots of mosquitos and lunch on a little patch of beach out the front of a small caravan park.
Chris assures me that we will go back so he can show me how gorgeous the place really is, and I'm looking forward to that day! I'm not looking forward to doing that road again though.
---
THE LIONS DEN HOTEL
And what trip up this way would be complete without a stop at the Lions Den Hotel? Of course, it was still raining, quite heavily actually – and not just water. There is a huge mango tree right out the front and it was dropping mangos all over the place. They were splatting on the ground and banging quite loudly on the roof. We had to cover up as we raced inside so we didn't get a mango to the head!
Once inside – wow. Just wow. There was so much to look at! People's names covered every single part of the floor, walls, ceiling, doors – pretty much anywhere you can reach. Chris and I found a spot and I signed our names on the motor of the fan right in the middle of the bar. They had to turn the fan off so I could stand up on the eski and reach right up on my tippy toes – but I did it! We had lunch before heading off back down to Cairns.
---
DESCENT FROM ATHERTON TABLELANDS
And this was by far the scariest part of our trip. By now the rain was torrential and the roads were starting to flood. The wipers could hardly keep the rain, dirt and debris off the windscreen as what was once surrounding paddocks and fields made its way onto the road and onto our car and van.
Lightening was flashing around, as white as Chris's knuckles as he gripped the steering wheel tight, concentrating hard to keep us on the road. Water was rising rapidly, waterfalls were pouring off the side of the road and rivers were forming everywhere.
We slipped and slid as we made our descent and found out shortly after that they had closed the road behind us.
We returned to Crystal Cascades, set the vans up recovered from our little adventure.
---
We went into the Cairns Esplanade, beautifully lit up as it is at night and had a look through the night markets. We didn't stay long, but it was enough to see the stalls, and take note of the massages being given and to mentally book one in for when we had more time.  It wasn't a late night as we were all exhausted.
---
DAINTREE
On New Years Eve we headed up to the Daintree for a look (yes, in the rain!). We left the vans behind as none of the caravan parks are open this time of year.  We took the cars a short way up the Bloomfield Track. The track was closed at Emmagen Creek, but we forged our way through to find a track that was littered with potholes and huge trees that had fallen across its path.
Chris and I stopped in at the Cape Trib Beachhouse to see Chris's cousin who was setting up to play a gig there that night. We headed home via the Daintree Ice Cream Company. They make the most delicious ice cream from exotic fruits from the fruit trees in the orchard right on the property! We drove all the way back with the kids the following year only to find that they didn't accept credit card and we had no cash. Needless to say, I was extremely disappointed.
We stopped at the lookout Walu Wugirriga where you can see the reef meeting the rainforest. It was beautiful, although the views were somewhat obscured by low hanging rain clouds … and it was still raining.
---
PALM COVE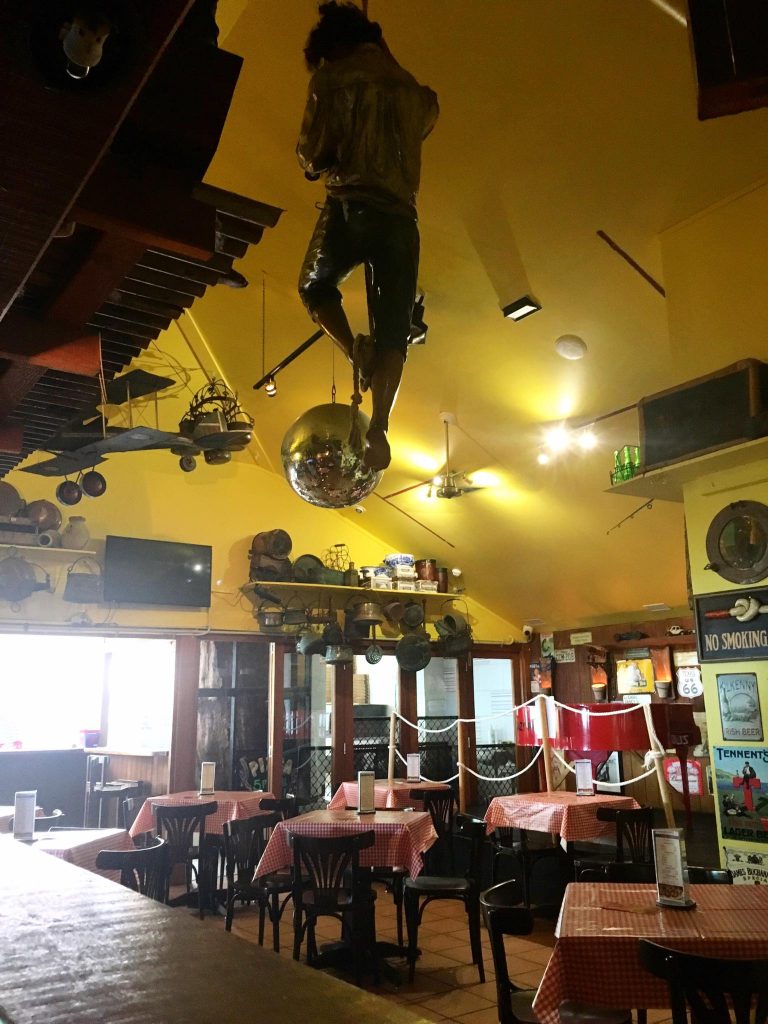 New Year's Day was spent by ourselves as it was our last day together before the kids arrived.
We spent the day exploring Palm Cove, walking along the beach, eating ice cream and wandering into some of the little boutiques and resorts lining the esplanade.
We had a look through the quirky Apres Bar & Grill which was filled with relics and had all sorts of weird and wonderful things lining the walls and hanging from the ceiling.
---
That evening we enjoyed a romantic dinner at the Bayleaf Balinese Restaurant. You'll find them on the corner of Lake and Gatton streets in Cairns, and I only mention this as I highly suggest you pay them a visit. The food was outstanding, and the atmosphere was just lovely. We had the Balinese rijsttafel which was a banquet and gave us a taste of so many delightful dishes. It is yet another thing on my list of 'must do again'! 🙂
---
KURANDA
The next day the kids arrived at the Cairns airport with big grins on their faces and would you believe the sun came out! We swam in the pool at the caravan park, floated down the nearby river on lilo's, (that was an adventure in itself!) and had a grand old time. It was great to have the kidlets with us again!
We went for a day trip on the Kuranda Scenic Train and spent a few hours at the top wandering around the shops and market stalls, eating ice cream and having lunch at a pub before catching the Sky Rail back down.
Our friends headed back down south, and we continued adventuring with the kids. We squeezed so much into the few days we had left in Cairns!
---
PARONELLA PARK
We did Paronella Park which was breathtaking –  so much so that we have visited three times! This fairytale-like park will stir up a medley of emotions that bubble up from the very bottom of your soul. The heritage listed crumbling ruins and lush rainforest are all that is left of Jose Paronella's dream to build a castle and share it with the world.
Alongside Mena Creek Falls he built not only his castle but a picnic area by the falls, tennis courts, bridges, the tunnel of love and many other little concrete creations that we stumbled across as we made our way slowly through the gardens.
In my opinion, this was more of a place to be enjoyed with adults than the kids. While our 3 did enjoy some parts, they were just 'too hot and too tired' to enjoy it properly. The fact that Aylah got smashed by mosquitoes didn't help much either. When we returned with my parents in 2017, we enjoyed it just that little bit more 🙂
---
JOSEPHINE FALLS
We didn't stay for the whole day as many people do, but instead we headed back to Josephine Falls, which for our kids was definitely the highlight of the entire trip! The falls are located just 75ks south of Cairns, and we had to drive right past on our way back from Paronella Park. It was the perfect place for us to cool off, and for the kids to have some fun.
It is just a short 700 metre walk from the car park to the waterfall and the natural waterslide that is a huge slippery rock, perfect for sliding down on your bum, or if you are Chris, on your feet! This is what kept us entertained for hours. There is a beautiful sandy 'beach' behind the 'slide' and in all honesty, I think we enjoyed this more than Paronella Park, and it is free!
As we were driving along, we passed the sign for 'Babinda Boulders' at the foothills of the Bartle Range and Chris said it was another great spot that the kids would love. So, we turned off and went for a look and he was right – it was gorgeous! It is quite obviously named for the huge granite boulders that you can see along Babinda Creek set right in the sparkling, cascading, cool, crystal clear mountain water. We grabbed our lilo's and floated around until hunger took over and we headed off in search of food.
---
ATHERTON TABLELANDS
Another magical place that we spent some exploring was the Atherton Tablelands.
We stopped in at the relaxing Lake Barrine Rainforest Teahouse which is just one hour from Cairns. We enjoyed Devonshire Tea on the balcony of the charming 80-year-old teahouse while the kids had a swim in the water-filled crater below. At one point we threw the GoPro over the balcony (while it was filming), and the kids had a great time taking some underwater shots and capturing the moment beautifully.  It's a lovely place hidden in world heritage rainforest.
We made our way to Lake Eacham, another spot I had heard lots of wonderful things about. It is a clear, blue lake surrounded by lush rainforest where you can swim, canoe, head off along the walking tracks, enjoy the picnic areas, or do what we did – swim!
It is quite a popular spot and there were quite a few people there who seemed to be set up for the day.  Once again, the Lilo's came out and we spent about an hour just floating and swimming. The boys went in search of a crazy high tree to jump off, while the girls and I relaxed in the water and watched with great interest from a distance.
---
From there we headed to Malanda Falls which is right next to the visitor centre and looks almost man-made. It's not worth making a special trip for, but if you are in the area, you should stop by. It is right next to the road, so you can hear the cars passing by over the waterfall, which kind of detracted from the 'mood' for me. And while it's not the most beautiful of the falls, the kids had fun jumping off the concrete wall until poor Charli sliced her foot open on one of the kids many jumps into the water! This made our next stop interesting as Chris had to piggy back her.
Our next stop was The Curtain Fig Tree (which is located just outside the small township of Yungaburra on the Atherton Tablelands). And while it may not have the most exotic name in the world, it's well worth adding to your bucket list. We have seen some breathtaking trees, and this is certainly one of the most 'intriguing'! It's one of the largest and most interesting trees in Northern QLD and is about 500 years old.
There's an info board that explains how it came to be. Apparently, it has grown into this curtain like tree thanks to one tree leaning against another on a 45-degree angle. The strangler vine then grew along the oblique angle of the leaning tree, dangling 15 metres to the ground to create the curtain affect. So so so cool!
---
THE GREAT BERRIER REEF
My favourite day was my very last day in Cairns when we went out to the Great Barrier Reef with Chris's uncle in his boat, 'Mistress'. It was every bit as magical as I had been led to believe. We headed straight out to Little Upolo Cay, a naturally formed coral cay about 30 kilometres from Cairns, dropped anchor and spend some time snorkelling. It was lovely to have the place almost to ourselves.
We also spent some time at Michaelmas Cay, a much bigger sand cay that is home to about 23 species of seabirds.  There are so many of them that the sounds are quite deafening and while you can get out and walk on the beach, the birds are protected by a rope fence. You can still get close enough to take some amazing piccies though 🙂
Our boat was surrounded by some giant black trevally and Chris dove in and got some amazing footage. They were so tame, and he was able to touch them! They swam alongside out boat for miles as we sped off when it was time to head home.
---
The kids stayed with family that night, and Chris and I headed out with his cousins for dinner at Salt House, one of our favourite restaurants in Cairns. We then spent the evening listening to one of his cousins playing at The Pier Bar. What a fabulous way to end my holiday!
And that was it for me as I had to head home for work. Chris and the kids took the scenic way home along the coast stopping at many gorgeous little places like Mission Beach.
I may have missed out on that part of the trip, but thankfully we did it two more times, and I wasn't silly enough to head home early for work! I will share those adventures in parts 2 and 3.
If you made it to the bottom .. I congratulate you! I hope I have inspired you to head north – it's a trip you will never forget! And unless you want to be on the road for a few months, you may need to do it a few times like we did. It's hard to see all that Far North Queensland has to offer in 3 or 4 weeks.
Until next time … safe travels!