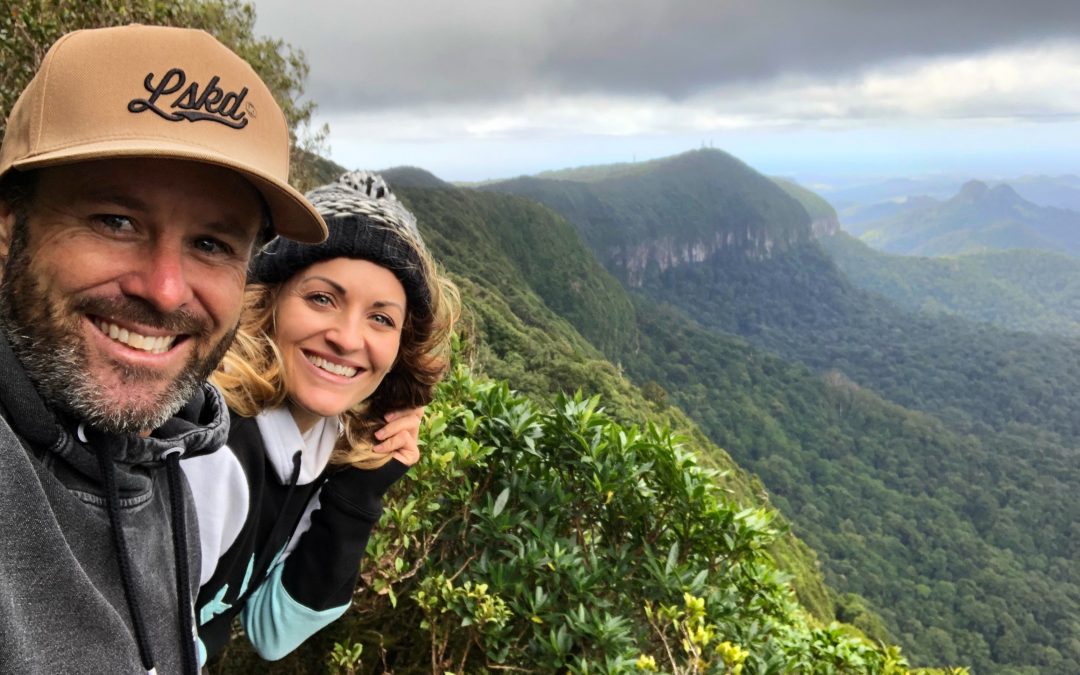 It just seems like public holidays are never ending at the beginning of the year, and we just love it! Another long weekend has arrived –  in between our getaways to NSW, Cotton Tree, Tasmania and Melbourne and right before Kingscliff. Our first thought was (as it always is!) 'Where should we go?'
I suggested a weekend at home to clean the van and do some 'home-things' might be good. We lasted one day, and on the Sunday, we loaded up the Hilux and headed off.  There was no need to tow the caravan anywhere for this day of exploring.
Springbrook National Park makes for one of south east Queensland's most spectacular day trips, and with Chris having been twice before (albeit many years ago) we didn't need directions. We started out knowing where we were headed, and as Chris dislikes Waze (the traffic app that I have on religiously when I drive!) we had no warning at all that the road we had taken was closed. Looking back at the national parks websites, it was very clear and notices were everywhere – like this one:
'Following significant damage from ex-Tropical Cyclone Debbie, Gold Coast-Springbrook Road from Mudgeeraba remains closed until further notice, as advised by the Department of Transport and Main Roads (DTMR). Access to Springbrook National Park is via Numinbah Valley along Pine Creek Road only.'
We didn't even think to check. Lesson learned! Always check ahead for road closures.
Hinze Dam
We did a U-turn which added an extra 20 minutes to the relatively short drive from Brissy and took us past Hinze Dam. Chris thought it might be nice to show me around quickly as I'd never been. It is just lovely. The café, walkways and even the bathrooms – wow. It was not at all what I expected!
I went for a bit of a wander out and over the water. It was so windy, and I'm glad I had packed my beanie to stop my hair from blowing all over the place. Chris has ridden the dam many times and explained the different mountain bike tracks, pointing out where they went, and we made plans to come back soon with our bikes in tow.
And while the dam was a lovely place, it wasn't our destination. We were aiming for next level natural beauty. An ancient wonderland of rainforests, waterfalls, escarpments, rock formations and valleys that is Springbrook National Park.
The park is about an hour and a half's drive from Brisbane or 45 minutes from the Gold Coast. We travelled along 29km of narrow, winding (and often one way) roads that took us up and through the cool, green rainforest.
We pulled into the information centre to grab a brochure and see which the best way was to get to Purling Brook Falls. Chris had been there about 6 years ago and walked the stunning pathway that led behind the falls. He said it was spectacular and it was our mission to find our way back there.
The brochure read: 'Class 3. 4km return. Allow 2-3 hours. Enjoy a relaxed walk through open eucalypt forest before descending into the gorge to view the magnificent waterfall from the suspension bridge below. A steady climb through the forest ends back at the picnic area. If including the Warringa Pool Track (swimming allowed), which leads downstream from the base of the falls, then add 2km and allow an extra hour.'
The brochure and Chris's description had me sold and ready to go. We were wearing t-shirts and shorts in anticipation of working up a sweat as we walked. It was a bit chilly, but pleasant.
The park was quite busy but thankfully we managed to find a carpark, had a quick toilet stop (in the very clean drop toilets that were located at the car park) and we started the Purling Brook Falls Circuit.
Purling Brook Falls Circuit
Unfortunately, there was huge group of extremely loud Asian tourists who were heading off about the same time as us. This meant some serious power walking to get far enough ahead to soak in the peace, tranquility and ensure maximum scenery intake.
The first lookout we came upon was not far at all from the Gwongorella Picnic Area and was just off Springbrook Road where we had parked. The camera was put straight into action as to the right of the viewing platform, the lovely Purling Brook Falls could be seen cascading 109m down into the rainforest below.
The walk was steep in places but on a well-made track with many steps. At one point, Chris did point to the edge and say 'How easy would it be to fall off?'  Thankfully, despite tripping every now and then, neither of us fell over the edge (nor did any of the tourists that we know of!) as we made our descent.  This would be a good time to point out that Chris had his usual hiking shoes on – Havaianas!
As we got closer, we could hear the thunder of the water tumbling over the side of the cliff. It certainly opens your eyes in wonder when you round that last corner and take in the almost fairy-tale like scene in front of you – complete with rainbow at the bottom.
Many people were struggling to get a photo with both sky and pool in shot as the falls are so high – it was almost impossible with the iPhone, but easy with the GoPro.
We wanted to do the walk around and under the Falls, but due to the track being unsafe and closed after ex-tropical cycle Debbie had come through (for years now), it wasn't possible. It was closed just over the other side of the suspension bridge. We did get to stand on the bridge and look back up Purling Brook to the Falls – what a breathtaking view!
We started down the 2km walk to Warring Pool, but everyone who was walking back up along the path told us not to bother as the large group of Asians had taken over and no one else could even get close. So, we turned around and started climbing the 256 steps back to the top.
By now Chris's tummy was demanding food, so we drove to the English Gardens, but they were closed. We kept driving up on Springbrook Plateau and over to Rosellas only to see a sign out the front saying 'closed – sold out'.
Poor Chris had to wait just a little longer as we were right across from the Canyon Lookout, so we put our jumpers on and hopped out for a look. It is just a 100-metre walk to see the falls and you don't even have to leave the asphalt!
Canyon Lookout
The weather had certainly taken a turn and the clouds were rolling in, the wind had picked up and the temperature plummeted. Out came the beanie again!
Thankfully the clouds hadn't obscured what was a jaw-dropping view of the entire Gold Coast from Runaway Bay down to Coolangatta, punctuated by volcanic ridges and valleys.
We didn't spend too much time here, and we didn't take the Twin Falls Circuit walk that starts at the lookout, but I'd really like to do that soon. I hear it's one of the best walks in the park.
The Fawn Cafe
But it was lunch time – and you can't be wandering off on 2-hour walks hunting down waterfalls when your mind is on food. Thankfully the Fawn Café was open, and the carpark was full (mostly with motorbikes!), so we knew they were open and serving.
I'm gluten free, so was pleased when they offered gluten free bread as a substitute for the bun when I ordered a steak burger. Unfortunately, the chips had gluten, so it was extra side salad for me! I'm also grain free, low carb and avoid toxic oils, but that was a bit much to ask for in this tiny little café, but I was content with my gluten free steak burger. It was actually pretty good. Chris had the chicken schnitzel burger (with the bun and the chips!) and said it wasn't too bad either.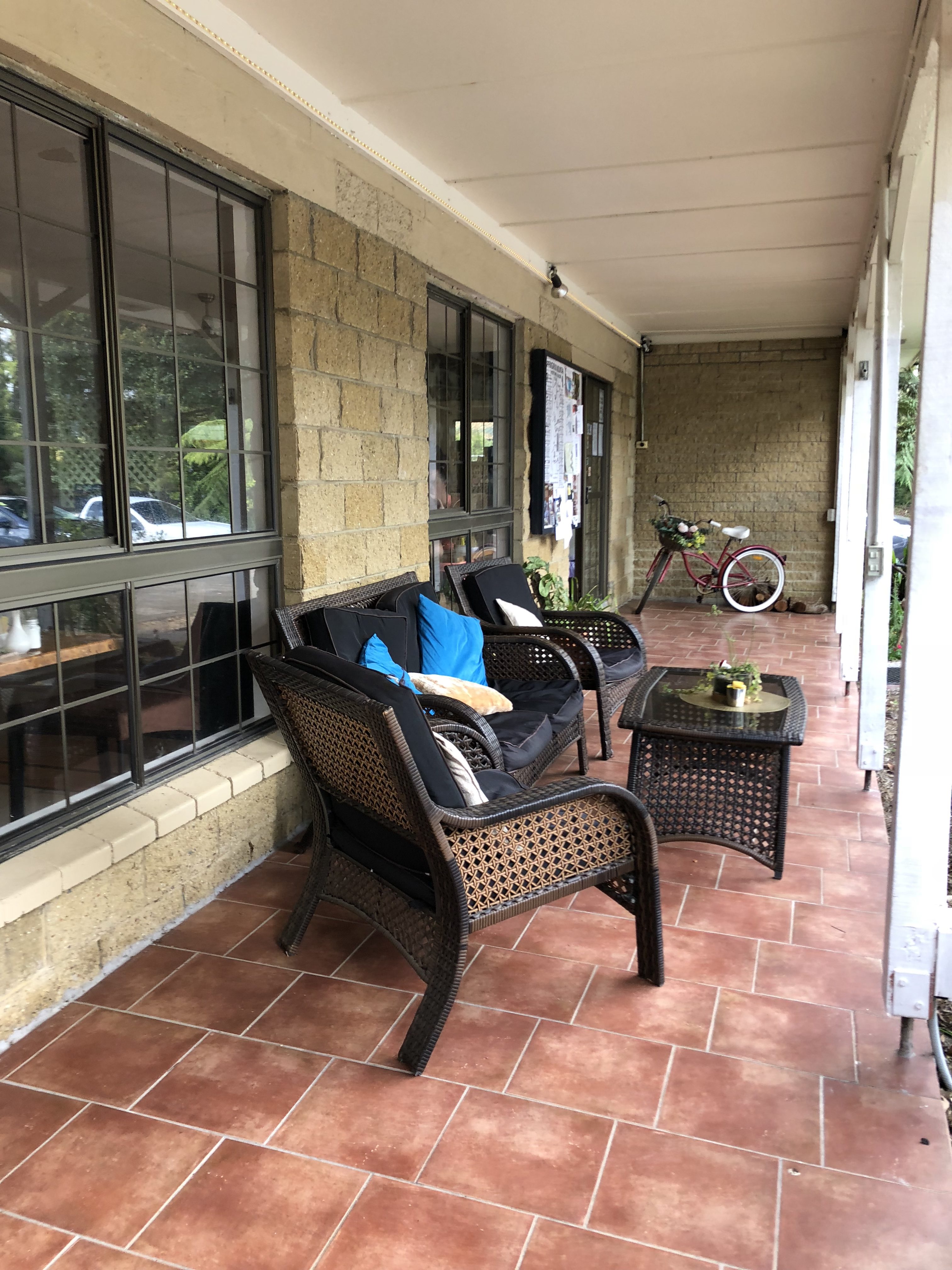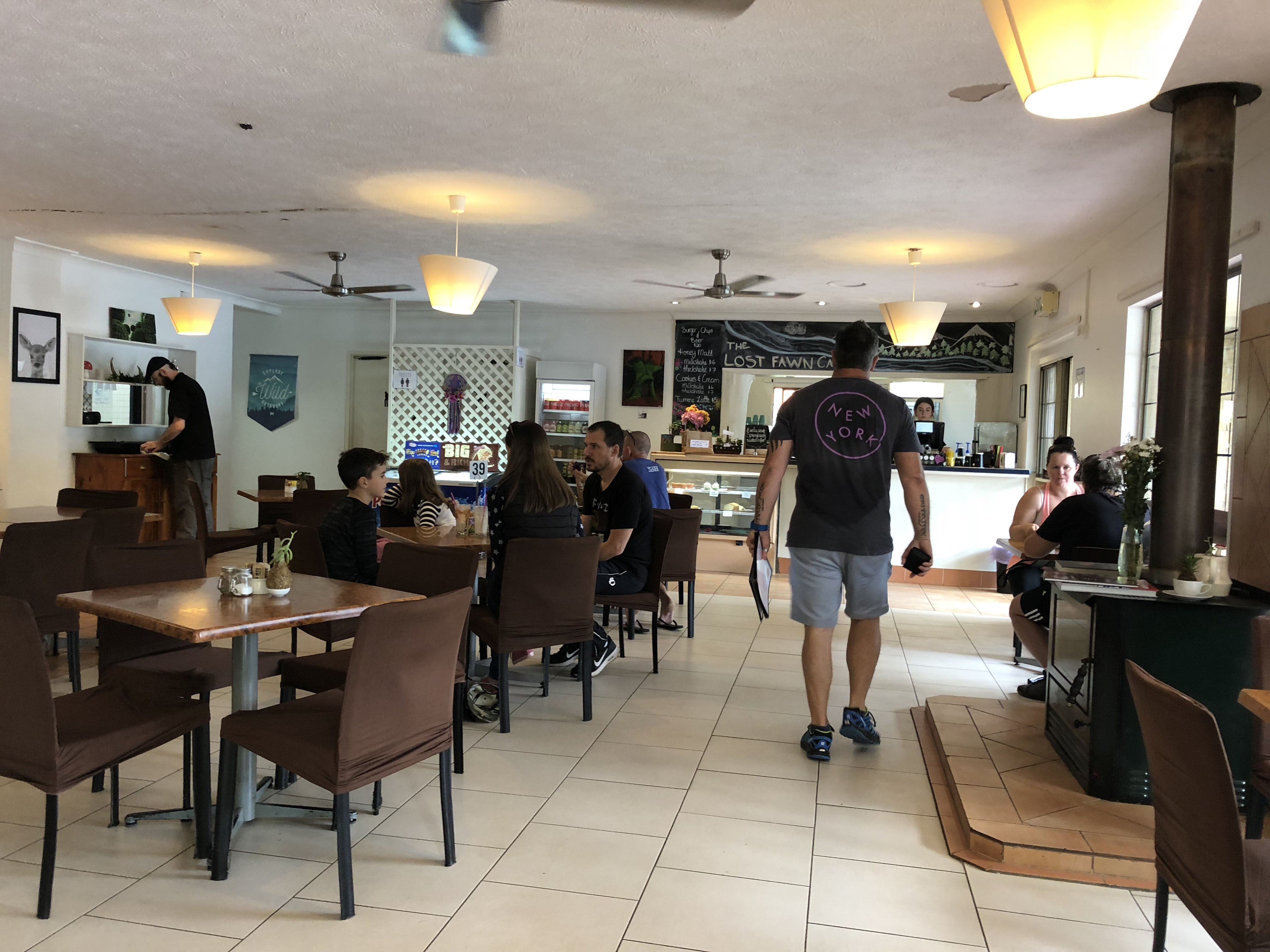 Former Springbrook State School and 'The Stump'
There was a bit of rain while we were eating which cleared the outside tables pretty quickly, and the temperature dropped just a bit more as we got back in the car and drove to the information centre which is located in the former Springbrook State School building from 1911.
The first thing you notice when you pull into the carpark is an old building and a huge old tree stump right out the front. Upon walking over and reading the sign, I found out that it is known as 'The Stump' and was felled in 1912 because parents were concerned about the safety of their kids who were attending the school. It really is a beautiful old stump, and one can only imagine what a majestic tree it once was.
We wandered around the back and past the old water tanks and play shed and down a lovely new boardwalk. This led to what was no doubt once a wonderful view of the Gold Coast but is now slightly obscured by trees. It is still lovely and worth the short walk, but after having seen the other lookouts, this one paled in comparison.
I did a bit of reading and found out that the school served the small community of farmers who came to the area in 1906 from Bega in New South Wales. After the forest areas were cleared, dairying became the main industry. Apparently, descendants of these settlers still live in the area.
The school was closed at various times like in 1915, a teacher did not arrive for several months! And in 1929 a lady arrived as teacher but left the next day and no teacher was appointed until March. By May 1932 enrolment had dropped to ten, with an average attendance of less than six students.
A new school opened nearby in 1984 and the original school building was converted into the National Parks Information Centre housing interpretive displays on the park's natural values.
The more that I read about it, the more I want to read! It's such a tiny little building overflowing with so much history. When Chris came years ago, he said you were able to go inside and look around. It was locked when we went, and we could only walk up onto the veranda (which was added on in 1915) and read the information on display up on the wall.
Interestingly enough, there was free wi-fi in that spot! I can't help but wonder how different schools are now compared to what these walls would have seen.
Best Of All Lookout
We had one place left to see, and we had saved the best for last –  Best of All Lookout. Even the short 350m walk is an experience unto its own, with an almost eerie, unearthly feel as you walk through ancient rainforests. The paths are well maintained, so slipping or tripping wasn't really an issue although you had to keep an eye out as the leaves covered both sides of the path.
It's impossible not to be drawn to the old Antarctic Beech trees you pass by as you wander down to the lookout. It's astounding to think how long have stood, and what they must have 'seen'. Some of these trees are reported to be between two and three thousand years old!
According to the sign, these trees are a 'link to ancient times' and from the mega-continent Gondwana when Australia was still joined with Antarctica. When Gondwana broke apart to form most of the earth's Southern land masses, the trees moved with them
There are also some old boulders with huge holes burrowed deep into the rock. They reminded me of bowling balls.
It was freezing cold and windy, but it was well worth rugging up for! With a name like that, my expectations were pretty high, and I wanted to know if it really was the 'best of all?' (Chris already knew it was as he'd been twice before!)
The Best of All Lookout surely did live up to its name. It's more a question of 'What can't you see?' than 'What can you see?'. You can see the dazzling Gold Coast Hinterland stretching right out to the Pacific Ocean and as far as Byron Bay; an extraordinary sweeping panorama of Queensland and New South Wales, taking in Coolangatta, Kingscliff, Byron Bay, the Nightcap Range, Mt Warning and Murwillumbah.
The views laid out before you are simply breathtaking! It's amazing to look down on the twin peaks of the Cougals, with Mount Warning to the right.
We wandered slowly back down the path to the car, once again admiring the trees, boulders and soaking up the dark, wet, heavy quiet of the rainforest.
I was blown away by how beautiful this place was, and how close it is to where we live. A part of the Ancient Gondwana Rainforest is right here on our doorstep, and we are already making plans to go back. 🙂