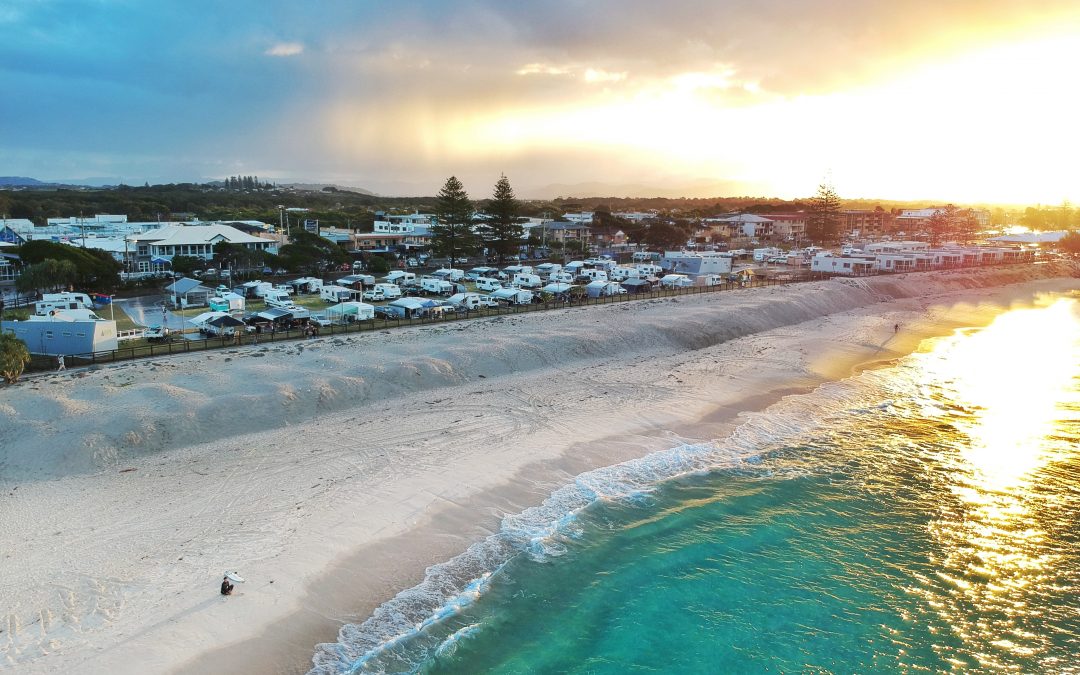 Name: Tweed Coast Holiday Parks Kingscliff Beach
(not to be confused with its sister park further down the same road, Tweed Coast Holiday Parks Kingscliffe North)
Location: 125 Marine Parade, Kingscliff, NSW
Website: http://www.tchp.com.au/tweed-coast-holiday-parks-kingscliff-beach/
Date of Stay: May 2018
Type of Park: Beachfront
Rating: 5/5 (Chris said 6 out of 5!)
Description:
We had heard plenty of positive reviews about this 'amazing newly renovated caravan park in Kingscliff' and while sitting around the caravans with friends at Sawtell this Easter discussing what the next 'special event' was, we discovered it was Chris's birthday and booked our spots right away. We were lucky and all but one of us in the group managed to secure the premium beach front sites we had heard so much about. This park books out well in advance!
We arrived at a stunning and modern holiday park that is indeed located on absolute beach frontage in the heart of Kingscliff.
The sun was setting as were checking in, and the sky was the most incredible hues of pink I had ever seen! Before we had even made it to the site, I was on the beach taking perfect photo after perfect photo.
The park is just metres from an array of cafes and boutique stores. With a bowls club to one side, a fantastic park to the other, the Kingscliff Beach Hotel directly across the street and a breathtaking expanse of ocean out the front, this really is the ideal park in the ideal location.
This trip is in honour of Chris's 43rd birthday and we are sharing it with some wonderful friends; most with caravans and with one family who are staying in the units across the road.
We have kids ranging from a few months old right up to 15 and many ages in between! Our kids (10, 12 and 13) had a ball riding, surfing, playing and just 'being kids'. It's great to see what they get up to when you remove their devices.
It has rained on and off for the first day, but even so, it was lovely. I came prepared with gumboots and a raincoat, a beanie and some warm clothes and I'm as cozy as can be.
The first evening was spent having drinks with our friends around the vans while the kids rode around and hung out in the camp kitchen. The first night was spent listening to the sounds of the waves, the rain on the roof and the distant strains of the live band from the Kingscliff Beach Hotel as they belted out tunes like Rolling on the River to the applause from the crowd.
The next morning I was up early to capture some new sunrise shots on the beach out the front of the park. What started as a 20 minute outing turned into a 90 minute walk on the sand down to the break wall and river and back through the parks dotted along the way.
I must say I was completely blown away by absolutely everything I saw. There has been so much thought put into the design and layout; from the table tennis table (with artwork and bats!), lounge chairs, trees, paths, undercover areas (with beachy artwork), lush grassy areas and of course views that take your breath away each time they appear through the trees.
The Surf Club located right next to the park does a HUGE and ridiculusly delicious breakfast. The staff were lovely and so helpful when I mentioned that I didn't eat eggs or gluten. The chef came up with all sorts of alternatives that kept my tummy very happy 🙂
Kingscliff is a magic little town, and this is definitely our new favourite place.
The staff at the park are incredibly friendly, the grounds and amenities are immaculate, and Chris has said that he could 'live here in a permanent van forever'. It's his favourite camp ground yet – and that's a pretty big call! Being a surfer, it's easy to see why he feels this way – all you have to do is look out the window of the van to see perfection.
Facilities:
Fully accessible, clean and new amenities
Camp Kitchen
Beach Access Walkways
Sheltered Barbecues
Wi-Fi
Staff:
We found the staff to be incredibly friendly and accommodating both on the phone and in person. When we arrived, another couple was setting up their van in our site. The staff were wonderful when faced with this problematic start to our weekend, and we were parked in our absolute beach frontage site without too much delay.
Sites:
• Powered Tent Sites with Synthetic Grass
• Tourist Sites with Double Wide Slabs
• Beachfront Tourist Sites (this is what we stayed on)
• Tourist Sites with Ensuites
• Luxury Beachfront Cabins
Positives:
Everything!
Views
Location
Staff
Park grounds
Suitability – it's great for couples, singles, families, groups of friends and any other combination!
Negatives:
No swimming pool or play equipment. A pool might have been nice in the colder weather (if it was heated). There is no playground, play equipment or games room either, but there is the park next door with bike paths and the beach out the front. So, it's not really a negative … more of an observation.
No pets allowed. This isn't a negative to us, but it might be for some.
No shelter anywhere – a gazebo would be a necessity in the warmer weather.
---