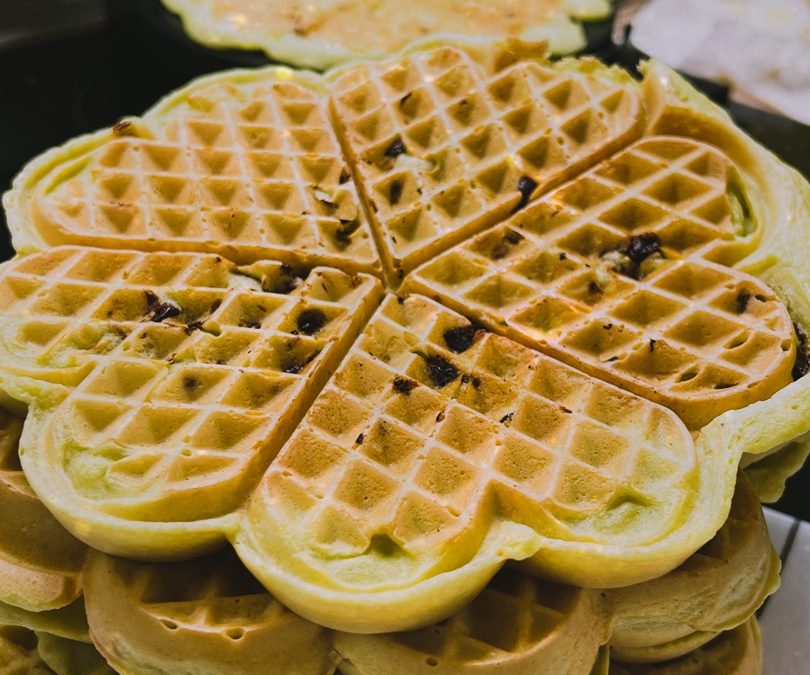 This is the PERFECT waffle recipe when you have a surplus of avocados or a couple that are just a little bit too ripe. These waffles are healthy, fluffy, crispy and so easy to make. Do they have a green tinge? Yep! That would be due to the 2 full avocados in this creamy waffle mixture. What are you waiting for? Get out your waffle iron and let's go!
Ingredients:
6 large eggs
250 g cream cheese (full fat)
2 ripe avocados, skin off, seed out
1 tsp bicarb soda
1 1/2 cup almond flour
1 1/2 cups arrowroot flour/tapioca flour
Splash of water (maybe 1/2 a cup)
Sweetener if desired. I usually don't add any as we often eat these with savoury toppings.
Method:
Preheat waffle maker
Blend all ingredients in a blender until smooth. Check and add more water if necessary.
Allow to sit and thicken while the waffle maker is heating up.
Add a dollop of butter (Optional – sometimes I do, sometimes I don't!)
Pour the batter in and cook until your liking.
Serve straight away to get that crispy, fluffly texture.
Tips:
Omit the avocados if you don't have any. This recipe is great without them.
Use less tapioca flour for a lower carb count.
Add extras like sugar-free chocolate chips, blueberries, banana or whatever you like to spice them up a bit! Why not add some allspice? 🙂
I store extras in the fridge and to reheat, use the air fryer for about 4 minutes at 180C.