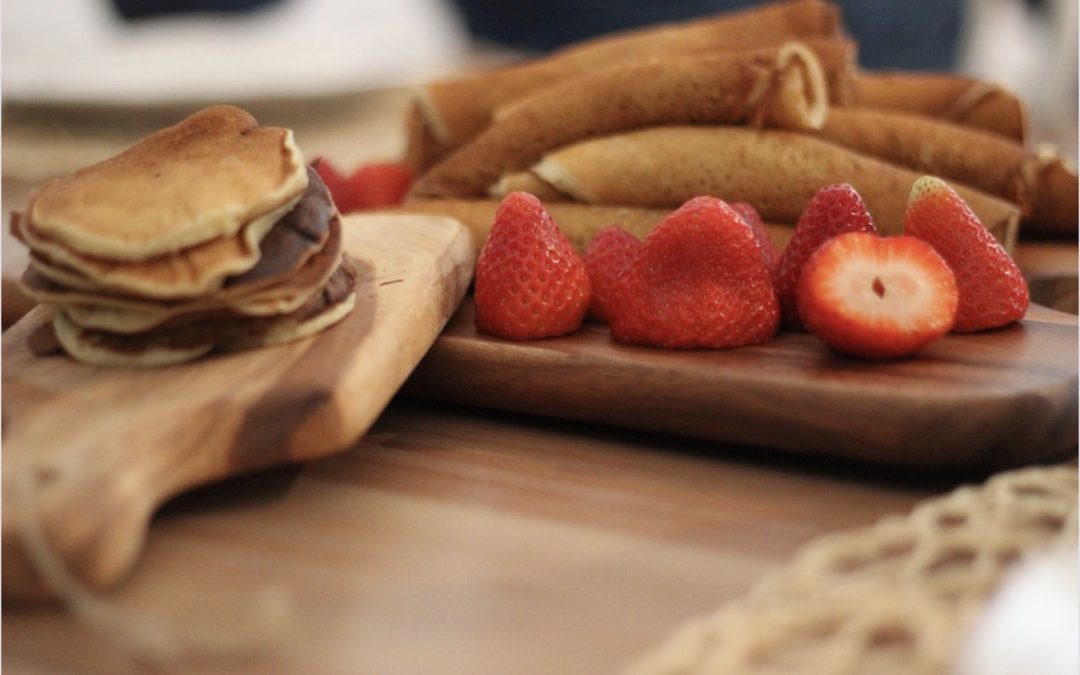 We all want the perfect crepes every time, right? Well – this recipe has never failed me. It makes delicious, thin and delicate crepes that are perfect for stacking and/or filling and rolling. I've cooked it in a variety of frying pans, whipped it up in the thermomix and using a hand blender. I've used cows milk and macadamia milk and I've made it with and without the arrowroot flour. Have a play and see what works for you. Adjust the liquid to your desired thickness and then flip when it's as cooked as you like! Remember, crepes are fragile and can be hard to flip, so keep practicing!
Ingredients:
120 g cream cheese (preferably softened, but it doesn't matter if you're using the thermi!)

4

large eggs

3/4

(about 75 g)

cup almond flour

1/4 cup arrowroot flour (about 35 g) Omit for lower carb count


2 Tbsp sweetener (I use Sukrin Gold)

1/4

cup

milk of choice (I prefer macadamia)


Dash of

salt

Oil or butter for the pan (I find a blob of butter per crepe works (and tastes) best!)
Method:
Blend all ingredients thoroughly in a high powered blender (I use my Thermomix) and allow to rest for at least 5 minutes to thicken.


Preheat the pans over medium heat (I use 2 at a time to speed up the process!)

Place a blob of butter into the pan and swirl it around. Don't use too much if you are swirling the batter as it can mess up the batter.

Pour about 4Tbsp of batter in the middle and either swirl it around or use a wooden crepe spreader (that's what I use).


Allow to cook until the batter is almost dry on top

I slip part of the spatula under the side and lift the crepe a little with my finger before sliding the spatula all the way under and flipping holding it a little with my fingers. This tends to stop them tearing or folding over themselves. If you're a smarty pants you could flip it just using the pan and a flick of the wrist! But – well, that's not me (yet!)!

Cook them all and then eat them up. Or save them for later. These store well and remain pliable for a dew days in an airtight container in the fridge. 

We use the Natvia sugar free syrups and toppings (chocolate, caramel etc), berries, bananas, jam, cream and so on. Chris stacks them and I roll them.
Have fun and please let me know how you go in the comments below