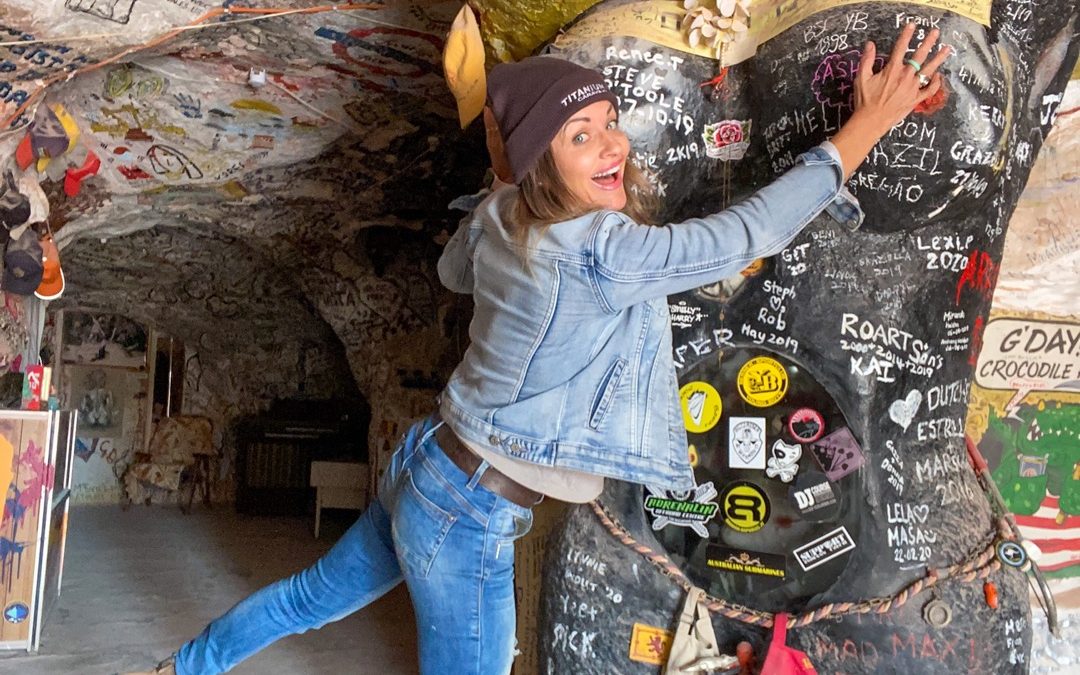 WARNING! This is not the kind of attraction to drag the kids along too. Don't get me wrong – they would probably love it, but, you would definitely have a whole lot of questionable questions being fired at you!
Coober Pedy's legendary Crocodile Harry died in 2006 at age 81, but he sure has left a legacy behind. In a town as quirky as Coober Pedy where underground living and random stuff (junk) lying around is normal, it takes a site as insane as Crocodile Harry's Underground Nest & Dugout to really stand out. 
When we arrived, it felt like we had pulled into the driveway of a home on some far away planet. We parked beside a rusty old combi with flat tyres that was covered in graffiti – Harry's Hideout and For Harry from WA. Painted on the back of the van was a woman in a bikini lounging against a palm tree and on the side, a topless woman being embraced by a sunglasses wearing crocodile. Welcome to the Crocodile's Nest!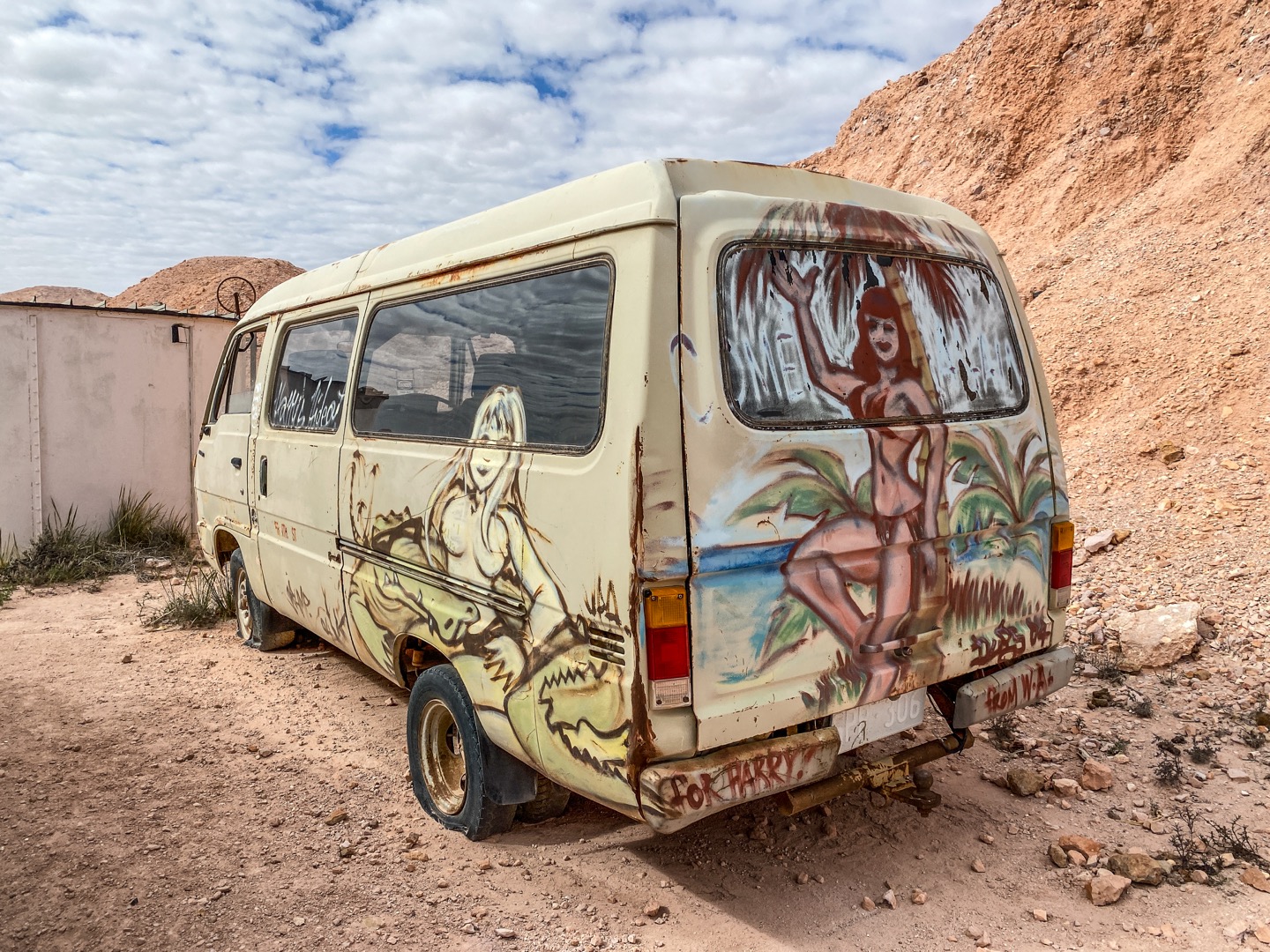 As we walked into the front yard, we became surrounded by the bizarre … mounds of dirt with rusty bicycles, pots and pans, old bones made into 'art', old cars dug into the ground, cacti and, well, we didn't know where to start!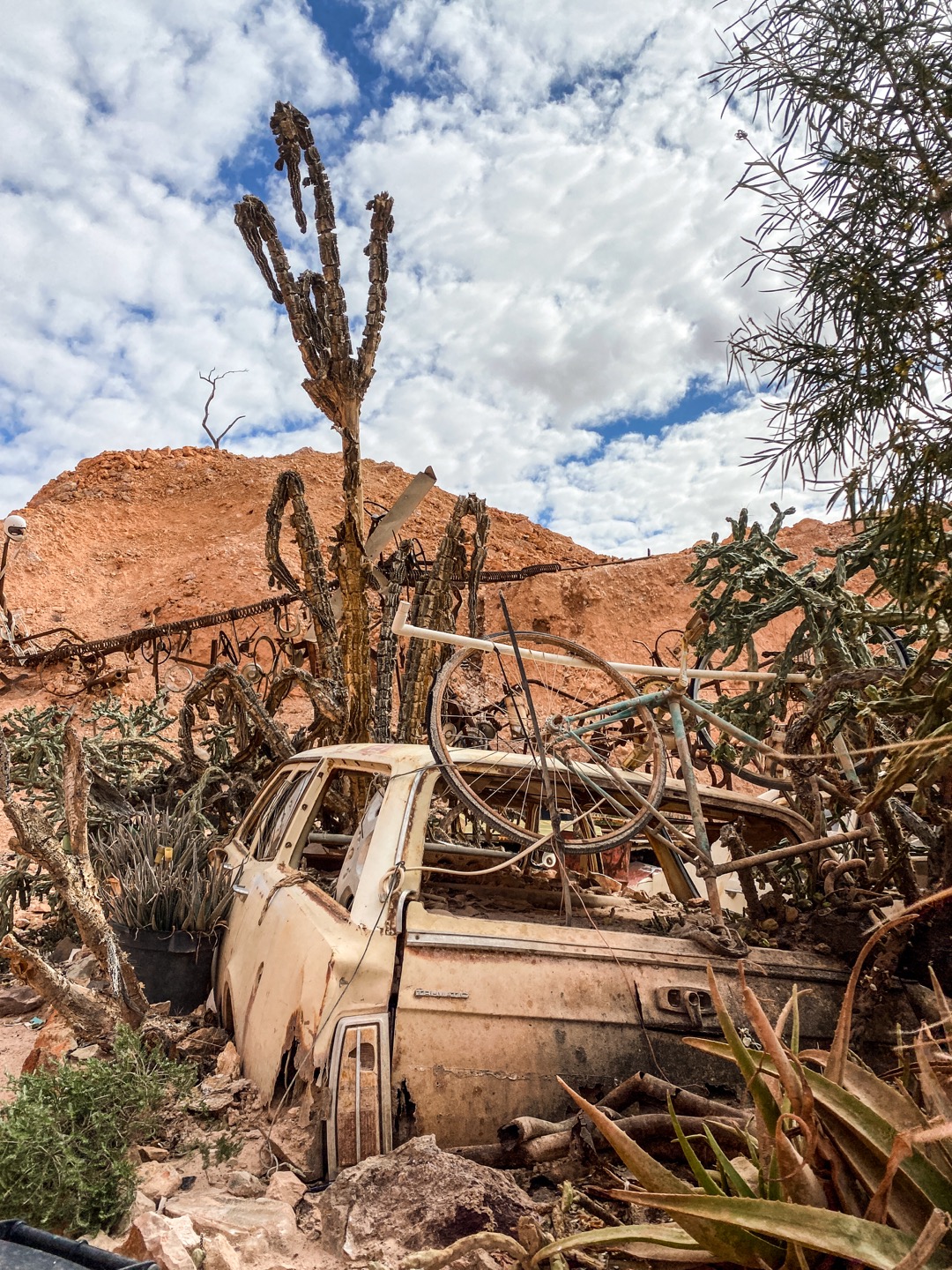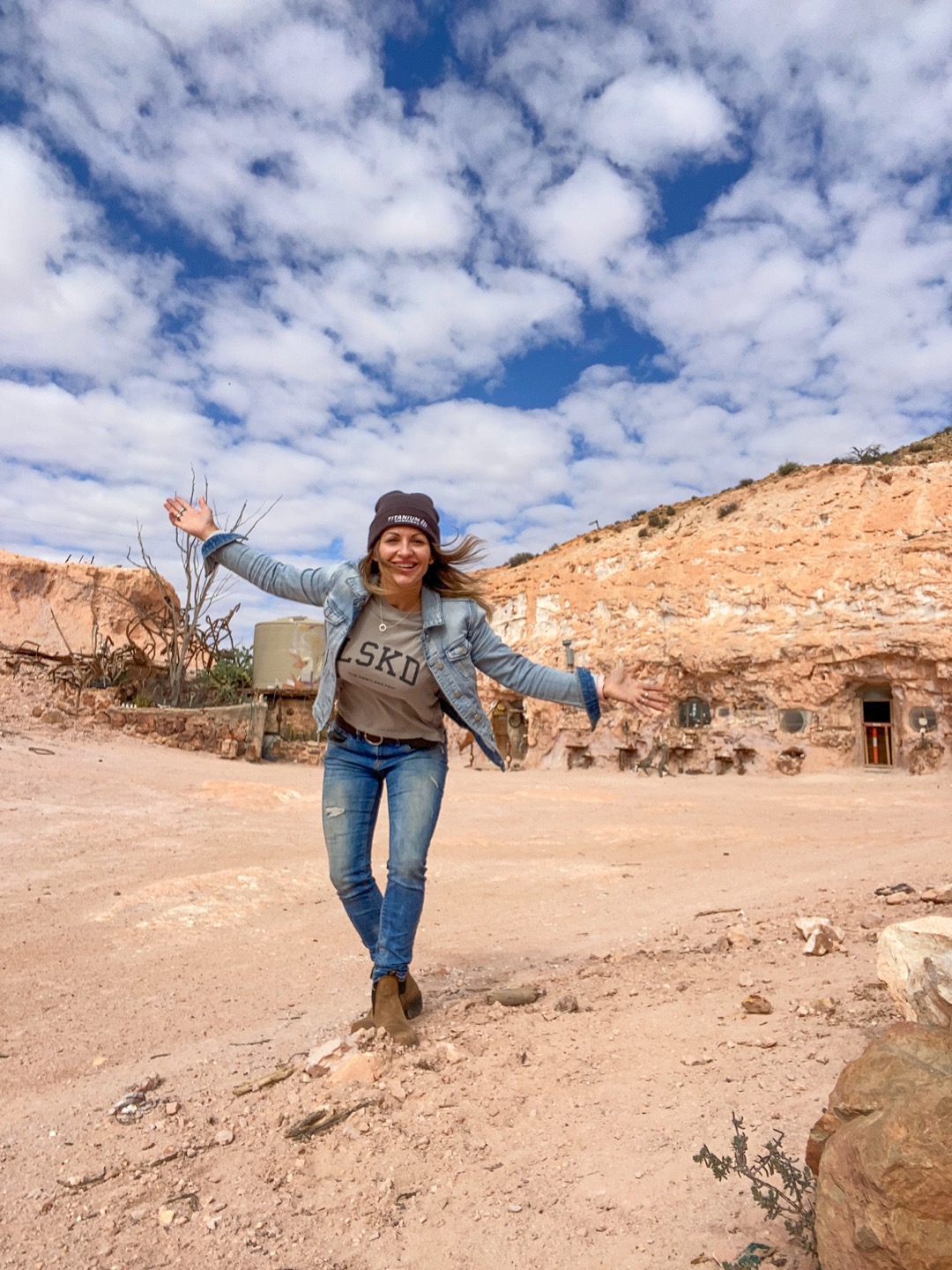 Harry was a much-loved larrikin during his 31 years here in Coober Pedy and spinning a good yarn was something he loved to do. According to Harry, he was christened a baron in Latvia, fought in WWII where he was badly injured, and was even captured by the Americans at one point! He also claims that after the war he defected and fled to Australia in 1951 and that is when he started hunting crocodiles. Harry also claims to be the inspiration for Crocodile Dundee!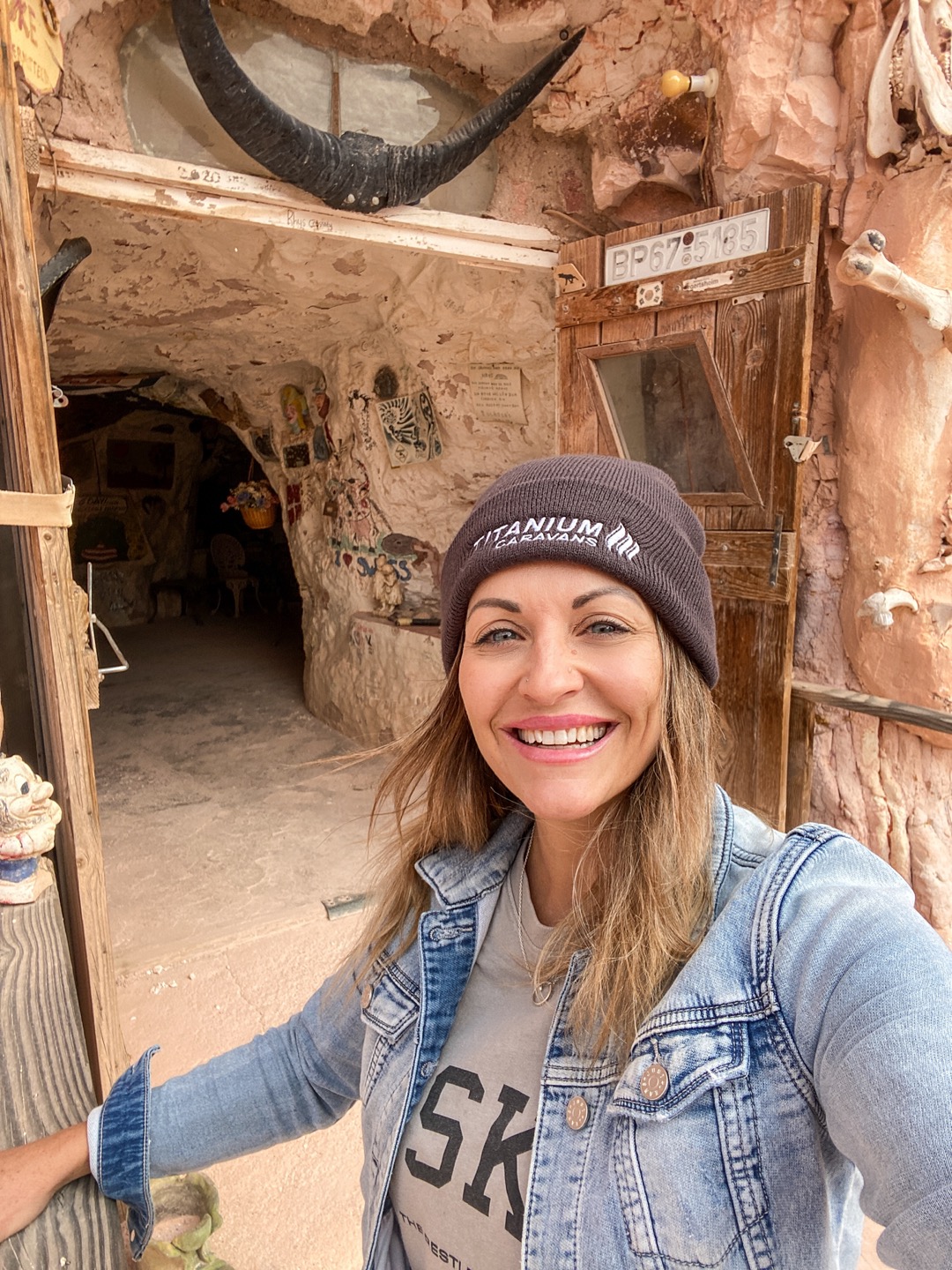 Just ask the locals who remember what life around here was like while Harry was partying with backpackers at his place. I have been told that this was a very popular hangout for the younger visitors to the area, and that the town just hasn't been the same since his passing all those years ago.
The Crocodile's Nest is six kilometres out of town and must be one of the weirdest places I've ever seen. It is filled with crude artwork, painting, graffiti, random objects, car parts, old school porn (VHS!), women's underwear, photo albums, Harry's personal belongings and tributes from thousands of people who visited during and after Harry's life. Some of these random objects have been placed by visitors, but most were put there by Harry (Arvid) himself. The first thing you notice as you approach the front door is a hideous looking mermaid with a skull and large breasts. As you walk in, things just get crazier.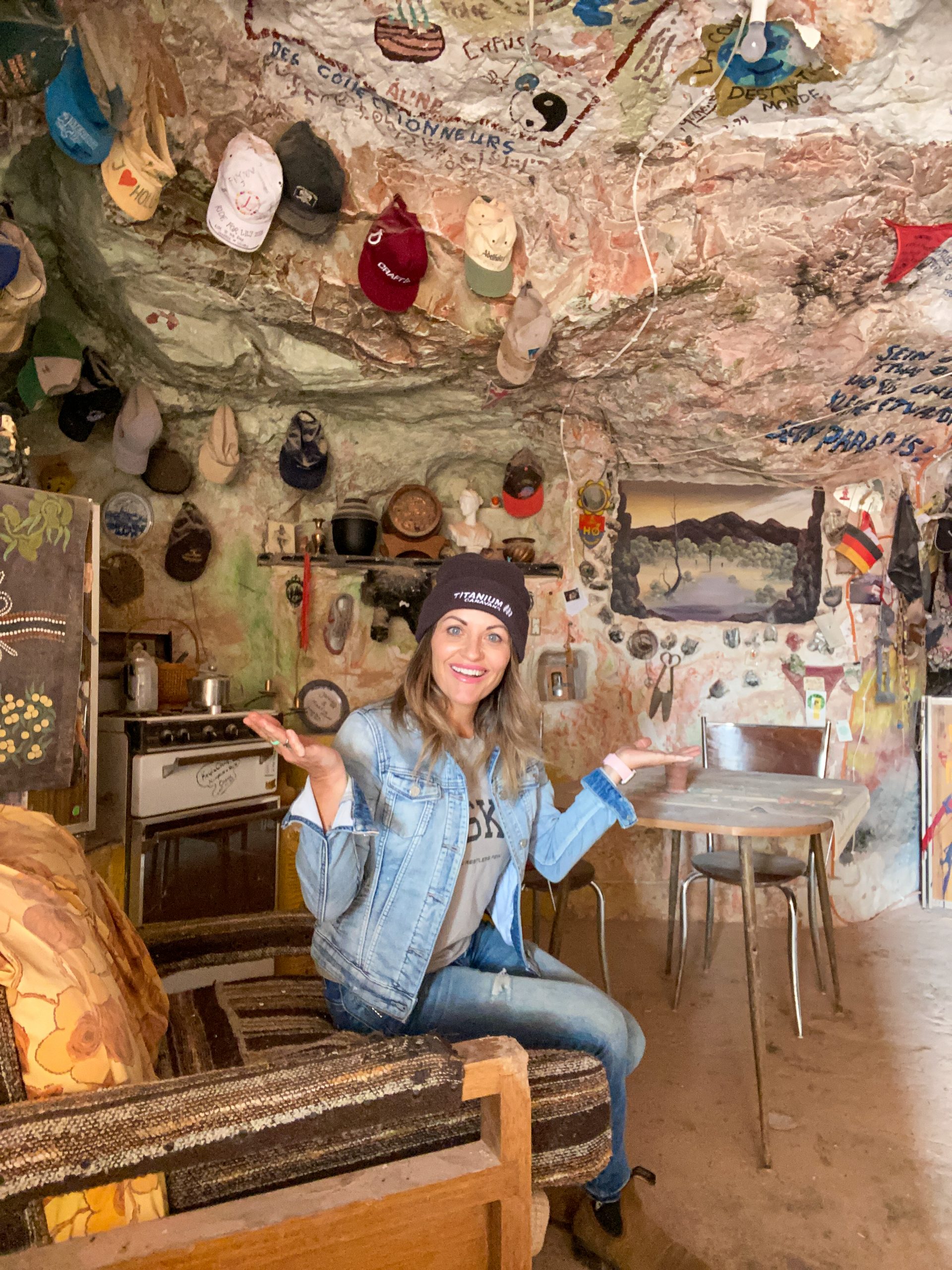 The place has been left as it was when Harry was there. Slide the drawers open and you'll see Harry's clothes. Have a look in the bathroom and his razor is still sitting there with bottle of soap. On his desk are cards, a typewriter, and framed photo of someone – maybe his dad?
Harry's Dugout is so strangely unique it was used in a scene from the Mad Max movie, Beyond Thunderdome. This is what shot him to local legend status and the notorious womanizer began charging admission to visit his home.
Crocodile Harry has been recognized worldwide thanks to news articles, a documentary filmed in 1955 called Krokodiky Harijis (Crocodile Harry in Latvian), and the 2 books he wrote recording his early expeditions, Latvian Crocodile Hunter in Australia (1957) and Long After The Sun (1958). Legend has it that Harry killed as many as 10,000 crocodiles (some say 40,000) to sell for cash over his two decades as a croc poacher before retiring as an opal hunter and living in his underground home (dugout) in Coober Pedy.
I feel like I need to add that as he got older, he settled down a little and got married. OK, maybe settled down is a bit of a stretch! Harry first met Marta by letter after a photo of him without a shirt appeared in a German magazine. Women began writing to him and Marta was one of them. Even though she was married, Marta left her husband and moved to Coober Pedy, to live with Harry. As the many sculptures indicate, Harry was clearly a 'boob man' and at least one of these sculptures is of Marta who also contributed to some of the art in the dugout.
The couple was interviewed by the Australian Woman's Weekly back in 1981, and had their picture snapped beside the big crocodile sculpture that's still in the dugout today.
Thankfully Harry's dugout remains and has been turned into a museum for curious visitors like us. And he hasn't been forgotten in his hometown of Latvia either. There is a 2-tonne statue of a saltwater crocodile in his honour that many tourists find a bit odd. The Visit Dundaga website says:
The concrete sculpture by O. Skarainis was constructed in 1995 and this is a memory sign devoted to the strong men of Dundaga and a reminder about the adventures of the former Dundaga resident Arvīds Blūmentāls who was a traveller and a crocodile hunter in Australia. He hunted about 10 000 crocodiles at his place of residence and has been the prototype for the famous movie by Paul Hogan «Crocodile Dandy».
My conclusion is that Crocodile Harry was the crocodile hunting Hugh Hefner of Coober Pedy! If you decide to pop in for a visit, see if you can find where Aussie Destinations Unknown has been scraped into the wall (hint … naked white lady with chain 😉).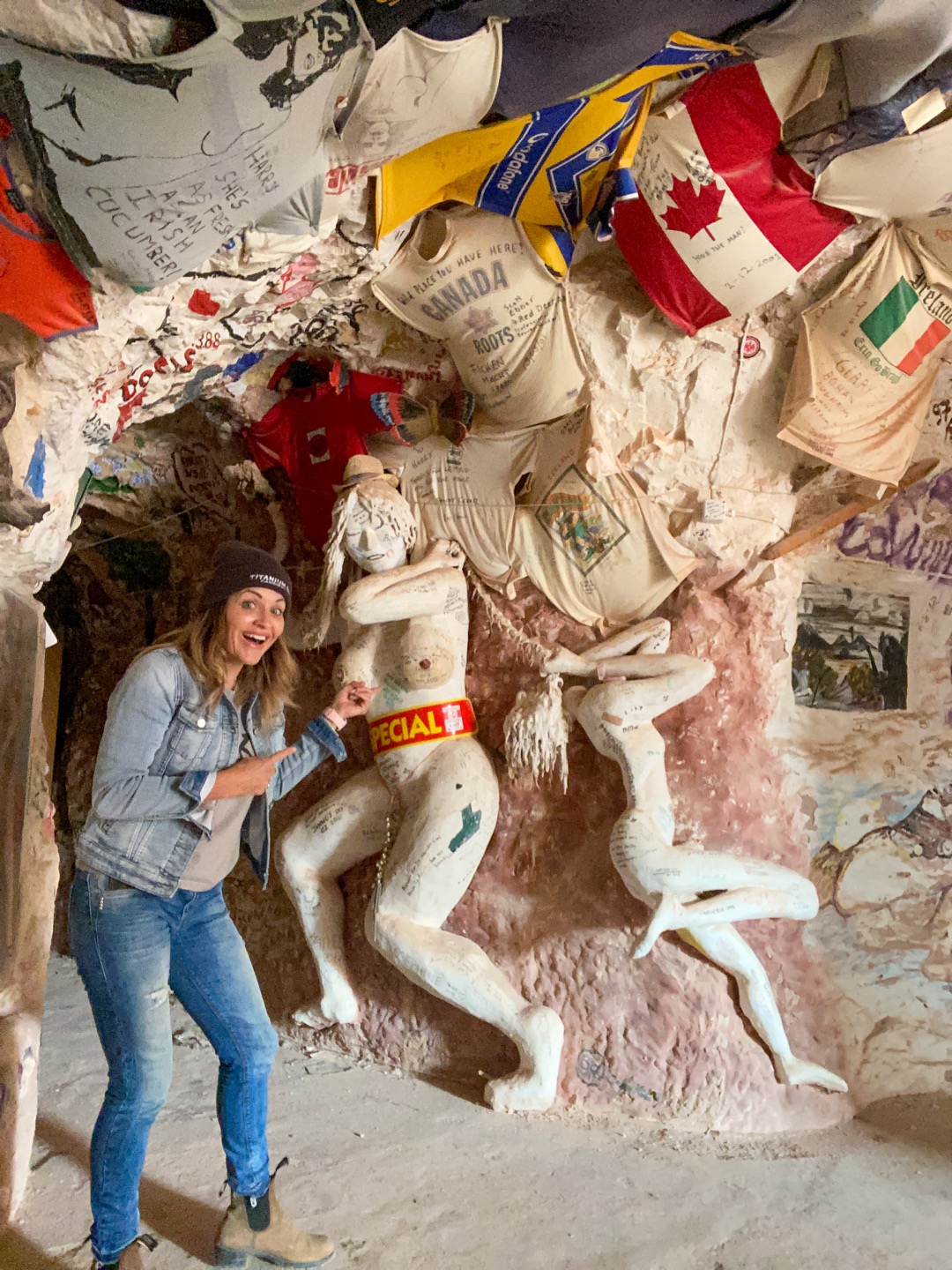 HOW TO GET THERE:
WHERE:
Located six kilometres west of Coober Pedy on the Seventeen Mile Road
Cost:
$7 contribution to an honesty box found on the kitchen bench, just inside the front door.
HOURS:
Open every day between 9 am-12 pm and 2 pm-6 pm.