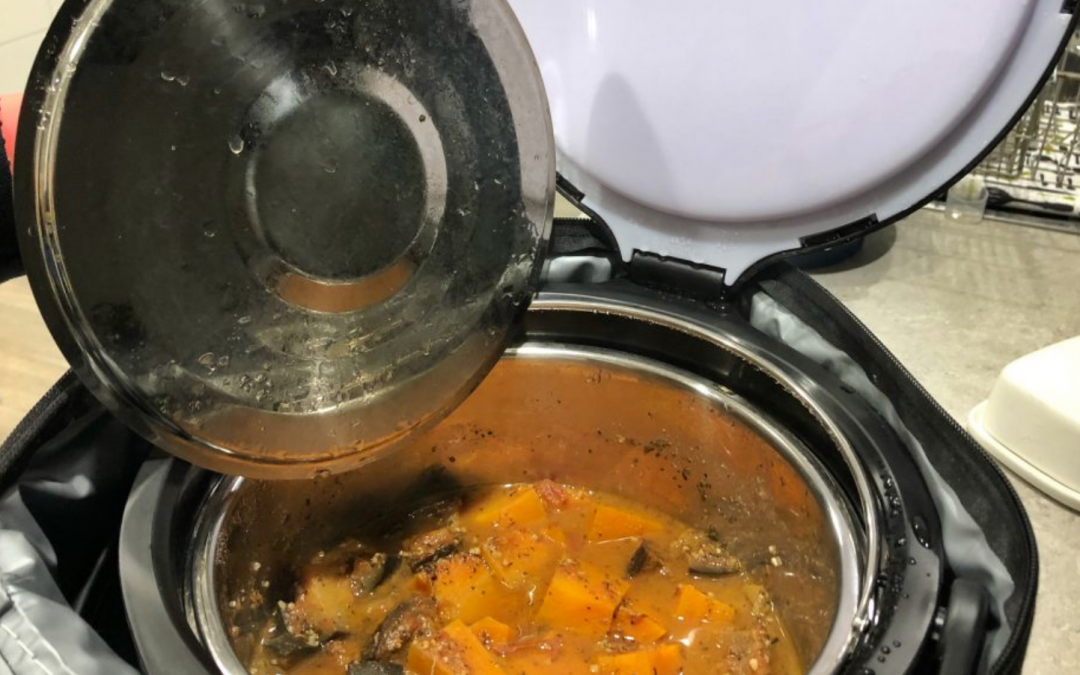 This was my first ever attempt at creating a meal in the thermal cooker – and it turned out fabulous! So tasty!
And it only required 30 minutes of electricity/gas.

Ingredients:
2 large brown onions, peeled and chopped
2 medium eggplants (cubed)
1 medium sweet potato, peeled and cubed
6 chicken thighs, skinless and boneless
2 cups bone broth or stock (chicken or beef)
⅓ cup white wine (optional)
1 can crushed tomatoes (28 oz)
1 Tbsp. mixed herbs
3 Tbsp. crushed garlic
Salt and pepper to taste
Oil for sautéing (I used onion infused olive oil)
1 cup baby spinach (optional)
1/2 cup cream/sour cream or coconut cream (optional)
Slow cooker method:
Place all ingredients in slow cooker (except sour cream ).
Cook on low for 6-8 hours or high for 4 hours.
Stir in sour cream or dollop on top.
Thermal Cooker Method:
Heat oil in large inner pot over medium-high heat.
Add onion, garlic and zucchini and cook until onion is translucent and zucchini is starting to brown.
Add remaining ingredients (except sour cream and baby spinach) and stir to combine.
Bring to the boil, cover with lid and reduce to a fast simmer/slow boil for 30 minutes.
Remove from heat and place into thermal pot and case.
Close the lids/do up the zipper etc.
Leave for at least 5 hours.
Open and remove from inner pot from case.
Stir through optional baby spinach and/or cream/sour cream/coconut cream.
Return inner pot to heat and simmer for 1/2 hour before serving
Serve topped with Parmesan cheese.
Options:
Stir through some sour cream/coconut cream right before serving.
Add baby spinach and place pot back on stove to simmer for half hour before serving