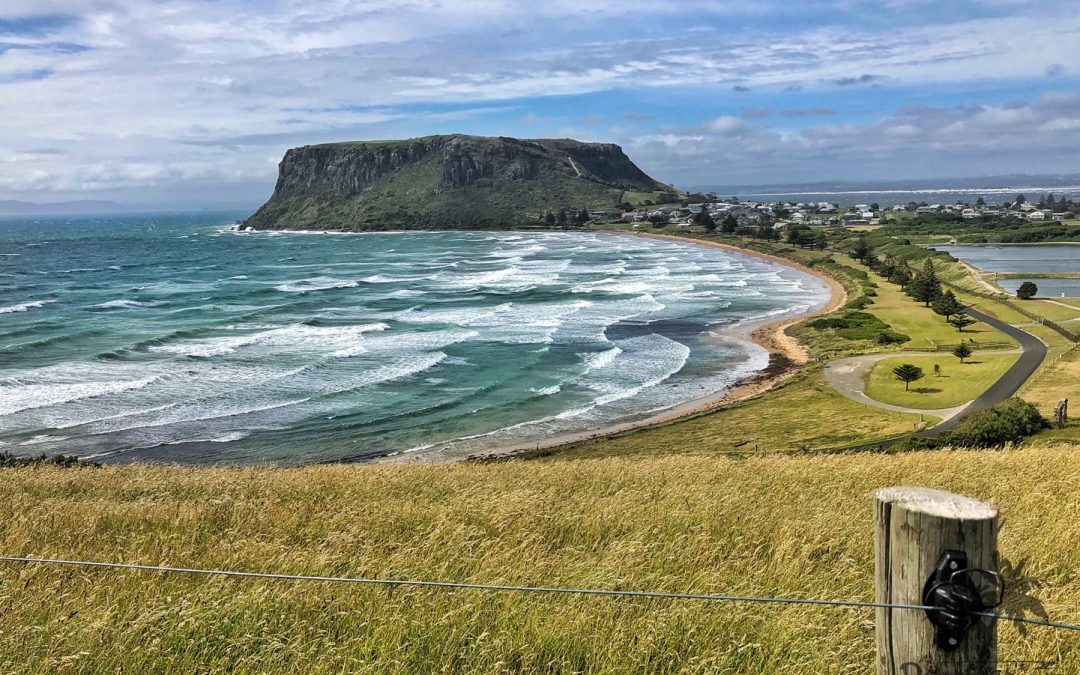 For many people Tasmania is the holiday destination of a lifetime, especially if you are towing a huge caravan behind you and have a 4WD filled with kids. For me, it was a wonderful opportunity to take my family back home (from Brisbane) and show them where I grew up.
One thing that doesn't change from first time visitors to those returning home like me, is how much it actually costs to get there! Our van is a 22.6" monstrosity with bikes on the back, so the Spirit of Tasmania alone cost about $2700. Once you get your head around the fact that this will be one of the more expensive adventures to be had here in Australia, you will be fine.
We booked our tickets six months in advance as they sell out pretty quickly, and we locked in our itinerary and caravan park bookings (where necessary). One good thing is that they ask for full payment when you book the SOT, so technically you've already paid the biggest chunk – aside from fuel, well before your island adventure begins.
If you would like to see our journey from Brisbane to Devonport, you can watch the videos here:
Heading to Tasmania as tourists during the summer months meant we were definitely not alone on some of our expeditions, however having the insider knowledge that we do allowed us to get well off the beaten track and do some serious exploring of hidden locations that many people would never know existed.
 From beaches covered in razor sharp rocks and sea weed to the base of incredible waterfalls. From ghost towns to the cool, temperate rainforest of the Tarkine. From convict heritage to picture perfect coastlines   – Tasmania is an island paradise just begging to be explored.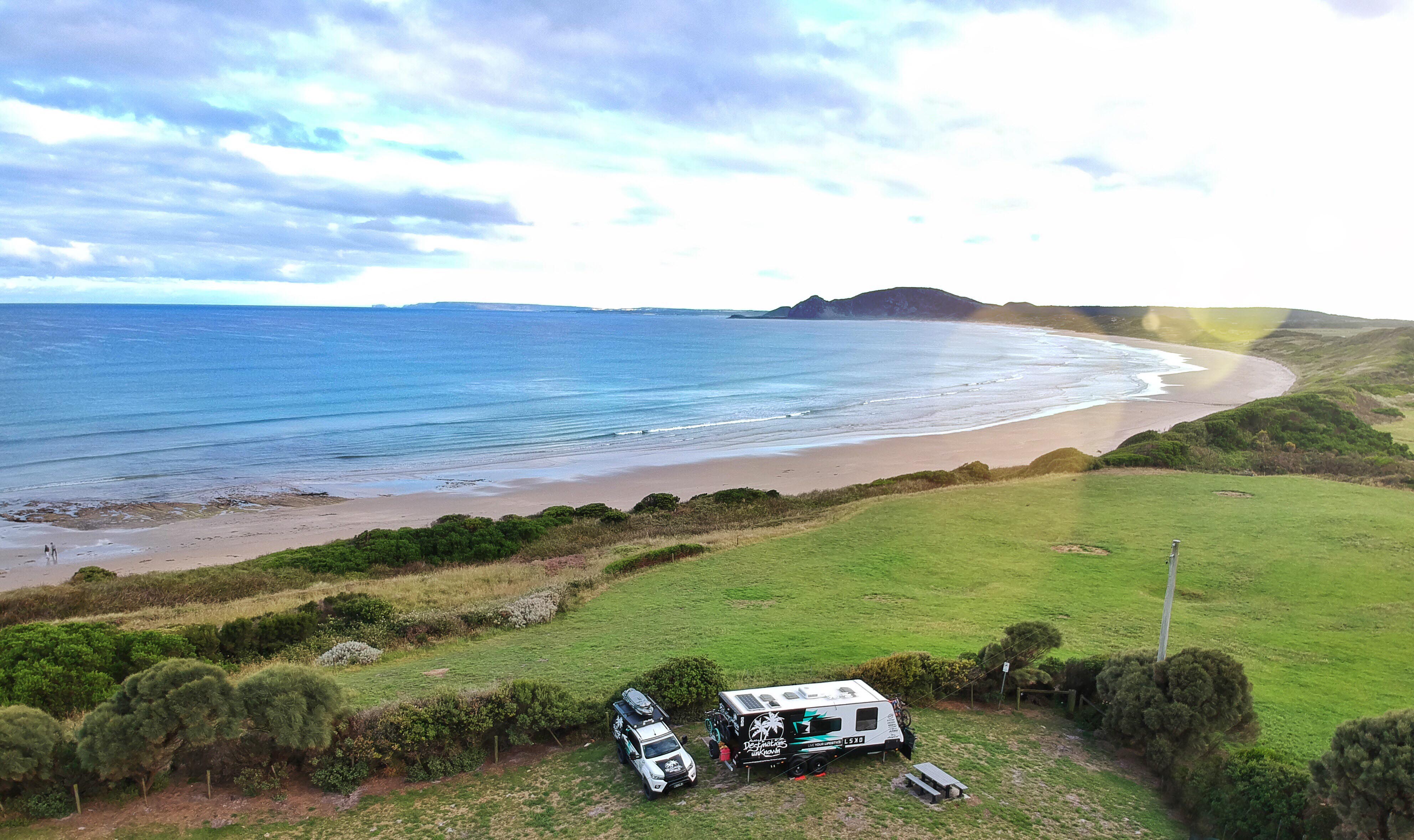 We began as everyone does, in Devonport (after taking the inland road to Melbourne from Brisbane and spending the night on board the Spirit of Tasmania). My mum met us for breakfast at the gorgeous Café Squire not far from the ferry terminal, we walked along the Bluff, and from there we headed north west through Burnie stopping off at Penguin so the kids could practise their counting (how may penguins are there on the foreshore?).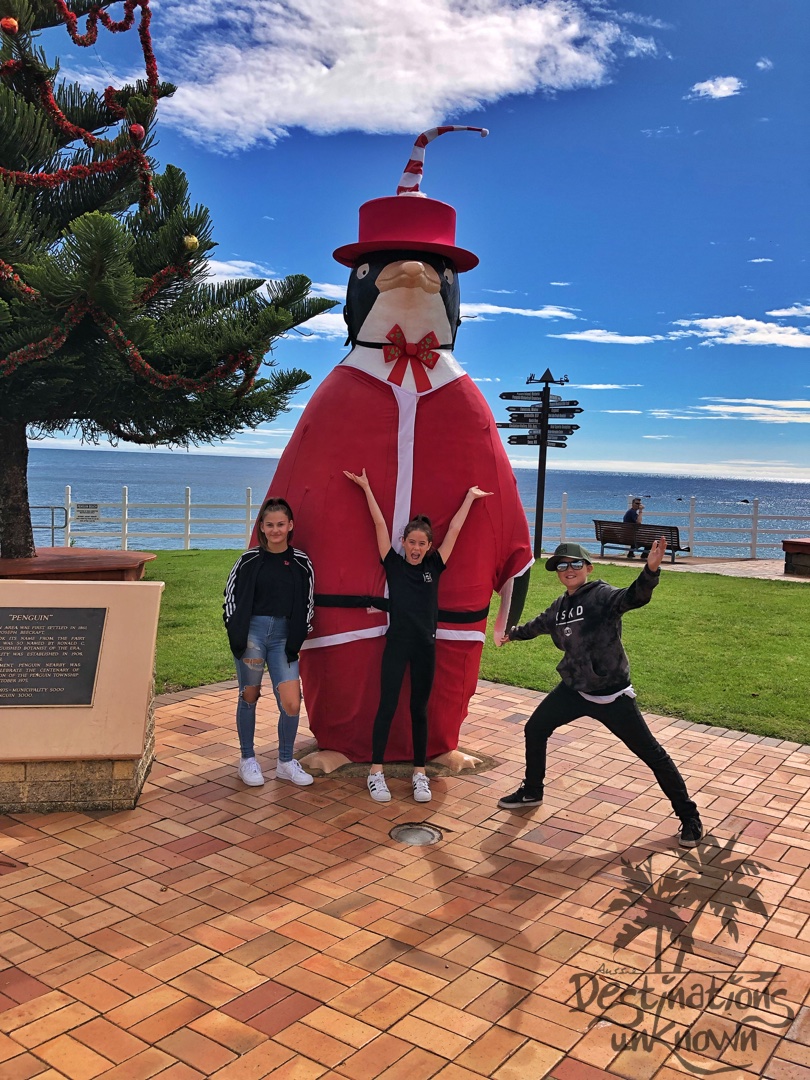 Boat Harbour Beach was where we spent our first day in Tasmania. We pulled into the spectacular free camp right on the water's edge mid-morning and spent the entire day splashing around in the bright blue water and breathing in the crisp, clean air. It was Chris's kids first experience of daylight savings, so it was a bit of a novelty having the sun still high in the sky at 8 pm.
The following day the sunshine and warm weather were replaced by low lying cloud and a constant drizzle as we made our way to Stanley. We spent some time exploring this cosy coastal town including the obligatory climb up to the top of The Nut, an enormous flat topped, volcanic neck jutting 150 metres straight up from the water's edge.
The following day the sunshine and warm weather were replaced by low lying cloud and a constant drizzle as we made our way to Stanley. We spent some time exploring this cosy coastal town including the obligatory climb up to the top of The Nut, an enormous flat topped, volcanic neck jutting 150 metres straight up from the water's edge.
There are so many experiences to try on Tasmania's North-West and West Coasts so it's hard to choose what to do in such a short amount of time.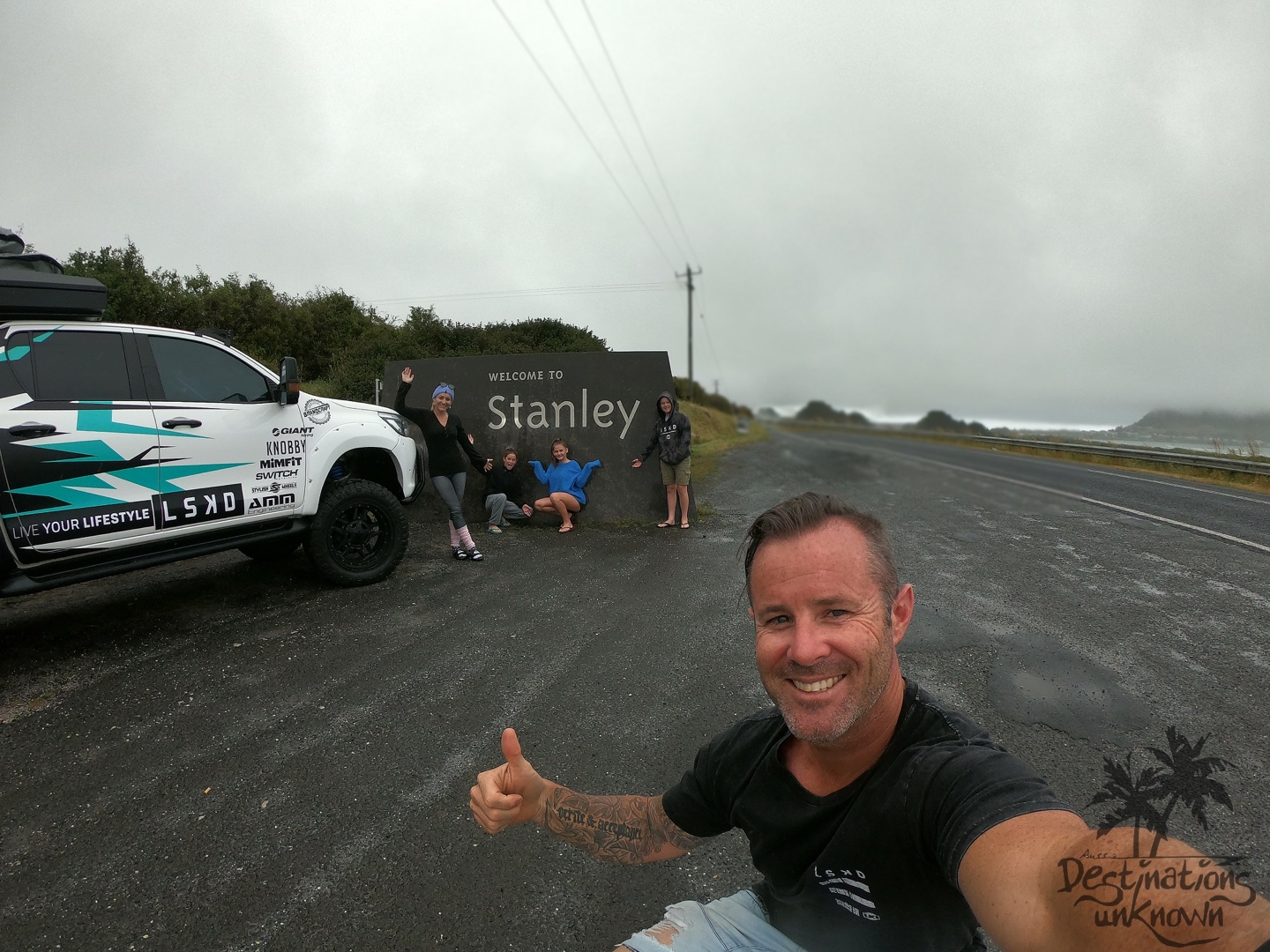 Our first full day on the North – West Coast was spent inside the convict-built Highfield House which is regarded as the birthplace of European settlement in that area of Tasmania. We learned a lot about the history of the local towns and early settlers as we walked through this important part of Tasmania's heritage. It was here that we began to get a sense of what it was like to live back in the early 1800's and as we continued through Tasmania this would come back to us often.
Not to miss anything if possible, we stopped by the old Duck River Butter Factory on the way back to the caravan park. I explained to the kids that Duck River Butter would be the best butter they EVER tasted, and we vowed to bring some back to Queensland with us.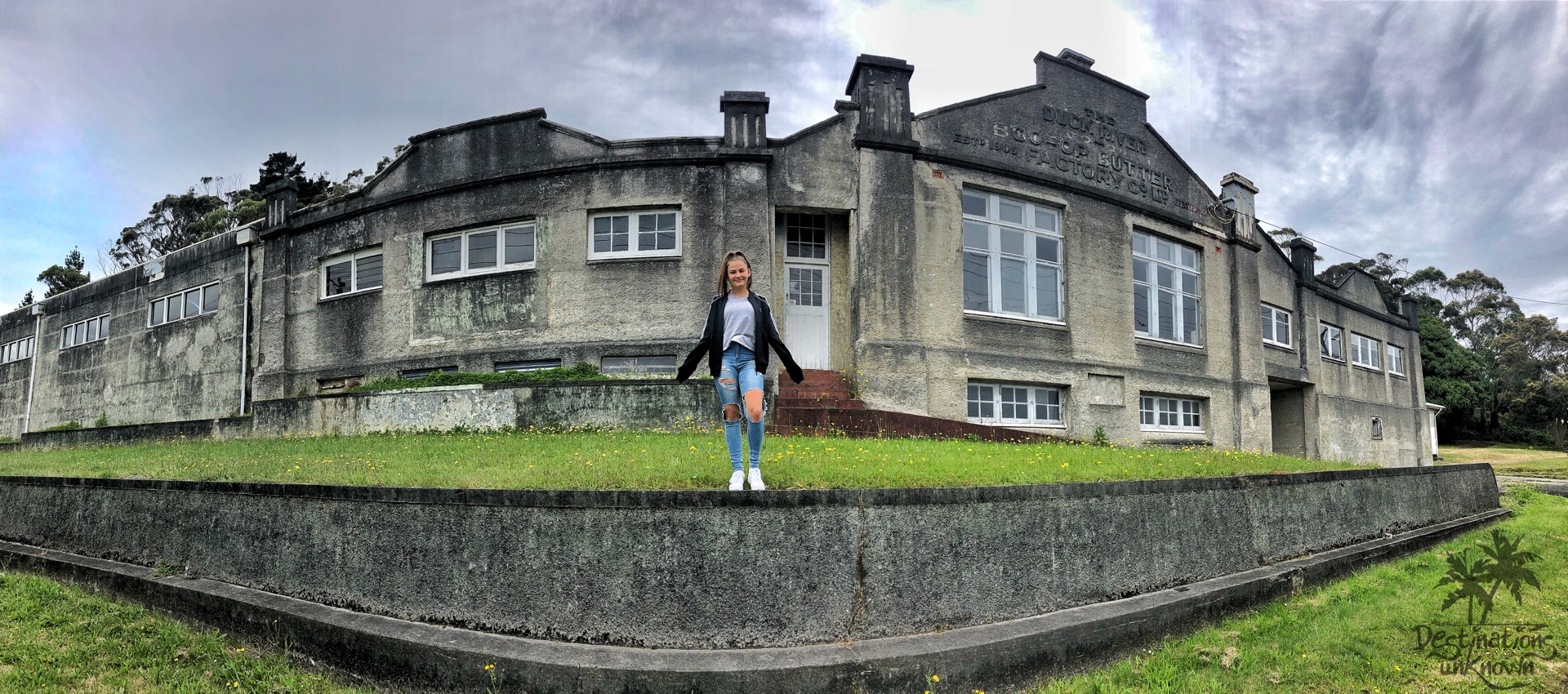 The Tarkine has always intrigued me. It is a hidden treasure and a forgotten wilderness. Tasmania is only a small state and this cool temperate rainforest takes up 477,000 hectares. It's the second largest in the world and we spent most of the next few days exploring it.
Trowutta Caves Reserve, Trowutta Arch, Milkshake Hills, numerous sinkholes, Dempster Lookout, Lake Chisolm (one of the sinkholes) and Sumac Lookout were the spots we were able to explore on the first day. Each of them was incredible and well worth the time it took us to get to each one.
The next day we left Stanley and set up in a stunning free camp in Marrawah.  This was our base for exploring another three stops on the Tarkine Drive; Arthur River, The Edge of the World and Couta Rocks (and a few smaller places dotted in between).
This rugged coastline, where the wild Roaring Forties (strong westerly winds) batter the coast from across the Great Southern Ocean, really does make you feel like you are at the edge of the world.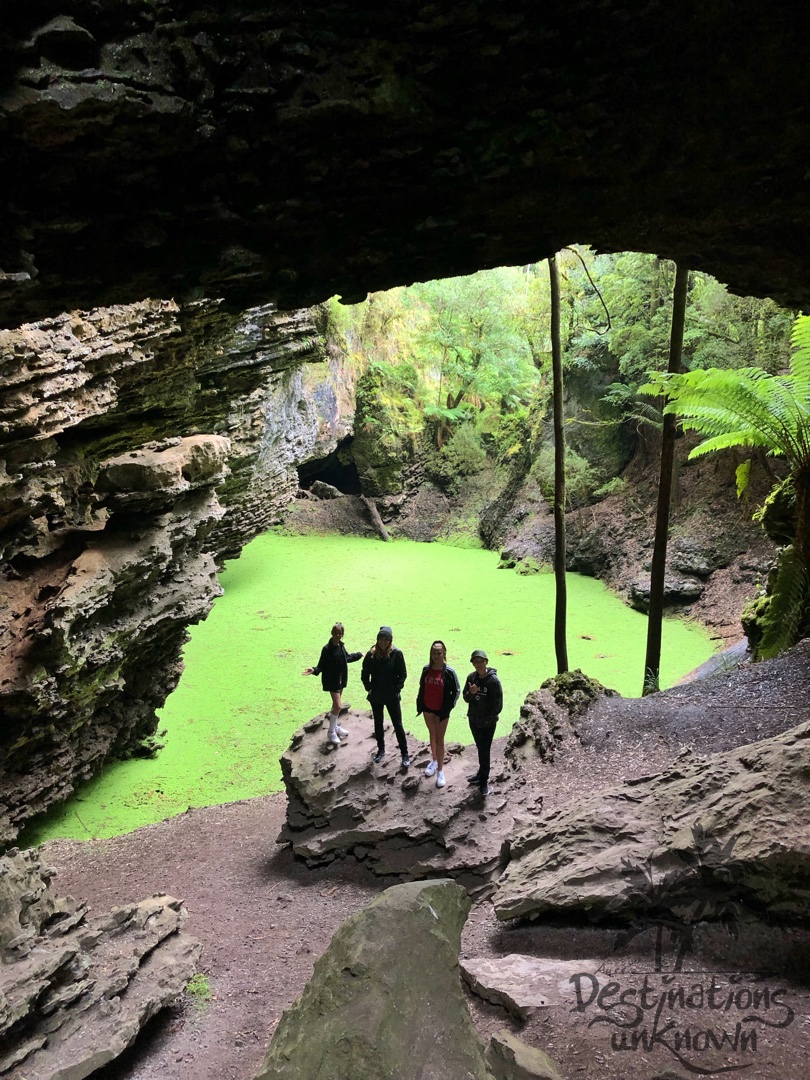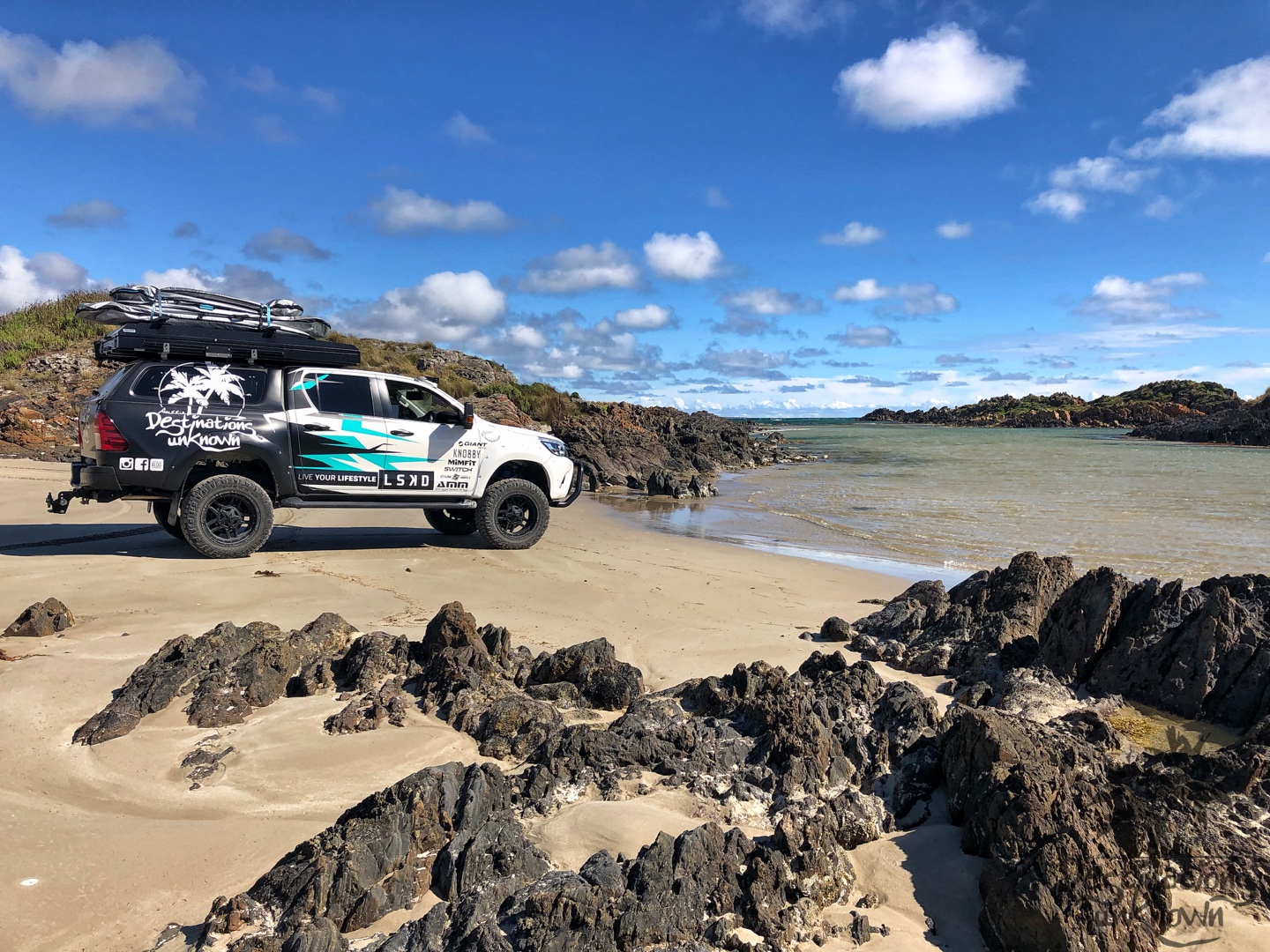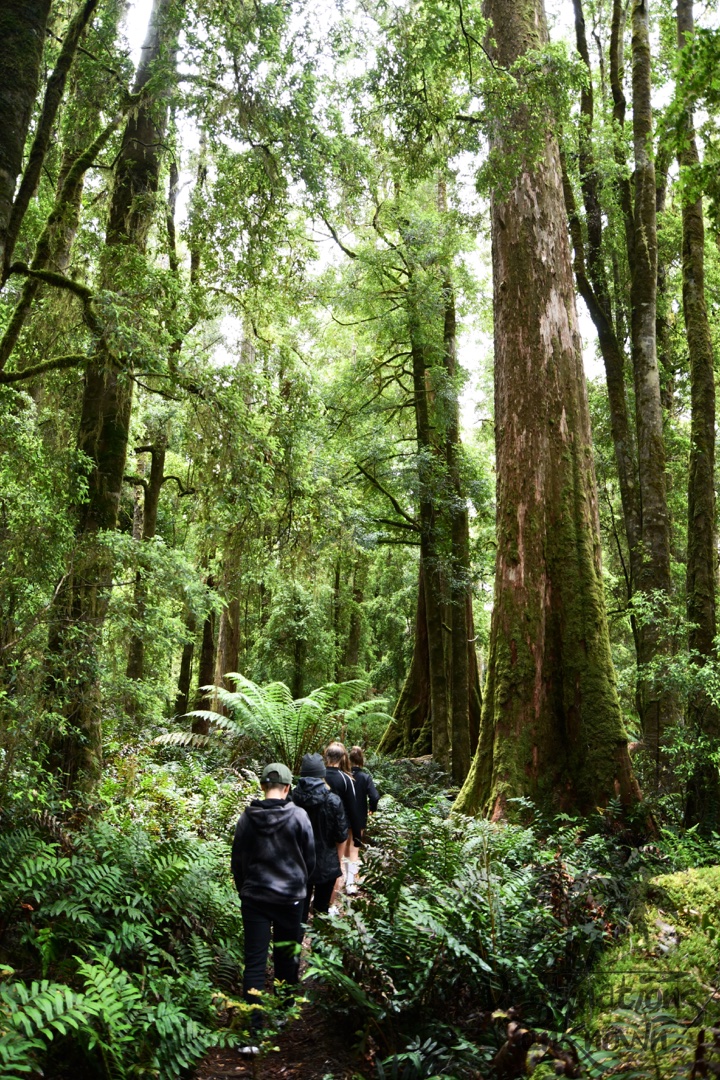 By this time, it was almost Christmas which meant turning around and heading towards home, which for me means Grindelwald, the Swiss Village just outside Launceston where my parents have five acres and some very friendly alpacas!
We drove through Sheffield, stopping to have a look at the murals and grabbed a famous curried scallop pie on our way.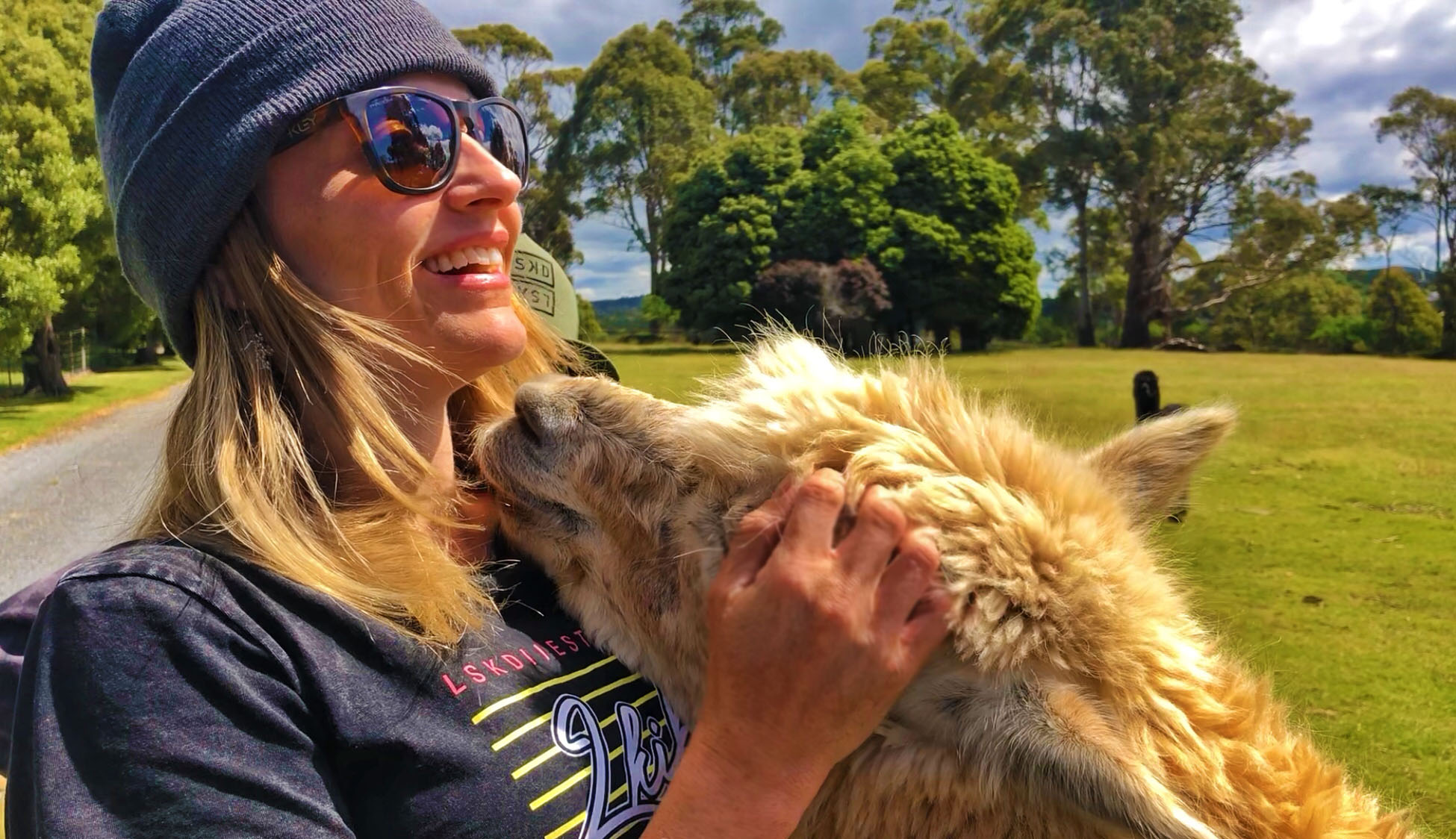 During the next few days we spent time with the rellies, relaxed a while and sent the kids off exploring on their bikes. We also took them to a few local places like the Cataract Gorge and Bunnings 🙂
Next on our itinerary was the East Coast. We drove through the winding bends of St Marys Pass, our caravan bouncing all over the shocking roads as we approached Bicheno where we spent the next three days. Here we visited the Blow Hole (where the kids had a blast!), drove to The Gardens, and the boys spent some time surfing at Redbill Beach. Beachside fish and chips are always on the menu at least once, and the line up at The Gulch is well worth standing in!
 Next it was Southbound to Triabunna with lots of little stops on the way including Coles Bay, The Pondering Frog, Devils Corner Wine Cellar, Swansea, The Spiky Bridge and Mayfield Bay Conservation Area.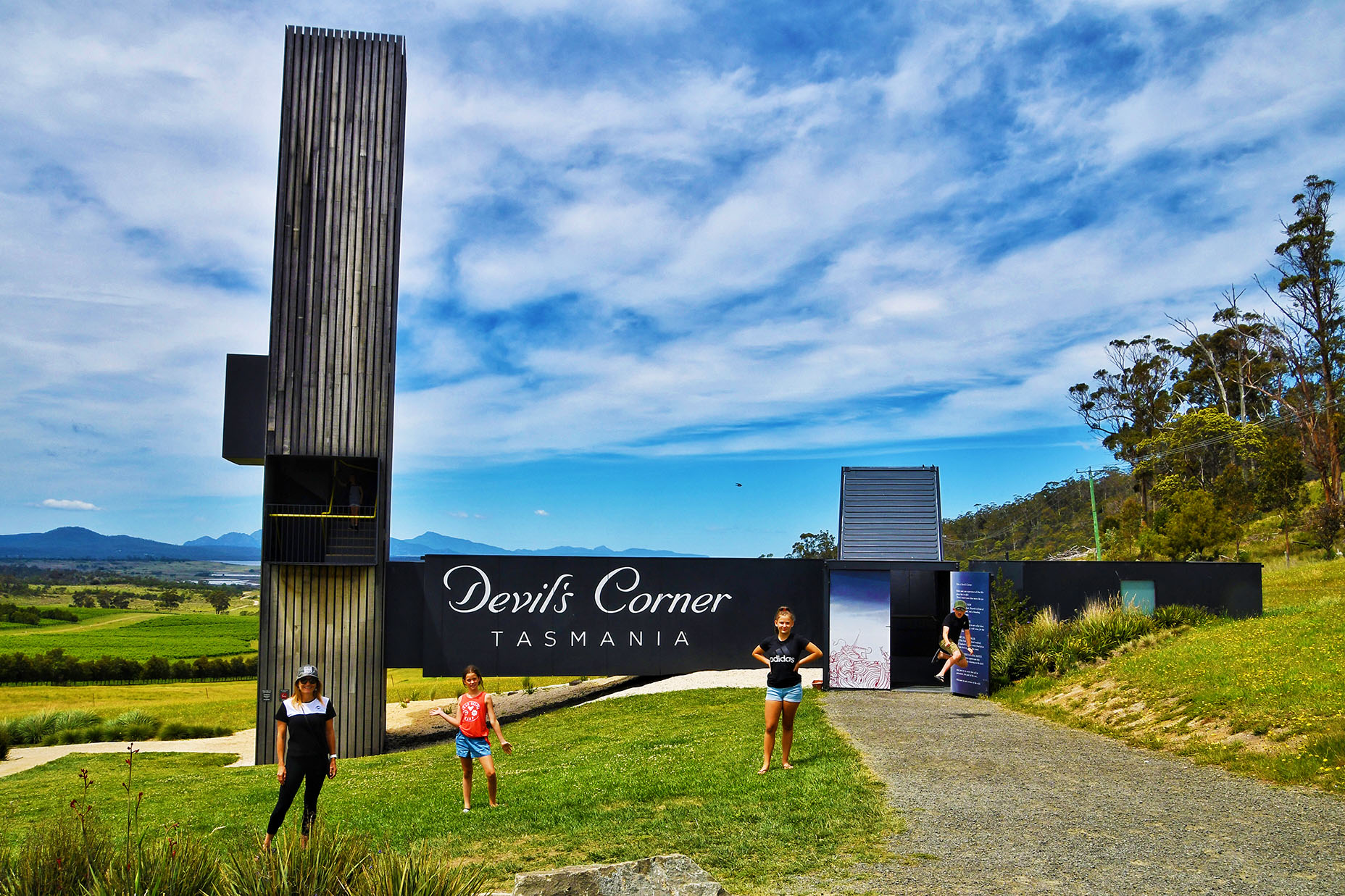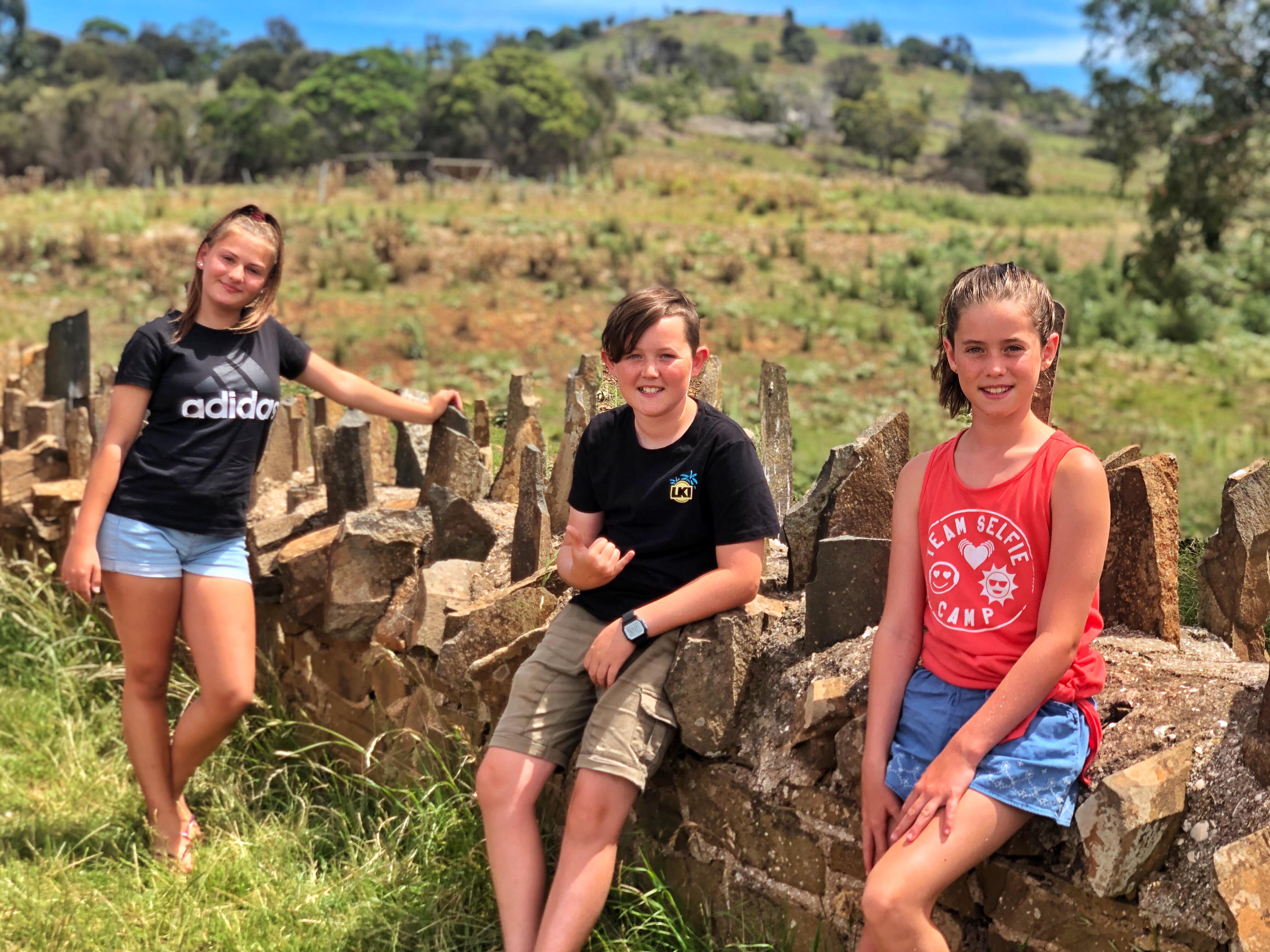 We spent the day exploring Maria Island which was absolutely incredible. It's a short 20-minute ferry trip from Triabunna on Tasmania's East Coast across to the island where we spent the day on our bikes exploring and creating a lifetime of memories. It was one of the more expensive activities but was well worth it.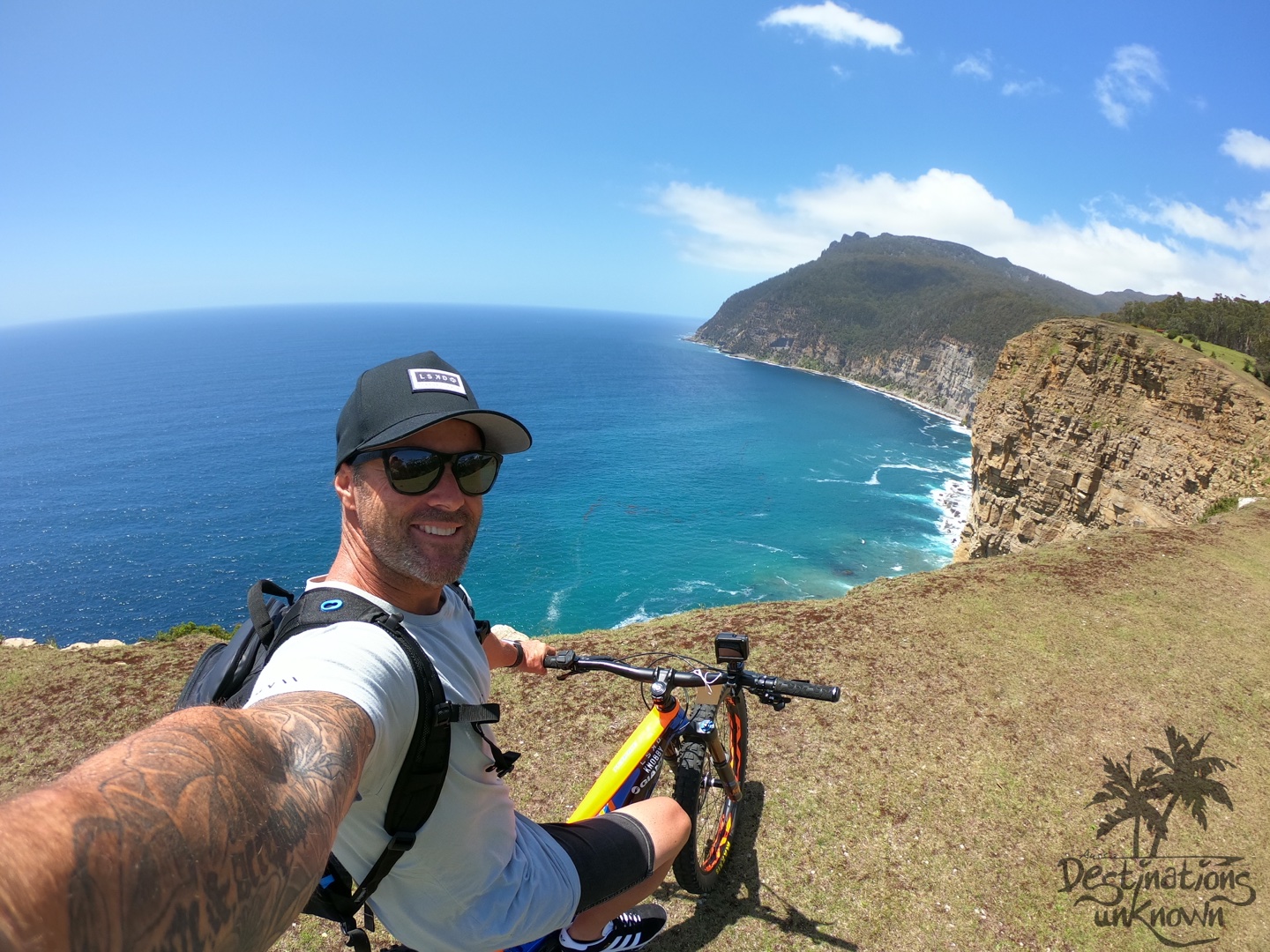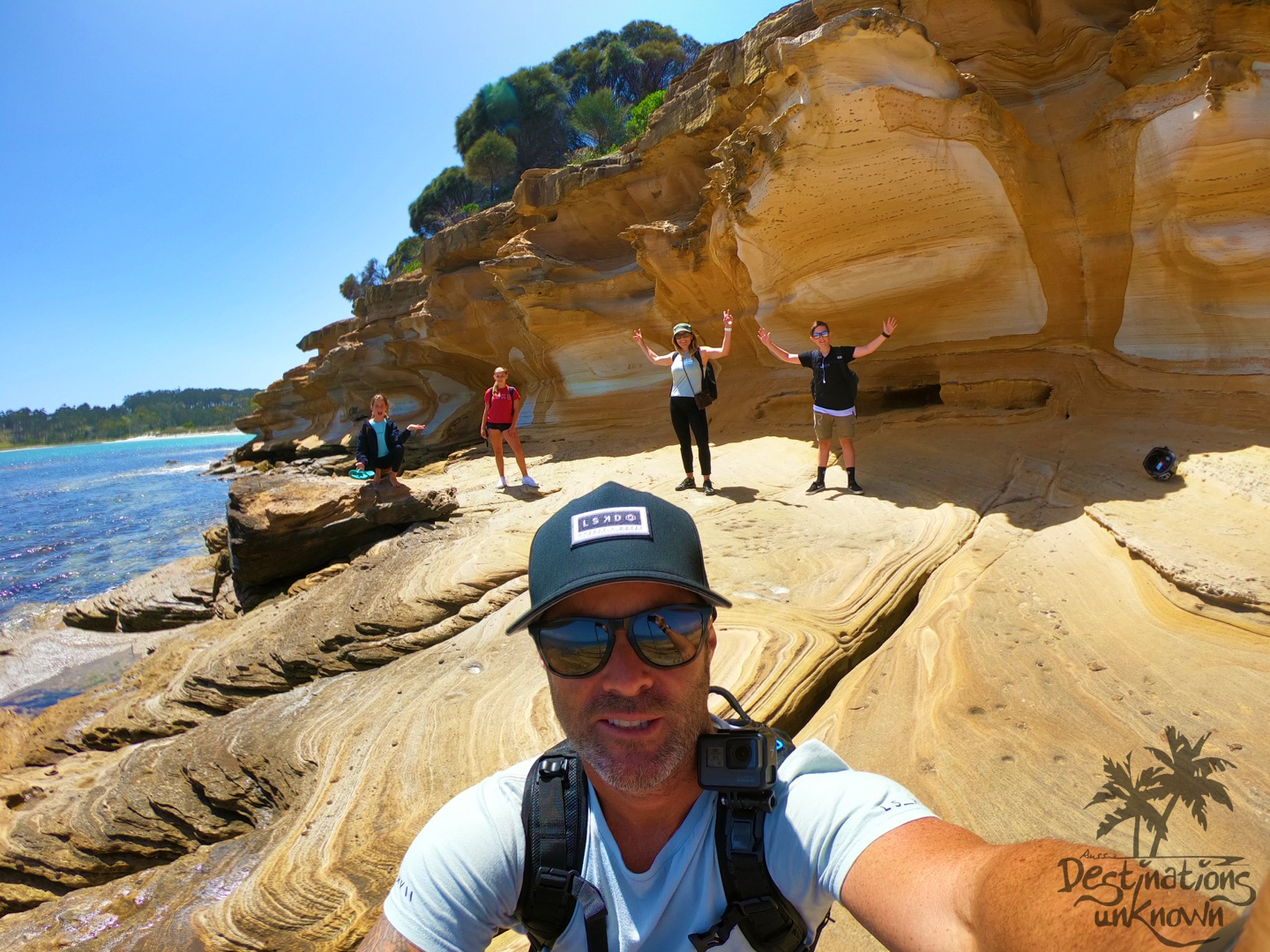 At 8 am on New Year's Eve we carried on with our journey south driving through Orford, up Break Me Neck Hill and continuing along to Bust Me Gall Hill (yes, these are real names!) until we pulled into Whitebeach Caravan Park at 10:15am. This gave us plenty of time to set up and explore Eaglehawk Neck and the local Historic Coal Mine Site before the New Year's Eve celebrations kicked off.
It was a wonderful yet brief stay at Whitebeach and early the next morning we were packed and on our way to Bruny Island where we caught up with my friends and their kids for three days. Although it was fairly windy, the weather was warm, and the kids were happy playing in the ocean. We did a bit of island exploring including the Trugannini Stairs, Cloudy Bay, Cloudy Corner Campground, and all of the lovely little local shops on the island. We just loved the Bruny Island Beer and Cheese Co., and the kids were pretty impressed with the Chocolate Factory. Oh, and there was that evening where Chris asked me to be his wife! 🙂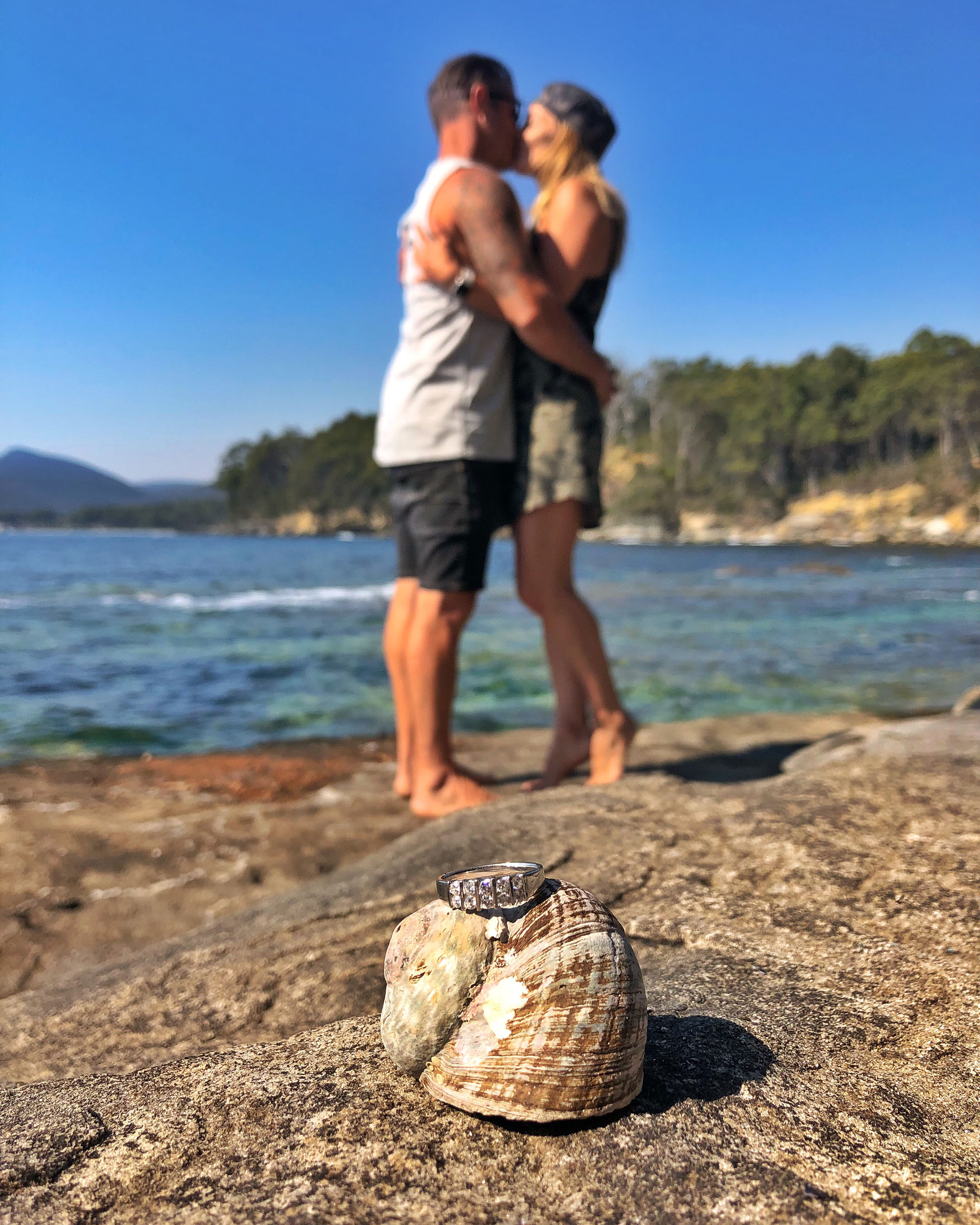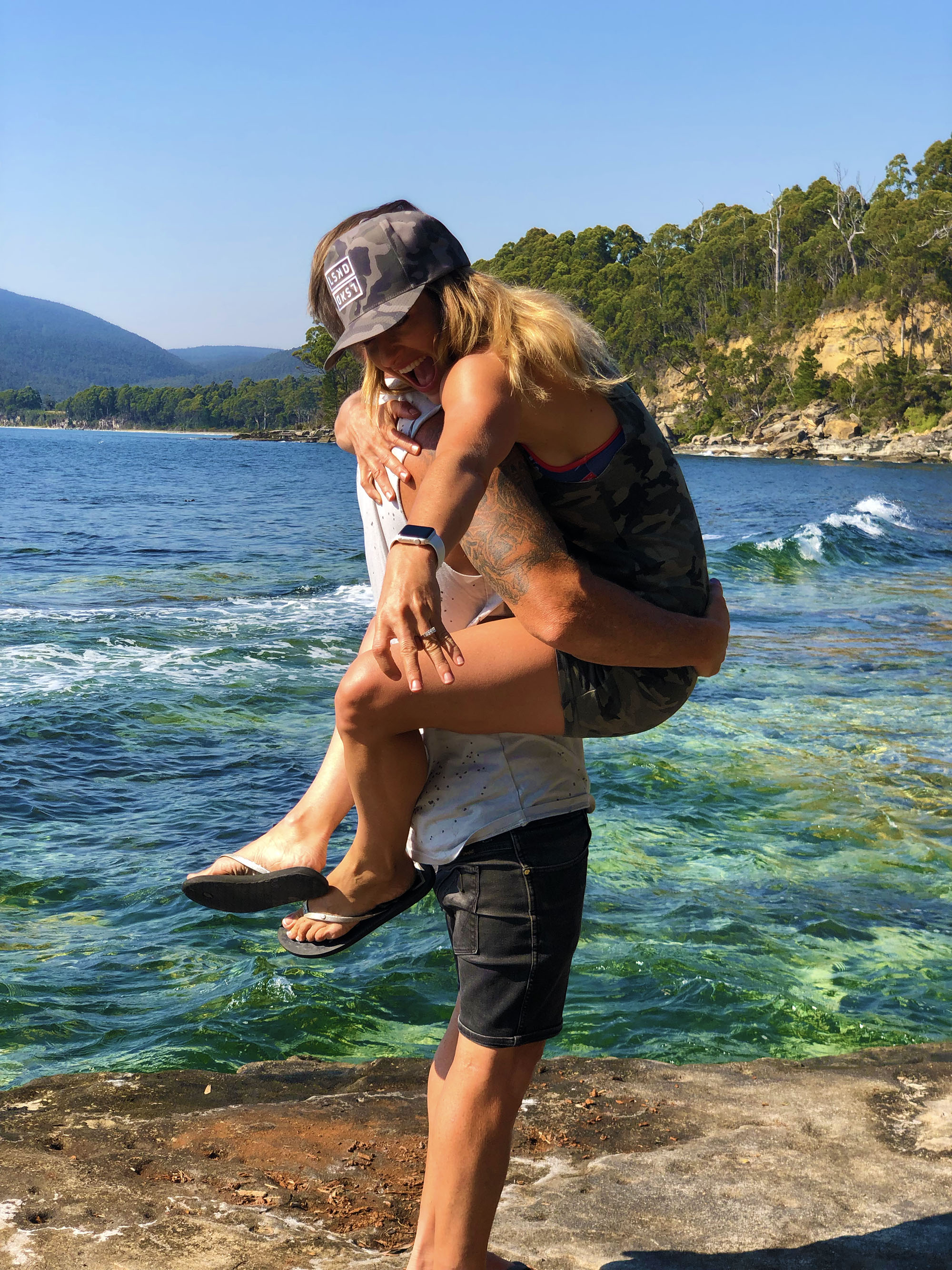 It was with happy hearts that we left Bruny and caught the ferry back across to Hobart where we spent the next few days based at Seven Mile Beach. Chris and I generally like to avoid touristy spots, especially in peak season, but we thought we should show the kids some of the more famous Hobart ones. And, despite the many tourists, we all had a great time visiting places like Cascade Brewery, Richmond Gaol, Cradle Mountain, Constitution Dock, Mt Wellington and so on.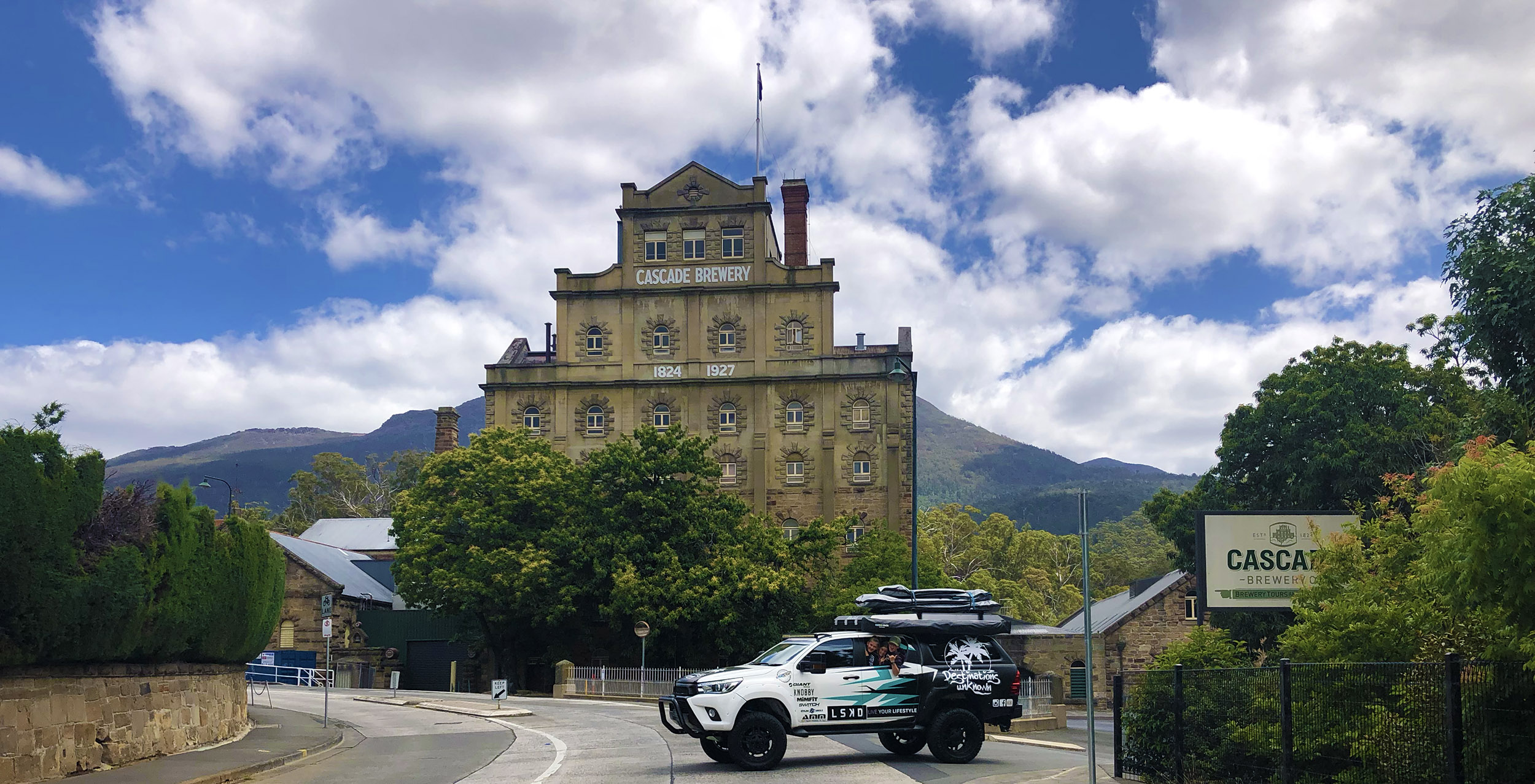 We spent time with our friends, and I was lucky enough to have my bestie Narelle take me to Pancho Villa, a very, very cool Mexican-style restaurant with a couple of funky bars inside. We'd left her hubby, Chris and all the kids across the street eating ice cream, so we didn't have time to order food – but we did have time to have a tour and be led out the back, down a dimly lit corridor and through a bookshelf door into the Voodoo Lounge for a cocktail. Think stained glass windows, chandeliers, and Day of the Dead type artwork dotted around. It was amazing. A Mexican feast will be on the agenda when we are next in Hobart, that's for sure!
Then it was time to say 'see you later' to the three kids, put them on a plane back to Brisbane, and continue our journey. Were we sad to see them go? Yes, and no. They loved their time in Tasmania, but they were definitely ready to go home. And while we loved having them, we were really looking forward to some 'adult' time.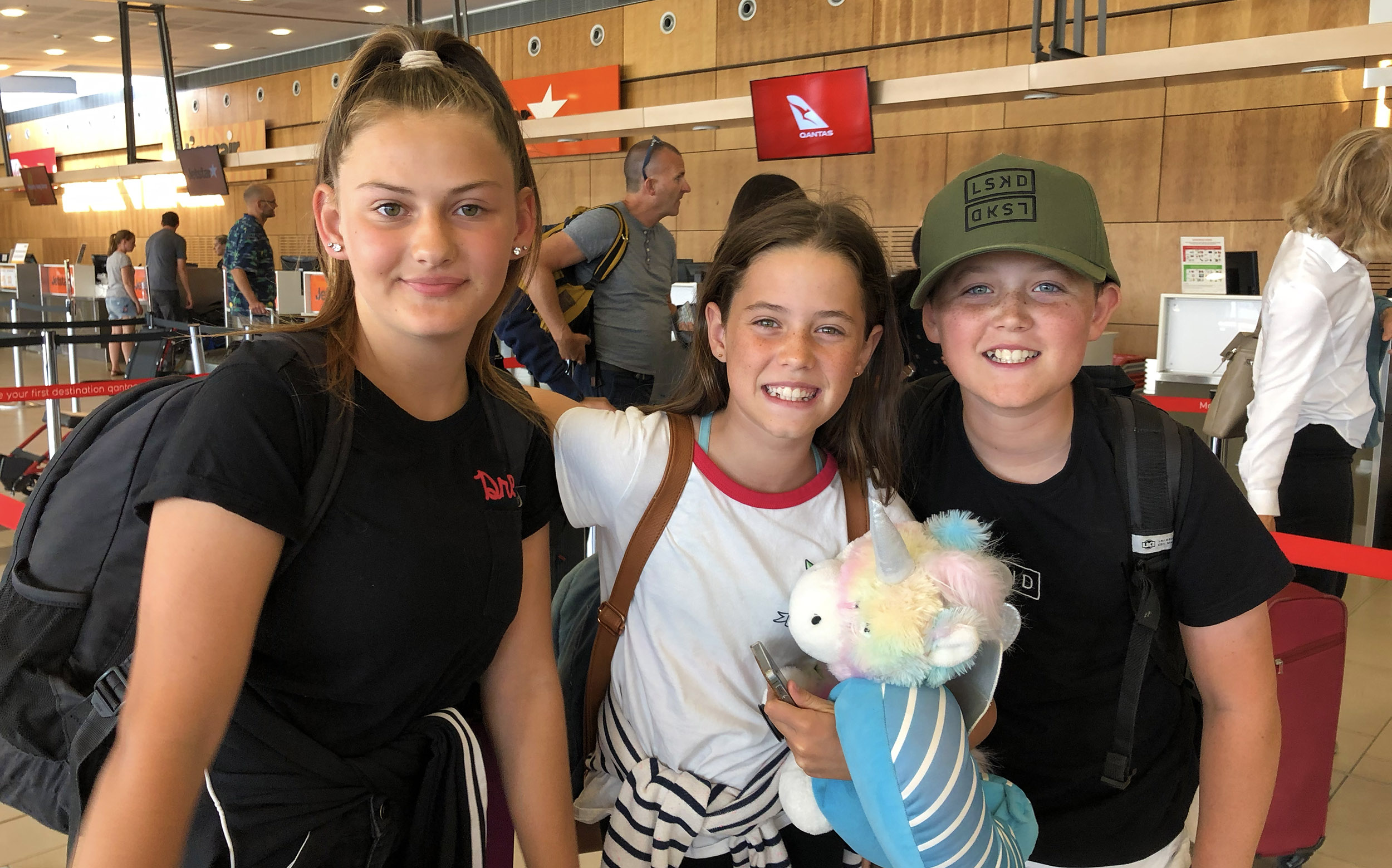 We had the next leg of our trip locked in and ready to go. Back to my parents place we went, and the 'adult' fun began. Chris had a nap and I began editing our Maria Island video.  How adult is that? No bored kids in sight 🙂
No planning can be a good thing. While Bridport was our next destination and included a wander through the town and fish and chips at the Seascape Café that was as far as we had planned, so… we Googled and that lead us on an adventure along a little used track, through enormous sand dunes to beautiful, white, sandy beaches and on to other beaches covered in razor sharp rocks and sea weed. The further we ventured the more surprises we came across. There were more beaches, some accessible and some that had 'keep off' signs as they were noted as bird sanctuaries.
Our road trip took us through Bellingham and on to Georgetown, but we didn't have time to explore as we had to be home in time to get ready for the Festival of Small Halls at Rowella. Fru Skagerrak and Liam Gerner were just wonderful and had us laughing, crying and bopping away for hours. What a day!
We couldn't be in the north of the state without a trip to Blue Derby Mountain Bike Trails. If you ride a mountain bike you won't want to miss these world class trails. All that activity can be tiring though, and on the way home we needed sustenance. A light lunch at Café Rhubarba in Scottsdale left room for scones with jam and cream at the Springfield Tea Room.
After all the busyness we relaxed for a bit (but not for too long!) before loading up the car for our trip deeper into the West Coast. Without the kids we were able to leave the caravan behind which made the notoriously narrow and winding Tasmanian roads a little easier to navigate. It was nice to have mum and dad's faces peering at us from the back seat!
It's a long drive to Strahan from Launceston so we made sure we stopped to see the sights on the way. Hellyer Gorge Roadside Park was a welcome 'stretch the legs' stop before taking mum on a nostalgic trip through Rosebery and on into the abandoned mining town of Williamsford.
In order to get to there, we had to drive right through Tullah, which was once the most remote town in Tasmania. There was no way we could cruise on by without stopping to read all the information boards and check out Wee Georgie Wood, a still-running, 1929 steam train. We learned so much on our little detour.
In 1642 when Abel Tasman sailed in the waters off the west coast of Tasmania and noticed his compass was misbehaving … he noted that "There might be mines of loadstone around here"
He sighted and named two mountains after his ships Heemskirk and Zeehan and went on his way.
250 years later the region because famous for a spectacular number of mining booms. Tin, copper, silver, lead, iron and rare minerals like osmiridian were found in abundance.
The entire west coast of Tasmania is drenched with mining history and reminders are scattered through the forest and in the little towns that remain – just like this one.
We wandered through the heritage park and read all of the interpretation panels that are dotted around. We climbed on an old rusty train and we even had a peak at Wee Georgie Wood himself inside the shed.
We learned all about this area including how Tullah, which sits on the edge of Lake Rosebury, was established in the midst of a fierce railway war in the late 1800's.
It is a great place to spend a few hours and if you're lucky enough to be passing though on a weekend, you could even jump aboard and take the 20 minutes scenic train ride through the town! 🚂
Our first actual 'destination' of the day was Montezuma Falls, one of Tasmania's highest waterfalls is worth the 10.7 km walk in. The track begins at Williamsford and follows the old tramline. It is dotted all along with remnants from the old mining days and various signs explain the history and a bit about the surrounding flora and fauna. Being an old mining area there had to be an abandoned mine, so Chris and I explored it – all six feet of it – while mum and dad waited patiently outside. There is a very impressive, and very narrow, suspension bridge just below the falls that delivers incredible views for those brave enough to venture out onto it (not mum!). Mum found the viewing platform beneath the falls to be exciting enough.
Finally, we arrived at Strahan and were tempted to stay put at the lovely Caravan Park where mum and dad had a cabin and we had minimal set up thanks to our Alucab rooftop tent. But we really needed to eat something substantial and found just what we were looking for at the Bushman's Bar and Café where we were served delicious food in a wonderful atmosphere by a cheeky waiter! 
The main reason for our trip to Strahan was the Gordon River Cruise. You really can't go to Strahan and not do the cruise! A new electric catamaran, The Spirit of the Wild, powered out through MacQuarie Harbour to Hells Gates before cruising to the lower reaches of the Gordon River. We couldn't keep the smiles off our faces or the wind out of our hair as we passed by trout and salmon farms and the rugged rainforest landscape of the Tasmanian Wilderness World Heritage Area. They switched off the diesel engines as we slid into and along the river. The silence and peace as we glided those glass-like waters was highlighted by a dramatic drop in the fierce winds we experienced in the harbour. What a contrast! The tours of Heritage Landing and Sarah Island gave us a strong sense of going back in time while the delicious food on board kept us very much grounded in the present! It was a memorable day.
The two-hour drive from Strahan to Cradle Mountain flew by. The scenery is spectacular no matter where you are on the West Coast so driving from place to place is never boring. We had a good laugh as we drove through Rosebery. There wasn't a lot of spectacular scenery in the town but we did notice an elderly man employing a unique way of clipping a rather high hedge- how he got a mattress up there we didn't stop to ask but it seemed to be working for him as he was clipping away diligently with a pair of secateurs!
If you stopped everywhere that is beautiful and special, you would need far more than a couple of days to explore Cradle Mountain and the walks you can do there. It can be very busy though, so you need to be prepared for lots of people. Sheffield was on our way home and it is a must see as are the stunning views of Mt Roland which towers nearby. It's not called the town of murals for nothing. It was a trip down memory lane for dad, especially when he saw the police officer who gave him his motorbike license painted in a mural up on the wall right next to the ban.
It's funny how easy it is to find you need a snack when you stop at some of the places we visited! Honey ice cream doesn't get any better than what we had at Chudleigh Honey Farm. It kept us going us until we stopped at Honey Tasmania, a quaint little honey shop in Exeter, owned by my mum's friends Rebecca and Tristan.
We decided that a couple of relaxing nights at Bakers Beach would be a great way to end our holiday. We spent our time on the beach where my childhood memories came flooding back. Wallabies and other wildlife bounced around and often stopped in under the awning for a visit.
Holidays do have to end though and finally we were heading to Devonport for our last night in Tasmania. It was a meandering drive that took us through Port Sorrell, Shearwater and Hawley – and on into Devonport to the Hill Street Grocer for the best meat pies we've ever had!
Remember that Duck River butter? Well, mum and dad arrived to have dinner with us on our last night and came bearing gifts! A few blocks of Duck River Butter ended up in the fridge and journeyed back to Brisbane with us! What a fantastic way to end our adventures.
We had the most wonderful time in Tasmania but there is still so much to see. We can't wait to get back there and squeeze in some of the places we didn't have time to explore on this trip.