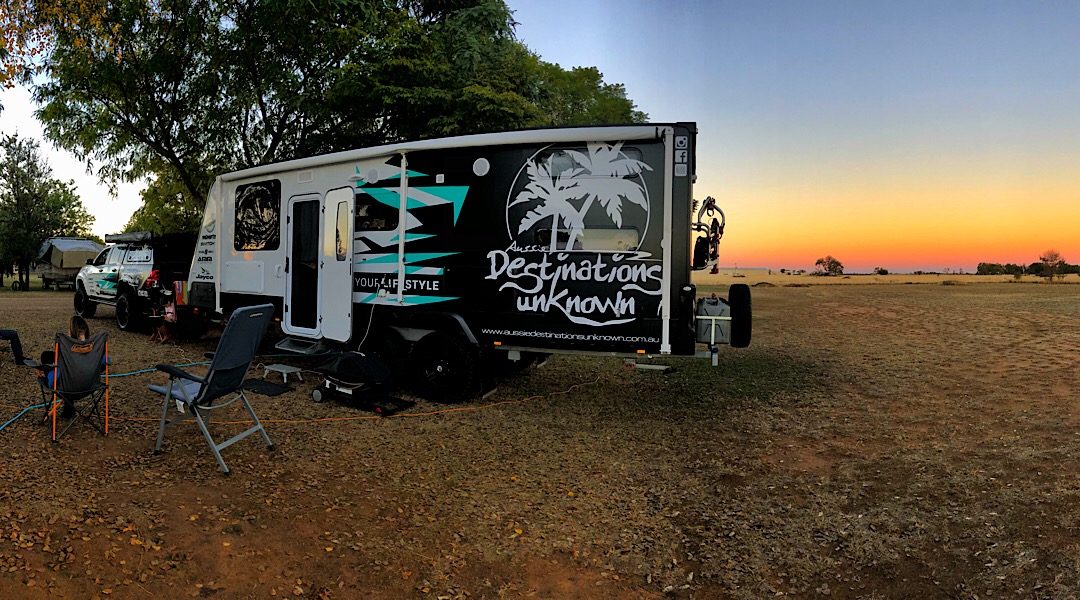 Name: Pelican Rest Tourist Park
Location: St. George, QLD
Date of Stay: July 4, 2018
Type of Park: Town
Rating: 4.5
Description:
We spent the first night on our way to the Big Red Bash here – and what a great way to kick off the trip! I't's such a cute park, nestled in among the trees just on the edge of town.
We were greeted by friendly staff, found our lovely grassy site (no prickles!) easily and were set up in no time.
Chris worked on the car and I had a wander around.
The grounds are spacious, grassy, very green and immaculate. It was really easy to park the van with plenty of room to maneuver (not that Chris ever does – he usually nails it first go! Lol).
We had relaxing views out all windows that made us all smile. Especially as the sun was setting and rising over the large open filed behind us – that was just spectacular.
The amenities are so clean and just lovely.
There is a great camp kitchen with awesome central fireplace, TV, BBQ's, fridge etc. and a pizza oven (!) amongst other things. It is very well appointed.
The pool looks lovely, and I wish we'd had time and warmer weather to hop in! Next time ….
Facilities

Therapeutic artesian pool
Camp kitchen (very well equipped)
Laundry
Dump Point
Free wi-fi
Staff
Very friendly and helpful
Sites
Huge grassy sites, some drive-through
Positives
On the edge of town
Therapeutic artesian pool
Great amenities
Large, flat sites
Pet-friendly (for sites, not cabins)
Negatives