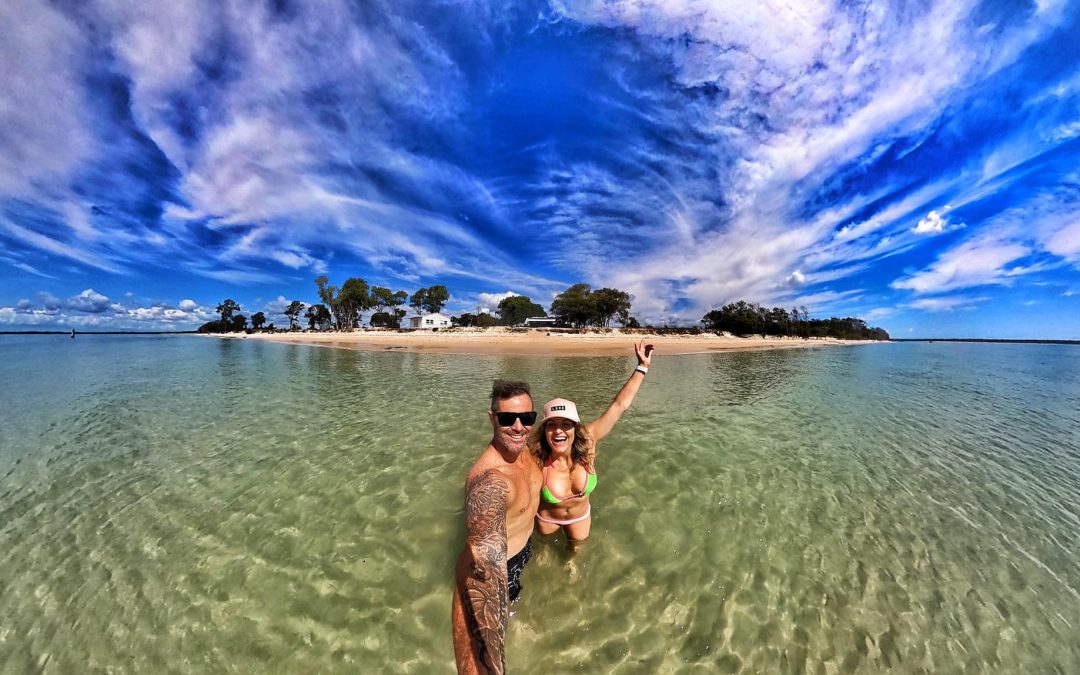 Check out our YouTube video here!
It's definitely who you know not what you know! And lucky for us, we just happen to be mates with some amazing people who own a magnificent beach front property affectionately known as Tara, up near Burrum Heads on the Fraser Coast of QLD.
You'll find Burrum Heads about 2 1/2 hours' drive north of Brisbane, in between Hervey Bay and Woodgate on Queensland's Fraser Coast. This stunning seaside fishing village is on the inlet where the Burrum River meets the ocean.
There's plenty to do in and around Burrum Heads; great swimming just a little further south, fishing in Lake Lenthall, and of course, brilliant camping spots on the Burrum River. The Wongi Waterholes located in the Wongi State Forest, is a lovely place to camp or go for a short visit. Here you will find a string of beautiful waterholes fringed by paperbarks and rushes. The waterholes are a golden-brown colour thanks to the tannins that have leached from the paperbark trees nearby. We don't stay here though, as we have our own private slice of paradise to park up on!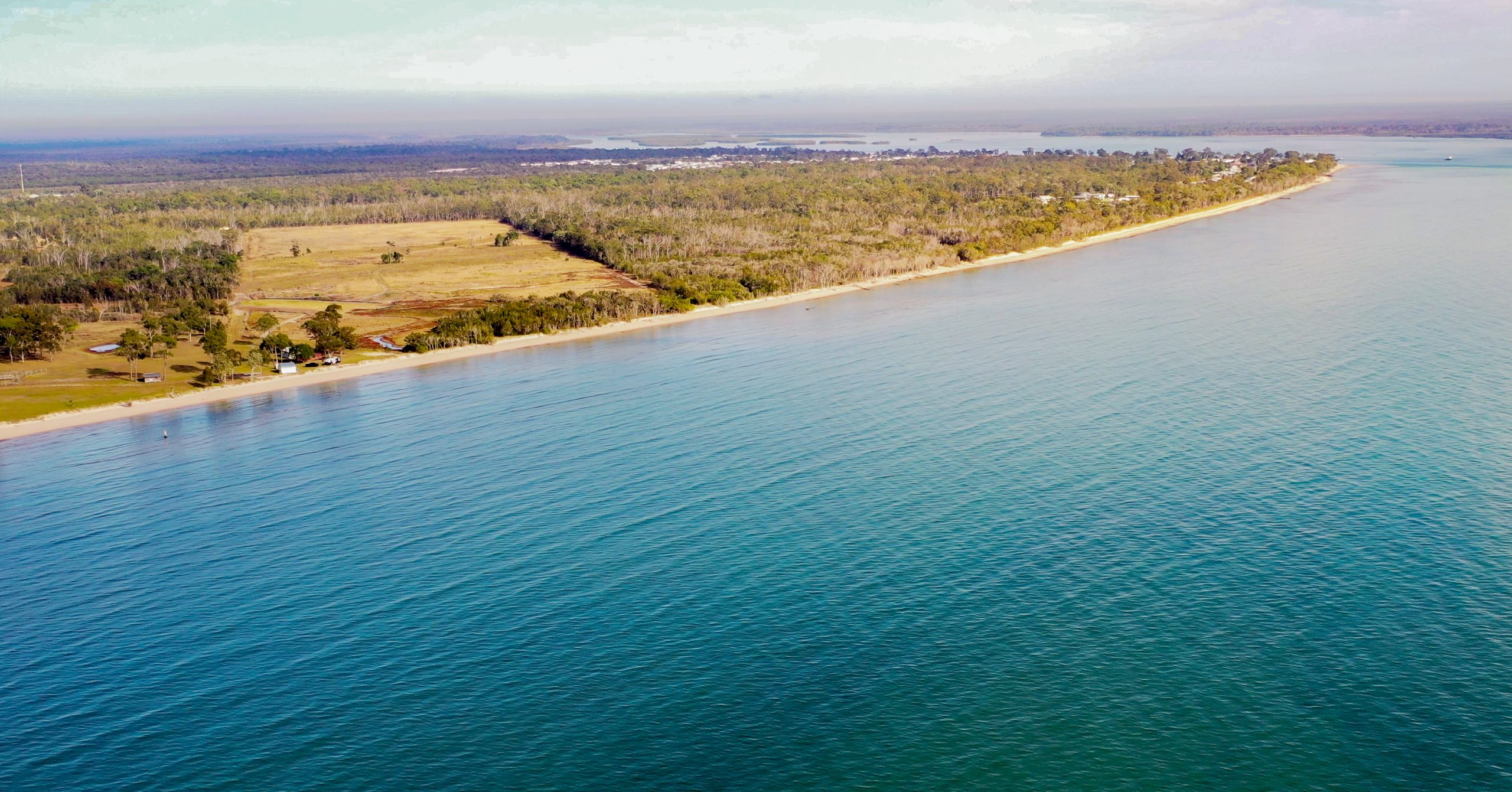 This property boasts 76 acres including its own slice of waterfront heaven. And when I say waterfront I mean— open your door, take about five steps, and your feet are in the sand. It's for sale for $4 million. So, if you like what you see and want to make an offer, let us know and we will put you in touch with the owners. Or maybe we won't. We really don't want to see this place sold unless the new owners guarantee us a spot on the sand. 😉
And before you ask, no, this property is not available on Hipcamp (or anything similar) and it won't be. As I said at the start – it's not what you know, it's who you know!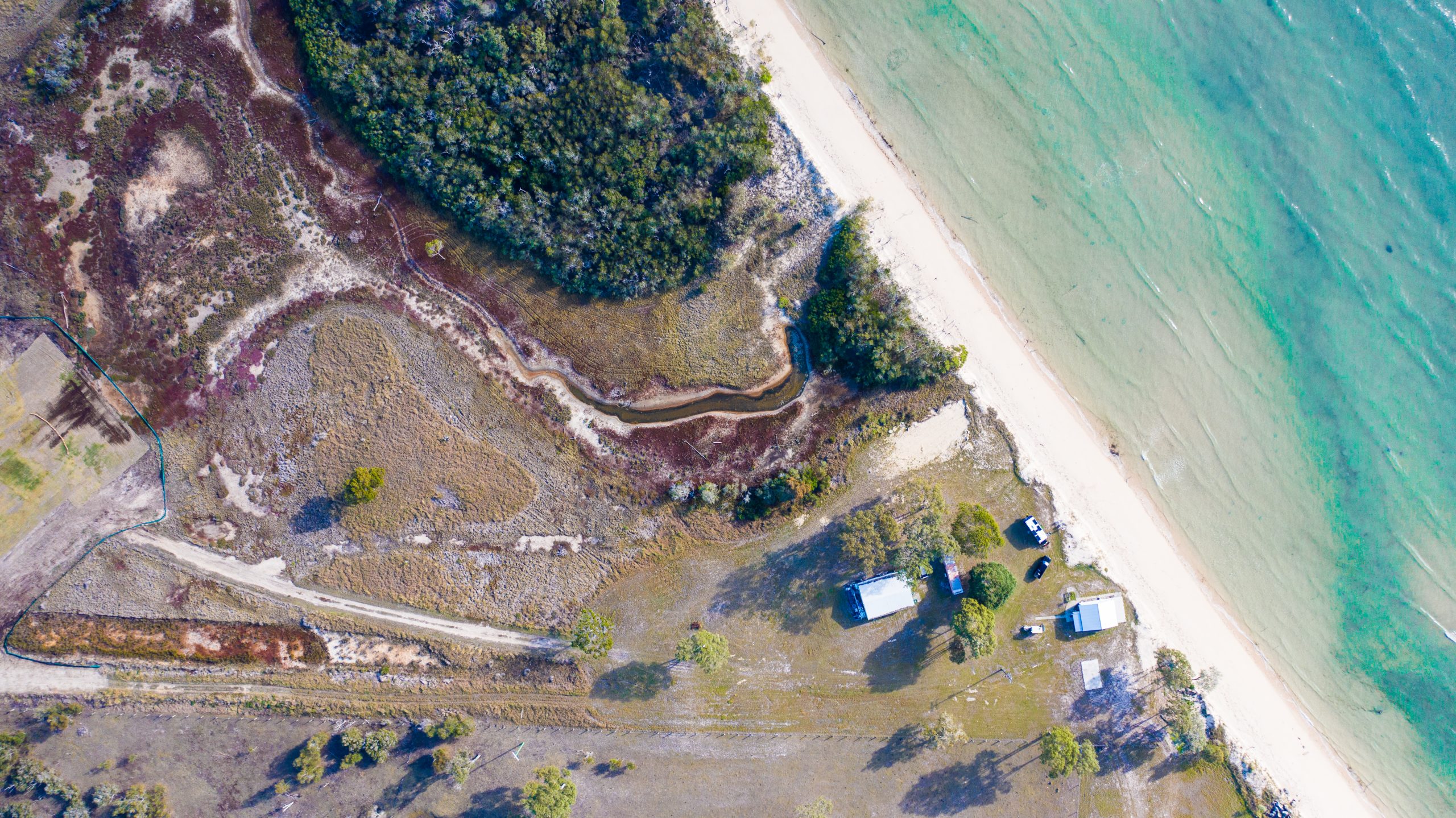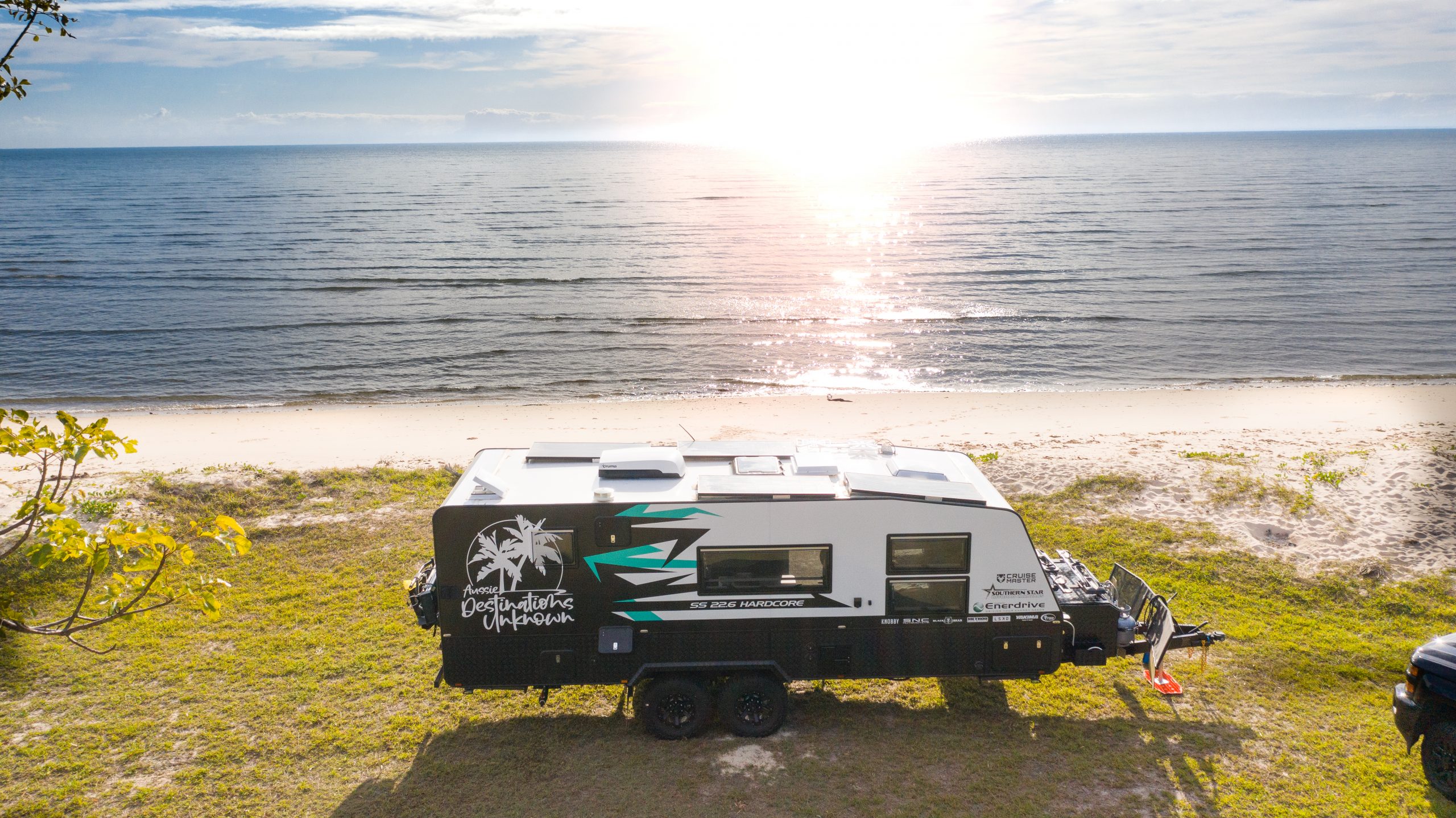 Aside from just soaking up the beauty of where we are camped for six days, we do some exploring – of course!
We explore Burrum Heads first by car and as soon as we see the line up outside the local Fish and Chip shop, we know this is our first stop!
We have a chat with a lovely couple from Hervey Bay while we wait, and when the gentleman steps out the door holding our food and calls our number, we pick it up and then wander over to a table by the water and sit down to eat. 
I can honestly say that I think this could be the most delicious crumbed calamari I've ever had! Check out the YouTube video where Chris pinches one!
This is followed by a stroll along the Esplanade to walk off our lunch, hanging out with some pelicans, checking out the beach shacks and much newer, larger holiday homes, and chatting with some grey nomads parked up in the local caravan park. After we've seen all there is to see in Burrum Heads (that we know of), we head back to the van.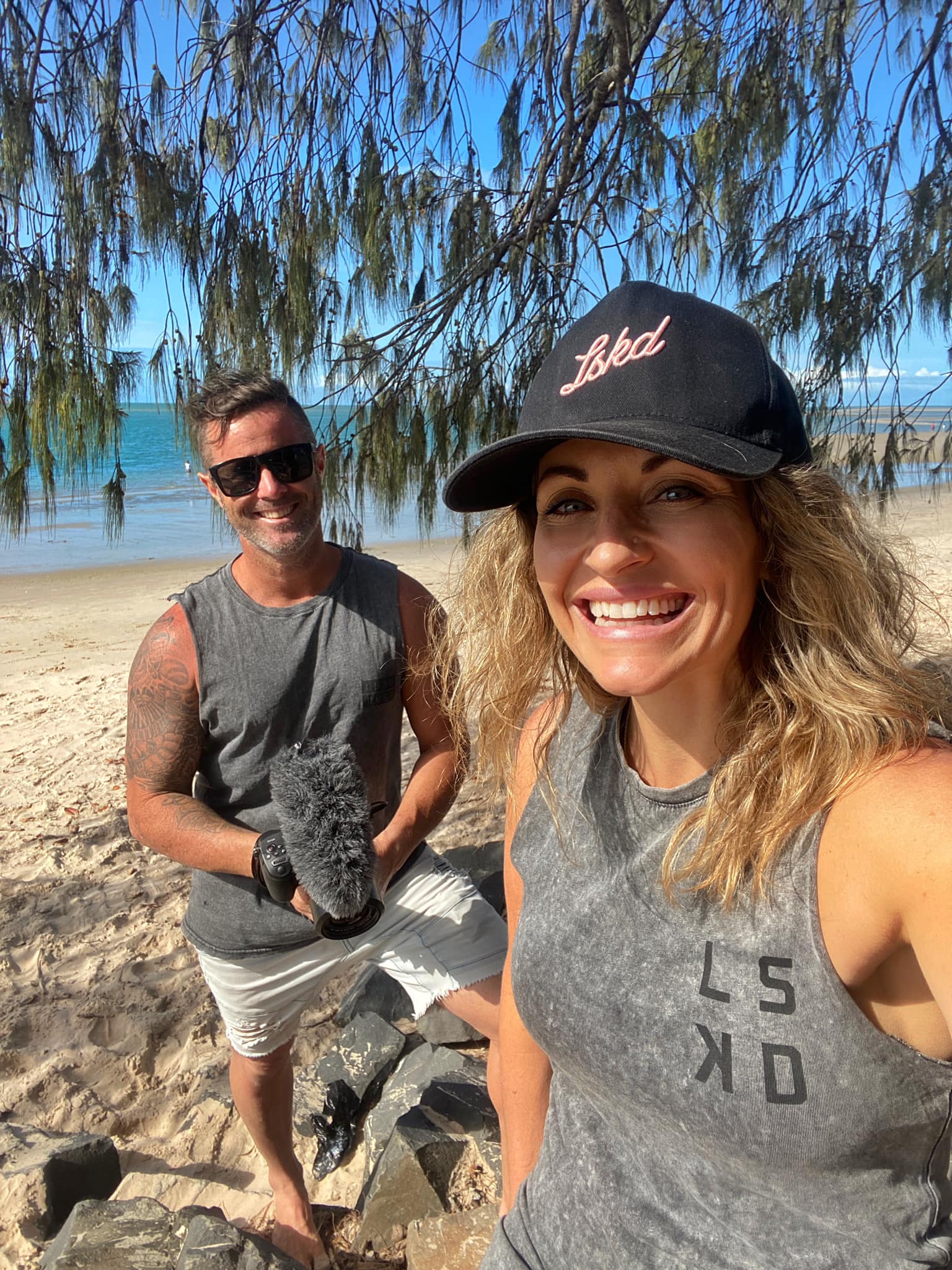 As the sun starts to sink low behind the van, the atmosphere comes alive — electric almost. Golden hour casts its glow over the land and shimmering water as we lay the sticks to start a campfire. Flames roar, Chris grabs his beer and the tribal sounds of Yothu Yindi float on the breeze to where we sit by the fire watching the full moon rise up as the sky darkens and the sun disappears.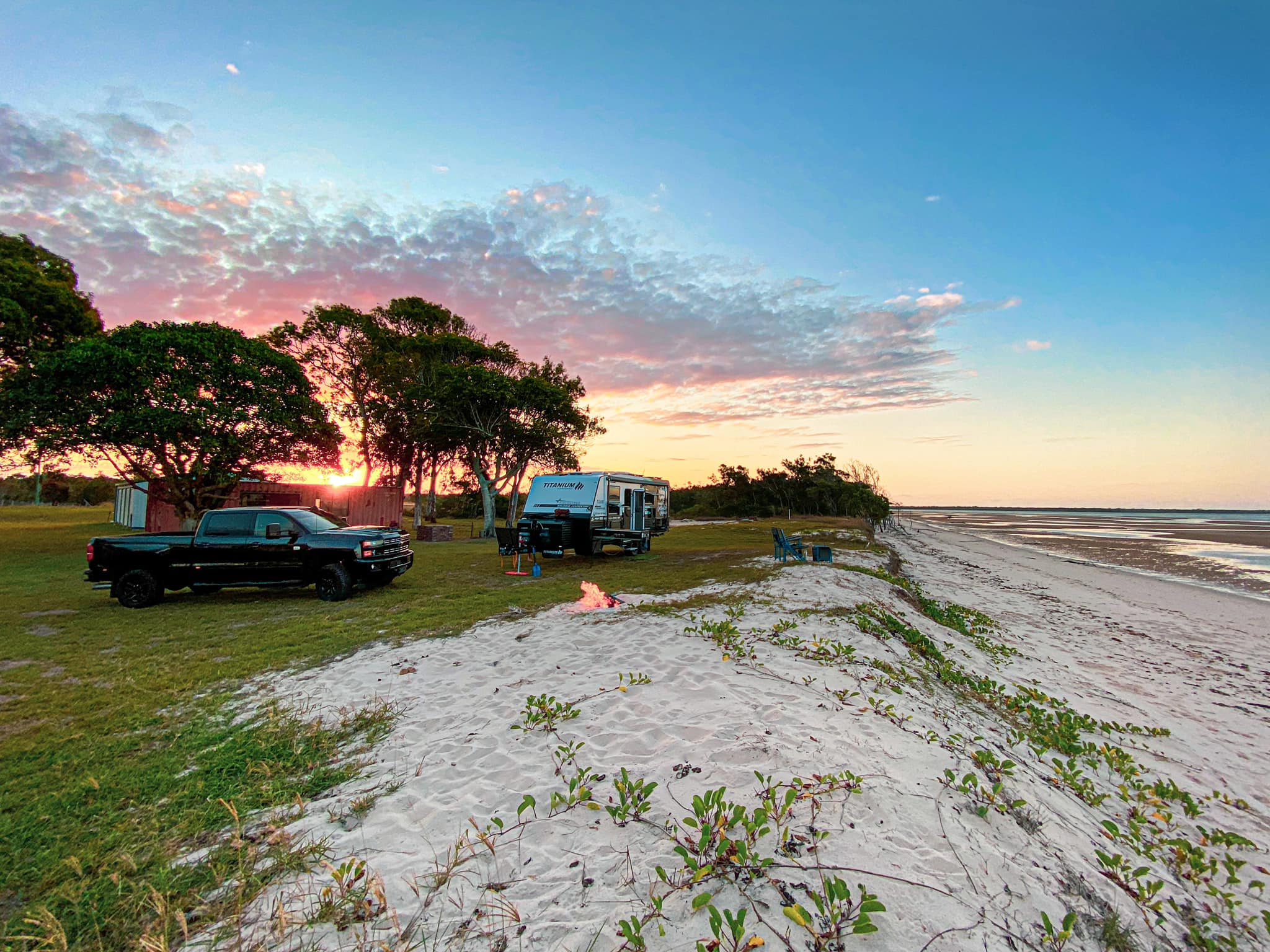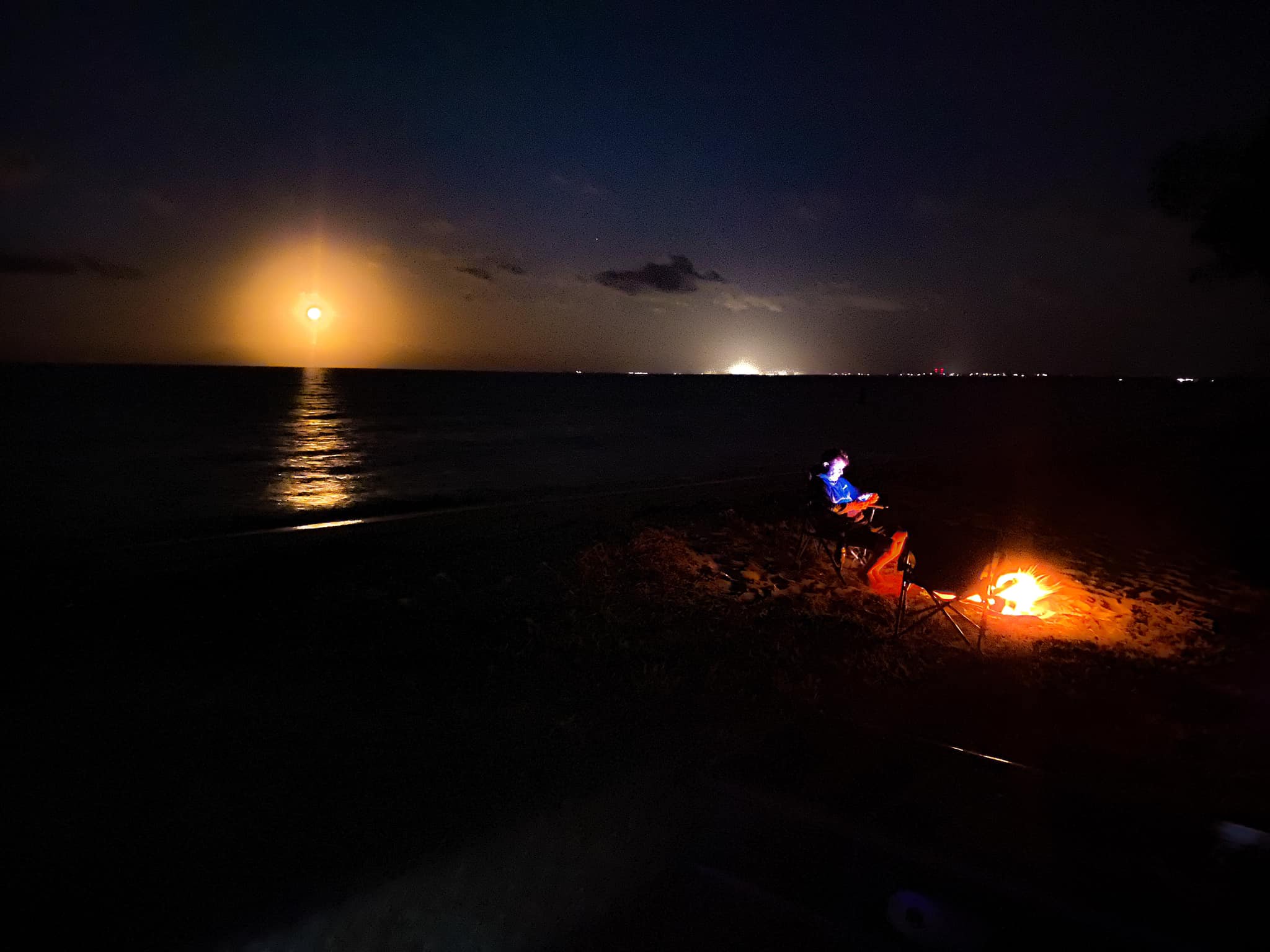 On the Sunday we decide to make the 15-minute drive into Toogoom to have a look around, as some of the locals have told us that it's a 'lovely little spot'. The skies are grey, and the rain falls intermittently meaning umbrellas and shorts are the required attire for the day. Thongs splash mud up the back of our legs as we walk from the parked car across the road to Goody's – we've heard that this is the place for lunch. What a great spot! Right on the water, with live music playing and jet ski's being launched from out the front – the place is a hive of happy energy. Too much energy sadly, as they are booked out thanks to it being Father's Day. The food looks and smells amazing and our mouths start watering … so we decide to wander across the road and see if there is any room at the Salty Squid. There is, and we have the most delicious tapas! Oh, it is yum! We eat, and eat, and eat … and then figure it is the perfect time to hit up the esplanade at Hervey Bay with our skateboards! Ok – so Chris thinks it's the perfect time. I'm a tad hesitant due to the wet weather and the fact I'm wearing thongs – and my skate shoes are safely locked up in my shoe cupboard in the caravan!
After a quick 10-minute drive, we find ourselves in Hervey Bay. Chris points out this and that and I nod.  'Do you remember …?.' he asks, and I shake my head. It's been about nine years since I've been here, and I can't remember much as we spent all of our time between the hotel and the motocross track!
Out my window I see a huge chrome whale breaching out of the concrete and in front of me through the windscreen I see a water park – currently closed – with lots of smaller chrome whales. It turns out that this is the esplanade, and we park up, get our boards out, and off we go. Well, off Chris goes. I follow slowly behind, wary of my bare feet being so close to the ground and the complete lack of experience that I have on my board! It's been over 12 months since I last went for a skate. I remember clearly thinking to myself last time that 'I will not leave it this long in between skating again!' and I'd done just that. But, by the end of our 'session' although I was somewhat confident on the board, at the same time I was happy to throw it into the back of the Chev, and climb in the driver's seat knowing I still had all my skin on my body and teeth in my head!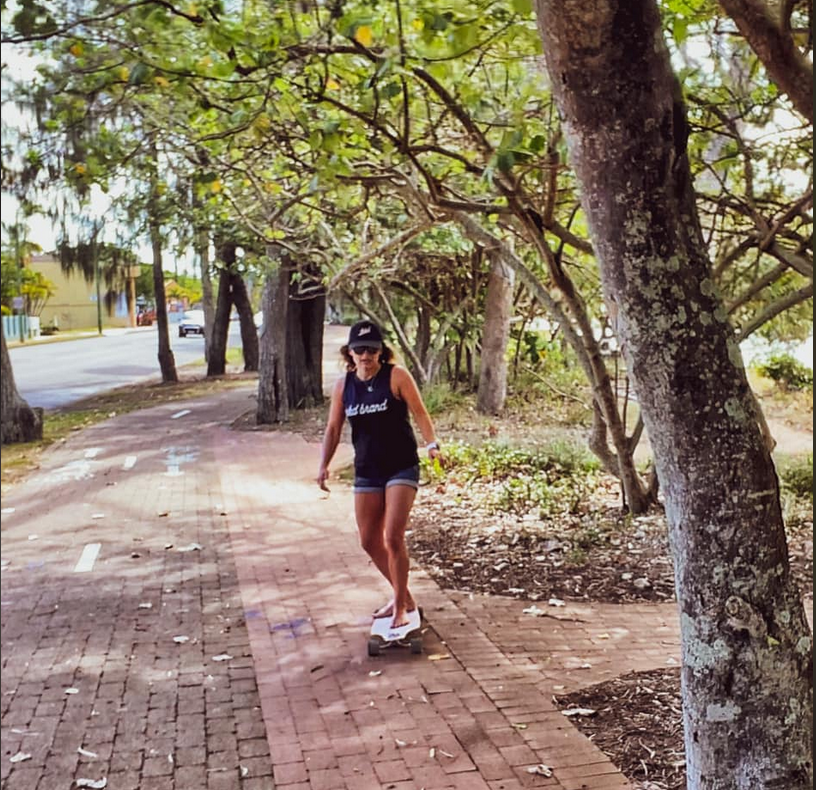 I drive us home – I'm still getting used to driving this beast of a car! It's just a little different to my RAV4 – and we settle in for another magic night by the ocean.
The following days are a mixture of sand, sun and rain. I have some work to do inside the van on my laptop, so the rain is actually a good thing! It's just too tempting with all that beachy sunshine beckoning me out the door.
The time comes to pack up and head home and it's windy, raining and rather miserable. Once again, this is not a bad thing! I don't mind heading home when the weather is like this. Well, in all honesty I'd rather be in the van no matter what the weather! I'm actually writing this post in October – two months after our trip to Burrum Heads (slack, I know!) I am writing from my office, in my home which just happens to be our caravan! We now live in our caravan and never have to pack up and go home – to a house – again. How's that for an awesome end to this little story?