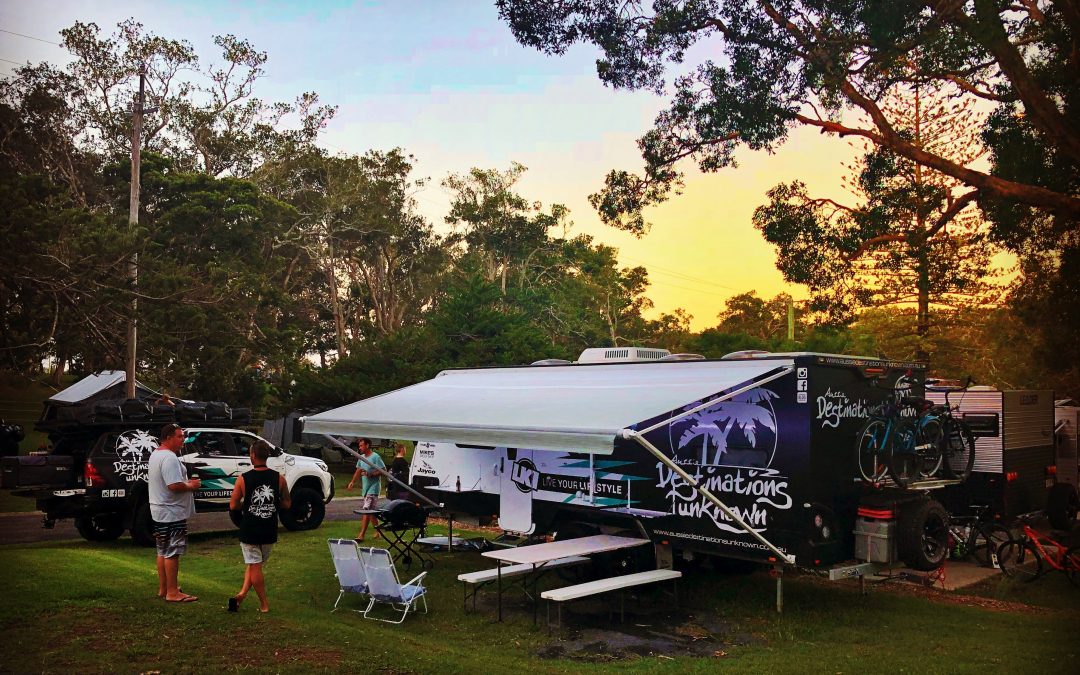 Name: Big4 Sawtell
Web: https://www.big4.com.au/caravan-parks/nsw/north-coast/sawtell-beach-holiday-park/facilities
Location: 5 Lyons Rd, Sawtell, NSW Coast
Date of Stay: March 28 – April 3 (EASTER)
Type of Park: Beach/River
Rating: 4
Description:
In all honesty, I had never heard of Sawtell until our friends were booking their Easter trip while we were away together last year. Chris knew about the place (of course!) and we decided we'd come along for the adventure. And here we are. I'm so glad we decided to invite ourselves to tag along – This place is magic!
I must be honest when I say that part of the 'magic' happened as we approached Sawtell. Those horrible dark grey clouds and torrential rain that had been hovering over Brisbane for far too long gave way to bright blue skies and the sun sparkling over the water.
Our trip down from Brissy was a rather long one (thanks to the rain and the long weekend/Easter/Commonwealth Games traffic) and we arrived after reception had closed. We did ring ahead and were given very clear, helpful instructions. A lovely man met us and gave us the envelope full of goodies (map, key and a Discover Coffs Harbour brochure).
Our first impression when we drove down the driveway, was how lush, green and well-kept the grounds were! The many trees provide plenty of welcome shade, and the grass is soft and lovely for bare feet J
Our friends made the group booking and arrived before us, so we had no idea what we were in for! We are on a site without a slab, but that hasn't proved to be a problem as yet. Mind you, it hasn't rained. I'm not sure what it would be like then.
Four of our friends have slab sites down opposite the village green and croquet lawns (what a beautiful view form under their awnings!) and one other is parked up next to us.
All of our sites are large and were quite easy to get onto. Originally, we (and our friends next to us – both with larger vans) were meant to 'slip into' 2 tiny hilly spots behind the others, but thankfully our friends advised the park that both of our set ups are quite large, and we were moved up the hill onto larger sites (albeit, ours without a slab).
The amenities are clean and well kept – there are public toilets and other ones just for people staying at the park. The camp kitchen is awesome and very well equipped. We don't use it as we cook at the van, but it looks great! J
You can hear the waves crashing during night and the bird life is everywhere – I had the BEST night's sleep I've had in ages.
It really is a hidden gem in a fabulous location – walking distance to the bowls club, RSL, the town centre and all its gorgeous little shops, cafes and restaurants (I loved the old cinema!) and the public pool is on the grounds.
The inlet directly out the front of the park is perfect for young families and those of us who aren't super stable on stand-up paddle boards in the surf! There is also a lovely boardwalk. Our friends with kids loved it as the boys could run around, play beach cricket, climb on the rocks, take the kayak and SUP out and our friend took his tinny out as well.
The local scenery is just so beautiful (Bonville Headland – WOW!) and it is only a short drive to other amazing locations. We are using it as a base as we head off to explore Waterfall Way, Dorrigo National Park, the Sky Walk, Danger Falls, the Butter Factory, Urangan and whatever other interesting places we can find.
Overall, I can't recommend this park enough. It is perfect for families, couples and singles. For those who want somewhere clean, quiet, tranquil and close to all the important things (like food and the beach!) this is the place to be!
Facilities:
Amenities Blocks
BBQ
Camp Kitchen
Clothes line
Convenience Store/Kiosk
Cots & High Chair Hire
Disabled Bathroom
Ensuite Sites
Internet – Free Wireless
Kayak, Canoe & Paddle Boat Hire
Kids Playground
Pool
Sewage Dump Point
Tennis Court
Staff:
Sites:
Some large and flat, some small and hilly, some with slabs, some without slabs, some powered, some unpowered (be sure to specify what you need when booking!)
Positives:
Location!
Walking distance to shops and restaurants.
Inlet directly out the front.
Beach close by.
Extremely clean and well equipped.
Friendly staff.
Great playground for kids.
Negatives:
Some of the sites are a bit hilly and/or small.
The roads are quite bumpy as I found out riding down them on Maybelle!
No direct access to beach (just the inlet).