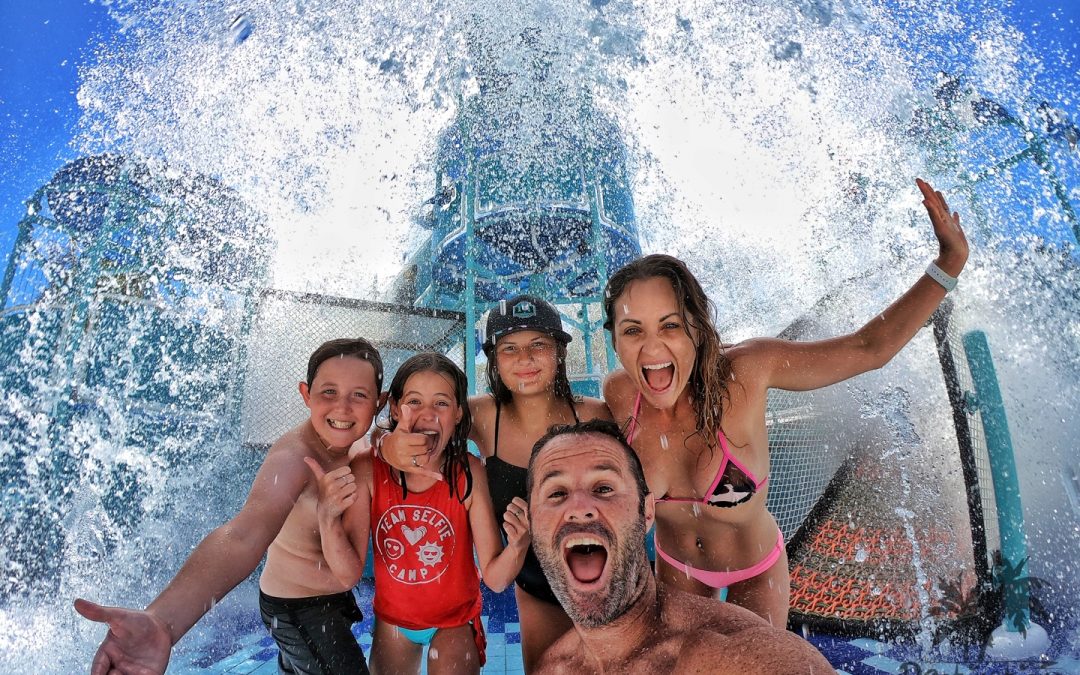 'On the glistening shores of Pumicestone Passage, just a stone's throw from the iconic Bribie Island is the brand new BIG4 Sandstone Point Holiday Resort. Nestled directly in the middle of Brisbane CBD & the Sunshine Coast, there is plenty to do with magnificent facilities, beaches and scenic bushland showcasing the best of South East Queensland escapes.'
Name:
Sandstone Point Holiday Resort
Location:
1820 Bribie Island Rd, Sandstone Point QLD 4511
https://goo.gl/maps/jE61VorrgsJ2
Date of Stay: Feb 15-17, 2019
Type of Park: Resort
Rating: 4.5/5
Staff: Lovely
Sites: Large and flat, very new
Positives:
new
close to the hotel (for concerts/meals/drinks)
awesome facilities
shampoo/body wash in the showers
not far from Brisbane (minimal traffic getting home)
caters to most people
café/restaurant
Negatives:
no pets
minimal shade (trees)
no adults only pool (I wish!)
no beach frontage
After reading about this incredible park that was 'opening to the public' in November of 2018 and was booking out 6 months in advance, we knew our kids would LOVE it and we had to check it out. We decided that it would be the perfect place to go for my 40th birthday weekend and we booked straight away for the weekend of the 15th of Feb, 2019. (My birthday is Valentine's Day, lucky me. Lol).
When we invited our camping buddies, we almost fell over when they said they'd booked the same place on the same weekend for Archie's second birthday and were about to invite us! What an awesome coincidence.
We had to wait for the kids to finish school before heading up, which meant we arrived late in the afternoon as the sun was starting to set. Our first impressions of the park were dusted with golden hues – it was absolutely beautiful.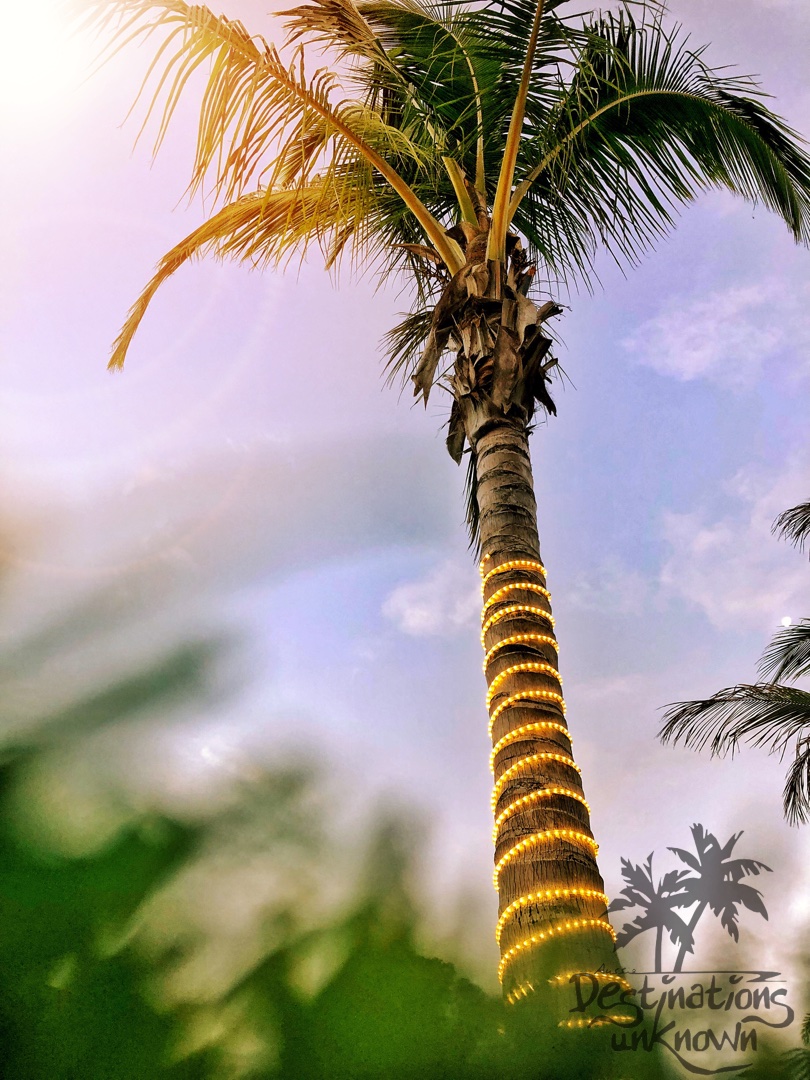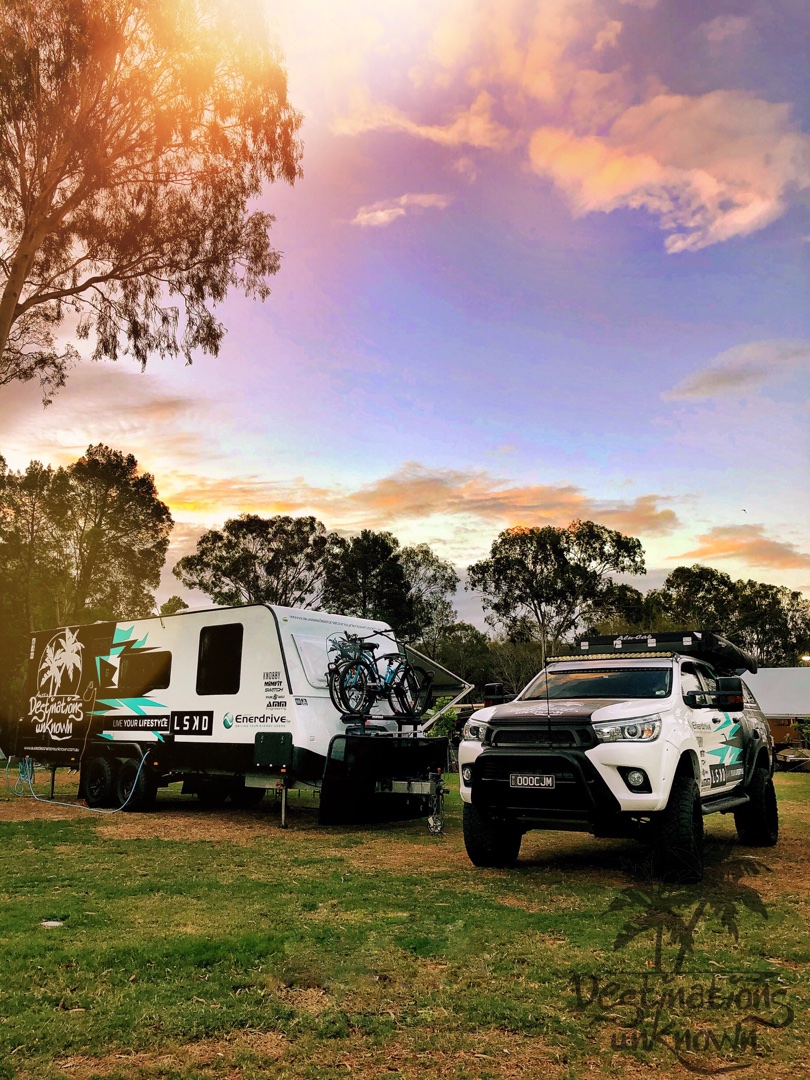 Sandstone Point Holiday Resort is yet another amazing Big4 that has opened its doors offering up a stunning park filled to overflowing with all you could possibly want to keep the kids out of your hair all day and into the night.
The best part for us is that it's not much more than an hour away which means on the Sunday afternoon return drive, we were ahead of most of the crazy Bruce Highway traffic. Those of you who live in Brisbane or further south and love to head up to the Sunny Coast on the weekend will know exactly what I'm talking about.
The facilities are world class; we are talking an epic water park that even I didn't want to leave! The rainbow slide was a huge novelty at first, creating a trippy, wet and windy ride – but eventually the psychedelic colours didn't even register as we raced from slide to slide, getting pulverised by water from all directions, stopping only to wait for the giant bucket to fill up and crash down on our heads or backs or whatever was facing up at the time!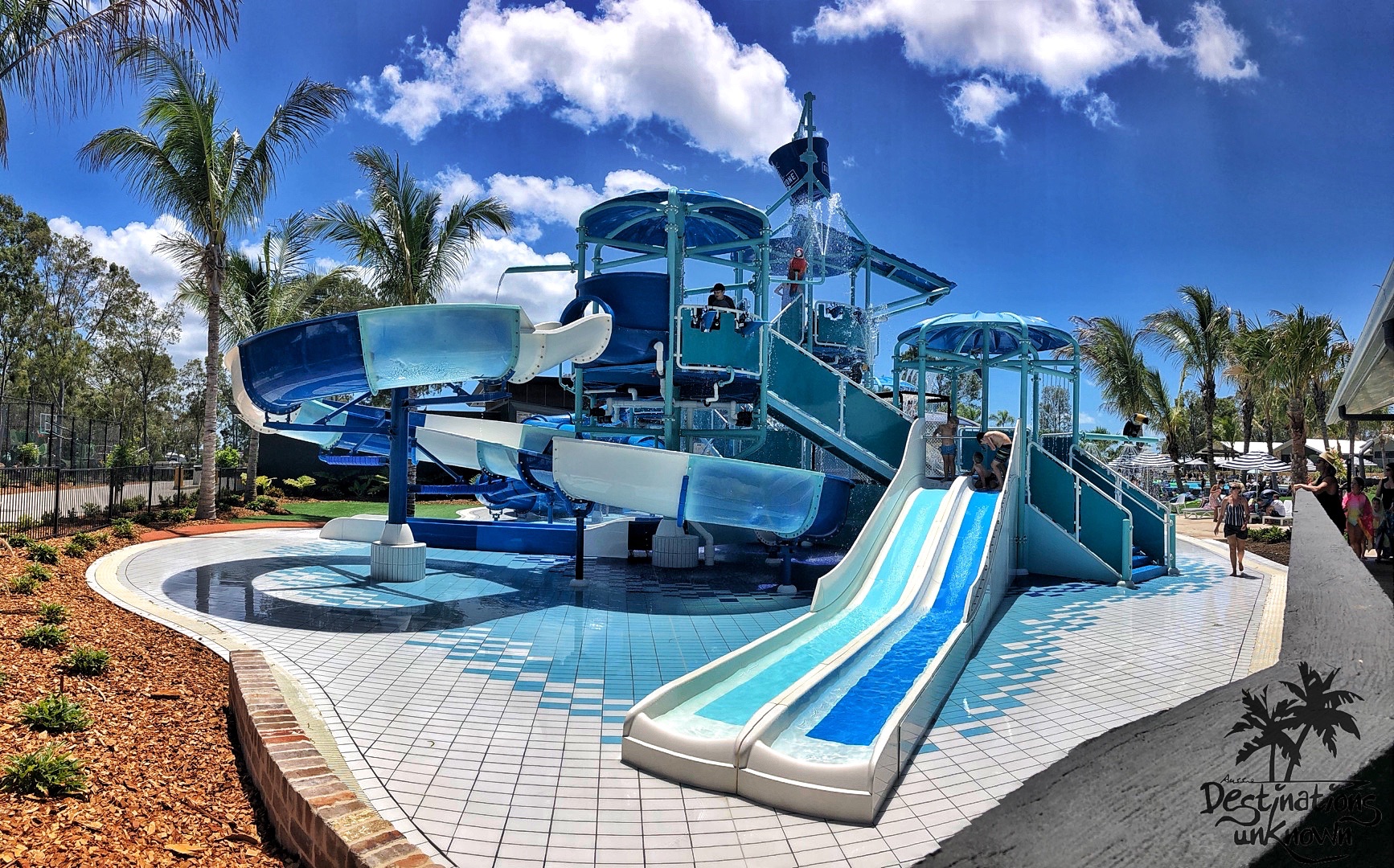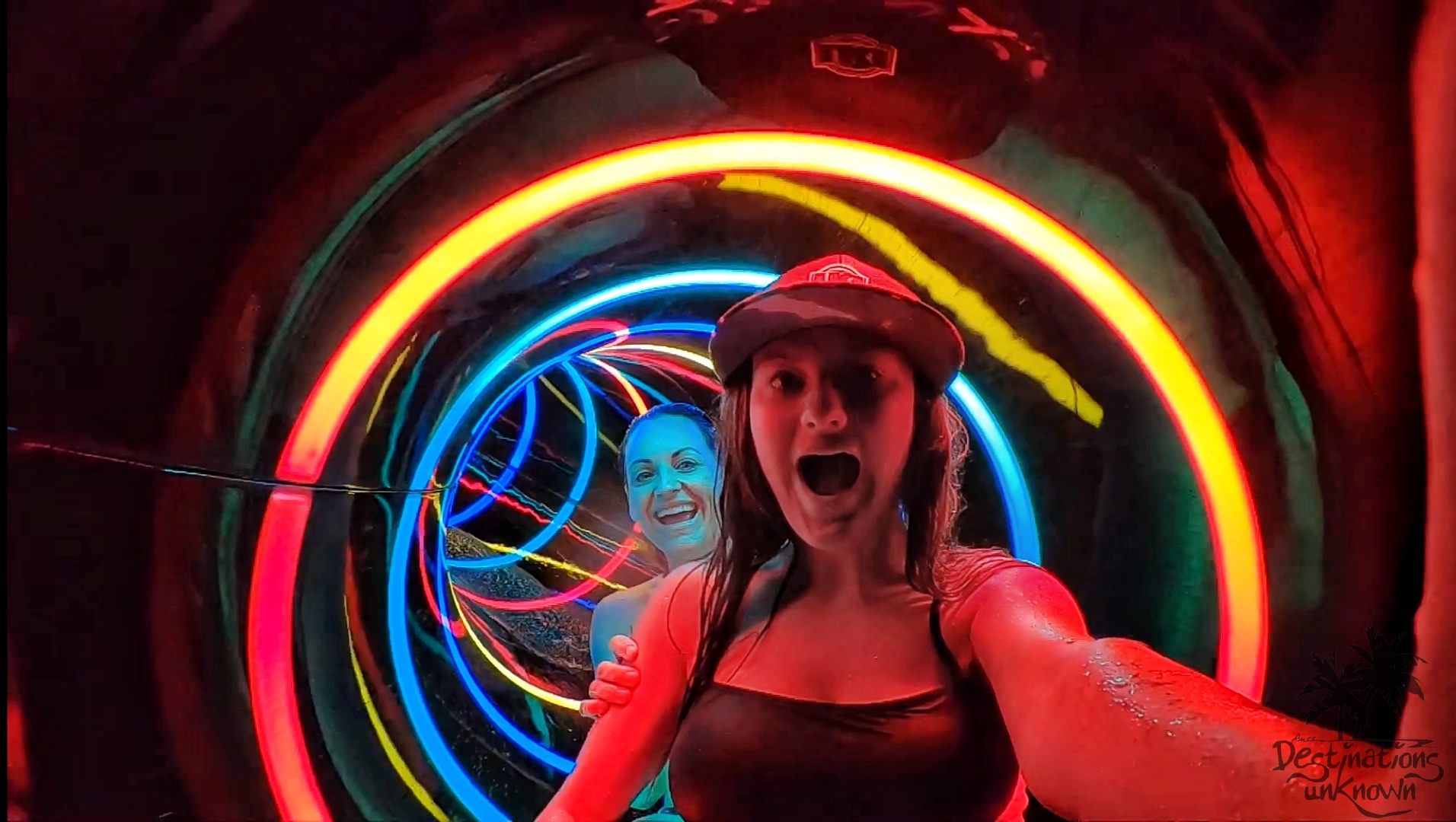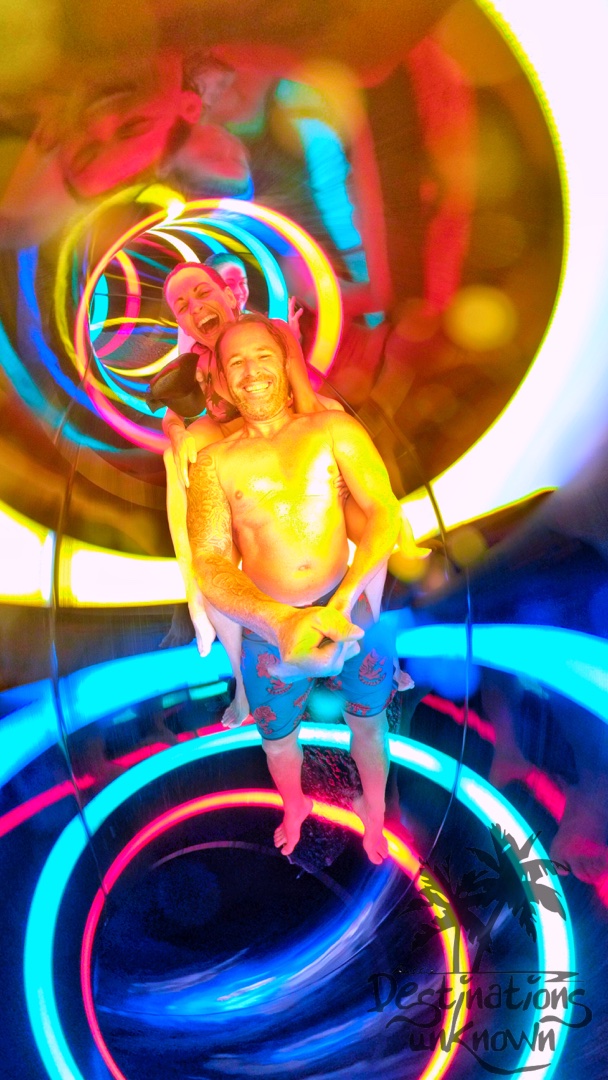 This waterslide brought out the crazy kids in all of us!
The resort style pool is one of the best I've seen with floating pillows and just so much space – it's a brilliant design. There's an infinity type wall where the water flows into a beach-like shallow pool (perfect for the younger kids), and so many deck chairs, shade umbrellas and big round cushioned swings under the many palm trees.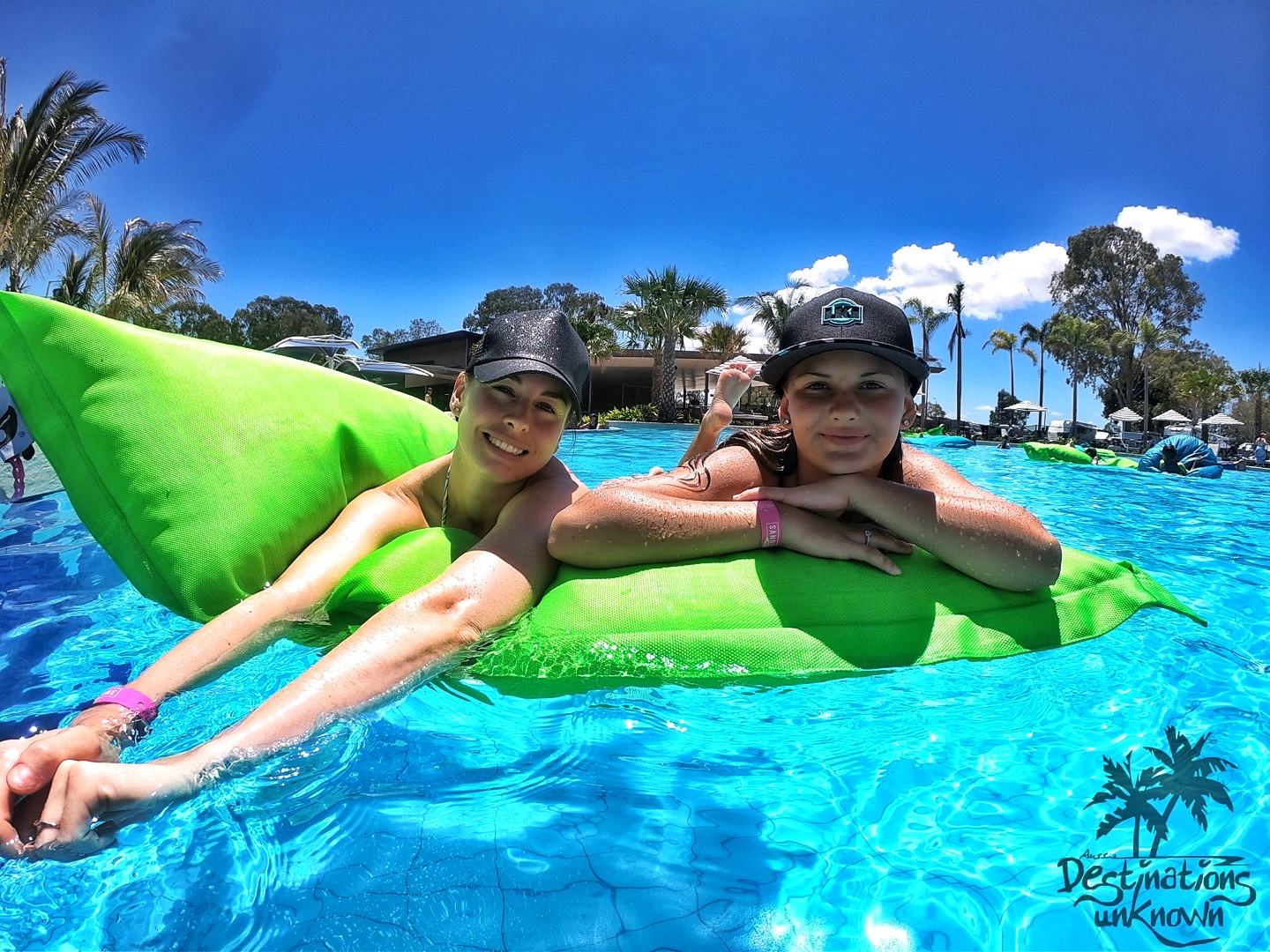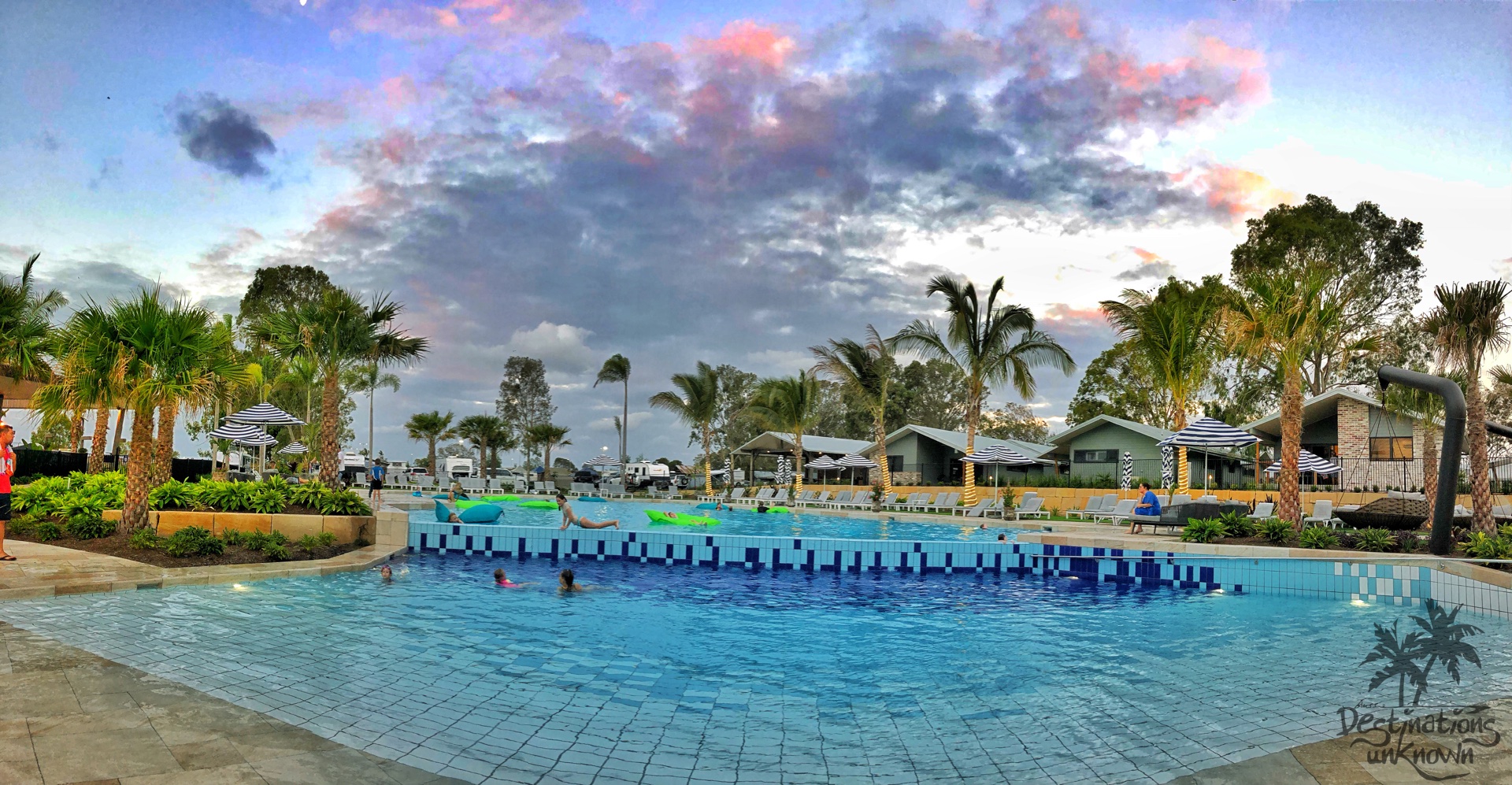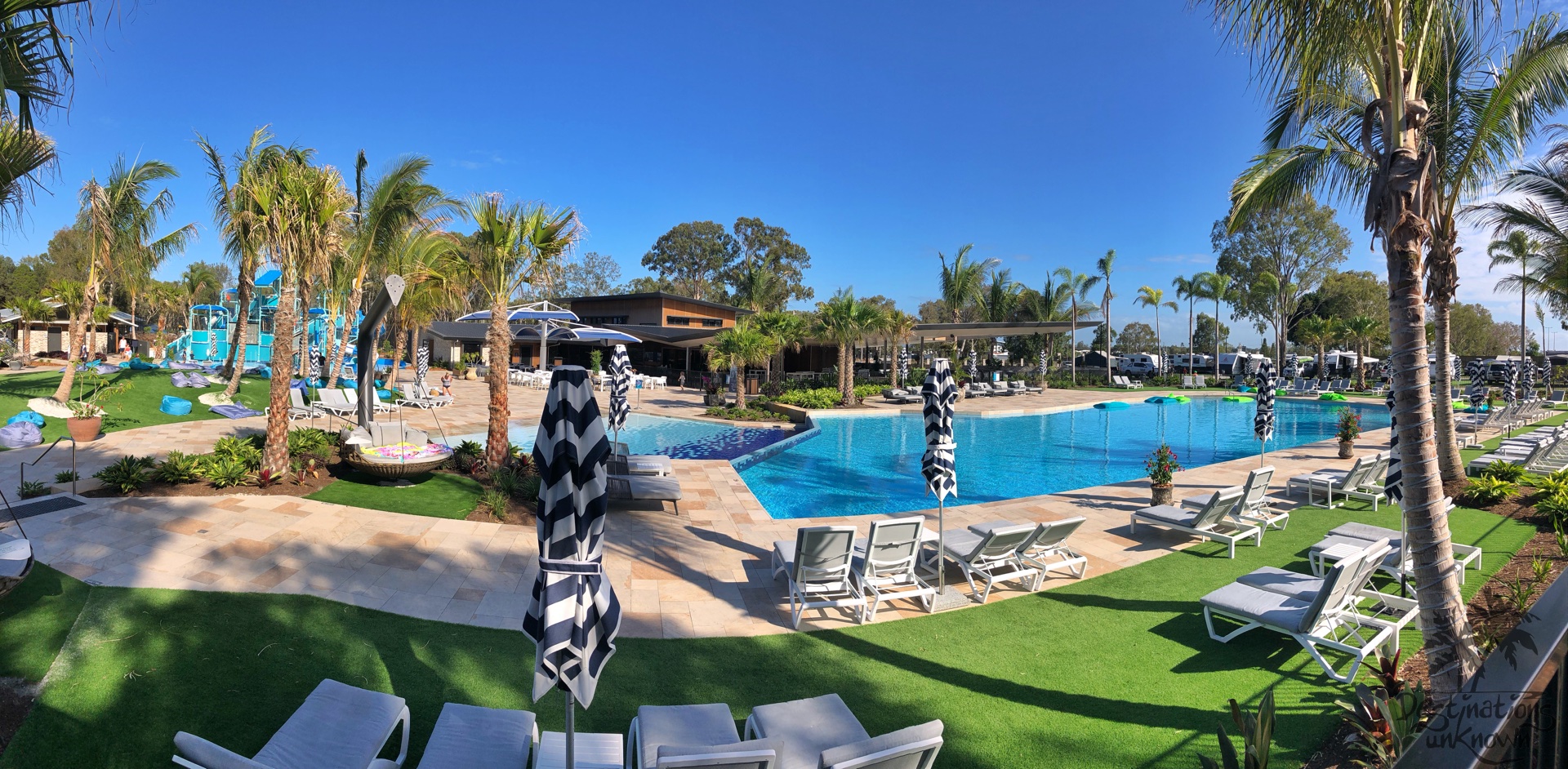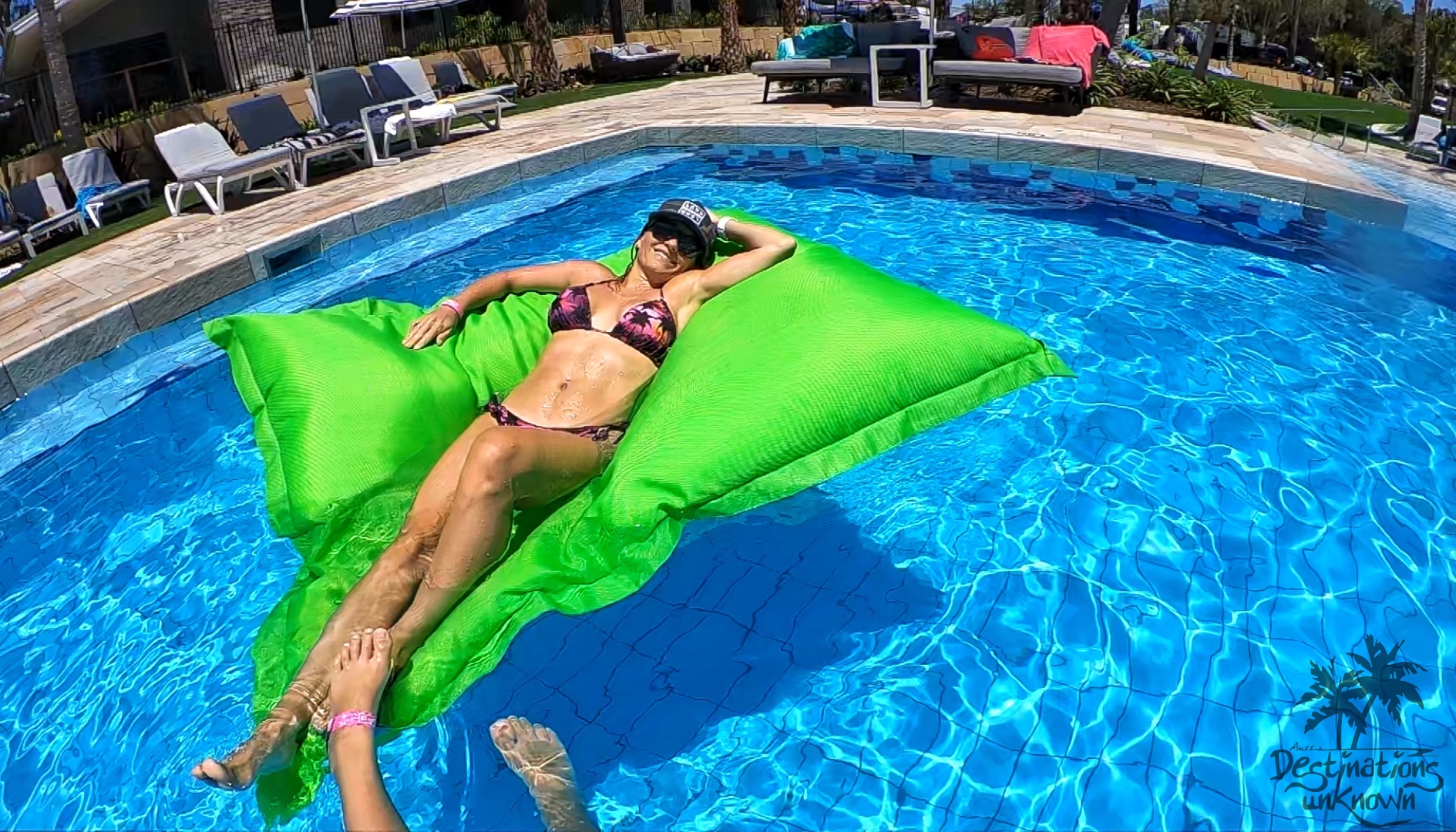 The cafe is pretty awesome as are the cocktails you can order while lounging around the pool (so I'm told!)
My only suggestion would be an adults only pool/section. Kids are great, but, well, some adults only space would be a very welcome addition.
The palm trees light up as the sun sinks low and the pool area quietens down and become almost magical with the soft glow from the restaurant and the hum of happy conversations.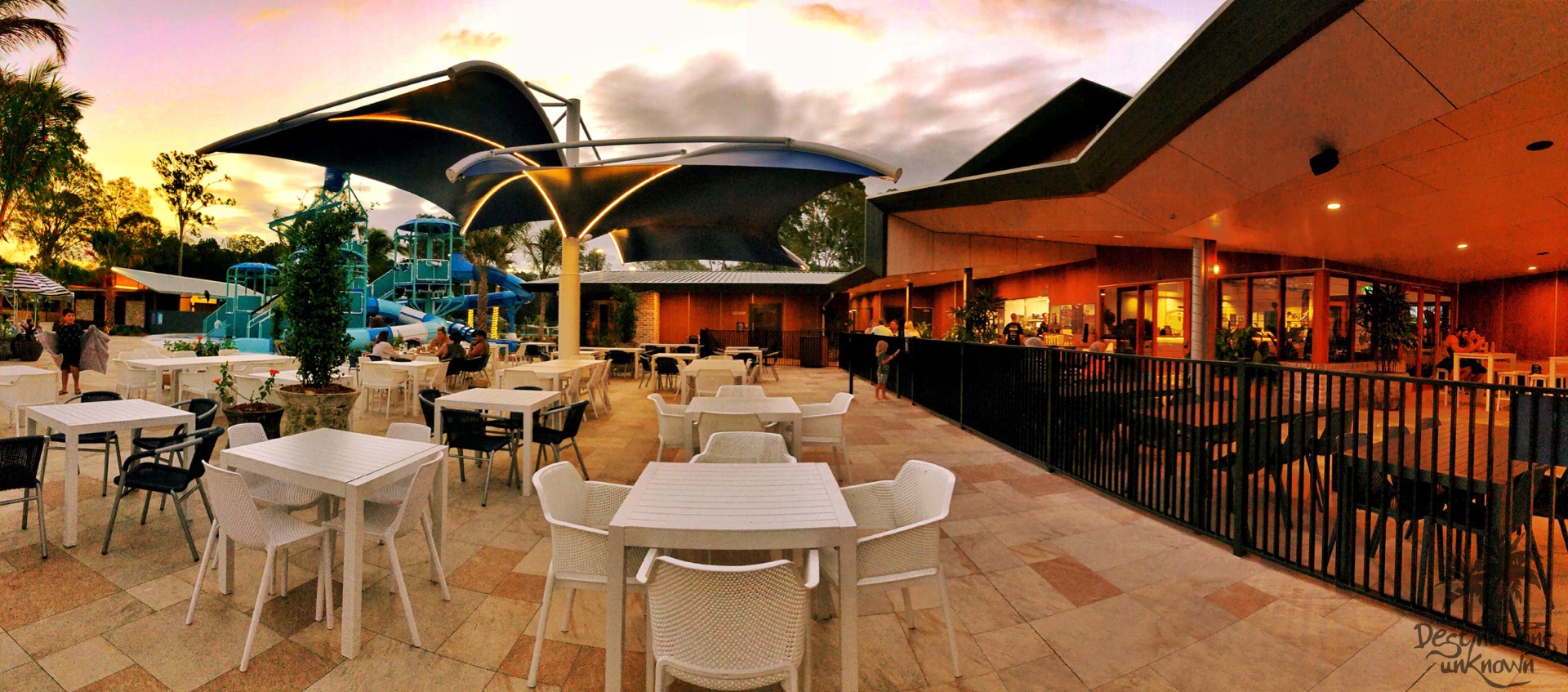 Let's be honest though, this isn't 'camping' … it's most definitely a 'resort' and every part of this gorgeous park reminds you of that.
From the wide, white concrete roads winding through the huge property (perfect for bikes, scooters and skateboards) and manicured lawns/gardens to the many camp kitchens and holiday villas dotted around. There is an air-conditioned gym and 2 air conditioned games rooms complete with air hockey, claw machines, x boxes, play stations, pool table and arcade games.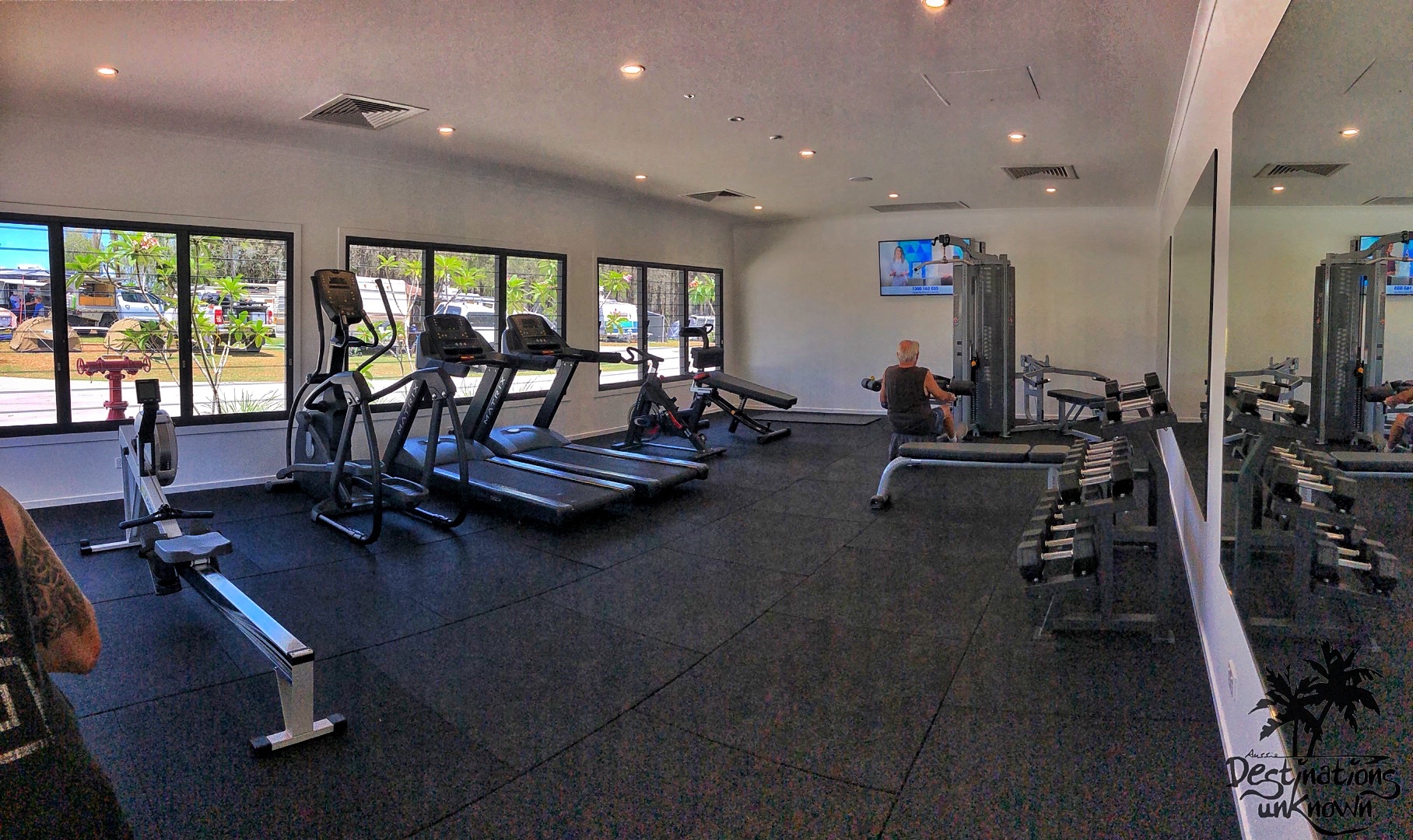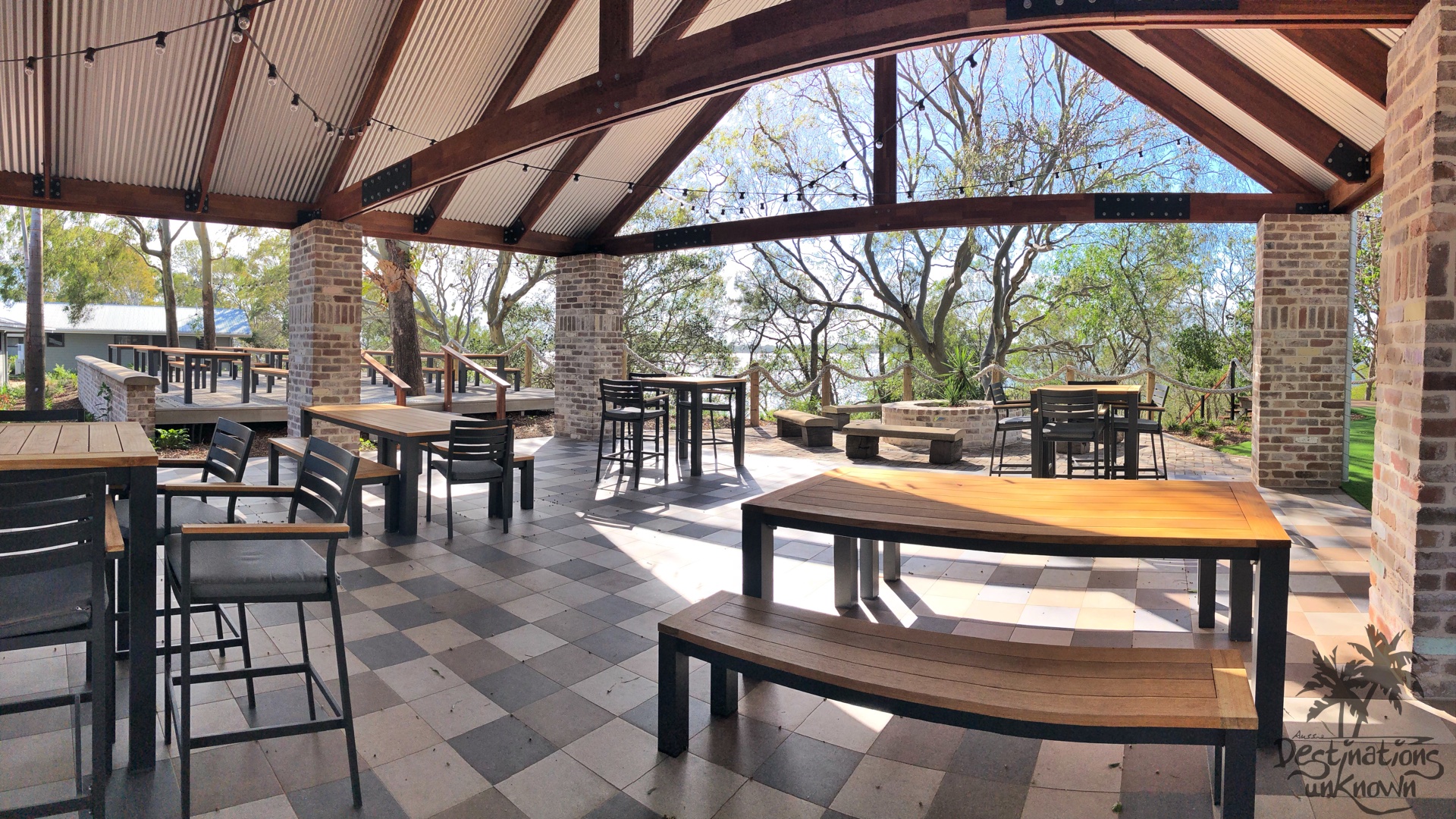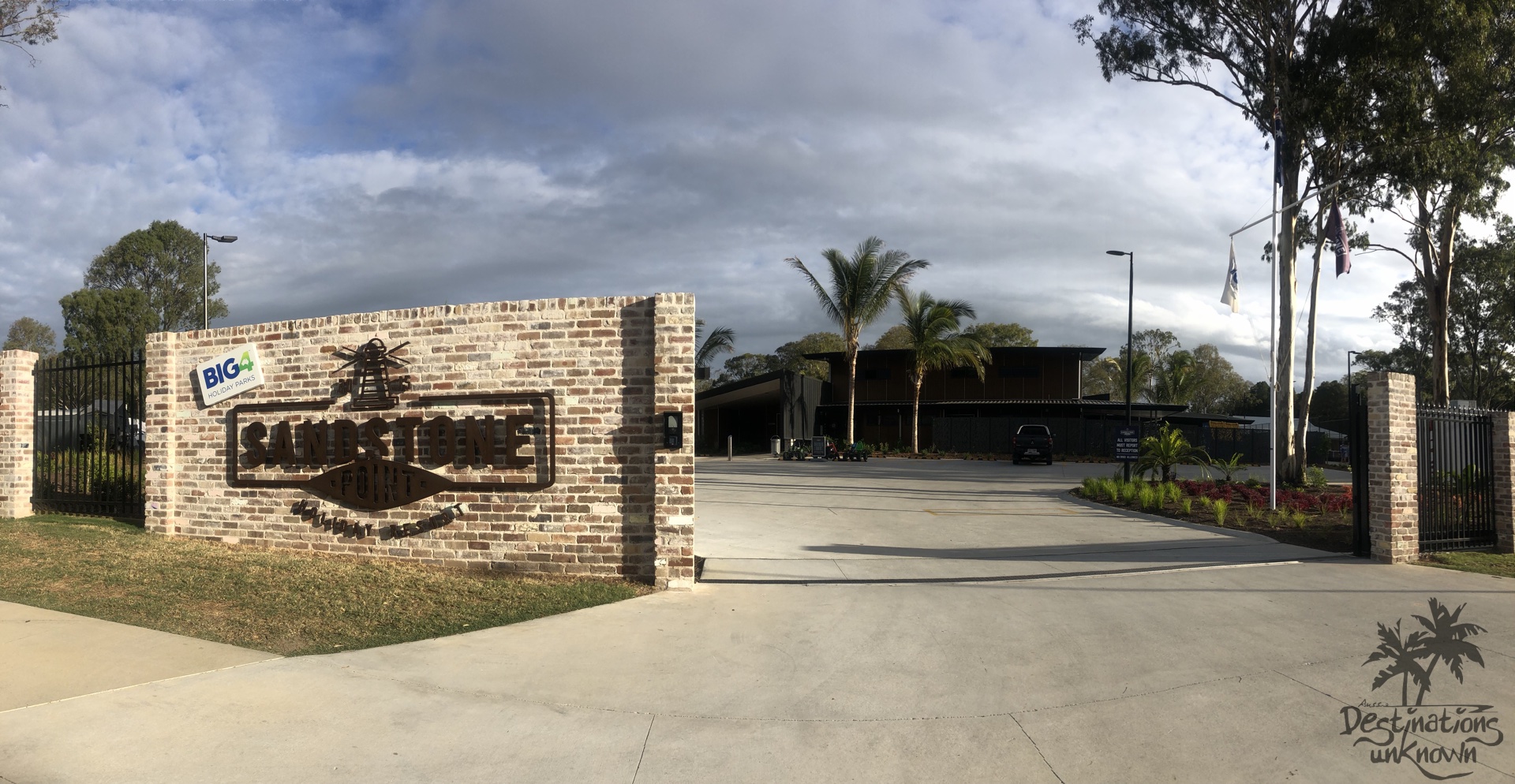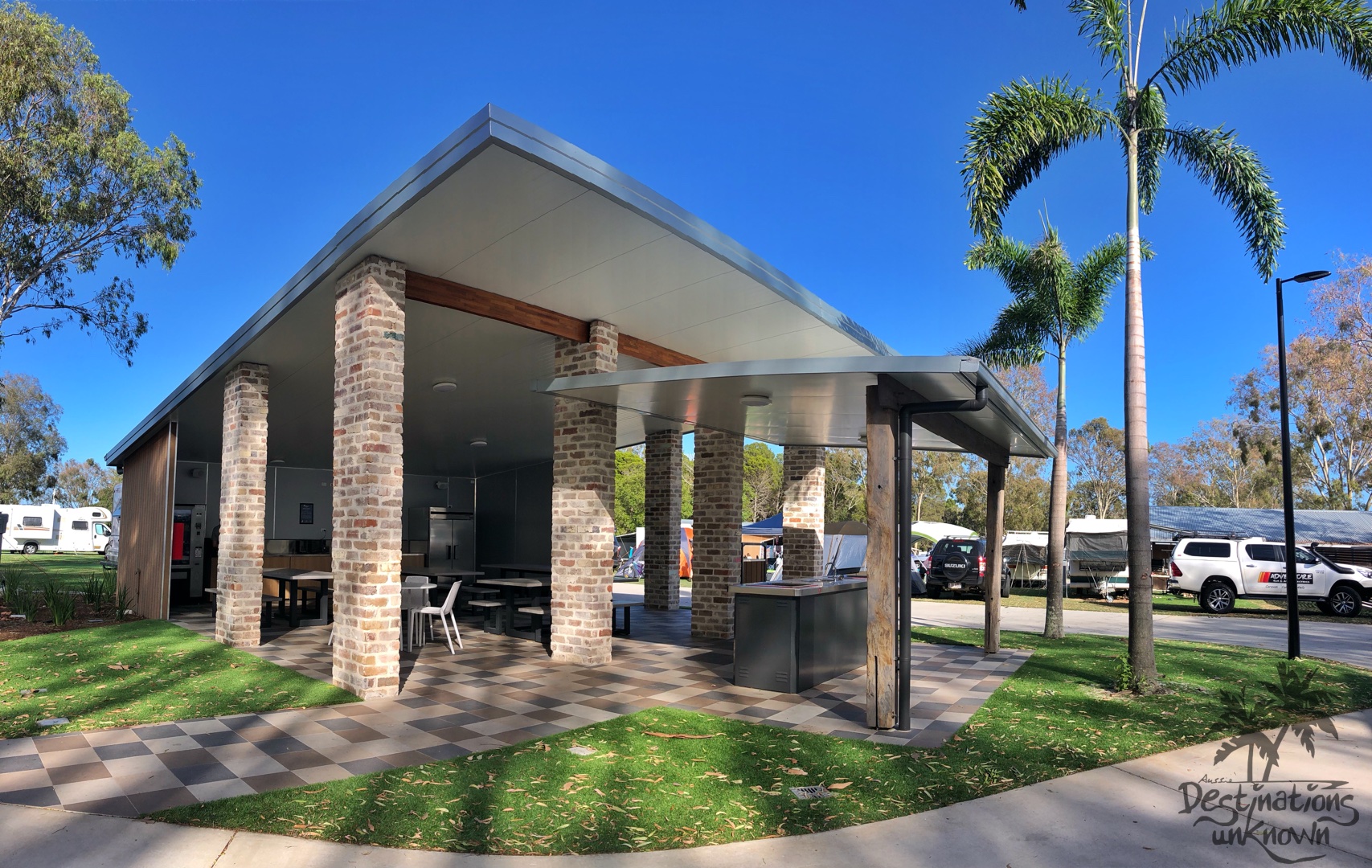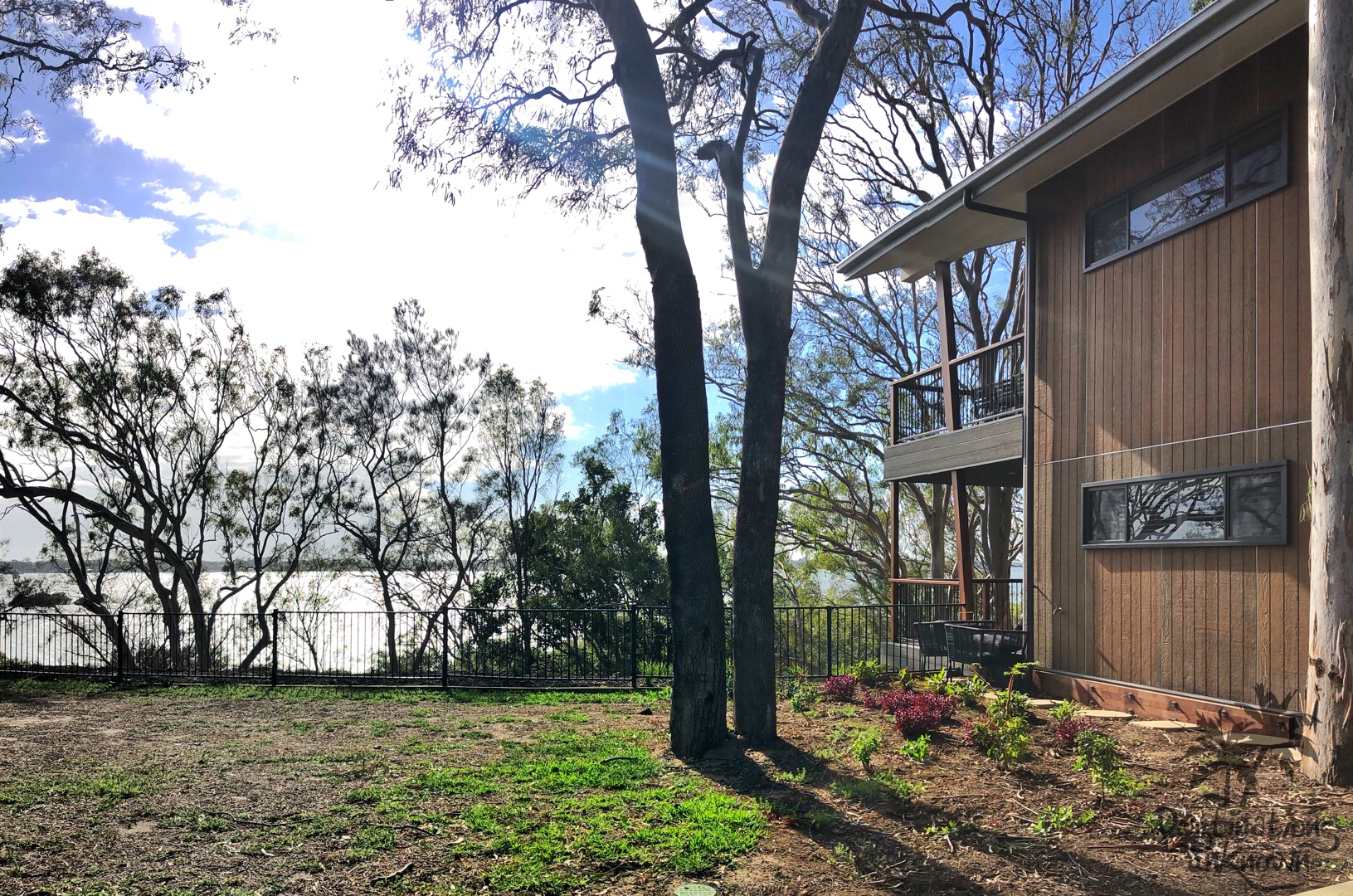 The amenities are fabulous and there is even body/hair liquid in each shower. Perfect for when you forget your toiletries bag!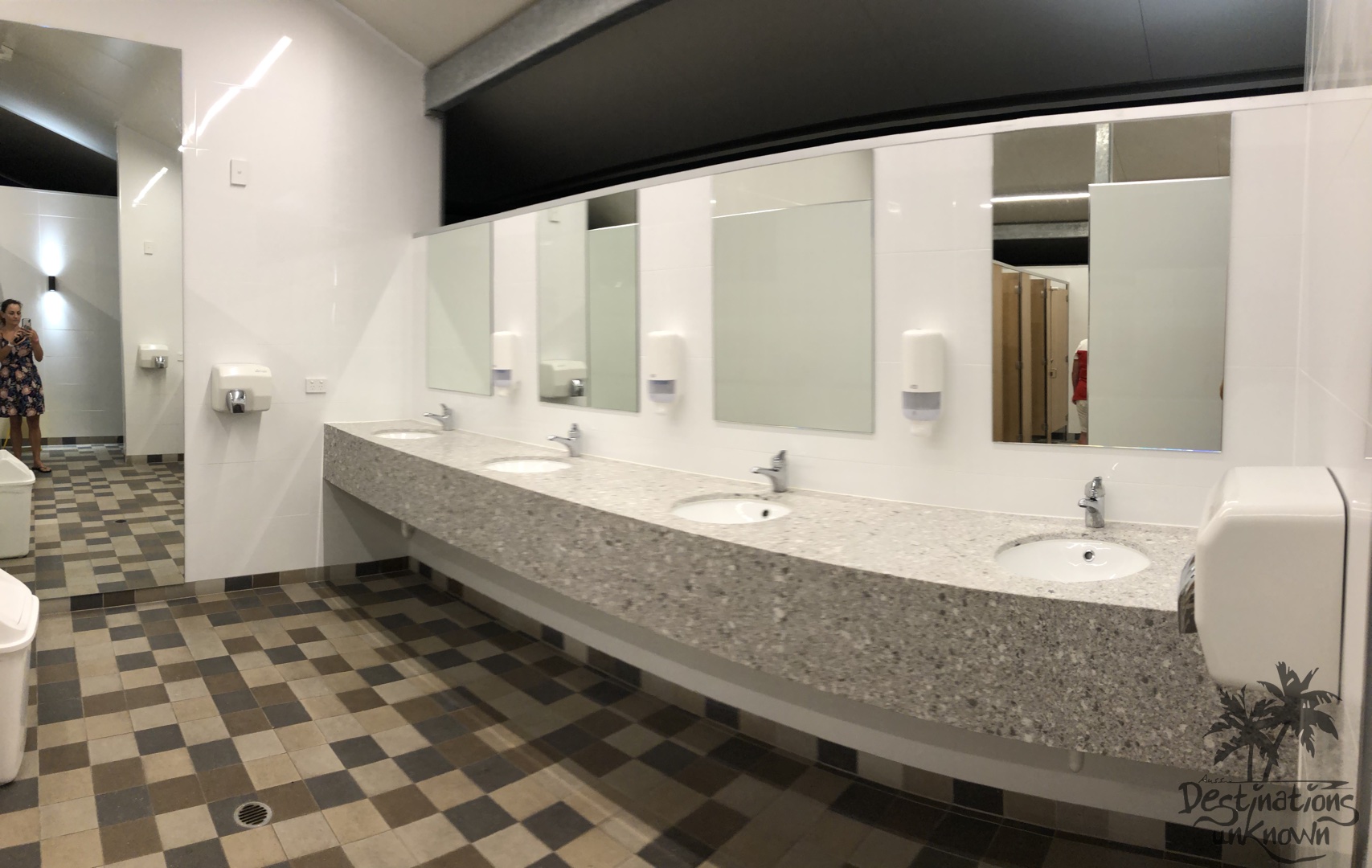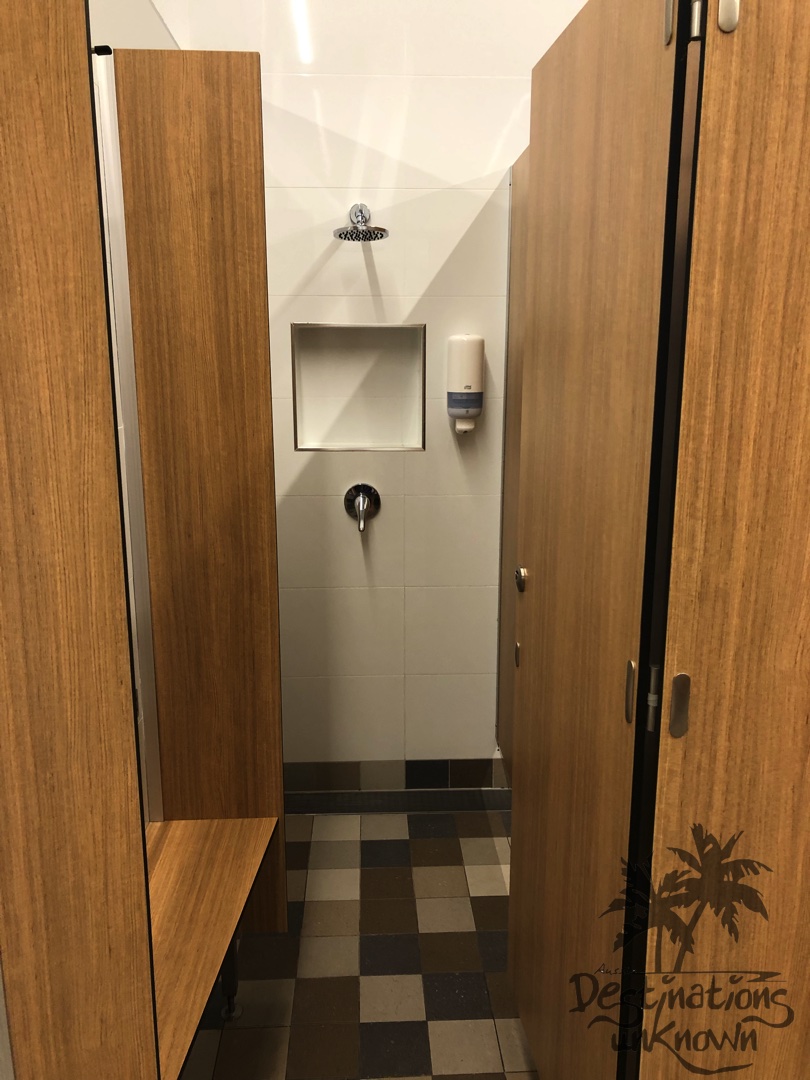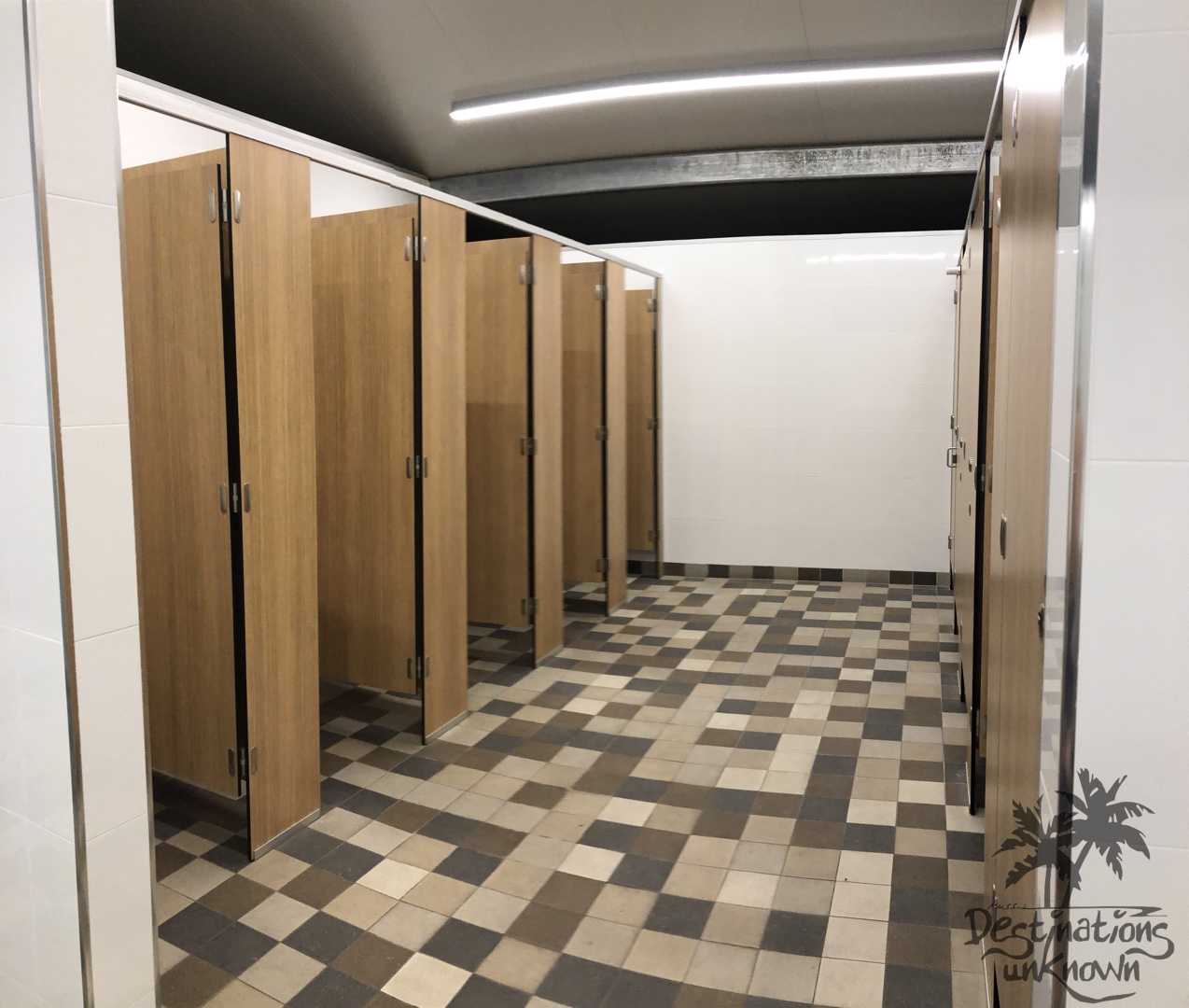 Outside you'll find a jumping pillow, full-size tennis court, basketball court, playground, large chess game and a dirt section to play bocce.
All this plus the water park and swimming pool which is surrounded by beautiful palm trees and the softest artificial grass I've ever wiggled my toes in.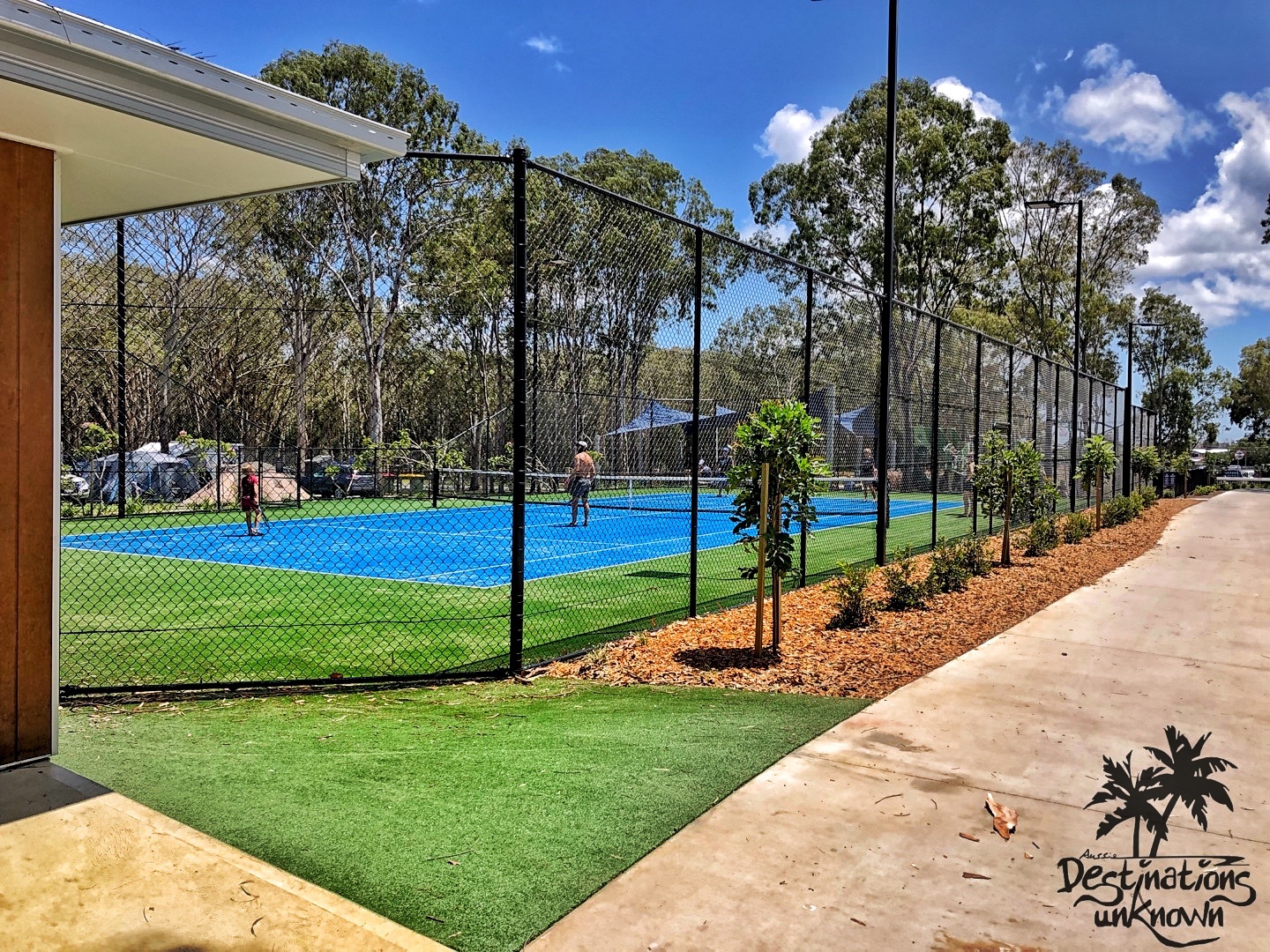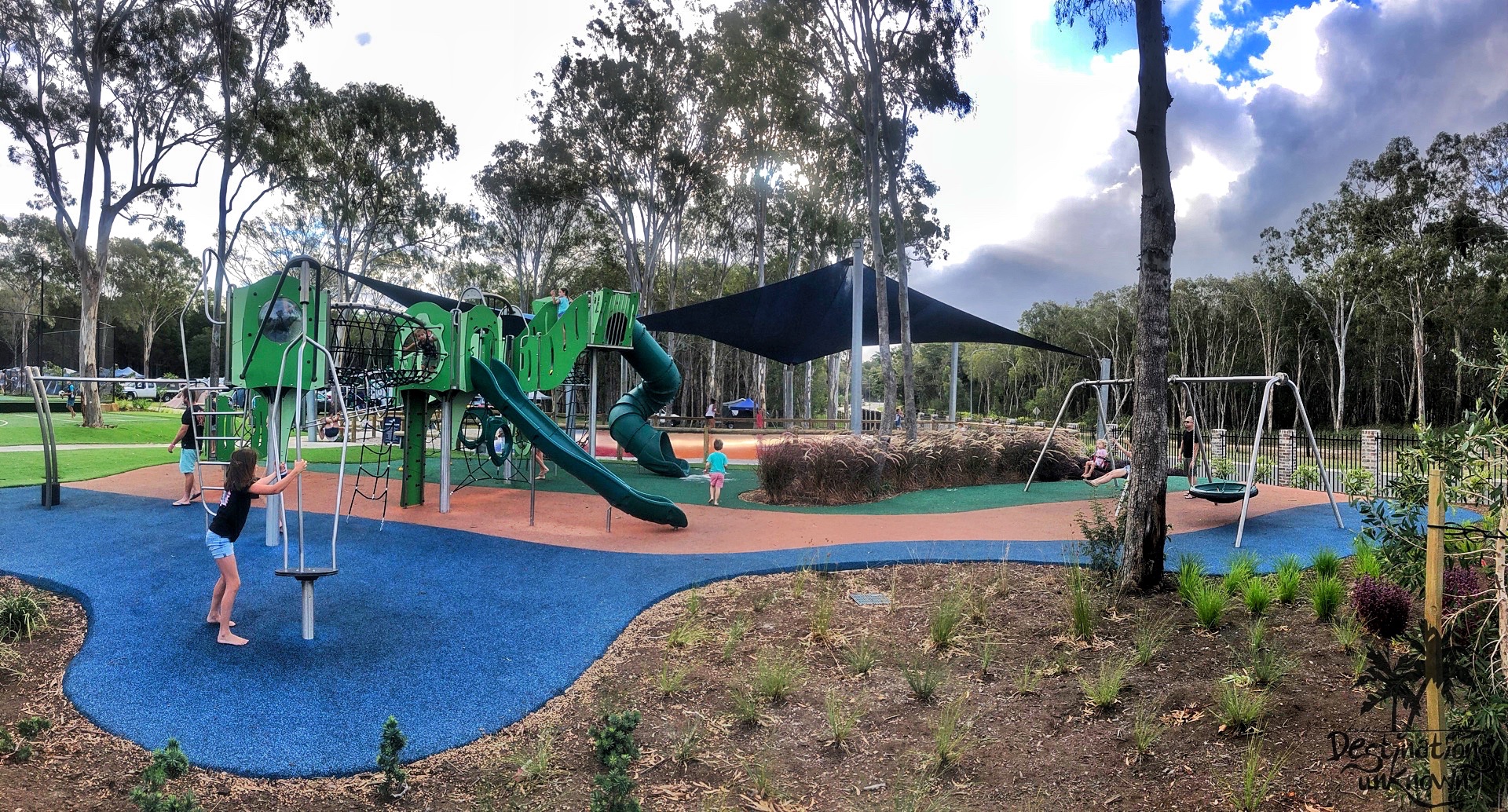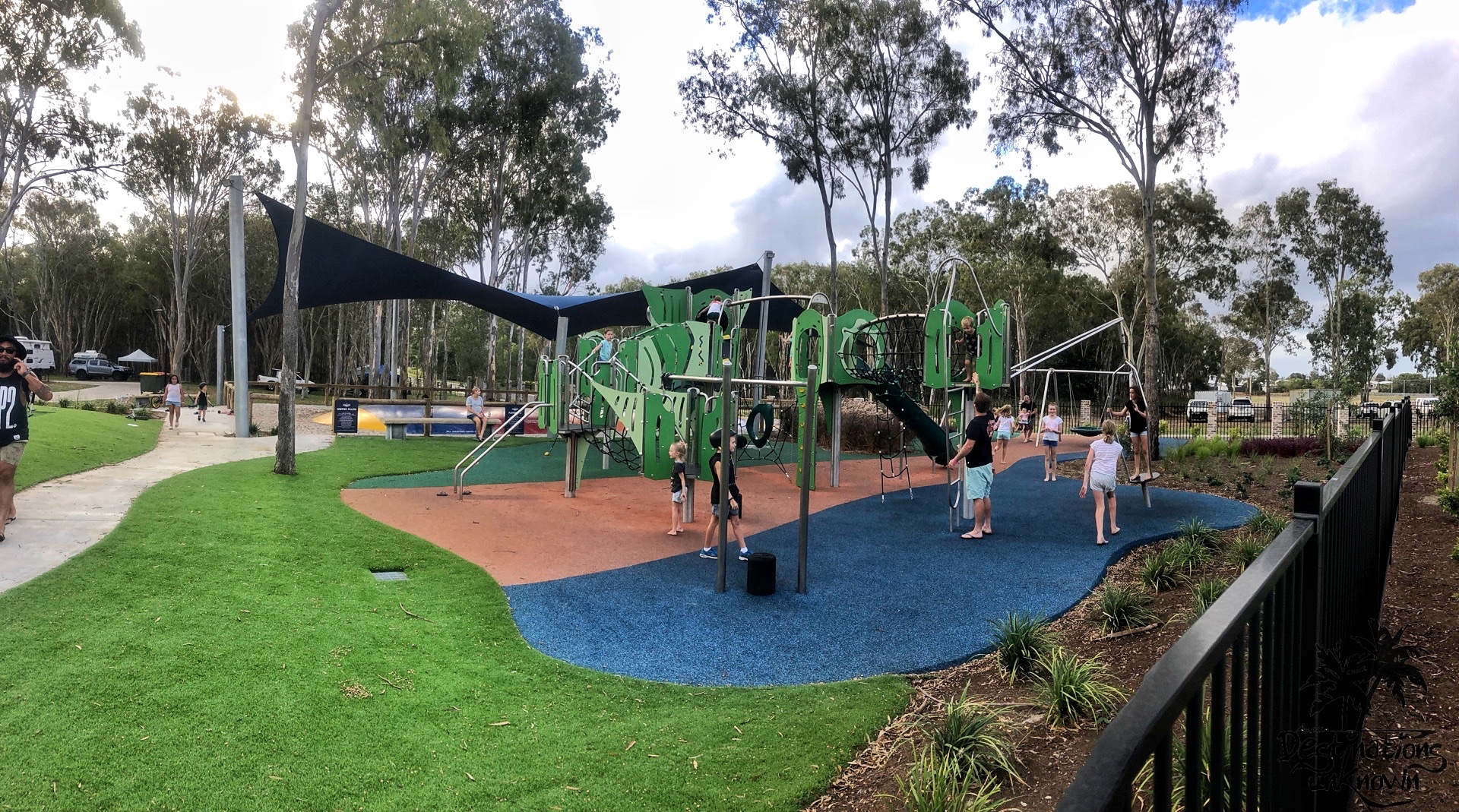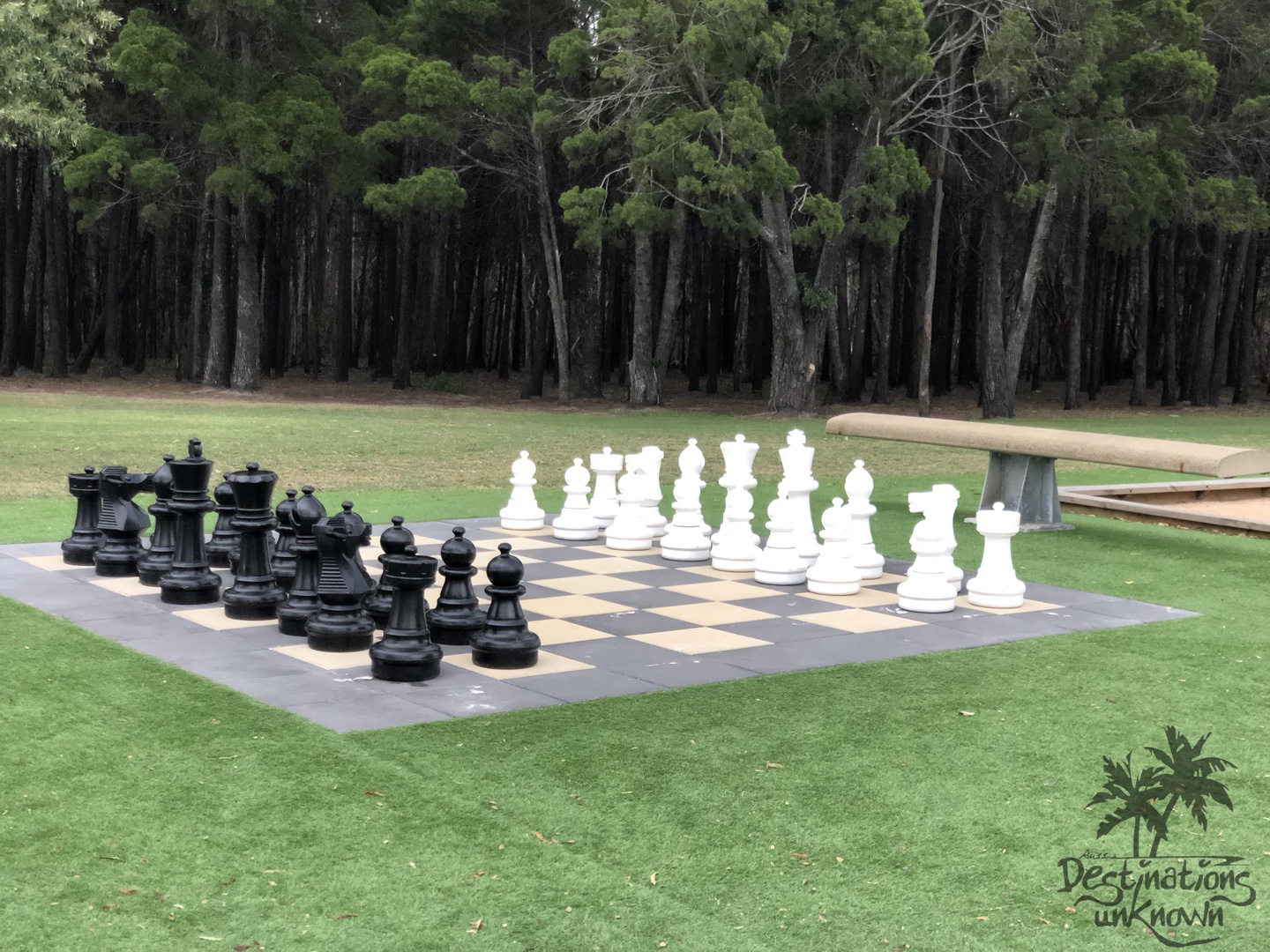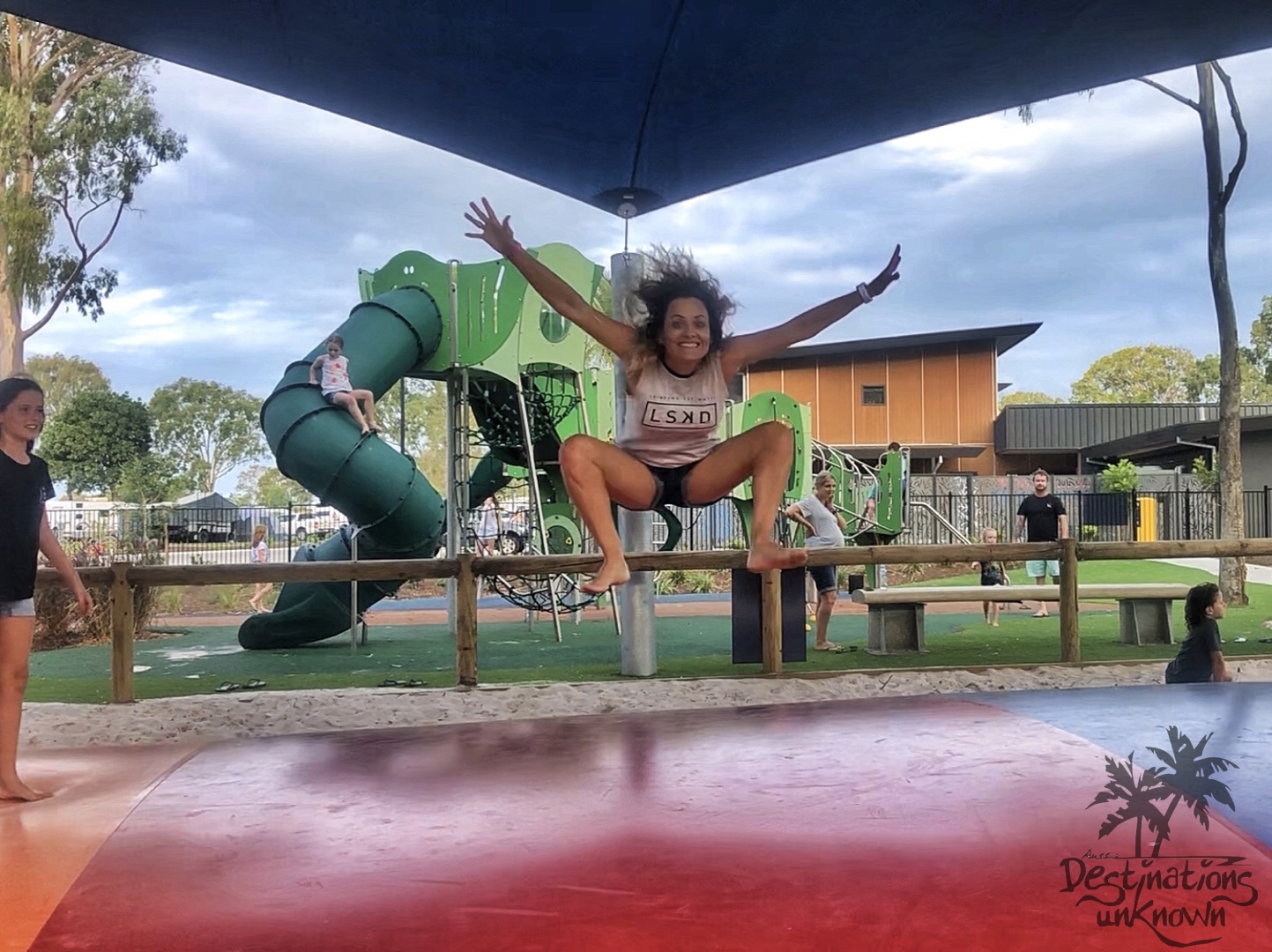 We had site 57 which backed onto what looked like a little forest of tall straight trees. It's a prime spot close to the pool with grass to one side and the trees behind.

I went for a bit of a wander as I usually do, and this was when I discovered all the safari tents and villas up the back. Walking down the road past a huge 2 story house with water views, I saw a big thick rope leading down the bank.
I followed it down to the mangroves where there was a thin strip of sand and water lapping gently against the shore. Sadly, it was filled with mosquitoes and I ended up with more than a few bites in my brief 5 minutes by the water.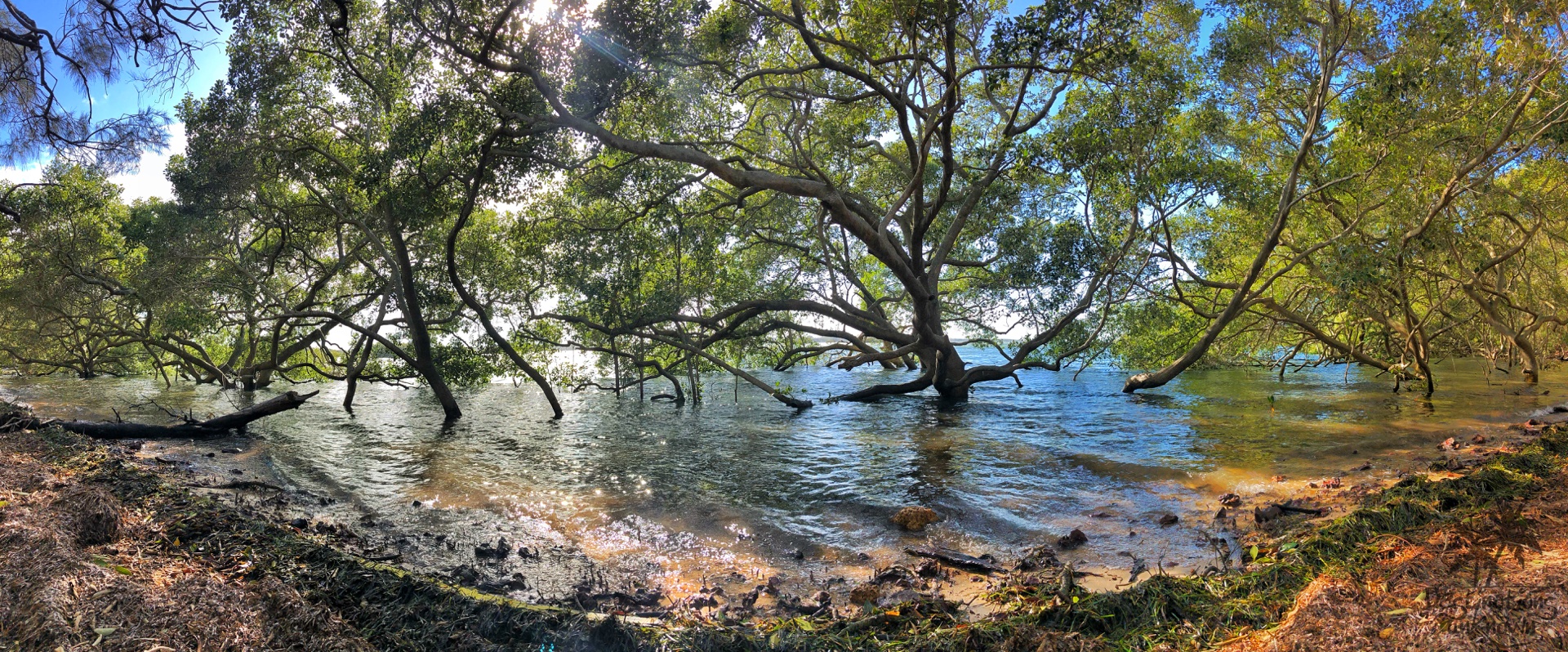 I walked back up some beautiful timber stairs that led me to a deck and yet another huge camp kitchen. The park is quite big with lots of different sections, all that were being put to good use.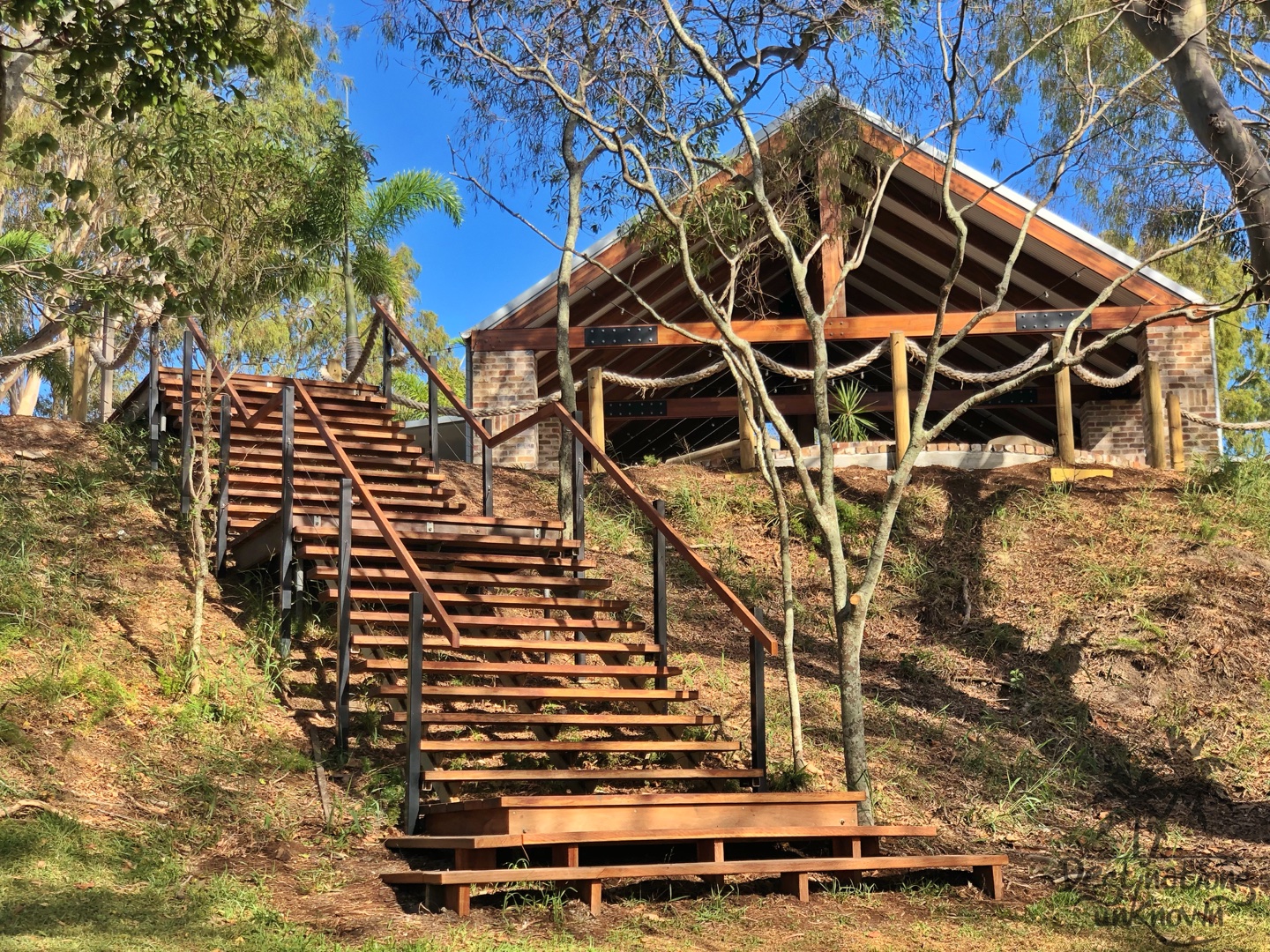 We had babies right through to teenagers in our group and they all had a blast. The adults had a great time too. We had planned on heading over to the Sandstone Point Hotel, but sadly we didn't get around to it.
Many huge international artists perform major outdoor concerts at the hotel, and Suzi Quatro along with The Angels, Baby Animals, Screaming Jets, Jon Stevens, Moving Pictures and Chocolate Starfish are all being advertised for next months 'Red Hot Summer'.
I guess that would be something to be mindful of when booking – check for huge acts and avoid if you don't like loud music or lots of cars in the guest car park. RnB Fridays are also being advertised at the hotel.
The guest carpark was where my bestie parked up when she came up for the birthday celebrations. She paid $20 which gave her a hot pink wrist band allowing her access to the park and all facilities for the day.
I was told by staff that 6 people per site are allowed, and as we had 5 in our family, one extra was fine.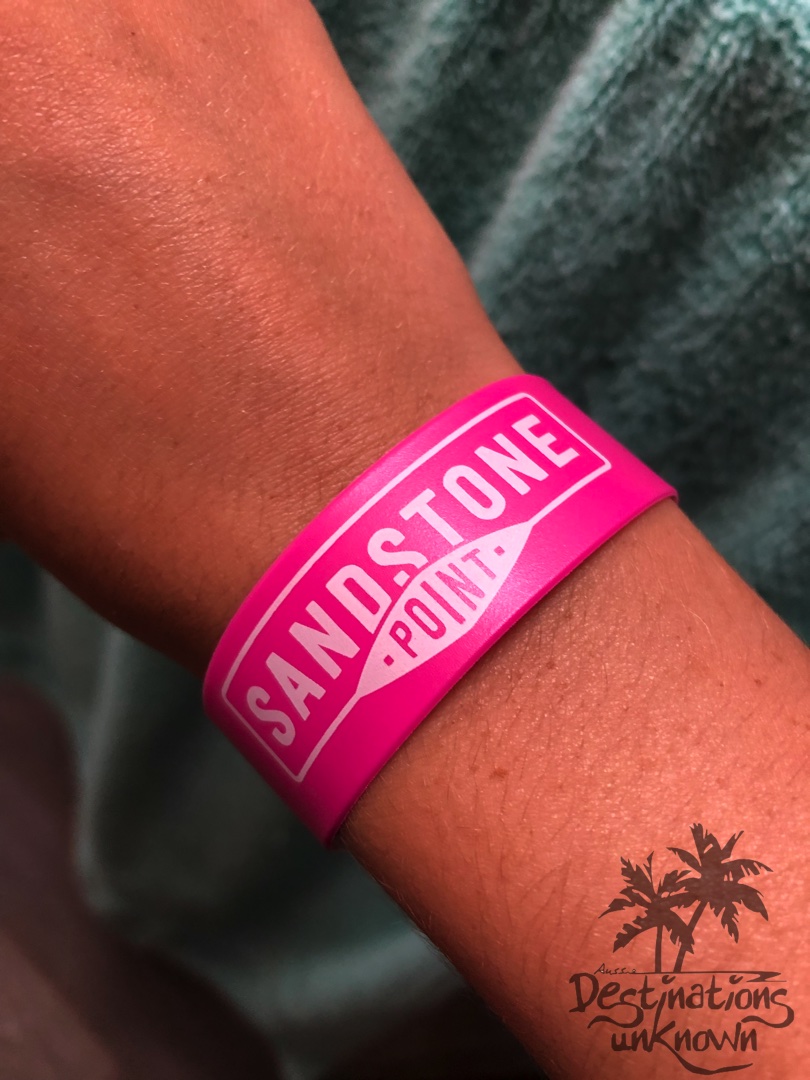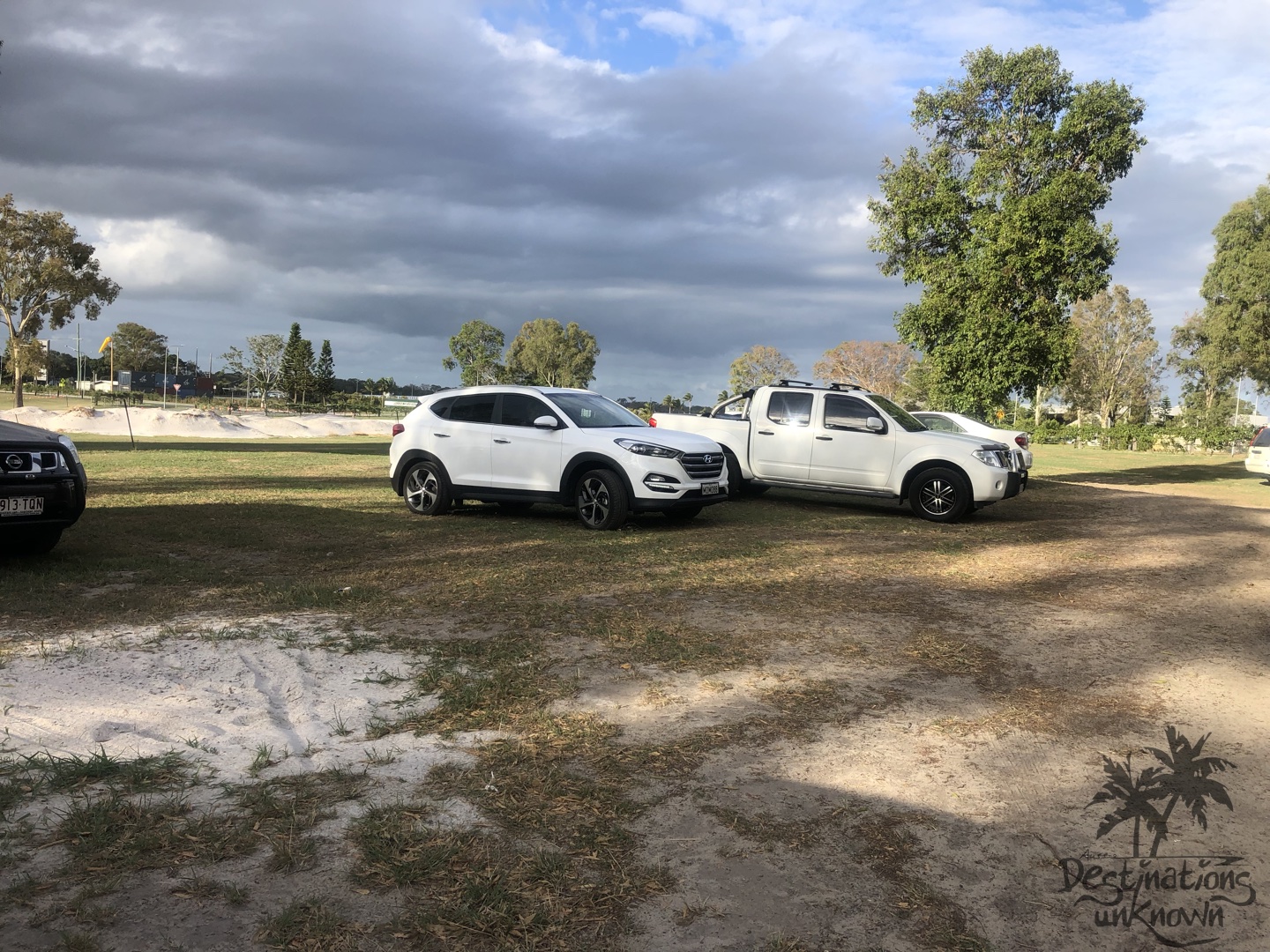 While this usually isn't our scene, we also enjoyed our stay as it caters nicely to everyone. To be honest the best time for us was Sunday after most people had checked out and the pool area and water park had quietened down.
We know what we prefer – and that's free camping in more out of the way, unusual spots. We aren't the biggest fans of crowded swimming pools and resort style places. (By 'we' I mean Miriam and Chris) but our kids LOVE this and have rated this one right up there!
I must admit, while secluded camp sites are what I prefer, on occasion I do enjoy the resort style caravan parks (in off-peak when they aren't so crowded) and am happy to bob around in the pool, lay under the shade of a perfect palm tree wrapped with fairy lights, then make my way across the lush fake turf to the immaculate showers before retiring to the van without a speck of sand to be seen … Chris on the other hand gets quite annoyed and wishes he was by the ocean with nothing but our camp shower to rinse off.
We rate this resort up in our top 3 along with Cairns Coconut Holiday Resort (Cairns) and Northstar Resort (Hastings Point, NSW). Rivershore at Bli Bli also rates highly with our kids.
This is the perfect place for families and groups with kids – especially if you want your kids to disappear for hours and have a fun, safe time.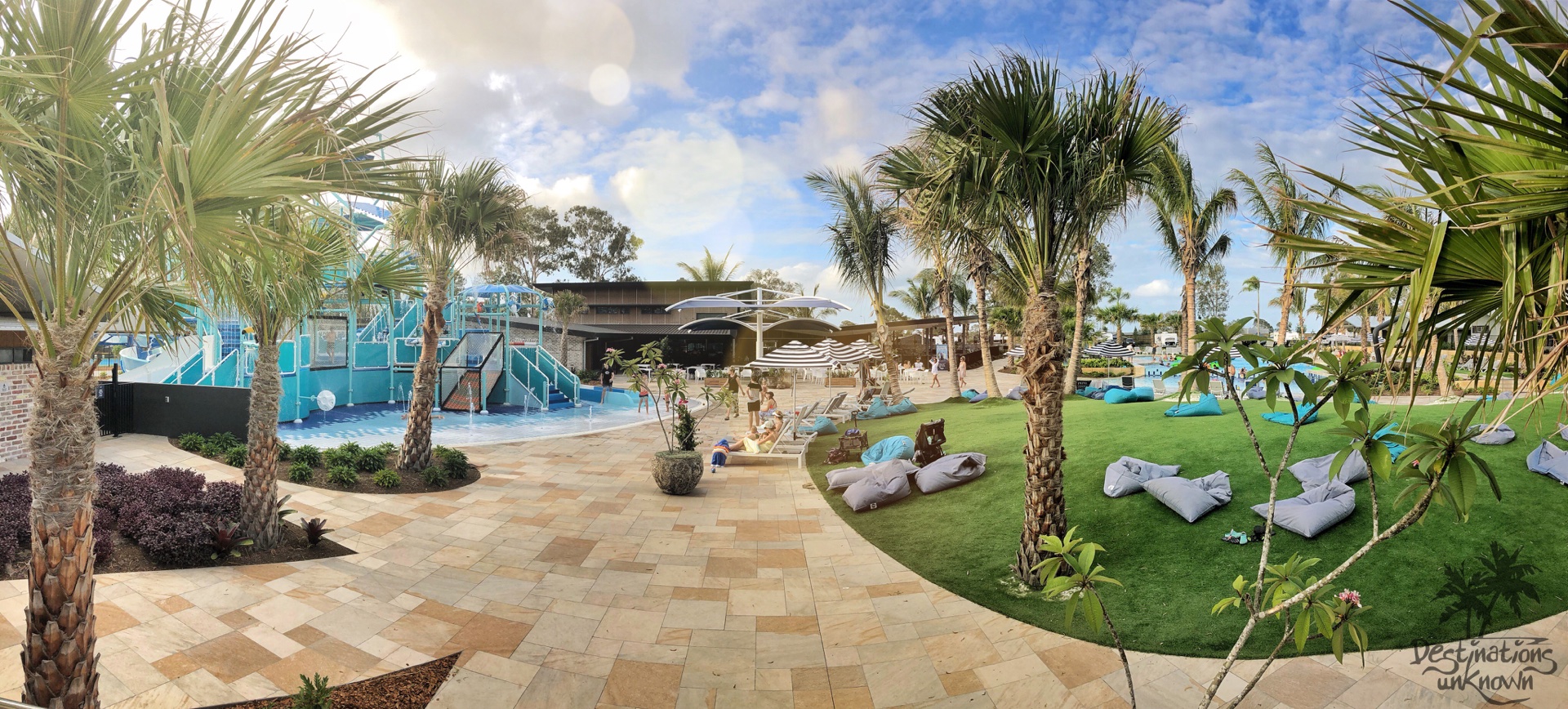 Amenities Blocks
BBQs
Cafe/ Restaurant Available
Camp Kitchen
Caravaning
Convenience Store/Kiosk
Disabled Bathroom
Fire Pit/Camp Fires
Games Room
Giant Jumping Pillow(s)
Groups Welcome
Gymnasium
Ice
In-House Movies
Internet – Free Wireless
Kids Activities
Kids Playground
Laundries with Washing Machines & Dryers
Playground
Pool
Pool – Heated
Recreation Lounge
Security Boom Gate
Sites
Small – Motorhome Friendly Sites
Tennis Court
Tourist Information and/or Bookings
TV & Video Room
Villas
Water Playground
Waterpark