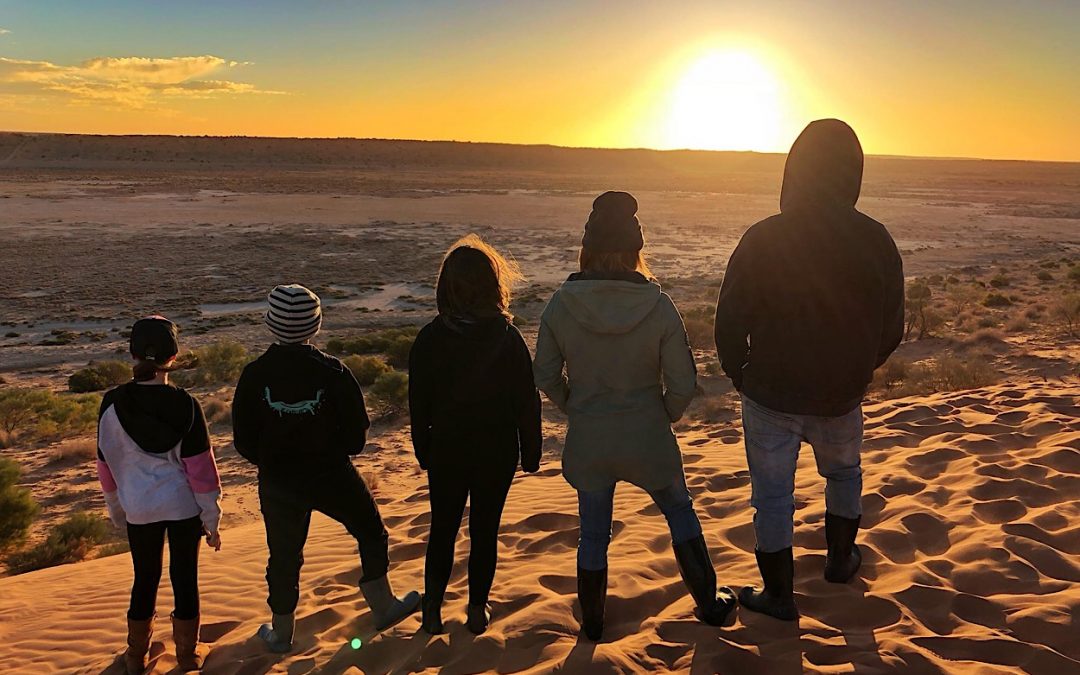 If you are planning a trip from Brisbane to The Big Red Bash (or just out to Birdsville) I hope this will give you a bit of an idea of where to go and what to see.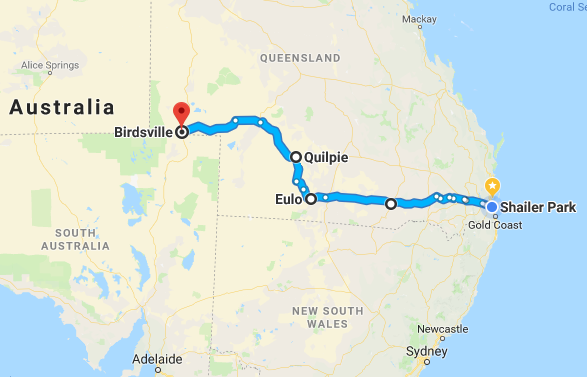 EN ROUTE:

MILLMERRAN
TALWOOD
WEENGALLON ROCK WELLS
NINDIGULLY PUB

Paperback Hero Boomerang
River
3D Art Work
Huge Meals

ST GEORGE (1 night) – Pelican Rest Tourist Park
EN ROUTE
EULO (1 night) – Eulo Queen Hotel

Old Lizard Racing Track
Historic Police Cells
Dinosaur known as Diprotodon Optatum

EN ROUTE

TOOMPINE PUB
BALDY TOP LOOKOUT

QUILPIE (1 night) – Channel Country Tourist Park and Spas
EN ROUTE

WINDORAH

Solar Farm
Fuel
Park
Toilets
Shops

THE HOLE IN THE HILL
DEON'S LOOKOUT
DREAMTIME SERPENT

BIRDSVILLE

Birdsville Bakery
Birdsville Pub
Former Royal Hotel (ruins)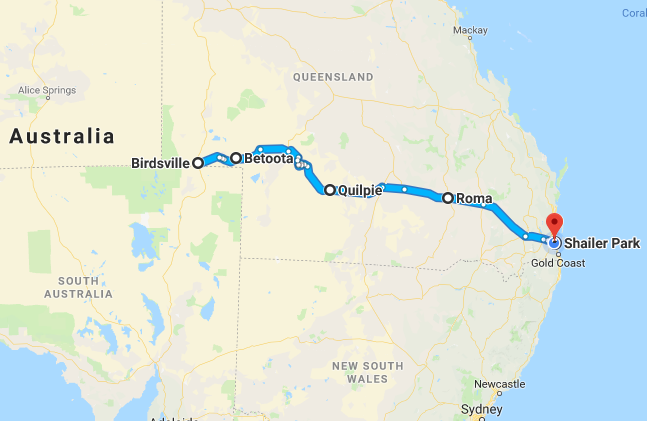 EN ROUTE:
NOWHERE (1 night)

Campfire
Millions of Stars

EN ROUTE
QUILPIE (1 night)
EN ROUTE

CHARLEVILLE
MORVEN

Historic Machinery
Kerosene Hut
Tin Animals/Farmyard scene
Toilets with murals

ROMA (1 night) – Big Rig Tourist Park
ENROUTE
HOME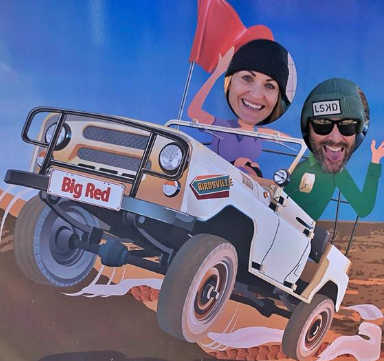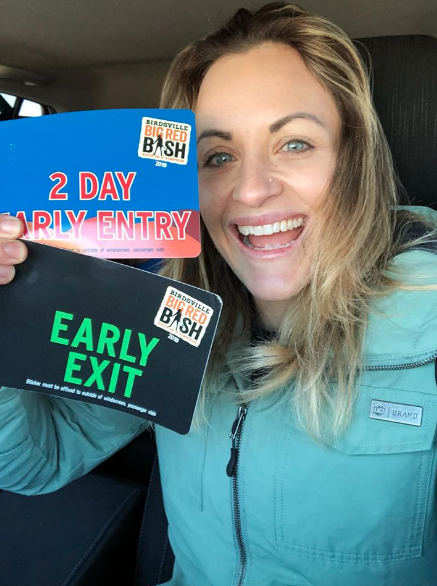 This is our entire 10 day trip all smooshed into one video (just over an hour). It has a little bit of everything. At the end of this post are the videos done day by day, and scattered throughout there are some more 'specific' videos like the Nutbush, Fashions in the Desert, Birdsville Drags, the artists, even the loos have their own video! 🙂 I hope you enjoy our footage.
12 months of planning delivered the most epic trip ADU has experienced so far. It wasn't the longest, or the farthest – but it required the most planning, more modifications to the car and van, incredible food prep, specific outfit selection and careful attention to detail than ever before.
My parents agreed to come and house sit and look after our Staffy, Sprocket which was a great help.
When the highly anticipated day arrived, I was up at 4:00, prepping a roast beef in the new thermal cooker I'd bought from Aldi 6 months ago specifically for this trip. It turned out to be the BEST appliance – just like a slow cooker but it doesn't need electricity! It produced some delicious meals that literally cooked themselves while we were on the road.
Dad was up early to help us get ready and wave us off at 6:15am. Just 2 minutes later we were pulling back into the driveway as the heavy-duty mud/rock flap Chris had made was too low and scraping on the ground. He pulled out his knife, trimmed it up and off we went, dad waving in the rear view mirror as we headed to Shorties Cafe for Chris to grab his coffee and hot chocolates for the kids.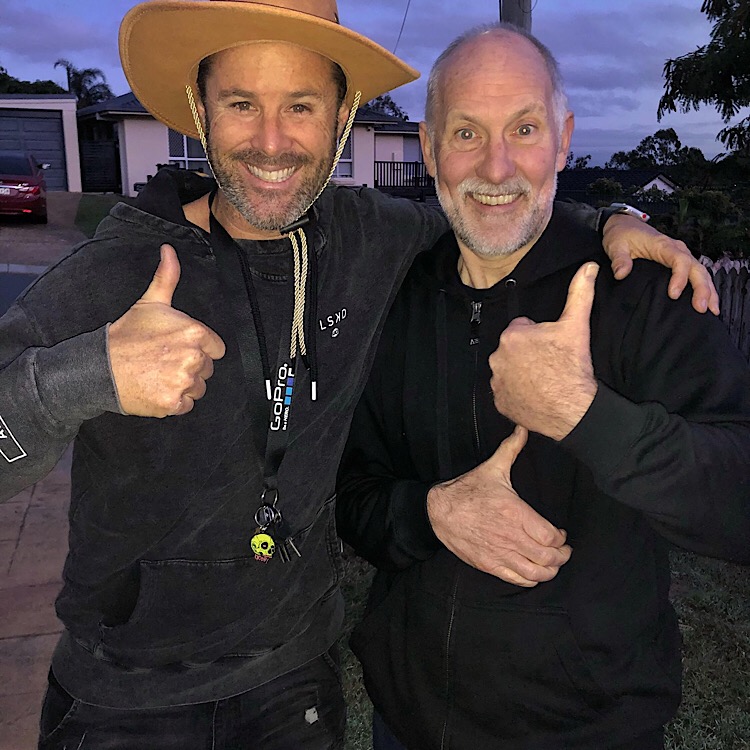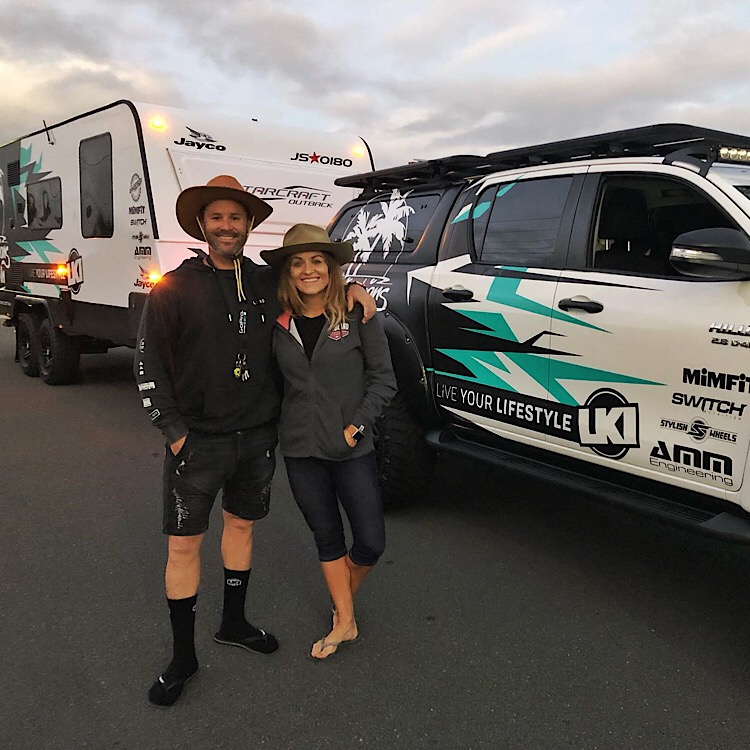 Millmerran
Our first fuel stop was 220km later at Millmerran, South West of Toowoomba in the Darling Downs.
This is a lovely little town with lots to explore if you have the time. We were only passing through, but we did manage to stop and have a look at one of the five historical murals the town has on display. The one on the town reservoir that depicts the early days of transporting water to Millmerran was on the left as we drove in, so we pulled over and had a look. We wandered down the path to a 'fat, hollow' tree (as described by the kids) and read about the local trees and snakes.
There is a handy brochure which you can pick up from the museum (the museum gives a snapshot of Millmerran's local history) that has a map showing where all murals can be found and a little about each one. If we'd had time, we would have loved to have checked them all out.
There is a mural on the Old Milmerran Butter Factory showing the development of the local dairy industry; one on the outer wall of the Transport Depot depicting the evolution of transport from horse drawn drays through rail to modern trucks; one on the town reservoir depicting the early days of transporting water to Millmerran (the one we saw); another on the swimming pool wall showing swimming costume fashions and the local water hole where people swam until an Olympic-size pool was built in 1966; and one on the Millmerran & District Historical Society wall depicting two traction engines which were imported from England in 1885. They are an effective visual history of the town and the district.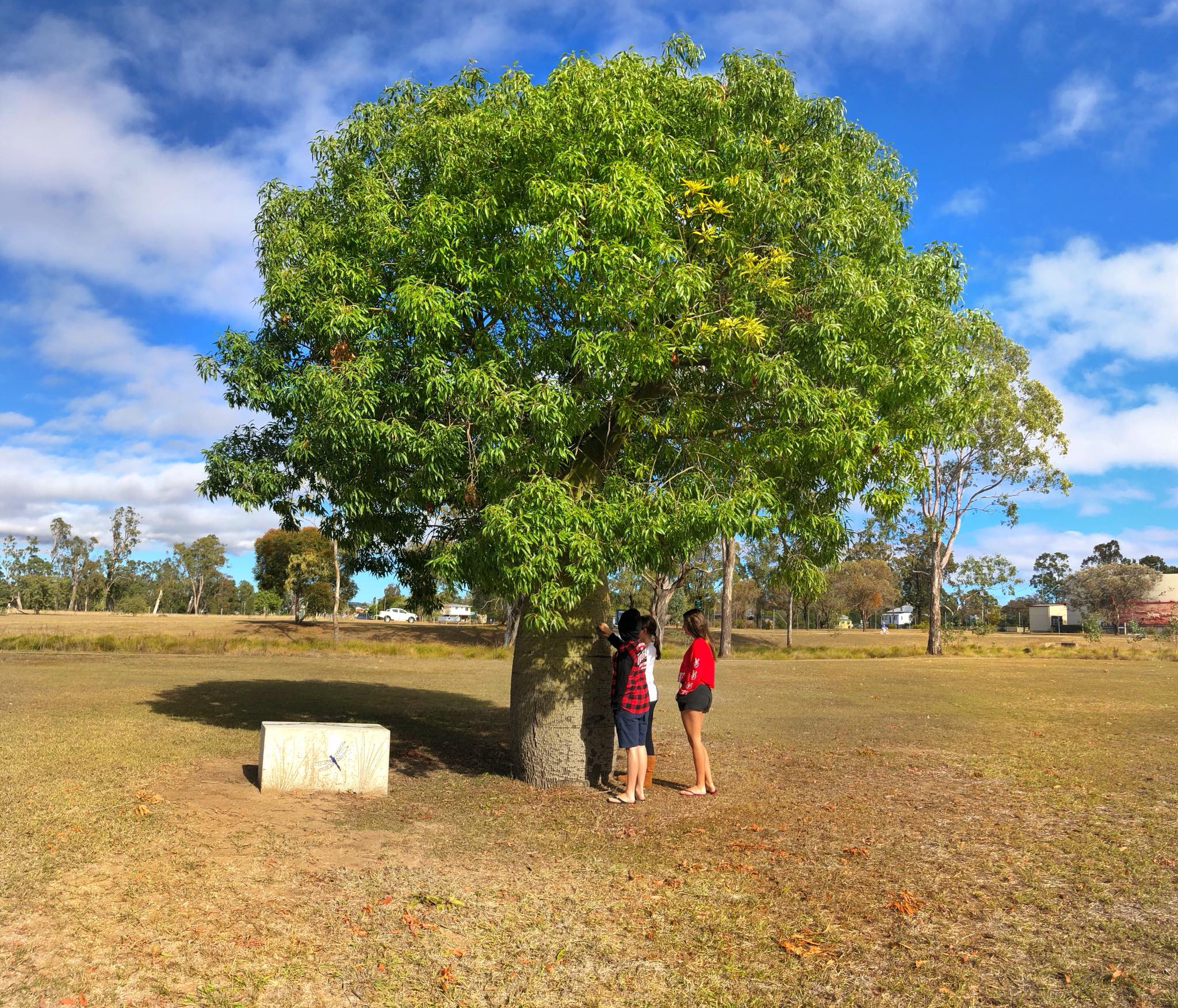 The 'fat' tree sounded hollow when we tapped on it.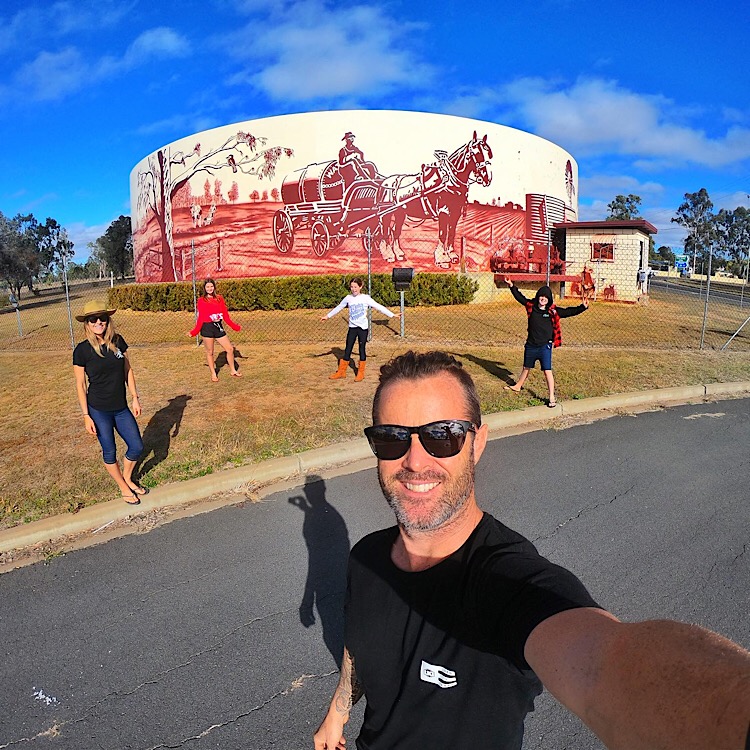 From there we followed a truck carrying 2 huge water tanks along the Warrego Highway through Goondiwindi. There was plenty for the kids to look at like dead pigs and kangaroos splattered beside the road and strange large cactus things that looked like trees from a Dr. Seuss book. The road was shocking and bumped us all over the place – I even spilled my Amino Switch down my shirt and it went up my nose!
It was very windy, and we could feel the van being pushed from the side which was quite evident in our fuel bill. Chris's hands were obviously hurting from gripping the wheel as he kept stretching and shaking them out.
We found a cute little rest stop, complete with shower and an old diesel bowser, and pulled in to go to the loo (which flushed brown water!), grab something to eat and give Chris time to check over the car.
As we pulled out we realized fuel was getting low, so we radioed to see where the next diesel was – someone's voice crackled through the radio saying 100ks from Goondiwindi and that it was suitable for cars, not trucks.
As Chris was filling up at Talwood, I thought I'd duck into the post office which was about 10 steps away from the bowser. I figured this would be a fun place to buy a postcard to send to my parents. I opened the door to see a young girl pulling a tray of steaming biscuits out of the oven. She smiled and when I asked for a postcard, she pointed out the melamine cups and said that was all they had. I figured that would be a bit trickier to send, so I politely declined and jumped back in the car. Life is so very different (and wonderful!) when you venture out of the big cities.
Weengallon Rock Wells
It was about an hour before we came across the Weengallon Rock Wells, 150km west of Goondiwindi, on the edge of the Barwon Highway (in between Goondiwindi and St George).
Even though they are known in the local Aboriginal language as 'Ngaru-gi Gali' (to drink), I certainly wouldn't drink from them! The water was very green and looked like it would give you a bit of a belly ache.
There are six wells at the Weengallon site, some of which are up to three metres deep and 4 which are fenced off. These are really easy to spot from the highway ??
We spent a bit of time here reading the signs, exploring the wells and the kid's imaginations kicked into high gear. We sent the drone up and captured some amazing footage of the wells and the surrounding landscape. It's certainly different from what we are used to seeing when the drone hovers above.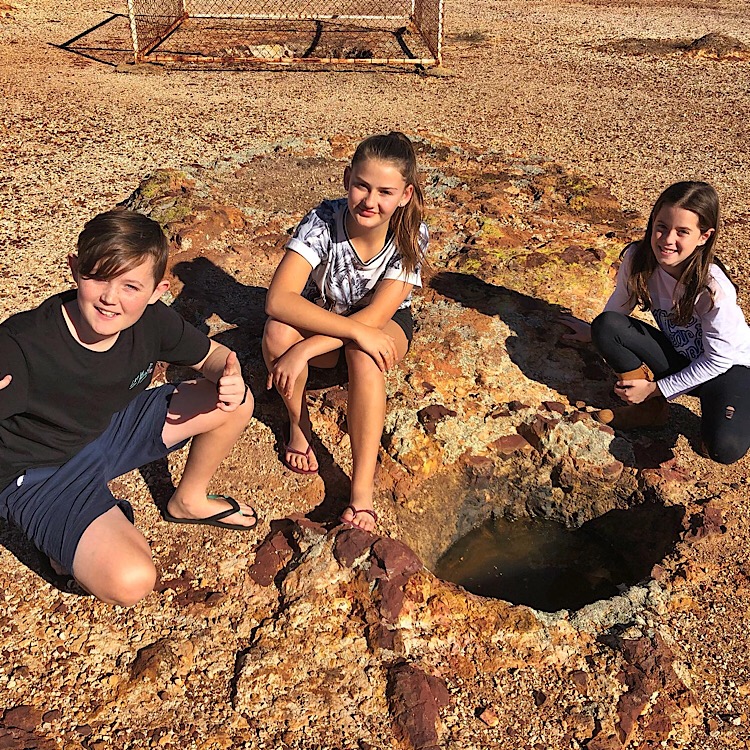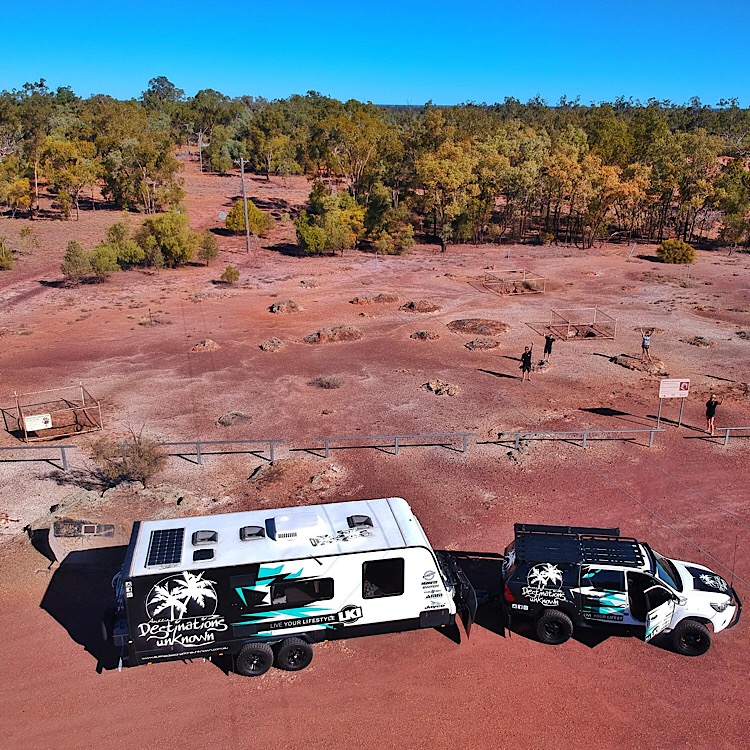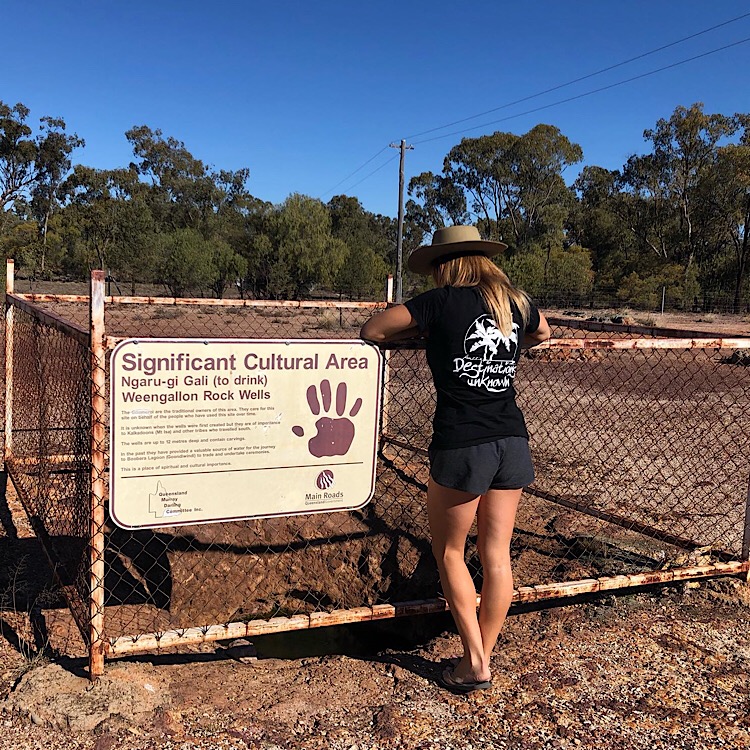 Nindigully Pub
We kept driving along the Barron Highway, stopping at an intersection and hearing a loud crack as a truck threw a big rock somewhere at our car. Thankfully it was the only one on the entire trip – and we sustained no damage! 🙂
We stopped by Queensland's oldest hotel, the Nindigully Pub for a look. Nindigully Pub is located on the banks of the Moonie River, and this Aussie icon is still in its original condition!
The license was issued in 1864 after operating as shearer's accommodation for the Nindigully Station.
They offer tasty meals including Australia's biggest steaks (and the best so I'm told!).
The area around the pub was wet, muddy and filled with caravans, campers and 4WD's all most likely heading to the same place as us and taking advantage of the free camping and amenities including hot showers.
We had a look through the bar and restaurant and saw money stuck to roof (I'm still waiting to find out why it's there!) and walls lined with memorabilia. I would love to be there when the pig races are on!
There is an incredible 3D painting on a wall out the back that was finished just a week before we were there. One of the ladies gave us the 3D glasses to have a look through – it was amazing! What a talented artist 🙂
I wandered down to the tree lined river while Chris loaded the kids into the car and came across the most serene reflection of the sky in the water. People were fishing and in the warmer months, you can swim. I can definitely see why you would want to stay here overnight. Next time …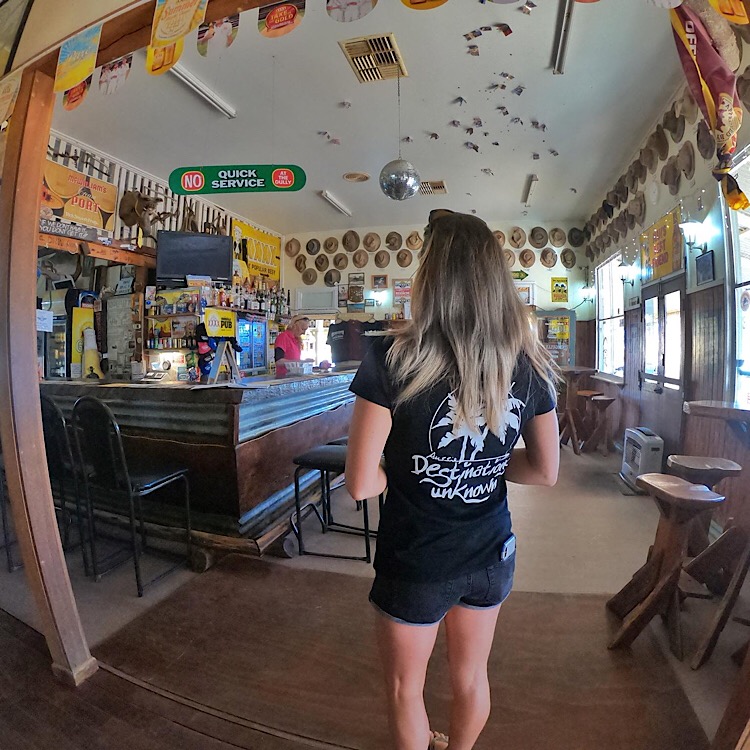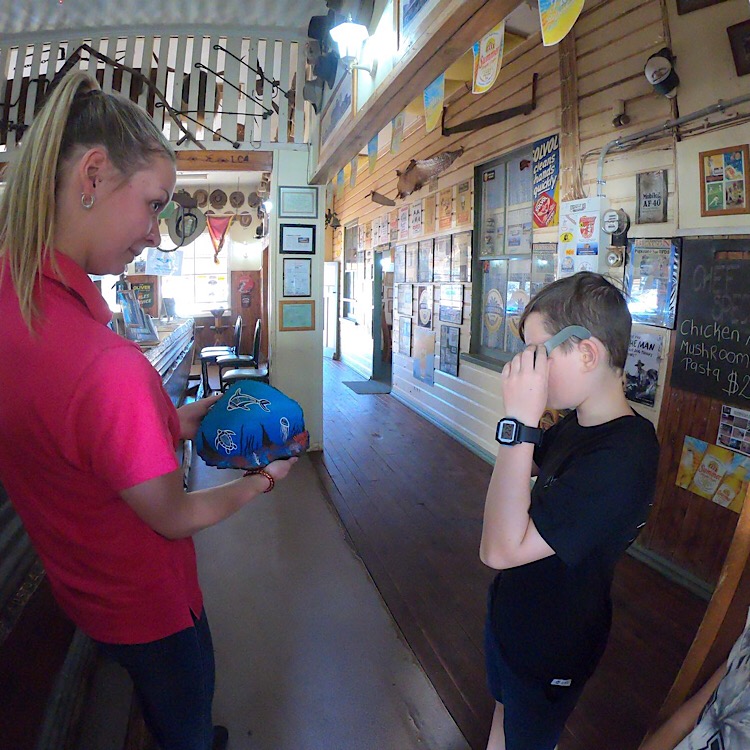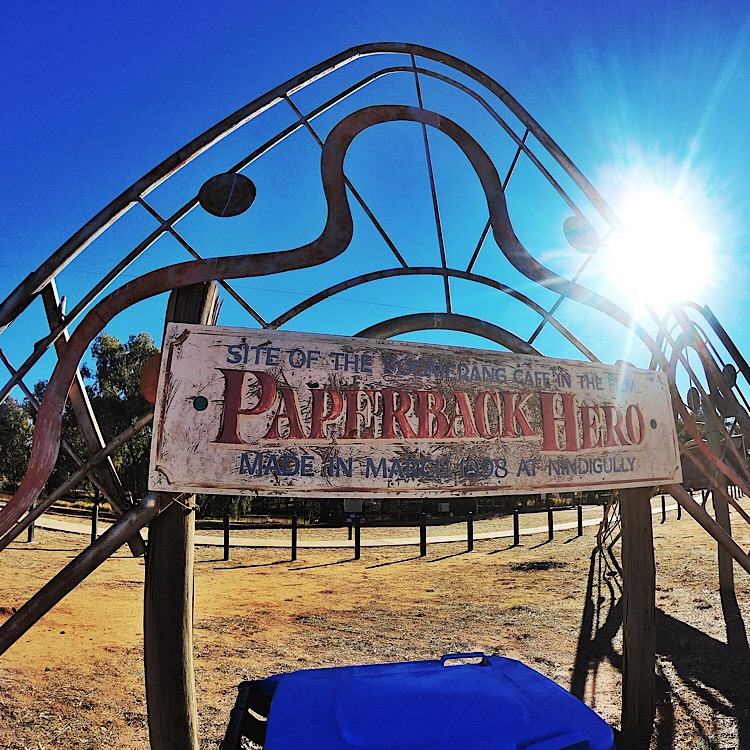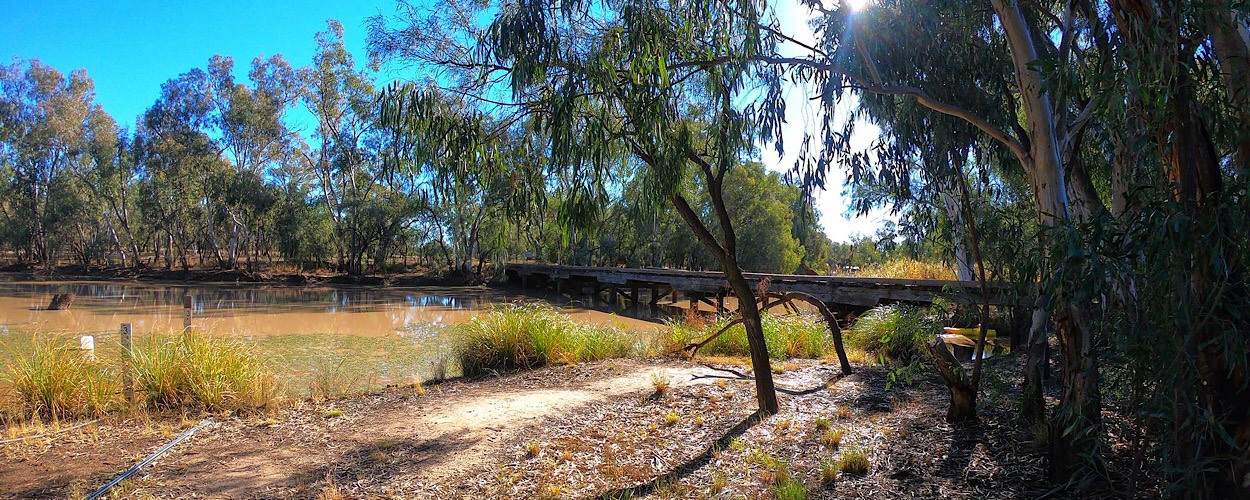 St George
We needed to get to St. George to fill up the car and jerry cans before the petrol station closed, but would you believe that Chris left the van keys at home? This meant a quick trip to the local Mitre 10 to cut padlocks off the jerry cans and get new locks before fueling up.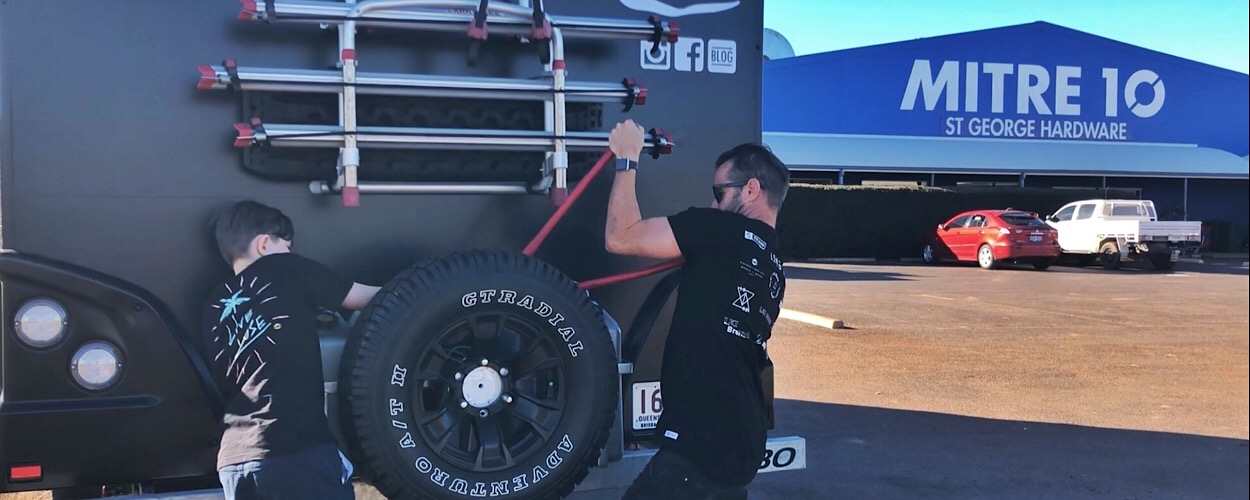 We pulled into the Pelican Rest Tourist Park at 3:40pm. We had made it in great time! We had a lovely grassy site that backed onto an open field.
There was a heated therapeutic mineral pool filled with Artesian Water, and up until right now, I have no idea why I didn't go and get in it – I think it may have had something to do with a hungry family!
We had the roast for dinner that I'd prepared at home that morning and had been cooking in the thermal cooker all day while we were driving. We were all showered and in bed by 7:30.
I was up at 4:00 working on all things ADU and the others slept until 6:30. That's 11 hours! What a fabulous sleep we all had which was relevant in the happy faces all round when we headed off about 8:30am.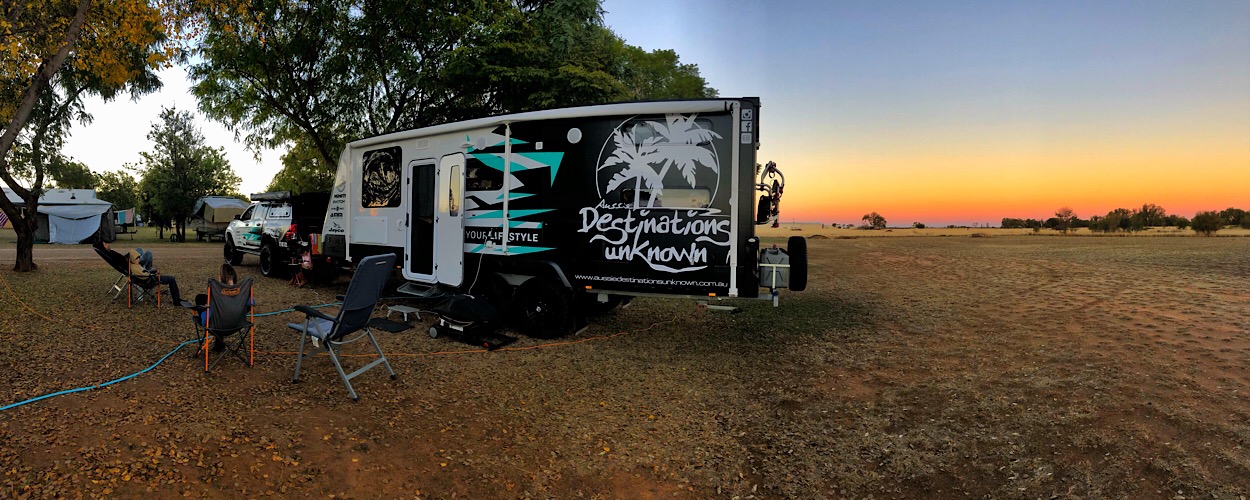 We were planning on making the 290 km trip to Cunnamulla that day, and as we were on our way out of St. George, we drove past a beautiful park. What else was there to do but stop and have a look? It was called the Riverside Parkland and I'm so glad that we took the time to explore a little.
We wandered around the parklands, had a look at the war memorial and read the story about Flight Sergeant Leonard Waters who was the only Aboriginal pilot to fly in World War 11 and was buried in St. George.
We also read about squadron leader John Jackson who went from managing a grazing property in St. George to being the only Australian to have an international airport in a foreign country named after him!
It's so important for the kids to see these kinds of memorials and read stories like these! It makes history seem so much more relevant.
The best part about stopping here was that met a lovely man who gave us some awesome advice about the condition of the roads and the best places to stay. He suggested going straight through to Eulo as it was a lovely little town. It was a tough decision as Cunnamulla also looked worth a stop-over. We decided on exploring Cunnamulla on the way through, and spending the night in Eulo.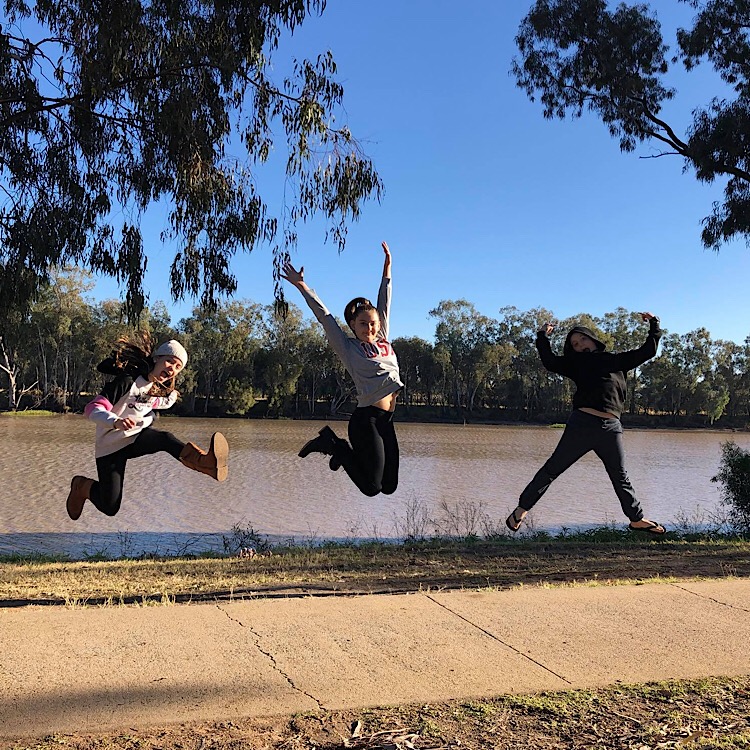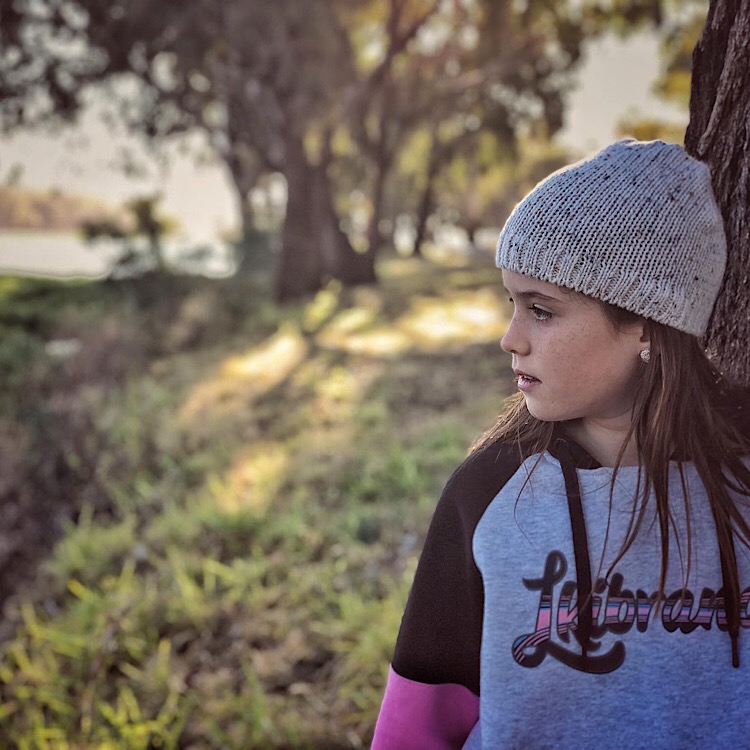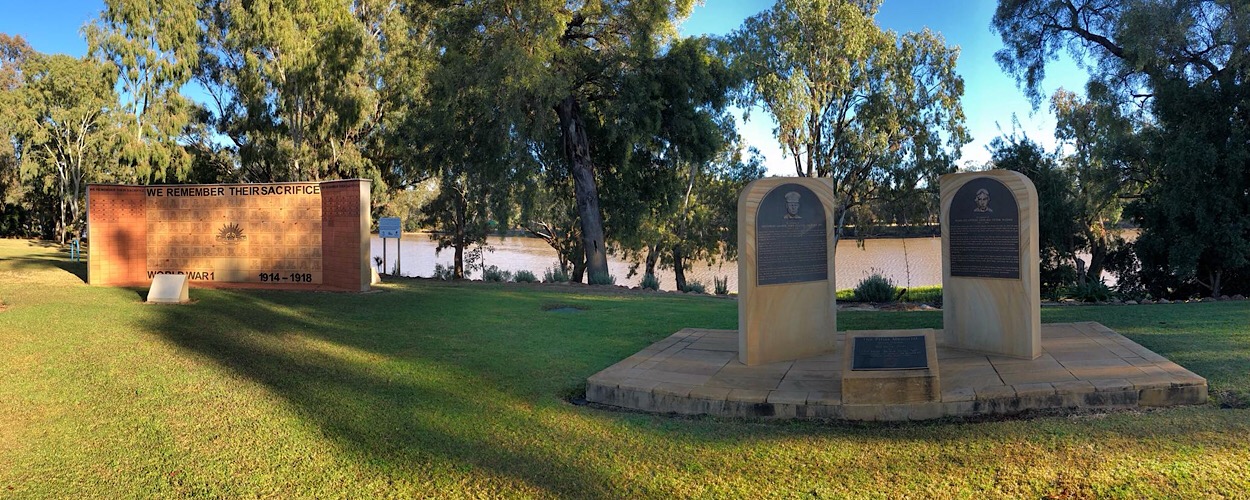 We were back on the road where the rocks were sharp, and the dirt was bright red, and there were patches of very green grass. It looked a bit like someone had waved the saturation wand over everything!
Not far out from St. George we saw a dog or fox (we couldn't quite tell) strung up in a tree by one of his hind legs and not much further down we saw a multi coloured dog kennel, right before we slowed down to let a kangaroo hop across the road. We were getting into 'real' Outback Australia now!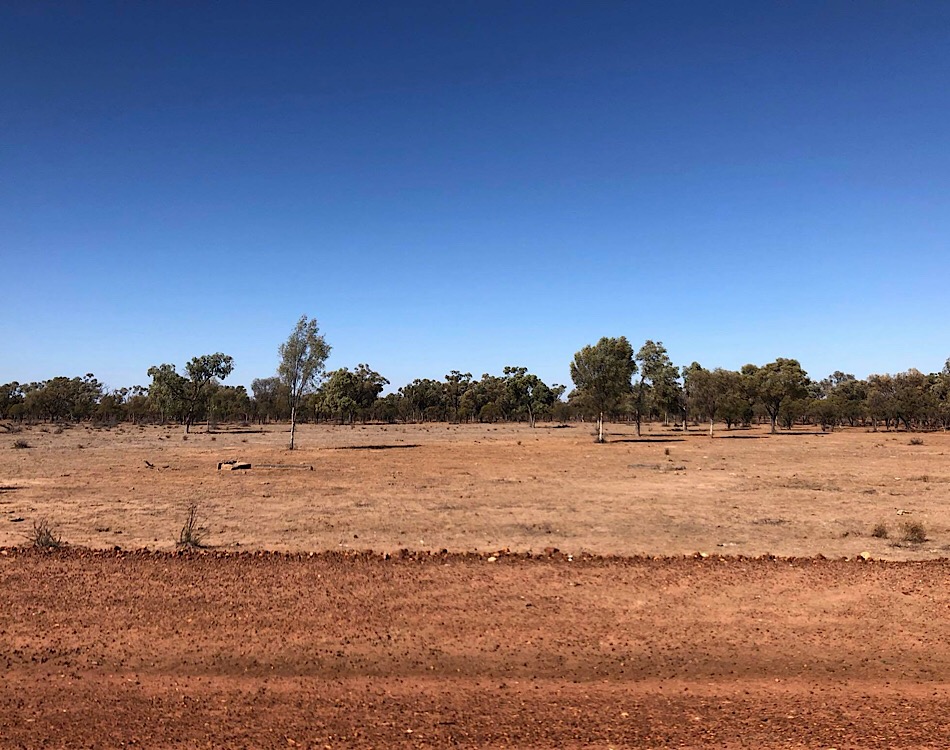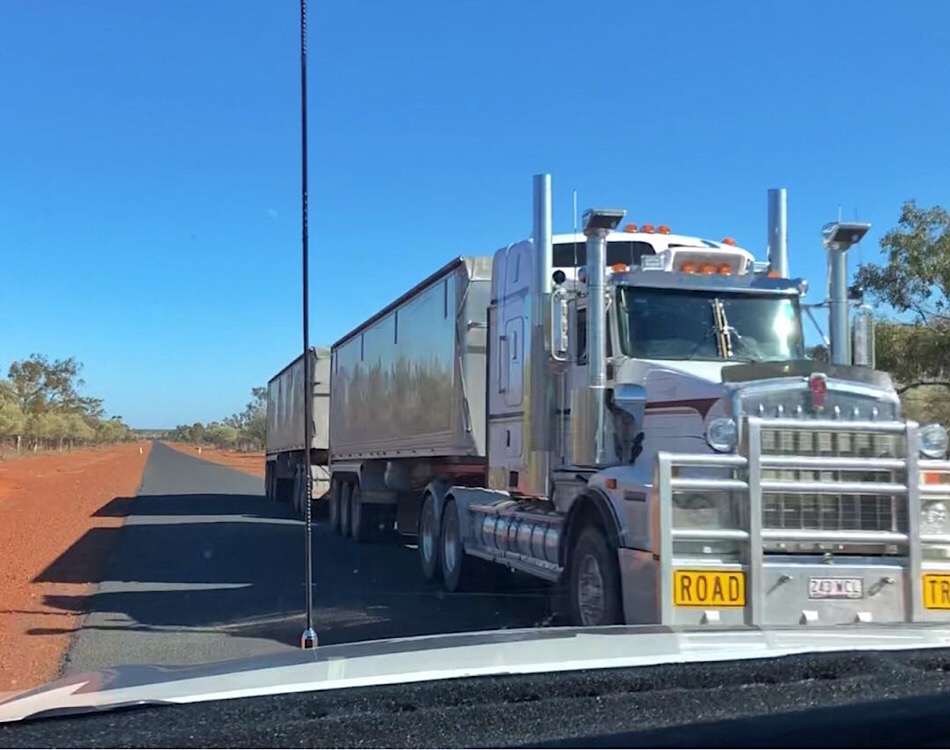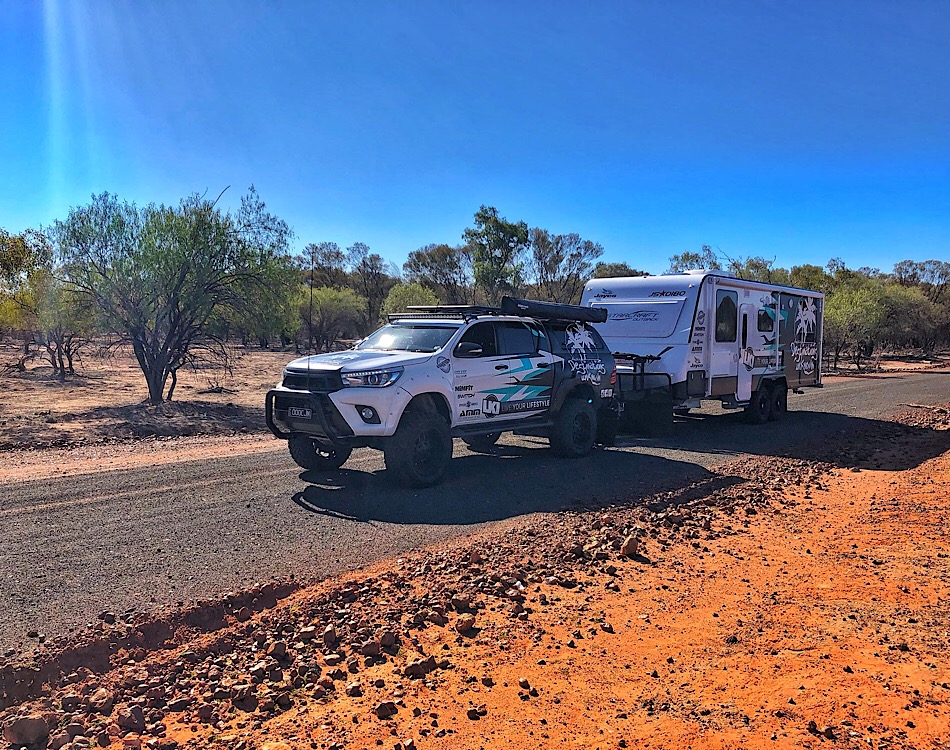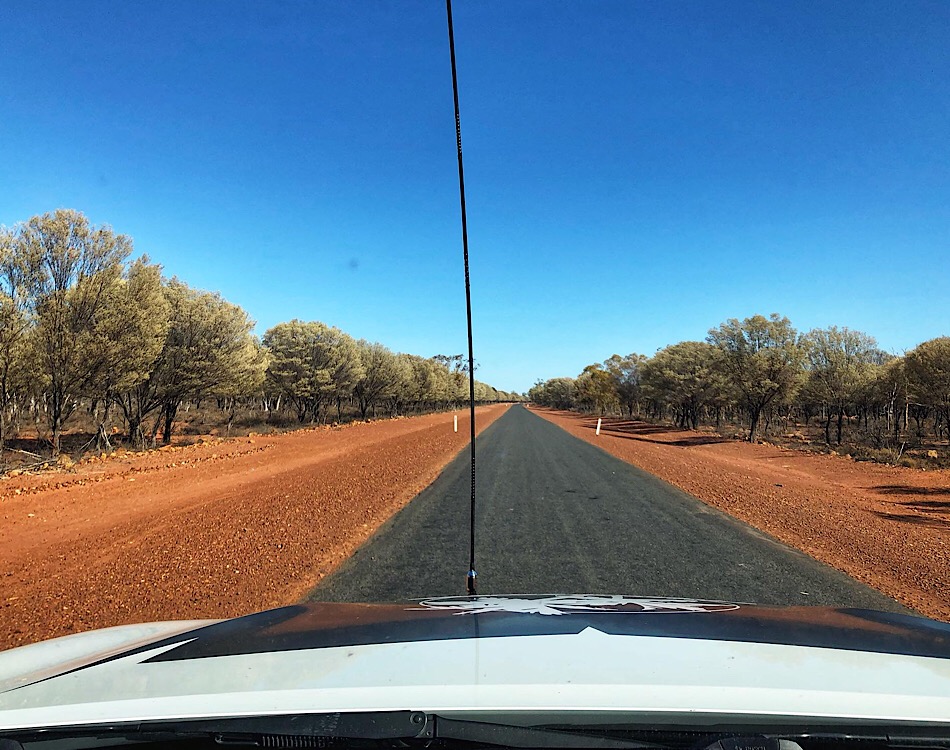 I had heard pretty scary stories about these roads, and I started to get a tad concerned about bad things happening to the car as a medium sized truck went past and showered us with rocks. Chris reassured me … if the windscreen smashes – we are in a Toyota! We can get a replacement easily, if something breaks, we wait until it can be fixed. Easy! I still had butterflies and a tiny bit of anxiety that I could feel in my gut.
About half an hour down the road we saw 3 dogs strung up by their hind legs … the kids were pretty grossed out. I was too …. It was pretty gruesome! And we all tried to figure out what on earth was going on.
We passed more dead pigs and foxes.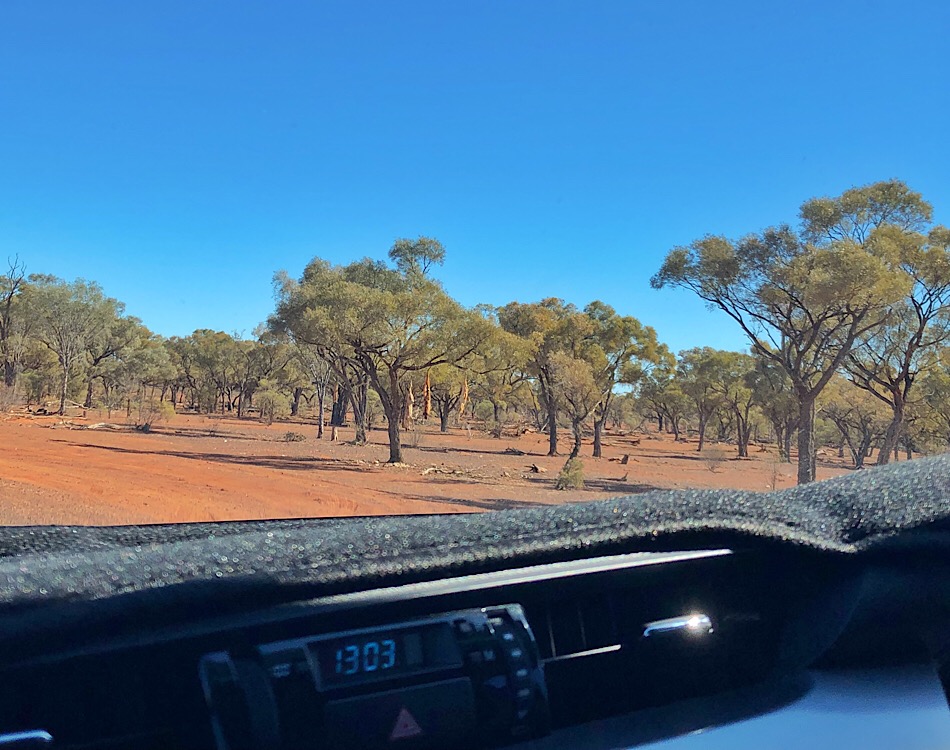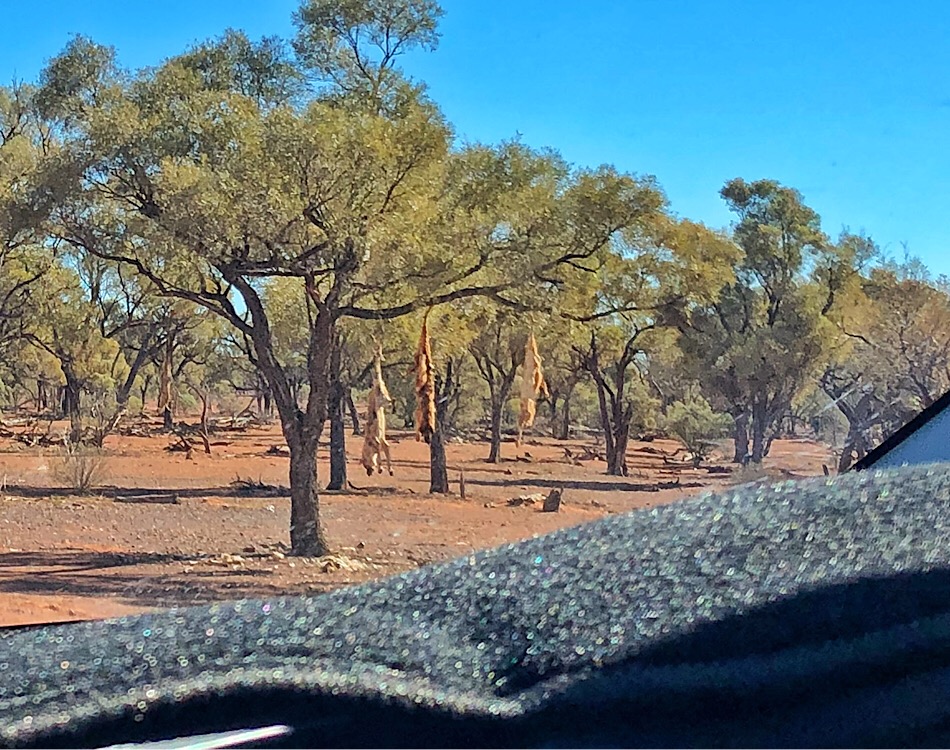 We pulled into Bollon to use the loo and as we came out see a great line of caravanners also headed to the bash pulled in. They'd seen us online and all waved and we had a bit of a chat. They were headed to Eulo and staying behind the pub as well. It was starting to get exciting now – we love meeting new people!
We passed through wide open plains scattered with patches of trees as we travelled down the Bollon Highway.
cunnamulla
We drove through Cunnamulla, stopping to have a look at artist Michael Nicholas' Cunnamulla Fella that is squatting proudly beside the road and was immortalised in song by Stan Coster and Slim Dusty.
Nicholas sketched the image of a young stockman squatting after a hard day's work in the Queensland Outback and sculptor Archie St Clair turned it into the twice-life-size bronze statue that draws tourists from around the country.
The annual Cunnamulla Fella Festival is held the last weekend in August and continues to pay homage to the stockmen of the era.
Read more about the Cunnamulla Fella here: http://www.cullyfest.com/the-story-of-the-cunnamulla-fella/ and check out all the details for this year's Cunnamulla Fella Festival here: https://cunnamullafellafestival.com.au/festival/
This is a lovely little town, and if we had one more night to spend on the road, it most like would have been here! We've heard amazing things about the place, and there is so much more of this little town that is worth exploring. We would love to return one day to attend the festival and experience more of what Cunnamulla has to offer.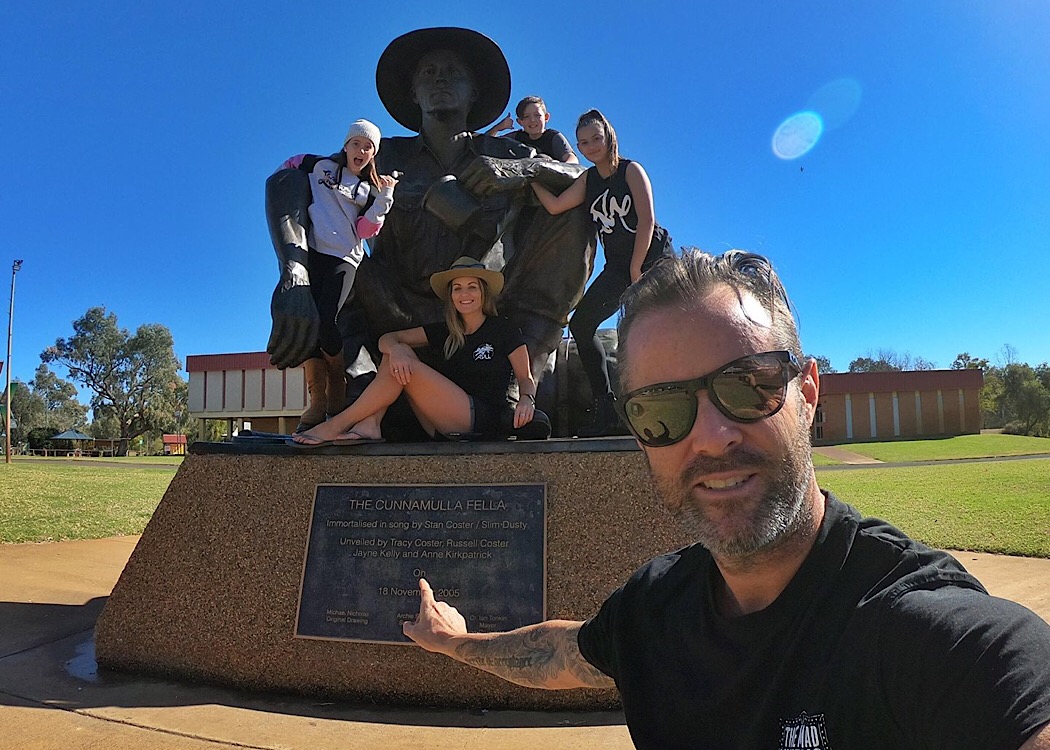 Eulo
After learning a little bit more about our Outback History, we continued on to Eulo (population of 48) where we pulled up for the night.
We arrived at about 1:00, which meant the caravan park behind the Eulo Queen Hotel was almost empty and we could choose whichever site we wanted. It just so happened that the one we wanted was occupied – with kangaroos! We had to move them along to make room, but we were set up and exploring the tiny country town within half an hour.
This was actually one of our kids favourite stops of the entire trip. They had a great time!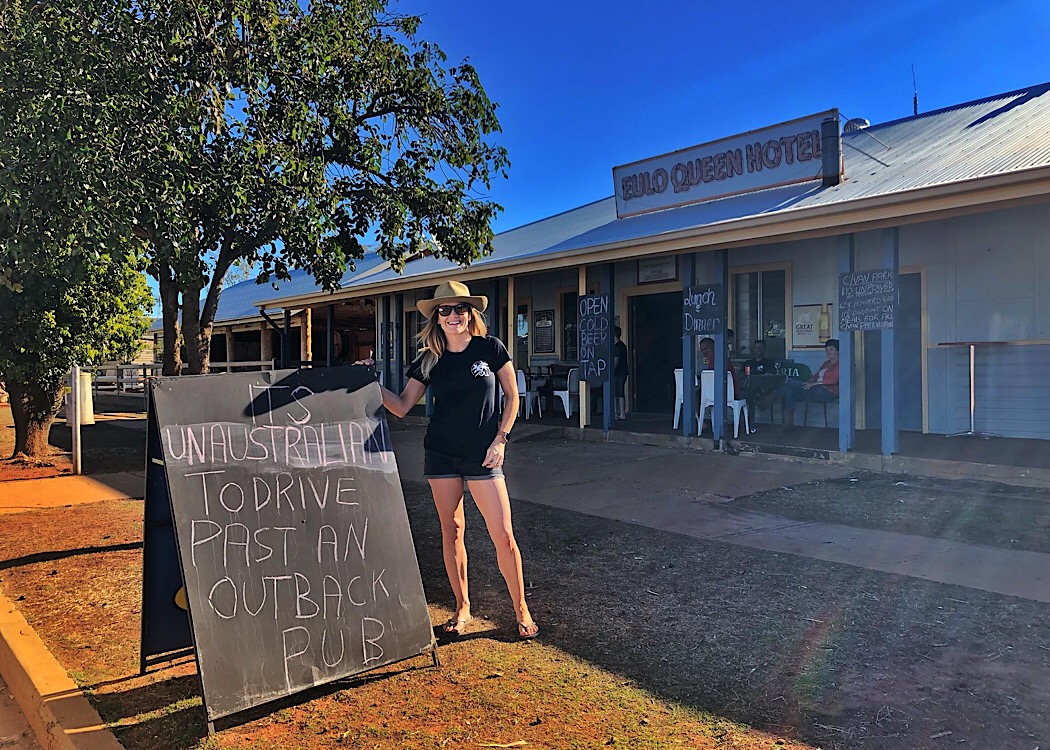 Chris made some friends and ordered a Great Northern or 5 while the kids and I looked through (and got locked in!) the historic police cells, checked out the old lizard racing track, water tower and a huge 'life-size' wombat looking dinosaur known as Diprotodon Optatum. This was Australia's largest living species of megafauna weighing in at about 2.8 tonnes! It is the largest known marsupial to roam the earth and modern relatives are the koala and the wombat. Fascinating!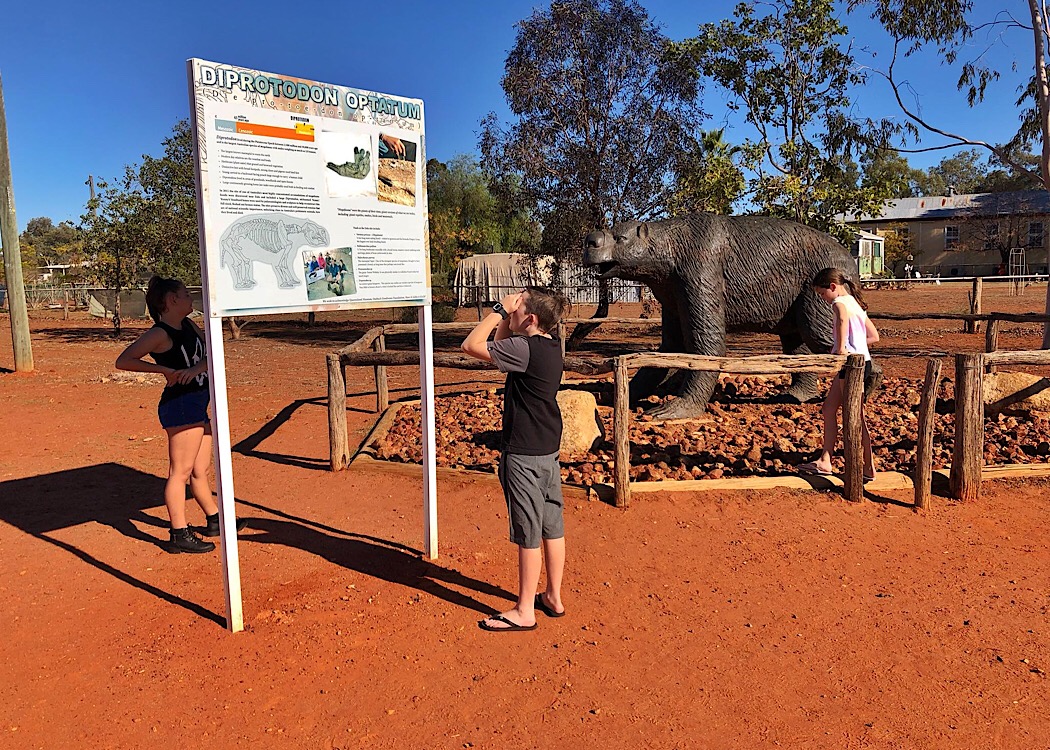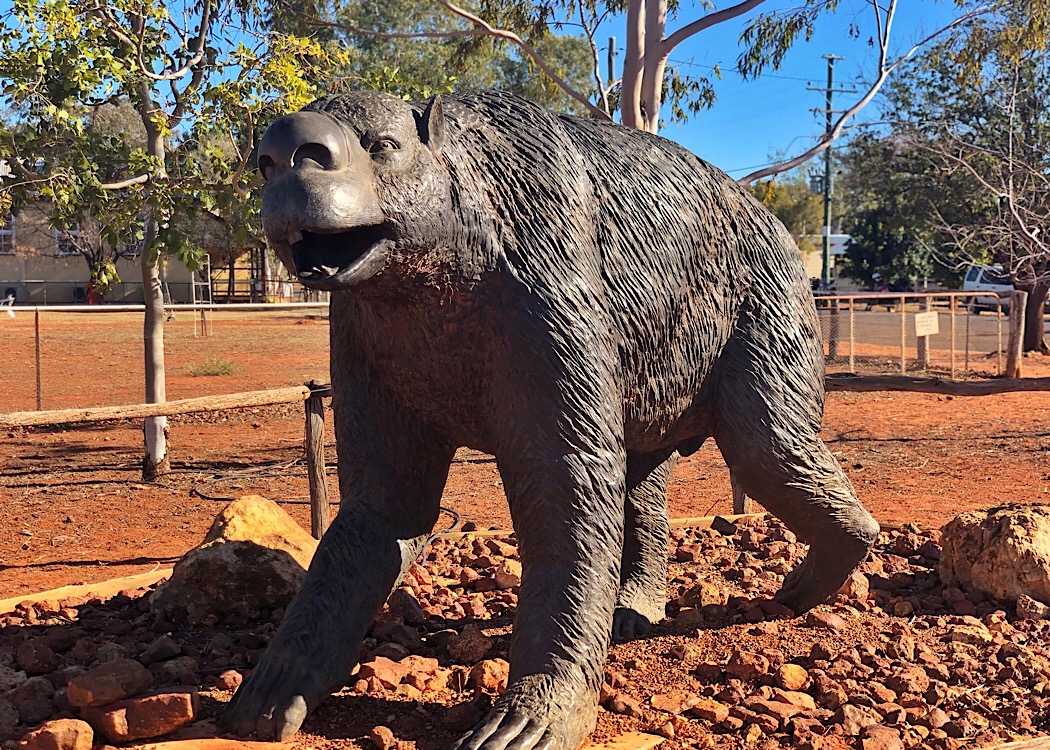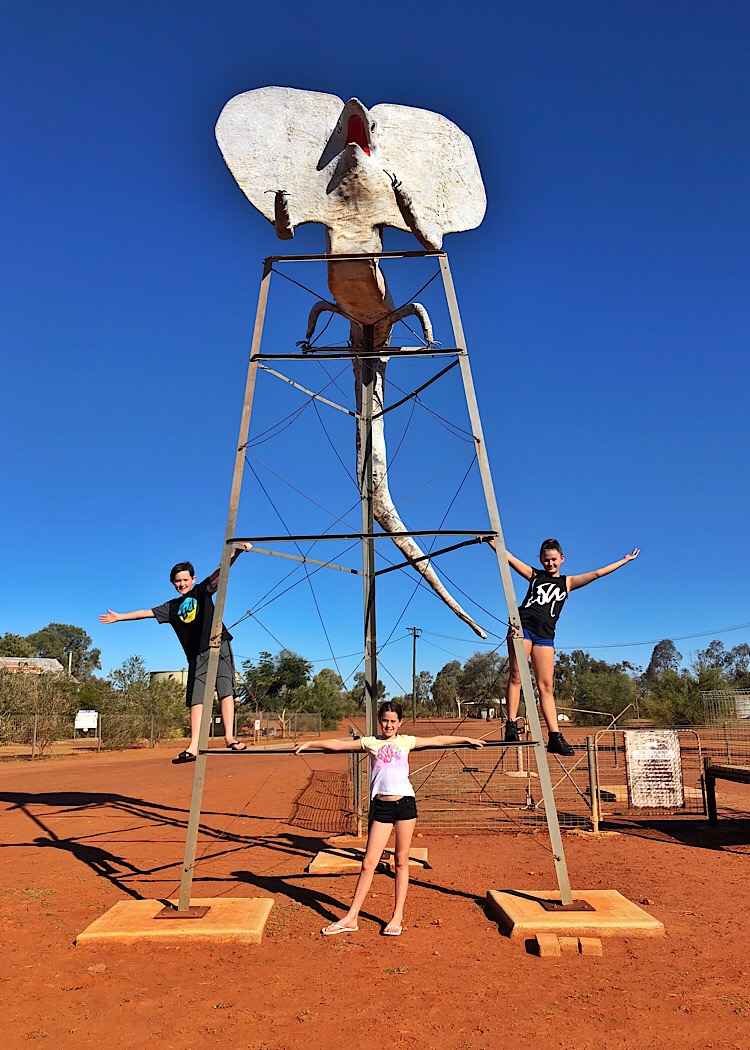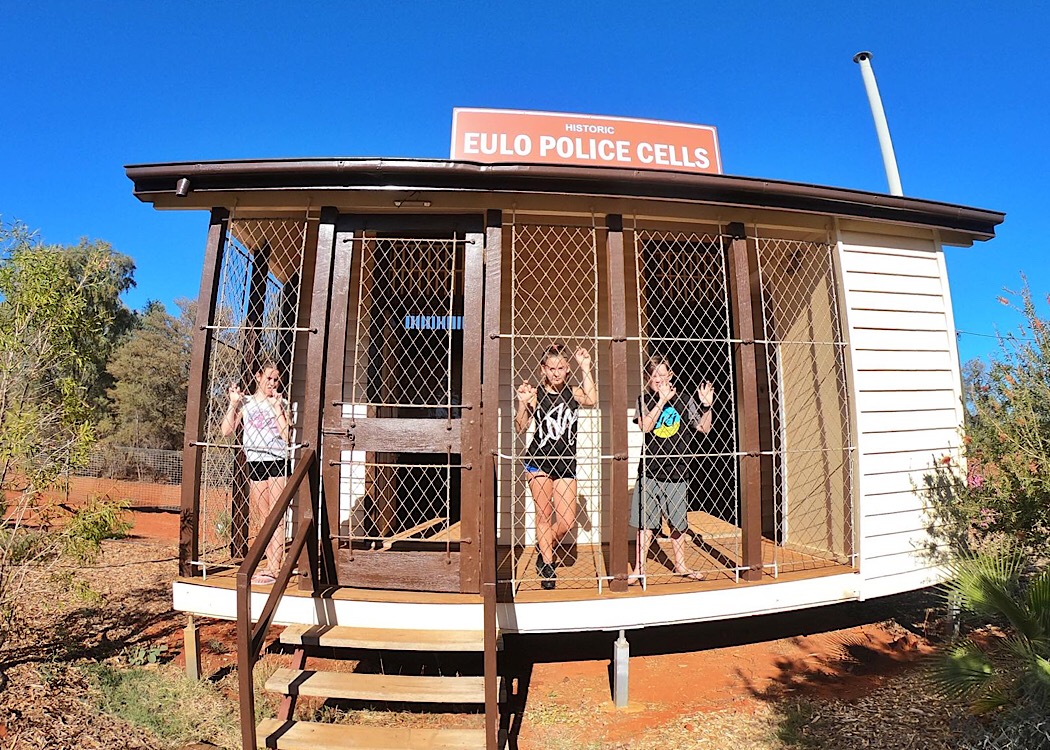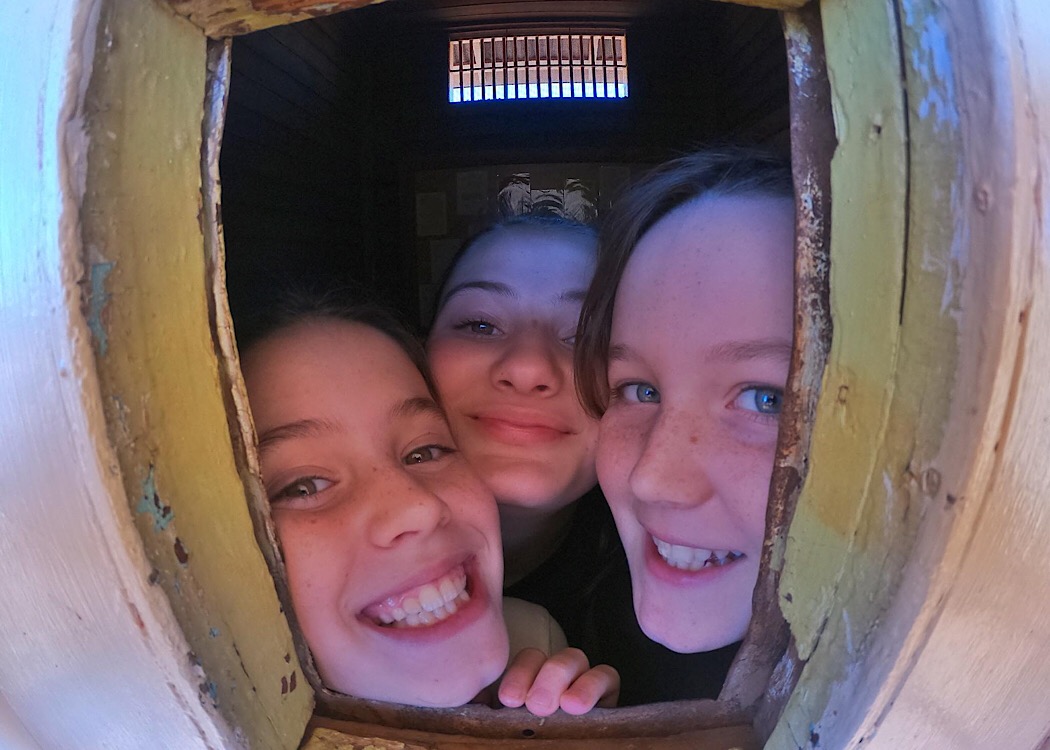 We came back to the pub (which was directly across the road!) and the kids went off to play with their walkie talkies while Chris and I chatted with Jim and Kim who were also headed to the BRB. Luckily for them, they'd booked into the mud baths for a sunset dip. I was devastated when I was told they were booked out when I'd tried to book in earlier ☹️ Oh well – yet another place we've been that is still on my bucket list! 🙂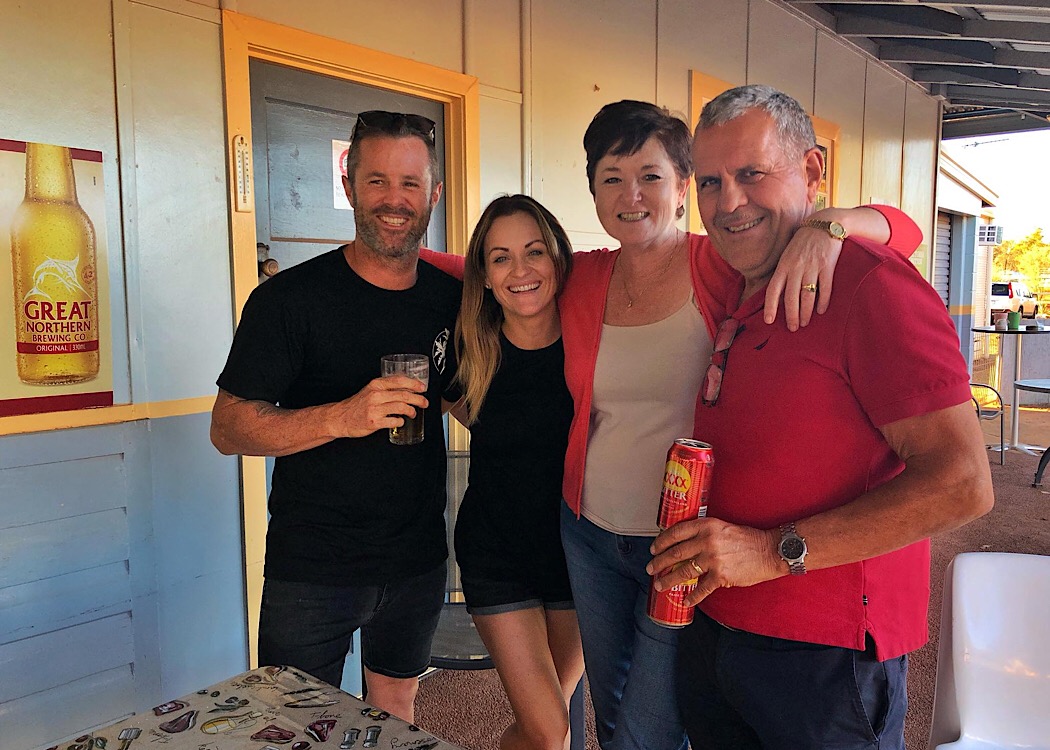 We had dinner at the pub and I spent some time reading all the paraphernalia that was lining the walls. The hotel was named after 'Eulo Queen' Isobel Robinson who along with her husband Richard, were hoteliers in Eulo when it was a bustling little town back in 1886.
She went from a beautiful, powerful seducer of men and owner of the world's finest collection of opals to lonely old woman living in poverty until she was admitted to the mental hospital in Toowoomba where she died and was then buried in an unmarked grave.
There were a few different versions dotted around the walls of the pub, and I read in one newspaper article that she had been given a proper burial at some point. Just fascinating!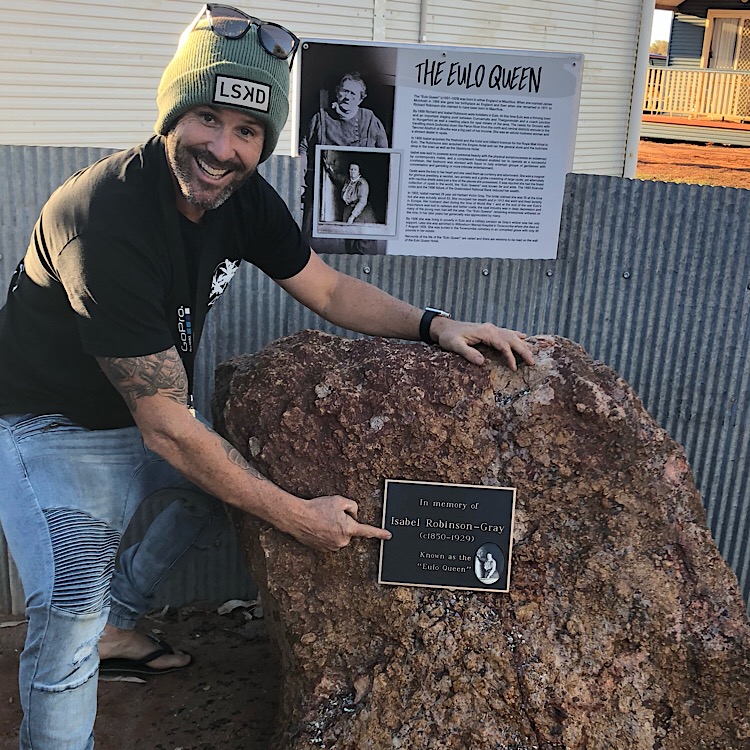 We were up about 6:00 the next morning and on the road by 8:00. Chris had been chatting to Mark, who was parked next to us in his Kimberley Kamper, and he'd suggested taking a right turn about 18km out of Eulo, skipping Thargomindah and taking the road past Yowah (population 142). You can fossick for opals, soak in the open air bore baths (artesian water), take in the 180 degree views of the area and play a game of golf if you want to! We had the occasional toilet stop that required hunting for a bush … here are the girls racing back to the car!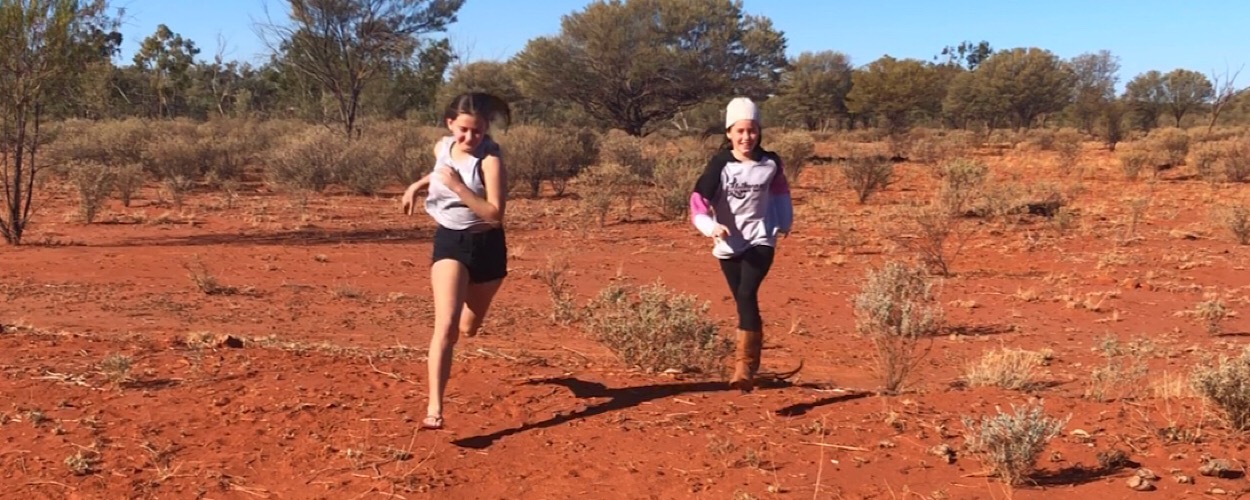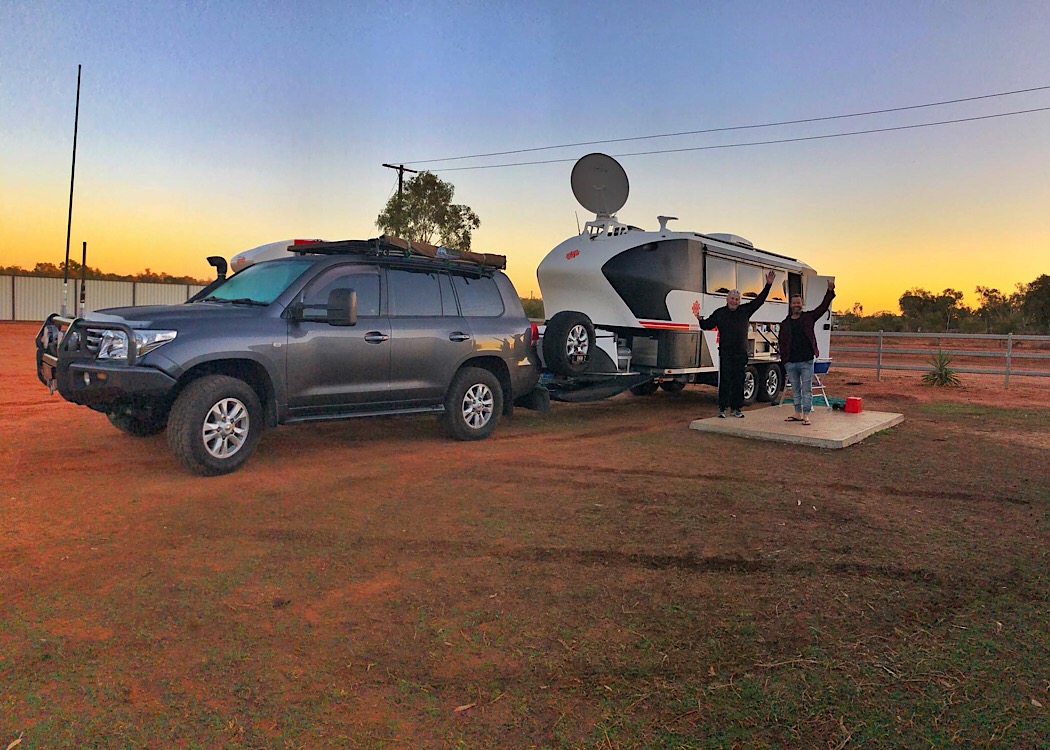 So, we took the turn and watched all the vans in front of us keep going straight. We did question our decision at first – but, the sign said Quilpie via Yowah so we forged ahead.
The bright red road was pretty isolated except for a few cars and vans coming the opposite direction.
As we continued on, the colour changed to an almost graphite browny-red before brightening back up again.
We drove past a flag flying and what looked like and old oil pump and a sign saying 'Alroy Campground'.
We decided not to take the turn and head into Yowah so we could get to Quilpie in time to get some washing done and dried.
We took the turn to Quilpie and Chris decided to pull over and pee … and as he did about 15 cars and vans went past! Needless to say, we heard a few beeps, got a few waves and saw a quick pic being snapped ?
It turned out ot be a great spot to grab a shot of Chris sky high on the roof of the car 😛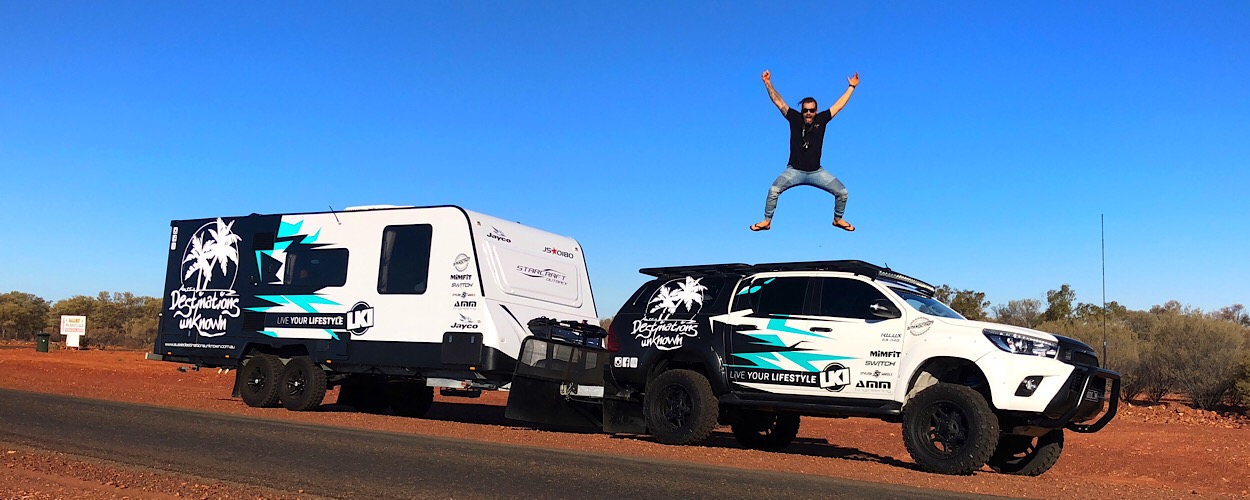 We pulled into the Toompine Pub about 10:30 and said g'day to Mark who'd pulled in not long before us. There were a few other bashers grabbing a beer or coffee and breaky here and a road train parked in the huge 'car park'.
Coffee and hot chocolates were purchased, and we sat down out the front and for the first time, I noticed the flies. Not heaps of them, but the most we had seen yet. Chris had a good old chat to a group of others also heading to the bash while I thought about the fly nets I'd purchased that were in the van.
It was a quick trip to the loo which happened to be inside super quirky bathrooms before jumping back in the car and heading to Quilpie.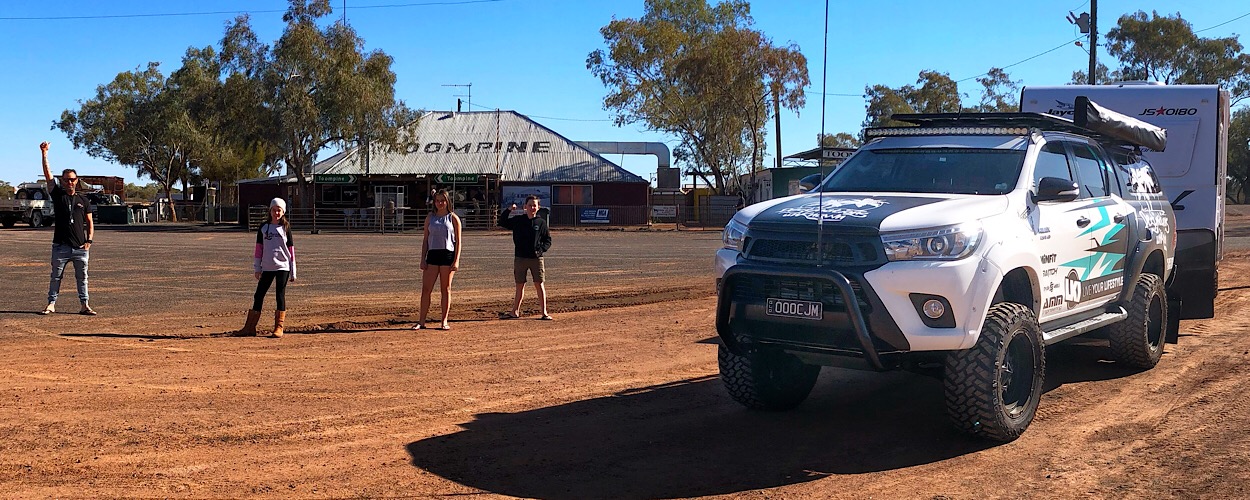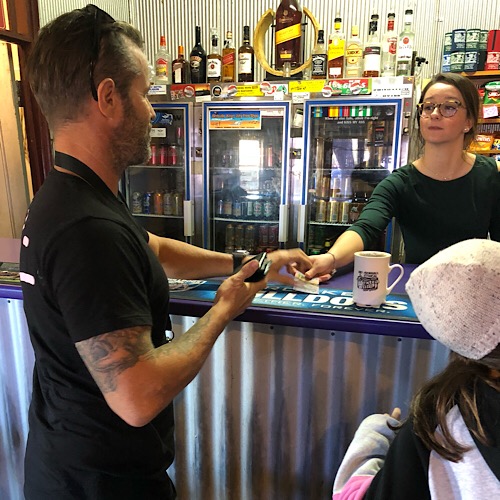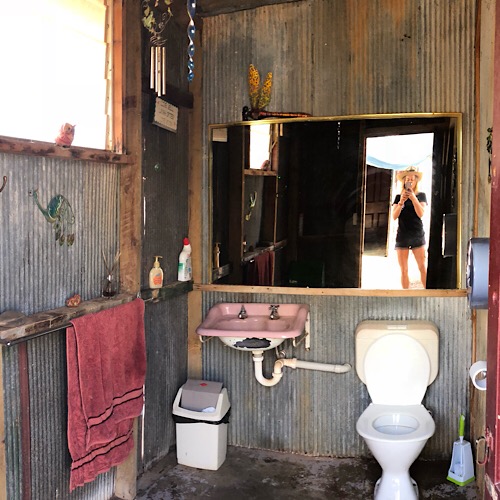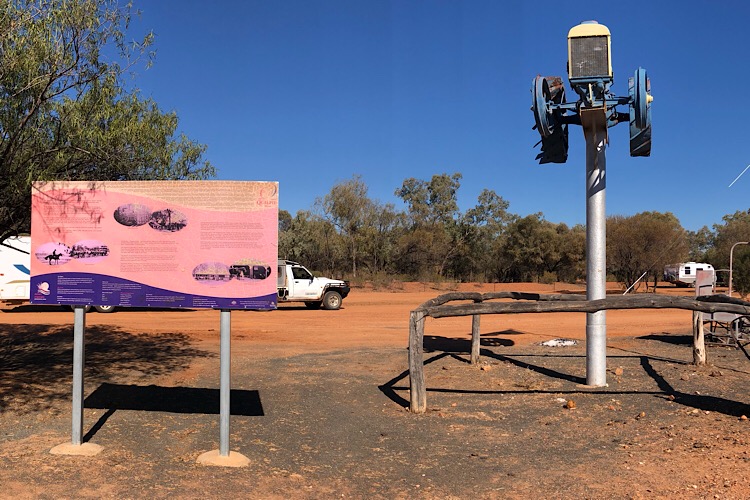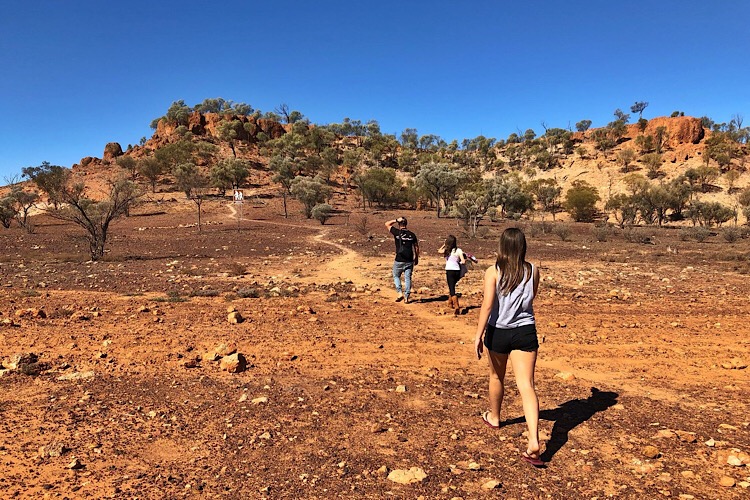 We followed the sign to Baldy Top and decided it would be a bad move not check out the views. This magnificent boulder formation is part of the Grey Range and is one of the most elevated points in South West Queensland. The kids explored the caves and crevices and had a great time while making the relatively easy 5-10 minute climb to the summit. On the way up we met Sheridan, Jerry and Monty, their adorable dog, who said they'd seen us on Facebook and were following our adventure. Hi guys! ☺
Although Baldy Top seems quite small from below, once at the 'summit' we were amazed by the panoramic landscape that stretched out before us … so far, so flat and so vibrant! We sent the drone up to capture some of the magic before slowly walking back down, still soaking it all in.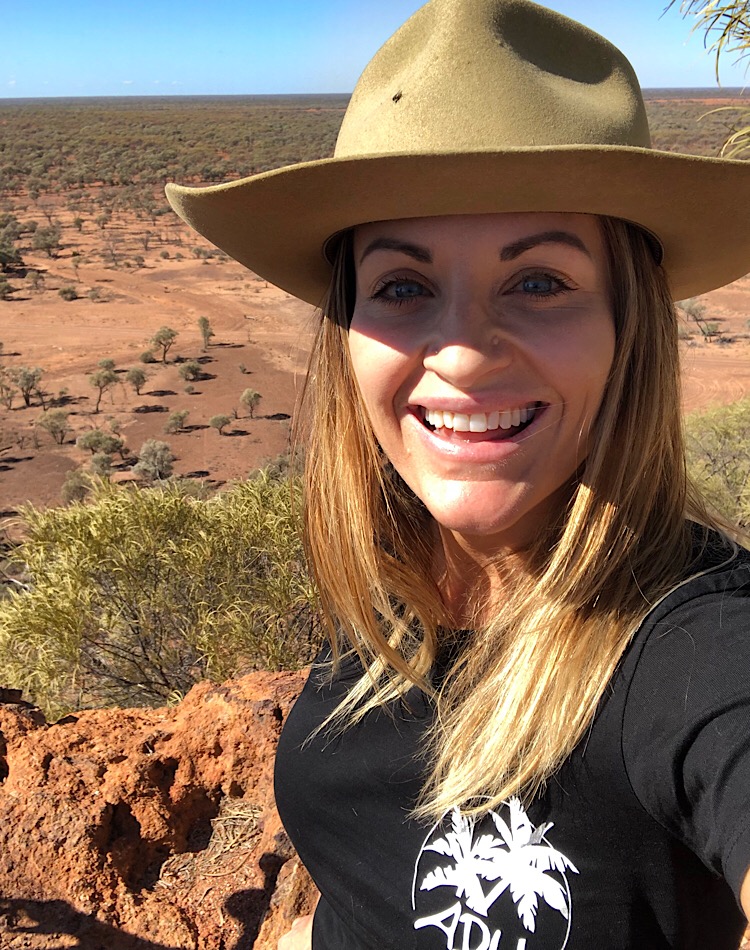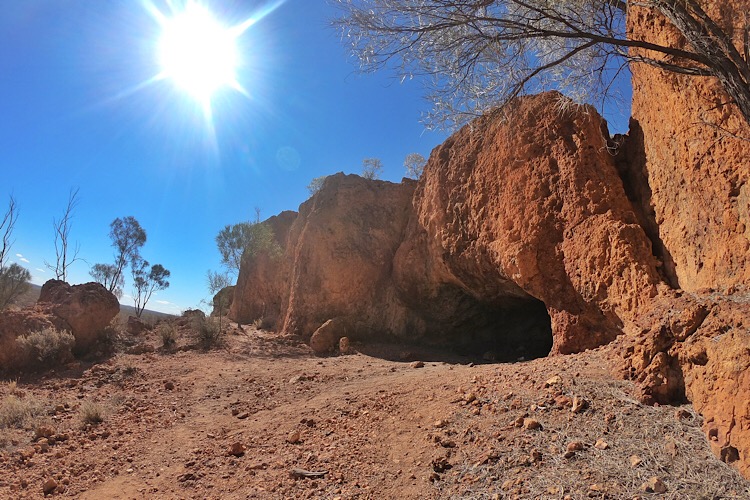 Quilpie
We arrived in Quilpie at 1:00 and as we drove along the driveway, we passed the artesian spas which the girls stripped off and jumped into straight away! I wandered around taking photos of all the quirky little relics dotted around the park and the boys built a new mud flap.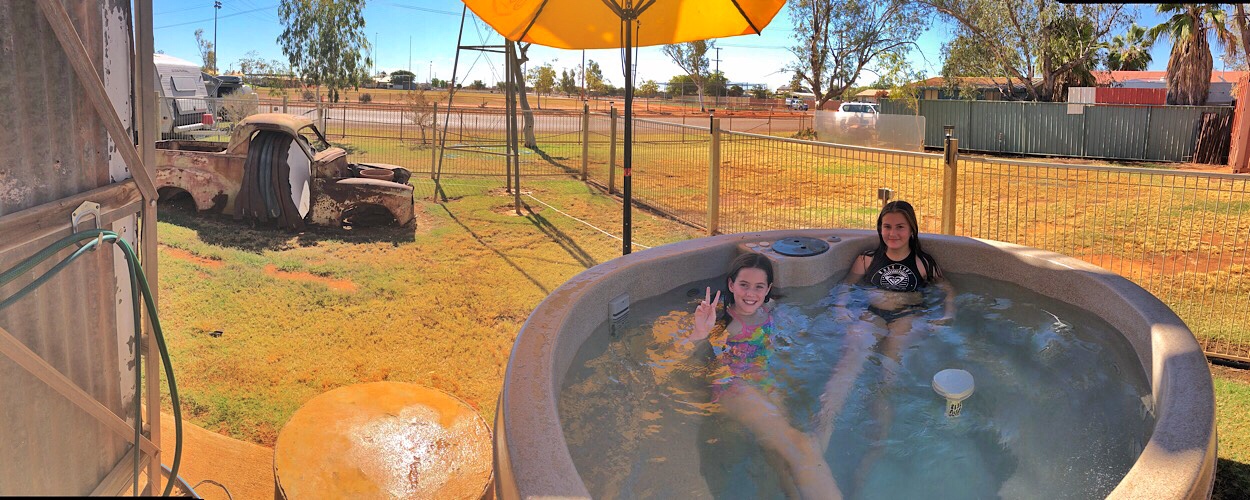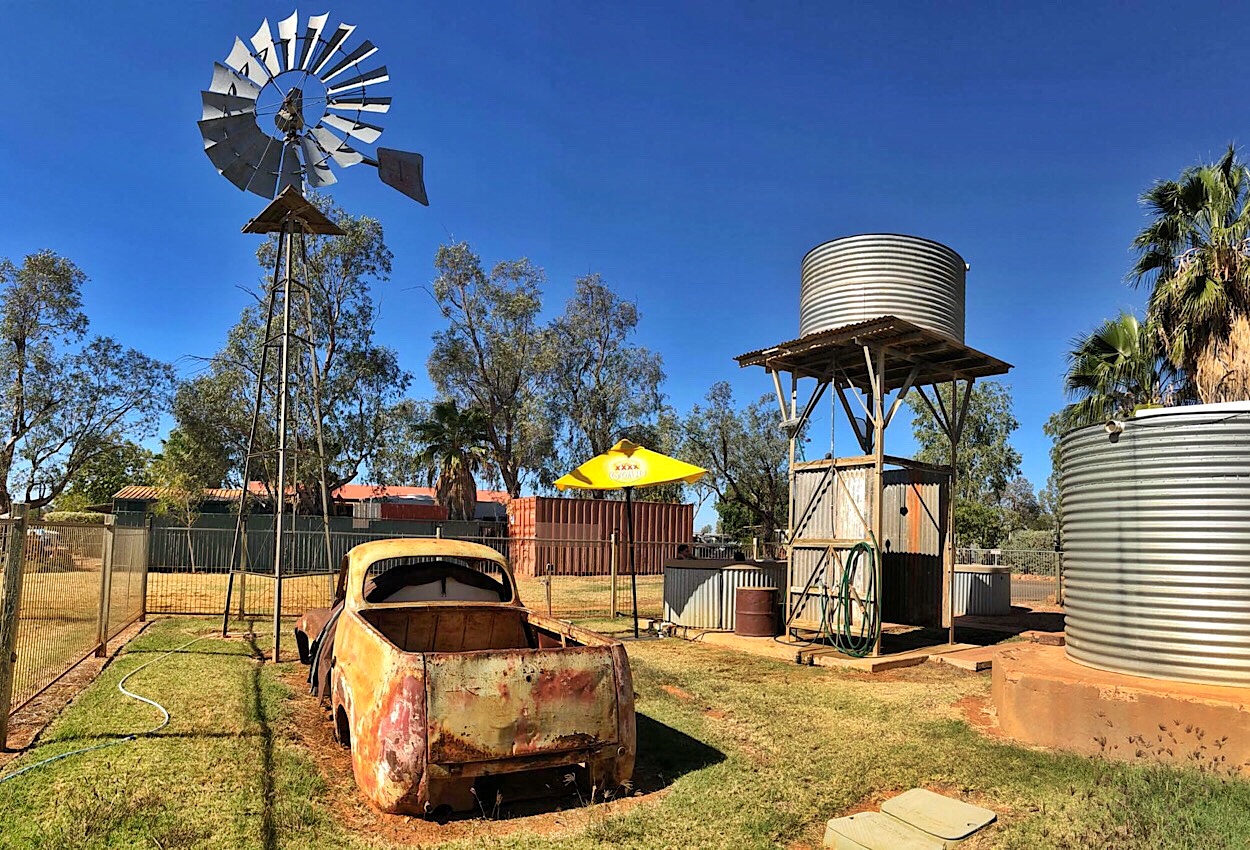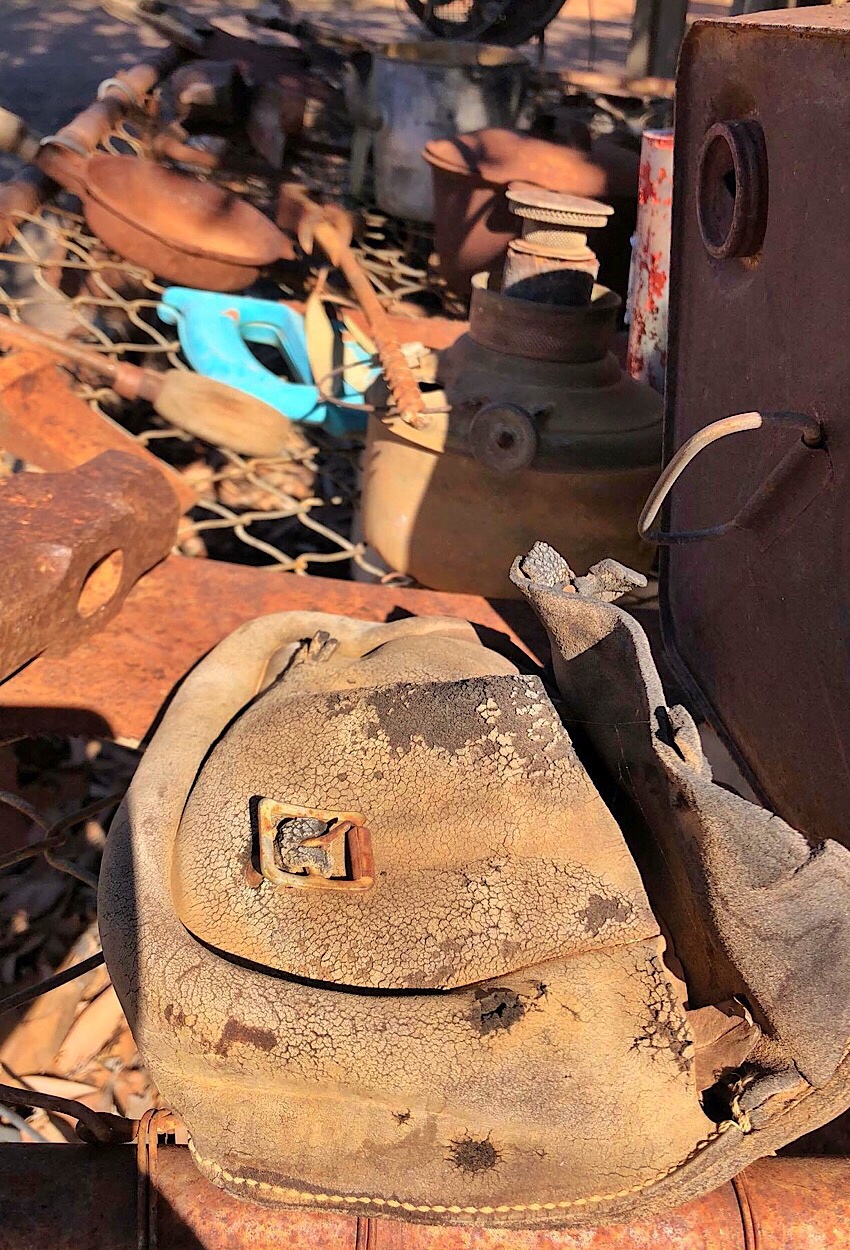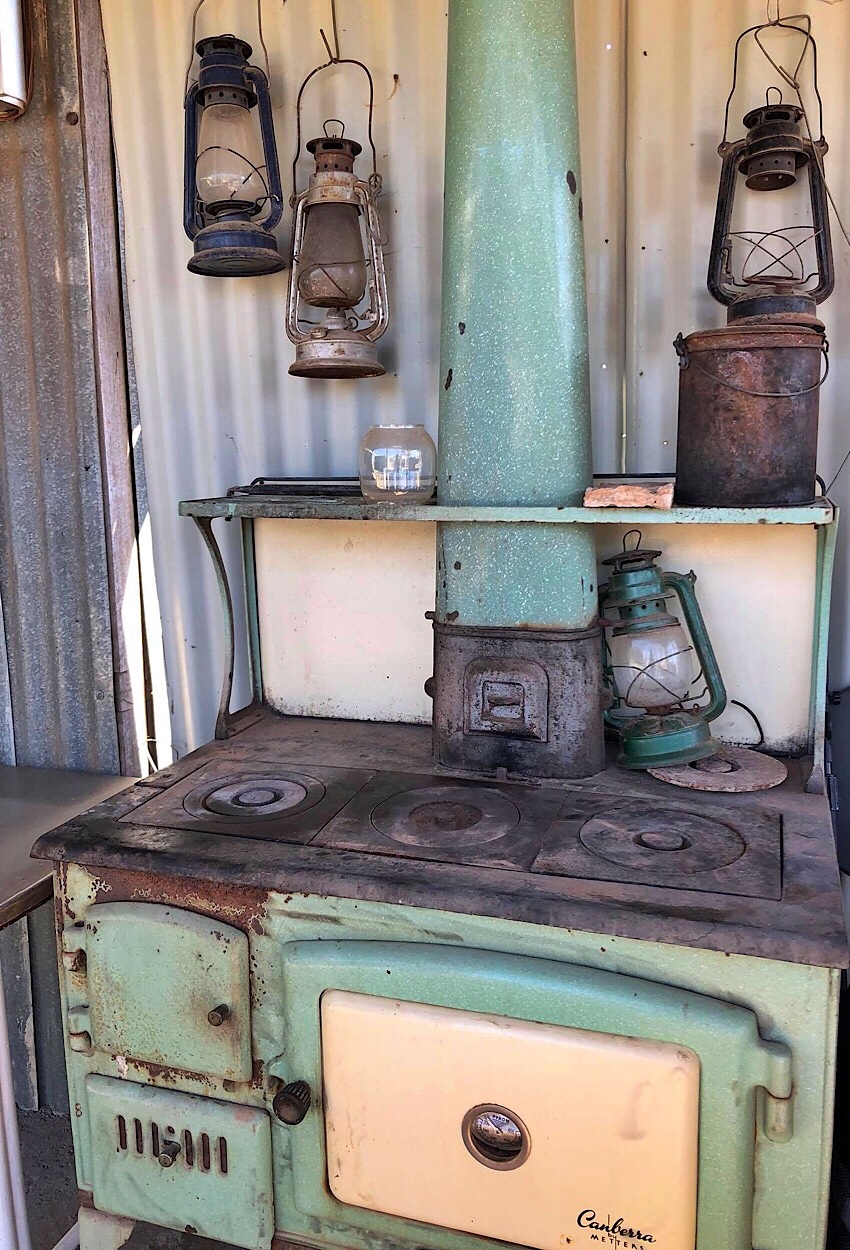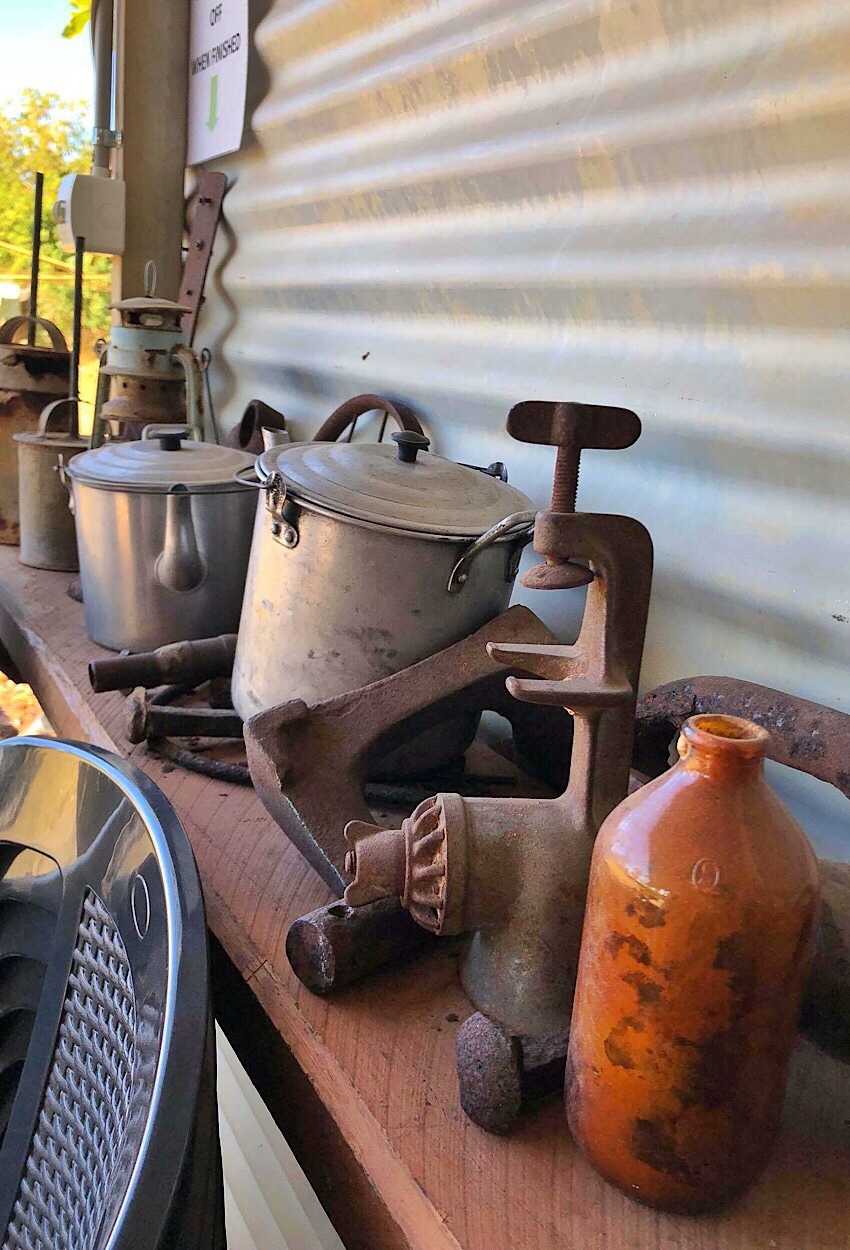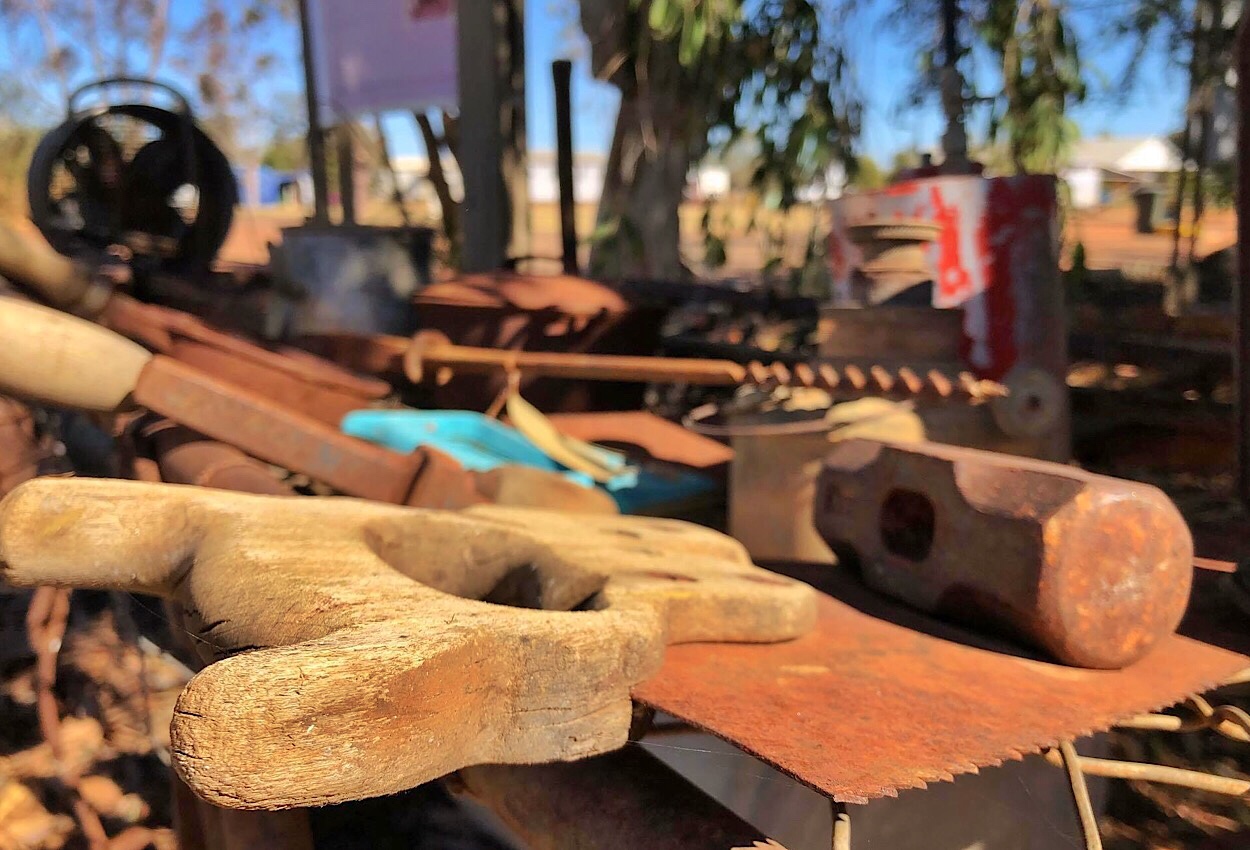 I did about 5 loads of washing and the girls helped me hang it all out. It was a gorgeous 26 degrees, so everything dried pretty quickly.
I grabbed a few groceries at the local Foodworks and walked back to the caravan park taking in the gorgeous little town as I went. I wandered through the ANZAC museum and did FaceTime with dad, showing him around; he was as amused as I was at the people driving past in all sorts of vehicles from huge vans (tourist like us!) to giant local 4x4's and teeny tiny little utes with dogs in the back.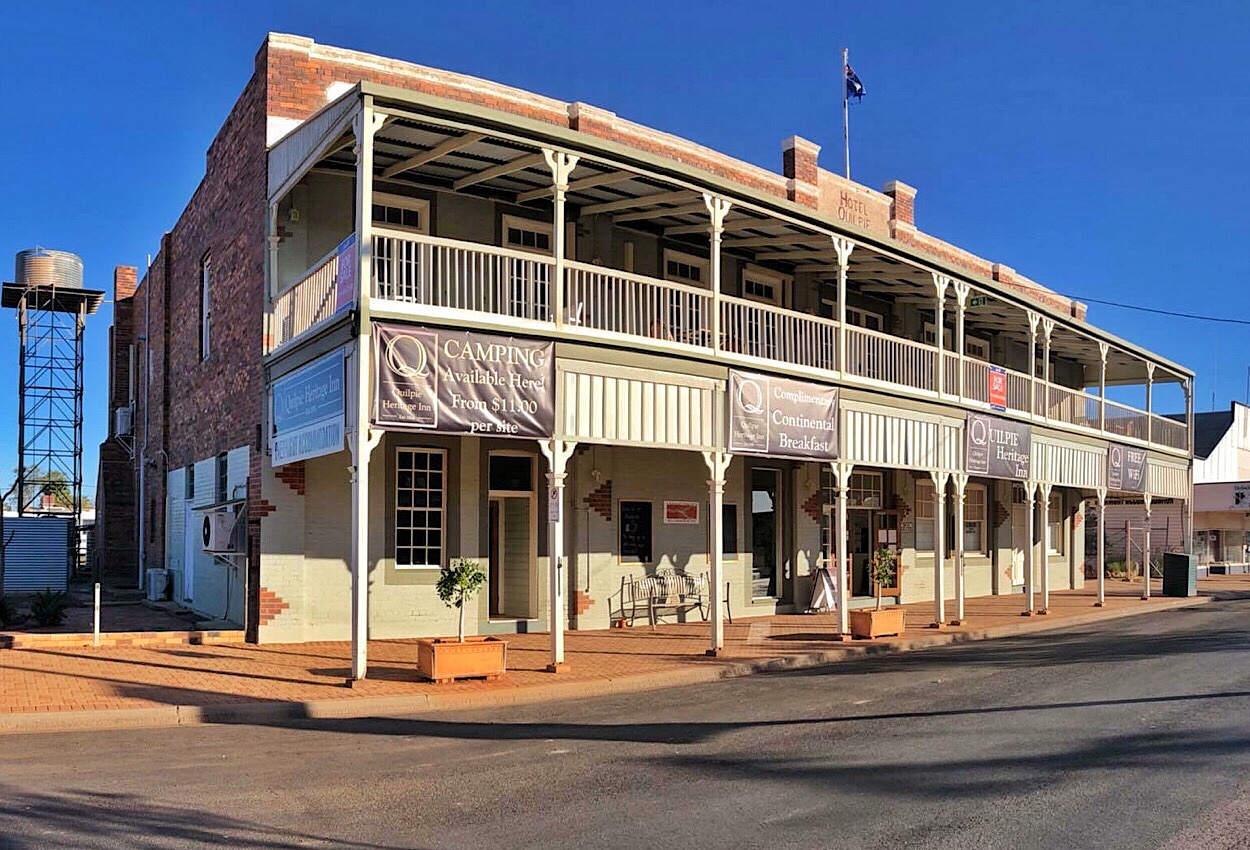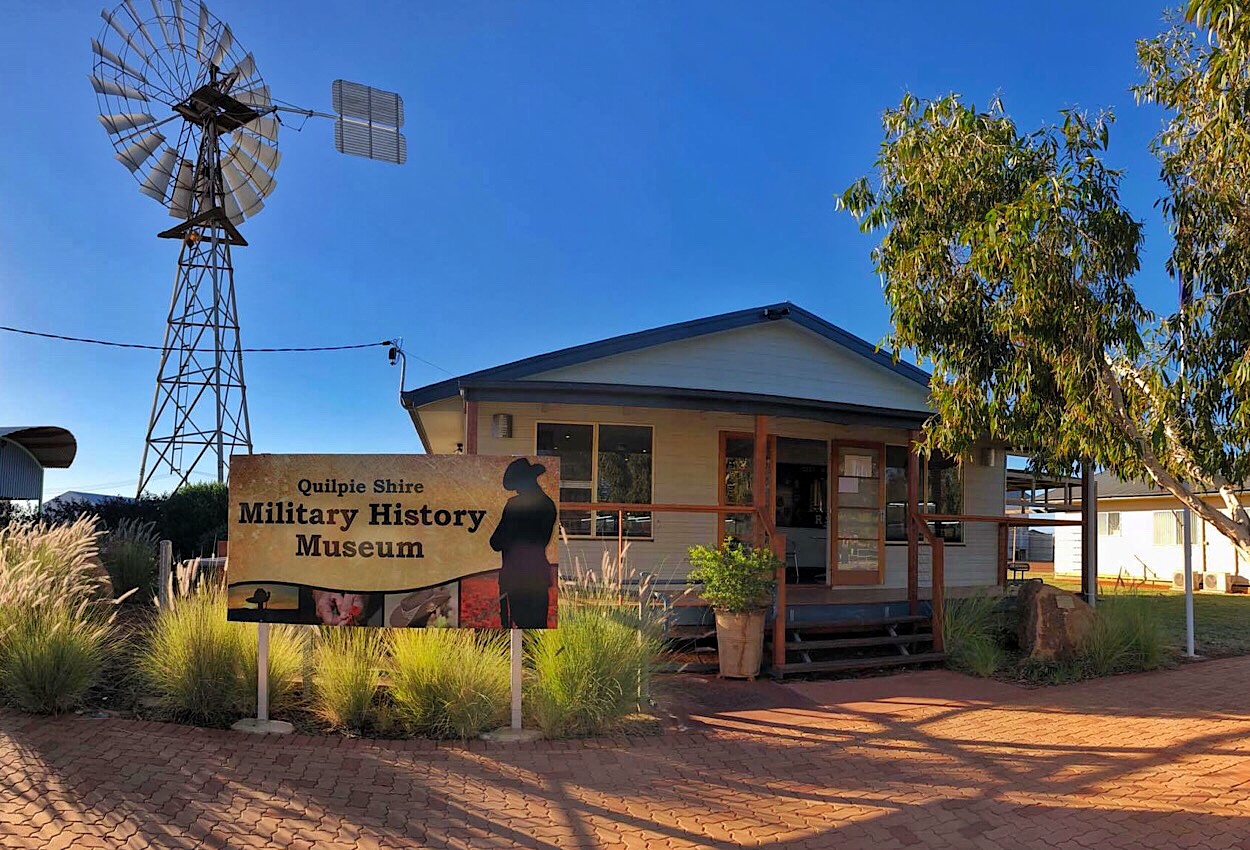 The others had enjoyed the spa while I was doing the shopping, so I went over for a soak by myself. There are 3 separate spas, and as the sun was setting behind the giant windmill behind me, I put my legs up and relaxed, enjoying about half an hour of absolute bliss.
I could hear the country music of Kenny M as he entertained the people enjoying dinner around the camp fire. I could have stayed for hours, but the kids and Chris needed food. So, I served them up some soup before taking a shower and washing my hair. The water smelled so strongly of sulfur, so my shower was nice and hot, but very quick!
I went back over to the van and prepped the roast to put into the thermal cooker for the next day and we were all tucked in bed by 10:30.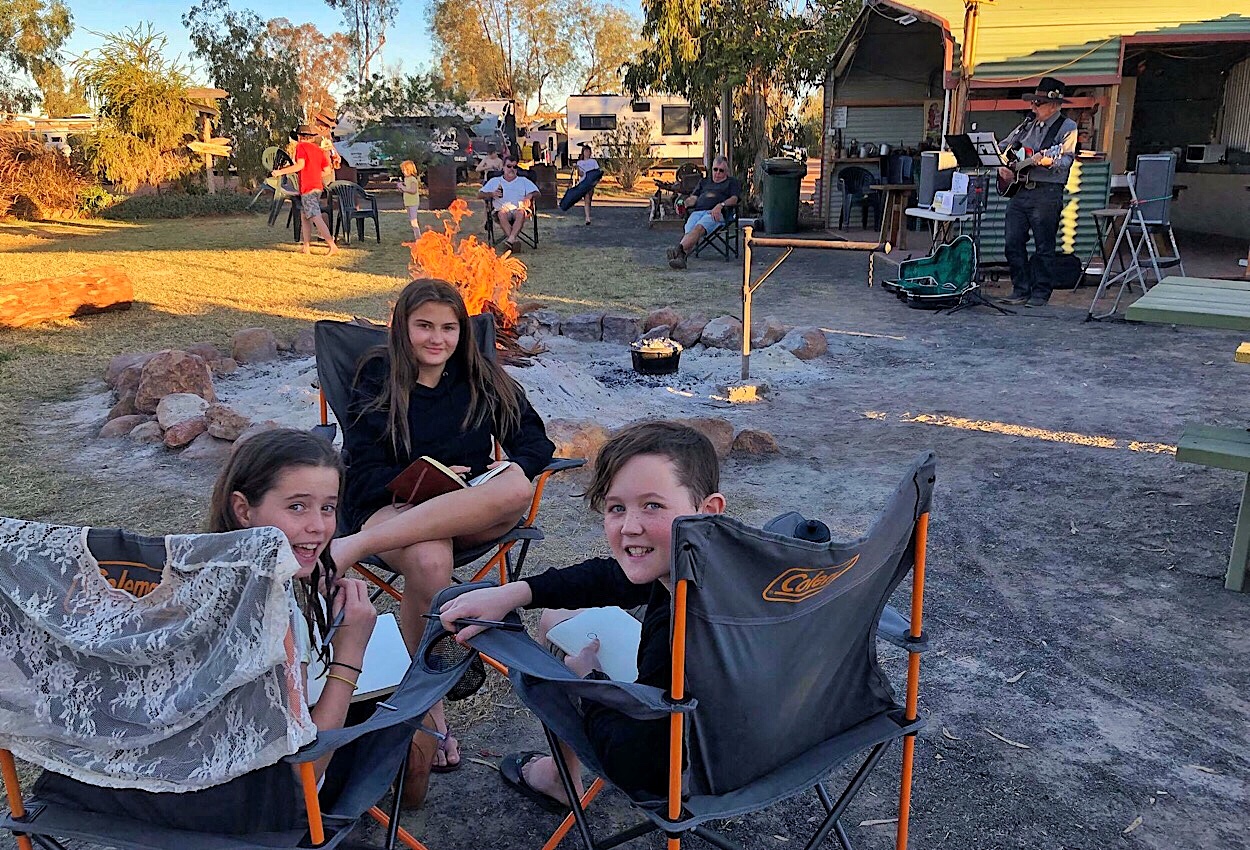 We were up at sunrise to take our last 'real' showers for a few days.
Our next stop was Windorah, about 250ks down the road. We passed lots of Roos and emus both alive and dead and the kids created an 'eye spy roadkill' game with points and all! Needless to say, Chris won!
We pulled over for a toilet stop and a photo at Coopers Creek with our Cooper as the star of the shot of course!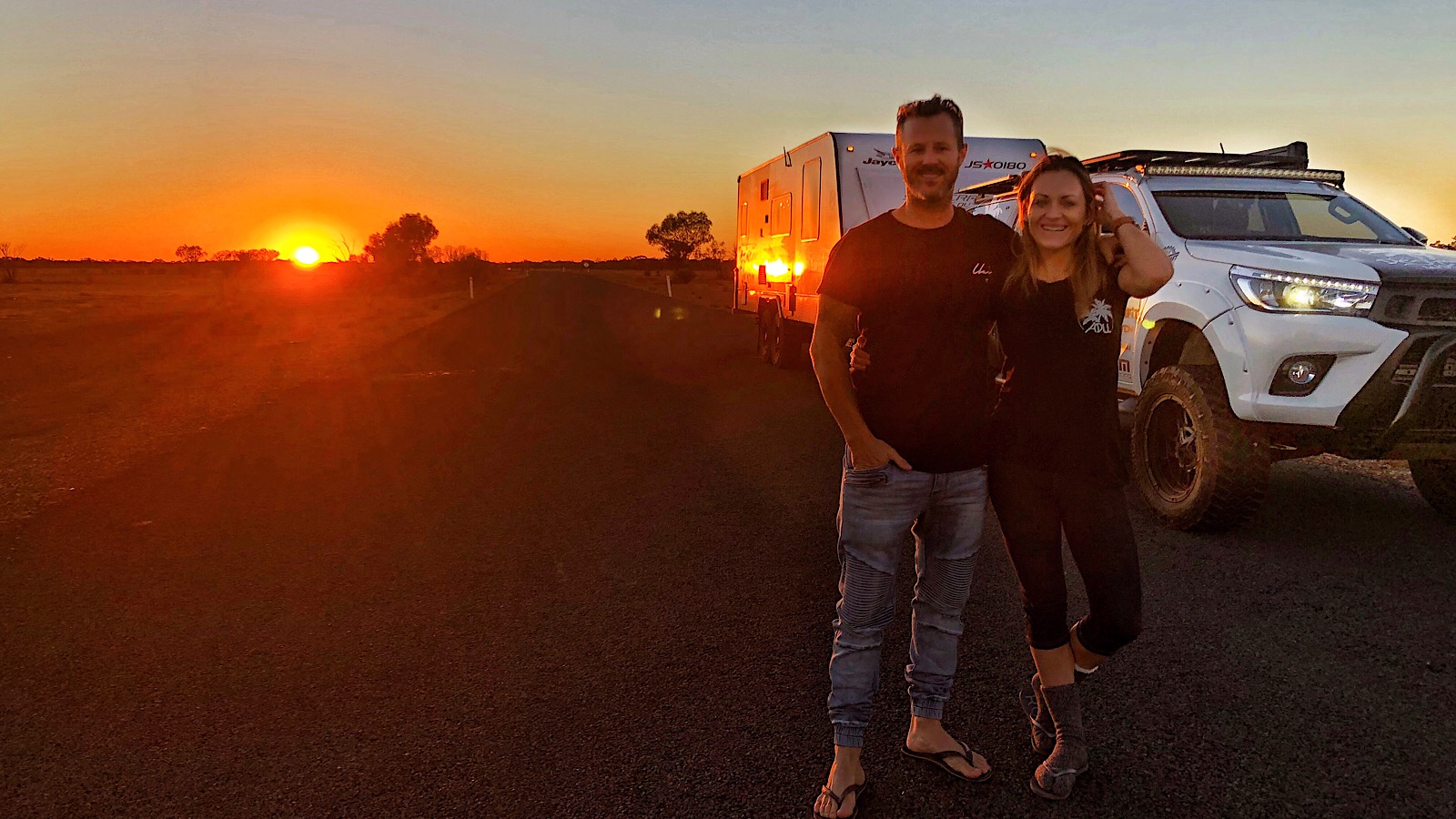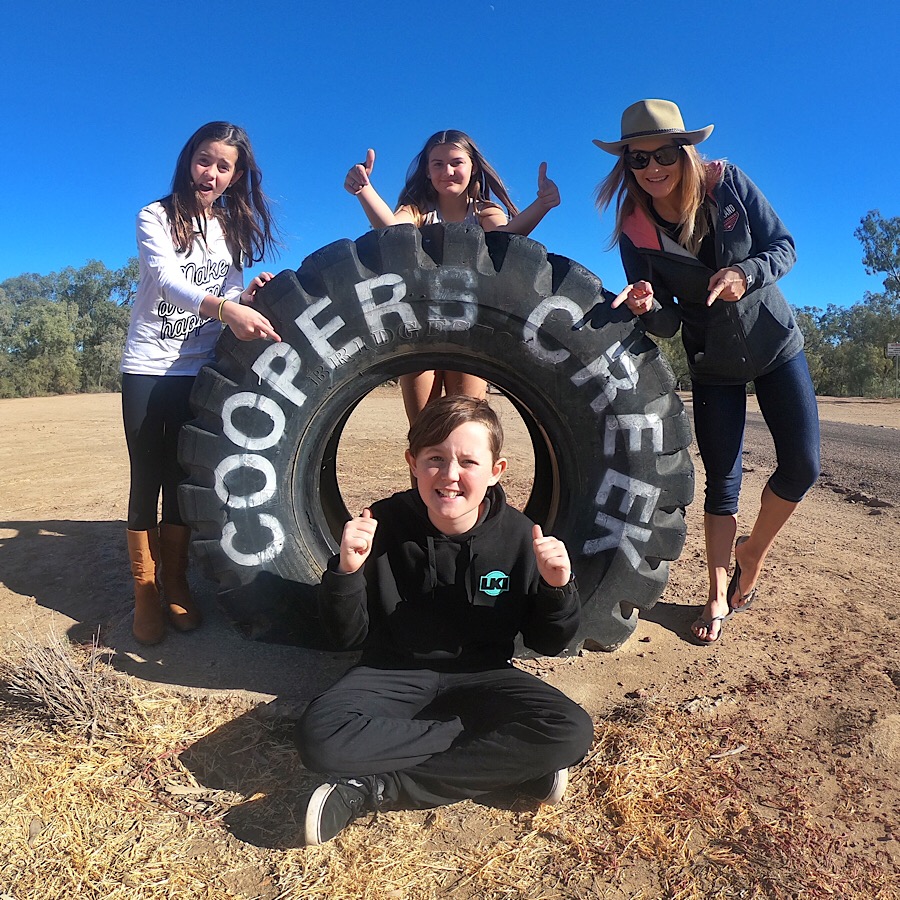 We made it to Windorah by about 11:30 and jumped out for some pics and a boomerang insta story at the Windorah Solar Farm before joining the lineup for diesel. We thought the line was long when we arrived, but we soon saw videos and pics that showed otherwise! Over the next couple of days lines were so long you couldn't see the end, with the town actually running out of diesel! Thank goodness we decided on the early bird tickets to the bash.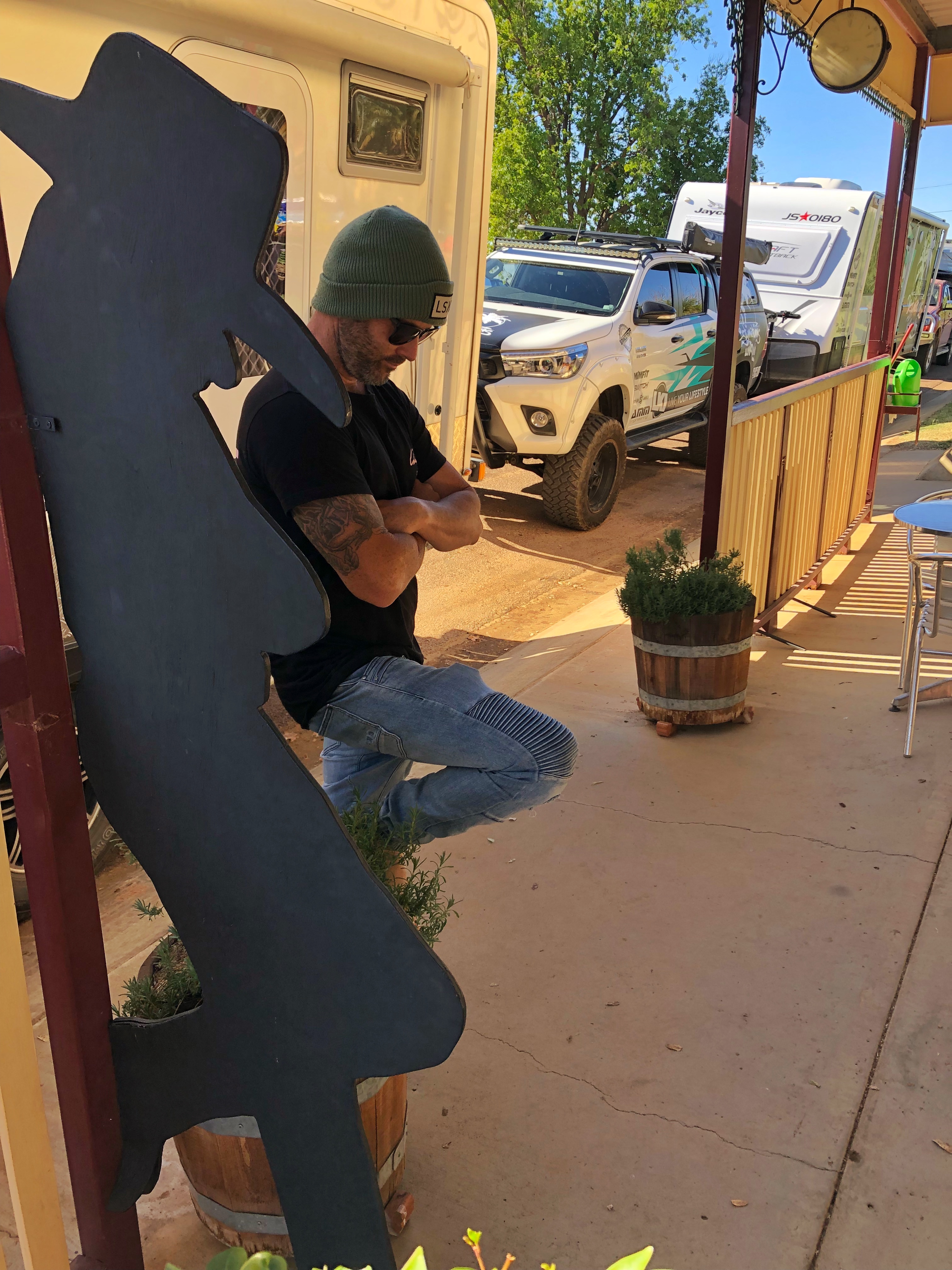 The kids played in the park and I got Chris a coffee from the café while he covered up the vents on the van to stop the dust getting inside. The ladies inside were lovely even though they were being inundated and their brand new coffee machine was pumping out cold milk! Our options were a flat white or a straight black.
Not far along the road we found the 'Hole in the Hill'. If you pull over and line yourself up with the arrow – you will see a tiny hole right in the top corner of the hill. I'm sure it's actually quite a huge hole if you were up close!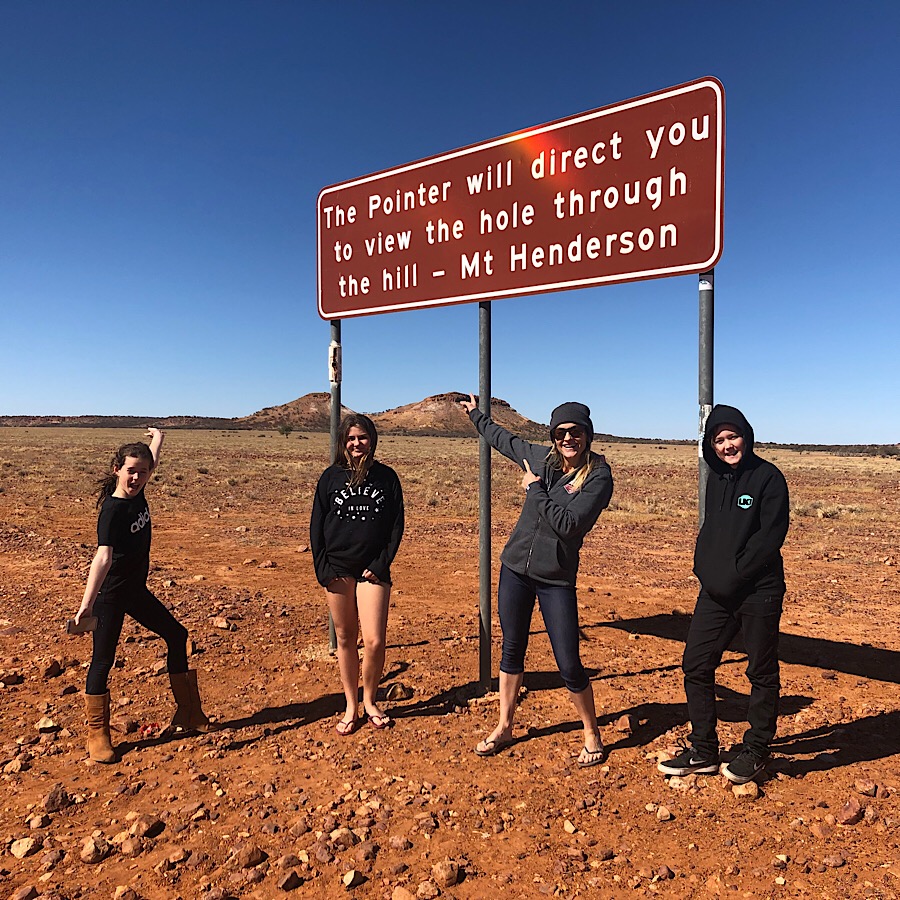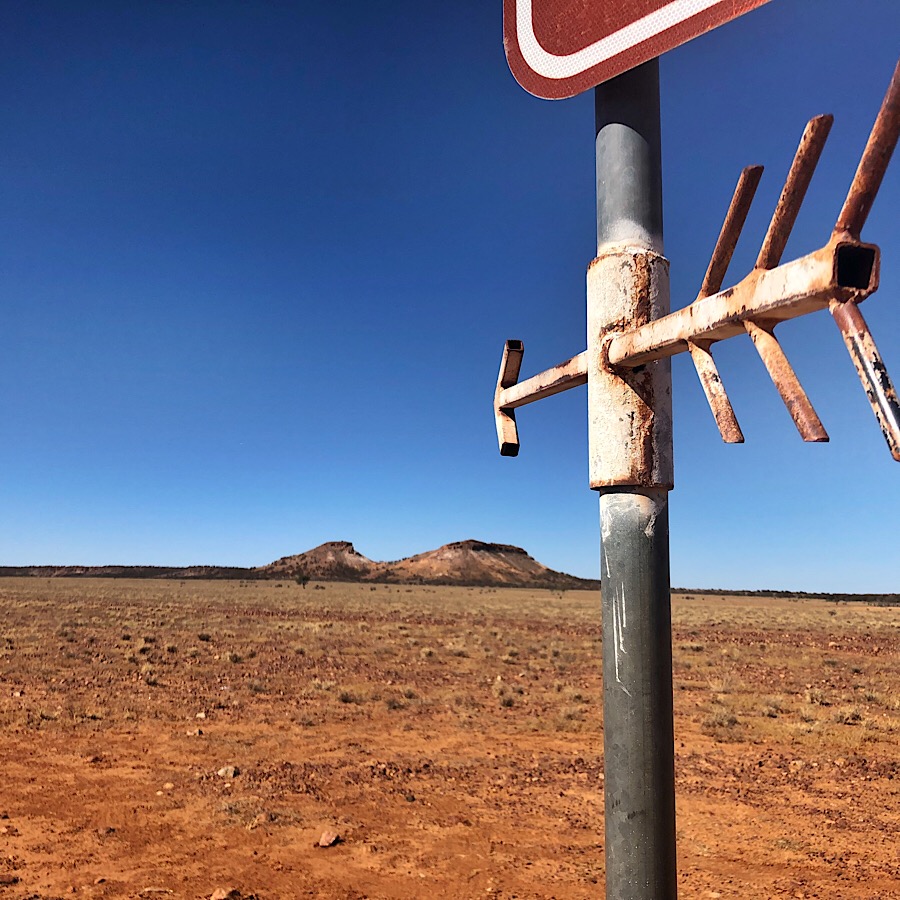 The temperature dropped and there was an icy southerly wind blowing, and while this meant I was very, very cold, it also meant that the dust was blowing exactly where we wanted it to once we hit the gravel road.
We pulled over and dropped the tyre pressure, watching all the vans and camper trailers passing by also heading to the bash.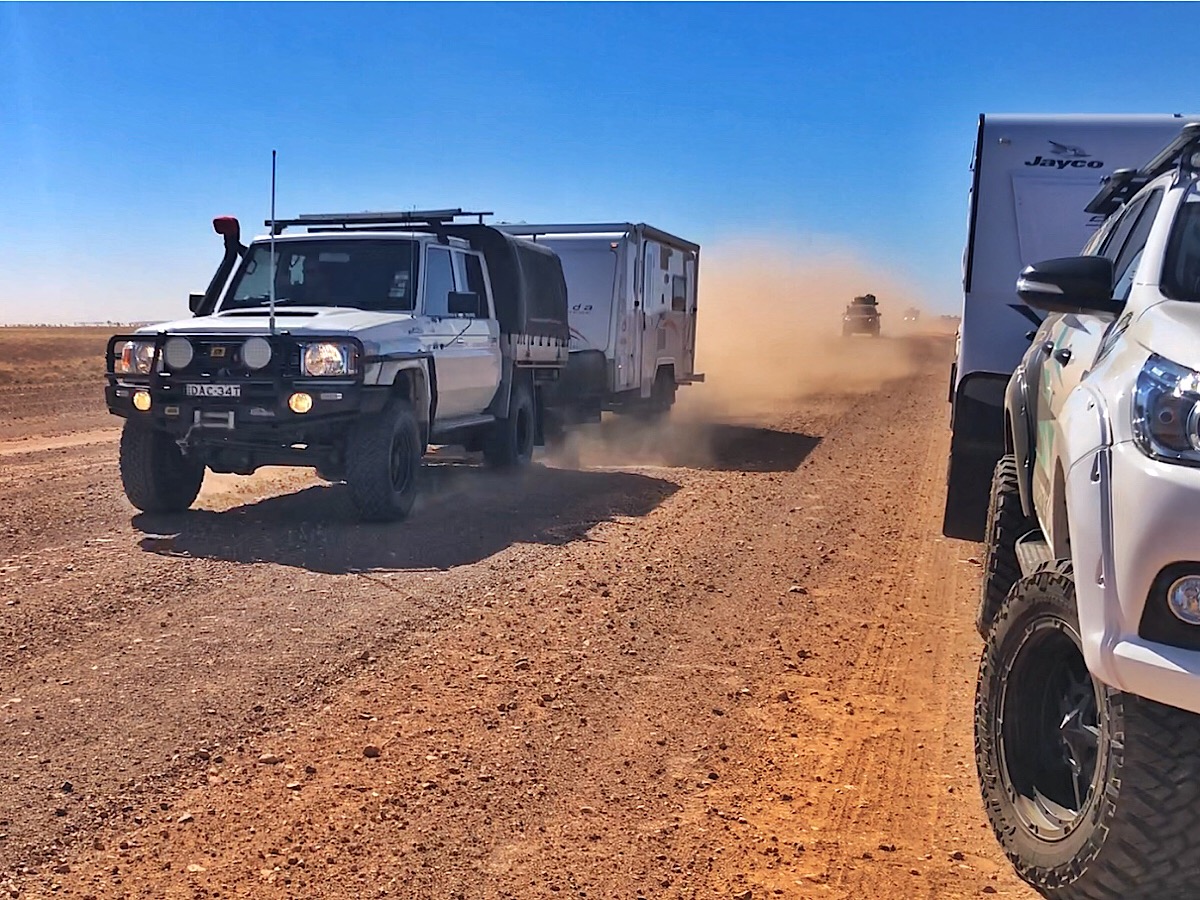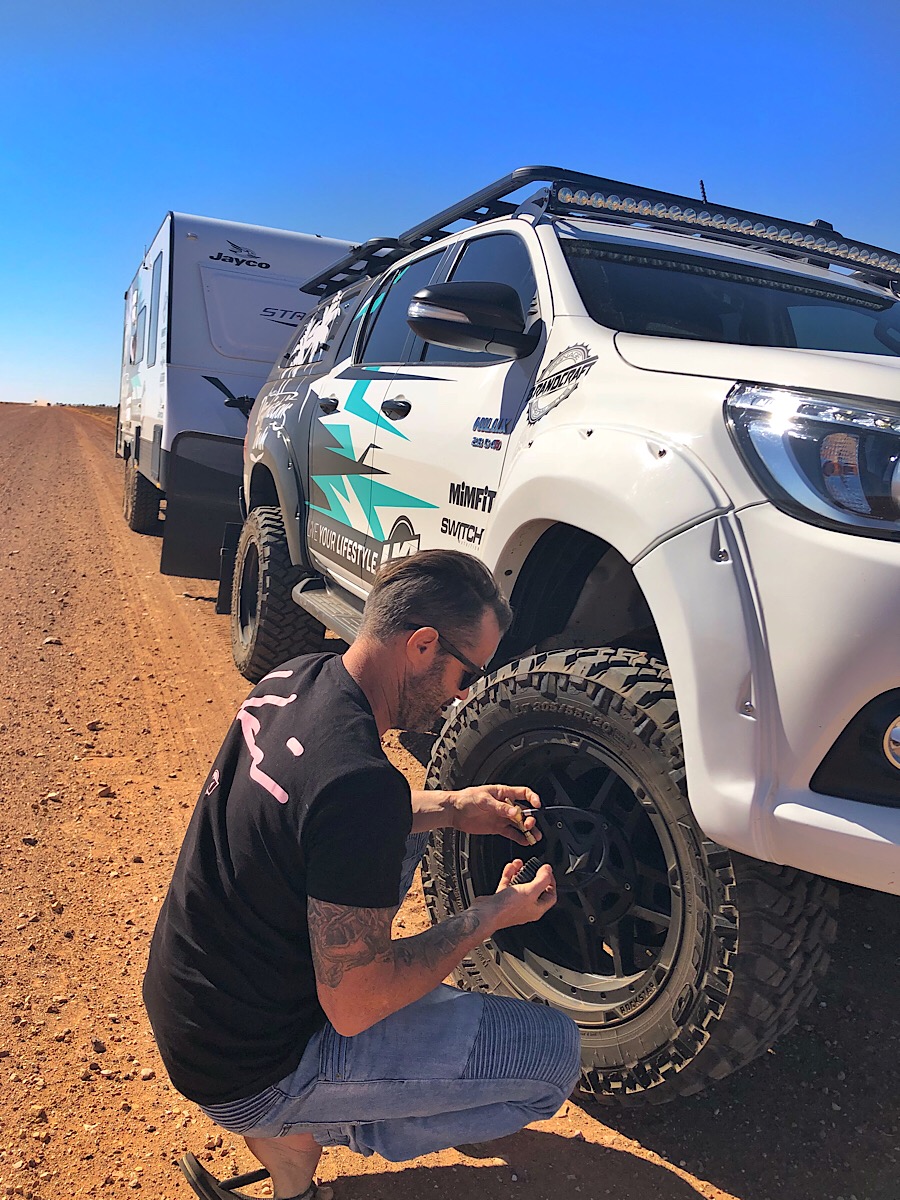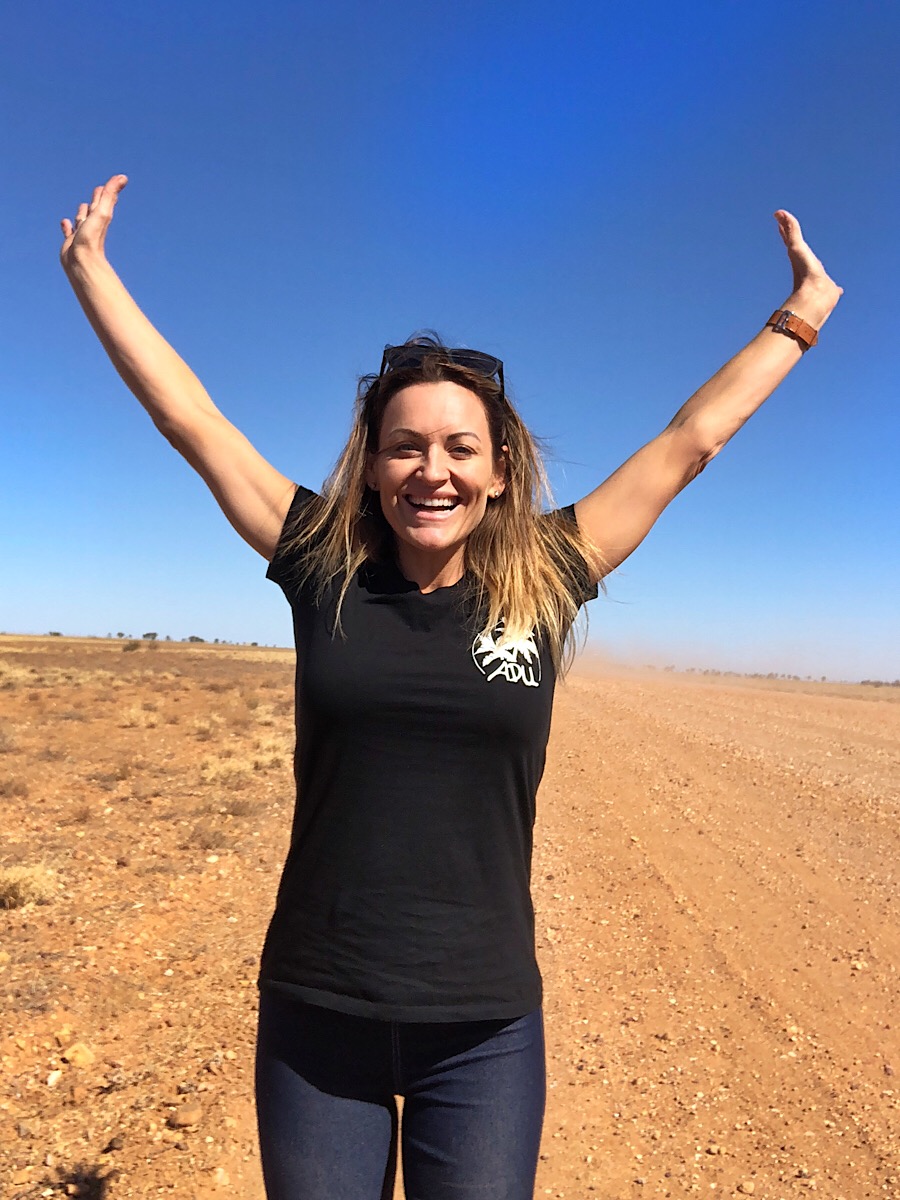 After about an hour we stopped to check for dust and aside from it getting in around a few windows, Chris's efforts sealing everything appeared to have paid off. The back of the car inside the canopy was pretty dusty though despite Chris's efforts to seal up the gaps.
Chris added some race tape to the windows and we kept going.
We went up to Deon's Lookout to check out the views as we'd heard it was a pretty special place. There were quite a few other people doing the same thing, so we said a few g'day's before heading to the next stop – The Dreamtime Serpent.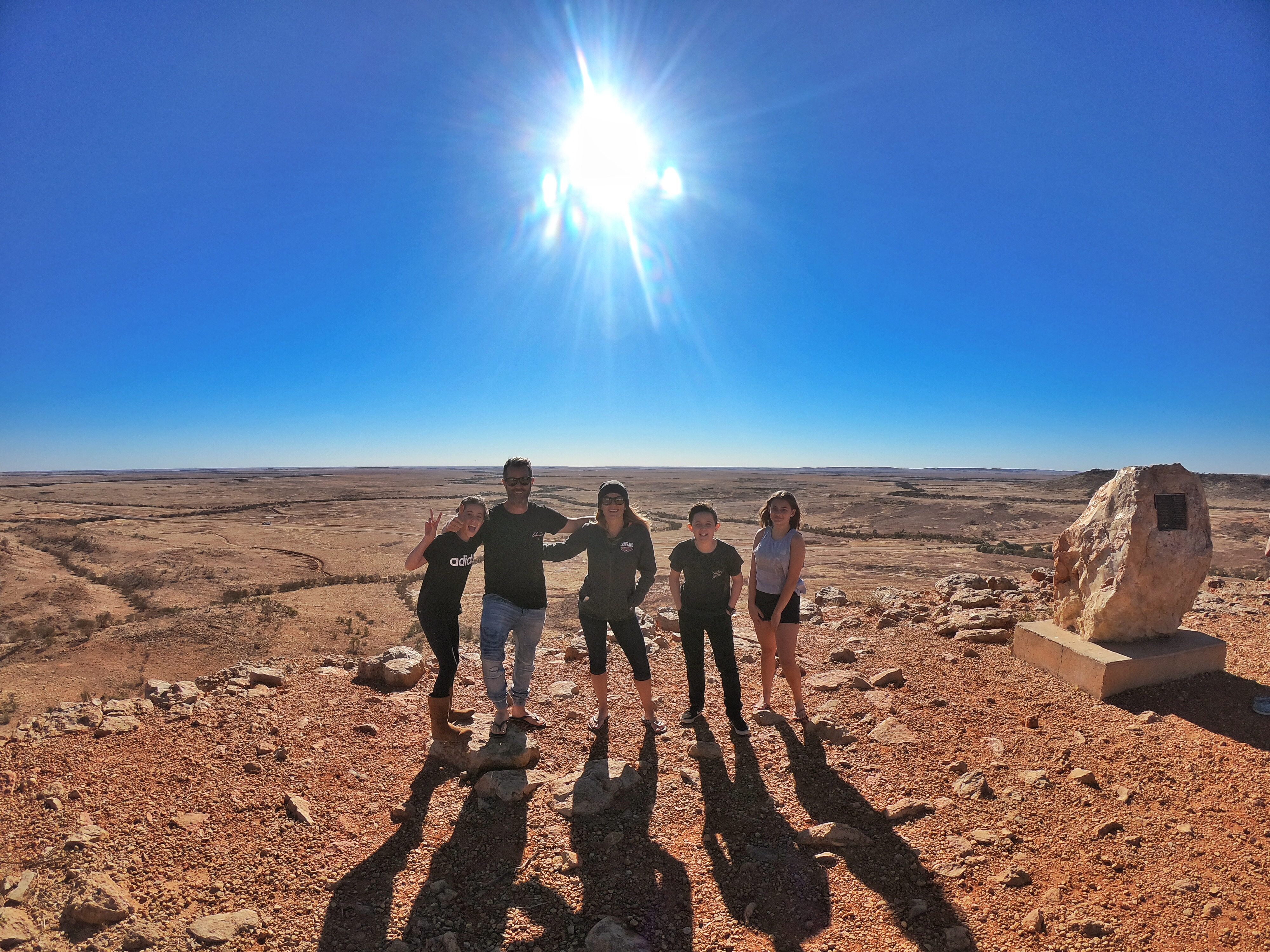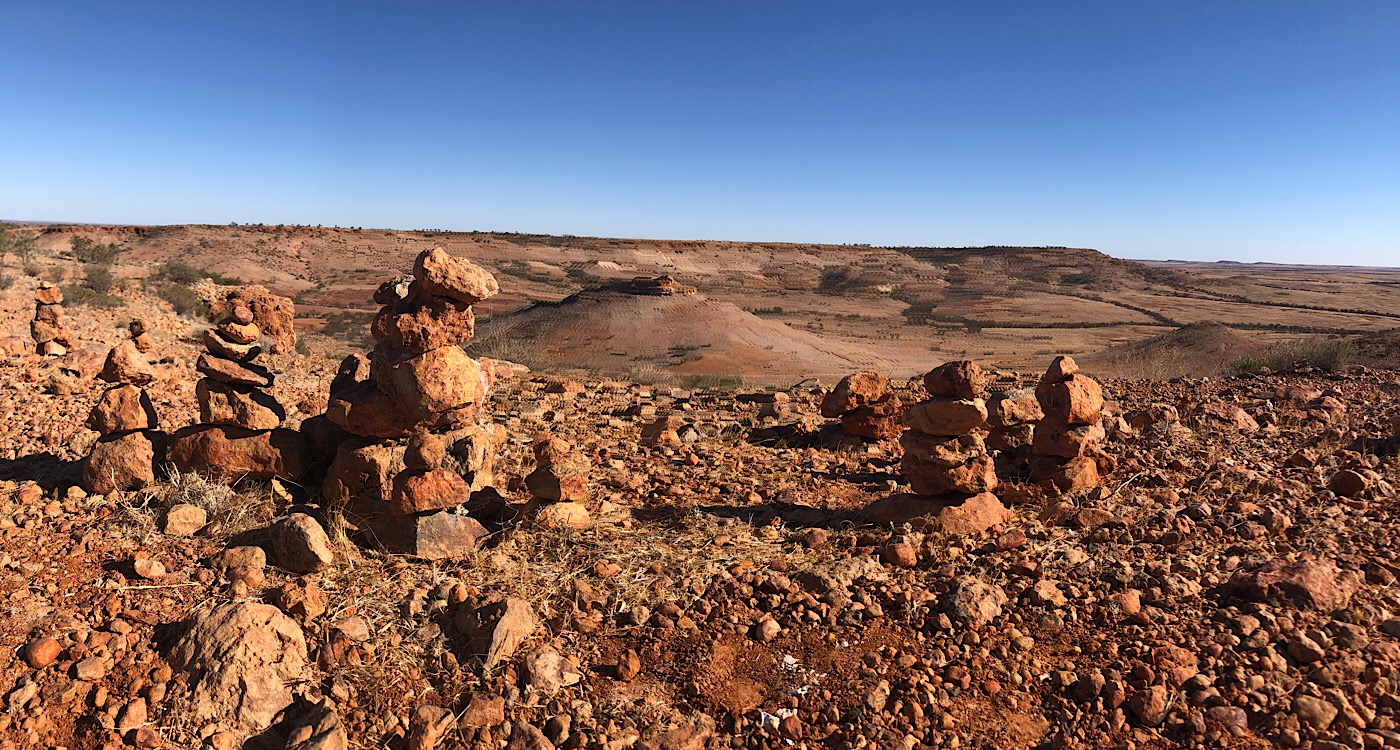 The Dreamtime Serpent 'travelling on Mithika Country' at Betoota was something we'd seen in brochures and were pretty excited to see on the side of the road! 
The artwork first originally came about from the idea of having public art to connect the 3 towns in the Diamantina Shire. The gibbers, sand hills and dust storm were a great way to make the connection. The Serpent is making pathways connecting the river systems in the shire.
We sent the drone up as the best views were definitely from above!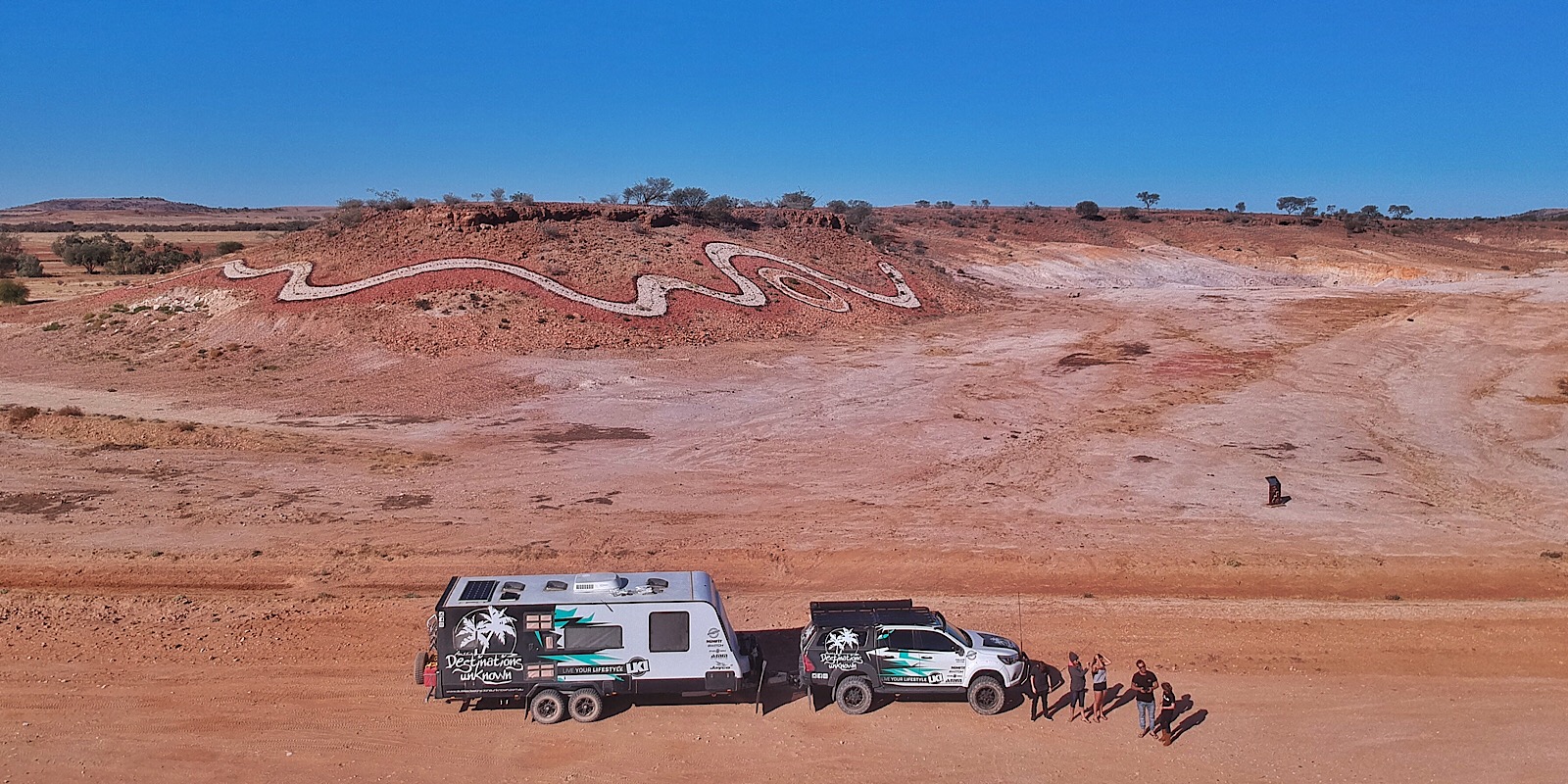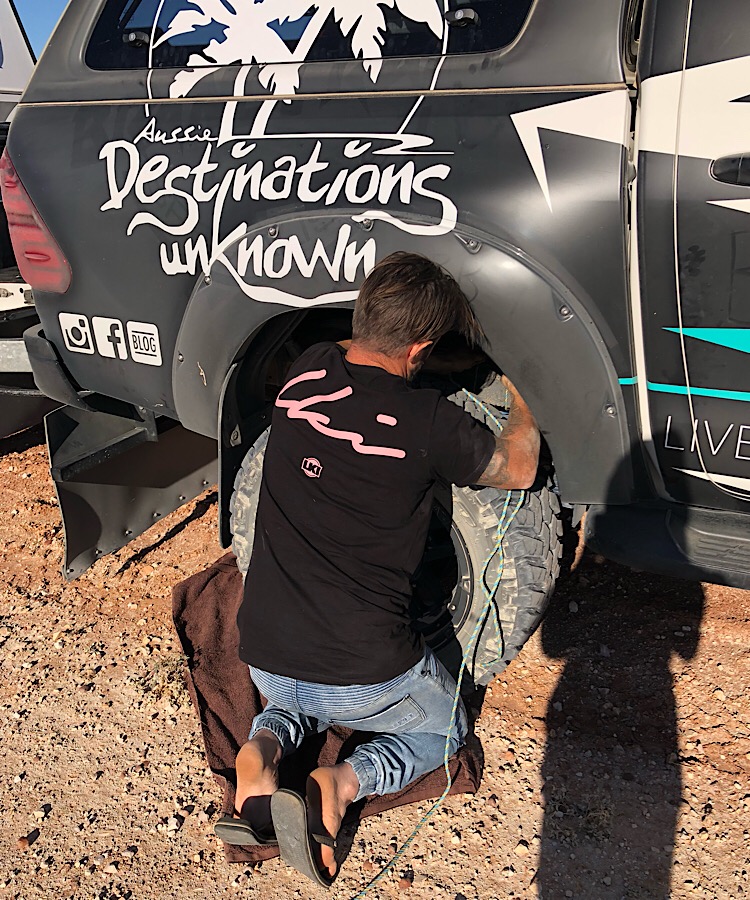 We weren't on the road long before we noticed a loud knocking sound coming from the back of the car. We stopped to check it out. Kim and Jim pulled up in their motor home to make sure we were OK, and another guy going the other way checked on us too which was nice. Chris got under the car and saw that the back right rear shock absorber had lost the top bolt. We weren't happy as the suspension was brand new! Chris MacGyvered it and used some rope to hold it in place.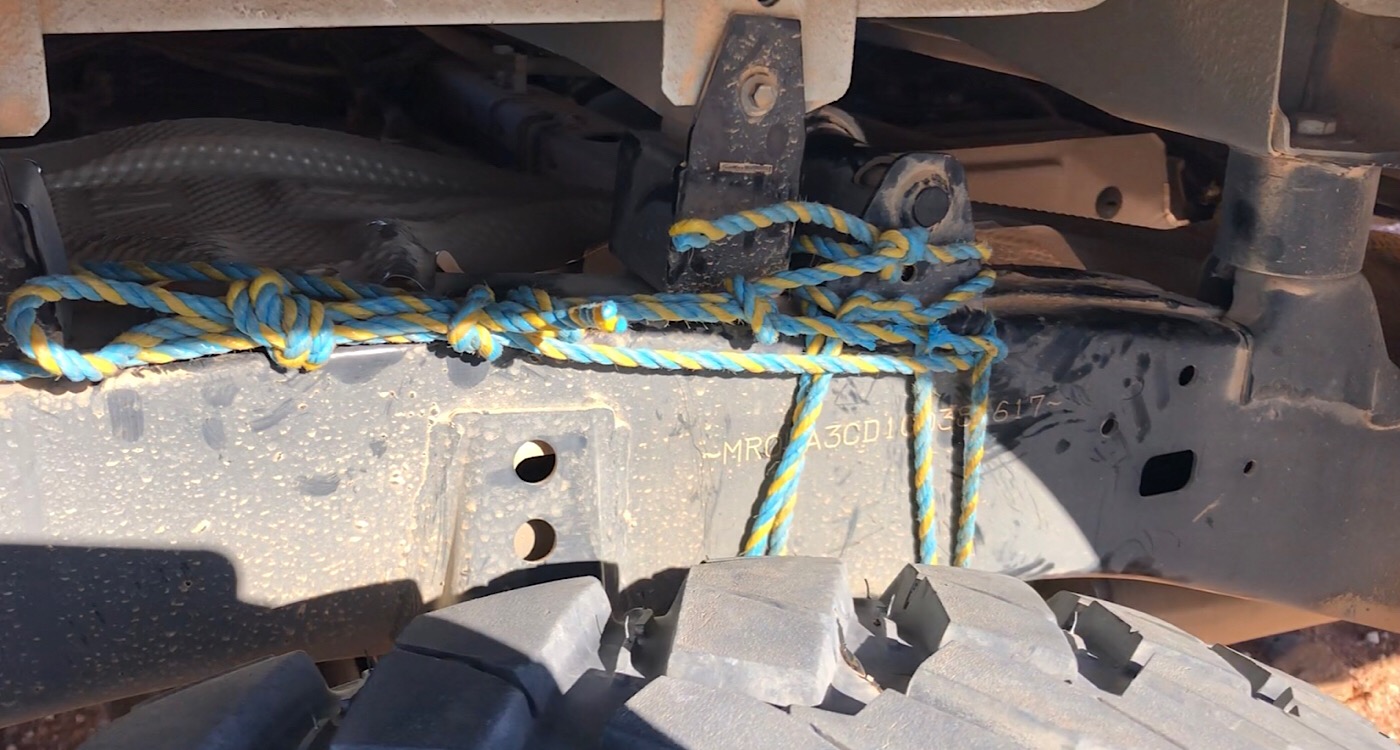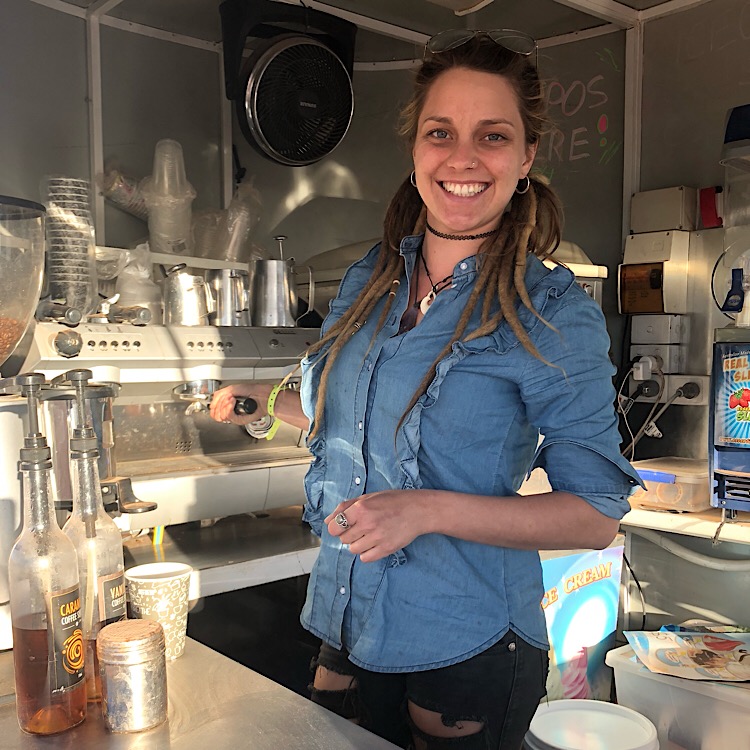 By now it was 4:00 and the sun was getting low. We kept driving and at 5:20 we saw a flag waving at the top of a hill … COFFEE! Say what? It was one of the most random things we have seen. It was a lonely, dusty road and the sun was going down. We were pushing to get to Birdsville and a coffee flag pops up out of nowhere? We needed to refuel, and this seemed like the perfect place.
Chris filled up and I wandered over to grab a coffee and I ended up chatting with Meaghan who was working in the coffee van. She scored an awesome job driving the van around the outback for the next 4 months. Nice!
We drove off into the sunset which was painfully bright, but settled into the most amazing hues of purples and oranges and listened to some guys talking on the radio about Hema maps, chassis and caravans parked down by the river.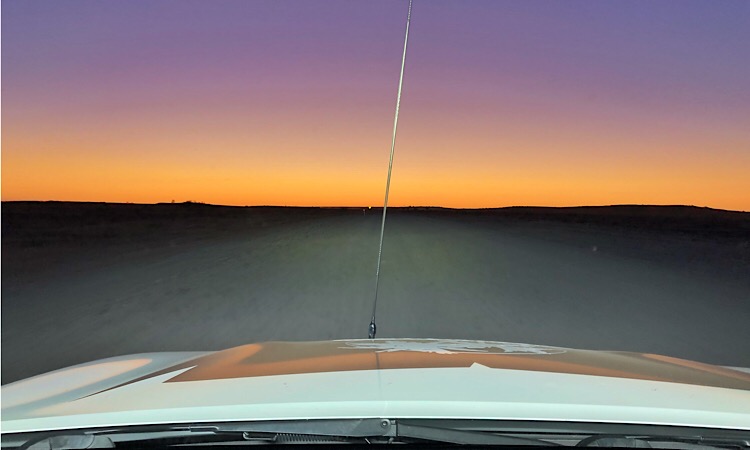 Birdsville
We arrived in Birdsville at 6:50 – almost 12 hours after we began! We could see caravans dotted around absolutely everywhere in the dark, so we pulled in and set up for a very short stop over. The kids made a fire and sat around while I prepped dinner and Chris gave the van a once over.
We were in bed by 8:30, but the people next to us were having such a good time we could still hear them around the campfire at 12:45am!
Chris wanted to get into Birdsville early to get fuel and water, so we rolled out at 5:30 am. We pulled up at the servo which was deserted aside from a guy who was parked in front of the bowser and looked like he'd been there a while. He said he thought it opened at 6:00, so we went to the loo, the kids made an appearance and I had a bit of a wander (in the dark!). Opening time was actually 7:30 and the information centre (where I had to collect our tickets from) didn't open until 9. I didn't mind as it gave me time to explore this infamous little town while Chris took the kids to the Birdsville Bakery where they managed to get the last 4 pies!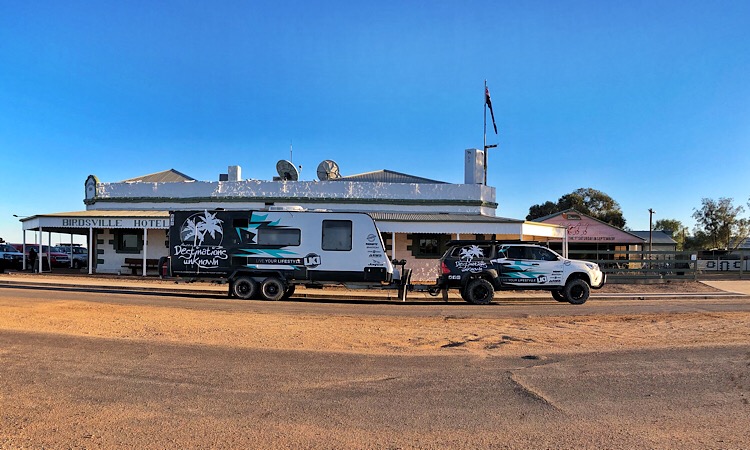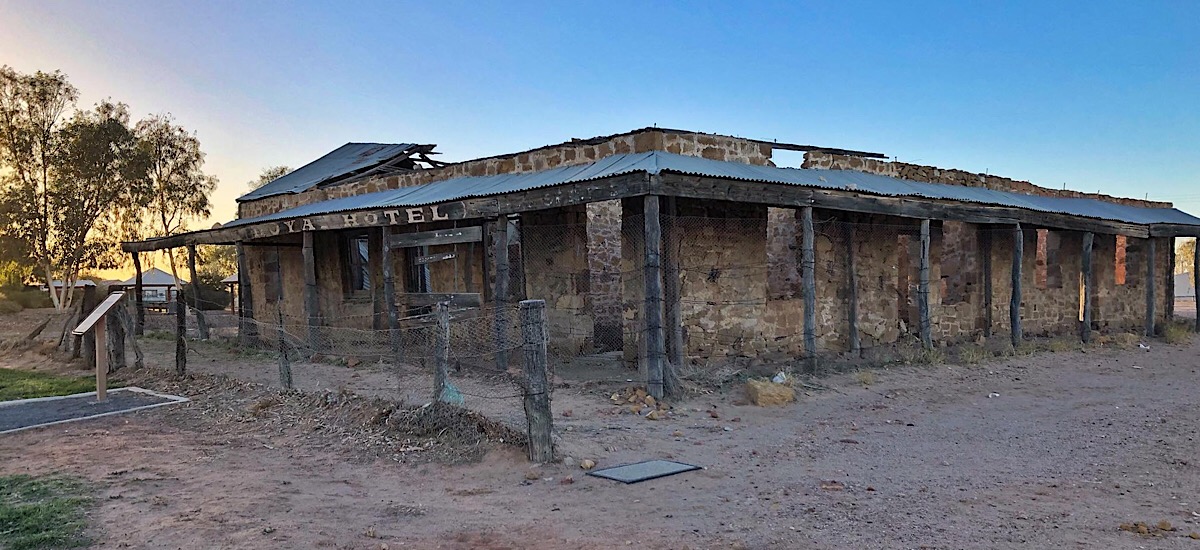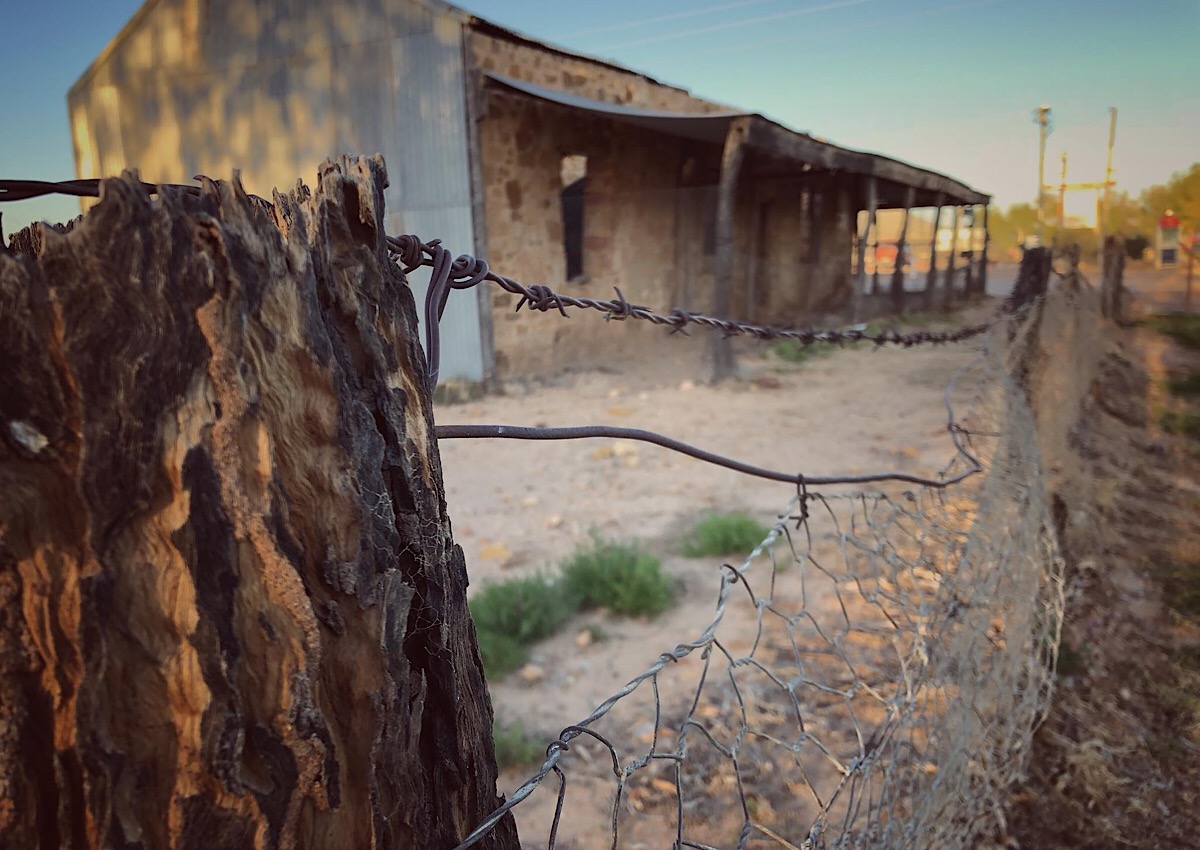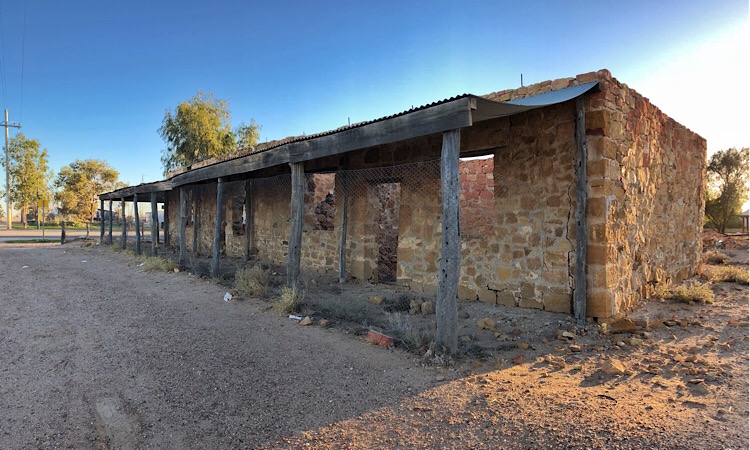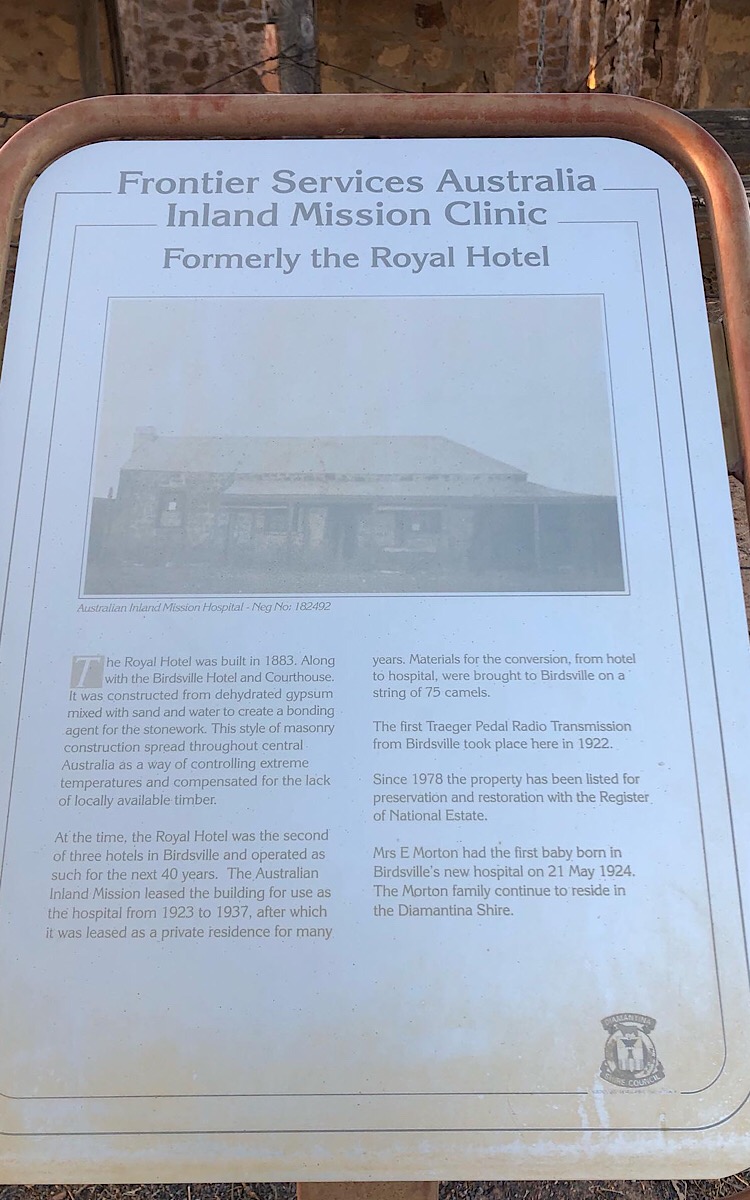 I was excited to see the old Royal Hotel building that is now listed with the National Trust.
This piece of history was built in 1883 with dehydrated gypsum mixed with sand and water as cement for the stonework.
The hotel was used as a hospital from 1923 to 1937,and then as a private residence. I had a peek inside – and there really isn't much left. It's just a beautiful, run-down old building.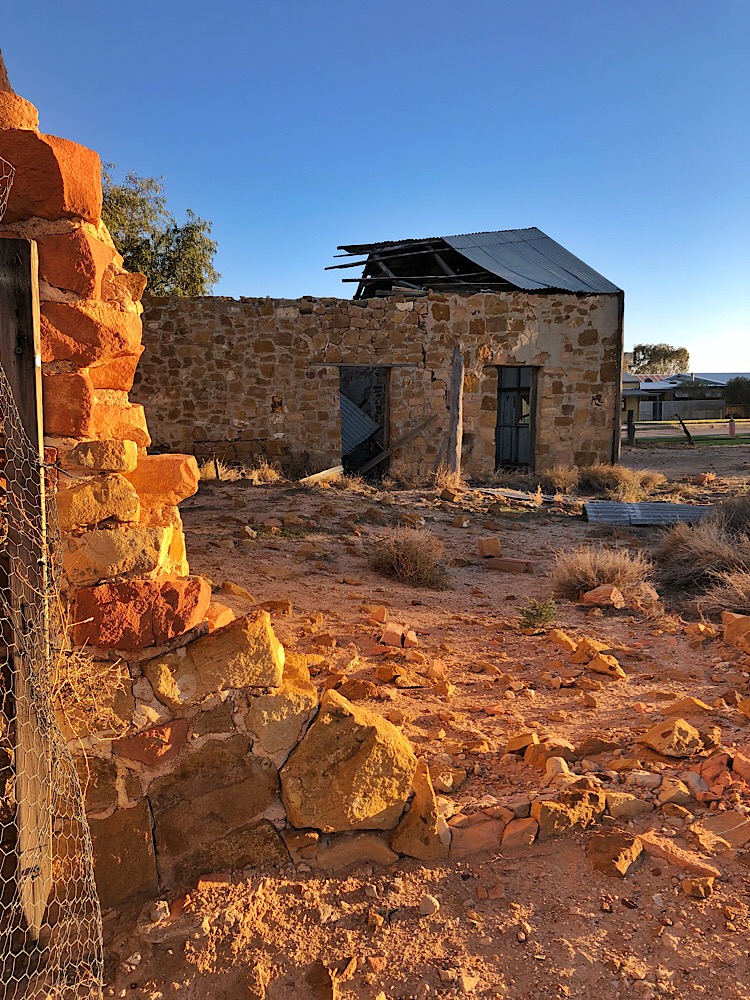 Chris managed to find a new bolt for the shock and re-tape up the van for the next dusty road and I got the tickets, wrist bands and token stubby holder. I only buy stubby holders from unique places and I have 3 now; from The Lion's Den Hotel, Paronella Park and now one from The Big Red Bash. (although I noticed later that it says 2017 on it! Not happy about that).
The road to Bashville was a little dusty and there were quite a few vans, but the pace was steady, and it was a pretty quick trip out to Big Red. We got a good spot on Aria Street – directly in front of the main stage, just 2 rows back. It was still a bit of a hike to get there, especially lugging a big awkward chair! We were on a corner, so ended up covered in quite a bit of dust as the vehicles came in to set up over the next 2 days.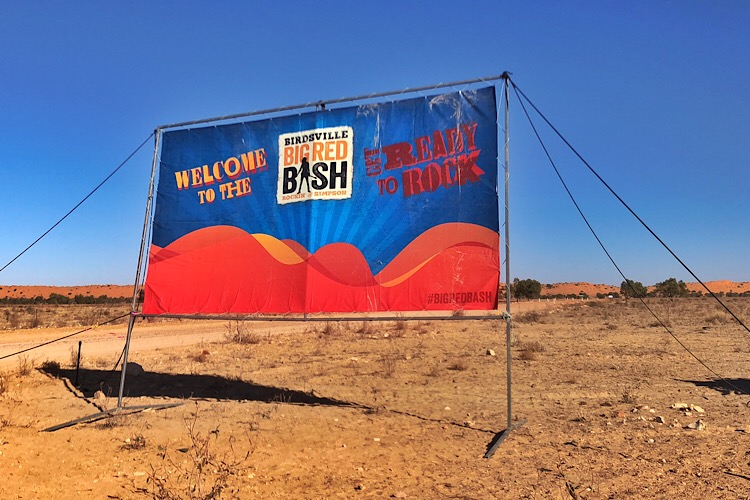 We got ourselves organised, had some lunch and all was great until the fridge started flashing – we'd run out of gas! This was a bit of a concern as once you're in Bashville, you're not allowed back out. I went and asked the gentleman in the information tent very nicely, and they gave me a special re-entry pass for the day.
It was a huge debacle getting the gas bottles out of the boot of the van as the bike rack and stone guard cover it. Normally it's not a problem as the stone guard comes off quite easily – except when there's a huge mud flap stuck to it! So once again the tool kit came out and I watched and admired how clever Chris is he figured out a 'workaround' and got both bottles out. To make the situation even worse, the gentleman parked next to us informed us that gas was $9 a kilo!
Chris went back to Birdsville, the kids had their rehearsal for the Dreamtime Performance.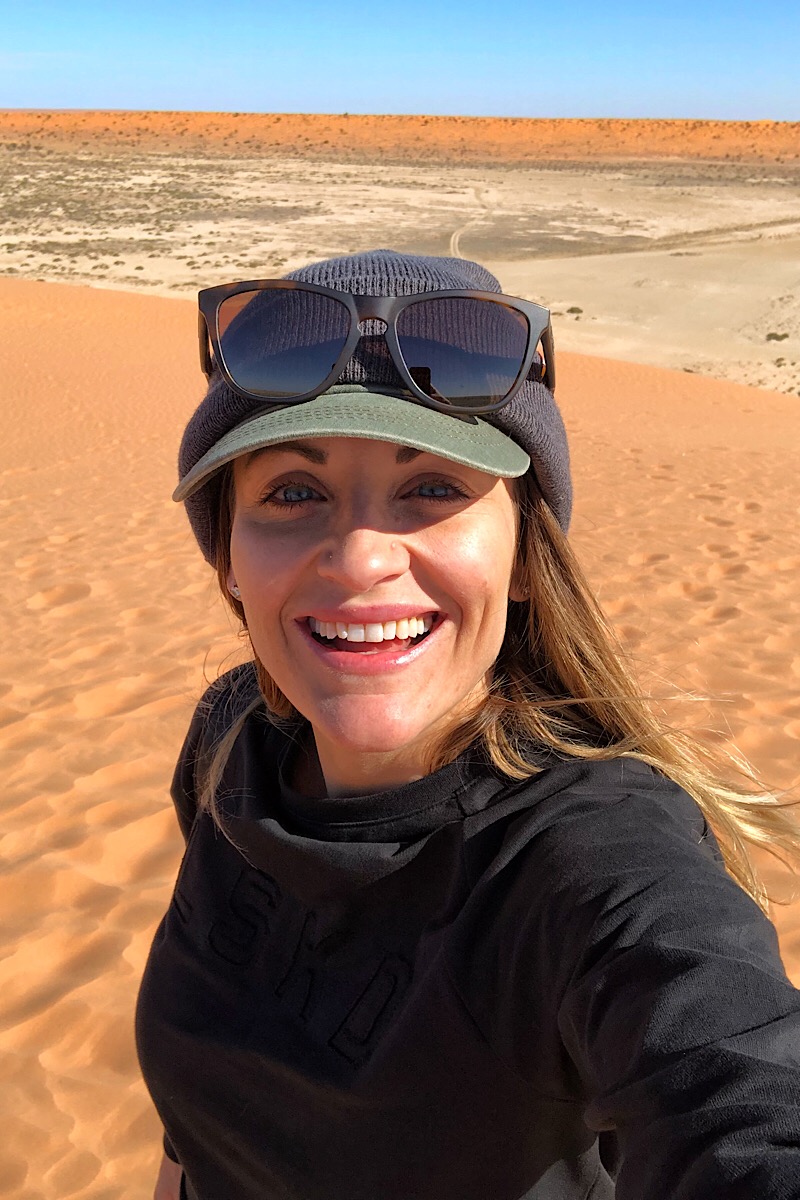 It was spectacular, breathtaking and almost surreal to finally be on top to Big Red! There weren't many people up there as it was lunch time on day 1 of early entry. I had the obligatory photo with the sign on the top and wandered along the crest for about an hour.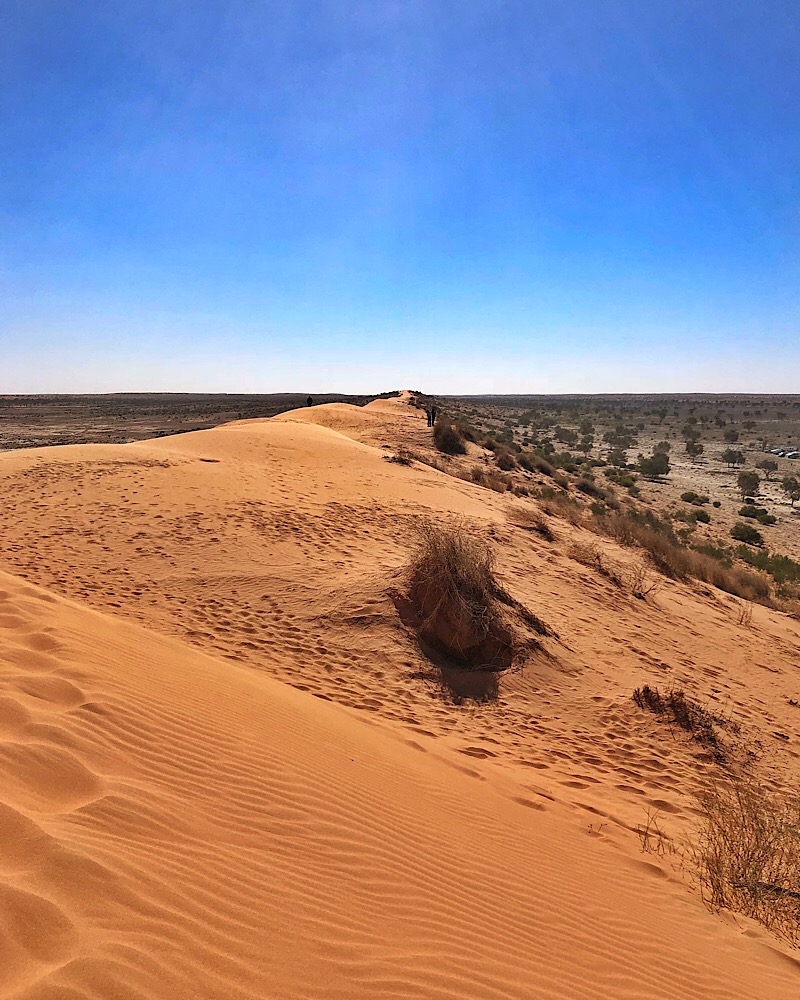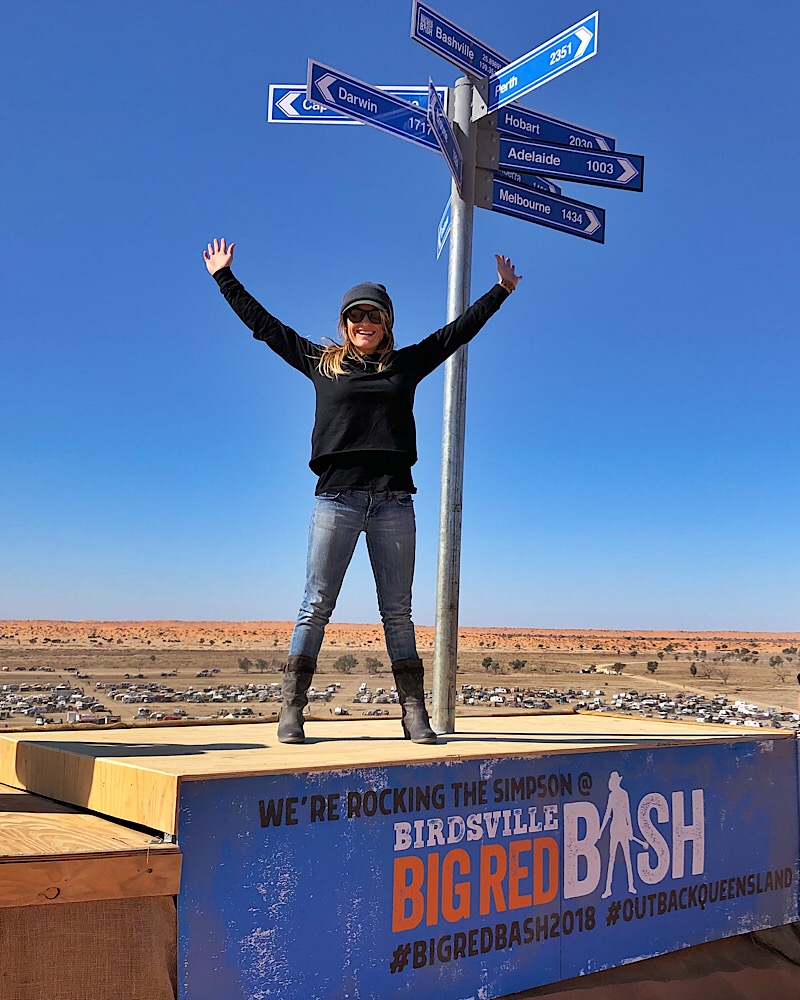 When Chris returned I found out why not many people were at Bashville yet – Birdsville was chaos as they'd run out of diesel this morning (and pies!) and the next truck wasn't expected until much later in the day or tomorrow. There was even doubt the diesel truck would be able to make it through all the cars as there were hundreds of them lined up side by side.
As horrible as it is for all of those people, it gave me a chance to wander around and check everything out quite peacefully. There were some great food vans and lots of toilets dotted around everywhere.
The toilets were fabulous! They replaced the traditional pump and dump toilets with hygienic, odourless, composting 'Shangri-Loos'.
They are the same toilets used by many festivals including the world's largest music festival in the UK, Glastonbury.
The doors were painted with all sorts of things from a 'Teenage Mutant Ninja Turtle Head' to stars and rainbows.
You sit on a toilet seat and whatever you do drops right into a wheelie bin. If you do more than pee, you simply pour a cup of sawdust on top. Charli was most impressed with some them not having a roof, meaning you could star gaze while sitting in the loo!
I gave my dad a call (reception for calling was pretty good at that point for some reason but got worse over the 4 days – and data was terrible) and then Chris came back. We hooked the gas back up and headed over to the first performance of the week – The Crack Up Sisters and their stock whips. It was hilarious with many jokes flying right over the kids heads and smacking us fair in the funny bone!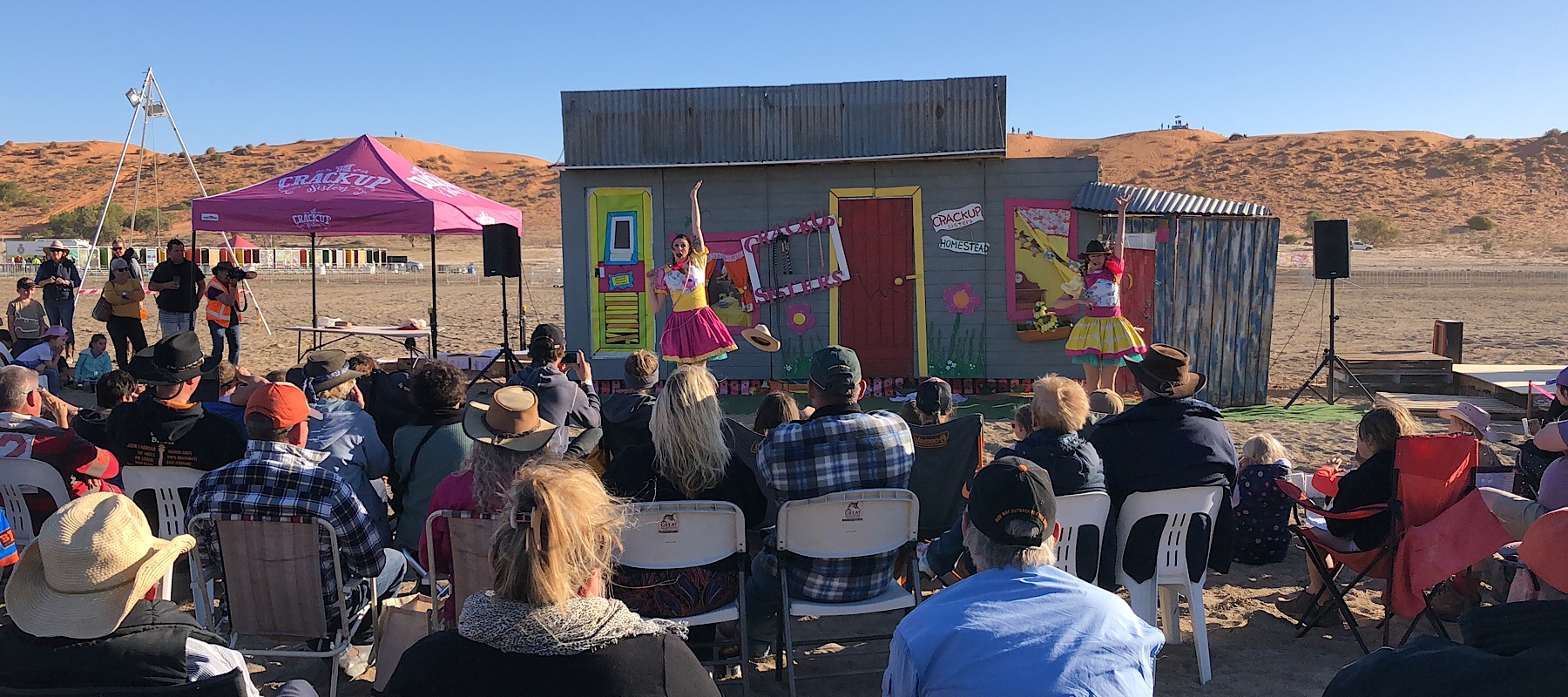 Big Red
We went back to the van and got into some warmer gear before heading up Big Red to watch the sun go down. It was unbelievable. Breathtaking. Spectacular. One of the most beautiful things I've ever seen.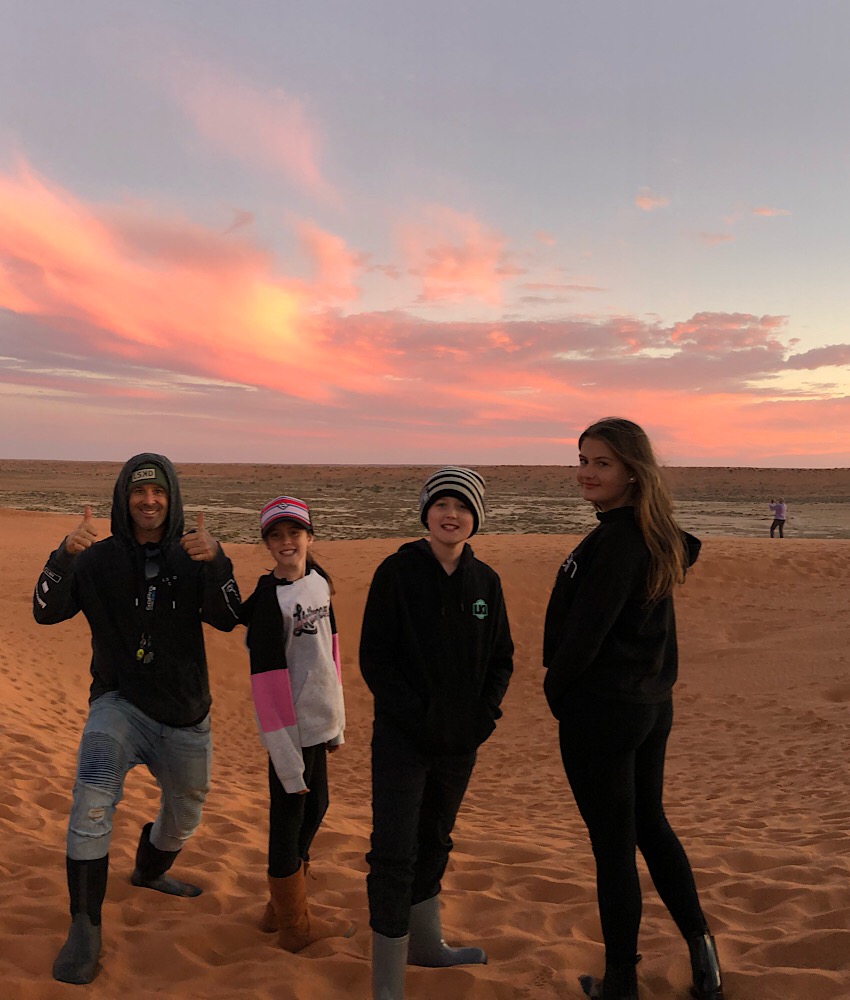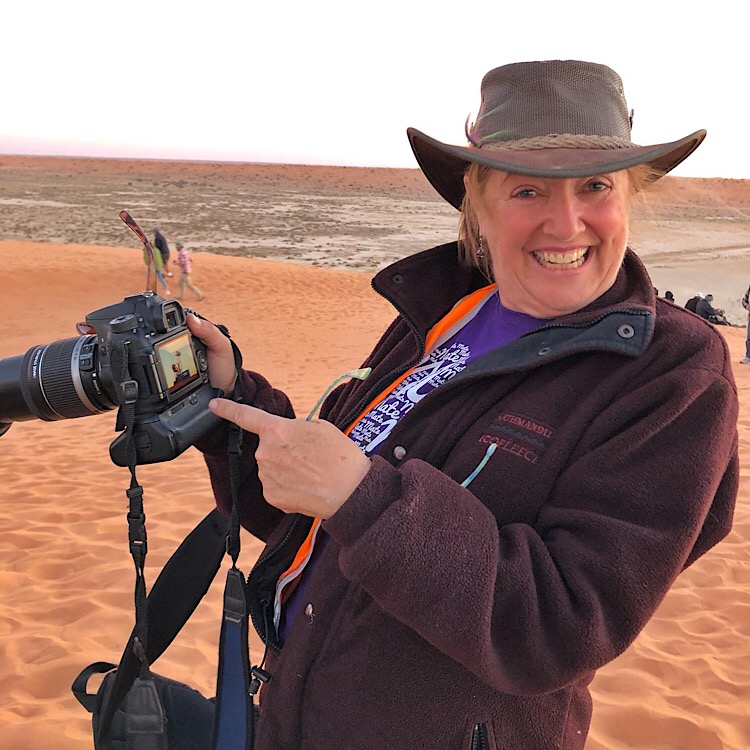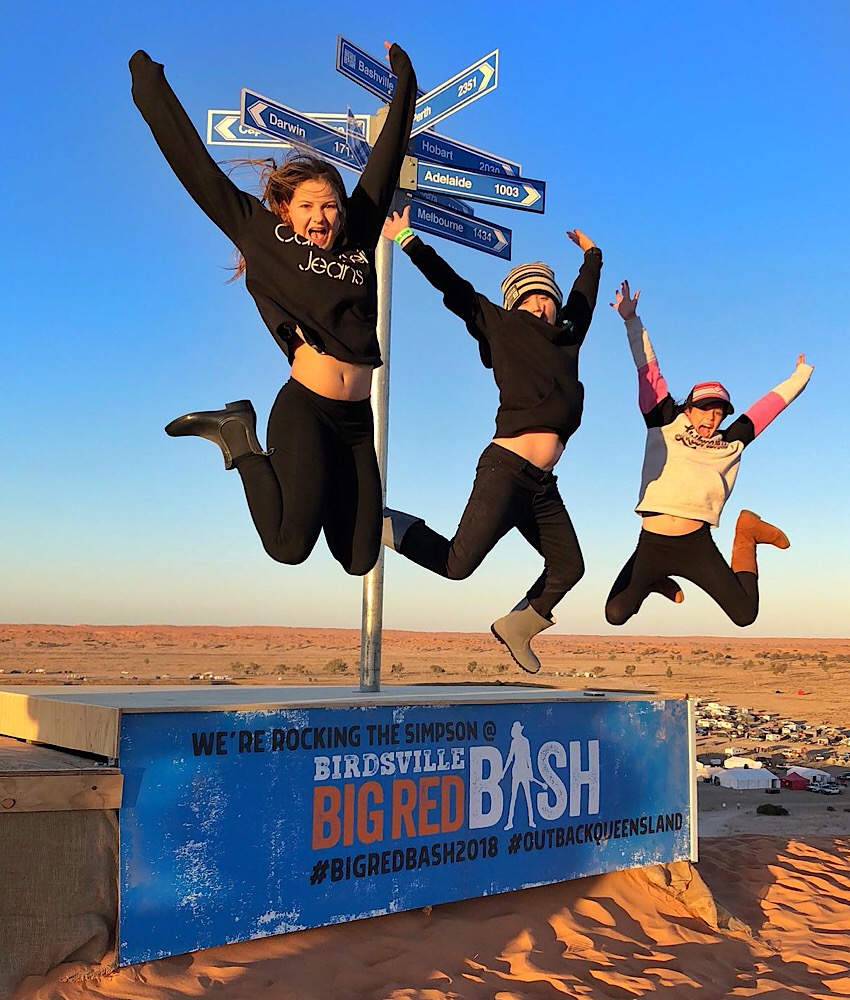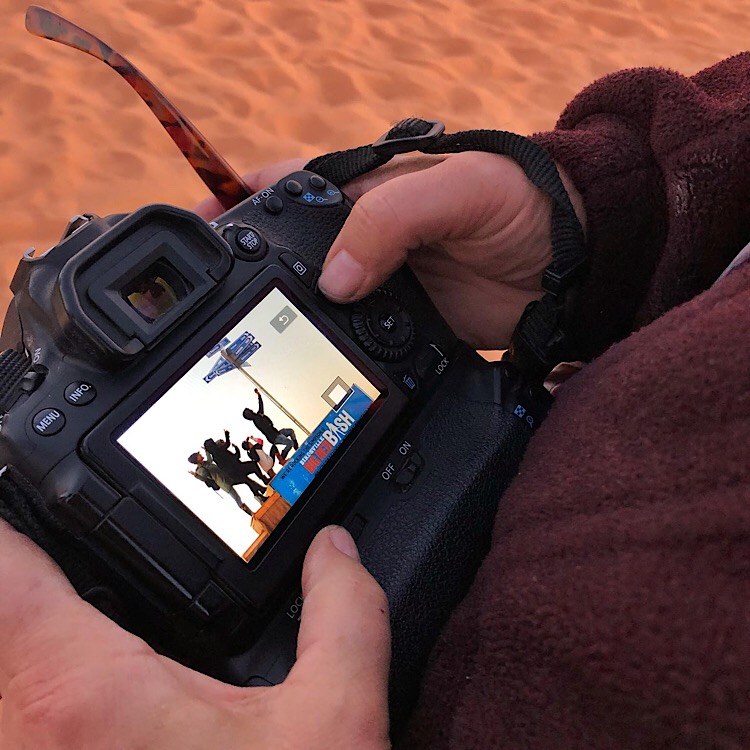 Trish from event photographics snapped a pic of us taking our selfie!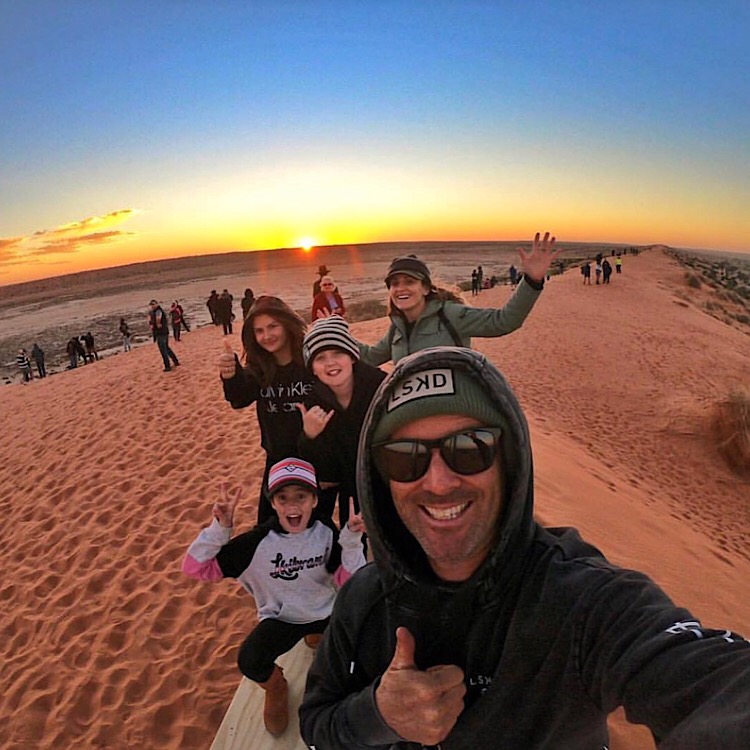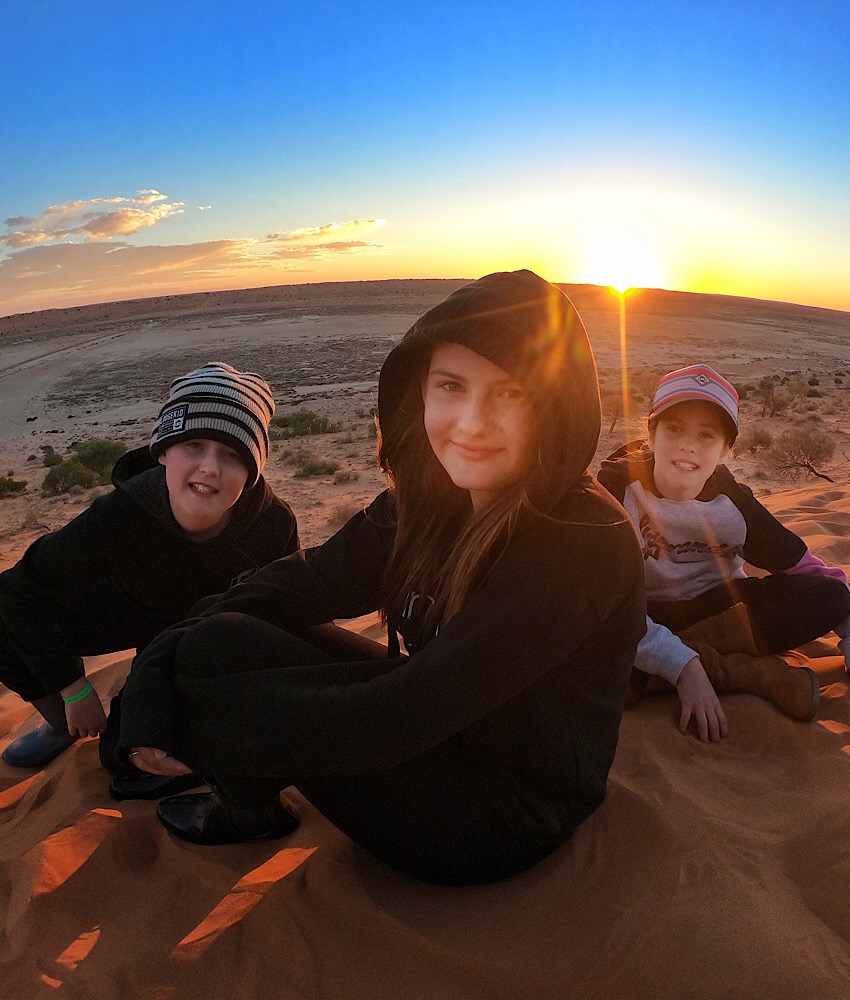 I grabbed some hot chips on the way back to the van which was the perfect side dish for the scotch fillet that we cooked on the BBQ. The kids were pleased as chips definitely aren't on the menu for us normally.
We finished dinner just in time to head over and watch the movie 'Kenny' but we were all pretty tired and ended up coming back to the van ½ way through.
We slept until 8am. Chris wanted a coffee, so I went with him and we ended up climbing Big Red again to watch the sun rise behind the camp ground. We spent about an hour up there before heading back down and putting the BBQ on for bacon and eggs.
Then we climbed Big Red again, but this time Chris and I headed down the other side, across the flat, over to the next sand dune. We saw heaps of cars coming in from the Simpson Desert. One lady was being snatched over the last few dunes as her car had died 40km in.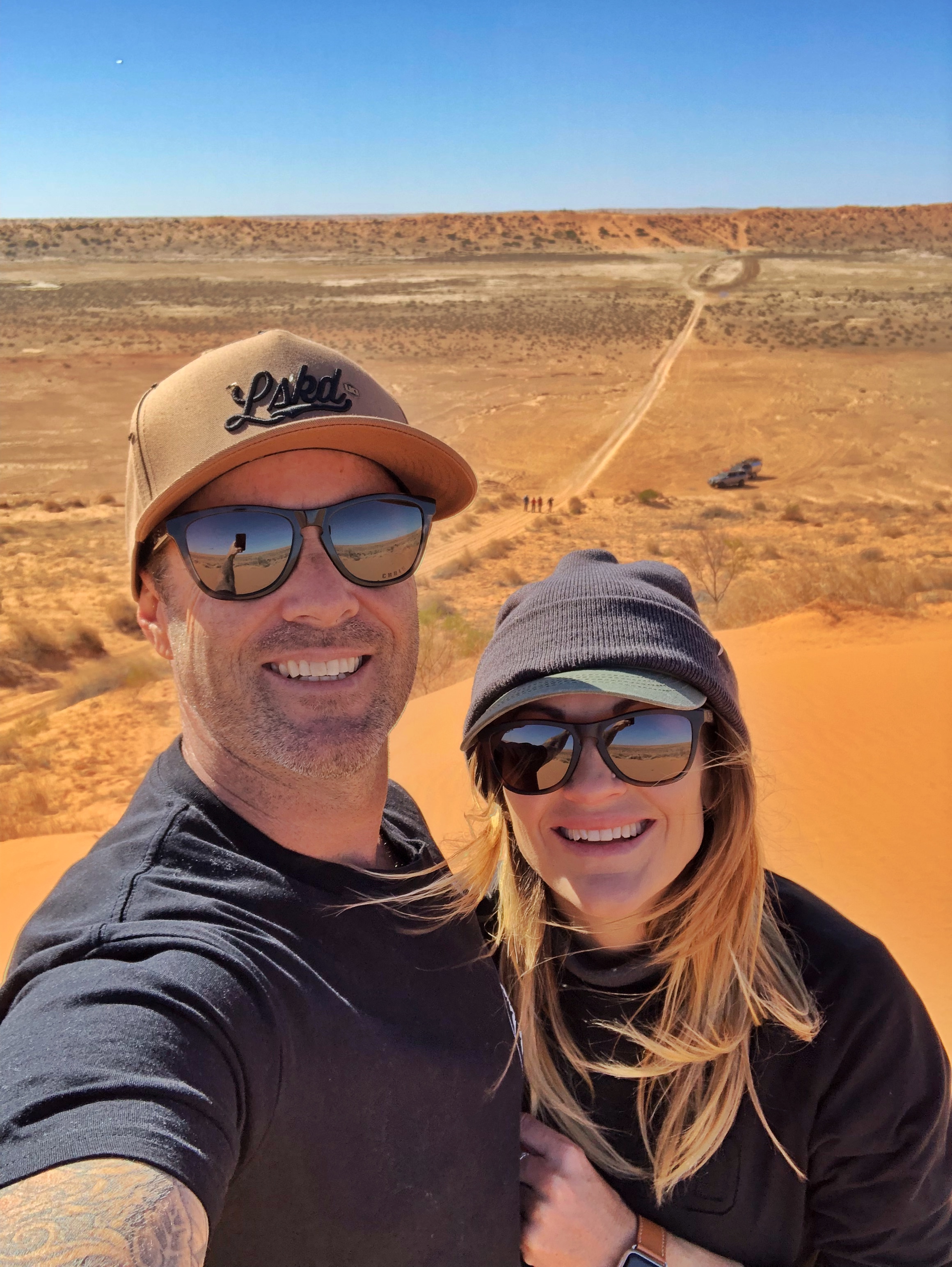 The kids had rehearsal for their performance at 12:45 so we sent them off and had a bit of a relax in the camp chairs and chatted with people passing by.
We had lunch ready for when the kids came back at 2:30, then we wandered over to watch the Crackup Sisters and then Amber Lawrence sing her 'Kids Gone Country' songs. She has such a fantastic voice!
That night I went and watch the Leyland Brothers Wheels Across the Wilderness movie on the big screens while the others stayed in the van.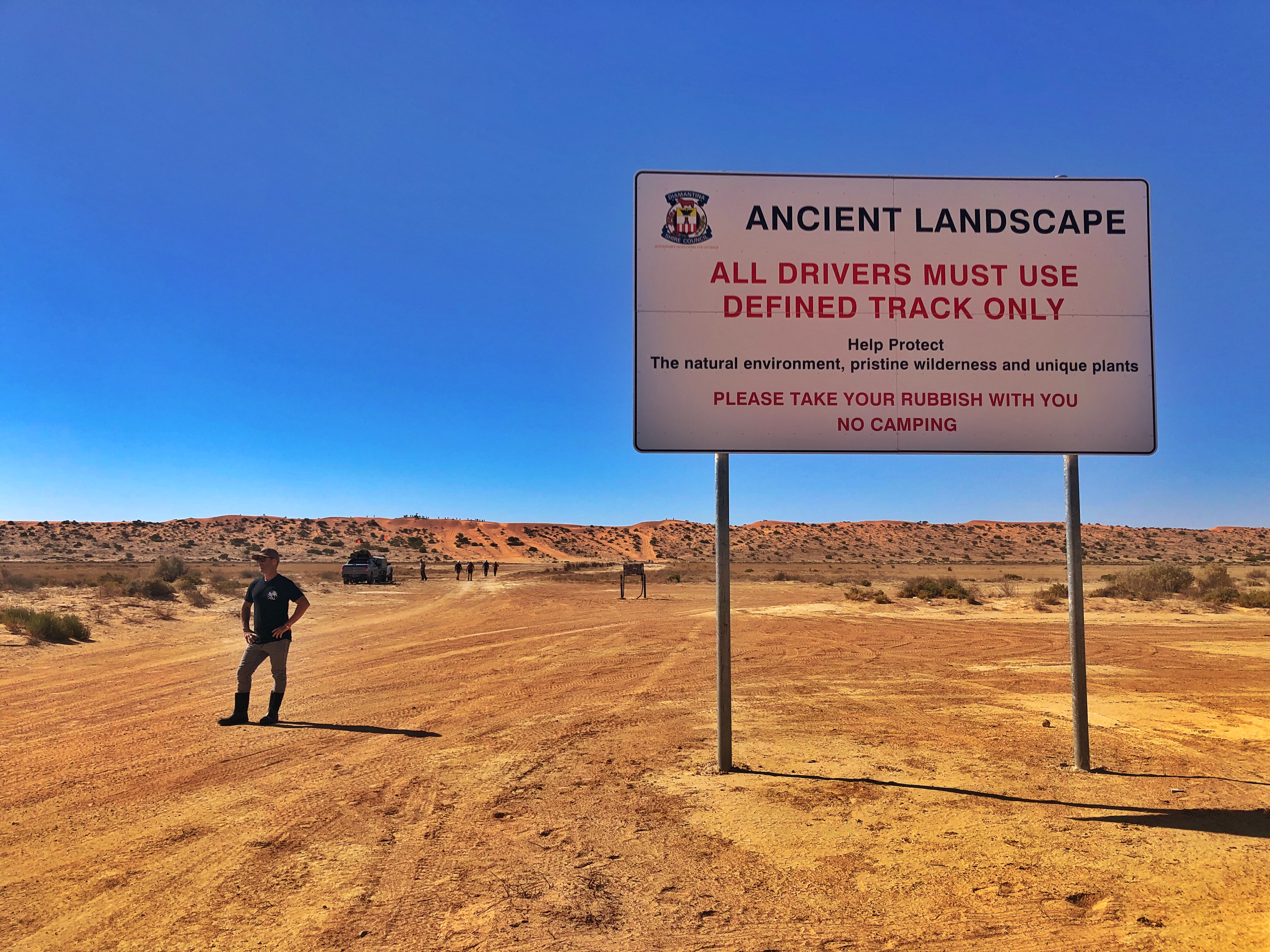 The Air Guitar Championships were hosted by Adam Brand and were hilarious, with the winner rocking it out on the main stage.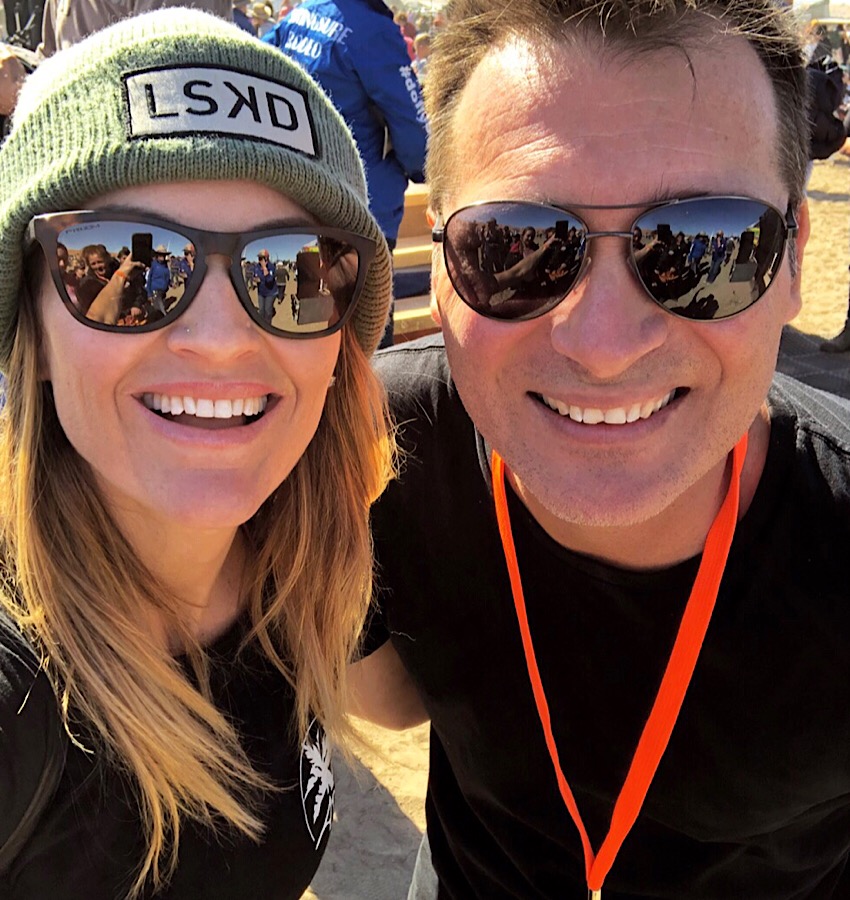 This was followed but the much anticipated and highly 'planned for' RFDS Bashville Drags!
The Bashville "Drags" has to be one of the hi lights of The Big Red Bash – And next year, Chris will be in it for sure!
These guys all found their 'inner Priscilla' while supporting the Royal Flying Doctors Service (RFDS).
They threw on their 'drag rags' and joined in the race that starts at the top of Big Red – and it was spectacular!
They raced down the hill to the theme song 'Chariots of Fire' … and after the race, contestants competed in the 'Fashions in the Desert'. There were a few categories such as Queen of the Desert, Legs 11, the encouragement award and of course the outright winner. The outfits were outrageous, flirty, kooky and extremely colourful. Check out the winners' costume! I'm still trying to figure out where that was stashed on the journey.
We decided that the desert was the perfect backdrop to show off our new Knobby Underwear – so we headed up, over and beyond Big Red where we snapped some hilariously fun photos.
Believe it or not, we actually work with KNOBBYs, so the pics did have a purpose other than to say we took pics in our jocks in the desert!
KNOBBY Underwear is an Aussie brand of the most comfy undies you'll ever try! You can subscribe and have an awesome new pair (or set!) show up on your doorstep every month. The designs are crazy cool as they work with local artists and designers, with each monthly print an exclusive, limited edition release. And quite often you get more than just undies in your letterbox 🙂
So what makes these things so great? They breathe. They dry quick. They don't ride up. And they look fantastic next to everyone else's store-bought black, white + navies. The crop tops give enough support to wear daily too which is fabulous! 😛
If you'd like to join the KNOBBY family, you can head to www.knobbyunderwear.com.au and enter our secret code yhs34y and you'll get a discount!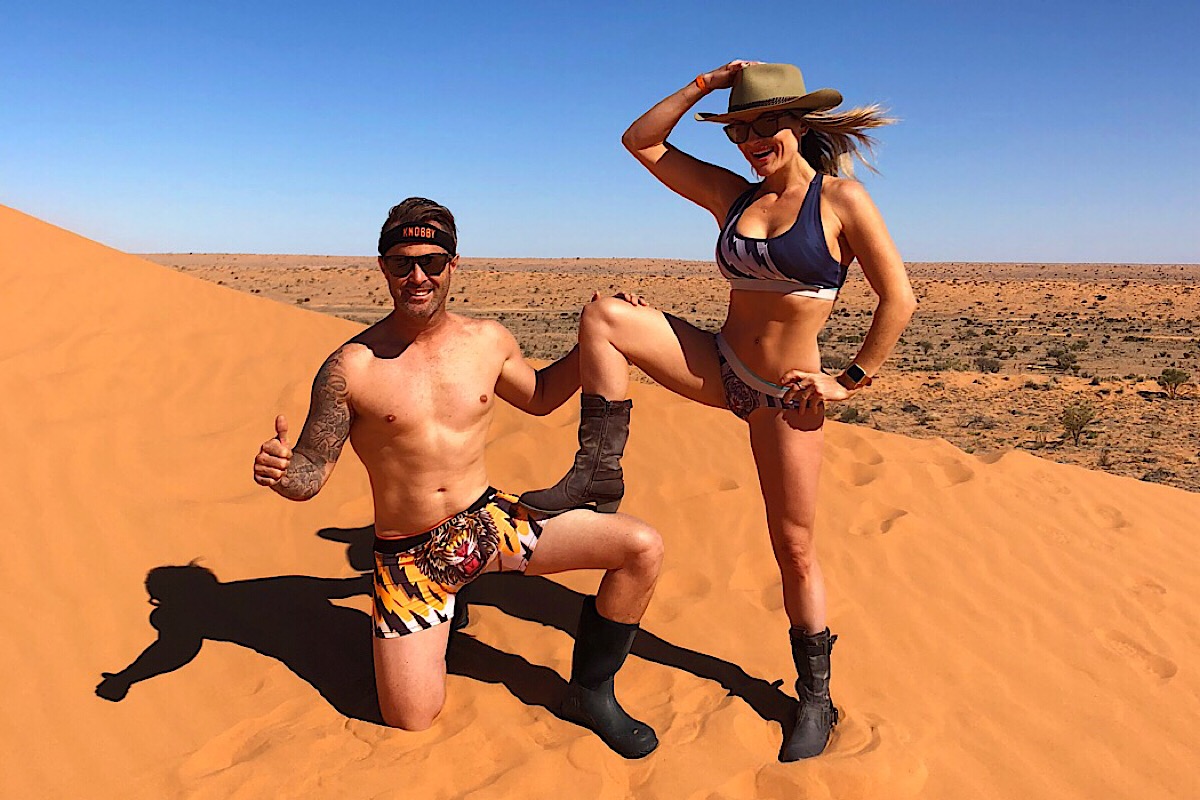 Rainbow Serpent and the Story of Creation
The 'Rainbow Serpent and the Story of Creation' production was on early in the evening, and our kids were so excited to perform at sunset in front of the 9000 strong crowd.
The play was narrated in both English and Wangkangurru Yarluyandi language.
Chris and I sat together watching the sun setting on Big Red as we listened to the didgeridoo and clapsticks being played as the story was read. It was a magical moment when the giant Serpent came winding down Big Red and we were so proud as we watched all of the kids make their way through the crowd towards the stage. Chris high fived all the kids as they ran past on their way to the stage where they stood proudly showing off their amazing animal costumes. Charli and Aylah were butterflies and Cooper was a dingo.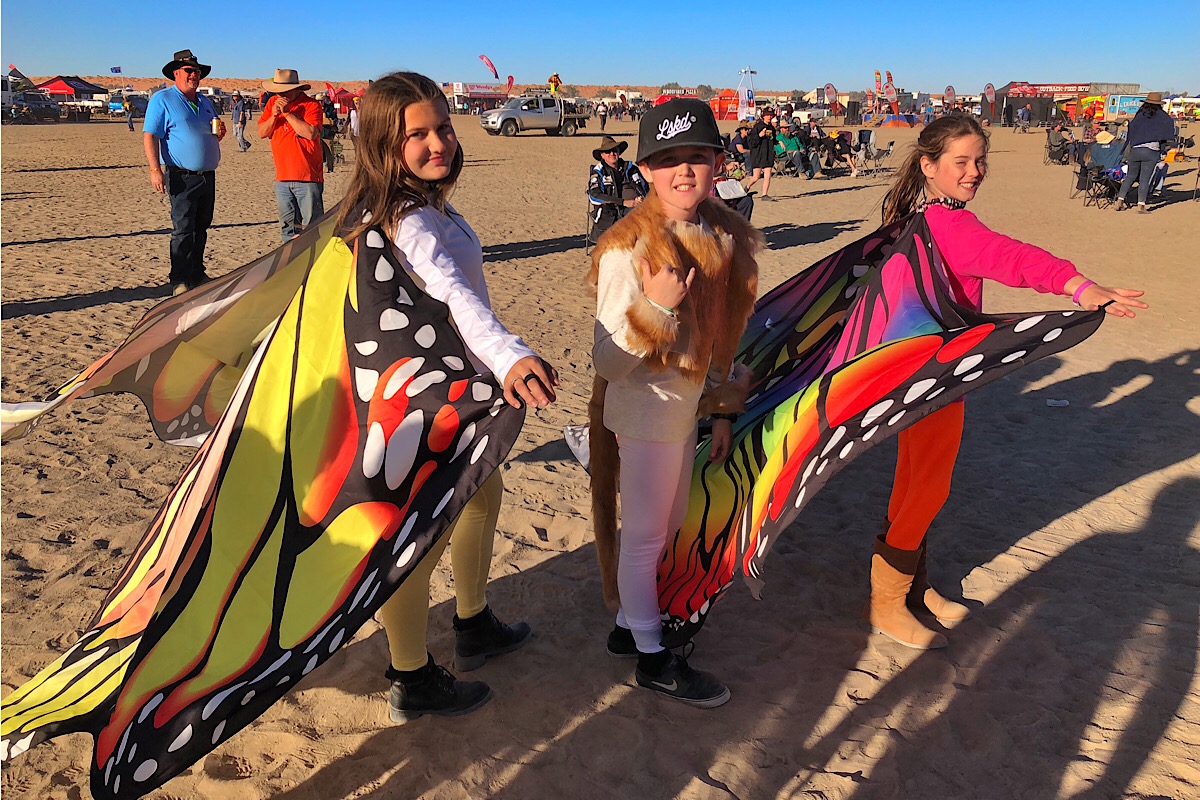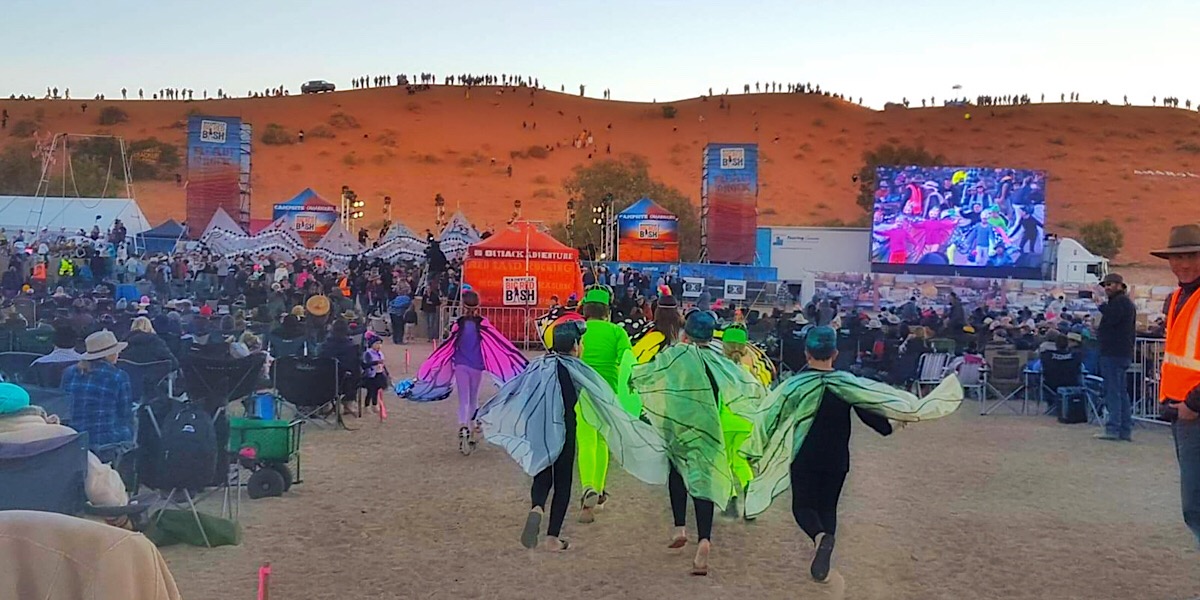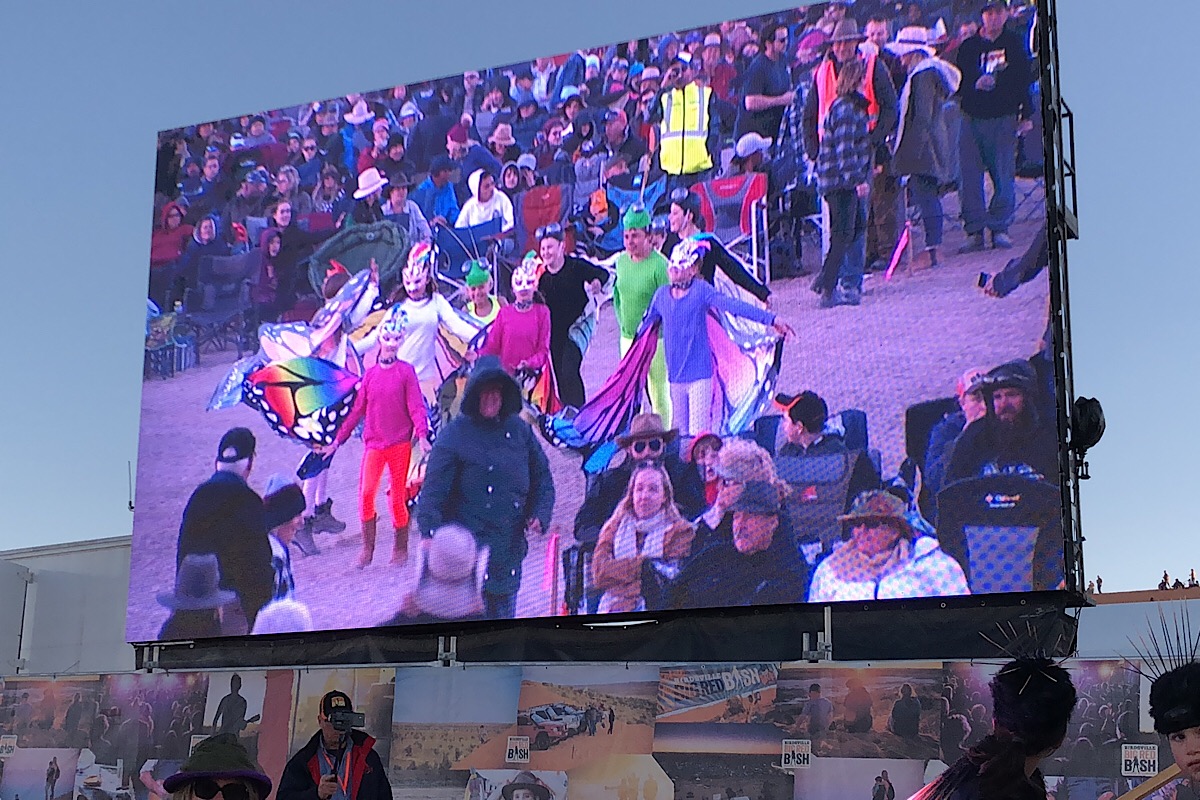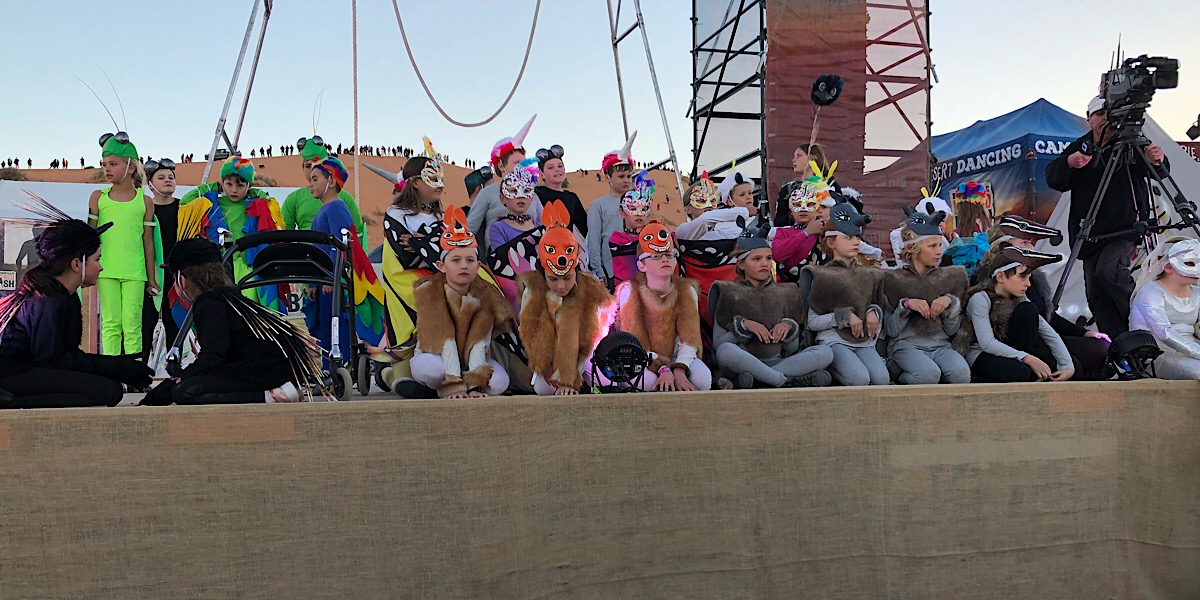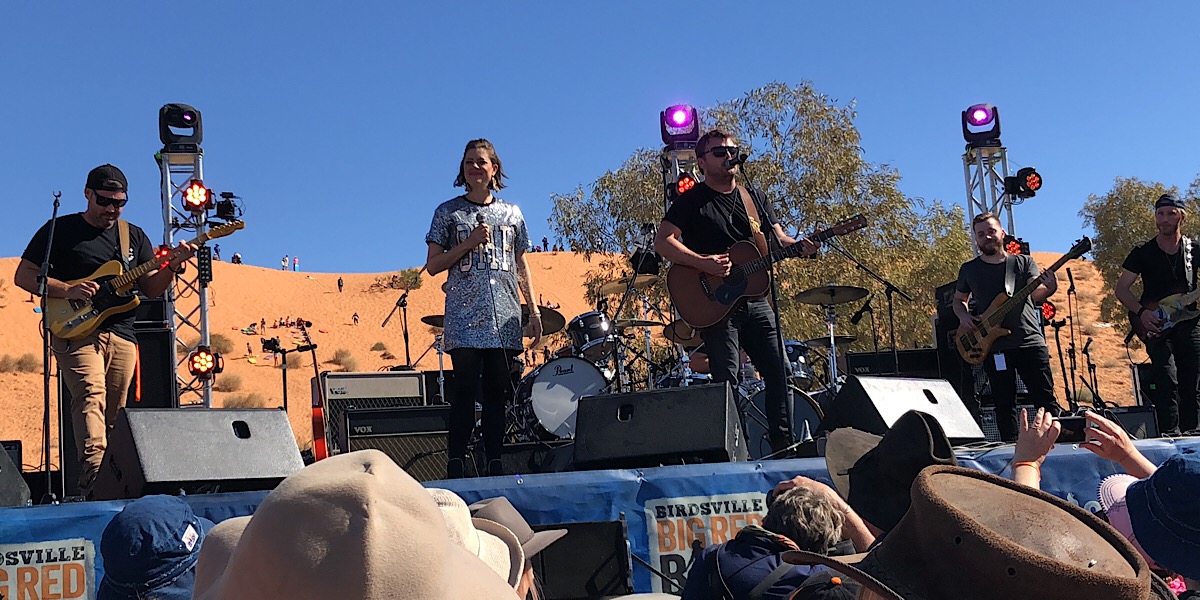 The music kicked off and I headed up to the stage. Chris doesn't dance, and the kids weren't really interested.
I was having a great time by myself until Debbie Don, an awesome chic from WA joined me, and we danced together. We spent the entire day right at the font by the barrier. I held her spot if she had to go, and she did the same for me.
We had a go at the line dancing that the ladies in front of us were doing, but we got a bit bored and decided to do our own thing.We had a blast!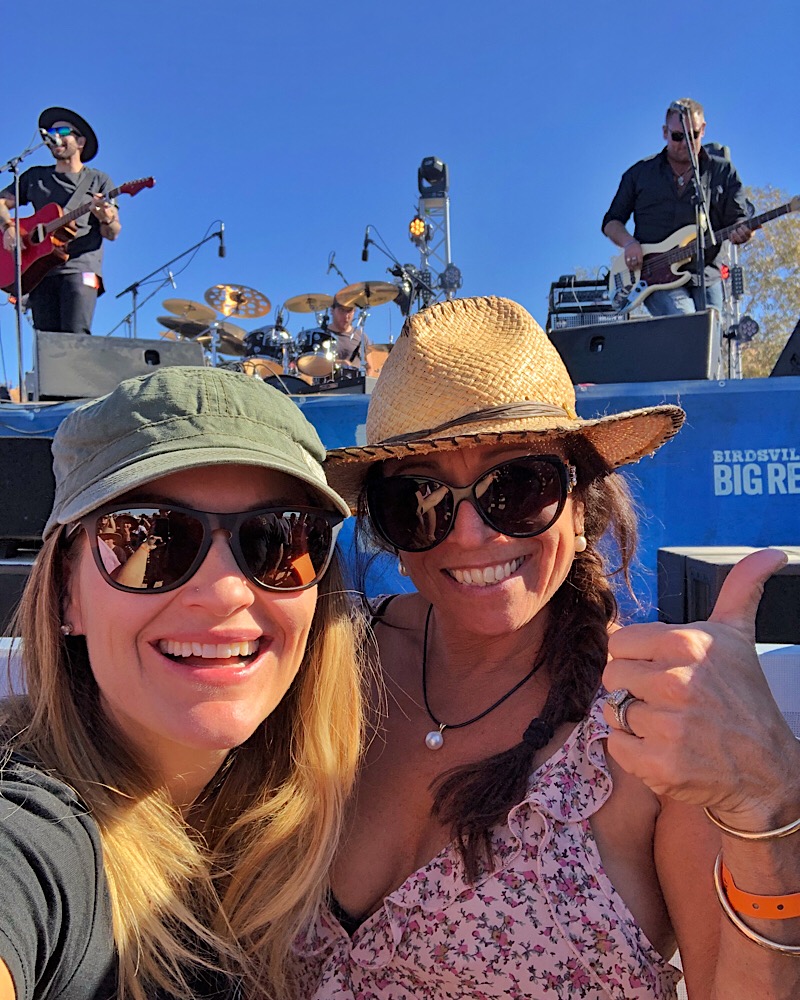 Busby Marou, Travis Collins, Amber Lawrence, Adam Brand, The Wolfe Brothers and Russell Morris all played while the sun was up. But we danced well beyond that! And as the sun was setting, The Angels took to the stage and gave what was my favourite performance of the day! They were followed by the Hoodoo Gurus, which was my cue to leave. I'm not a big fan and my feet were screaming for a break after 7 hours of front row awesomeness.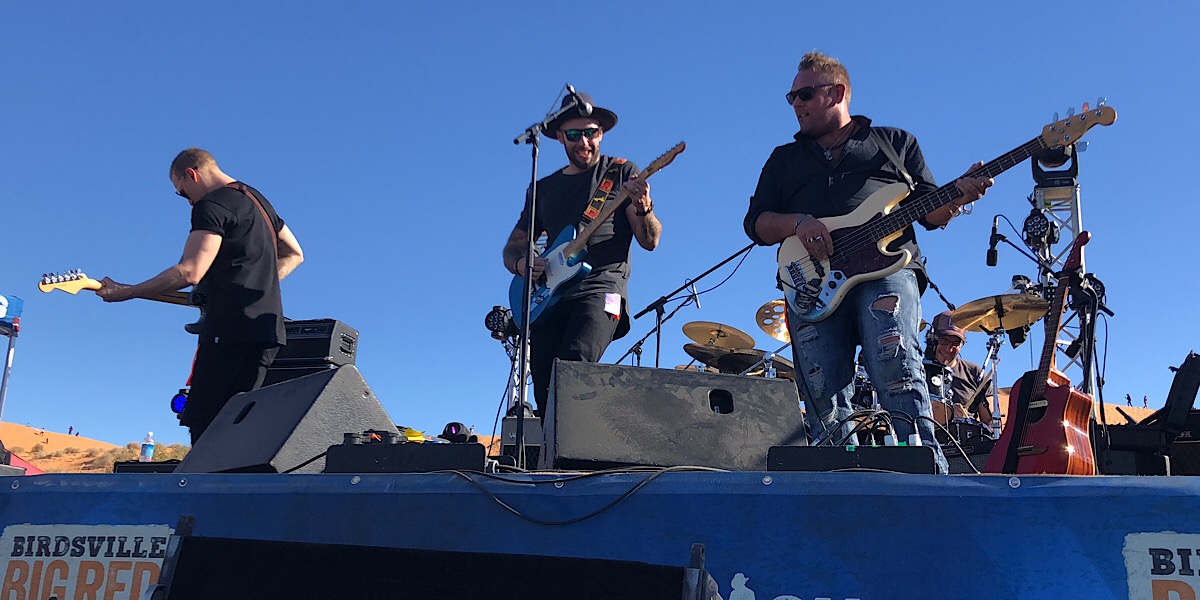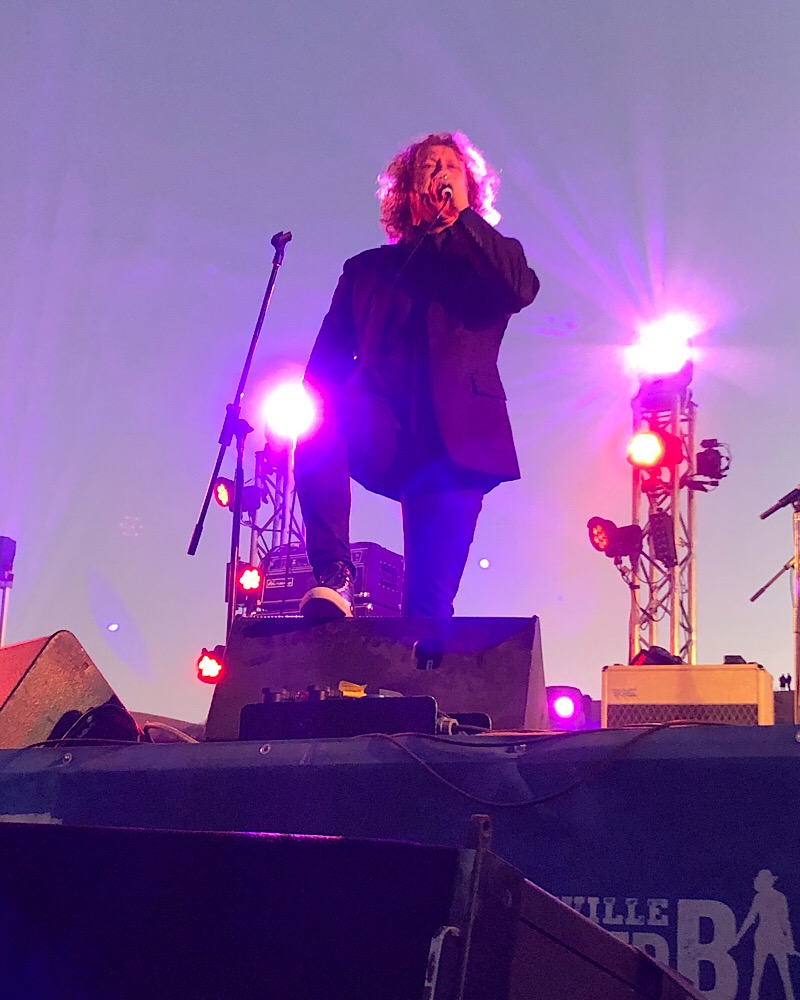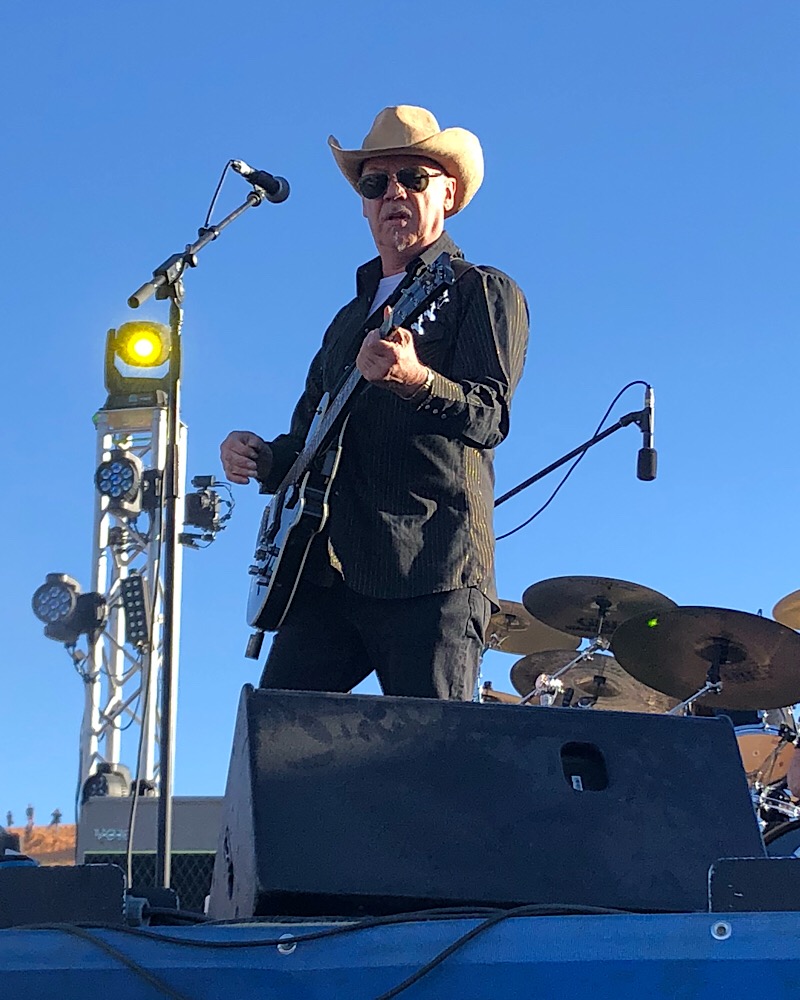 Nutbush Guinness World Record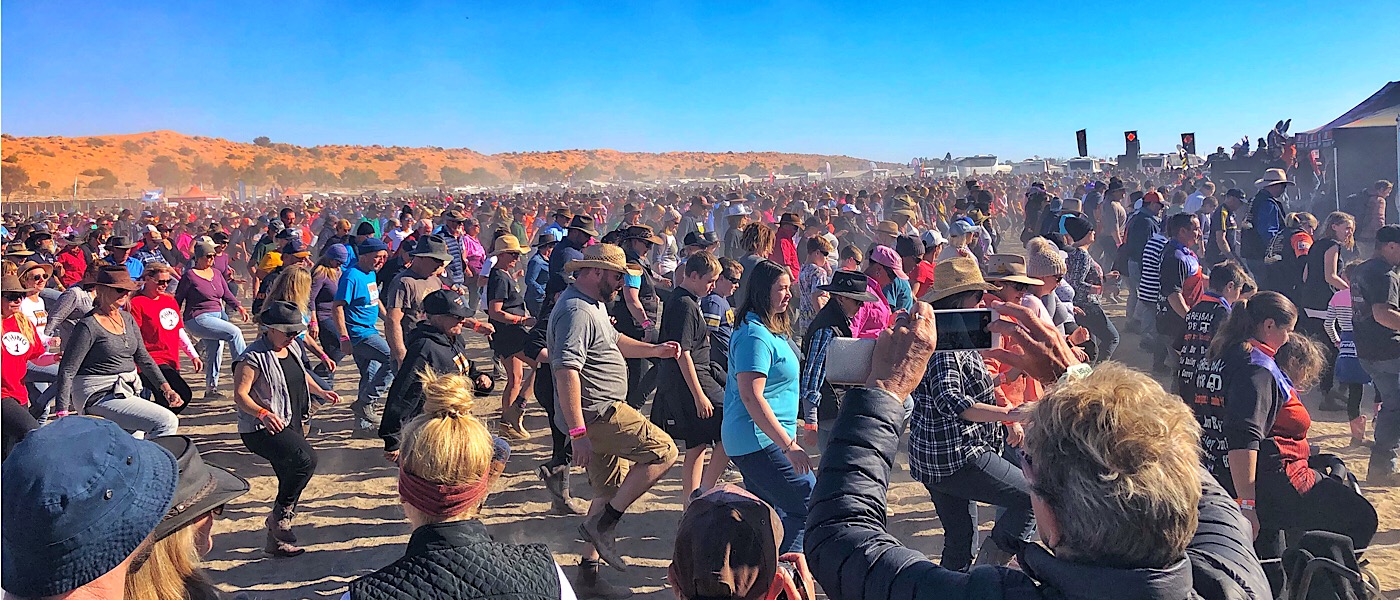 Thursday morning it was the coldest yet… -1C and frost. As the sun was rising we could here Frank Frasers' bagpipes as he played proudly on top of Big Red. It was such a beautiful way to start the day.
We did the usual coffee run and I stuck around to watch the Nutbush Guinness World Record come tumbling down. People started lining up about 8:50 and it took well over an hour before they were all in the roped off section ready to dance.
It took a while to get all 2000 registered participants in the roped off area and a few rehearsal dances helped to pass the time. 1,719 people completed the challenge without being disqualified beating the original record of 522.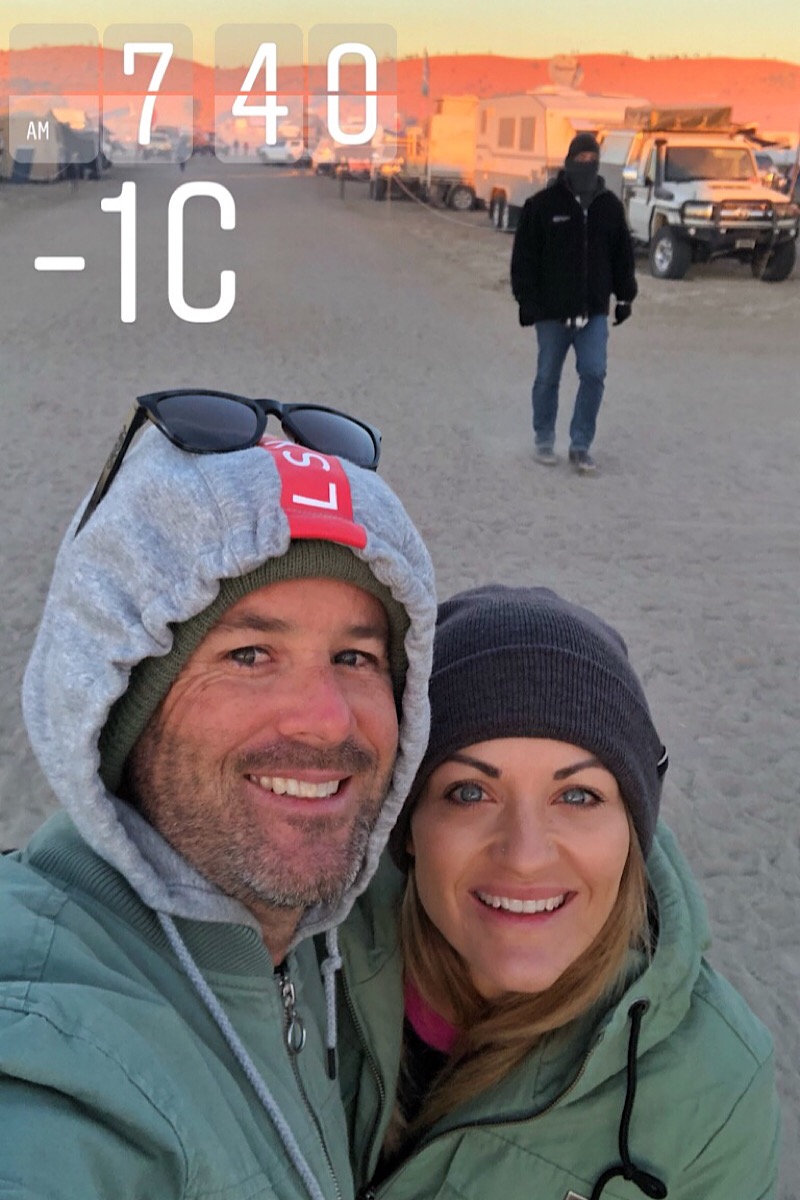 On the way back to the van the girls asked if they could show me what they'd learned to do with the stock whip – so we headed over behind the food vans to a camper trailer where I met Melanie and Craig Robinson from Mt Martha Mornington Peninsula. Charli was amazing with her whip cracking! Kobi and the girls have been hanging out a bit this week.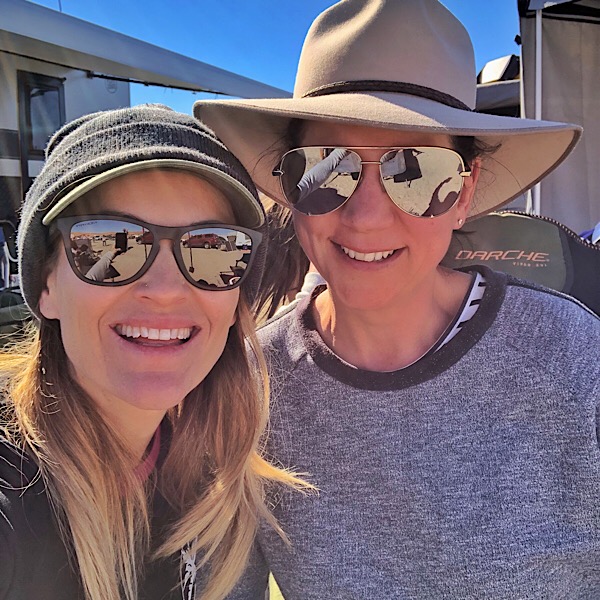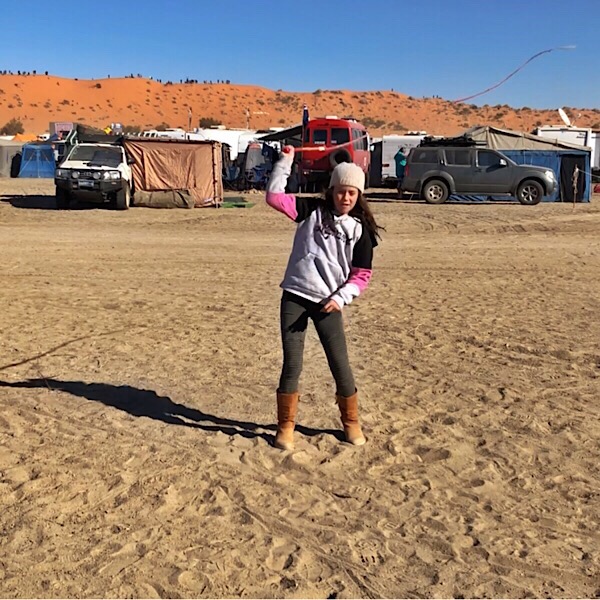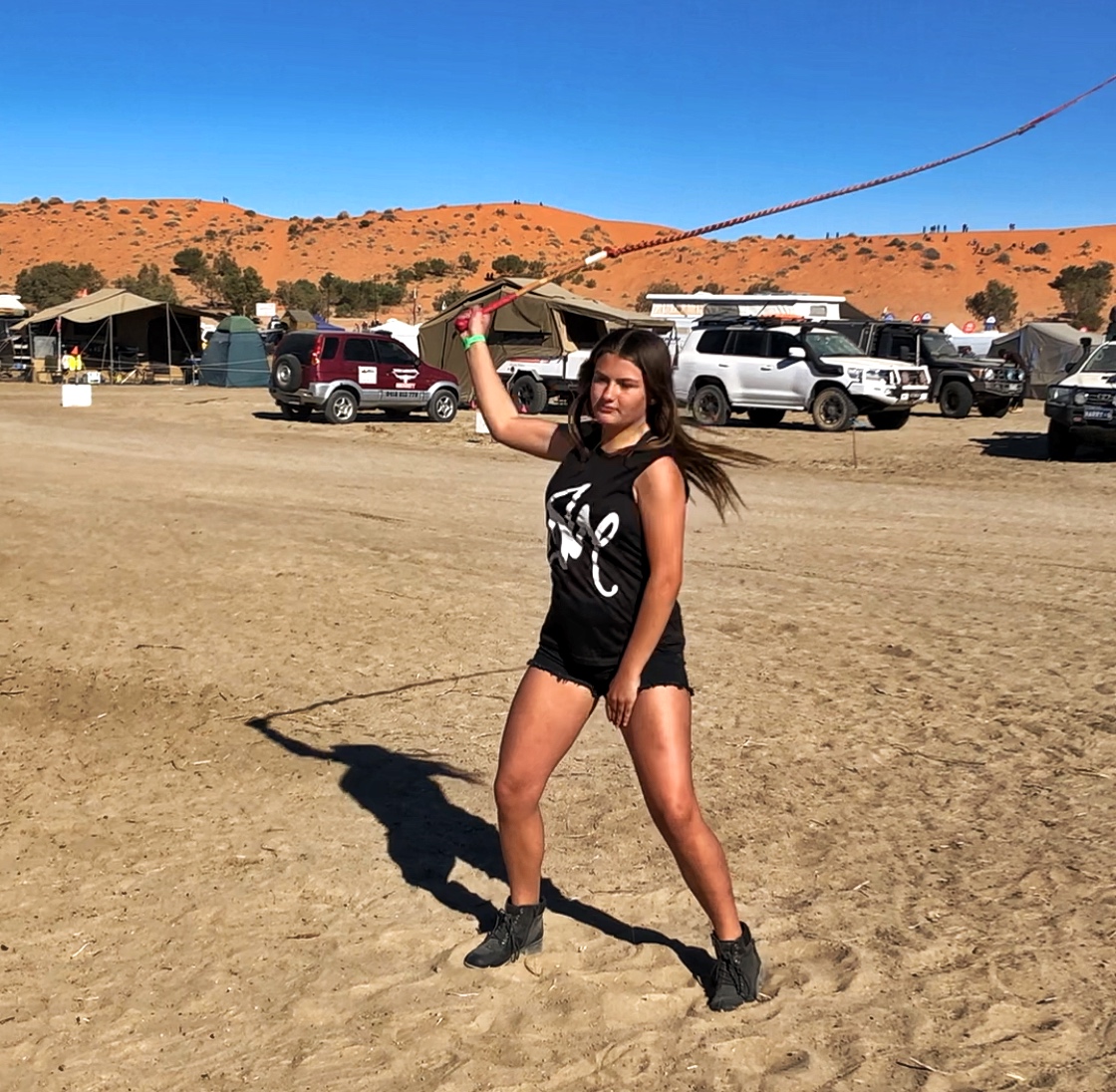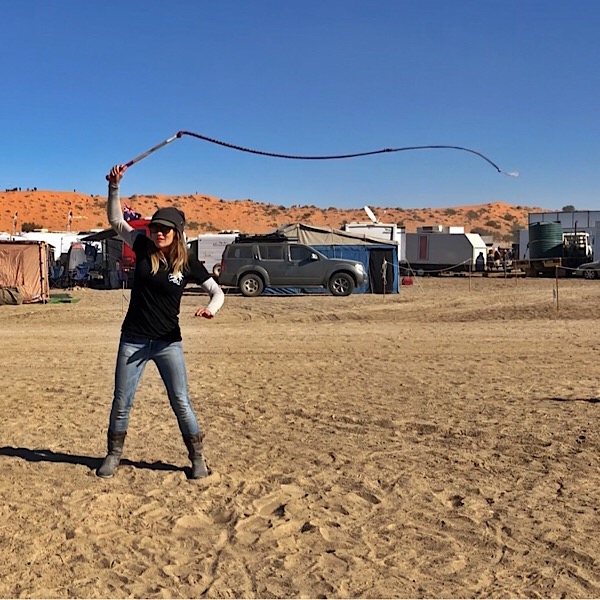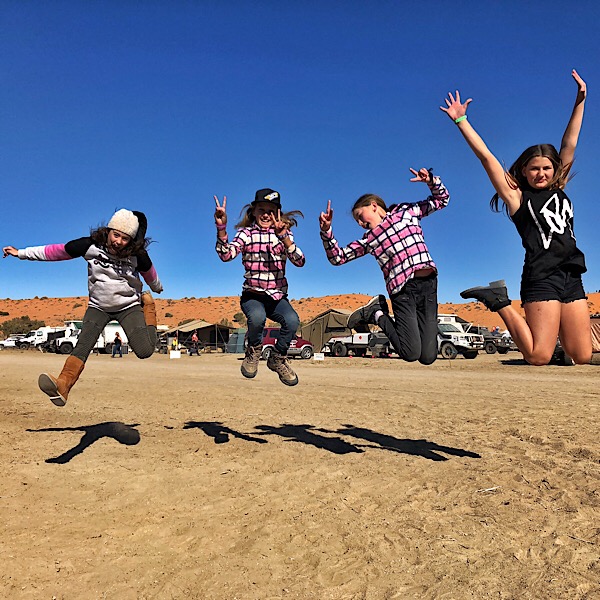 Cass, Chris's old hair dresser was at our van having a chat with Chris when the girls and I got back, and as she was leaving, Phil and Cathy, a couple we had met at the Cooktown Hotel a few years ago stopped by to say hello. Making new friends and catching up with old ones is one of the best parts about traveling!
We were chatting and packing up while Kat Cebrano and The Black Sorrows were singing in the back ground. I was a bit upset at not being able to stay for John Farnham, but … Chris was keen to get a good head start on the 8000+ others that would be rolling out tomorrow.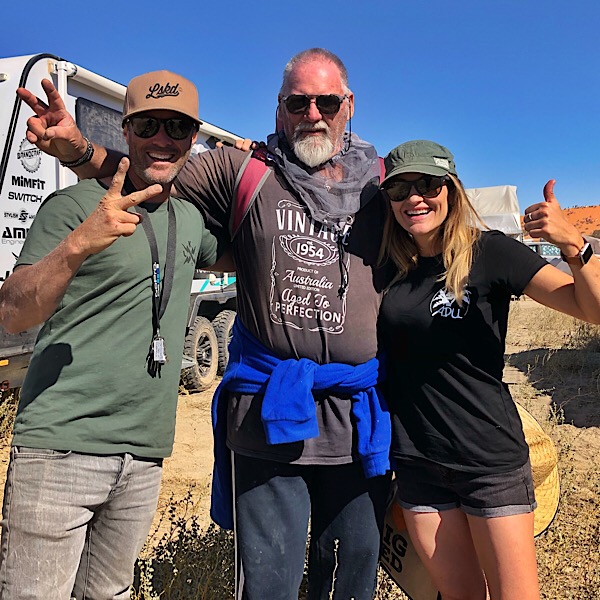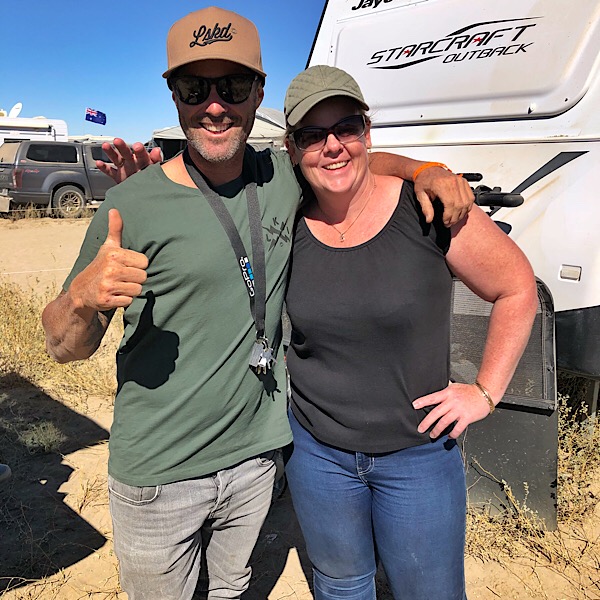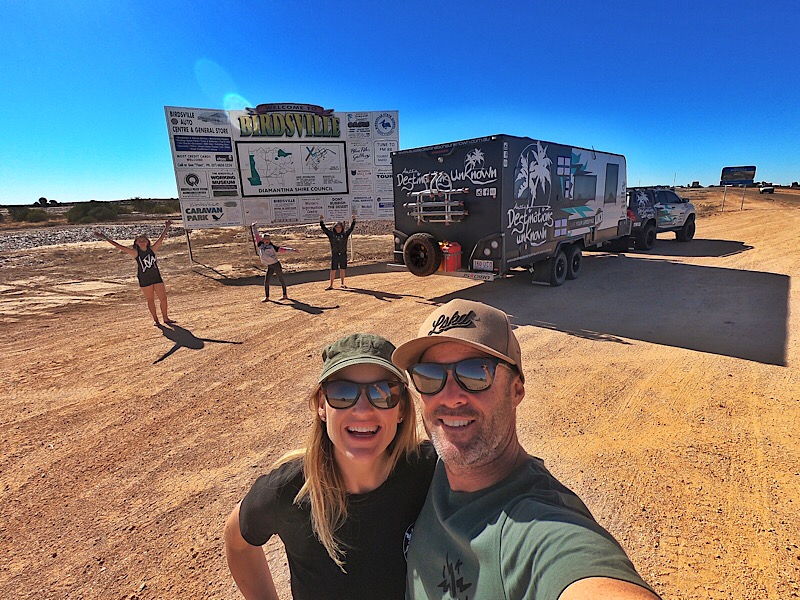 We left at 1:00 and followed quite a few other vans out the gates, but they all stopped at the day parking area, and we kept going.
We drove back to Birdsville to dump the toilet, fill the tanks and grab a camel pie at the bakery before starting the journey home, detouring via South Australia so the kids could jump from state to state.?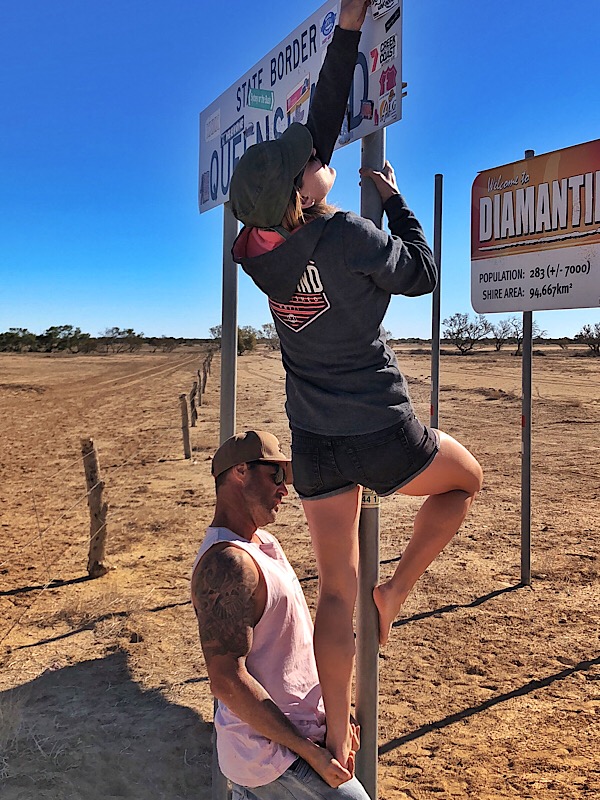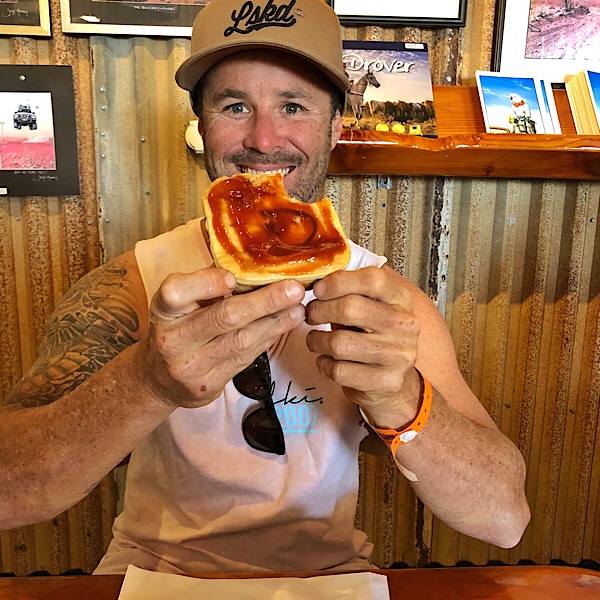 We slapped an ADU sticker on the Queensland border sign and sent the drone up to capture some spectacular scenery before hitting the gravel road. There were some terrible patches with deep corrugations but thankfully not much traffic.
We drove until the sun was low on the horizon in our rearview mirror before pulling off the road to set up camp for the night. I got dinner started and the kids gathered rocks and firewood treading carefully to avoid the millions of bindies and prickles that we're getting very much stuck in our shoes and sometimes our feet.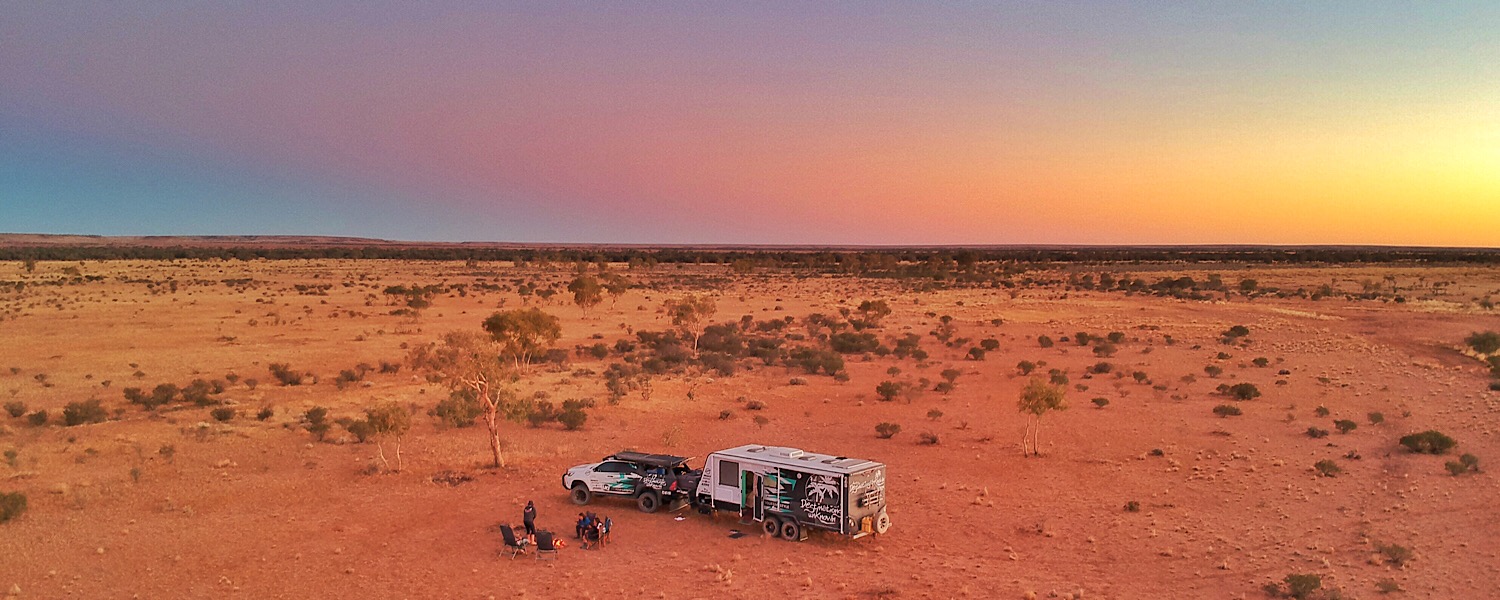 We sat around the campfire for a while before having showers and heading to bed. It was eerily quiet, and Chris kept mentioning Wolfe Creek (which I have not and never will see!) and then he put the window shade down (he likes to be woken by the sun) … and with the blinds up, all I could picture was someone (very scary looking) shining a torch through!
Needless to say, 2 hours later I was still awake. Chris said he thought he'd heard something and that he go outside to check – it made me feel better. It definitely did – so he headed out into the cold. Within seconds he was calling me out, and when I opened the door I was blown away by the dark sky above and the Milky Way weaving its way right over the van.
Millions of stars were burning so brightly it took our breath away. Sure, we've read about it and seen pictures, but nothing is quite the same as seeing it right above your van. We woke the kids up who had the same reaction as we did – pure amazement. I was a bit upset that we didn't have our new digital SLR to capture the moment, but it's definitely etched into my mind forever.
After seeing what was around the van (nothing!), I slept like a baby waking at 5am to get us up, ready and on the road early.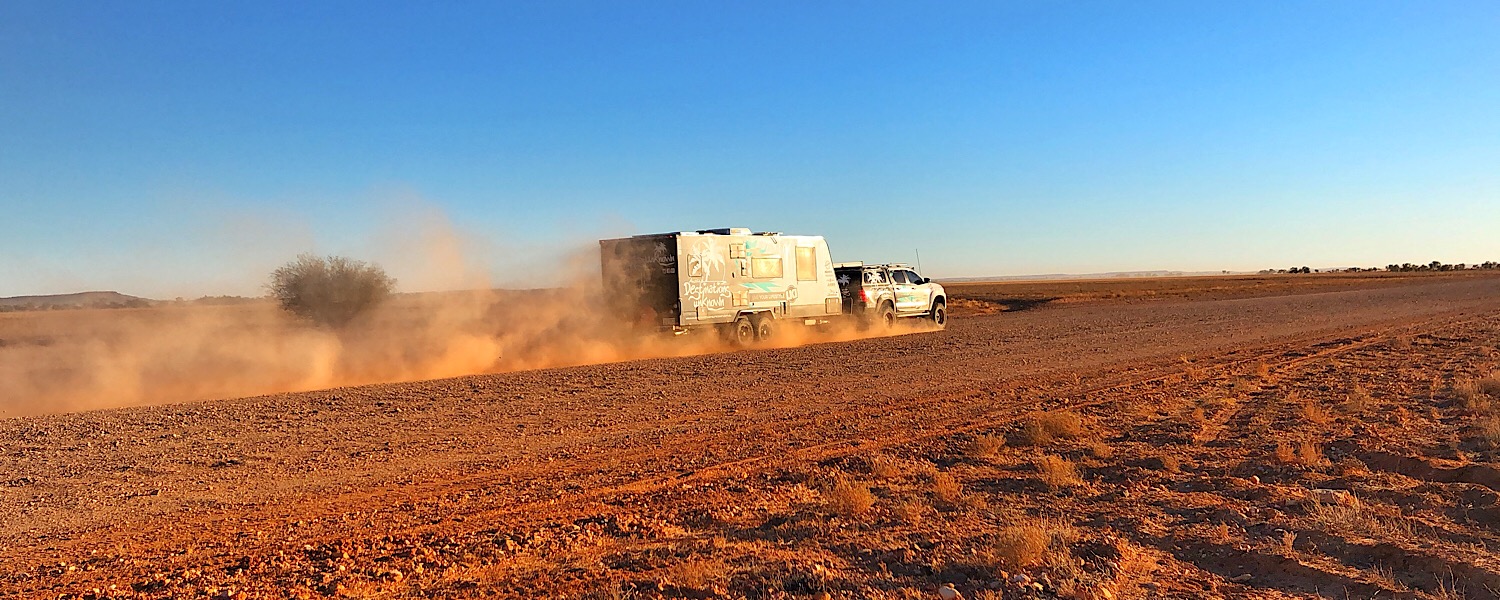 There weren't many cars or vans on the road, so we had a pretty good run as the sun started to rise directly in front of us. It was spectacular but made seeing the road a bit tricky through the dust that was amplified by the rays of the rising sun.
We saw people camped up on Deons lookout as we drove past and gave them a flash and a honk as we passed by.
We were all pretty relieved as the gravel road came to an end and we hit the bitumen – without breaking anything, not even getting a flat tyre! 560+km of gravel road was done fairly easily with the Nitto tyres and Lovell's upgraded suspension.
All the effort that Chris spent preparing the van and car really paid off. We ended up with quite a bit of dust in the canopy of the hilux, but barely any in the van.
We were greeted by a friendly breath test … that, from what I hear, is pretty standard after the Bash each year. Thankfully Chris had decided against Big Head for breakfast, and passed with flying colours 🙂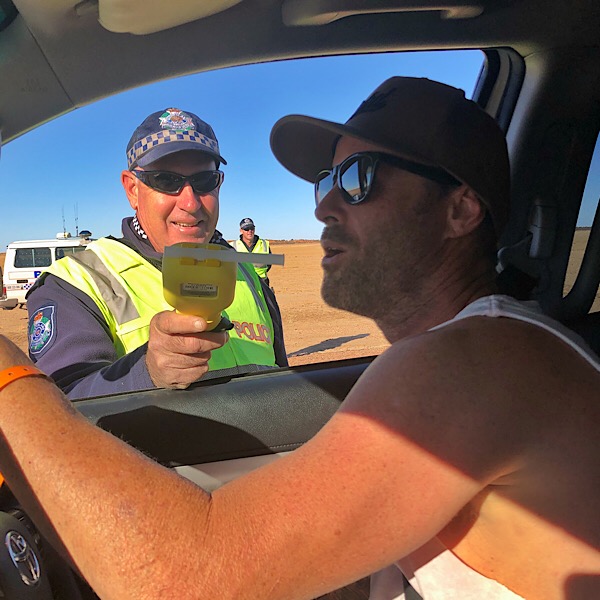 We pulled into an almost empty Windorah a bit before 10:00am to refuel and grab coffee/hot chocolates before continuing the 260km to Quilpie.
It was lovely to have showers and soak in the spas once again. I was lucky enough to share a spa with Lisa and Greg who live not far from us! We had a great chat and are still in contact now which is great.
Spirits were high as dinner time rolled around with appetizers being shared around the spa – Chris was pretty happy to have one popped right into his mouth so he didn't have to dry his hands off first!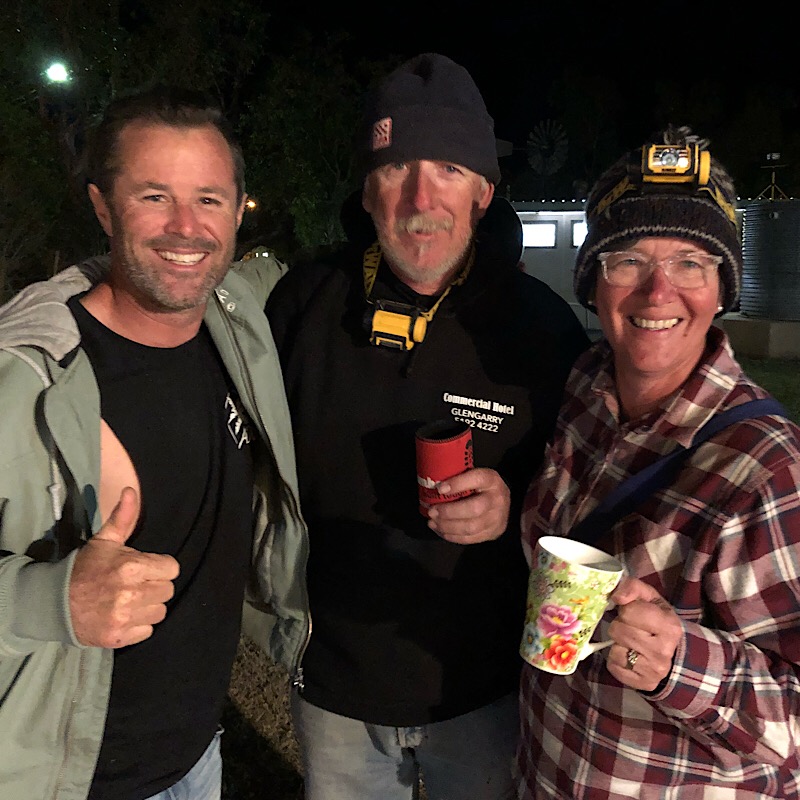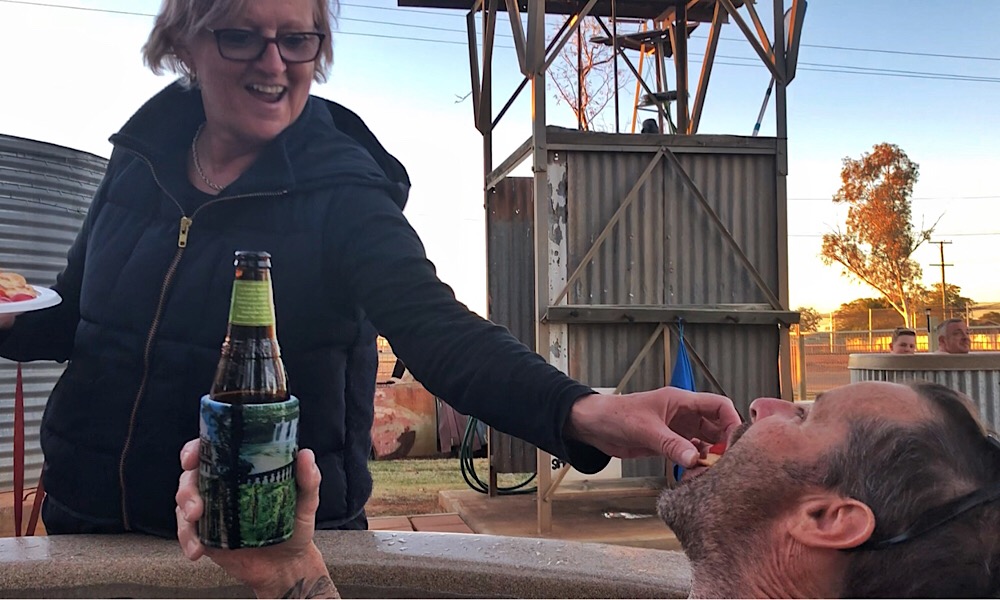 We decided to grab dinner from the server near the campfire. The kids had fish burgers and Chris and I had the baked potatoes with coleslaw. I showered and washed my hair and Chris chatted for hours with Julie and Wayne from Clyde in Victoria. They had some massive troubles with lumberjack camper trailer.
About 160km from Birdsville they had a catastrophic suspension failure resulting in multiple trips back and forth between Birdsville and local cattle station Cordillo Downs where the locals helped with welding and rebuilding the trailer to get them back on the road (dirt track). When they called RACV, they were asked of their surroundings. 'Um No. We aren't sure of the closest intersection or postcode!'
What an amazing country we live in – filled with amazing people who have unique stories to share like these two.We love sharing adventures around the camp fire when the sun has set and the dust has settled.
We left Quilpie a bit before 8am and decided to stop in Roma for the night instead of Charleville.
Charleville
It didn't take long before we were wandering through the streets of Charleville, refuelling, buying a few groceries and eating a lunch of delicious pies from the bakery. We spent about an hour exploring before continuing on to Roma.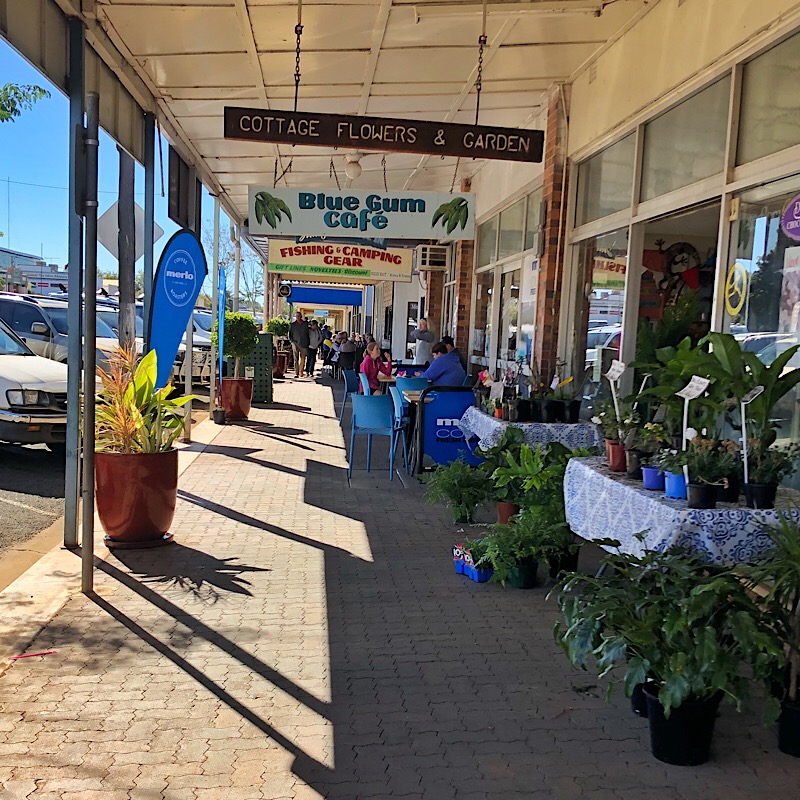 Morven
We stopped off at Morven so Chris could have a play on the old machinery that was on display by the side of the road. We checked out the old Kerosene Tin Hut and jumped on the mini farm of tin animals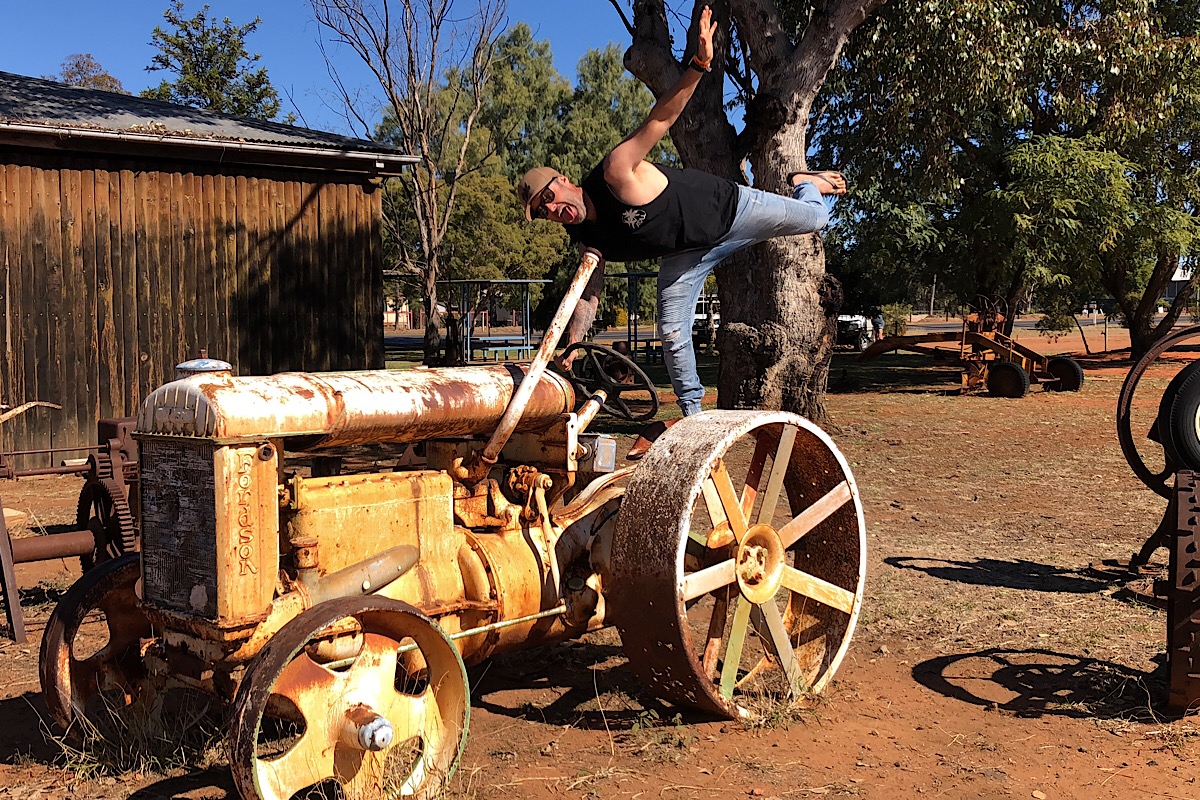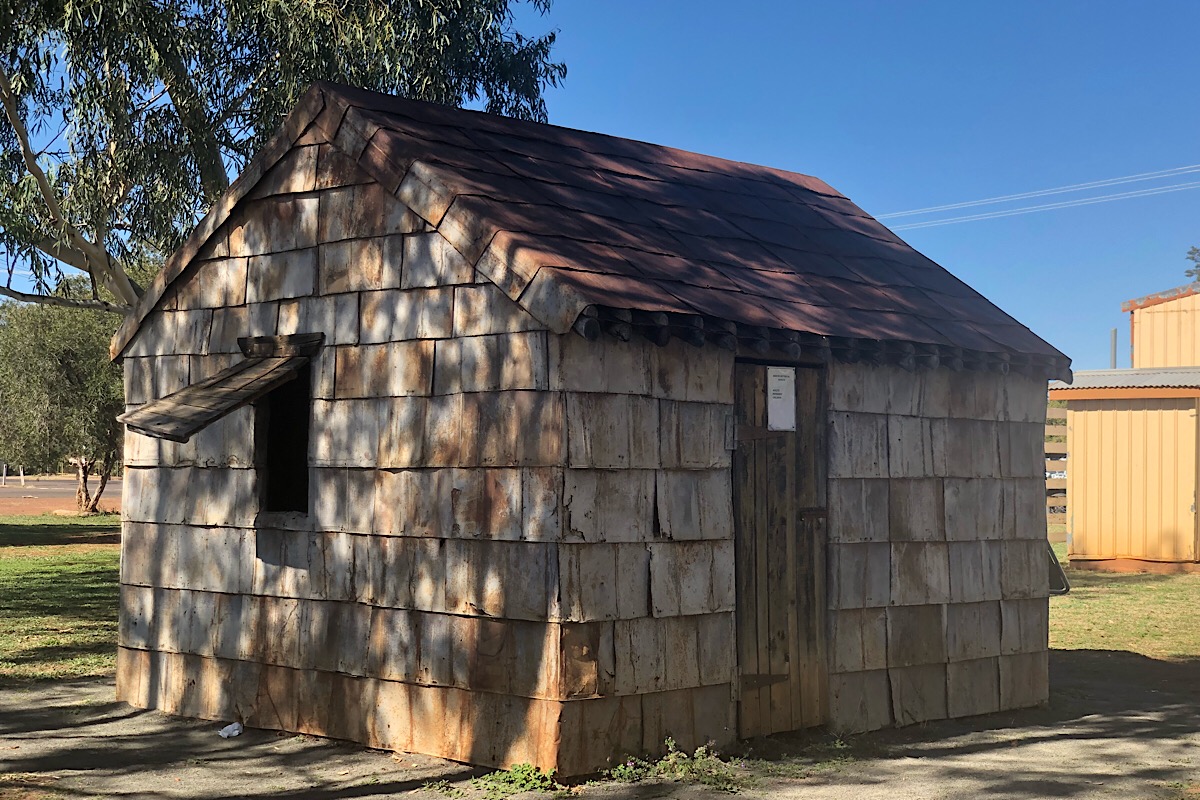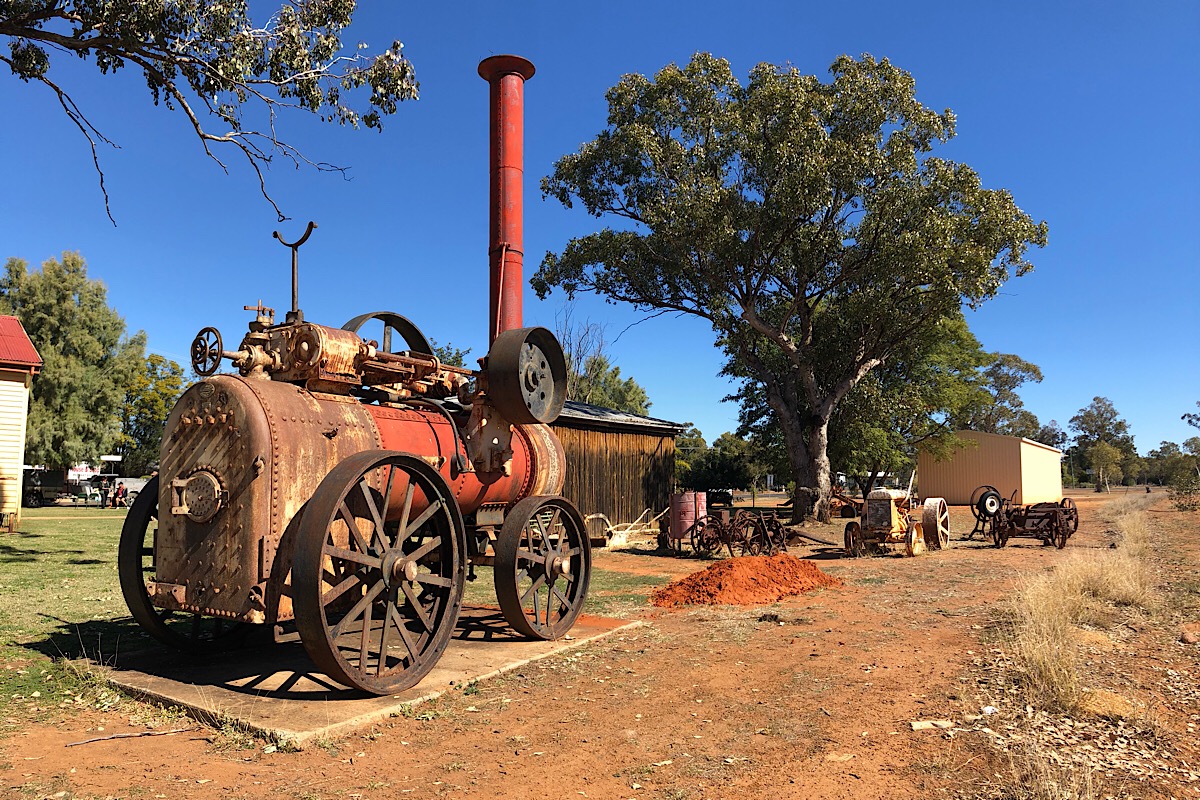 We pulled into the Big Rig Tourist Park in Roma a bit before 3:30. It's a Top Tourist Park; had the best reviews when we were looking up where to stay.
The guy behind the counter was friendly and we found our site easily. Chris didn't want to unhook the van, so we just pushed back past the slab. We didn't even hook the water up as we had plenty left in the tanks.
The girls went over to check out the lovely little (unheated) pool and I had a wander around the park. It's located right on the road, but traffic noise wasn't a problem at all from where we were parked.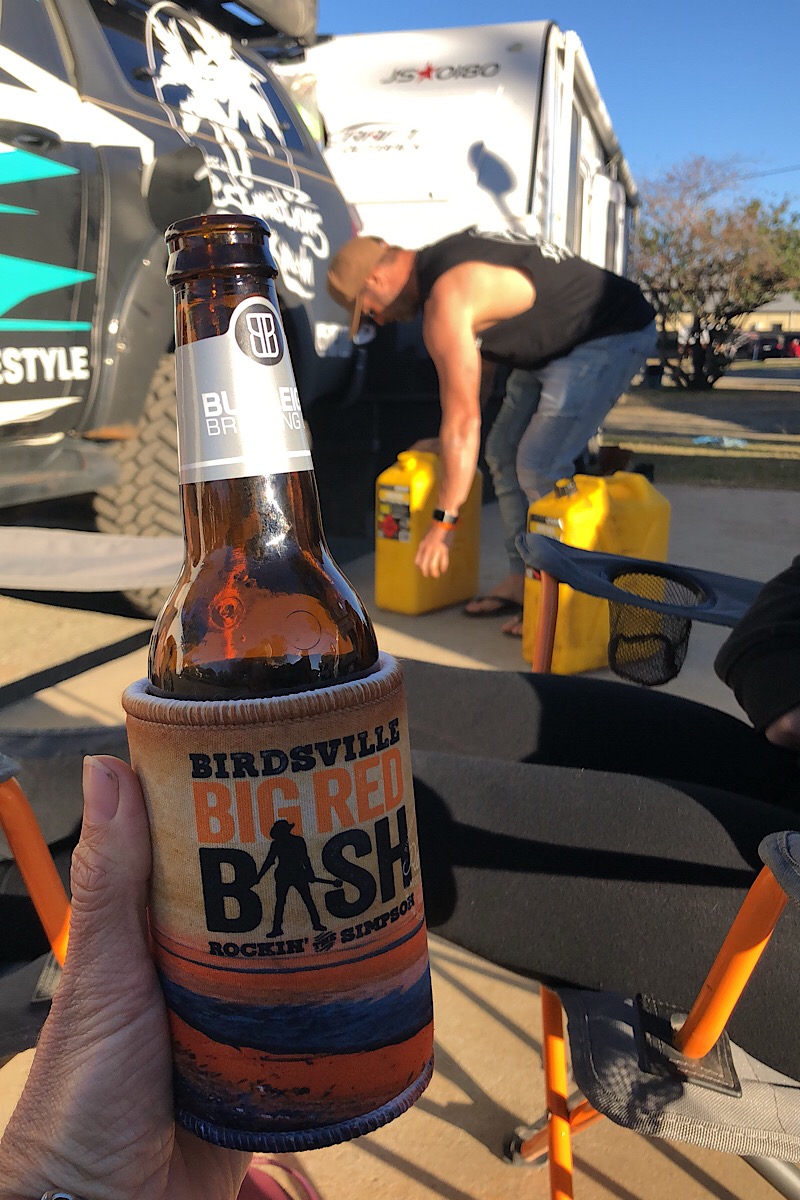 We were up early the next morning for the final stretch of our epic adventure. We went back through Toowoomba and down the range, once again smelling the brakes as we made it to the bottom.
We were home in good time, still on an absolute high from one of our favourite adventures yet.
If you've thought about going, stop thinking and start planning! This is one experience you will carry with you forever. We loved it so much that we will be heading back next year.
Here is the link to the Big Red Bash website in case you are a teeny tiny bit interested in heading out to experience the magic for yourself. www.bigredbash.com.au
And to finish up, I will leave you with what we were left with …. dust! 😉