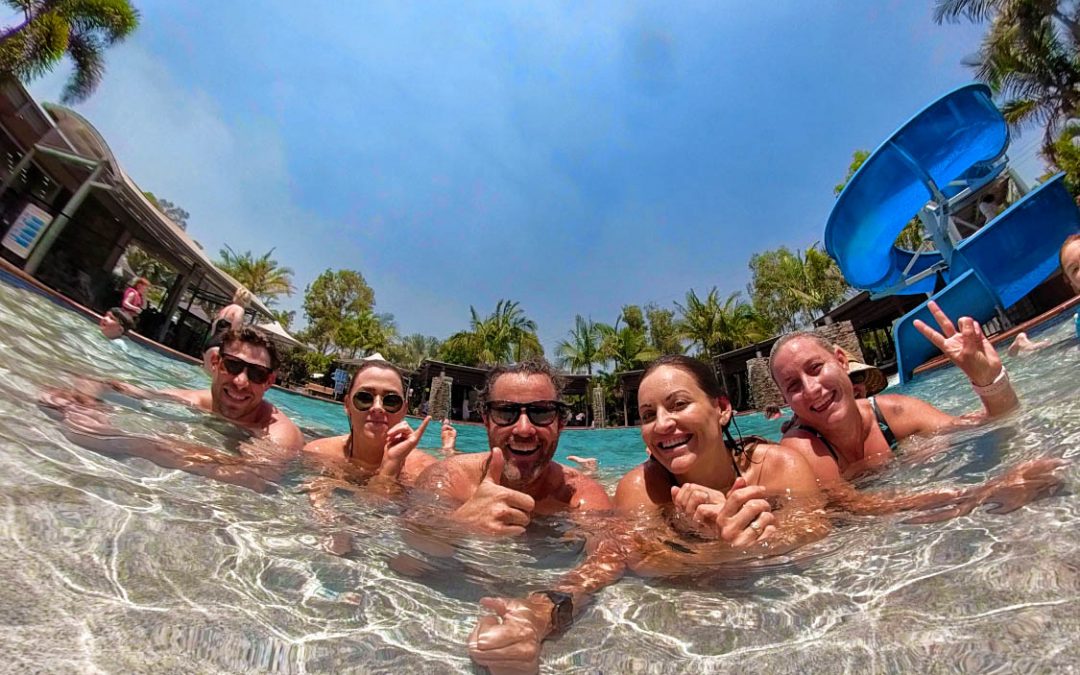 RnR Wanderers, Let's Get Outta Here and Makn Trax were coming along for our first weekend away in months! We've had a really rough year having had no van or 4x4 for what feels like forever, and this was us finally getting back out there doing what we love.
We still don't have a caravan or a battery system in the Hilux but we weren't going to let this stop us. So, we were heading off with what we do have – the Alucab rooftop and a borrowed Eski packed with ice.
Our initial plans of a weekend at Flanagan's Reserve were completely thrown by the devastating bushfires that have wreaked havoc in our National Parks and so many other places. Where could we go on such short notice we wondered? The BIG4 at Helensvale popped into my mind (it's our local go-to park being only 20 minutes down the highway). Worth a try I thought and made the call. Within a few minutes we were booked into the unpowered sites down the back by the river.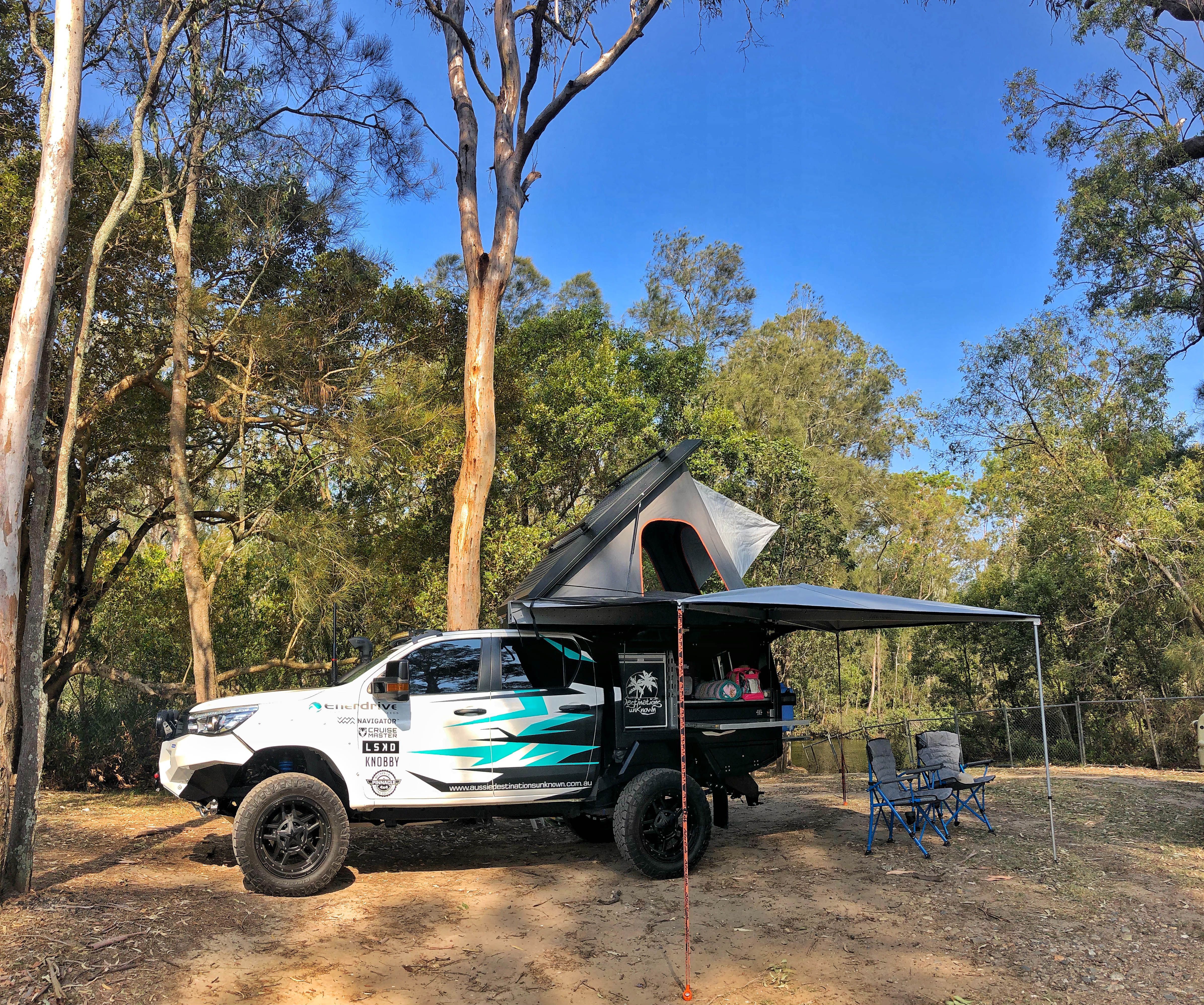 It's such a fun park with awesome amenities and great, super-friendly staff. I love the huge tropical fish tank in one of the (really nice) camp kitchens and the even bigger one in the amenities block! It's pet-friendly and even has a dog-park which was perfect for Mel and Geoff's pooches Molly and Kiki to have a good run around in. If dogs and fish aren't your thing, feel free to check out the various animals in the 'petting zoo'. There's a BMX track which Greg's little fella didn't take long to find, and plenty of open spacefor the kids to ride/tun around in.
The pool area lit up by flames at night and open until 9 p.m., is amazing. You can relax in the spa or splash around in the heated pool which has a water slide while the kids (if you have them) have fun in the shallow kid's pool. If you get hungry while hanging out in the pool area, you'll find the café serves scrumptious food and drinks until 8 p.m. And they can whip up a mean cocktail!
Yep, this park is just awesome! It also helps that the park is located right across the highway from Movie World, Dream World, White Water World, Wet n Wild, Outback Spectacular and Top Golf and isn't far from Surfers Paradise or Brisbane.
This park is just awesome! It also helps that the park is located right across the highway from Movie World, Dream World, White Water World, Wet n Wild, Outback Spectacular and Top Golf and isn't far from Surfers Paradise or Brisbane.
Mel and Geoff (RnR Wanderers) were already set up when we arrived about lunch time on Friday. We parked the Hilux next to 'Blondie' and our Alu-cab roof top and brand new awning was set up within a few minutes.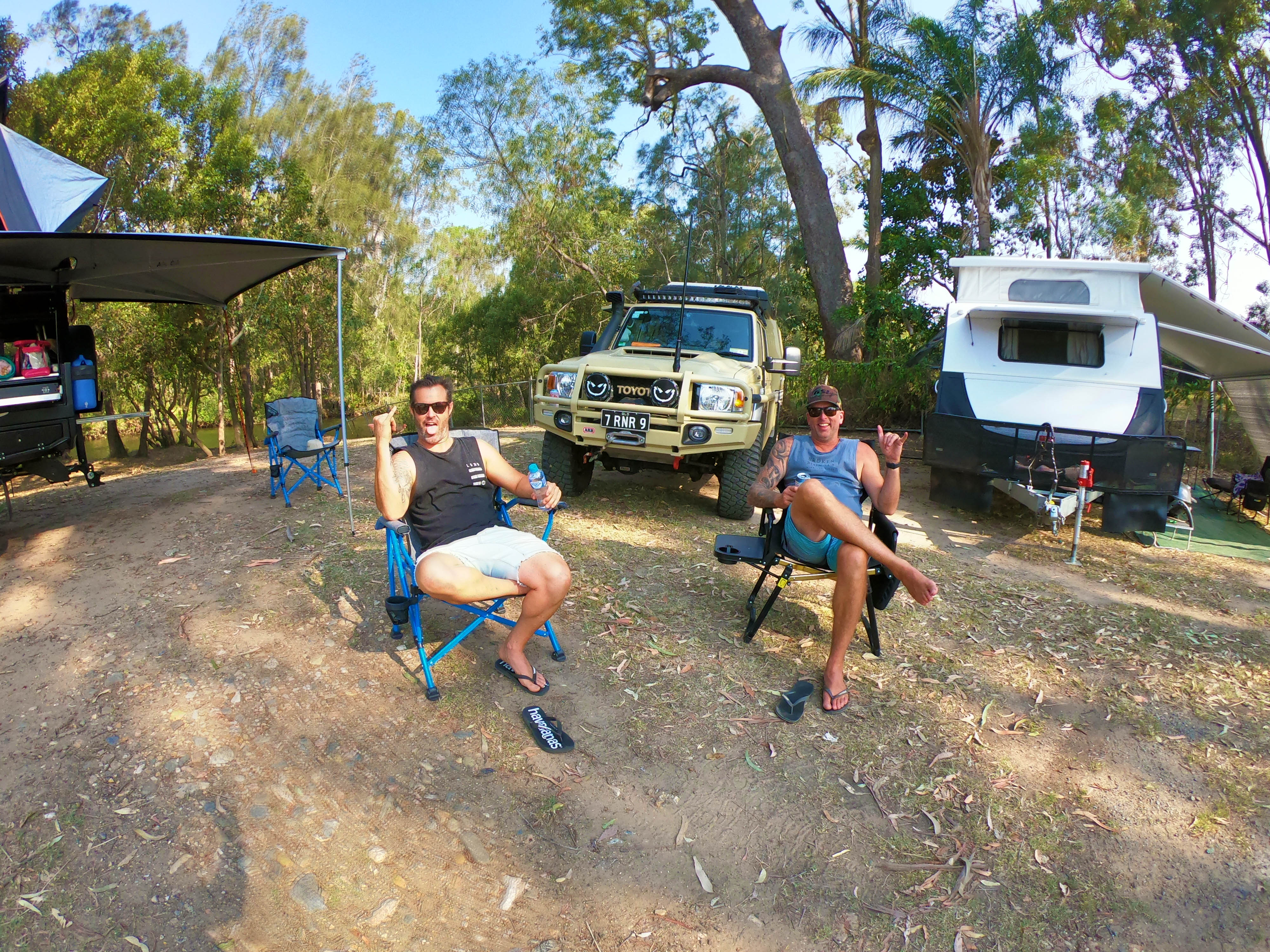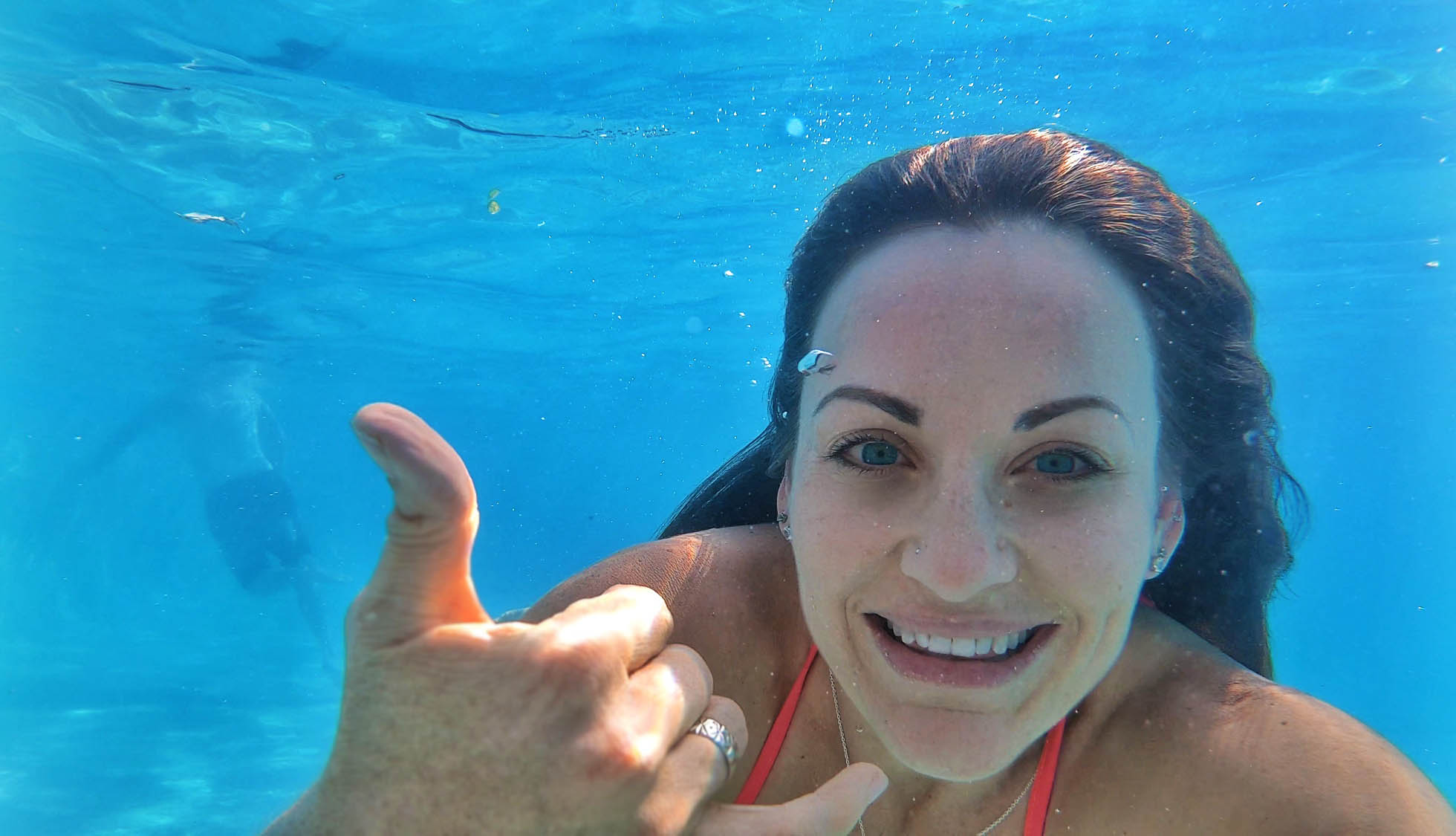 We had a bit of a chat before I left the boys with their beers and went for a splash in the heated pool.
When I returned to camp, Greg from Makn Trx had arrived along with Kurt and Carly from Let's Get Outta Here .
The boys were frothing over Greg's chopped 200 series and discussing all things 4x4.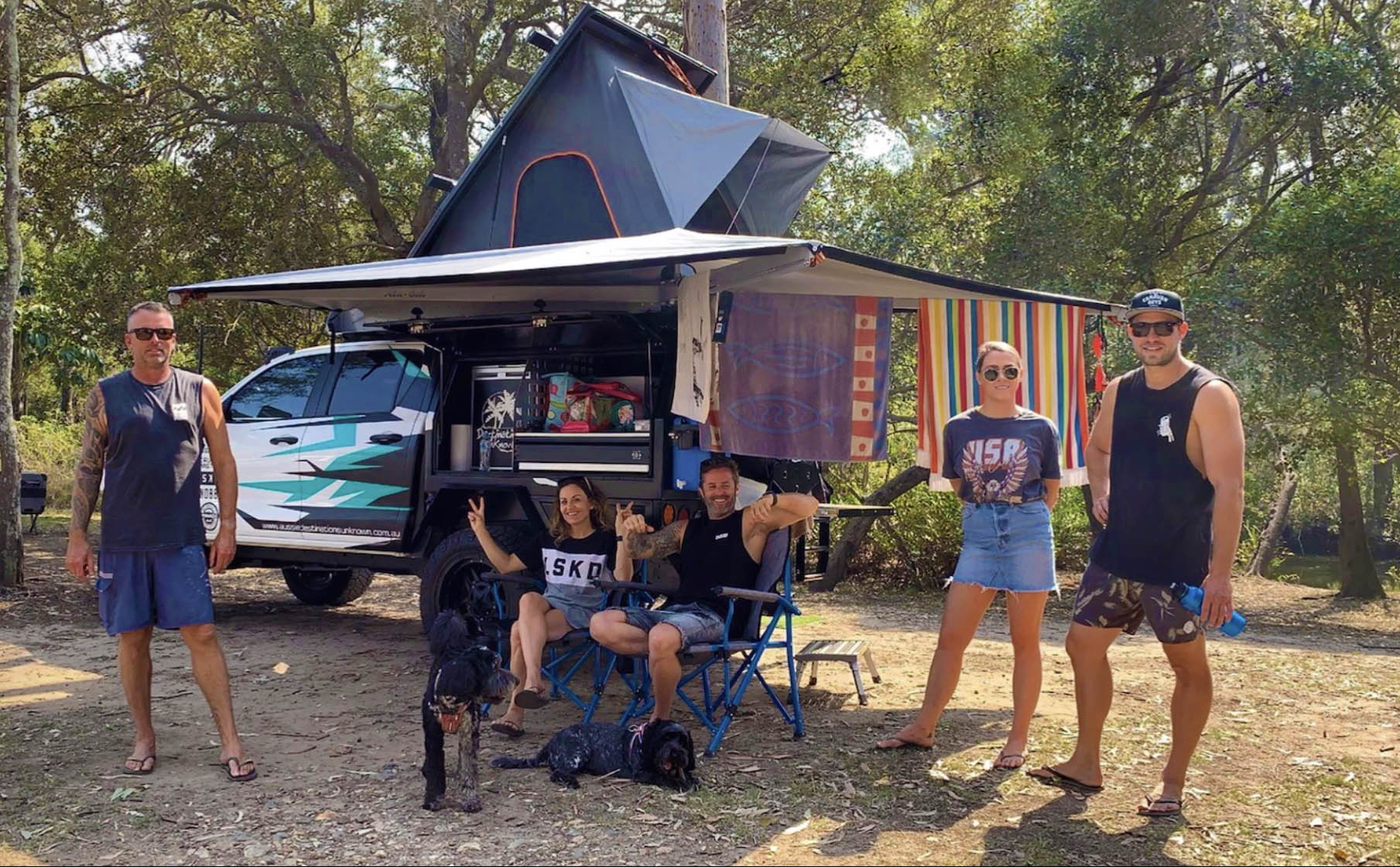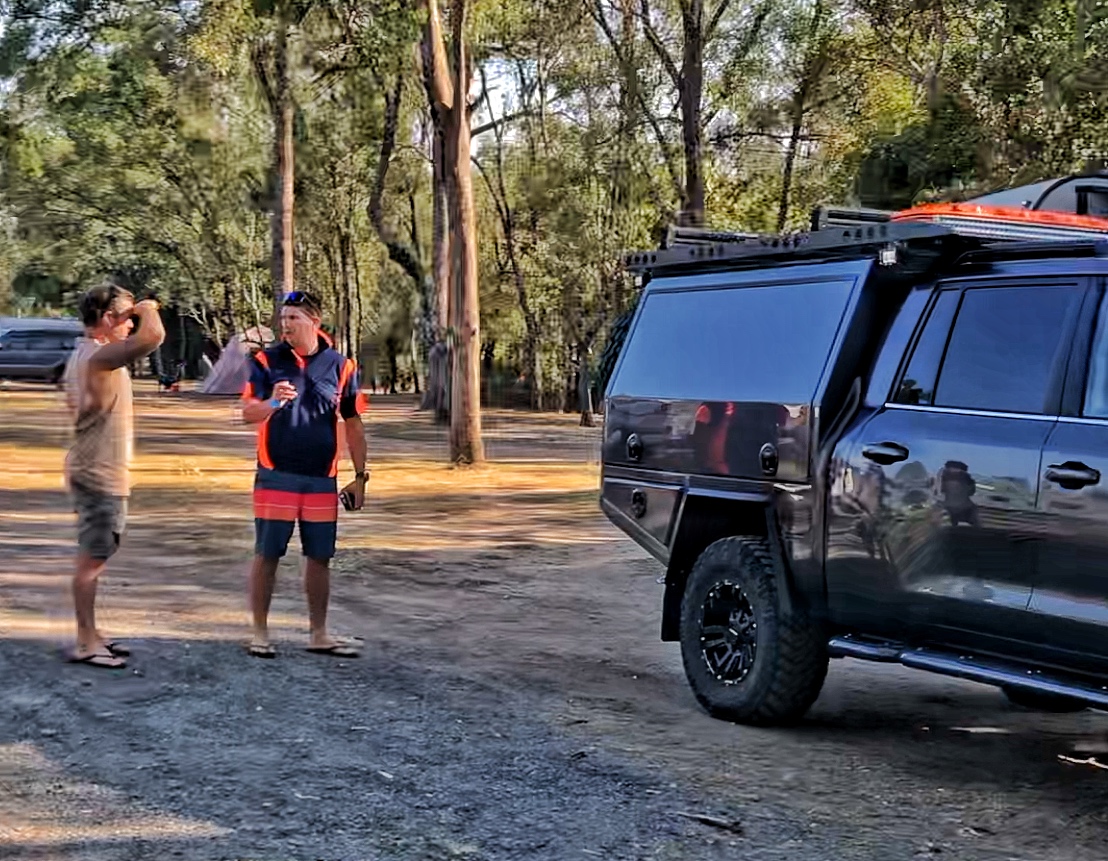 Camping makes a person hungry and we were there is a flash when Kurt and Carly invited us over to their caravan for Weber-fired pizzas. Carly's got that recipe nailed … dinner was delish!
It was still early when we climbed up into the roof top. It's super comfy so we fell asleep fairly easily despite the sound of the freeway. We had forgotten how loud the road-noise is when not in an enclosed van!
The sun peeking in through the flyscreen combined with the cockatoos squawking had us up pretty early. I pulled up a camp chair by the river to read for a while and Chris did whatever it is Chris does (Instagram and YouTube I think … lol).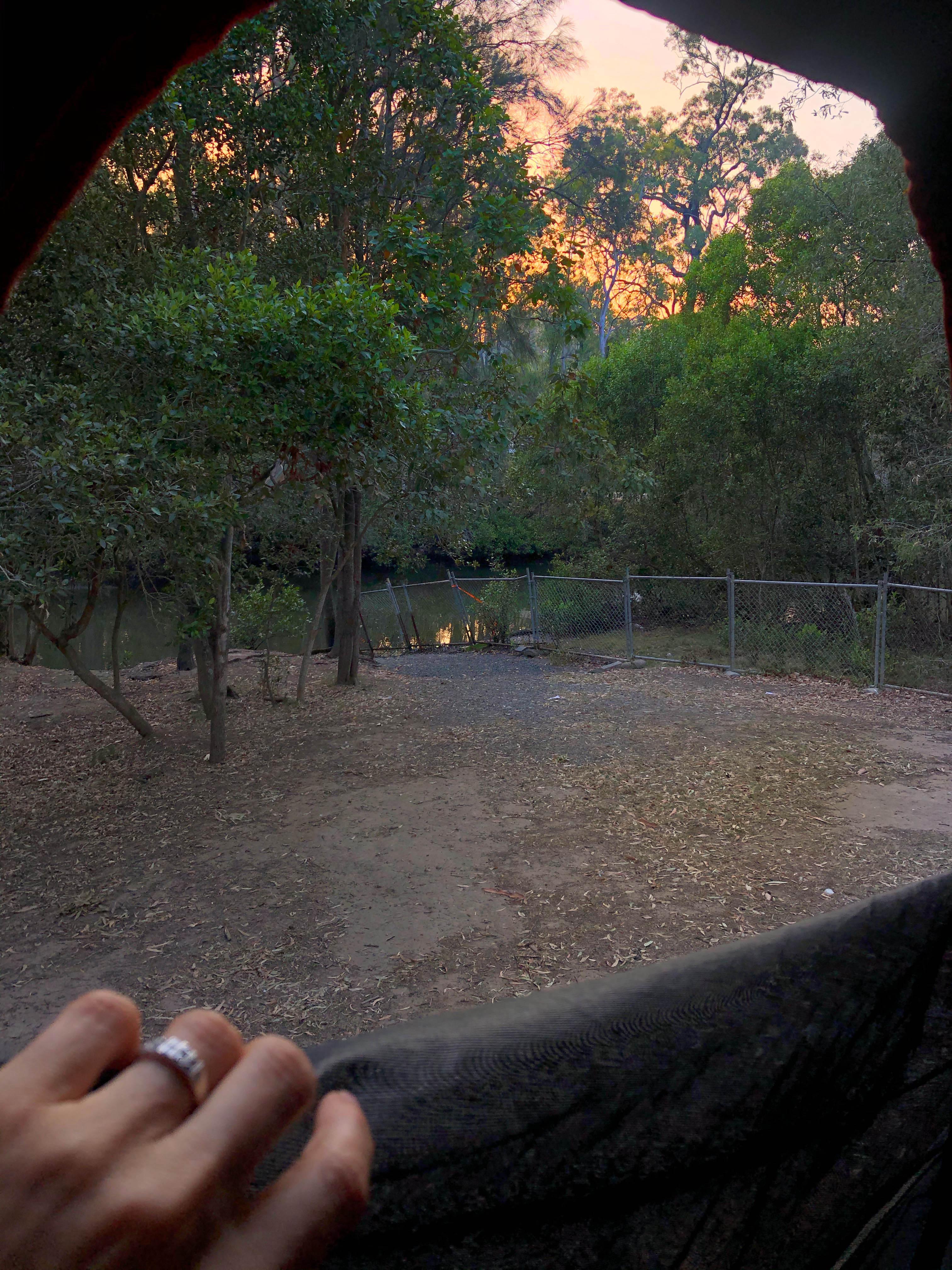 By the time the others were up and about, we'd showered, and Chris was getting hangry. We thought brekky at the café would be quicker than cooking our own, so we all headed over there to find we had 15 minutes before the gate opened. Not to be idle, we decided to have a bit of a sticky at the huge new water park that will be open to the public in February next year. It will be amazing!
On the way, some gorgeous little French Bulldog puppies name Bob and Marley grabbed our attention and wouldn't let go! They were adorable and had us all wishing we could take them home. Marty (their dad) came out and had a chat with us. Turns out he was there with his family on the final leg of their lap around Australia! 'Glamping Around Oz' was stuck on their Silverline next to a big 'For Sale' sticker.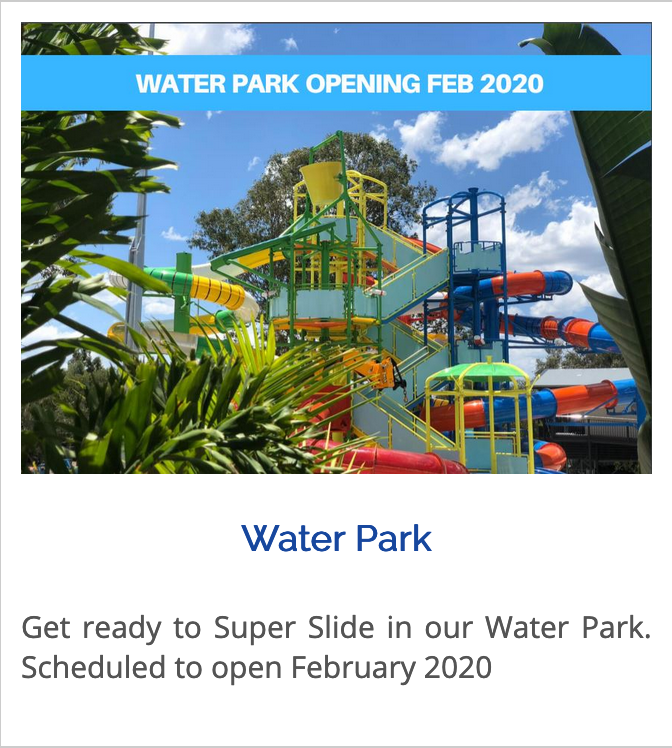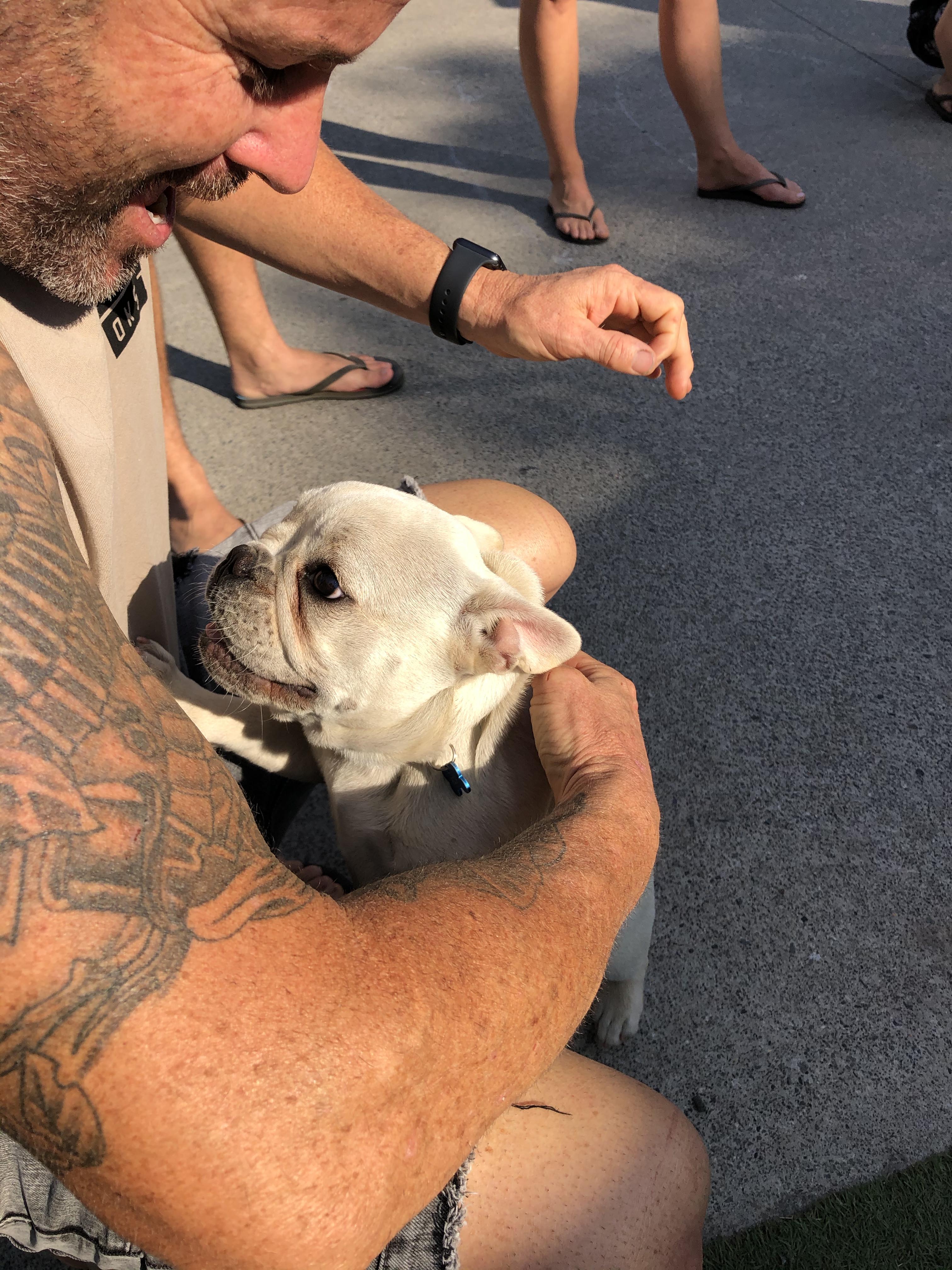 Breakfast was divine (pancakes, eggs benedict, brekkie wraps and big breakfast filled our table) and a great way to start the day that was filled with relaxing, chatting, swimming, being a little crazy in the pool and just enjoying each other's company.
We had a nibbles platter for lunch, again thanks to Kurt and Carly, and said goodbye to Greg who was packing up and heading off only to set up in a new location a few hours later. The rest of us all went our separate ways for a few hours; some of us reading, others (Chris) having naps, swimming, and doing whatever else we felt like.
Chris added some awesome graphics to the back of the Let's Get Outta Here Van and managed to get it straight even after a few Big Heads!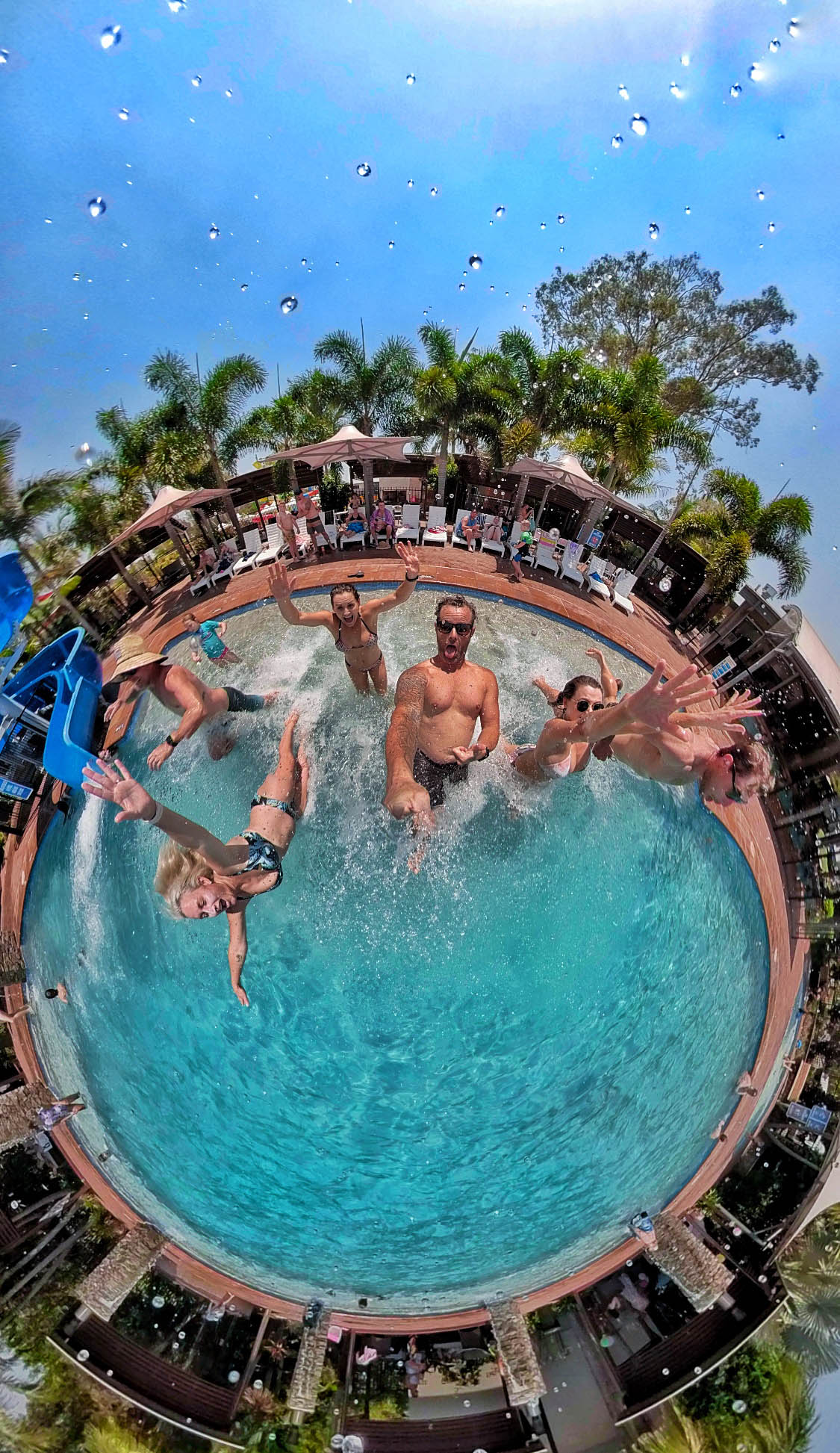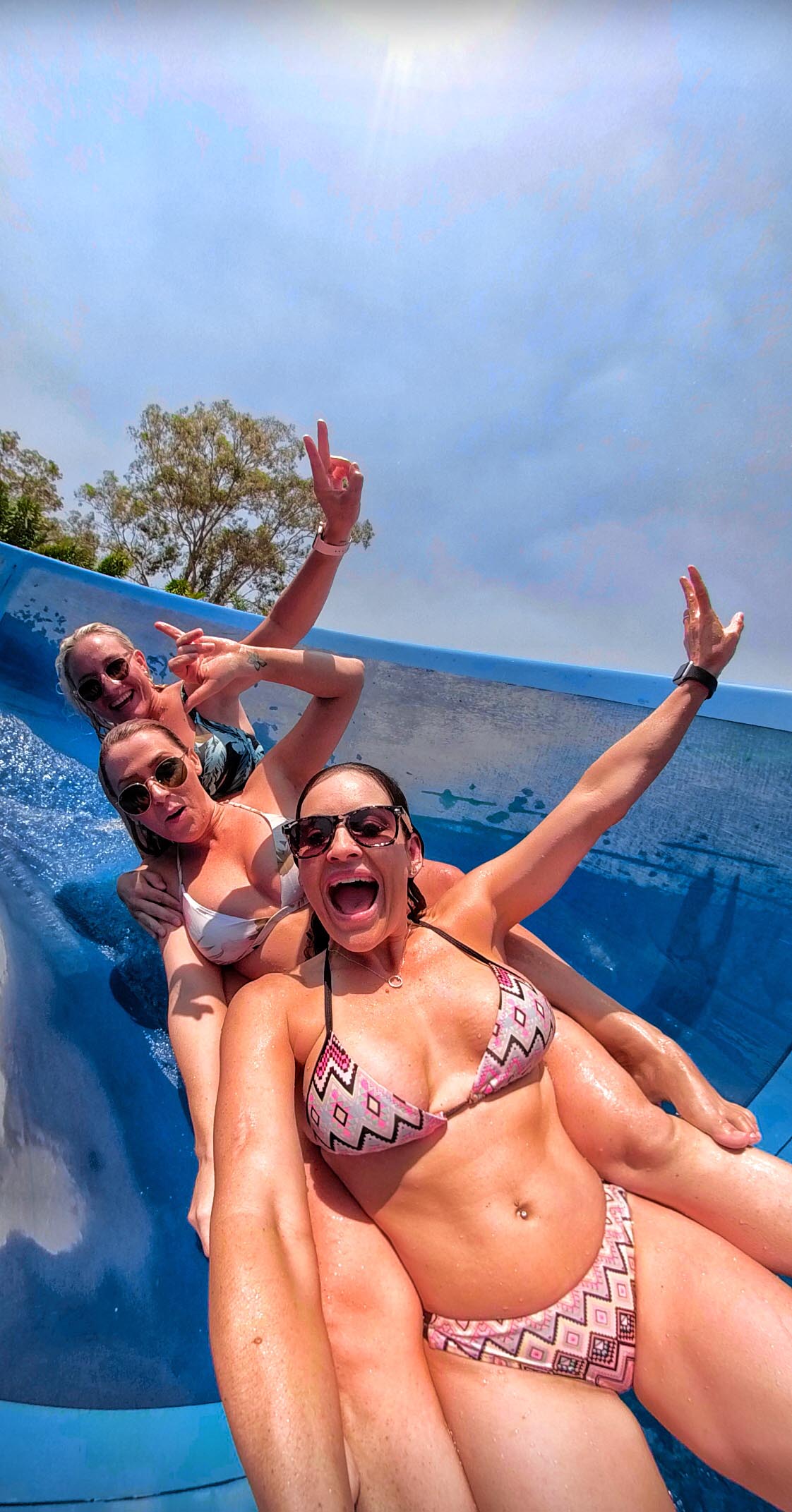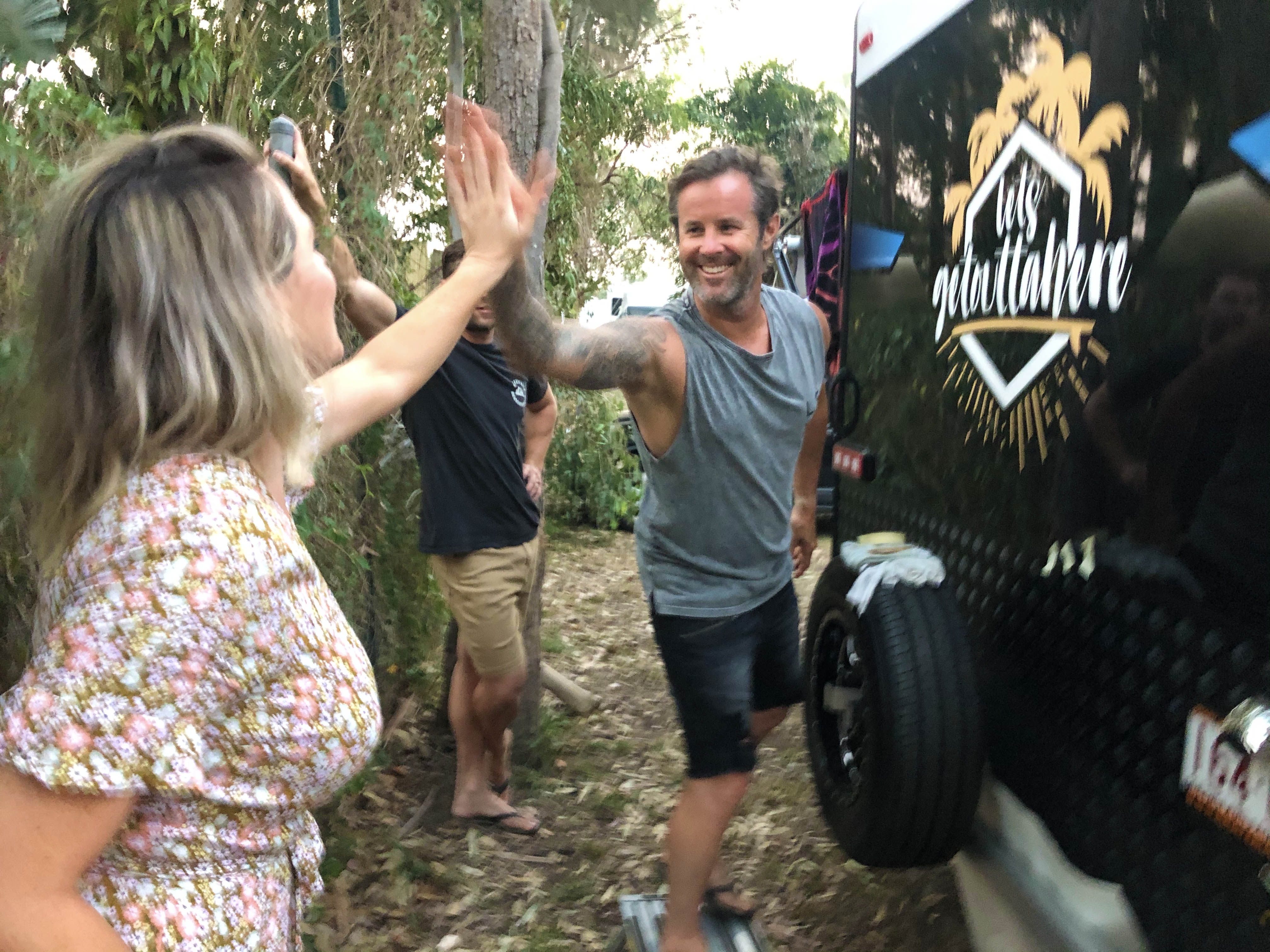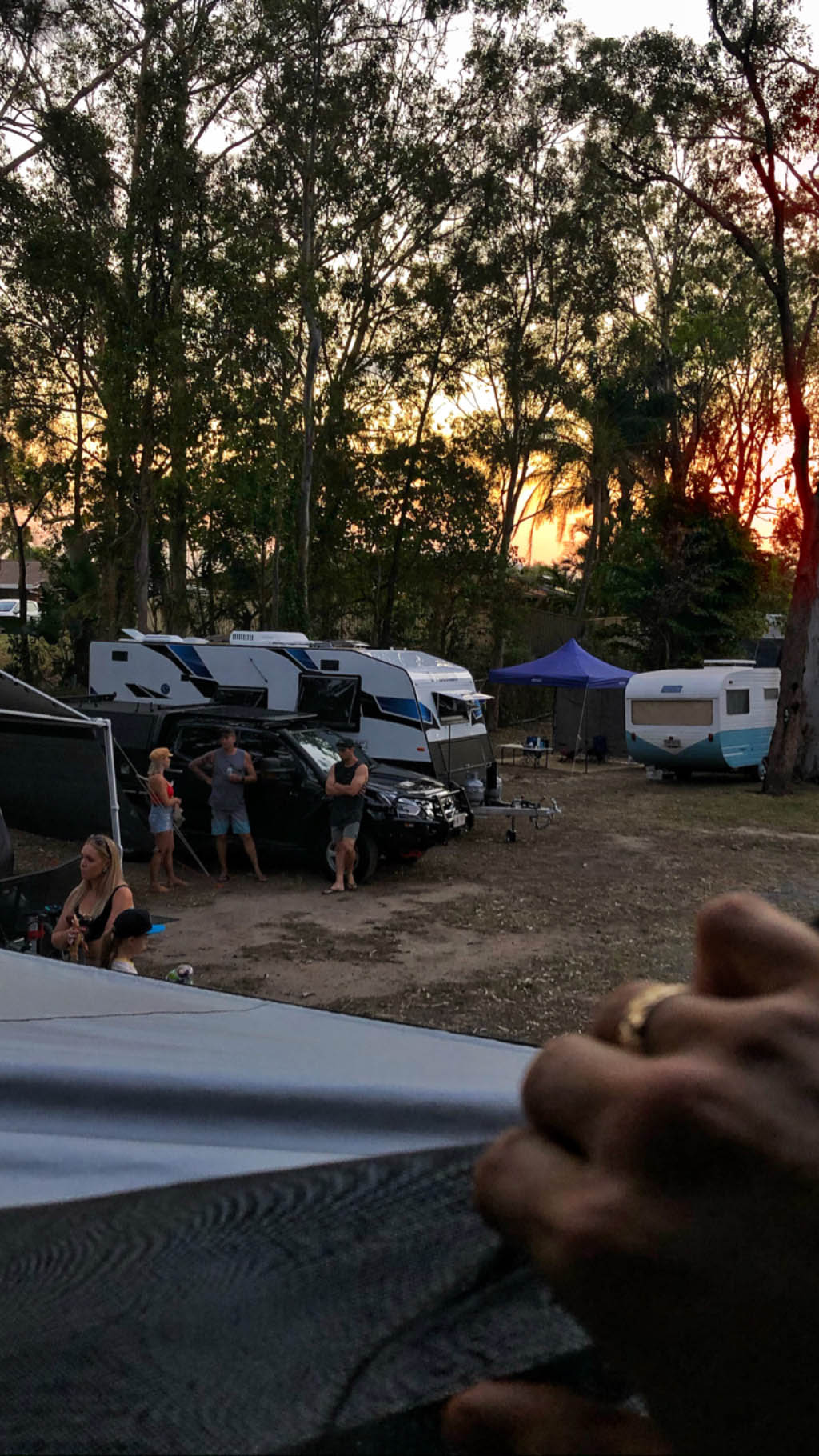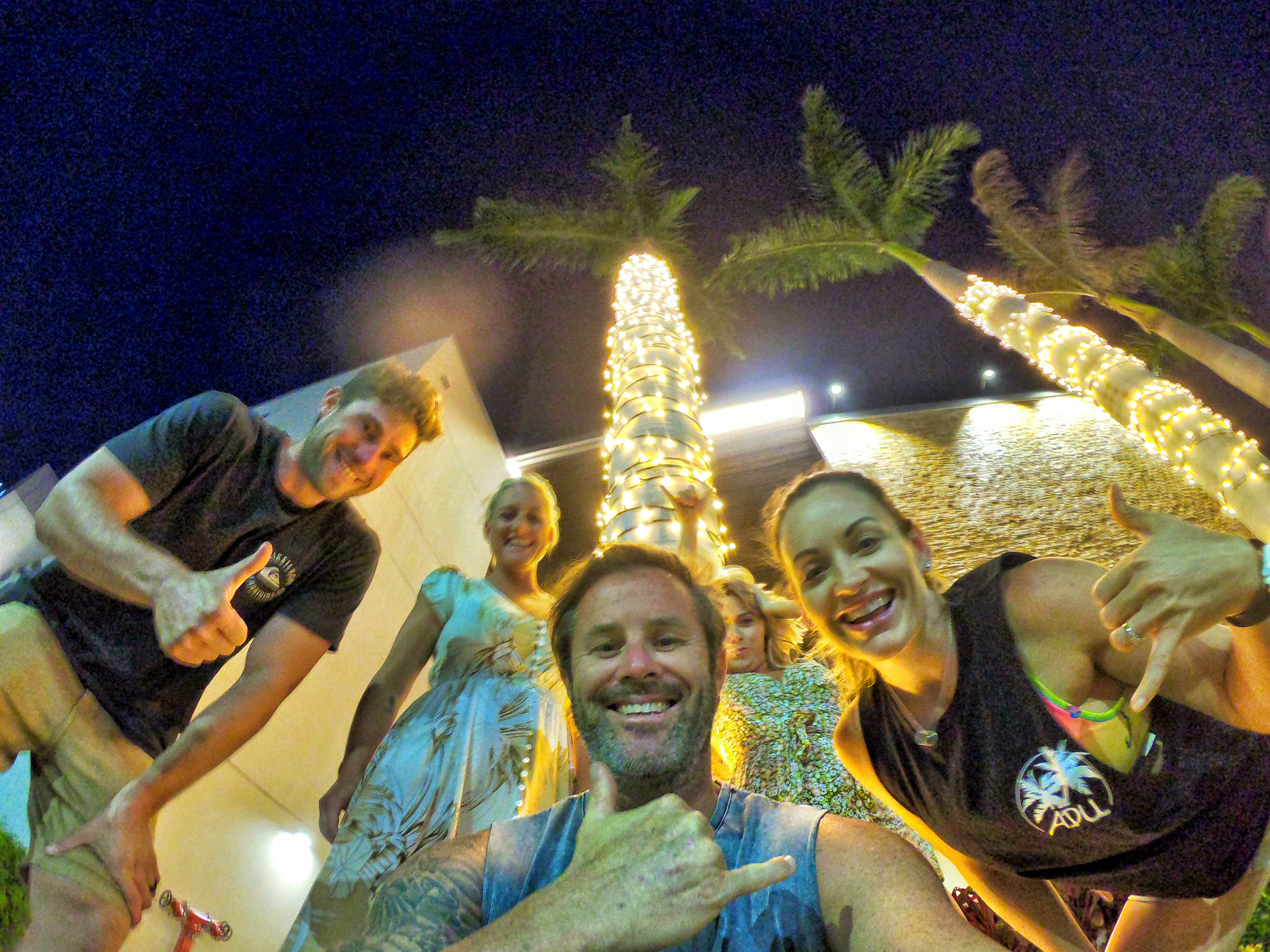 We came back together later in the arvo to sort out how we were getting to and from Top Golf which was just across the Motorway. Needless to say, we were all a little disappointed when we arrived to find out that the wait to play was over two hours.
We decided food was the next best thing (I know, food did feature a lot in our weekend!) and headed to the Boathouse Tavern for some amazing food and drinks.
We sat outside next to the live music. It was fun to people watch a bit and continue chatting. We didn't run out of conversation all weekend which I guess is to be expected when like-minded people with similar passions get together. It was great!
There was a brief lull while we were all devouring our meals … but that didn't last long! We all have so much in common and so much to share with each other … including lots of laughter.
I tell you … Mel and Carly seriously crack me up! Such hilarious human beings.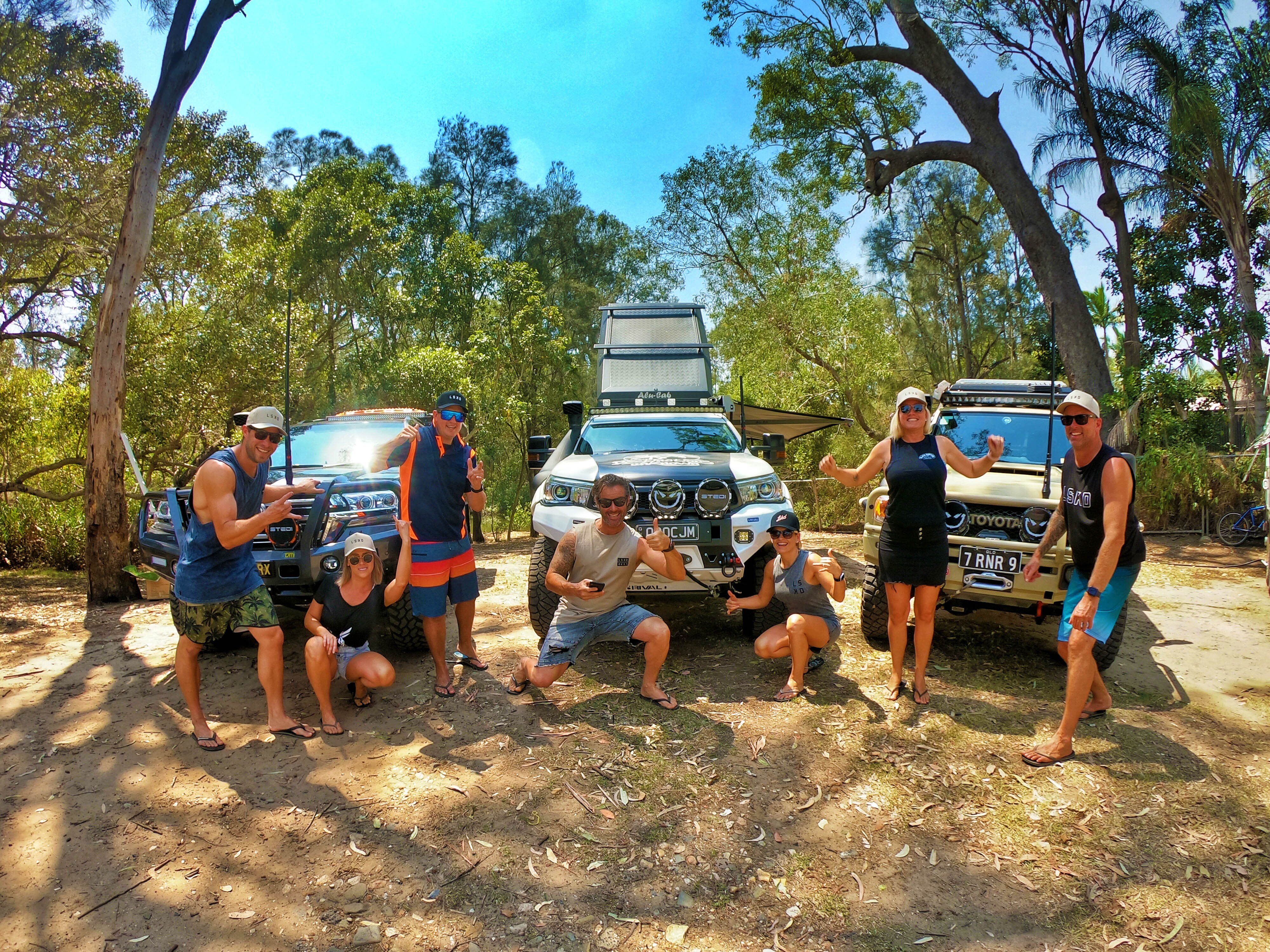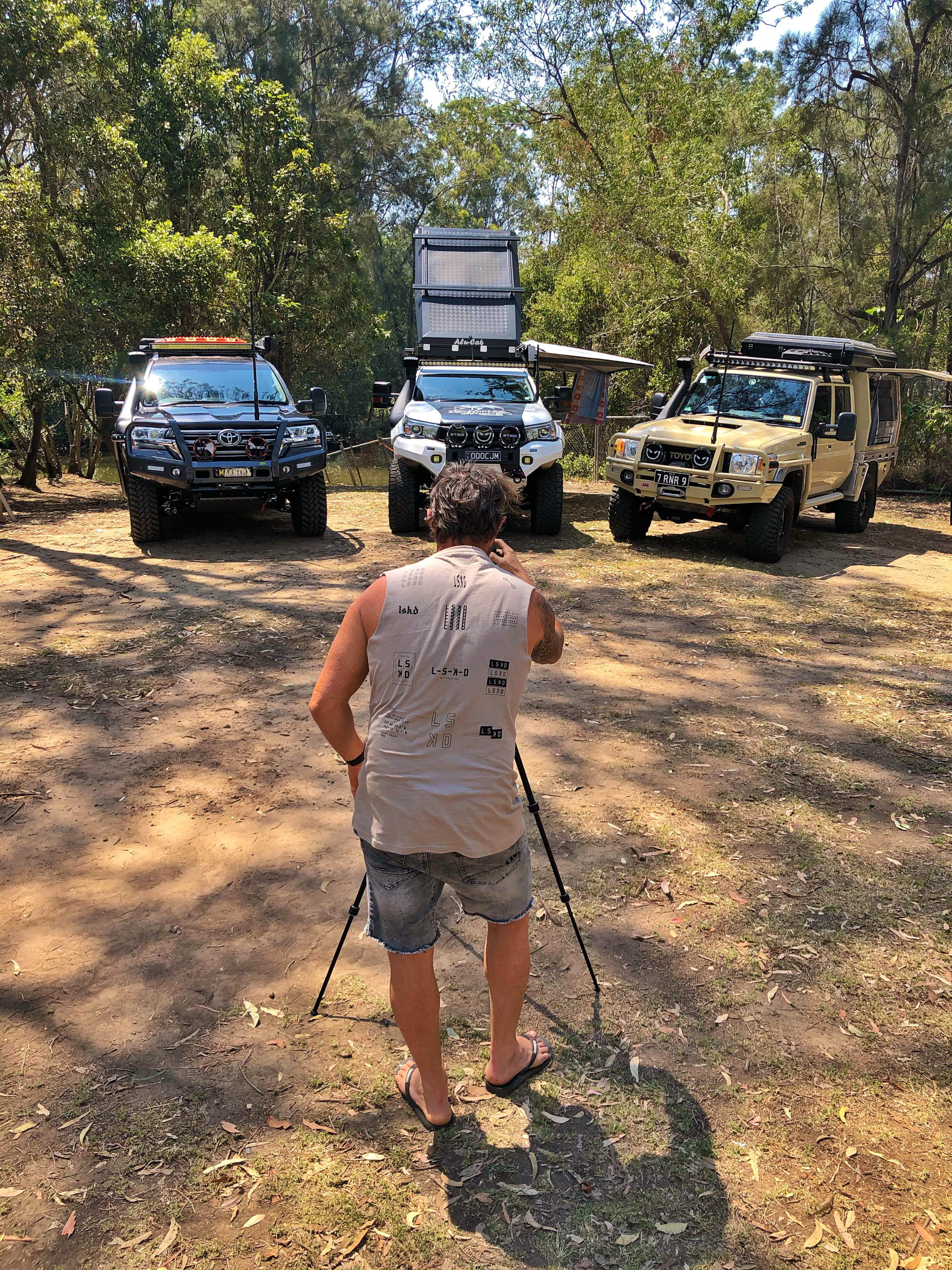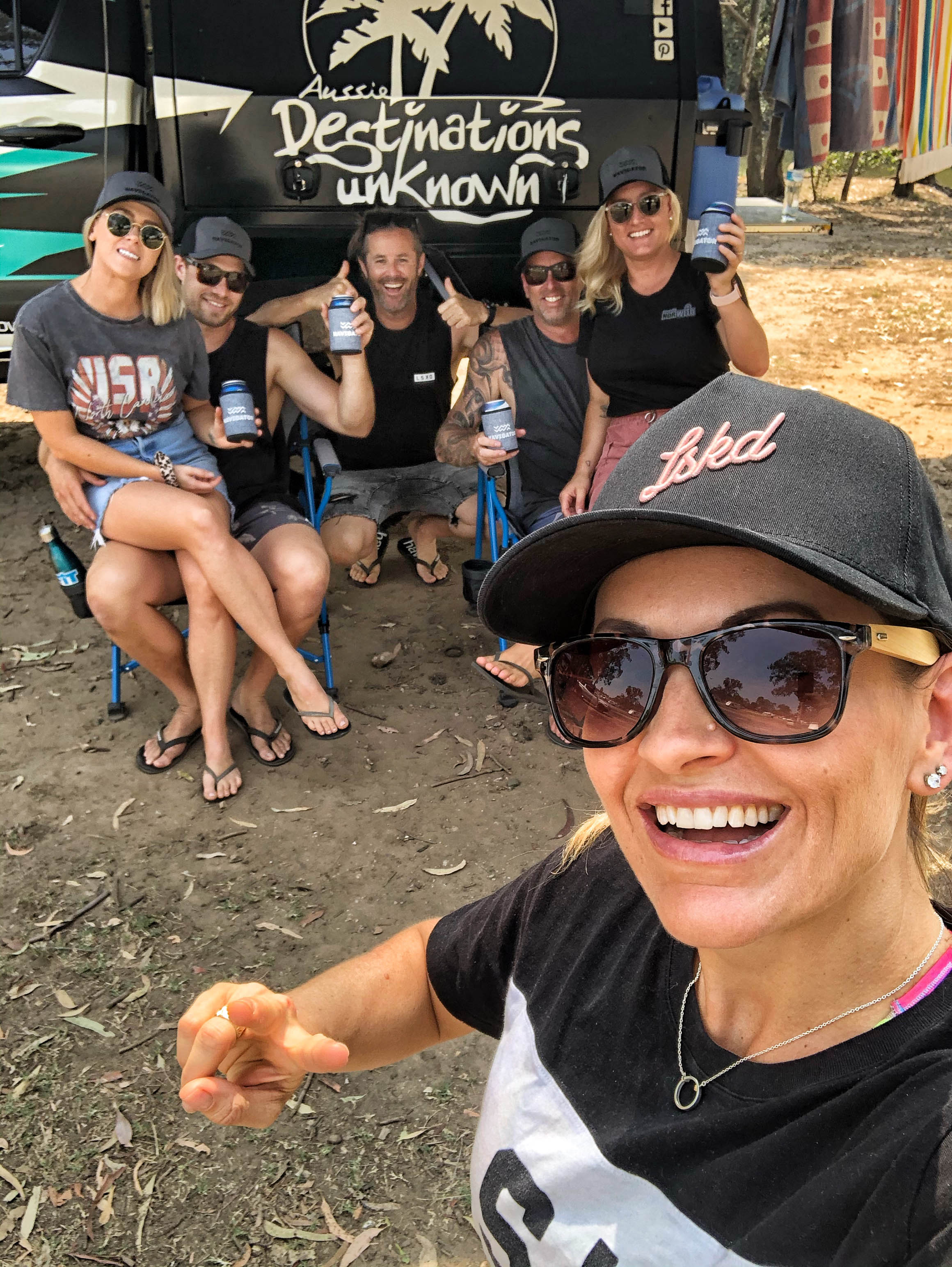 Sunday was breakfast at the café and then time for Kurt, Carly and us to pack up and head off. We watched Mel and Geoff disappear in our side mirrors as we drove away … they were lucky enough to be hanging around for an extra night.
We had such a great weekend even though it was nothing like we had originally planned. Our free-camping adventure at Flanagan's turned into a caravan park adventure with loads of delicious food and pool time! Who can complain about that? Certainly not me! I had a blast and I can't wait until our next meet up in mid-December.
Thanks to Mel and Geoff, Greg and Ellie and Kurt and Carly for making the weekend awesome. Oh, and Chris. Of course, thanks to Chris! He makes all my weekends awesome 🙂