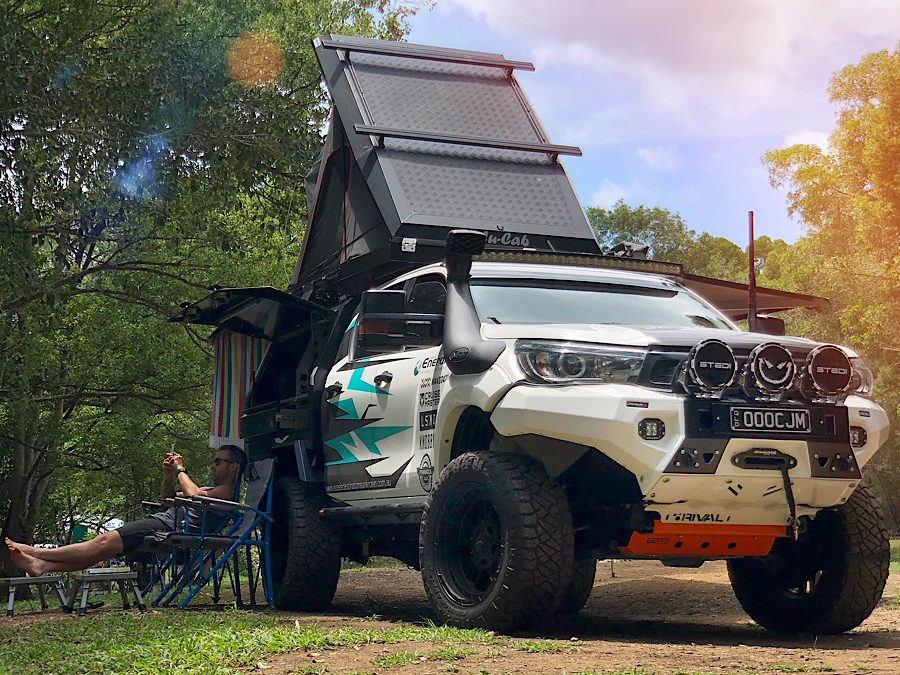 'Yes mum. I've rinsed my feet in the bucket. YES! I've wiped them on the towel too.' I shook my head, laughing a little as I walked inside.
If I had $1 for every time someone said to me, 'I don't like camping,' I'd be a very rich woman! In fact, I grew up with a mother who doesn't like the feel of sand beneath her feet let alone the idea of camping near a beach, camping in the bush… or well, camping anywhere at all! My dad, on the other hand enjoys time spent in nature, so I could experience both perspectives firsthand.
I spent the first 10 years of my life in Tasmania and remember heading off with my grandparents, aunties, uncles and cousins for the school holidays; packing our beanies, jackets and gumboots, making jaffles and listening to campfire stories until we were sent off to the bunks inside the giant canvas Taj Mahal-like tent. We would swim, hike, check out the wildlife and do all the things kids love to do on family camping trips. We loved it! Mum? Not so much.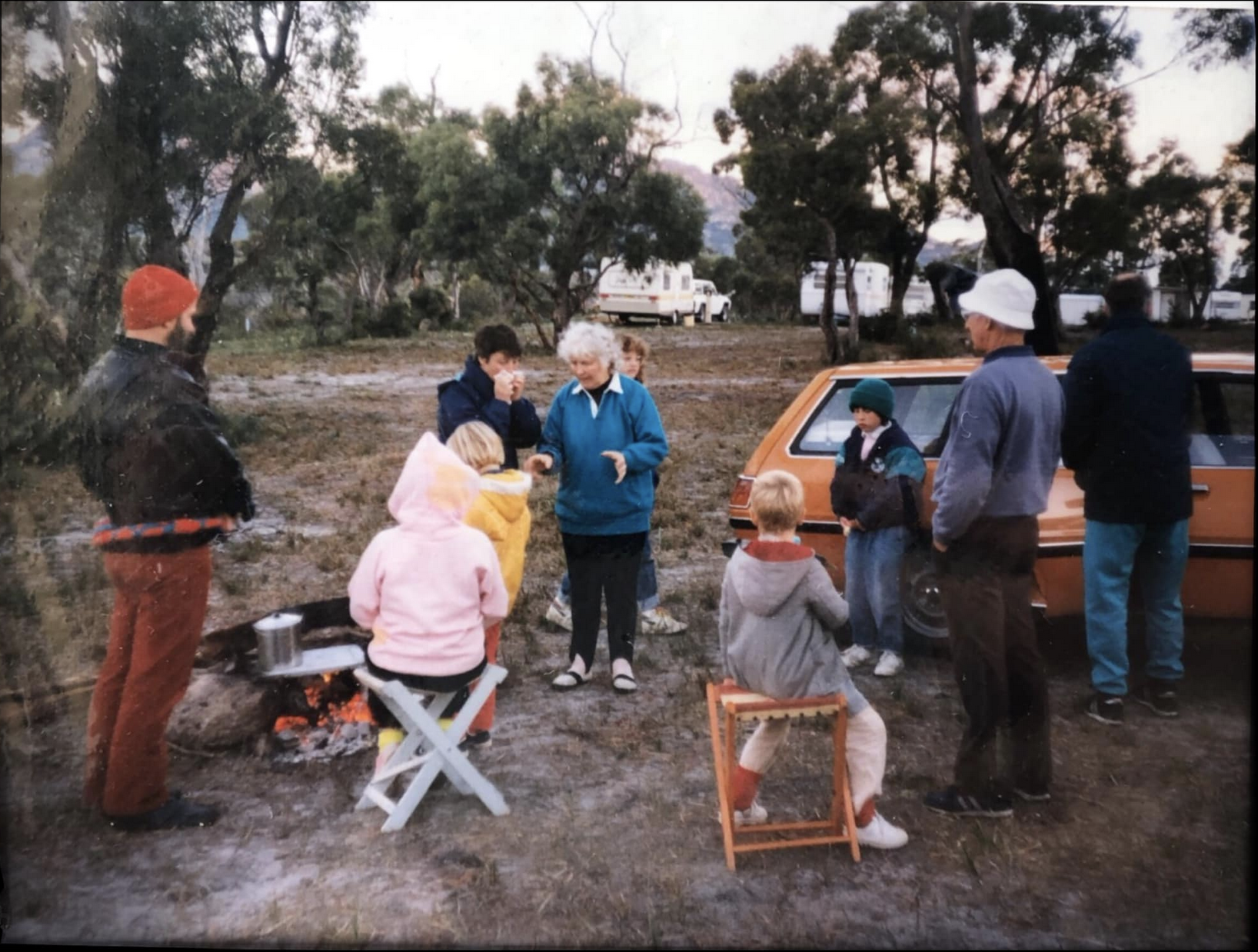 We moved to Ecuador, South America when I was 10. My parents were missionaries with an organisation known for its medical and radio work in Latin America. Initially, we went to a town right on the edge of the Amazon jungle. We spent a couple of years there and I loved it – mum, not so much! Who wouldn't love all the exploring we did? There were a few of us, and if we weren't swimming in waterholes and rivers, swinging off vines, riding our bikes all over, or playing with our pet dogs, we were digging holes deep in the mud while being careful not to get worms in our feet of course, and playing in the torrential downpours that happened every day around 2 pm. Check out this pic of my mum with our old Renegade!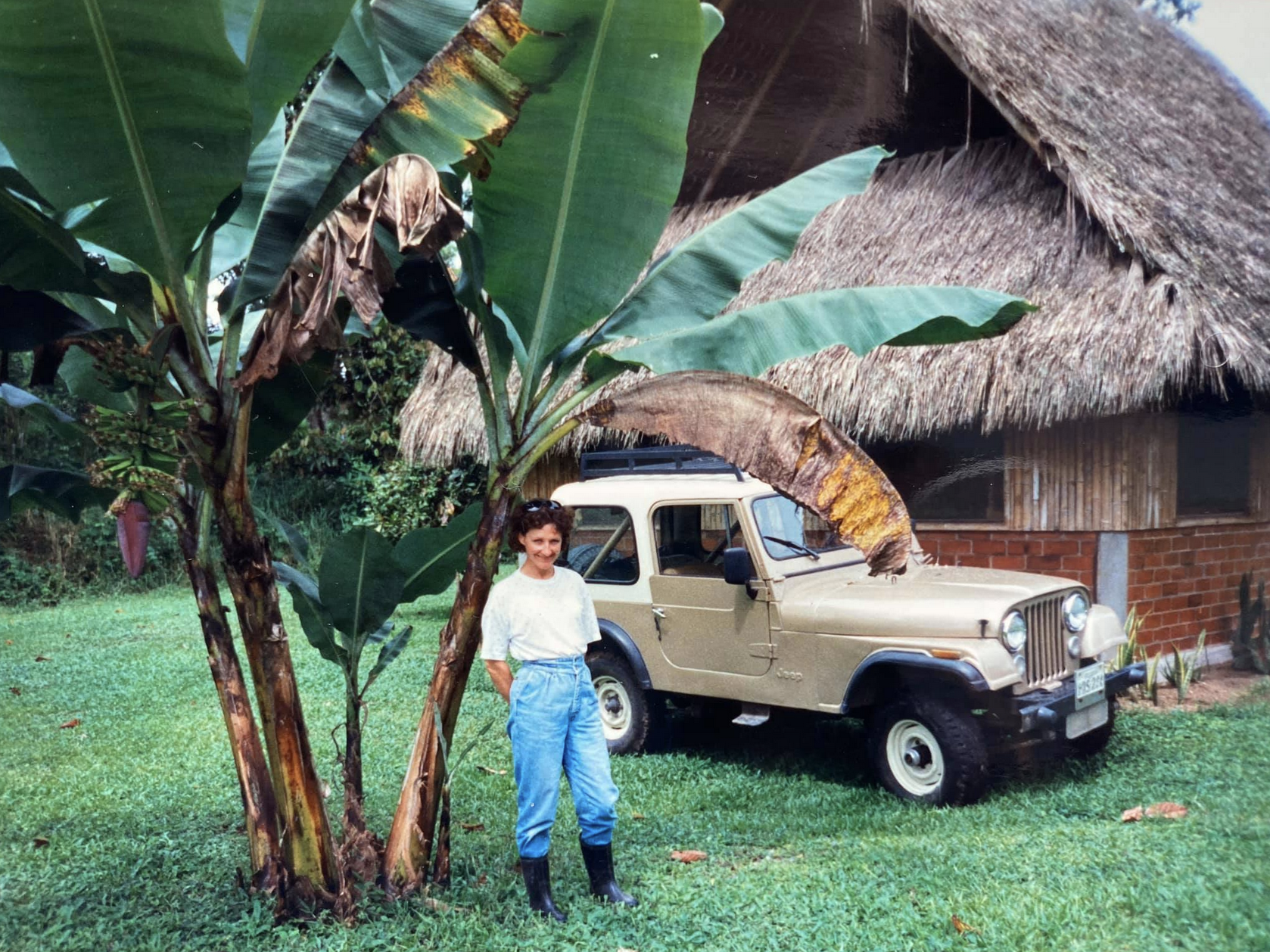 When I was about 13, we moved to Quito, a vast city up in the Andes mountains where there are way less creepy crawlies and much less oxygen! Dad was involved in what was called Medical Caravans – not anything like the caravan we have – and mum did a bit of nursing but worked mostly in publicity and radio. Those early teen years in Quito I spent doing what rebellious teenagers do. But there were a couple of times during those years, when I was about 15, that dad took me camping to the radio station's antennae farm. It was out in the country a bit, in a town called Pifo (pic below). Dad probably thought it was the only way to get me away from all the chaos of being a teenage girl in a crazy city! It not only did that, but it also rekindled my love of getting outside and staying out for a night or two.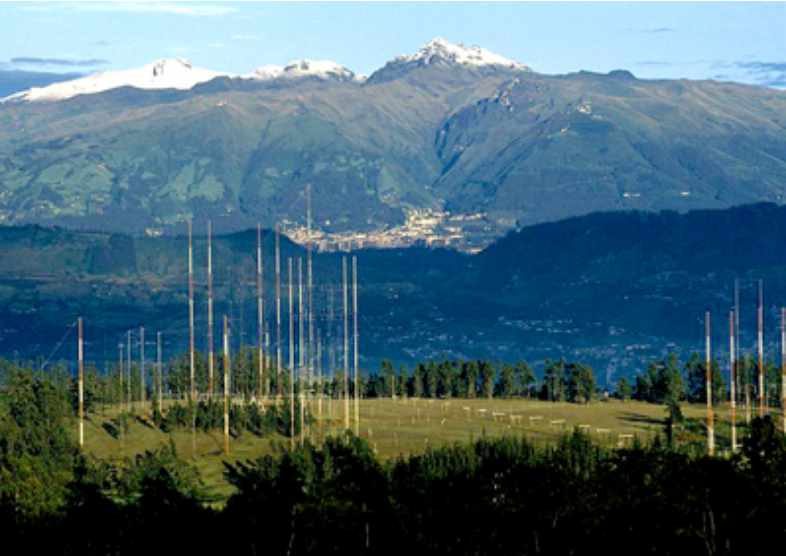 I moved back to Tassie when I was about 16 and eventually took up camping on my own. With a 6-man tent from KMart in the back of the car, I'd strap my young son, Sam, into his car seat and head off with friends to the East Coast when we could. Fast forward to me being the age now that my mum was back when I remember her complaining about sand in the tent and I can honestly, and surprisingly, say that I'm following in her footsteps, although not to that extreme. Yes, I grew up with a love of camping, but that has slowly but surely developed into a love of glamping. Before I met Chris, I used to have my tent and a few camping bits and pieces that travelled with me in the back of a car. Since Chris and I met back in 2010, we have slowly worked our way through tents, rooftops, camper trailers and caravans until what we have now – our dream caravan and an Alucab roof top tent on the 4x4. We've also worked our way through Hilux's!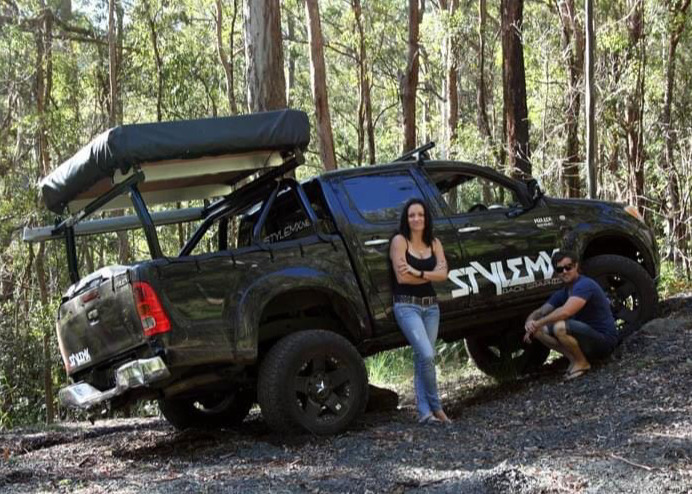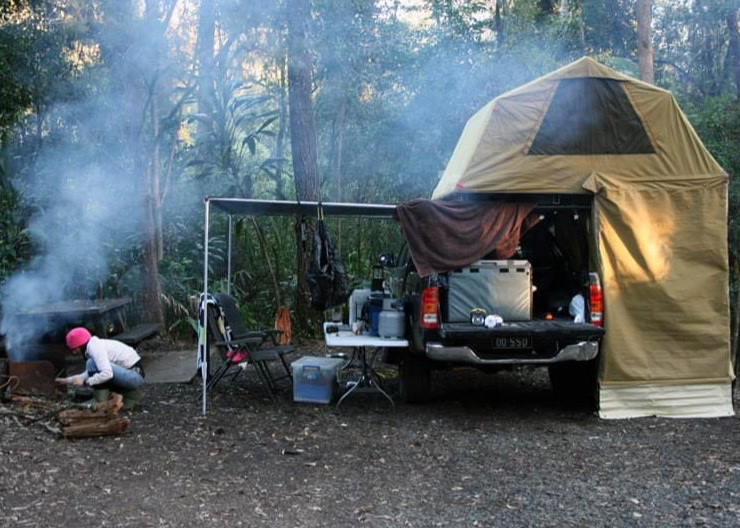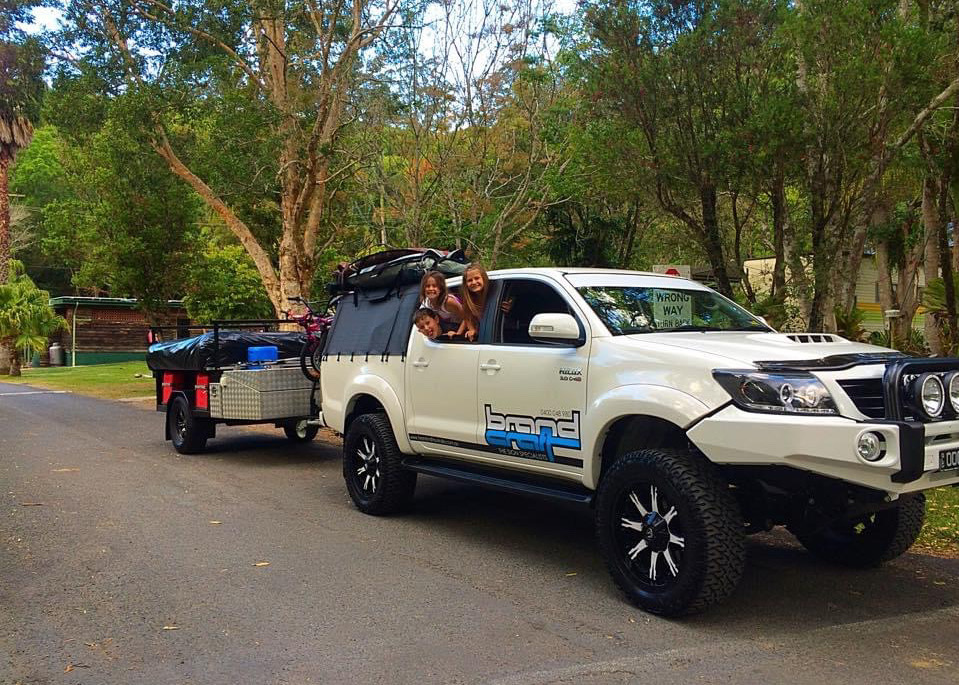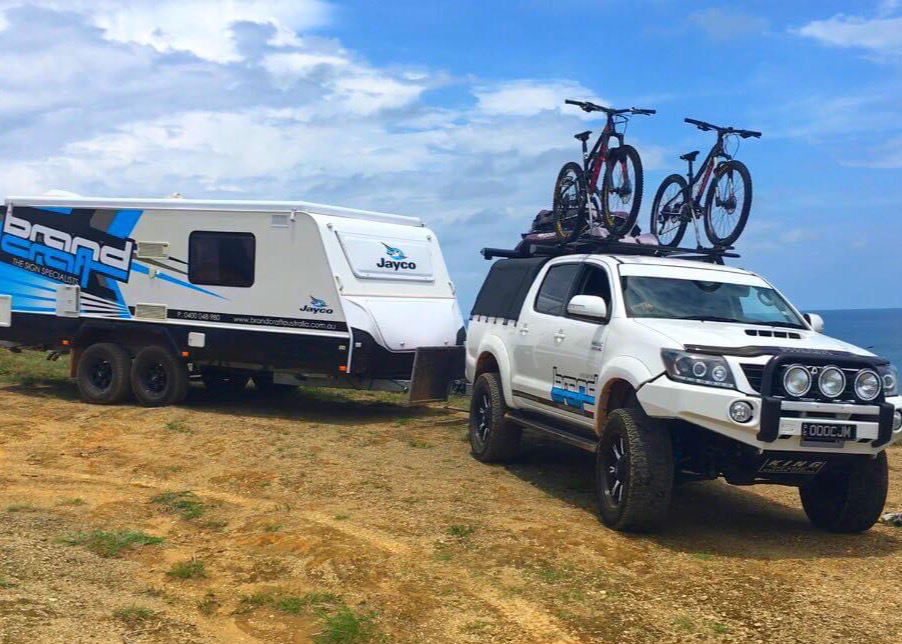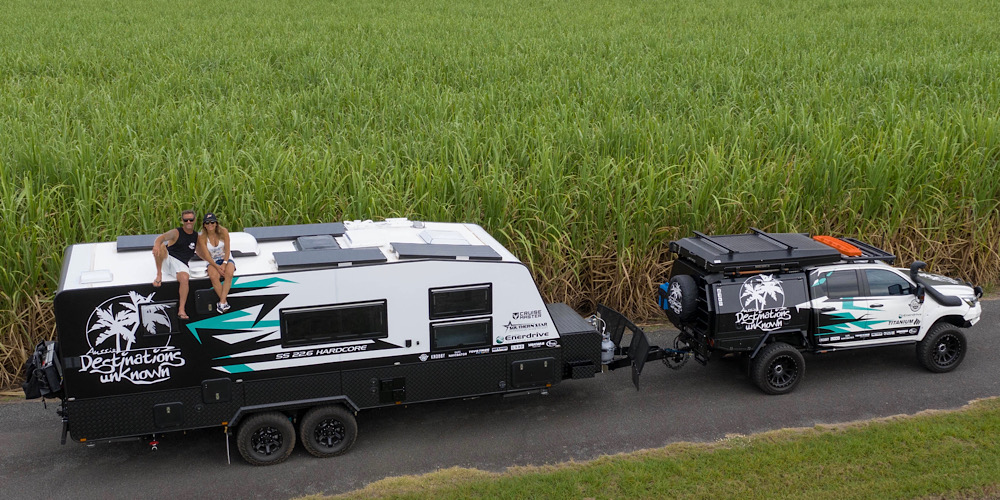 Chris is very much a 'go with the flow' kinda guy who couldn't care less if there was sand in the tent, no showers for weeks or canned food for a month so I appreciate that he has put up with my need (want) for a more 'civilised' approach to 'camping' and has indulged me along the way (not without our fair share of disagreements I might add).
We've come such a long way in the camping world that two years ago we invited my parents to come with us on a three-week road trip to Cairns – yes, my non-camping friendly mum! They slept in the caravan bunks and on the odd occasion, booked a cabin if we all needed a bit of space from each other. And they LOVED it! Especially my mum. So much so, that she has mentioned, occasionally, that she wouldn't mind selling the property in Tasmania and heading off in a caravan of their own. Look closely at the pic below and you'll see my dad giving a double thumbs up out the window. Lol. And check out the smile on mum's face! She had a great time.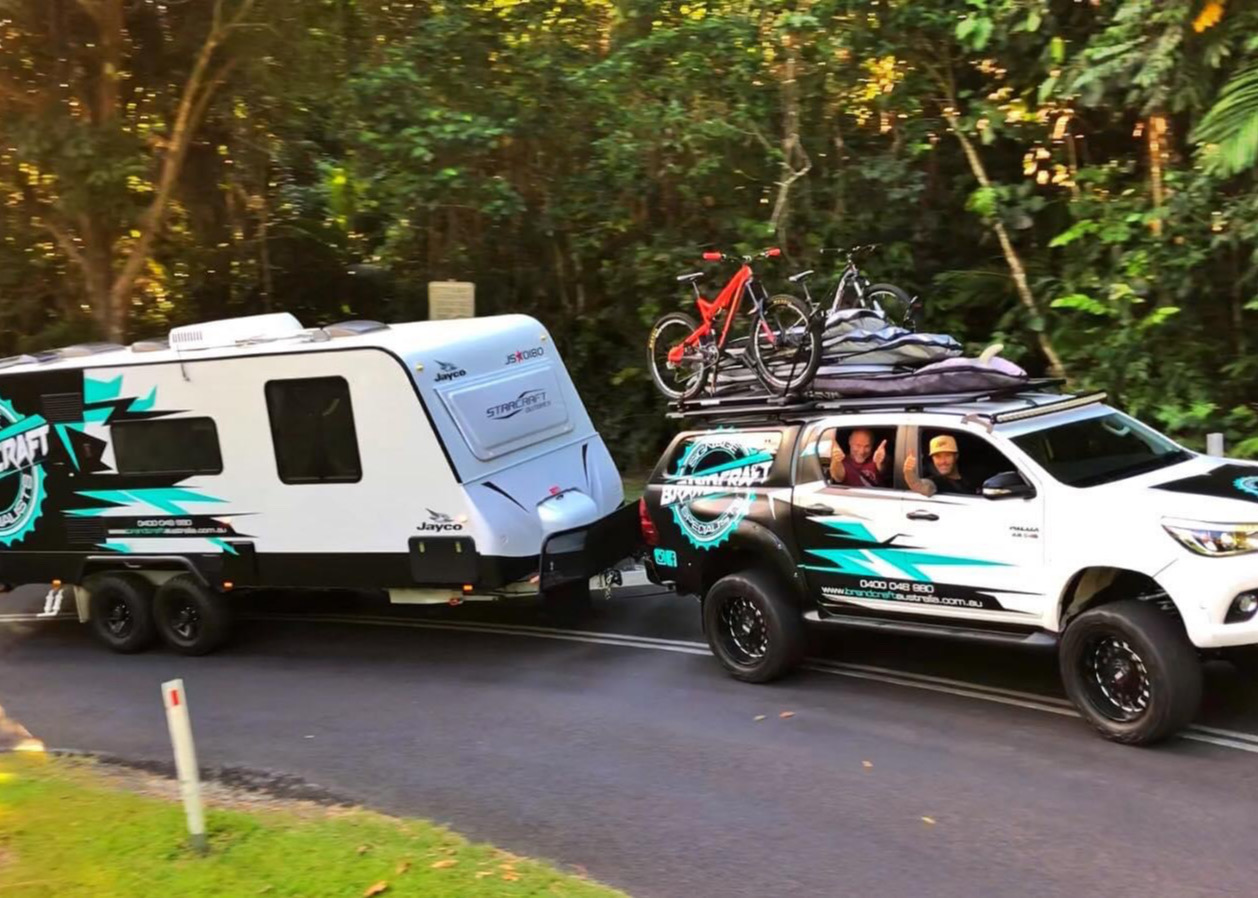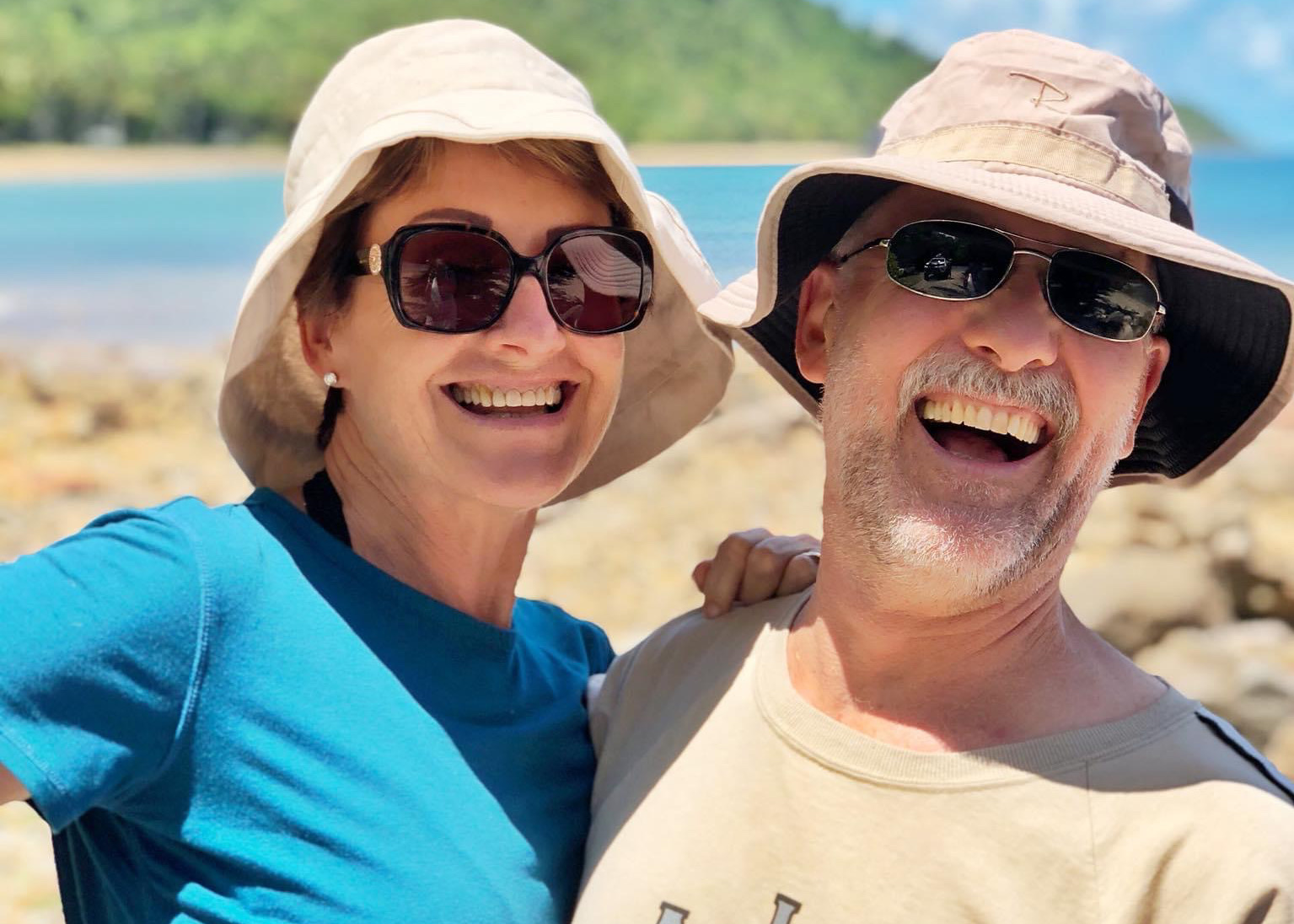 Which leads me to this… camping might not be what you think it is, it's what you want it to be. What do you think camping is? And what would you like it to be? Let's uncover some camping truths.
1.Camping is basic … or is it?
It can be as simple as a swag and some freeze-dried food, but it sure doesn't have to be! If you want to glamp and you have the budget to make that happen, then go for it! Here are 3 ways you can go from camping to glamping.
Buy a top of the range caravan and a luxury 4x4 to tow it with
Expensive? Sure. Comfortable? You betcha! We recommend Titanium Caravans from Caravans Coffs Coast if you are after one of the most well-appointed luxury vans on the market. This is our fourth off-road caravan and the absolute best by far. Why does this caravan take us from camping to glamping? Let me explain.
We have a full off-grid Enerdrive lithium battery system giving us access to 240 power whenever we need it. And we don't have to be plugged in.
We have a washing machine, air conditioner, microwave, gas heater, smart TV all which are usable at any time thanks to our battery system.
I am able use all my kitchen appliances (think Thermomix, Air Fryer etc) wherever we are, whenever we want to.
We have a toilet, full shower and large ensuite … where I can blow dry and straighten my hair whenever I feel like it
We have a large club lounge that's as comfy, if not more comfy than the couch at home
We have air suspension from Airbag Man that makes it super easy to level the van up – no more rolling out of bed!
We have a slide out kitchen with plumbed hot and cold water and triple burner gas cook top OUTSIDE the van
And the best part? We have so much storage and room to move that we truly feel at home when we are traveling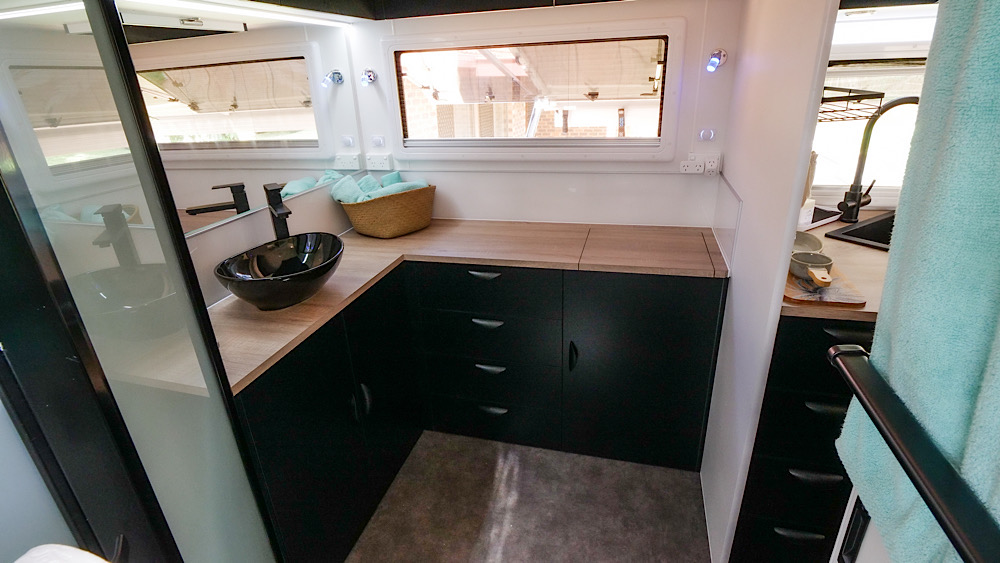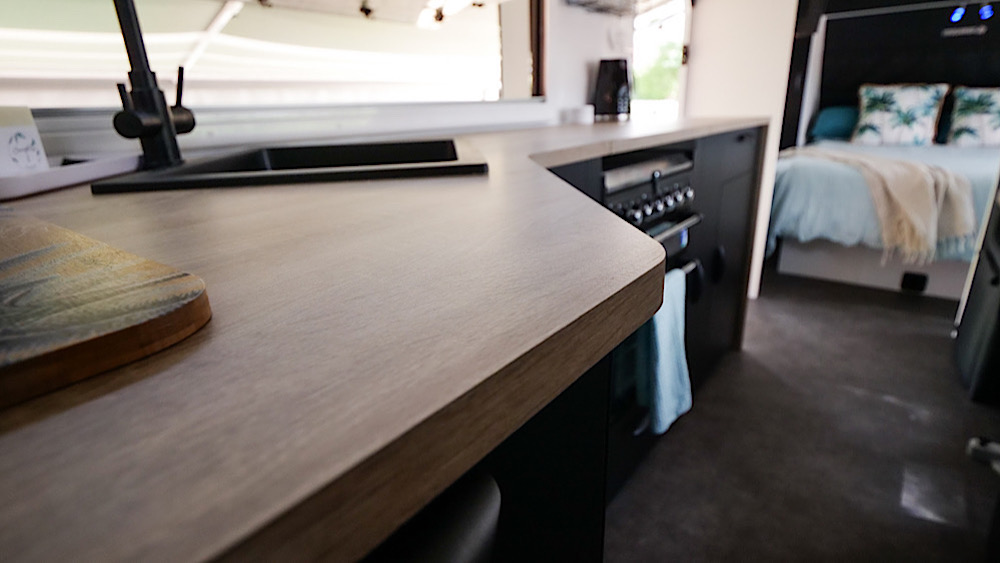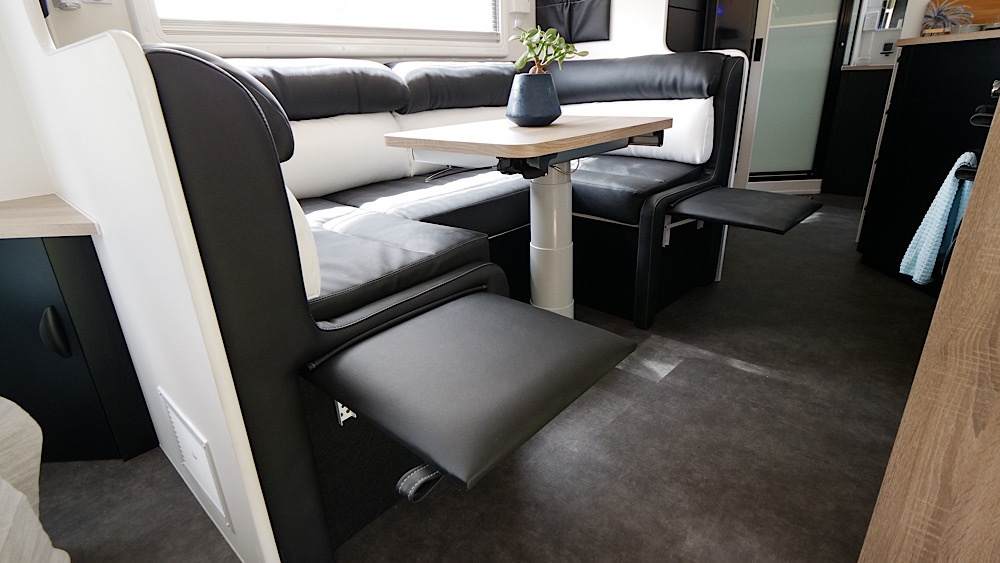 2. Book a cabin at a Holiday Park
Don't fancy spending as much money on your holidays as you would to buy a house? Then don't! Book a cabin or glamping tent at one of the many top-quality caravan parks around the country. In fact, most of these parks aren't even known as caravan parks anymore. Think of; Resort Camping, Holiday Park, Resort, Caravan Village… and the list goes on. Booking a weekend in a cabin will cost you far more than booking a caravan site, but if luxury is your style and you don't want to spend tens of thousands of dollars on a set-up, then this could be the way for you.
3. Take your 'basic' set up and head to a caravan park/resort
You don't need all the fancy gear to enjoy the luxuries of a Holiday Park. If you have a tent, bedding, some camp chairs and an ESKI – you're all set! Almost all parks have amenities with showers and toilets (it pays to check and read reviews first). Most parks have camp kitchens with fridges to store your food, BBQ's and microwaves to cook, and sinks for washing up. And, if you don't want to do any of that, many have their own restaurants and cafes plus food vans that stop by on weekends. Generally, the more you pay, the nicer the amenities. If you have kids, many of the larger parks have jumping pillows, playgrounds and swimming pools.
3. Camping is just for outdoor lovers, or is it?
I hear this so much when I tell people what we do! If only they knew what really goes on when people go camping across the country.
If you take the time to wander around the campsite, you will see people talking, laughing, drinking, eating and relaxing, and then sleeping and doing it all again! You might throw in a dip in the pool, beach, or whatever body of water is close, or stroll through the local township, if there is one, or nearby park. And of course, there's always plenty of time to put your feet up and read a book or have a snooze. We find we are the odd ones out with our mountain bikes, zest for adventure and love for the great outdoors!
If you are staying in a resort/holiday villa you can spend as much time indoors or outdoors as you like. You can indulge yourself by lounging by the pool, eating in the restaurant, having a cocktail at the bar, or reading a book in the guest lounge.
4. Camping is just for young families and caravanning is for Grey Nomads!
Camping is for everybody and if you don't believe me, open up Instagram and see for yourself! Newsfeeds are filled with photos and videos of young families, teenage friends, young lovers, middle-aged couples, older couples, grandparents with grandkids. You might see entire generations sharing their adventures as they get out and enjoy camping together! And the exact same can be said for caravanning.
While its generally true that the younger families can't afford the fancy van and the expensive 4x4 that the retirees can afford, we are seeing a huge shift in who's towing a caravan along for the holiday break. More and more young families and couples are investing in a lifestyle that they know will bring more fun and less stress to their way of life. We are one of these middle-aged couples! We have our dream van and 4x4 and we are only in our 40's, and we wouldn't have it any other way.
5. Camping = constant cooking
While I do agree with this to some extent, I firmly believe that you only cook as much as you want to. We have friends that don't like cooking much and generally eat takeout the entire time we are away! If you love cooking (like I do) then this won't be a problem. I have a variety of appliances that I take with us depending on where we are headed.
My thermal cooker usually gets loaded up before we leave home, so our dinner is ready and waiting that evening. This gives us time to set up and relax without having to meal prep at all.
I have a Thermomix that whips up a mean curry in half an hour, instant desserts and all sorts of easy mealtime deliciousness. I also take the air fryer so we can bake cakes, quiches, bikkies, nachos and even cook the snags if we want to in half the time it takes to preheat and use the oven!
Other times I make double meals the week before we head off and freeze them so all we have to do is defrost and enjoy when we're away.
Sometimes, if we know we will be with lots of friends and they'll be eating out, we only take a few meals worth of food with us and buy food from the restaurant.
Caravan parks have camp kitchens so even if you don't have a BBQ, you can take your meat down and cook it on theirs.
If you want to keep it cheap and basic, buy a large pack of sausages or premade hamburgers and some packets of salads and you're set!
It does all depend on how much you eat and how much you want to cook as to how much time you will be spending cooking. But I do find that no matter what you intend to do while away, a rough meal plan and grocery list makes all the difference.
6. It's too hard packing and unpacking … or is it?
It most certainly doesn't have to be! But again, this comes down to how much time and money you are willing, and able, to invest into your setup and of course, how much 'stuff' you want to take with you. When we had tents and gazebos and all that jazz it would take hours to pack the car at home and even longer to set up once we arrived. When we graduated to the camper trailer, it took less time at home and slightly less time to set up and pack up.
But nothing can compare to the simplicity of having a van large enough to store everything inside that you will need… permanently. We are the stage now where all we need to do is pack our food and clothes and head off. We have everything else we need in the van ready to go. We even have enough food in the pantry to last a few days if we don't pack anything before we leave.
We have taken this one step further and have the same with our 4x4. Kitchen ware, toiletries, cleaning products, sunscreen, insect repellent, camp chairs, and everything we need lives permanently in the canopy so all we need to pack are clothes, towels and extra food. We have a pantry drawer fully stocked with staples and snacks all the time.
The main thing to remember is to only take what you need! Don't take all the 'just in case' items. And yes, I know that Chris would be shaking his head at me and laughing if he read this (he doesn't read anything, so I think I'm OK! Lol). It's taken me a looong time to learn that I don't need as much as I think I do, and I take less and less with me each trip that we take.
While I understand not everyone is able to leave the setup mostly ready all of the time, it's what we have worked our way up to and are so glad that we did!
If you really can't be bothered with all the 'stuff,' pack a swag, or tent and bedding, your basics, camp chairs, and an ESKI with your food in it, and book in at one of the luxury resorts and use all of their 'stuff'! They have plenty of it ready and waiting.
So, there you have it. What 'camping' is and what it can be! From a swag under the stars to a luxurious caravan plugged into power and water at a 5 Star holiday resort, there are options for everybody whether a lover of camping yet or not. All I ask is that you give it a go and not let your 'lack of adventure' ruin the adventures you can experience … and if you don't like it the first time, make changes until you do. If my mother can become a lover of camping (glamping), I'm sure almost anyone can. Check out the pic below … I'm very happy with her change of heart!