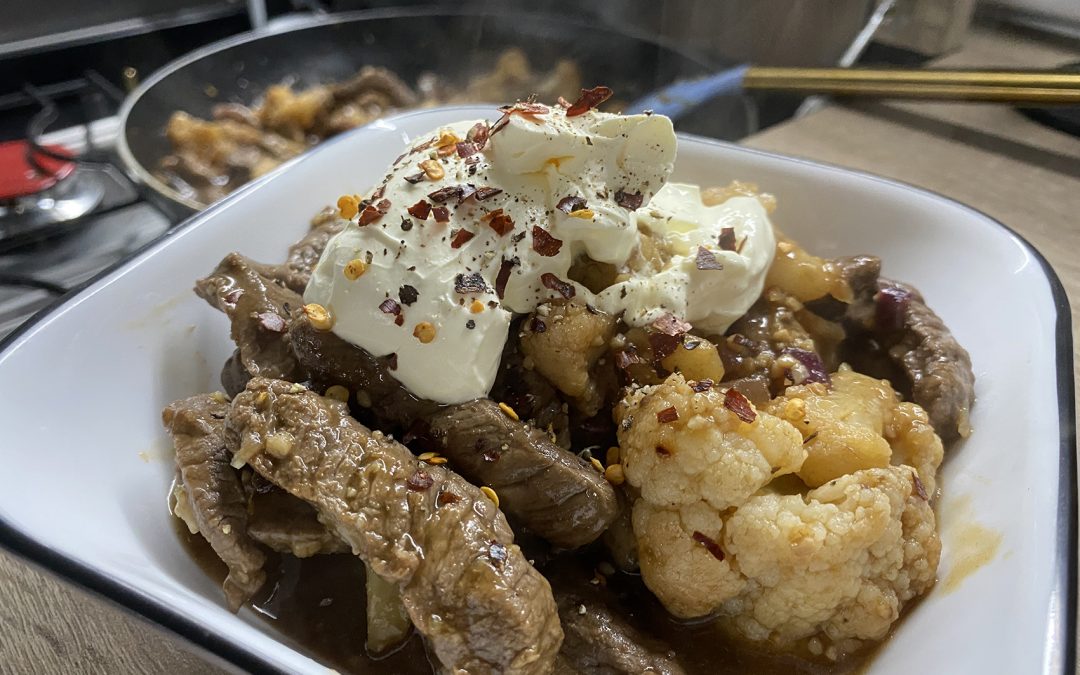 Ingredients:
500g Beef, thinly sliced (I use stir-fry beef)
500g Cauliflower florets, cut into bite sized pieces (I use a bag of frozen cauli)
3 Tbsp olive oil
1 Brown onion, diced
1 Capsicum, diced (optional)
3 Garlic Cloves, minced (fresh or in a jar)
1 Tbsp Ginger, minced
Chilli flakes (optional and to taste)
Sauce Ingredients:
1/2 cup Water
1 Tbsp Arrowroot flour (can use corn starch or regular flour as thickener)
1/4 cup Soy sauce
2 tsp Rice wine vinegar or distilled white vinegar
2 tsp Sesame seed oil
1 Tbsp Honey (optional – omit for low carb)
Method:
Make the sauce first by mixing together the water and arrowroot flour/cornstarch until smooth. Add in all remaining sauce ingredients, stir until combined and set aside.
Heat a large frying pan over medium-high heat. Add 2 Tbsp of oil and the onion, garlic and ginger. Cook until onion is translucent.
Add cauliflower and capsicum and cook until it is tender. If using frozen add a lid to the frying pan and allow to cook for 5-10 minutes or until soft, stirring every couple of minutes. If using fresh and you prefer your cauliflower soft, add about 1/4 cup of water to the pan while it cooks. Cook until water is absorbed and cauliflower is soft.
Remove all ingredients from pan and place into a bowl while you cook the beef.
Add remaining 1 Tbsp of oil to pan. Increase pan heat to high.
Add beef and sear. This should take no more than 30 seconds each side. DO NOT overcook – a little pink meat is OK as it will cook through later.
Add cauliflower back into the pan with the beef and stir to combine.
Stir the sauce in the bowl to make sure the arrowroot flour/ cornstarch is incorporated and pour the sauce over the beef and cauliflower.
Heat the sauce to a strong simmer. Cook for about 1-2 minutes to thicken the sauce, stirring occasionally to make sure all beef is cooked and beef and cauliflower is coated with sauce.
Serve with sour cream. Can also be served with cauli-rice or cauli mash to be kept low-carb. Serve with rice or pasta if preferred.