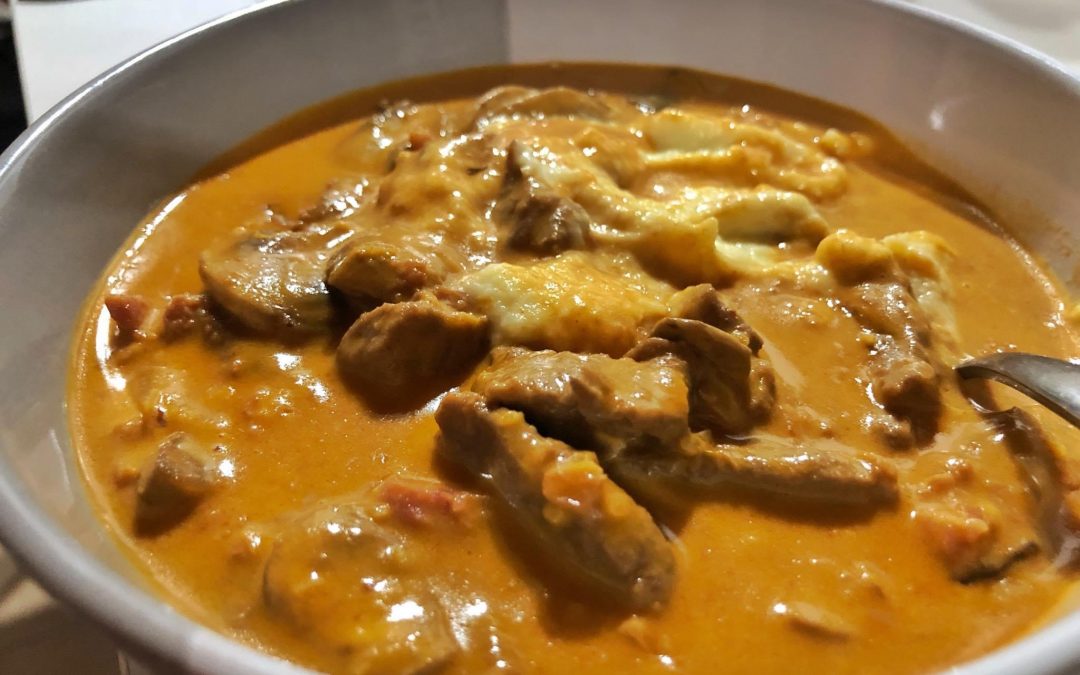 This is a set and forget kinda meal, and it's a delicious one at that! One of my favourites actually. This can be made in a traditional slow cooker, but I don't have one of those anymore – I gave it to my son when we moved into the caravan. What I do have is a thermal cooker. It cost me $99 from Aldi and is the best thing when traveling. It's just like a slow cooker but doesn't use power to cook. You just heat it up on the stove then pop it into the thermal/insulated container and let it do it's thing for a few hours. Easy as! Here's how I made my beef stroganoff.
Ingredients:
½ brown onion, sliced
20g butter
500g beef strips, thinly sliced
2-4 rashers streaky bacon
125g mushrooms, sliced
1 tomato, peeled and chopped.
1-2 cloves garlic, crushed
1/4 cup red wine
1 tsp of pepper
1 tsp sweet paprika
2 Tbsp of tomato paste
2 Tbsp vegetable stock concentrate (this is homemade)
1 1/4 cups of water
½ Tbsp of worstershire sauce
2 Tbsp sour cream (optional)
180g rice in 400ml water (optional) Only needed if eating with rice. We usually eat cauliflower mash with it, but the rice is delish cooked this way!
Method:
Place small inner pot on hot plate over high heat with 400ml water and salt (to cook rice). SKIP IF NOT EATING WITH RICE
Meanwhile, to large pot add butter, bacon and beef. Cook stirring gently.
When it starts to brown, add garlic, tomato paste and paprika. Continue to cook while stirring.
Add vegetable stock, pepper, mushrooms, worstershire sauce and onion.
Stir until it dries out a little on the bottom and starts to caremelise.
Add red wine and chopped up, peeled tomato. Stir until well combined
Add enough water to almost cover, continuing to stir while you bring it to the boil.
By now the water for the rice should be boiling.
Add rice to the boiling water and cook for 2 minutes. (absorbtion method) SKIP IF NOT EATING WITH RICE
You will see it starting to absorb the water.
Give the stroganoff one last stir before placing the little pot with the rice inside the big pot and popping the lid on.
Allow to cook for a further 8 minutes.
Remove from heat and place into the thermal cooker and close the lid.
Leave for at least 2 1/2 hours (I've left mine up to 5 hours before)
If eating with cauli mash (or anything else) prep this before it's time to eat (of course … lol)
When you are ready to eat, open the thermal cooker, remove the rice and set aside. This is where you add the sour cream (or yoghurt) to the stroganoff if you like.
Serve up and enjoy!
Tips:
Add more of what you like (garlic, spices etc)
Leave out what you dont like (fresh tomato, wine, worstershire sauce etc)
Use normal stock if you don't have the homemade stock concrentrate. This is quite salty, so if not using, add salt to suit your taste.