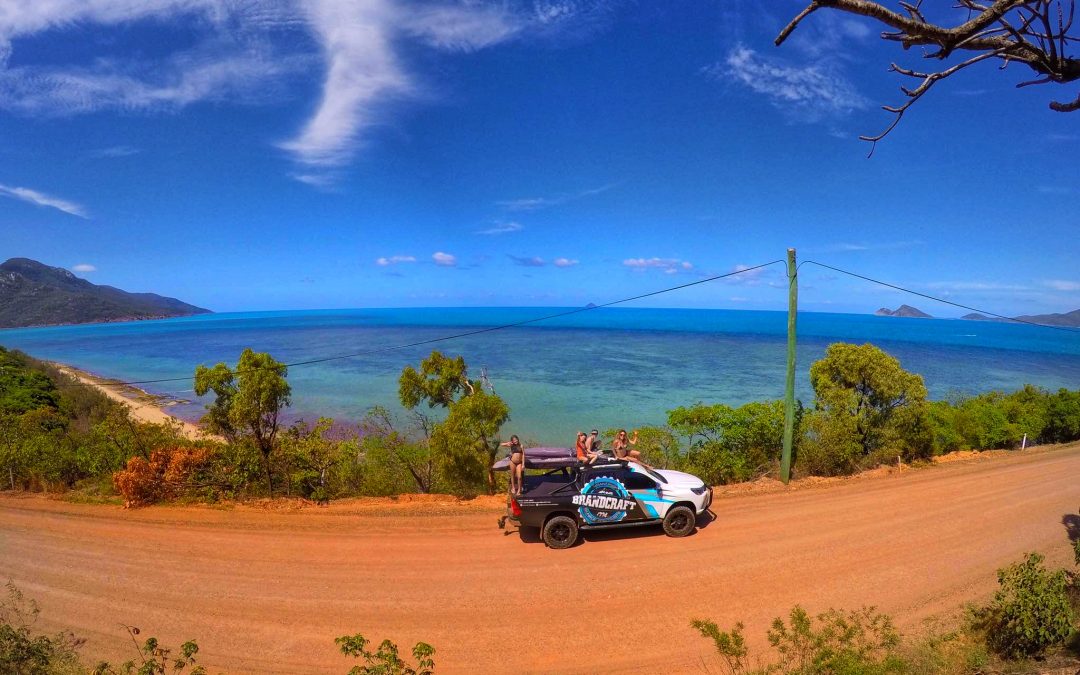 WARNING- this post is rather lengthy!
If you are planning a trip from Brisbane up to North East QLd (or Far North QLD) I hope this will give you a bit of an idea of where to go and what to see.
We visited so many amazing places it was hard to shorten the post. I've added lots of pics to try and make it interesting 🙂
Please don't feel as though you have to read it all. Locations all have separate headings, so feel free to skip to the part that interests you.
Part 2 of 3
---
This is what we got up to on our 2nd roadtrip up to Cairns. We had been up with friends the year before (read part 1 here) and loved it so much that we decided to do it again.
We visited many different places and had a completely different adventure.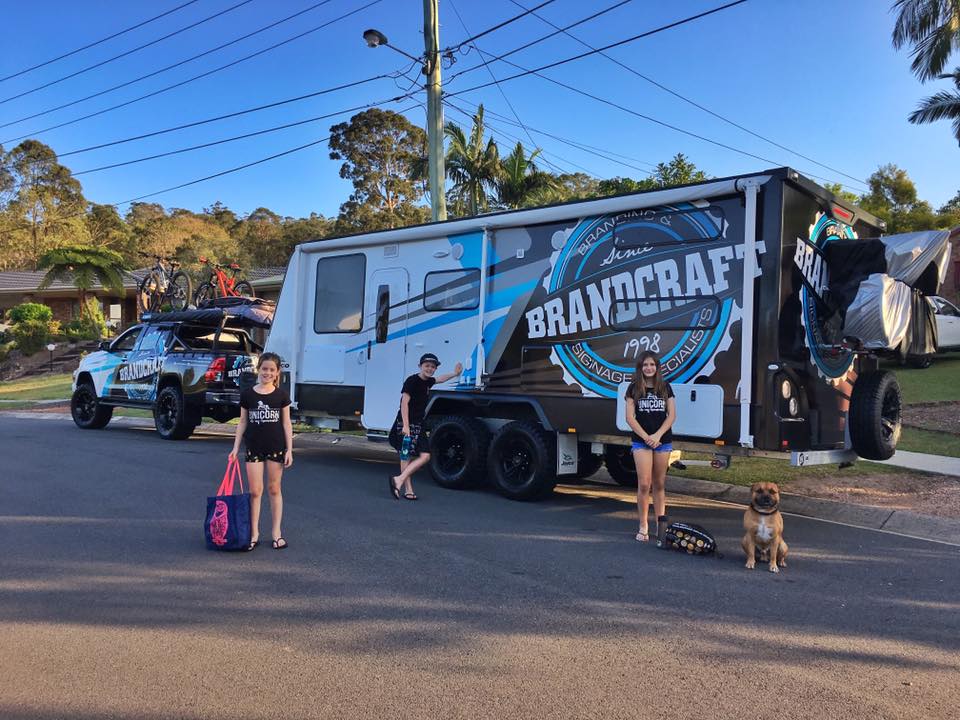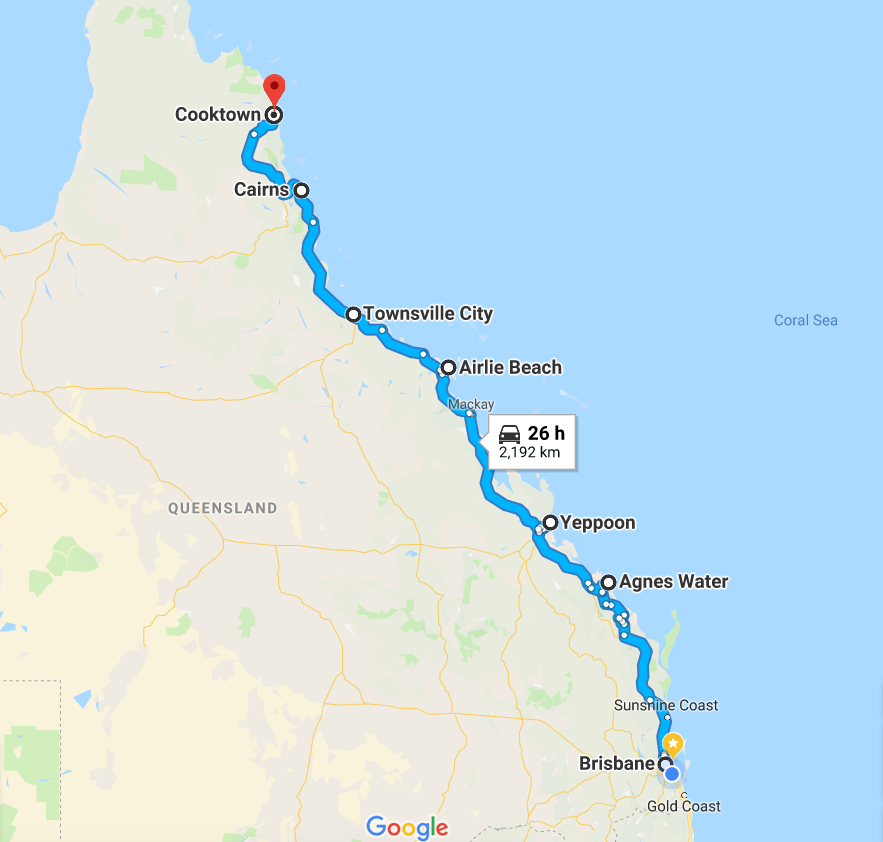 AGNES WATER – 1 Night
EN ROUTE

Calliope Historical Village

YEPPOON – 3 Nights

Various Lookouts
Rosslyn Bay
Emu Park

Singing Ship
Anzac Memorial

Byfield National Park

EN ROUTE
AIRLIE – 2 Nights

Hydeaway Bay

Gloucester Resort
Montes Resort

EN ROUTE

 Bowen

The Big Mango
Horeshoe Bay

EN ROUTE

 Cardwell
Hinchinbrook Lookout

TOWNSVILLE – 1 night
CAIRNS (home base)
EN ROUTE

 Palmer River Roadhouse
Black Mountain
Mt Carbine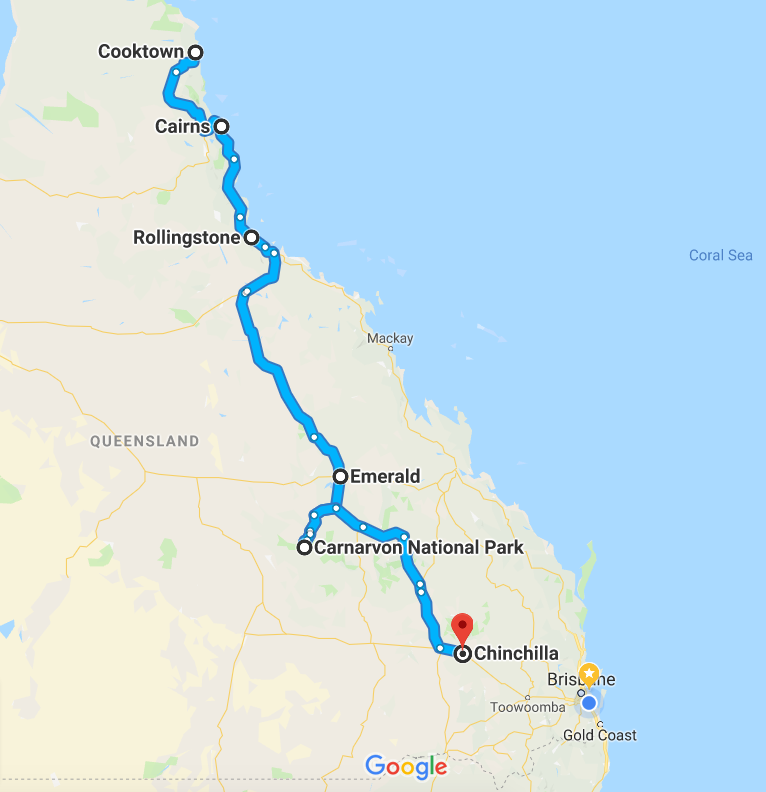 COOKTOWN – 2 nights

Cooktown Cemetary
Cooktown Museum
Cooktown Esplanade
Trevathan Falls
Archer Point

ROSSVILLE 1 night

CHILLAGOE – 2 Nights

Chillagoe Hub Information Centre
Chillagoe Weir
Chillagoe Smelter
Balancing Rock
Chillagoe Caves

CAIRNS (home base)
ROLLINGSTONE – 1 night
EN ROUTE
EMERALD – 2 Nights

Sapphire Gemfields
Miner's Heritage, Rubyvale

CARNARVON GORGE – 3 nights

Takkarakka Bush Retreat
Gorge Hike
Rock Pool

CHINCHILLA – 1 night
HOME
December 17th, we set off from Brisbane for Agnes Water. This time we managed to get a great spot at Agnes Water Beach Caravan Park which is right on the water. The previous year we had 2 vans, and there was no space for us, so we stayed at the Captain Cook Holiday Park up the road.
This caravan park is lovely and while there is no pool or playground, there is plenty for the kids to get up to. Like riding, scooting, reading and surfing!:)
We only spent one night here before heading onwards and upwards!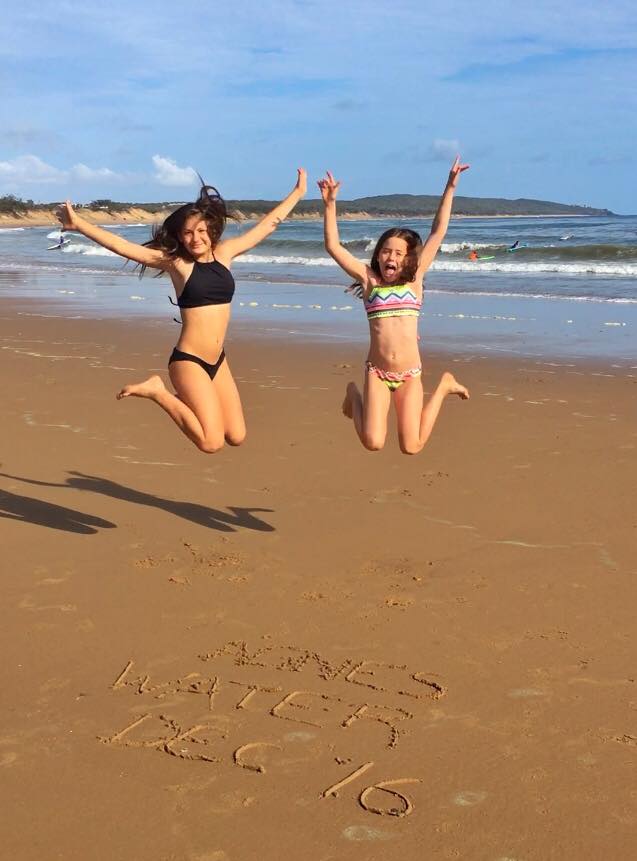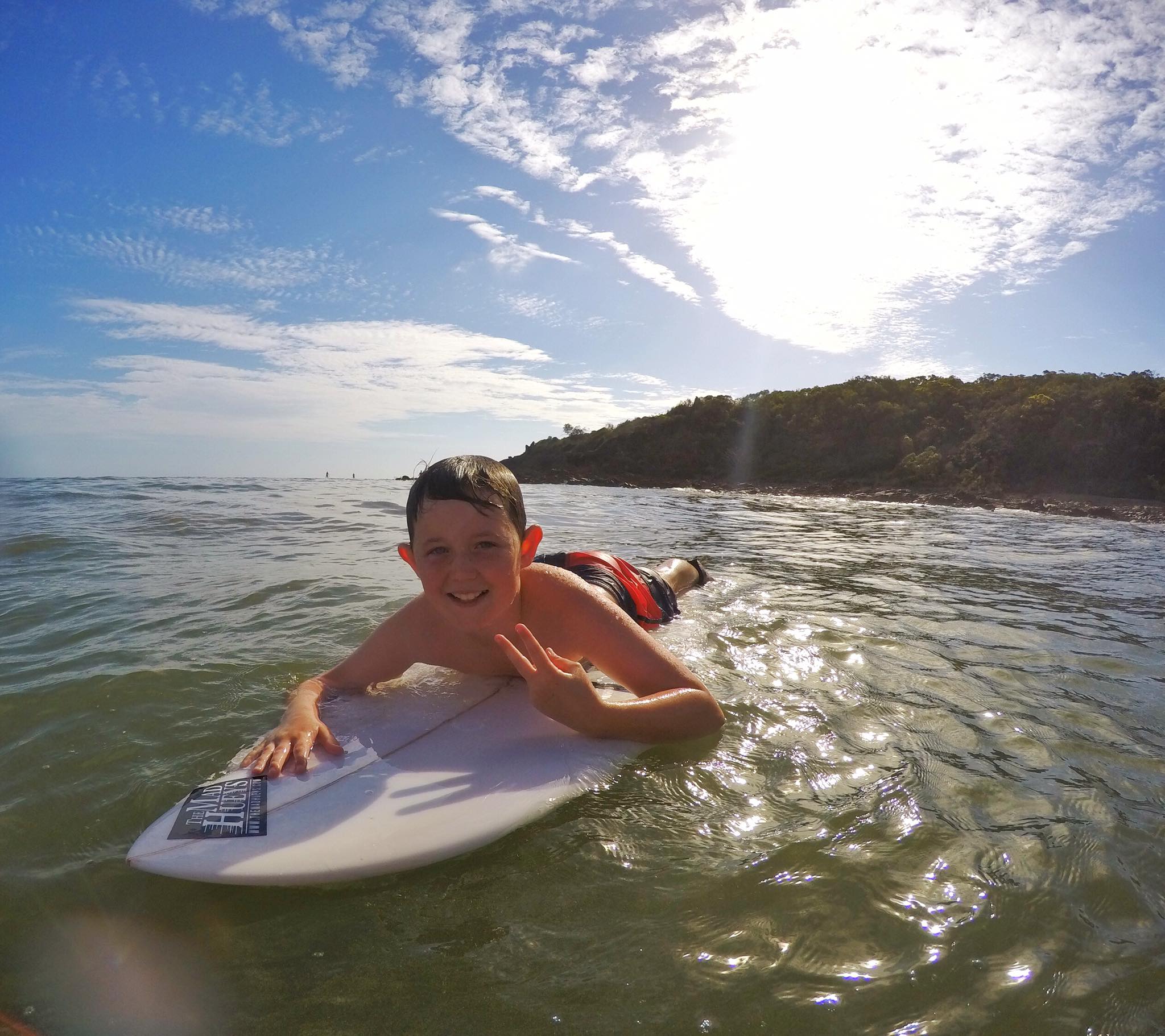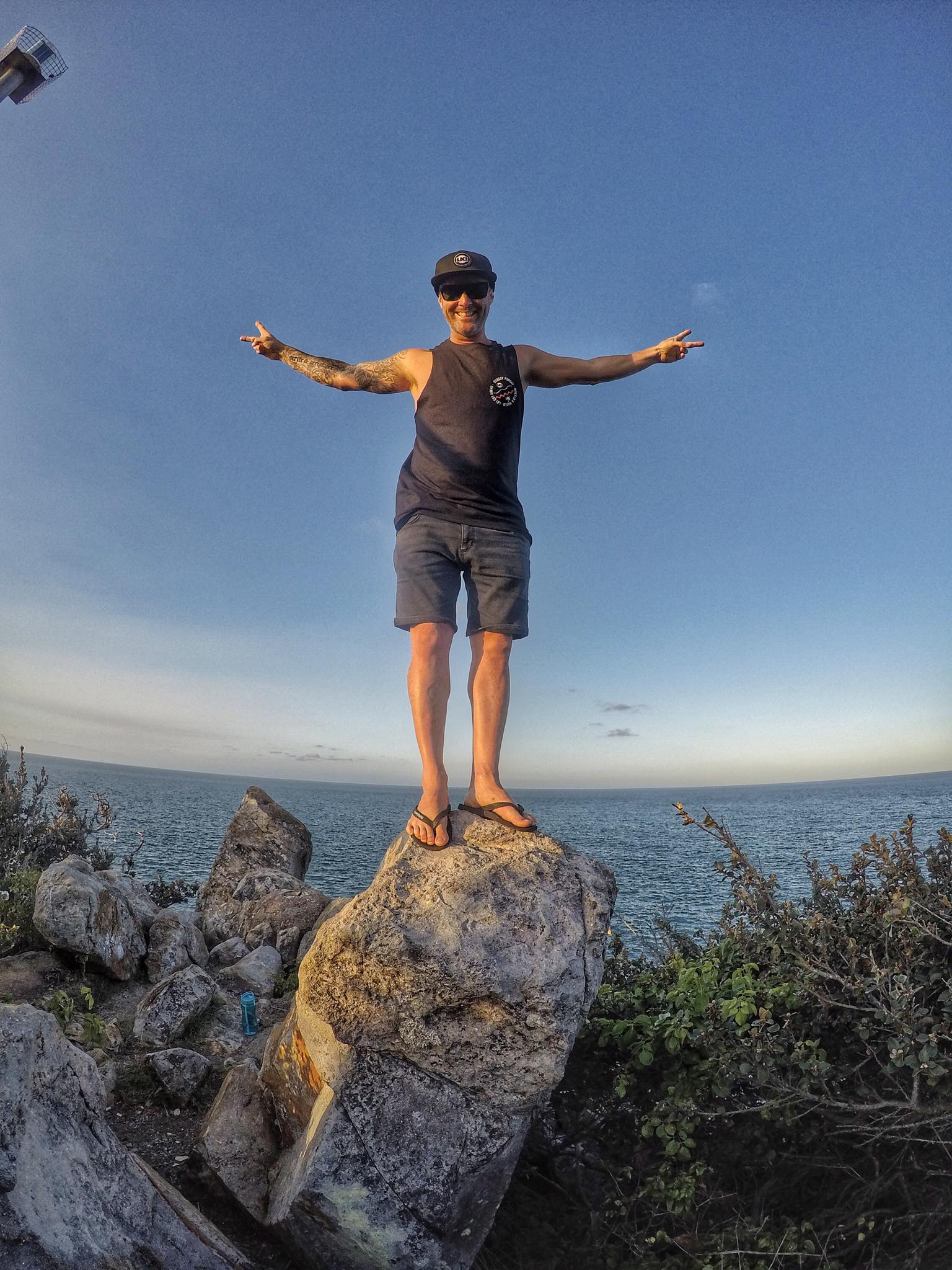 Calliope Historical Village
We headed up the Bruce Highway, making a quick toilet stop at the Calliope Historical Village, which is an open-air museum located about 26 km south of Gladstone.
The boys went to the loo and the girls and I went in for a sticky beak and it was great fun! Lots of history is enclosed in those fences as the museum has captured and preserved some of the original historic buildings from the area. Many of the buildings contain exhibits of everyday life and railway history.
You can read about (and see!) the region's rich railway history in the Ambrose Railway Station, see a 1940s wooden railway carriage and visit the Raglan Memorial Hall.
The girls loved seeing what the old school was like and I have also read about extremely popular markets that take place here seven times a year, attracting over 3000 people!
It was a short visit though as Chris was keen to keep moving.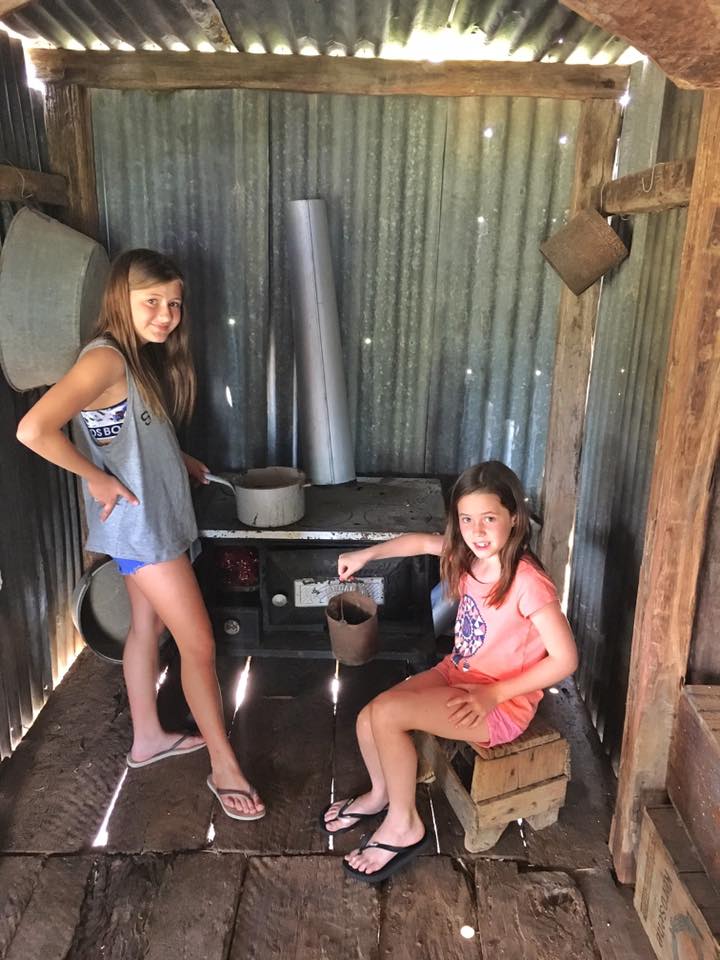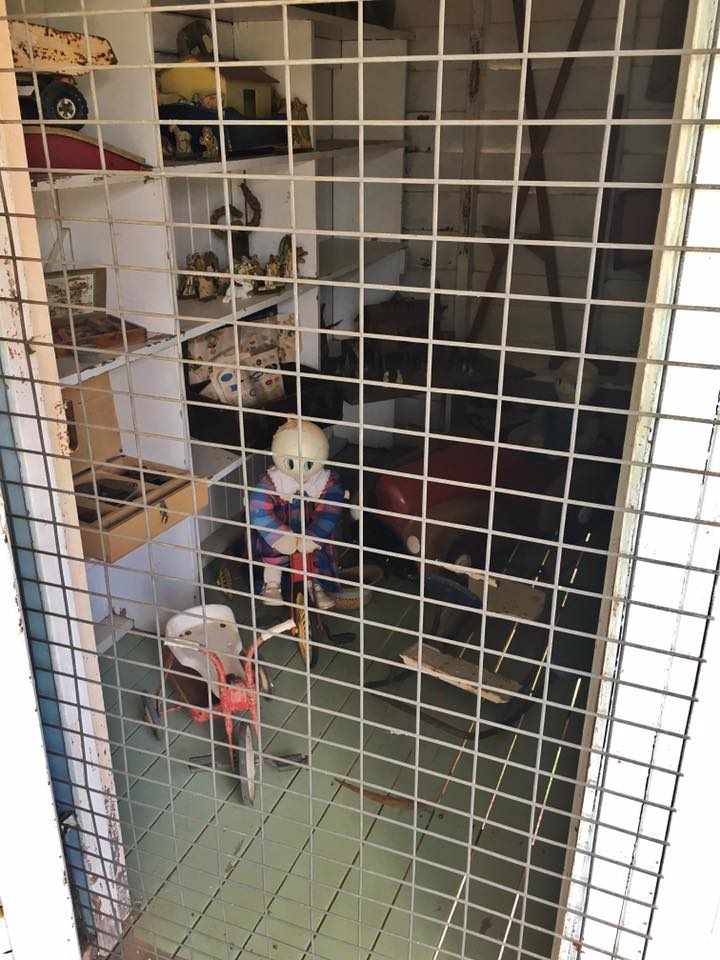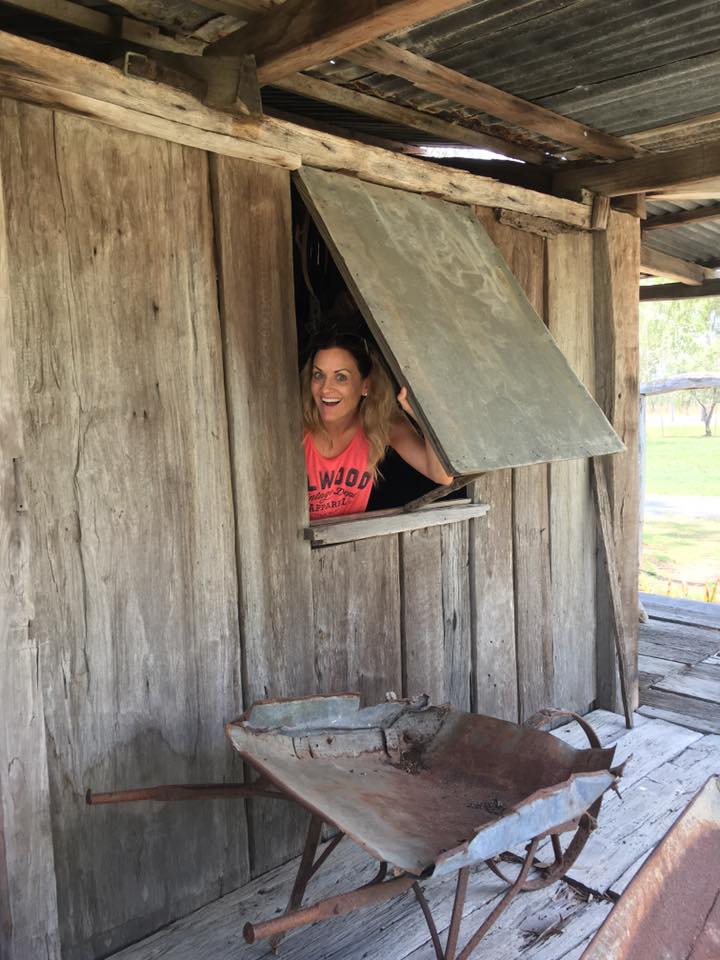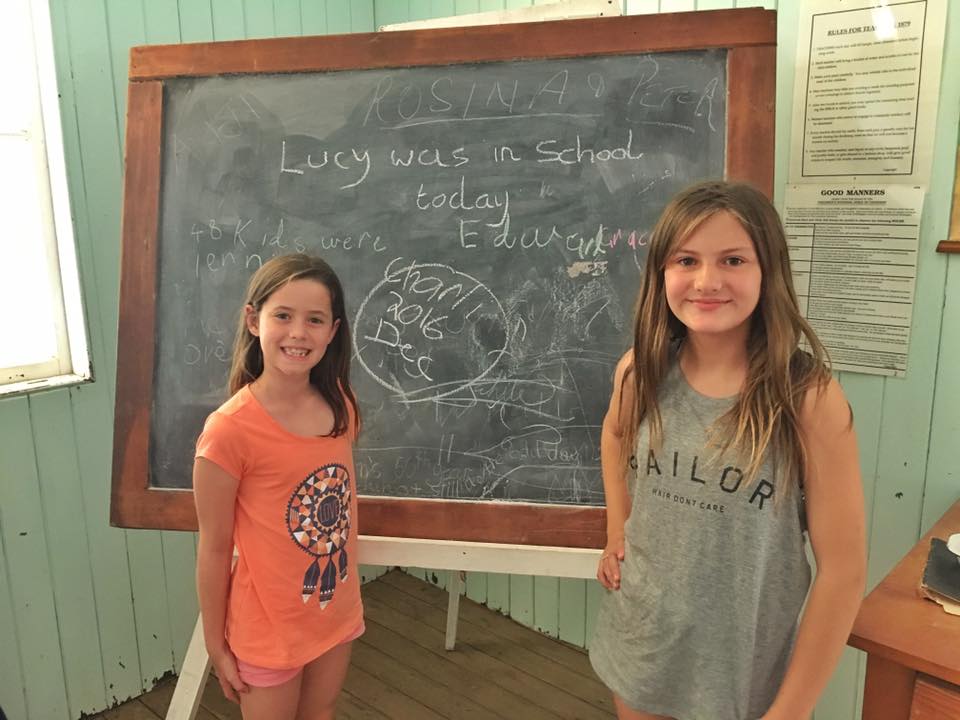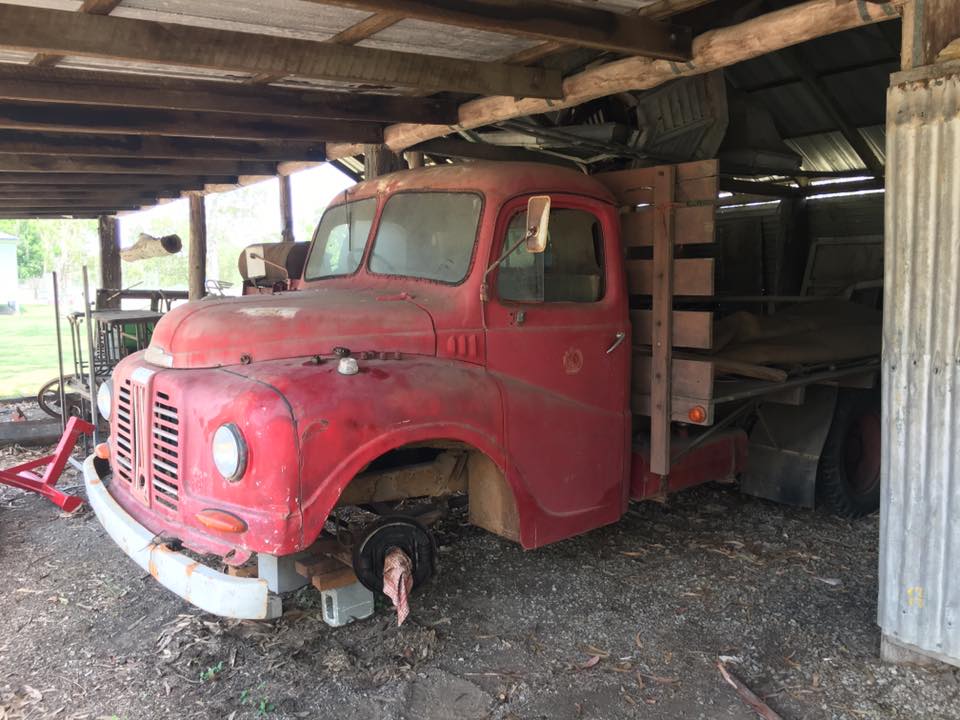 We were having intermittent brake problems with the van, so we stopped in Rockhampton, so Chris could sort that out and the kids could eat ice cream.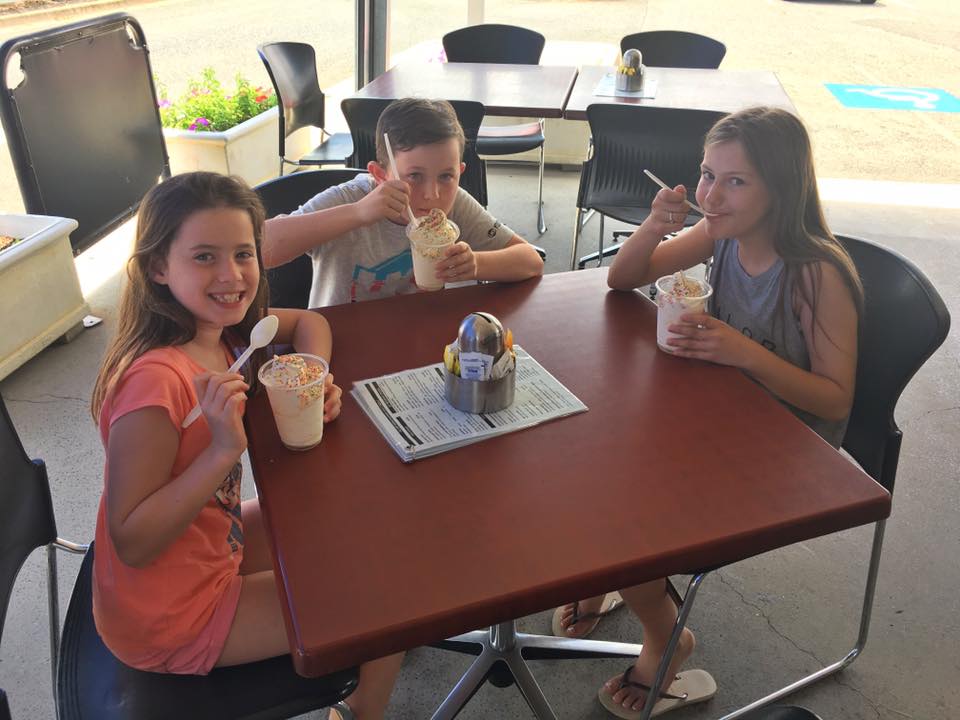 We rolled into the BIG4 Capricorn Palms, Yeppoon on the afternoon of the 18th and the kids were straight into the pool and down the waterslide while I attempted to set up our new inflatable cloud bed thingies that I had thought would be a great Christmas present. I think Chris enjoyed watching me try to set them up more than actually getting the gift! It took hours and they only lasted an hour or so before your bum started hitting the hard ground. Argh. Oh well. That was my exercise for the day! And I did manage to get a few hours of reading in between re-inflation attempts.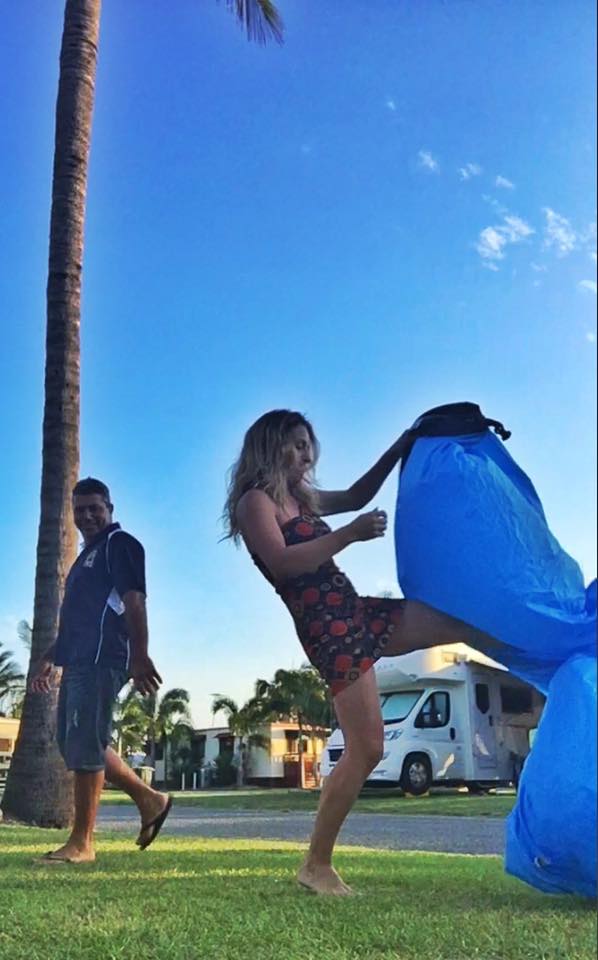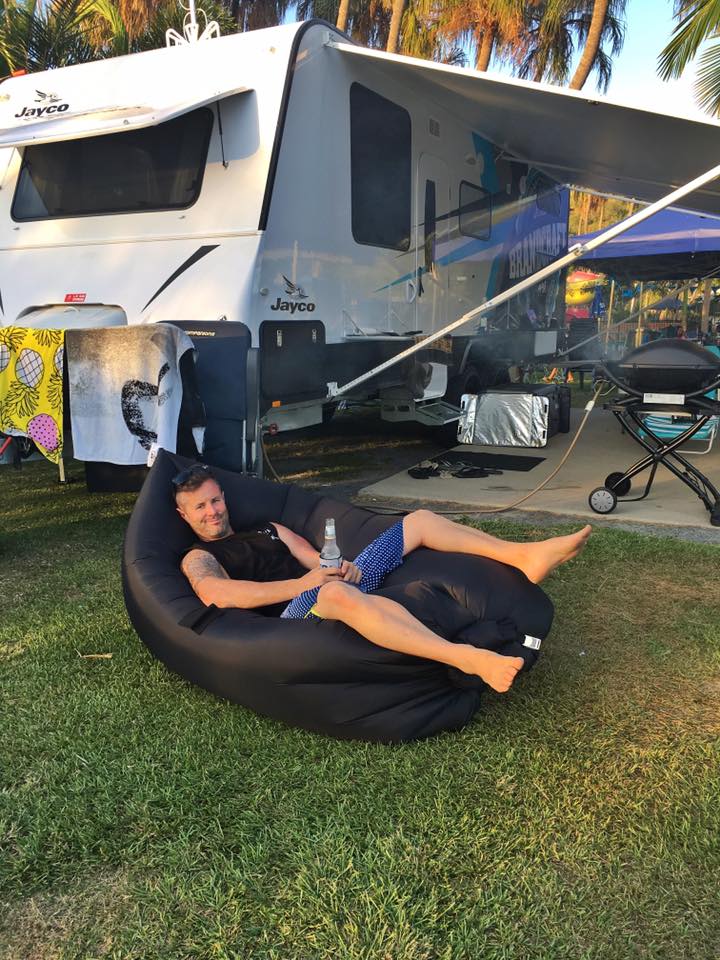 As I mentioned in the previous blog post, Yeppoon is my favourite area – I could easily retire up that way (if we weren't retiring in our caravan, of course). We had arranged to stay 3 nights, giving us a little bit of time to head off adventuring. Our first spot was Emu Park with its infamous 'Singing Ship' and ANZAC Memorial.
The area features parkland, lovely grassy areas, picnic facilities, a covered playground (this was new in our 2017/18 visit), a small beach and has an RSL, hotel & cafe close by.
The walkway to the singing ship is amazing with spectacular views and lots of information.
The kids read all the signs, listened to the haunting sounds of the wind whistling through the ship and admired the views of the sparkling blue ocean. The ANZAC Memorial is incredibly moving and beautifully created. It is a credit to those who contributed and to those who clearly take pride in maintaining such a special place. We learned a lot, including all about the 'Purple Poppy' (like the Red Poppy, but for animals).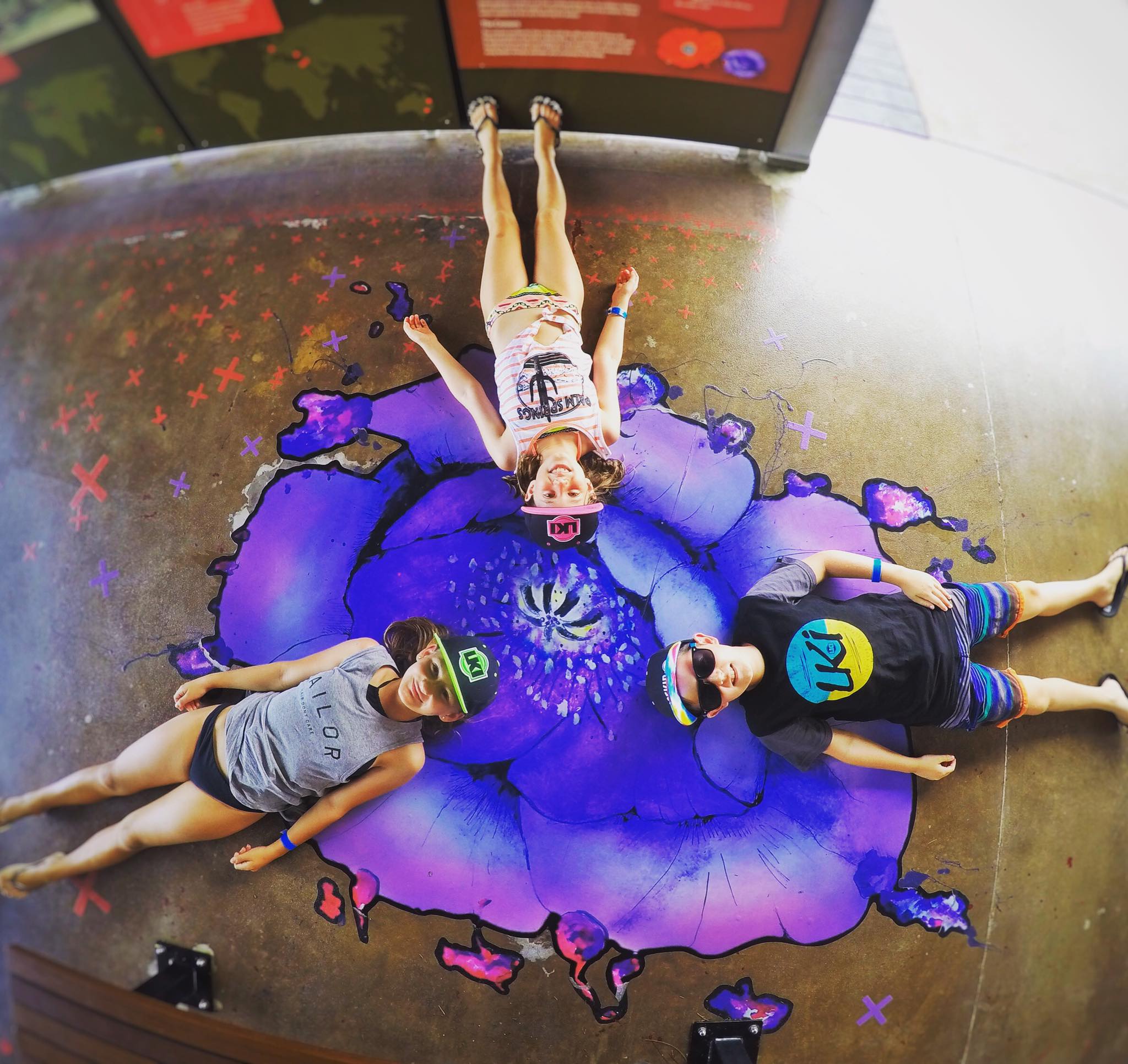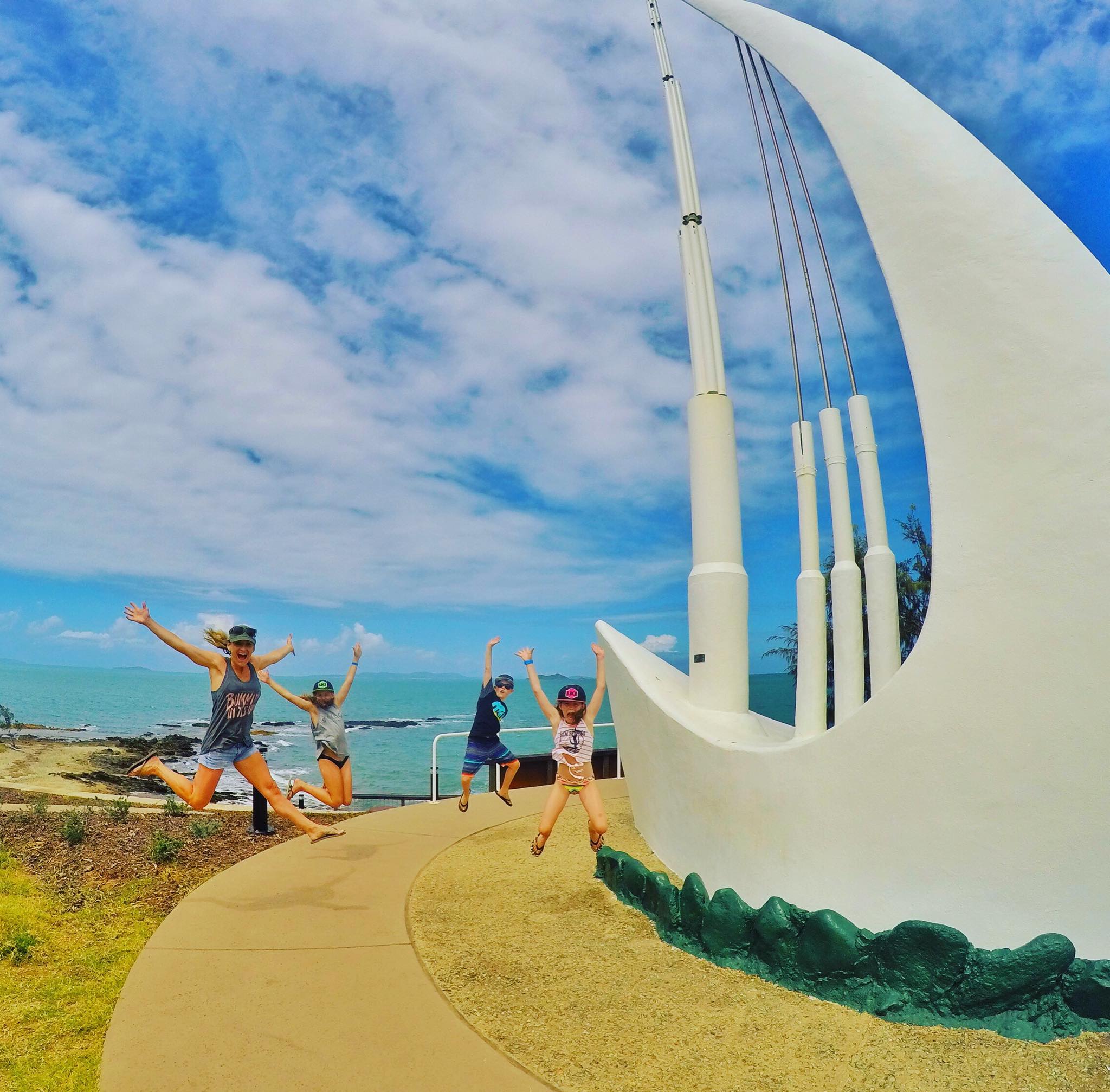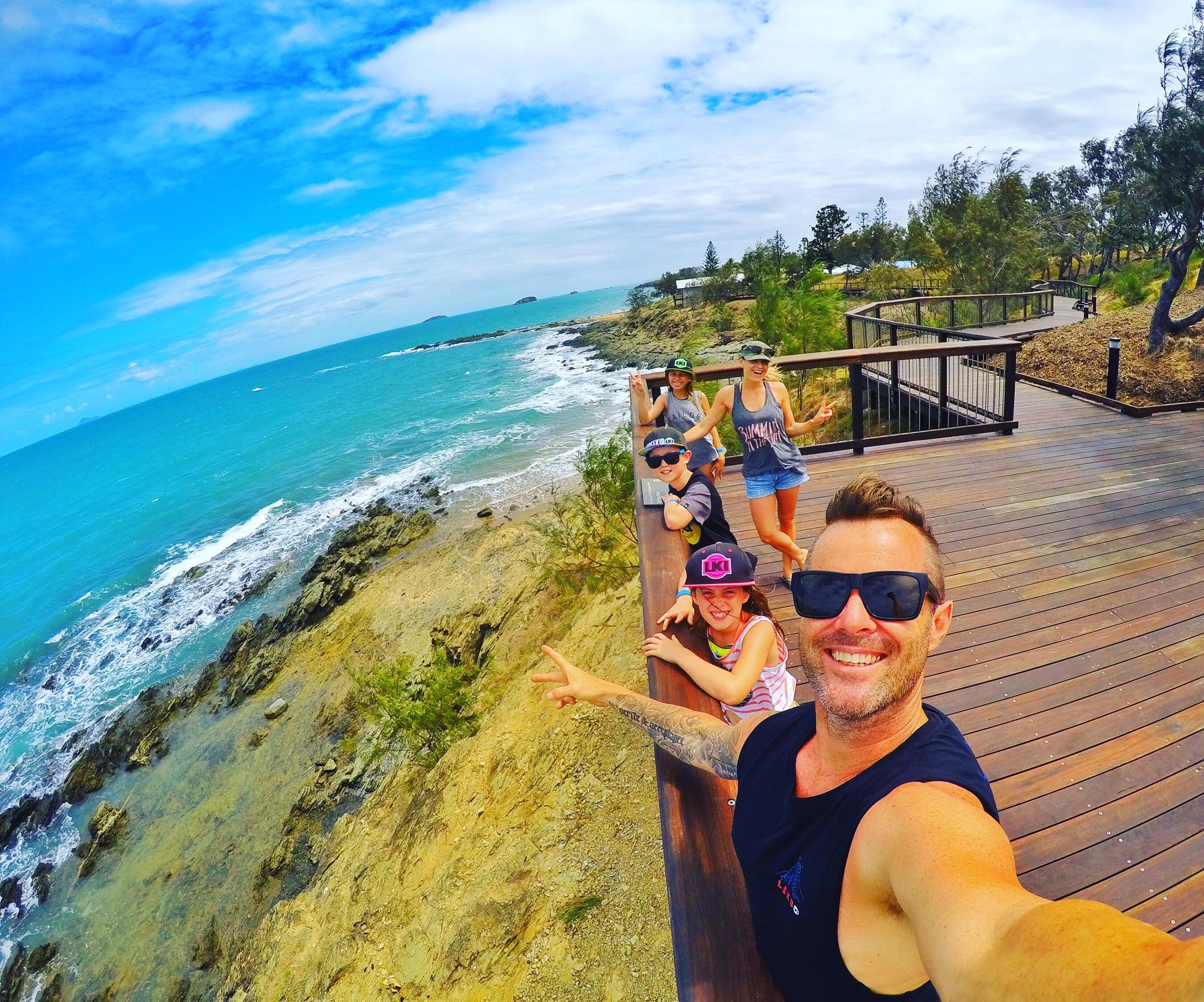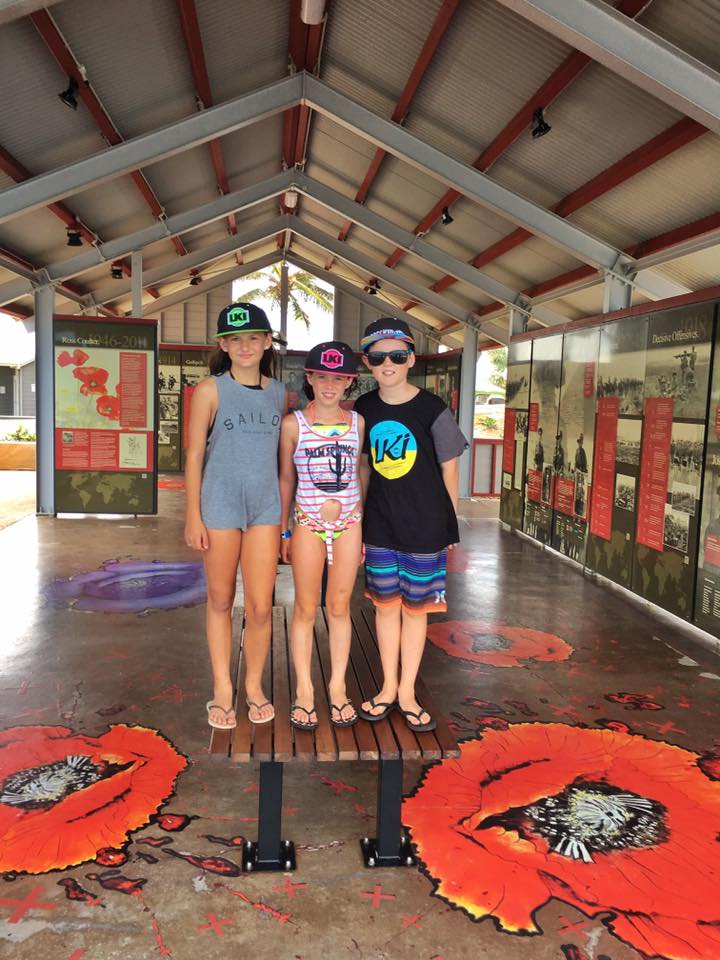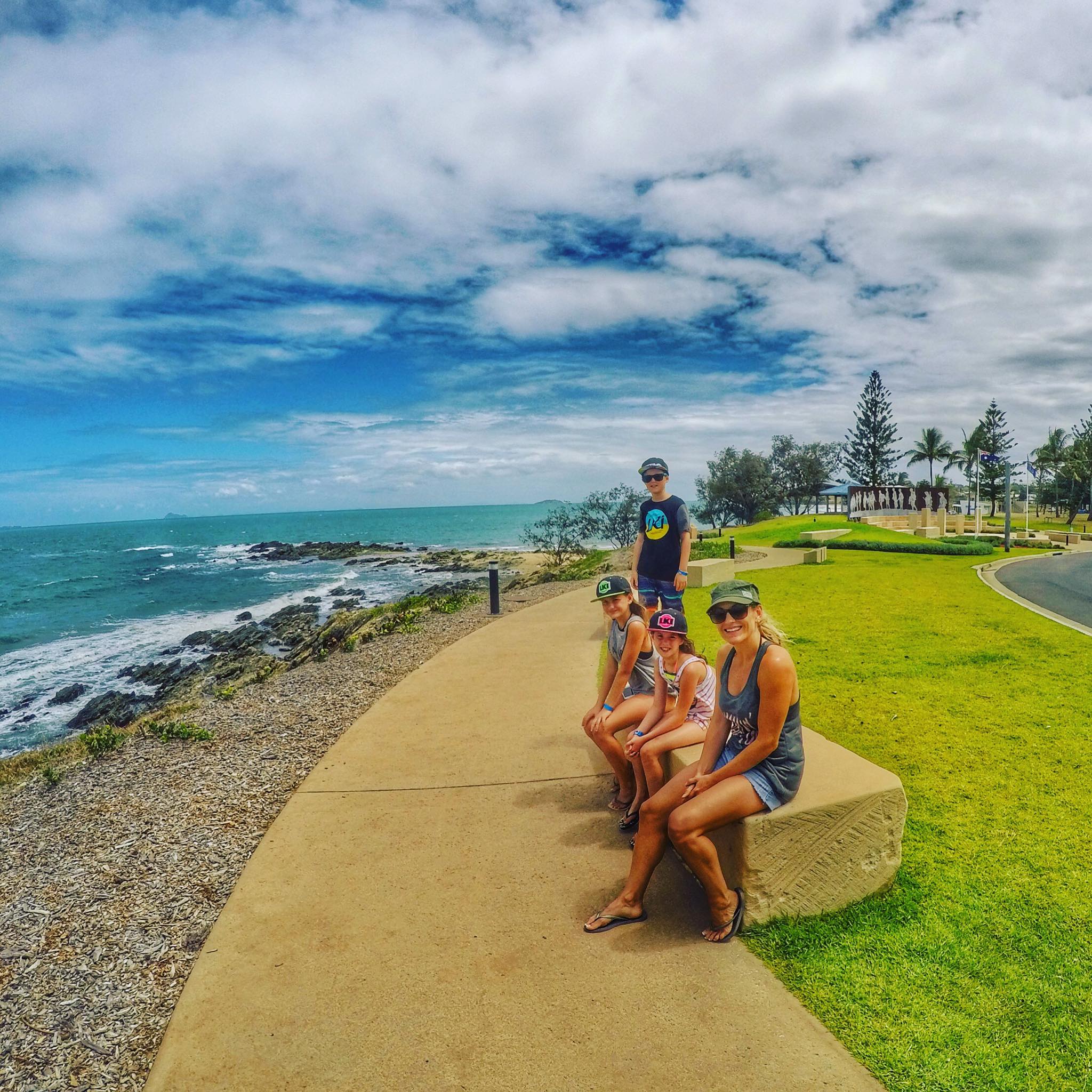 That night we decided to grab dinner in Yeppoon, so we drove into Afishionado's on the Esplanade for some fish and chips. It's a cute little café/bar/restaurant set in the perfect location on the waterfront. Lovely friendly service and yummy food together with outside tables made for a fun family meal. Chris and I walked and the kids 'scooted' back to the car and we drove back to the caravan park to make ourselves comfy in their awesome 'amphitheater' to watch Peabody and Sherman.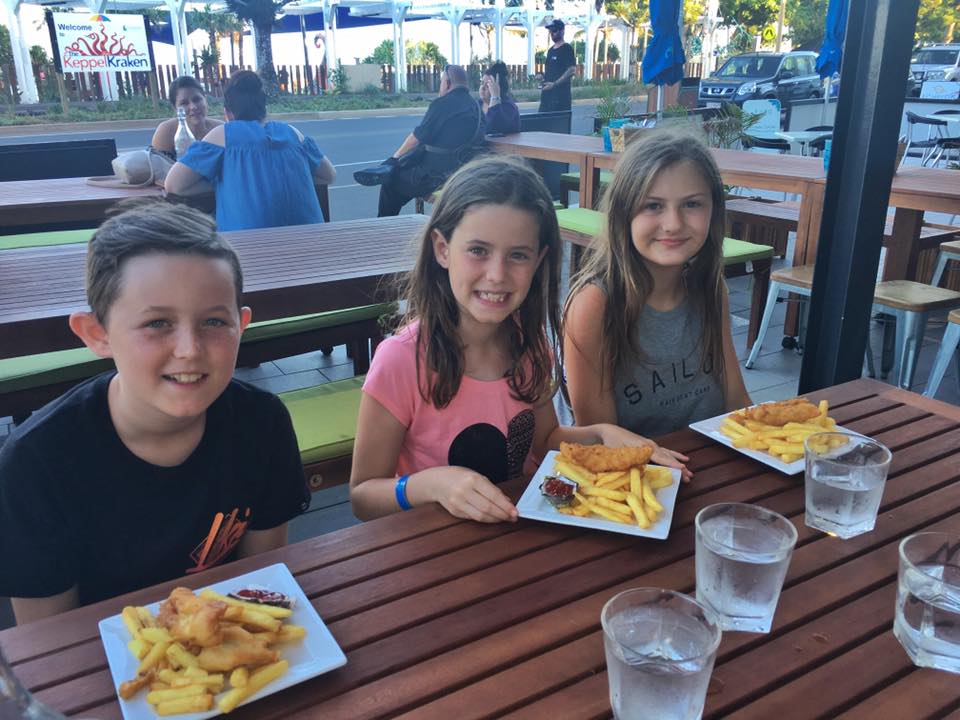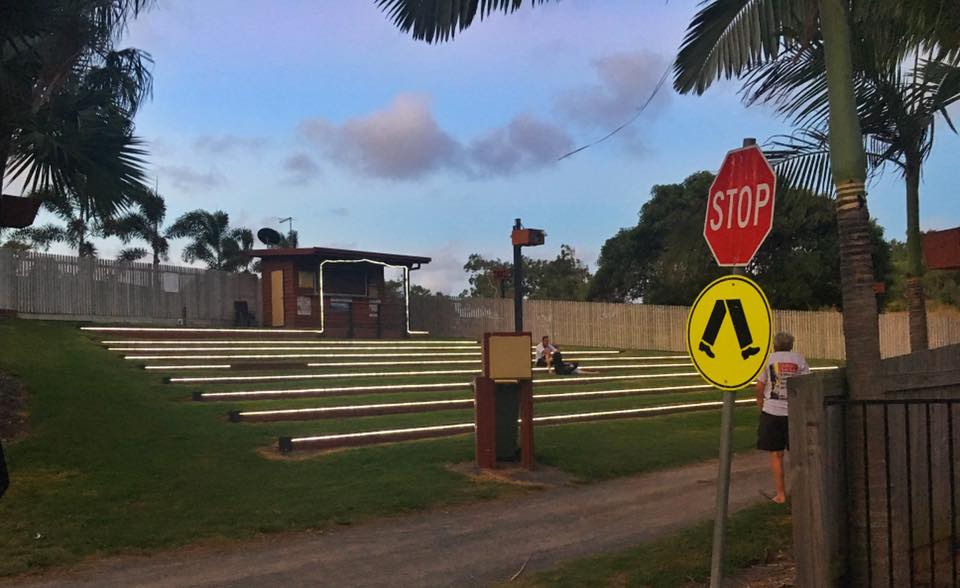 The next day was probably one of our most adventurous day trips yet! We had heard so many good things about Byfield National Park and 5 Rocks, that we knew we had to check it out, even though it was a long drive over some pretty interesting HUGE sand hills!
As we were approaching what they called 'Big Sandy' we could hear 2 other guys on their radios having a chat – one was in front of us and one was behind. They were locals who knew exactly where they were going and exactly how to get there. We didn't, and they could tell.  It was quite funny listening to their conversation about us! Eventually we made it to the top and I can't even begin to explain the beauty of what lay before us.
Lookouts, incredible views and more 4WD tracks that led us right down to the water and beaches we had just been looking down over.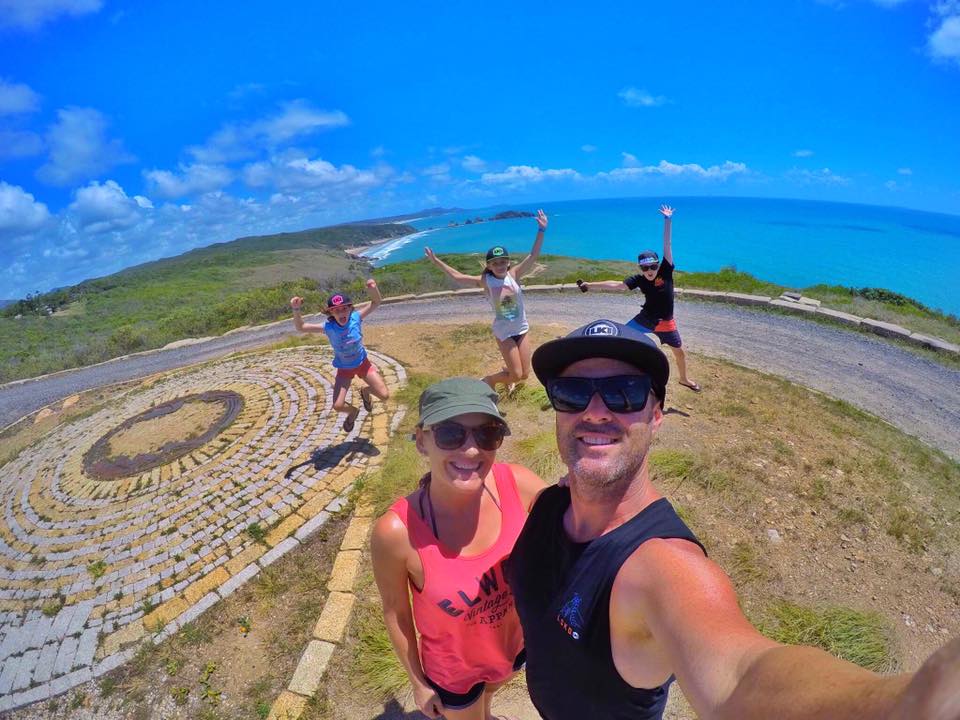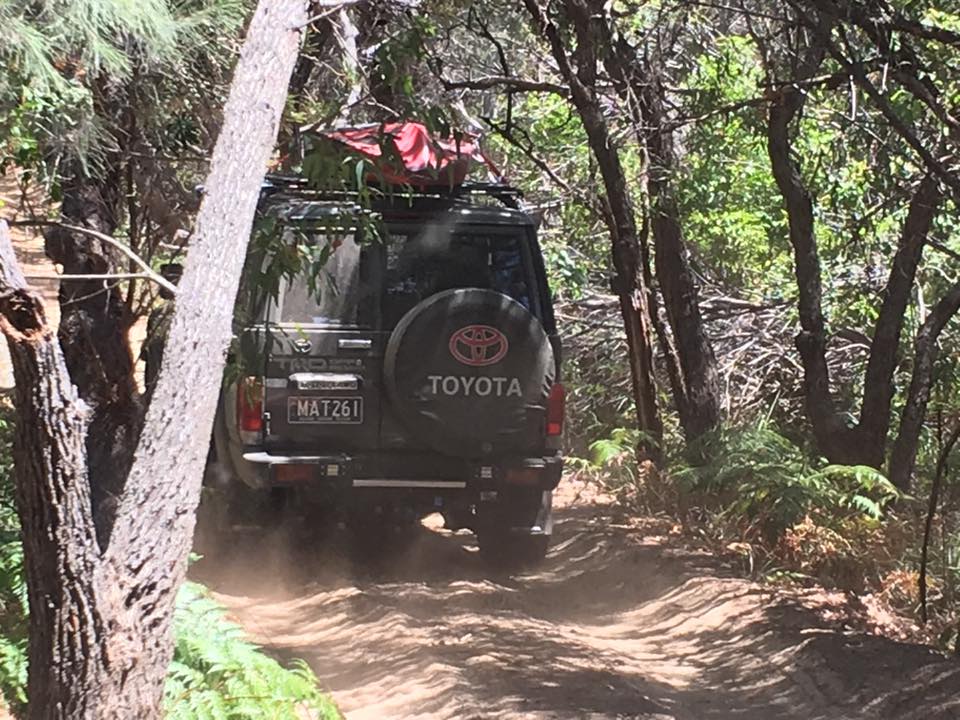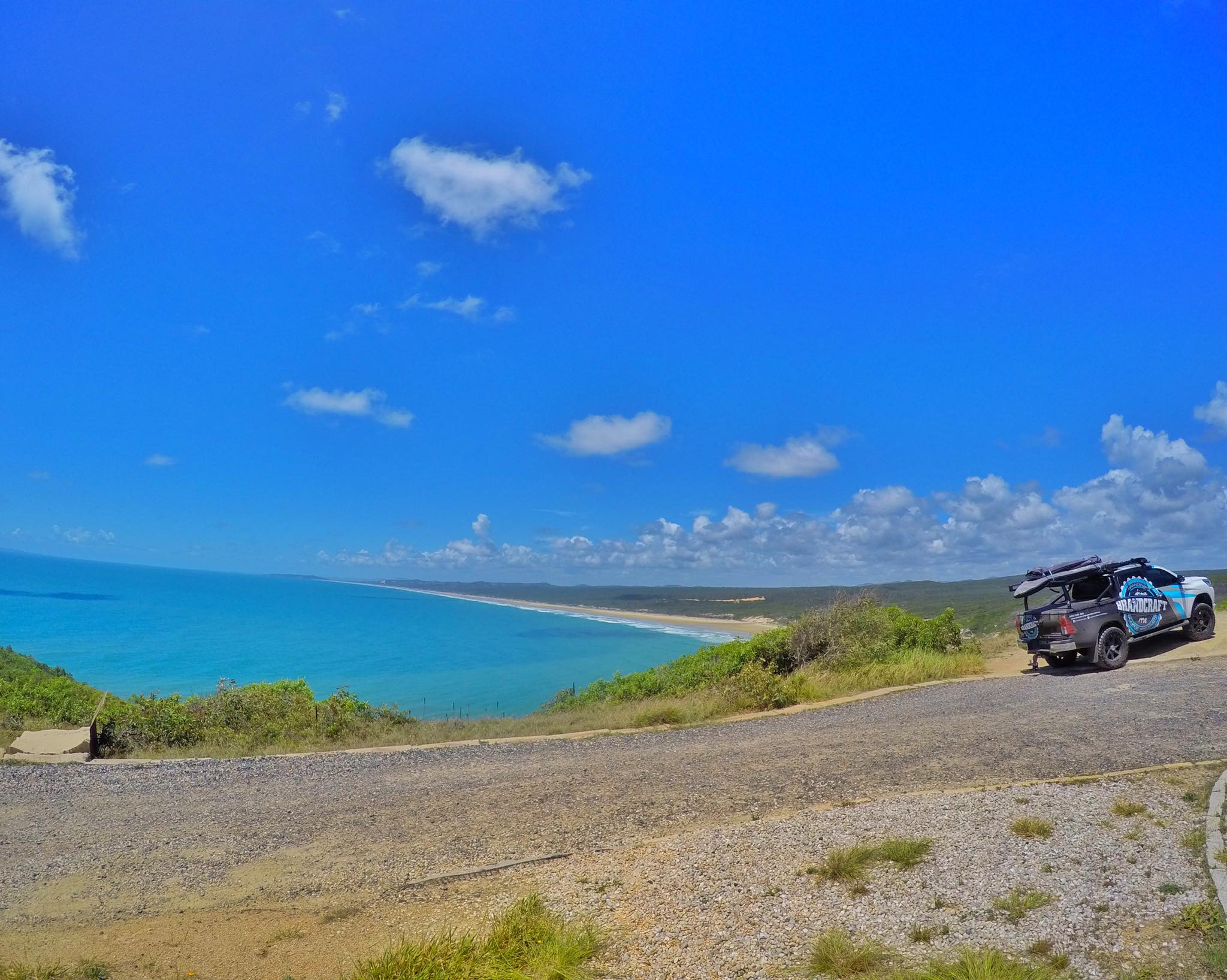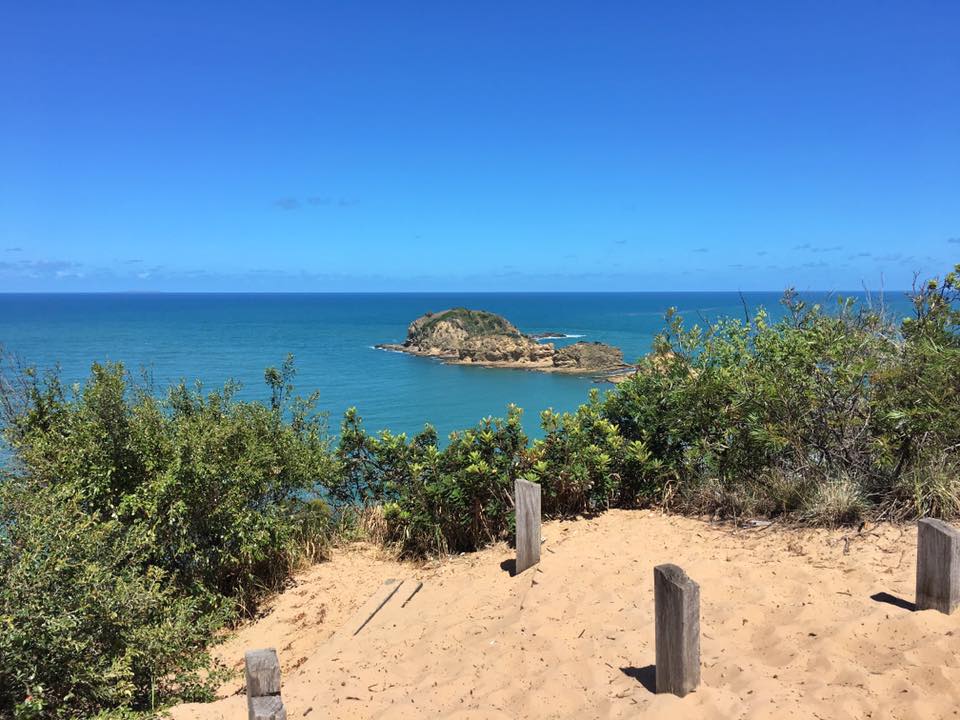 We ended up chatting with the guys in the other cars, and they took us down to a freshwater creek where they were planning on spending some time. We had a look and then headed back down to the waves, so Chris could get his boards out and the kids could play on the beach.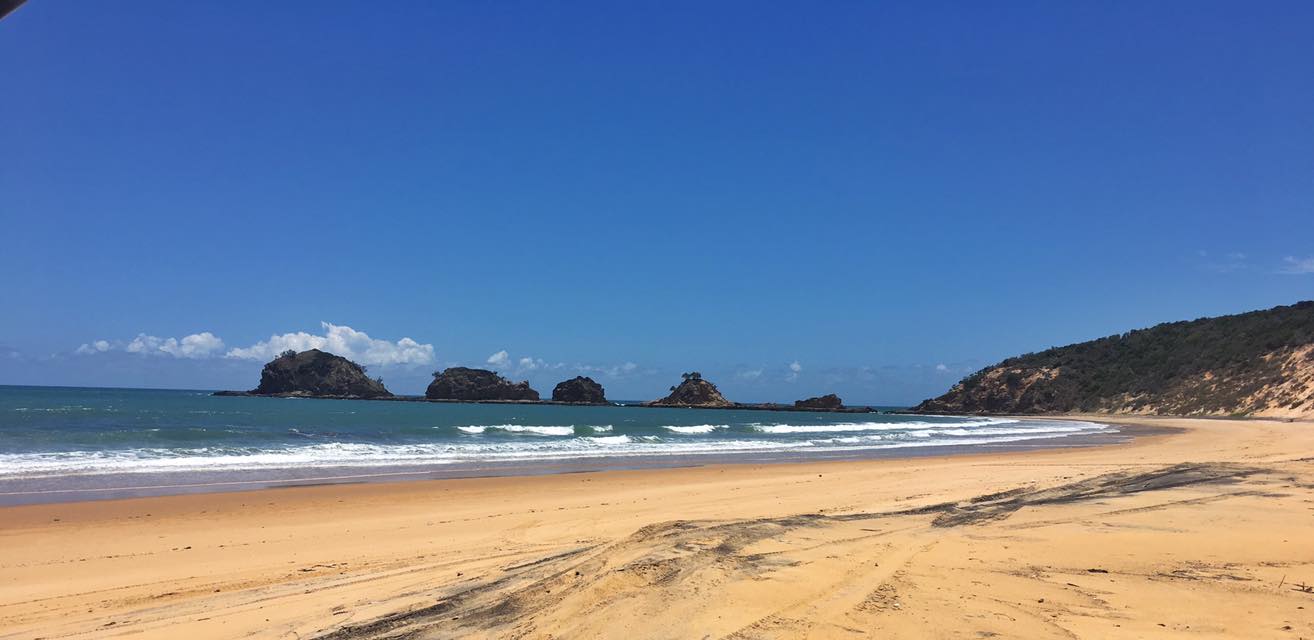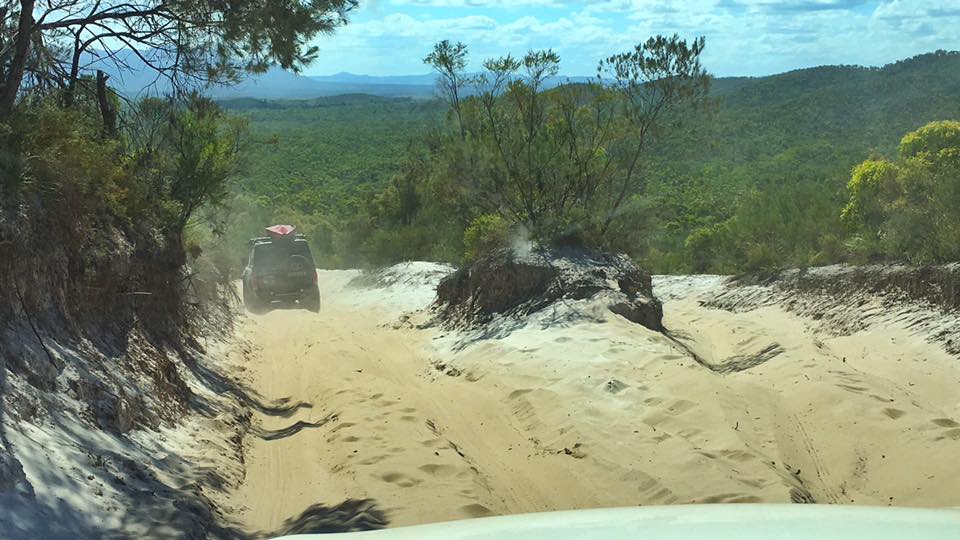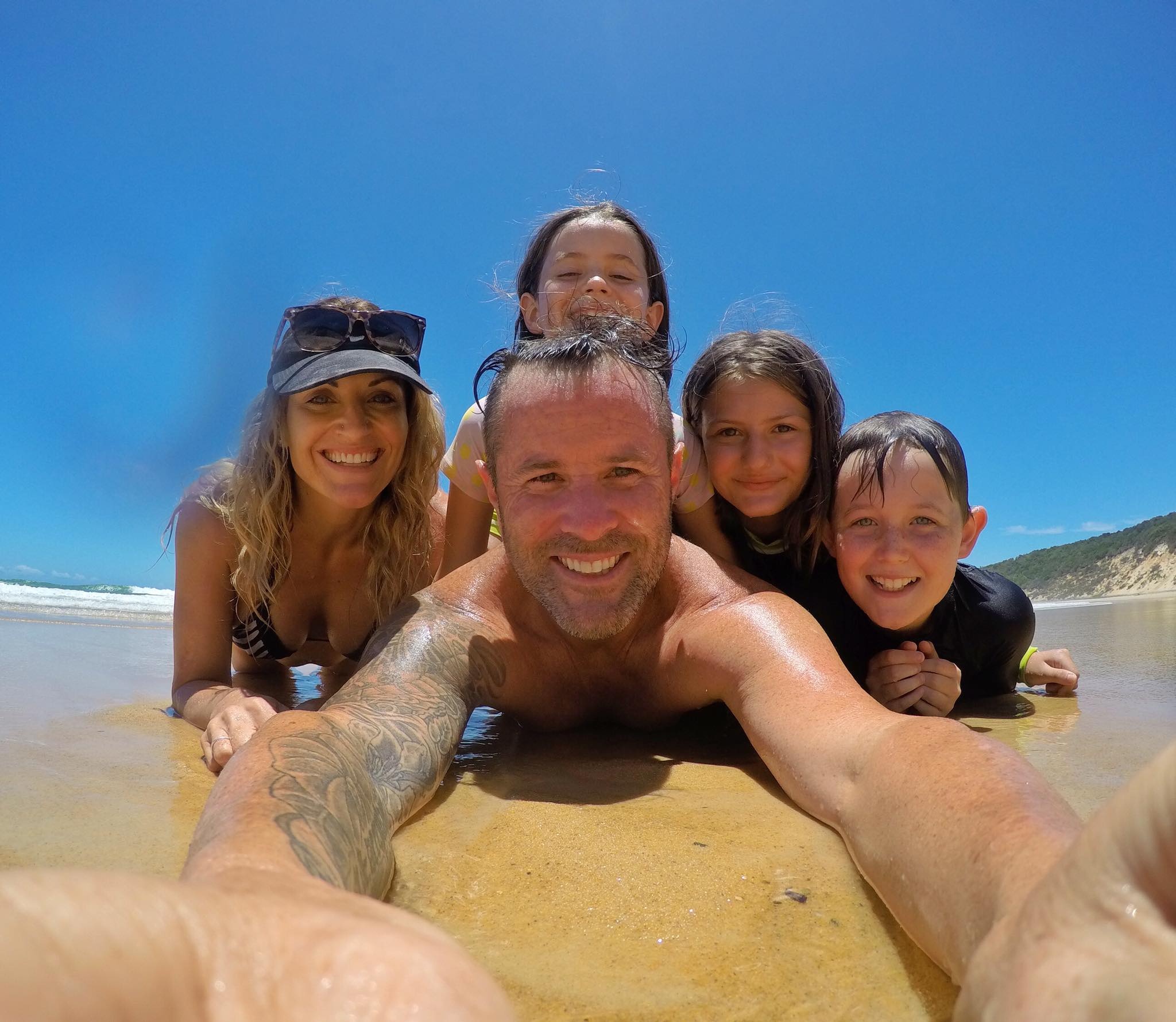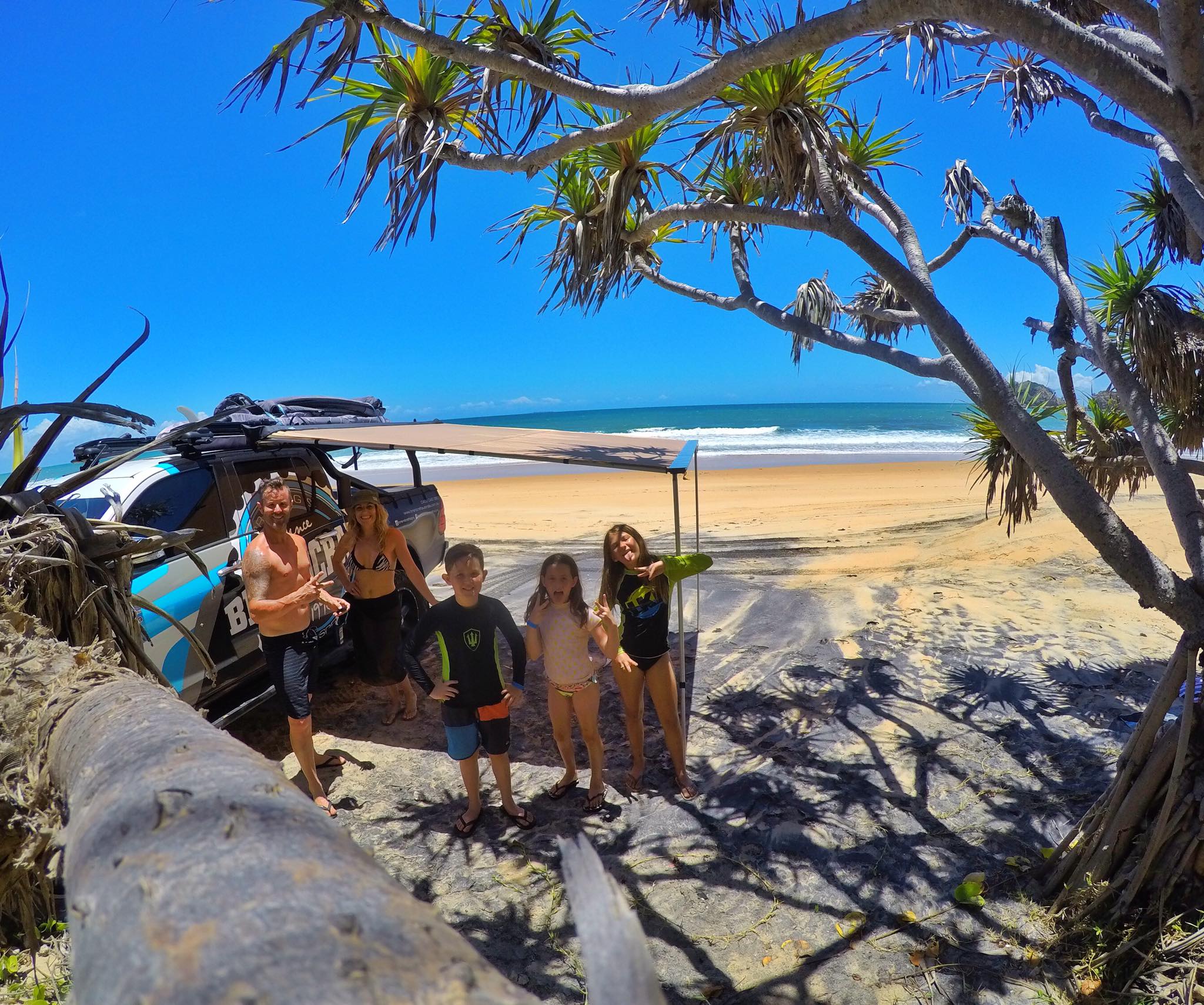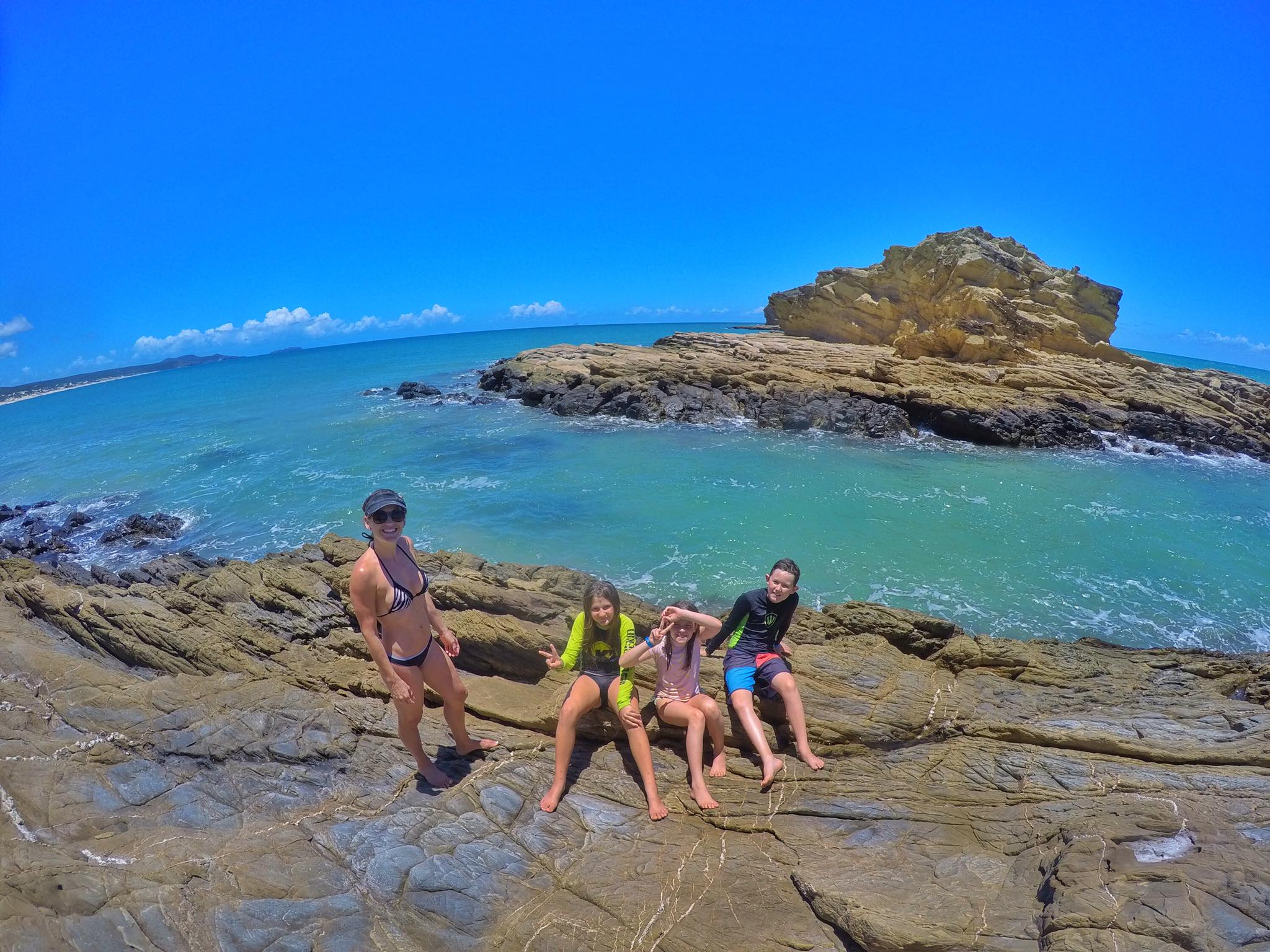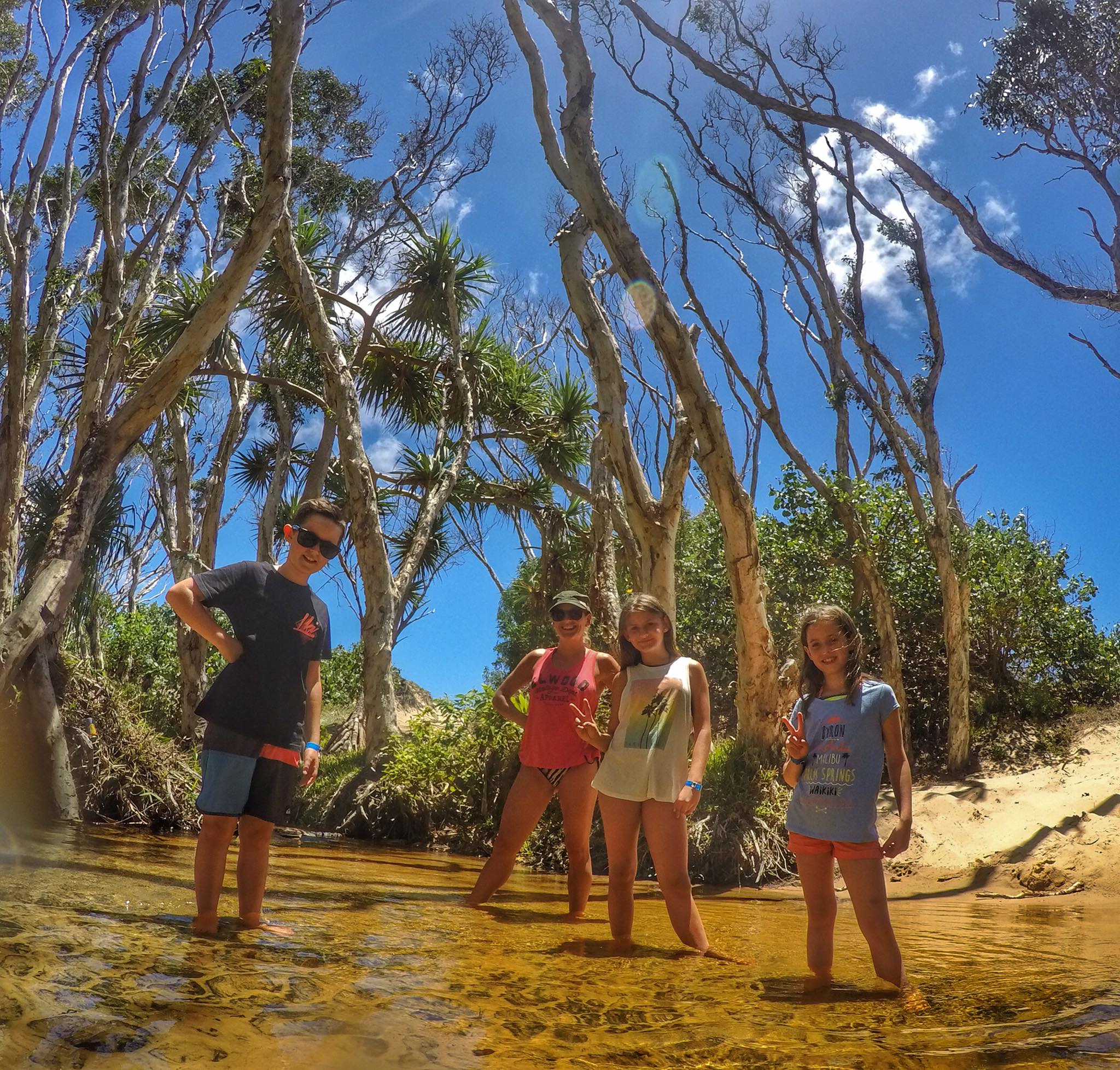 It was a full day spent at Byfield, and if you have a 4WD, we recommend that you go and do some adventuring of your own!
December 21st meant time to move on from Yeppoon towards Airlie Beach stopping at the Flaggy Rock Café for a much needed ice cream. This is such a cute little roadside restaurant with a lovely dam out the back and beautiful gardens. Our kids always love the ice cream and Chris enjoyed his slice of carrot cake. There is plenty of parking even for giant caravans like ours. We were sad to hear that the co-owner has cancer and it was now up for sale.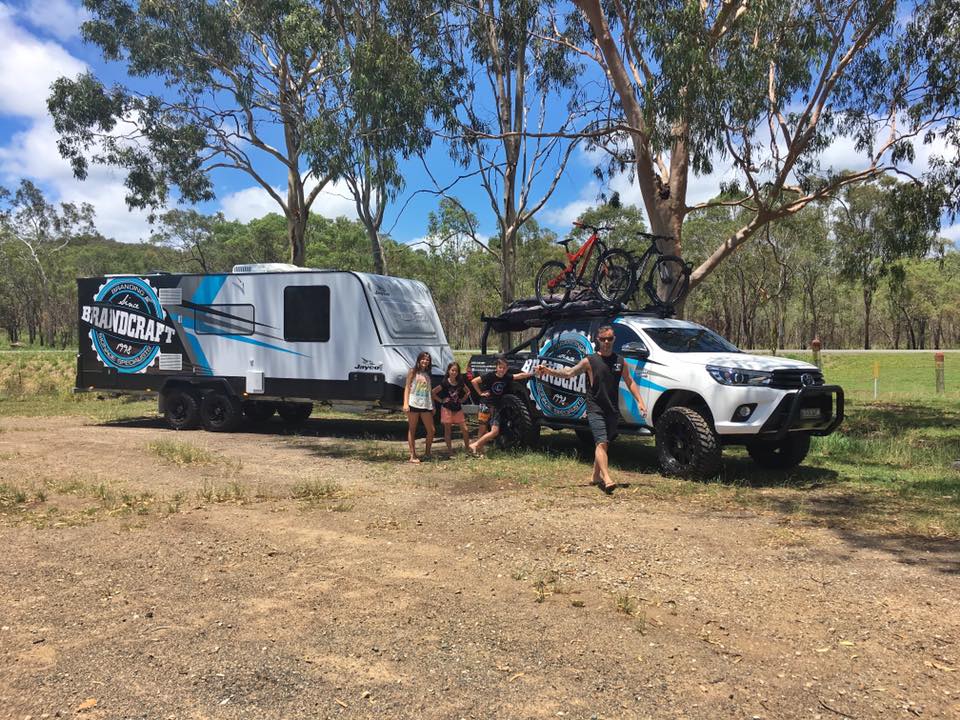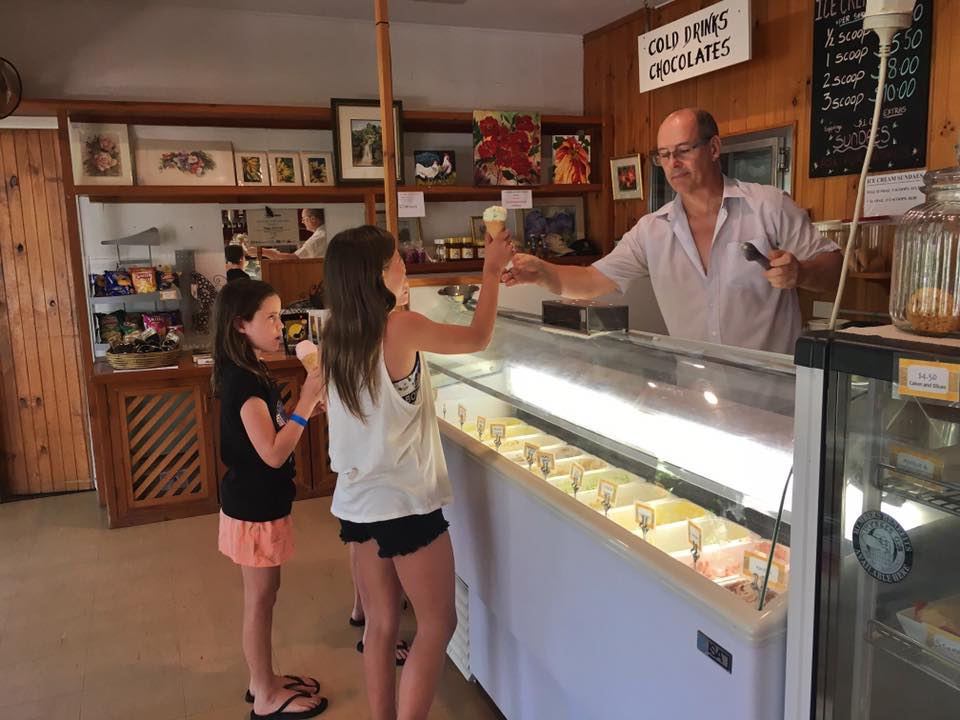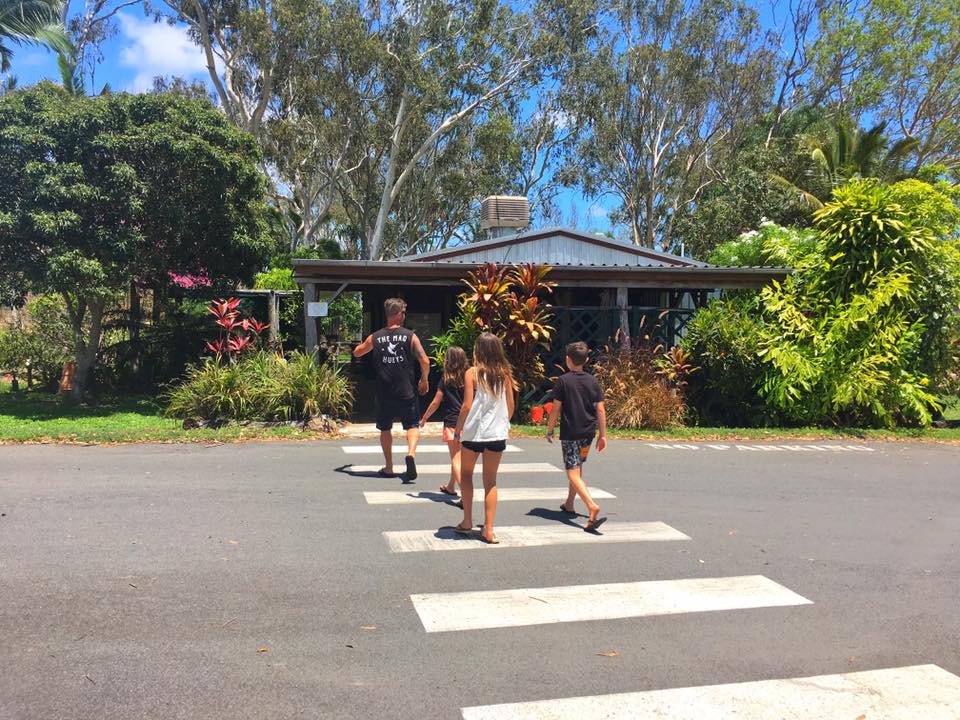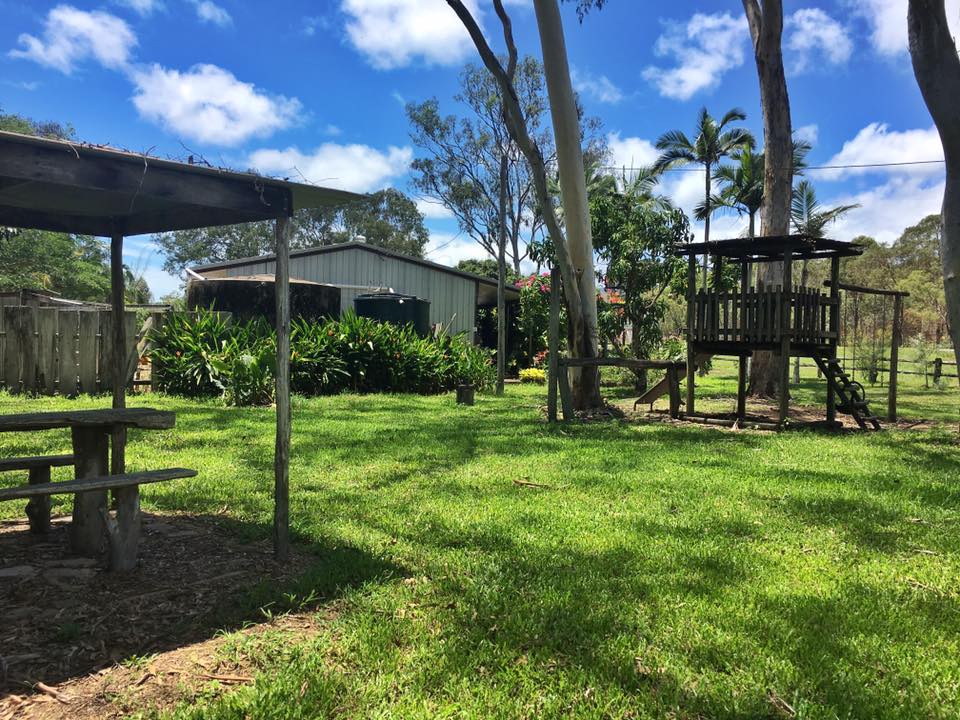 After we had stretched our leg and tickled our tastebuds, it was time to get back on the road as we headed for Airlie Beach.
December 21st meant time to move on from Yeppoon towards Airlie Beach stopping at the Flaggy Rock Café for a much needed ice cream. This is such a cute little roadside restaurant with a lovely dam out the back and beautiful gardens. Our kids always love the ice cream and Chris enjoyed his slice of carrot cake. There is plenty of parking even for giant caravans like ours. We were sad to hear that the co-owner has cancer and it was now up for sale.
Woohoo! Another favourite spot of ours – The BIG4 Adventure Whitsundays Resort.
We have stayed here about 6 times so far and so far, every single time has been amazing! Our latest trip (17/18) we were blown away by the new mega water park, but – that was still under constructions during this trip. Never the less, the kids had a ball swimming, playing mini-golf, watching movies, riding their bikes, going on the jumping pillow and just being kids. We set up the Christmas lights, and then got stuck into relaxing.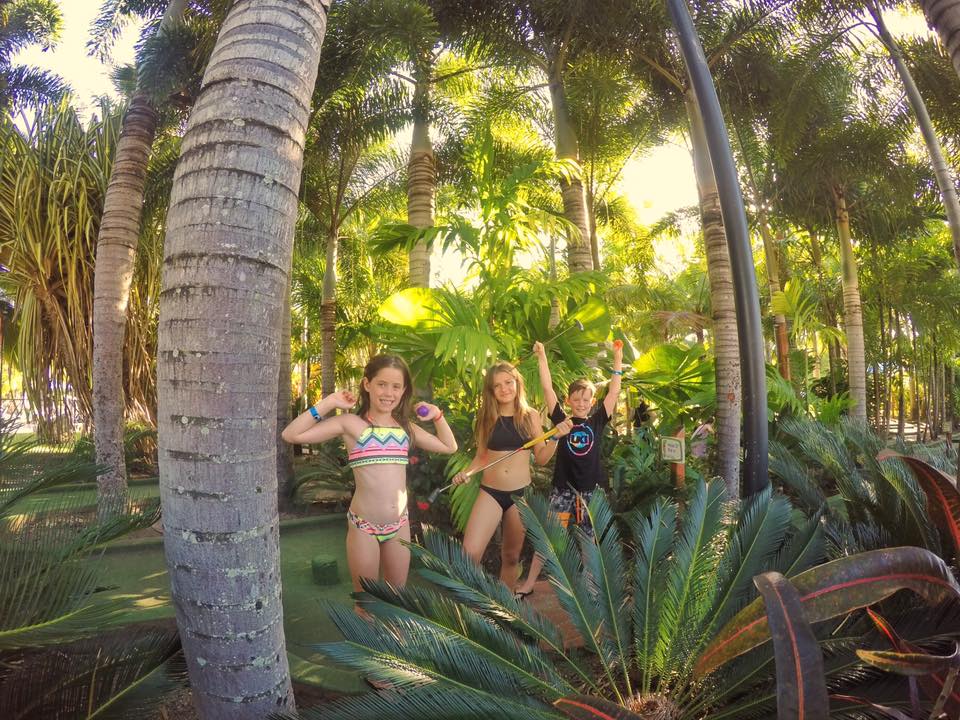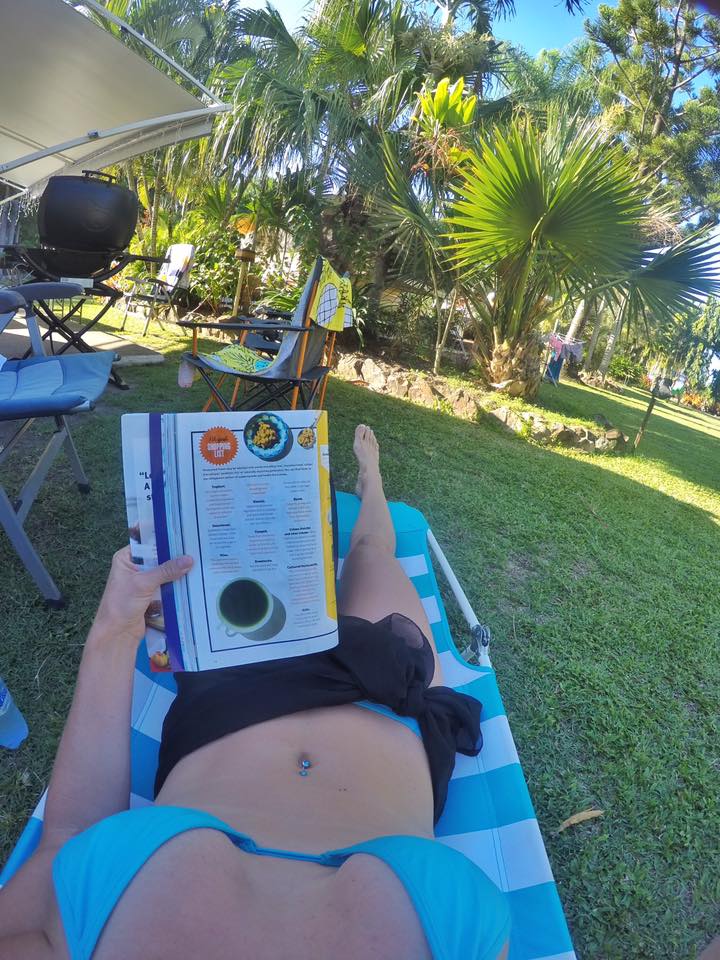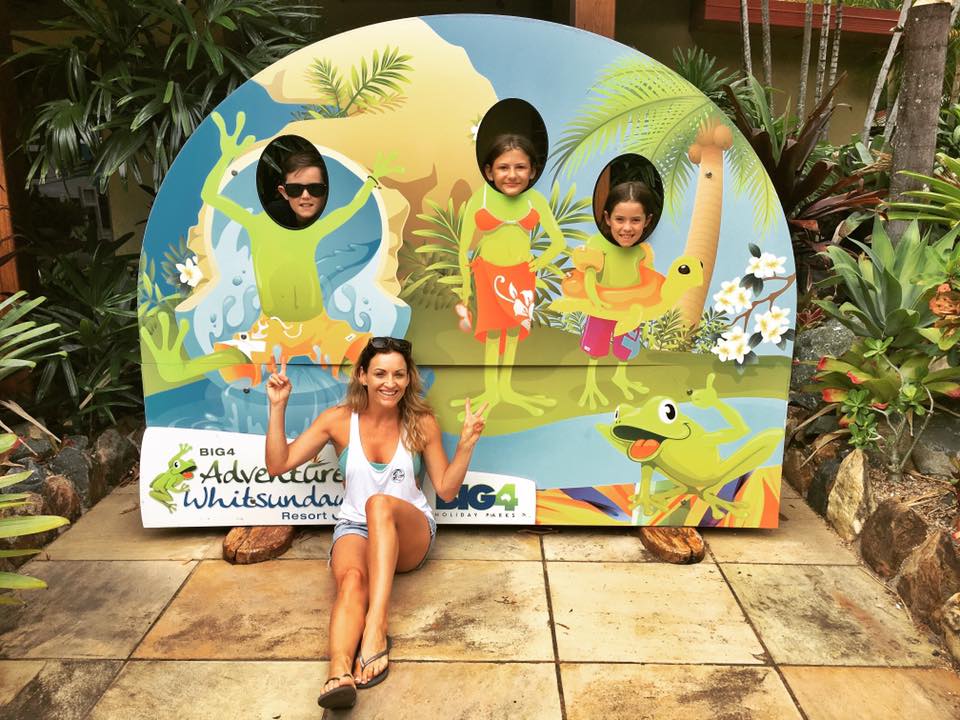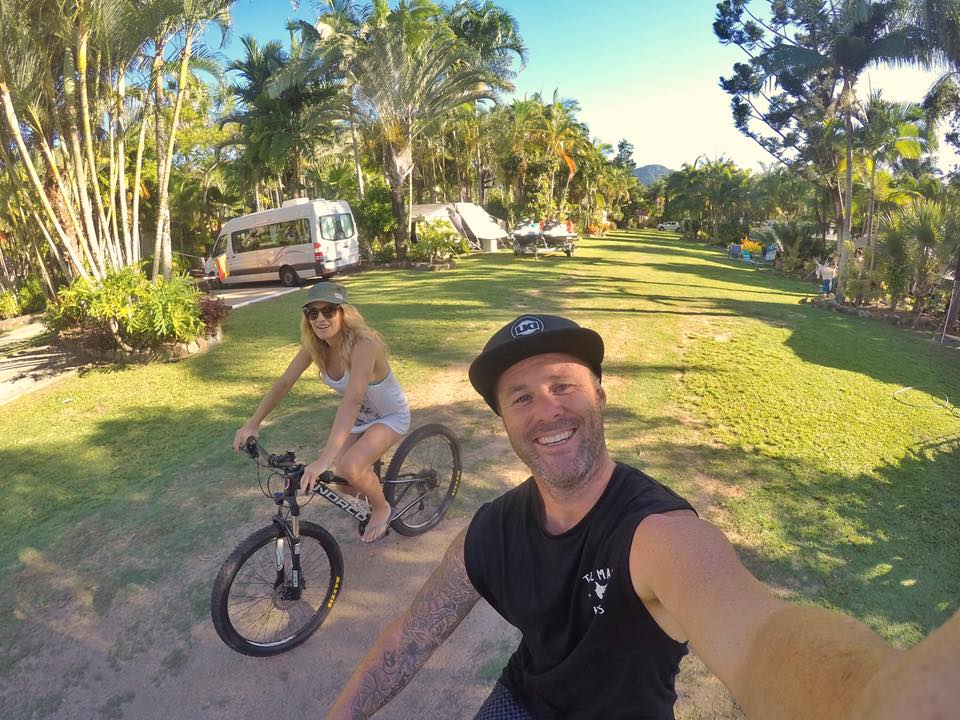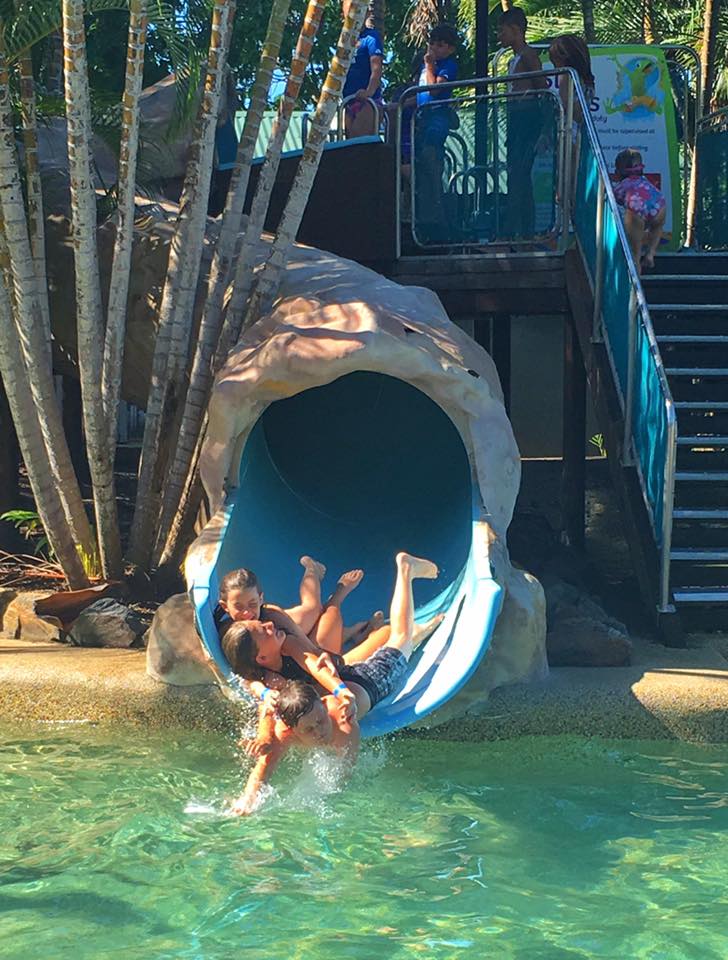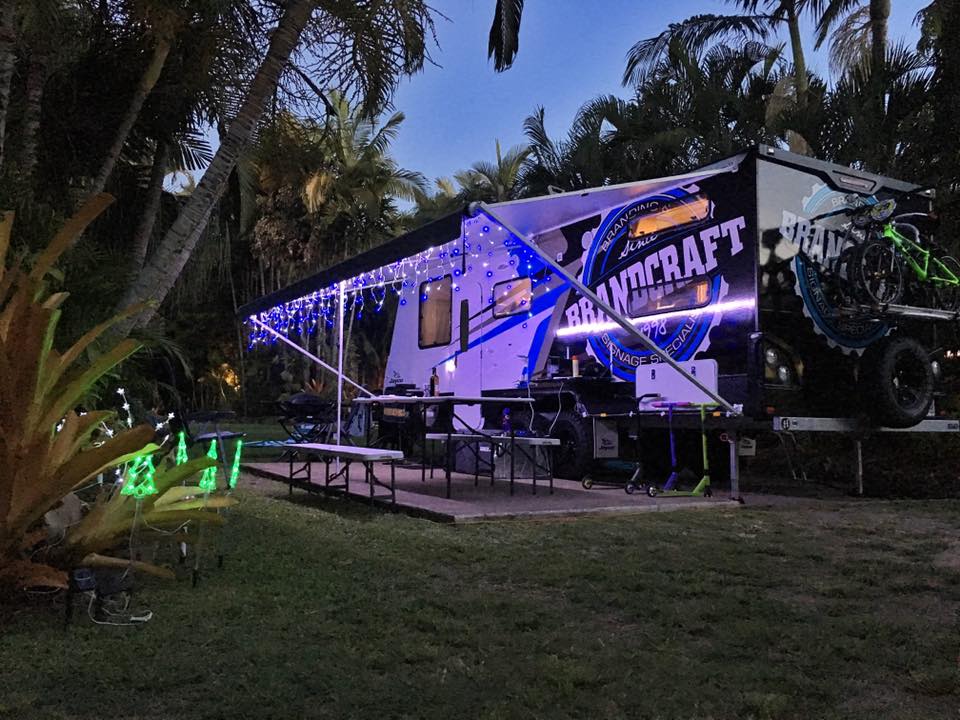 We spent one day at Hydeaway Bay, about 45 minutes from Airlie. This truly is one of those hidden gems that you could spend your entire 2 weeks holidays enjoying, Perhaps not so much with the kids, but for the 2 of us? Easily.
We arrived at Montes Reef Resort and headed straight to the most beautiful beach I have ever seen in my life (I still haven't been to Whitehaven though…), and what blew my mind was the fact that we were the only ones there. We stayed for about 2 hours, and a few people came and went. I could see people were staying in the cabins and there were staff members in the restaurant, but aside from that, Hydeaway bay was certainly living up to its name – and I loved it.
We had a delicious lunch at a table by the water, and then jumped in the car to do some exploring.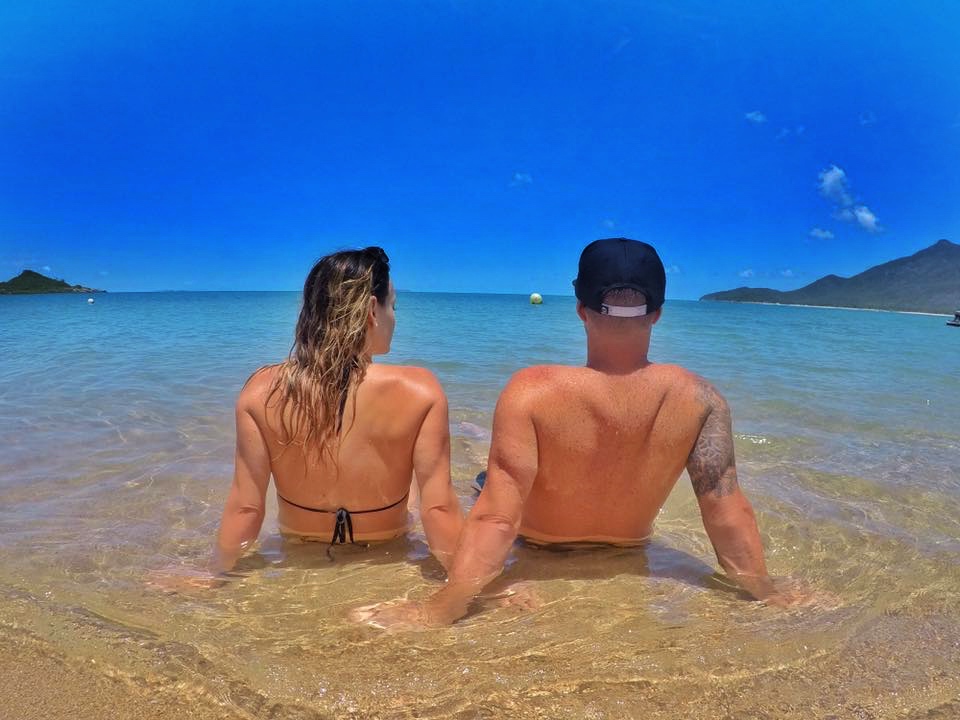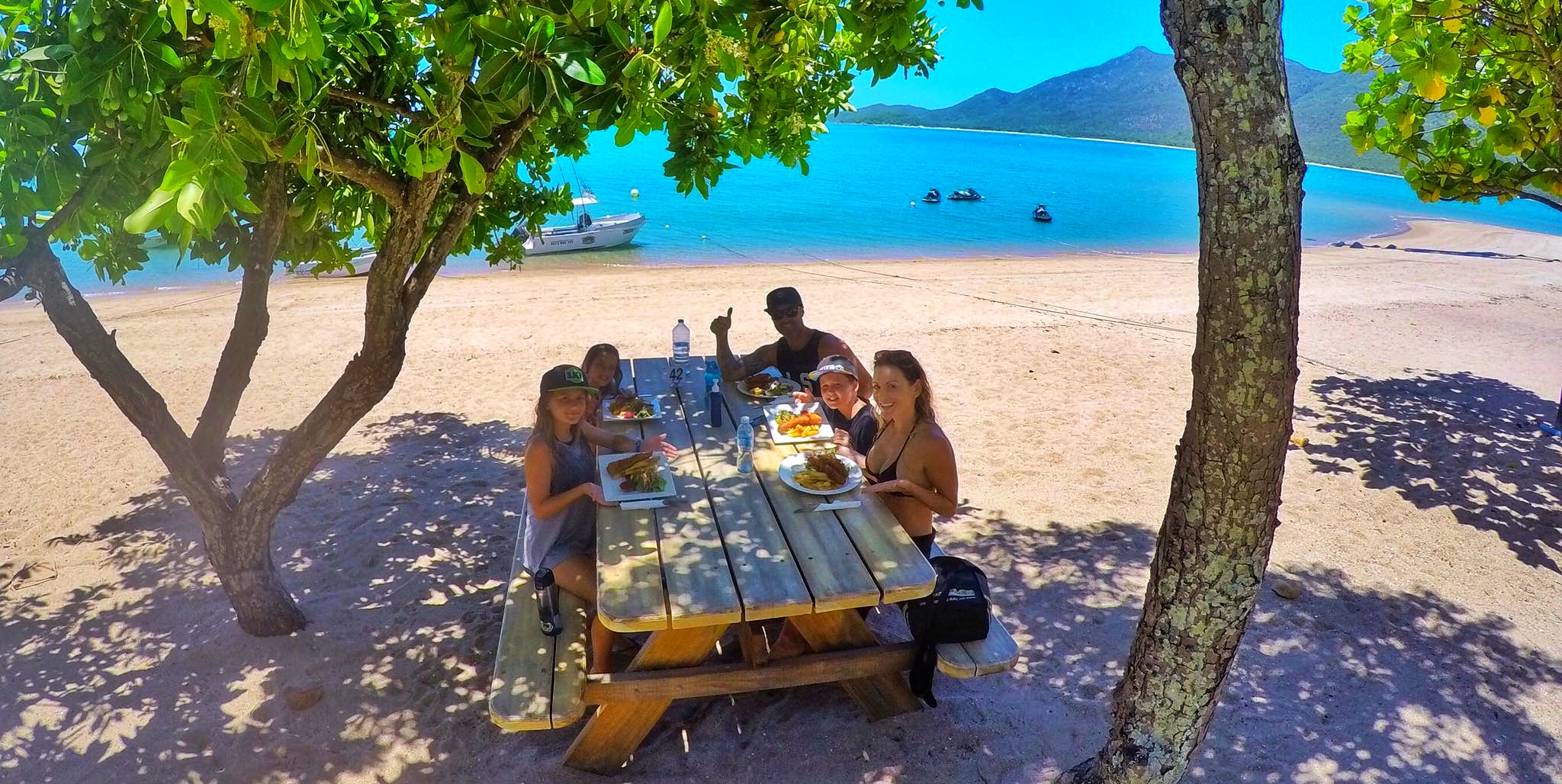 We found another resort just down the road, Cape Gloucester Resort, which was lovely. It has a beautiful pool, great bar, serves delicious food and has a stunning beach with speccy views and cute little huts dotted around for shelter. We stayed just long enough to have a look before heading down the road, up and over 'Oh My God Hill' and to our own secluded piece of sand, surrounded by rocks and more crystal-clear water.
By now the kids had had enough of the sun and Cooper was lying under the car for shelter as the wind had picked up and flipped our awning up and over the car!
We decided it was time to head back to the BIG4 and relax for the remainder of our final day in Airlie.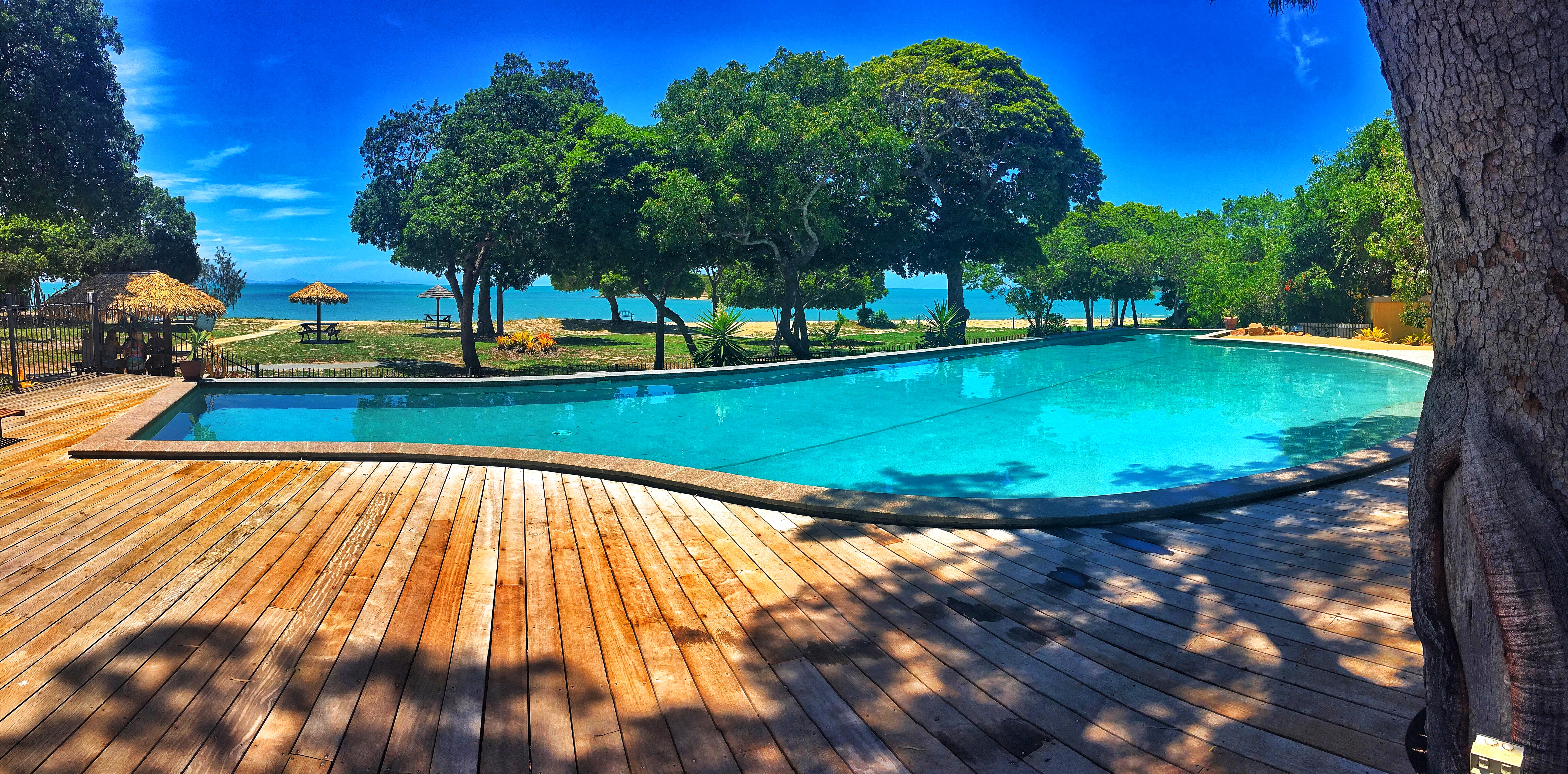 Next stop – Bowen which included The Big Mango, Horseshoe Bay and smoothies at the Horsehoe Bay Resort. It was a quick stop this year, unlike last year where Chris and I spent a few hours swimming and sunbaking.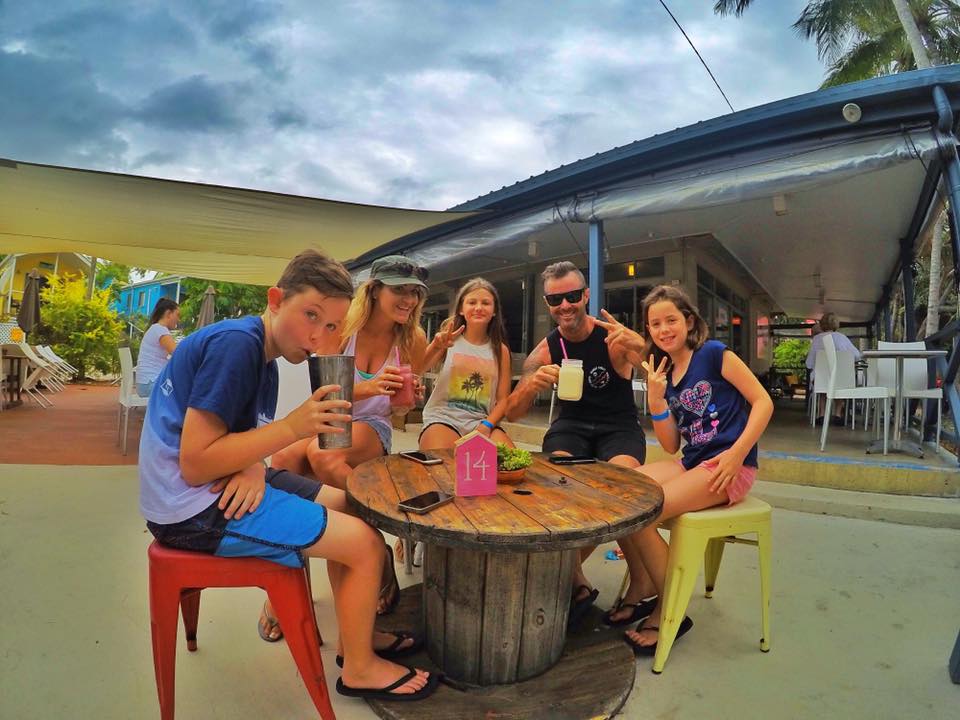 We were keen to get on the road and make it to Townsville in time to set up and go grab some dinner in town. Chris has been here many times before and pre-warned me not to be expecting anything fabulous. And well, he was right – it was very dry, and there wasn't much beauty around! Having said that, we were't there for long, and I'm sure there are lovely pockets as there are in most cities – we just didn't get to see any.
We checked into the BIG4 Townsville Woodlands Holiday Park and settled in. I quite like this little park even though it was dusty and small. The pool was fabulous, and the water was as warm as a bath … the temperature outside the pool was just as warm – and I was in heaven! I just love the heat and Townsville delivered in that department.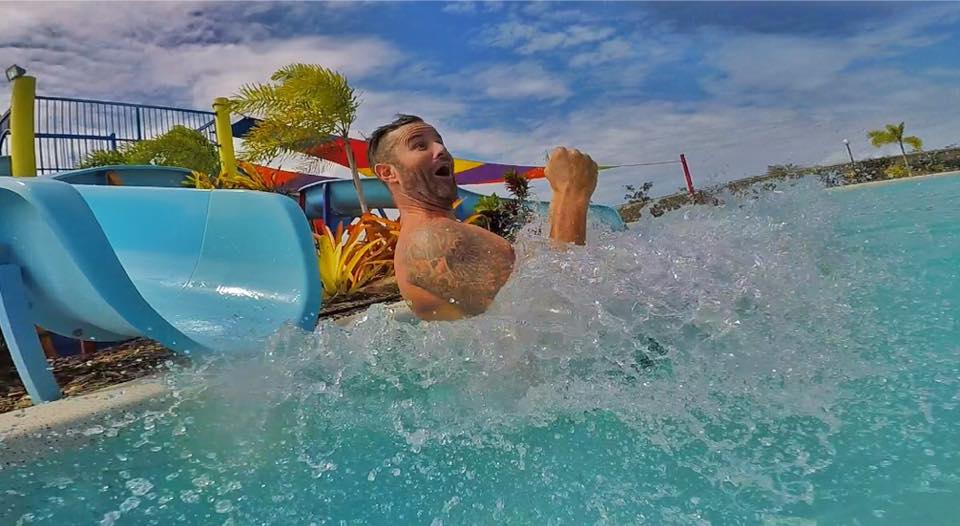 Chris gave us a little tour through the city centre, took us up into the 'nicer' suburbs and we ended up having dinner at Cactus Jacks (which we found out recently is owned by someone Chris works with!). It was delicious, and the restaurant was fun.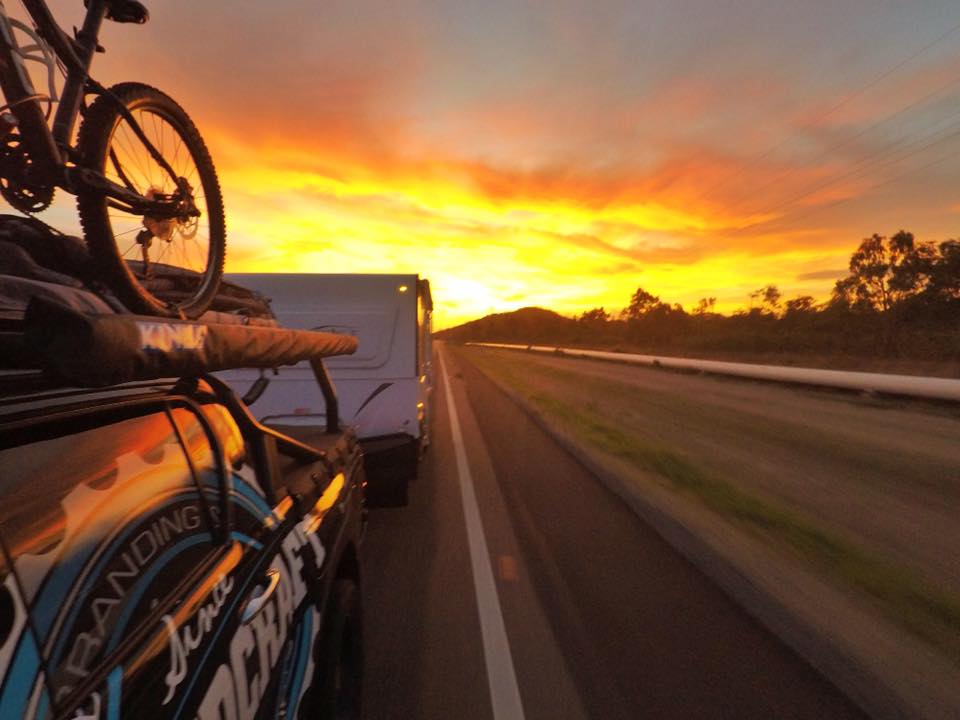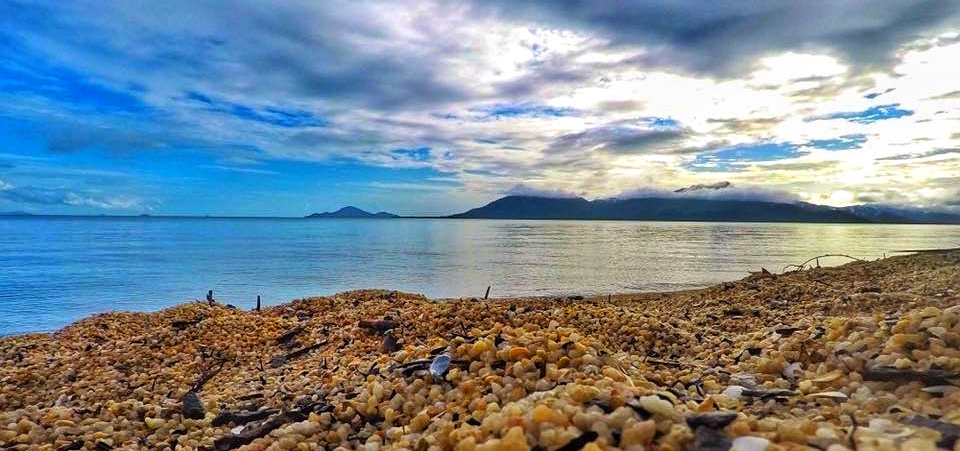 We were on the road before sunrise this New Year's Eve, as we embarked on the last leg of our journey to Cairns stopping off only at Cardwell to stretch our legs and show the kids Hinchinbrook Island with a walk along the water.
We pulled into Ingenia Holidays Cairns Coconut Resort, set up our Christmas lights and started exploring this huge 5 Star Caravan Park. It's great how they take you around on the golf buggy when you arrive, so you can choose your spot, or simply get an idea of how to get to where you are meant to park. The park seriously is that big.
Christmas day was spent enjoying the park with Chris's cousins and their kids. Waterslides, swimming, totem volley, climbing ropes, 2 jumping pillows including The World's Biggest Jumping Pillow, a crazy 8 seater bike, spa, 2 pools, and adults only heated spa, a water park, bike paths and more- yep. You seriously struggle to do everything at this place!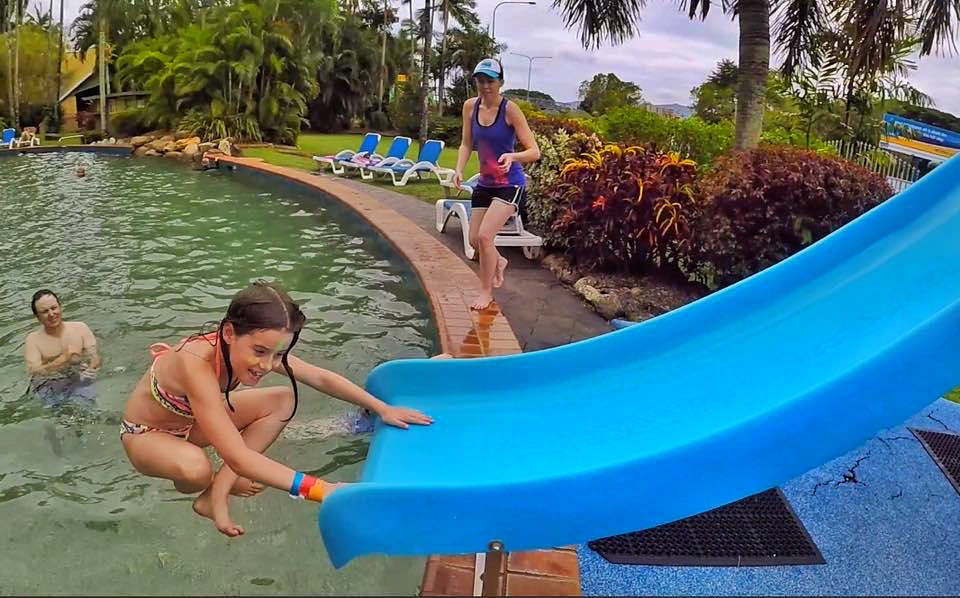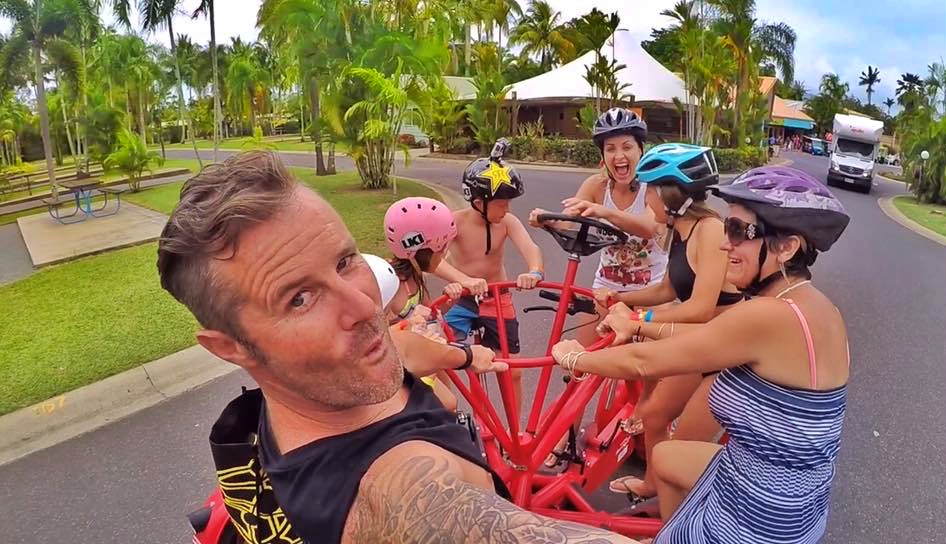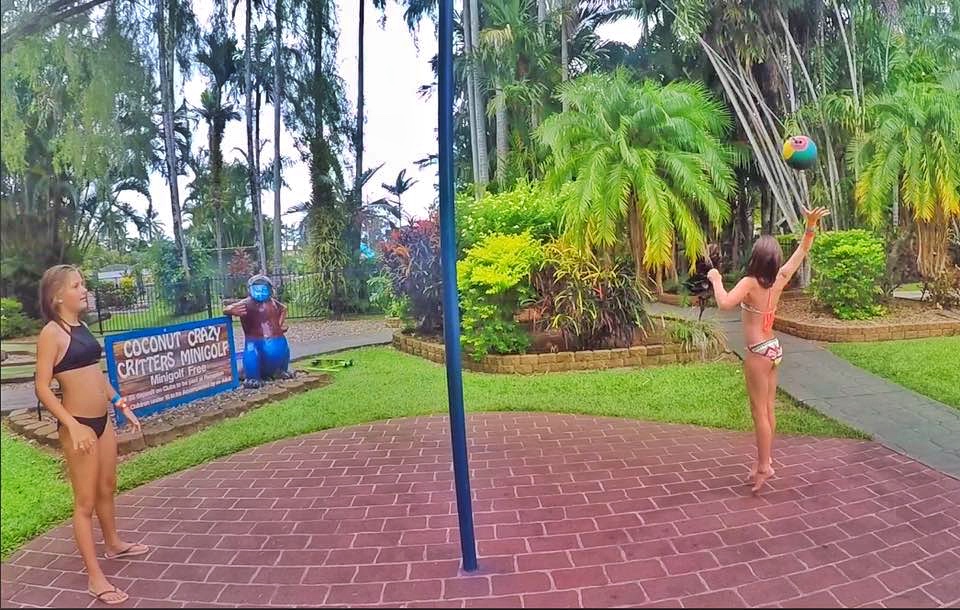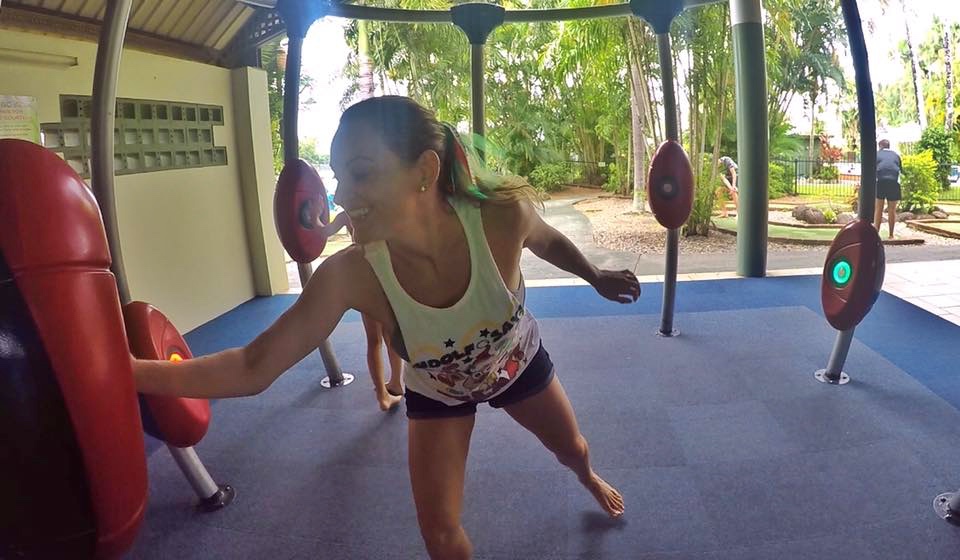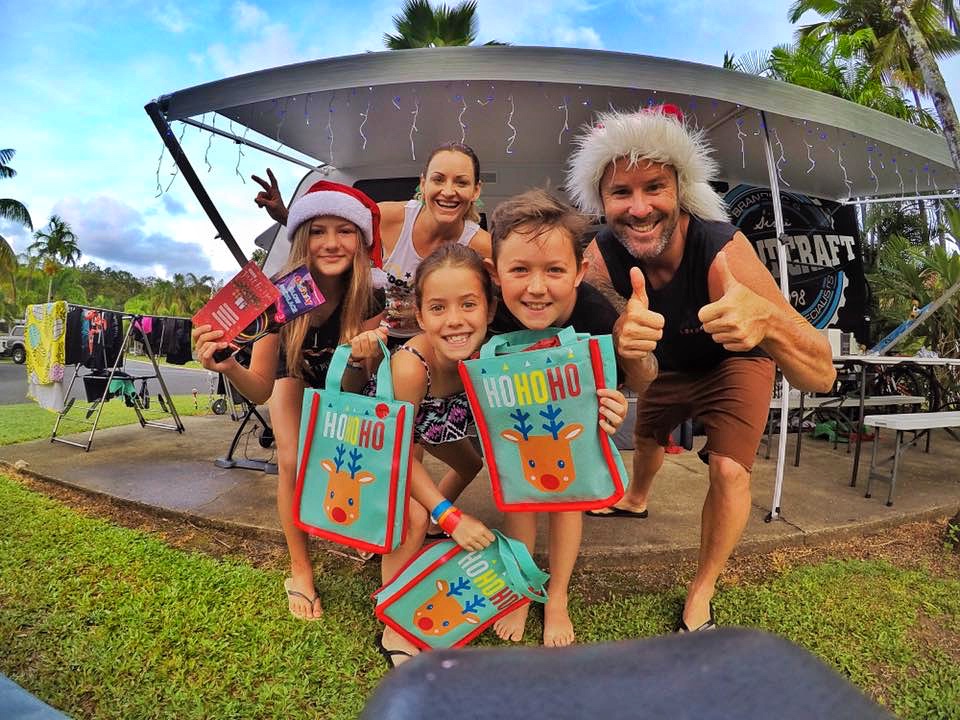 December 27th and we hit the road again heading even further North. Chris and I had been to Cooktown last year and knew it was something that our kids had to see for themselves.
Last year it rained non-stop and even flooded for the first 2 weeks of our trip, including the entire part where we explored our way up to Cooktown and back. So to experience it again with blue skies was amazing.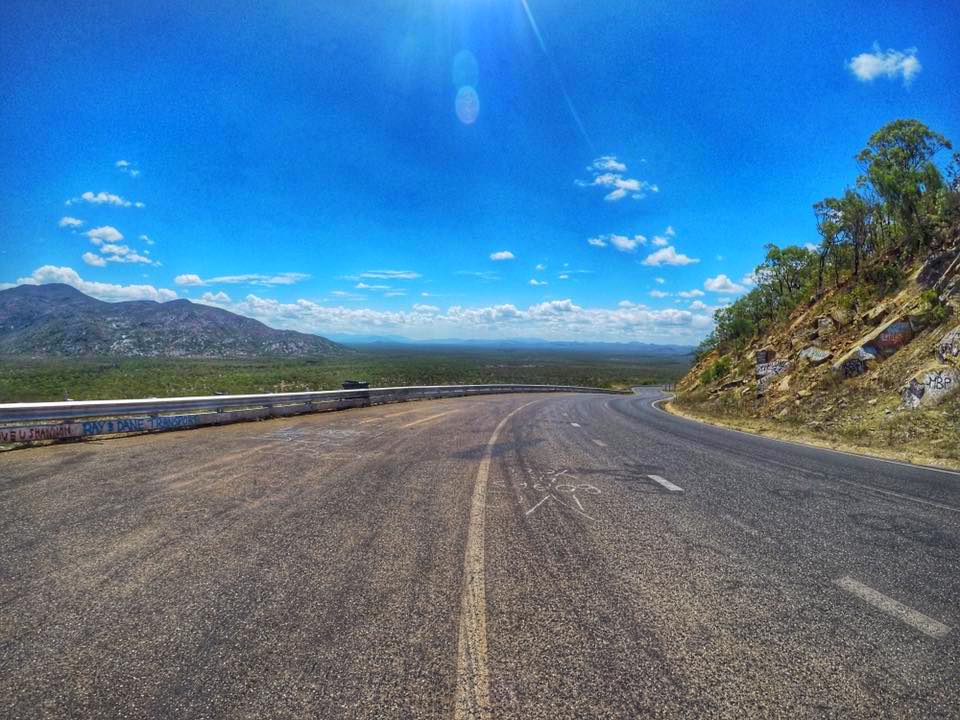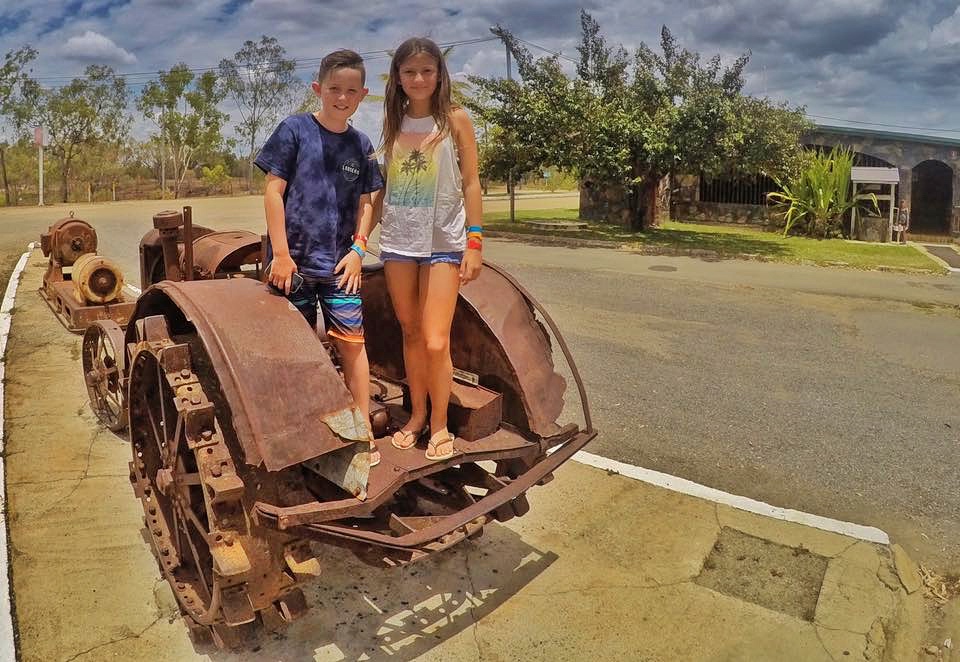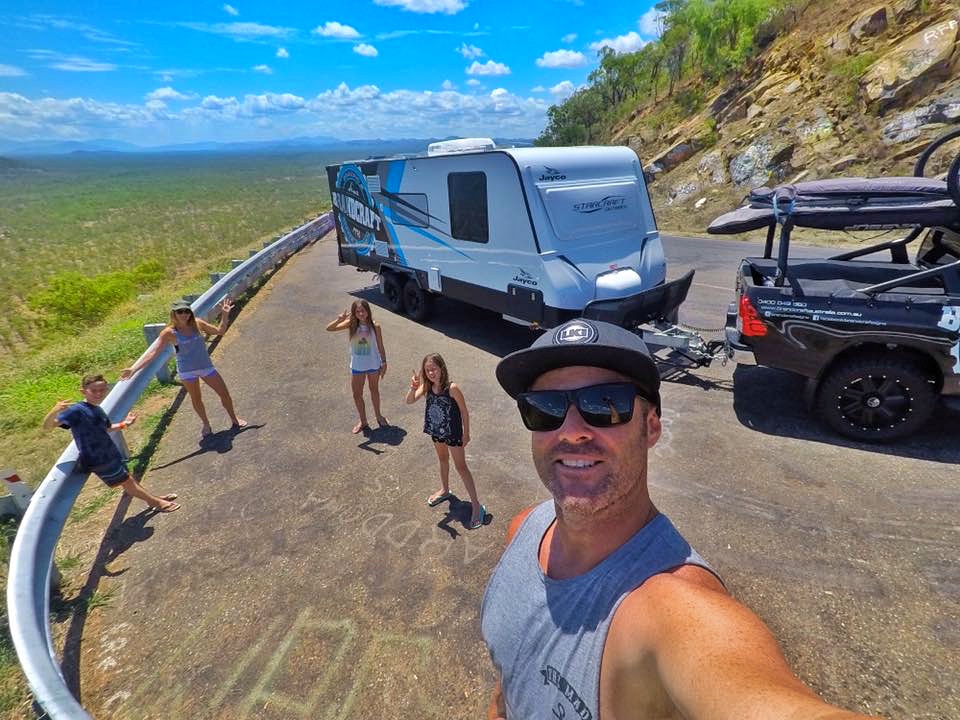 Mount Carbine presented some pretty speccy views as we headed up and we pulled over to snap a quick pic or 10. We stopped for lunch at The Palmer River Roadhouse where the kids checked out the small 'museum' and then it was onto Black Mountain.
With the sun beating down, it was like a different place from the dark, gloomy mountain we visited last year. It's so very mysterious and there a lot of 'culture' and history surrounding it. Some Aboriginal, and some not. It is a significant place for the Eastern Kuku Yalanji Aboriginal people of the area and is a focus of several Dreaming stories and continues to be important to this day.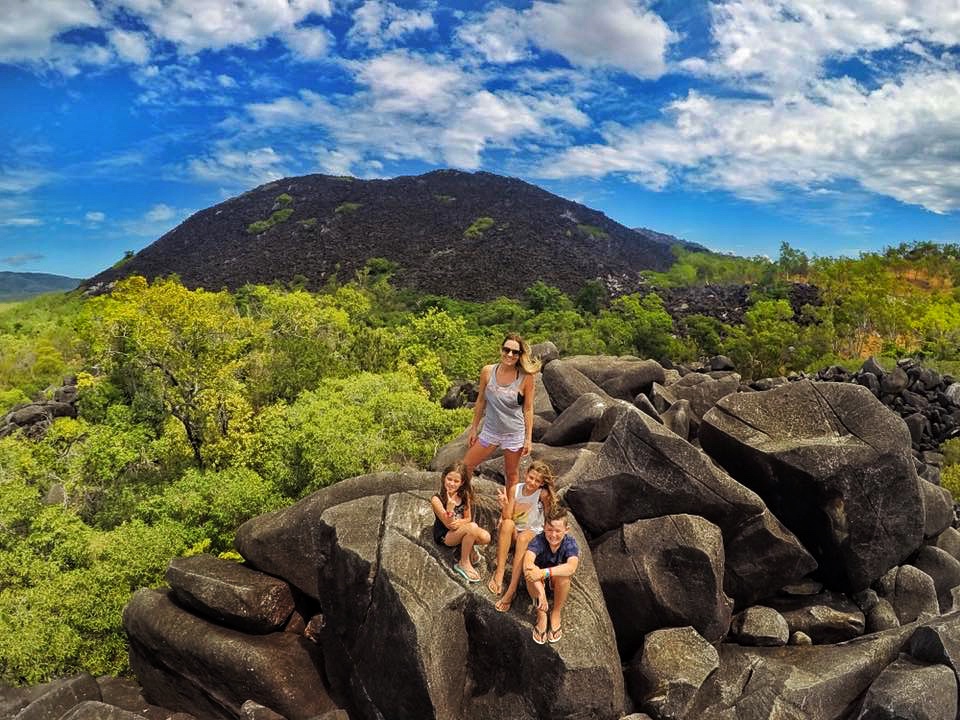 There are stories of people, horses and whole mobs of cattle disappearing into the labyrinth of rocks, never to be seen again. Apparently, pilots report aircraft turbulence and magnetic effects over Black Mountain (thermal currents), and people have reported loud bangs (cracking boulders) and mournful cries (wind and water).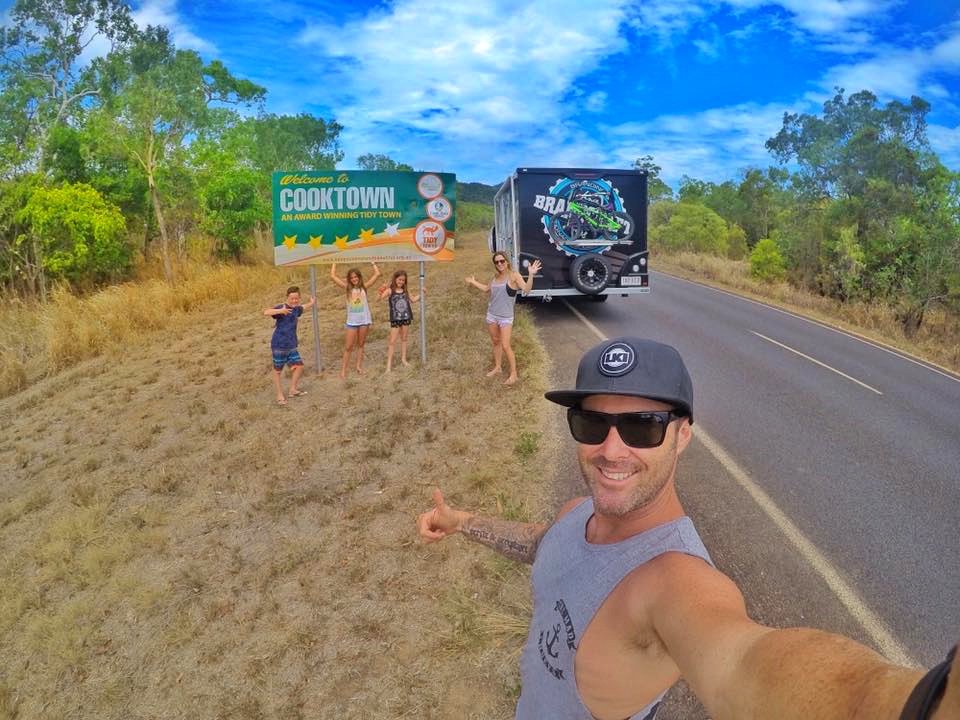 We arrived at the BIG4 Cooktown Holiday Park which was entirely different to the unattended caravan park we stayed at last year!
It was tiny, there weren't many people around and the staff were lovely. I had one complaint – and it was a big one … swooping plovers! They were horrible, nasty and very, very protective. The park manager gave me a big stick to wave around. Eeek. With that and all the mosquitos, it wasn't my idea of fun! Needless to say, I didn't head out of the van very much. We were safe in the little pool, which was nice.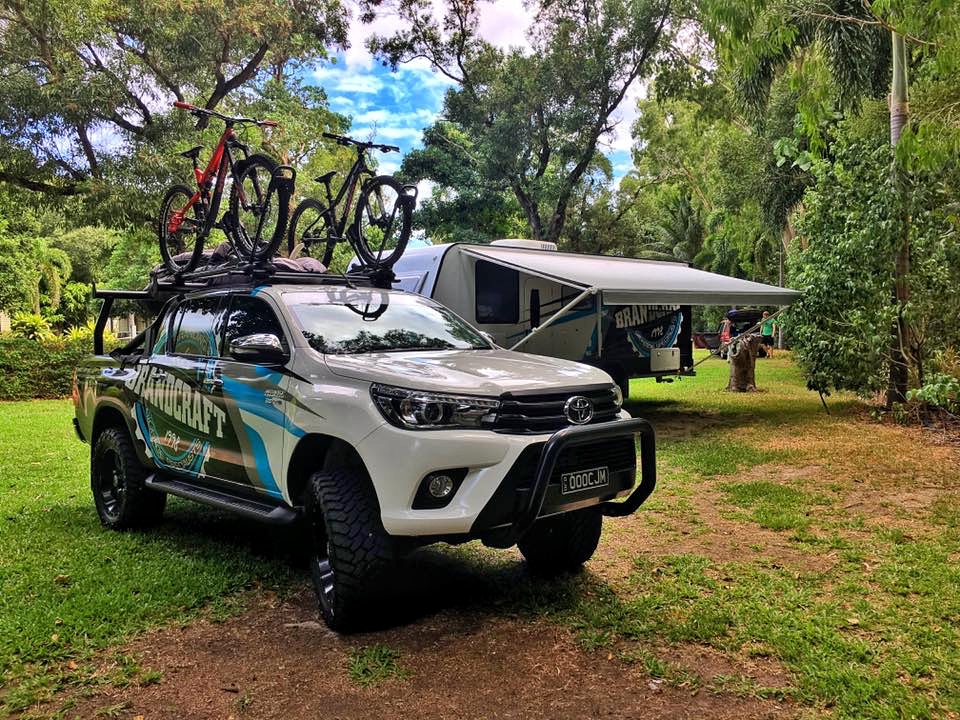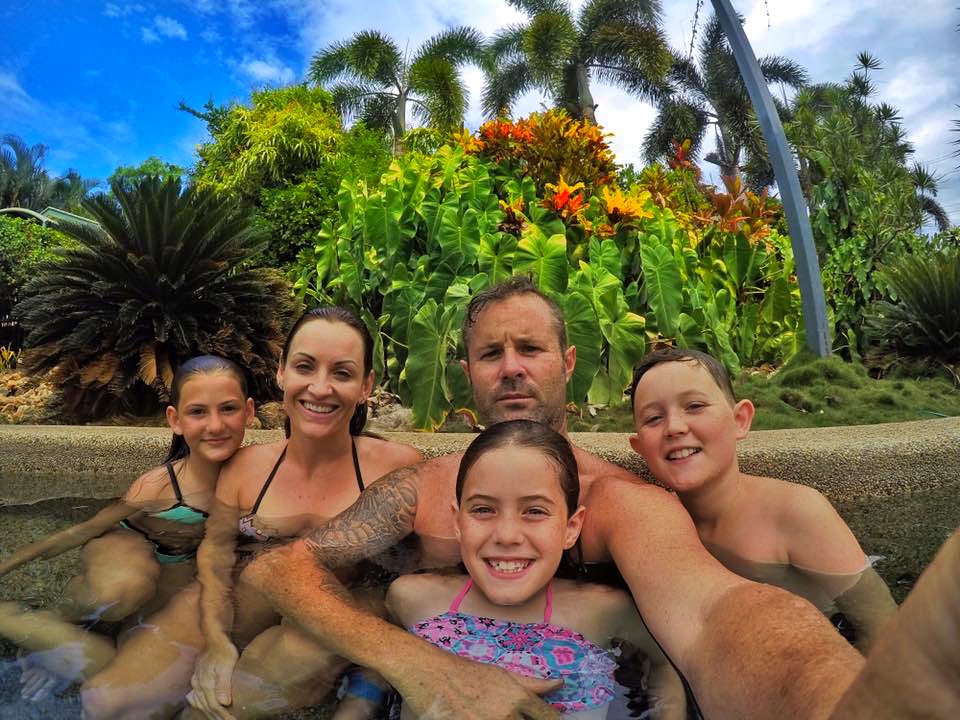 We spent a solid day exploring Cooktown with the kids, and they loved every second of it. We did Fisherman's Wharf, the town, The Captain Cook Museum and The Cooktown Cemetery.
At Fisherman's Wharf, we stood where Captain Cook first stood, had photos with the Captain Cook monument, read about the skull they found in the well when it was drained and wandered around just taking it all in.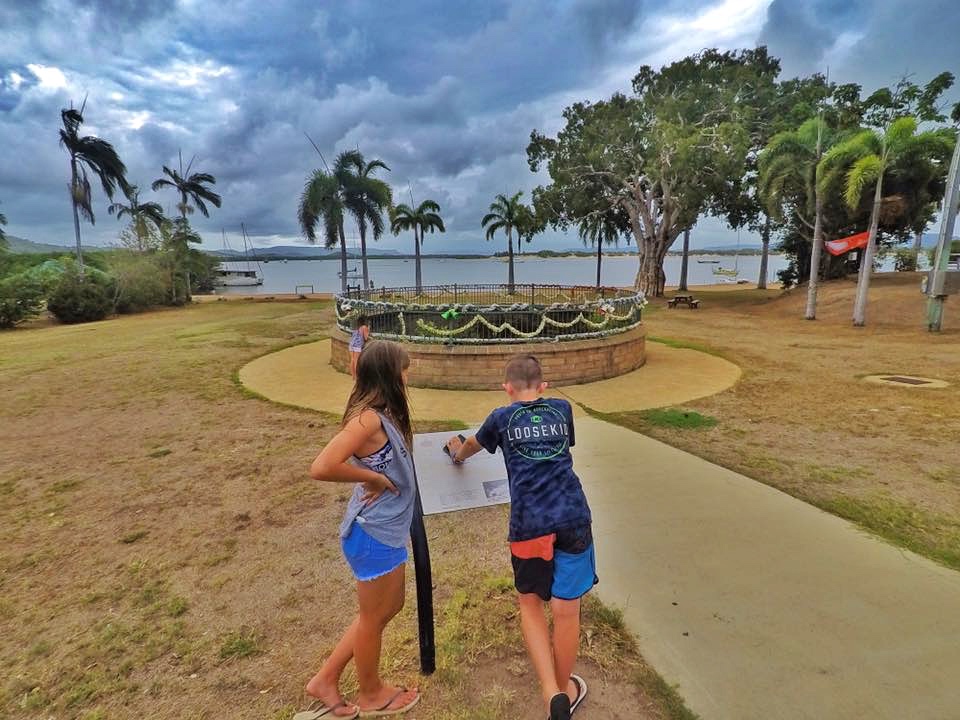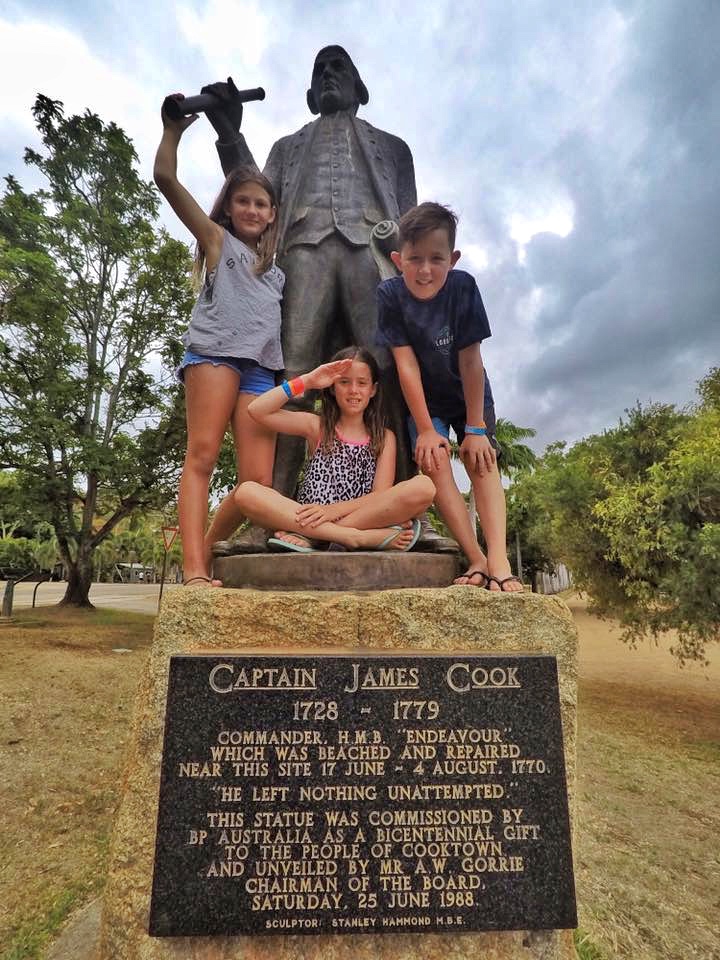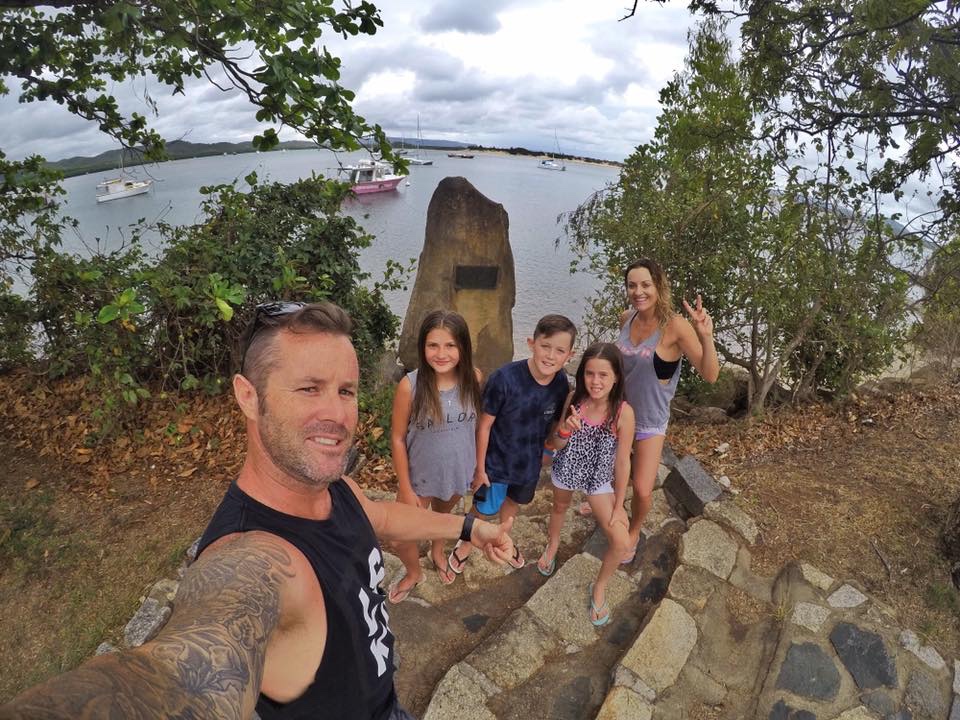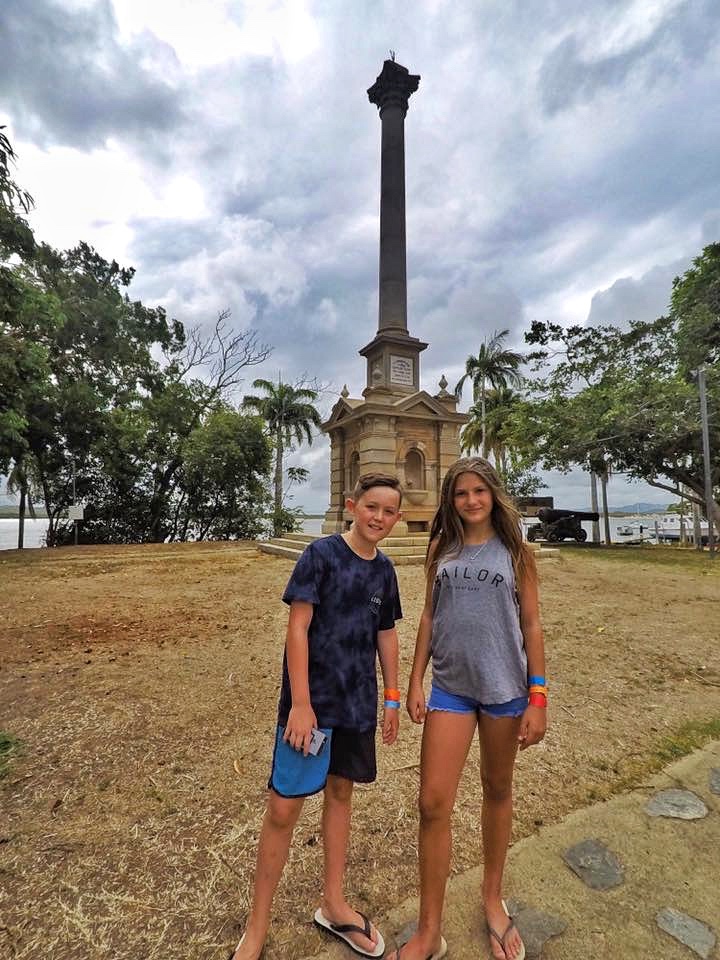 The Captain Cook Museum is housed in the stunning nineteenth-century former convent, St Mary's and is filled with a varied assortment of exhibits.  The Endeavour Gallery contains an original anchor and cannon from the HMB Endeavour! It gives a fascinating insight into the 7 weeks that Captain Cook and his crew spent at Cooktown repairing their ship.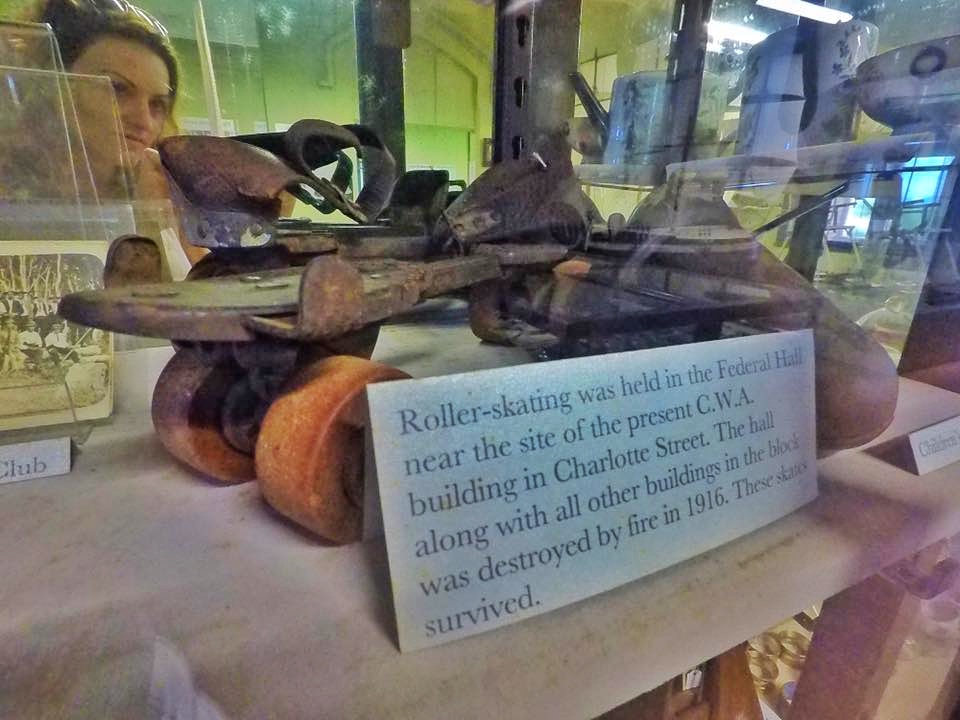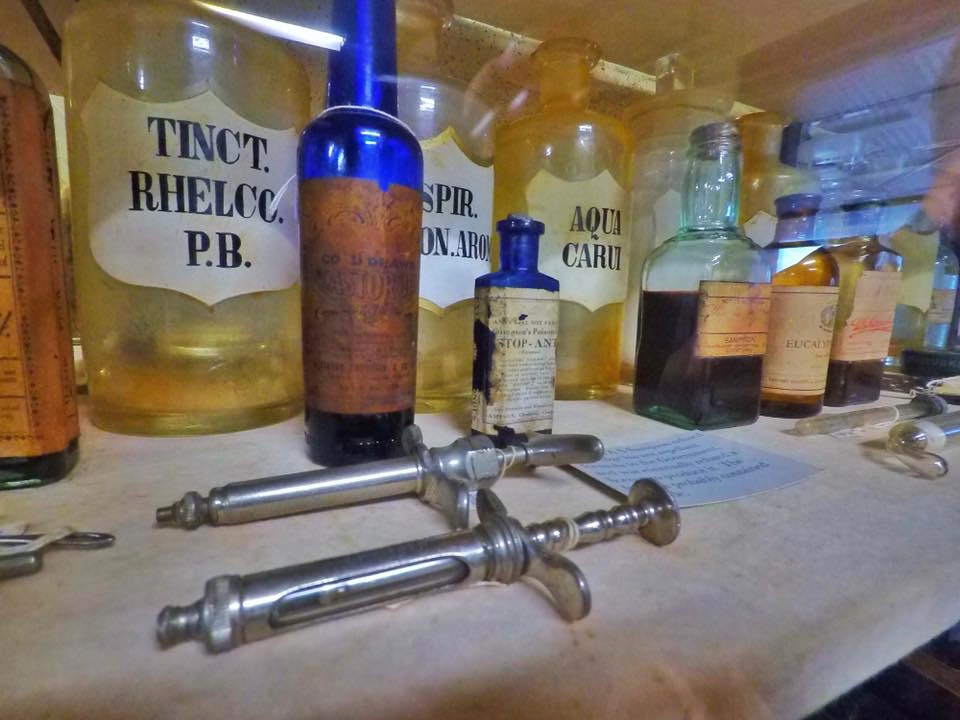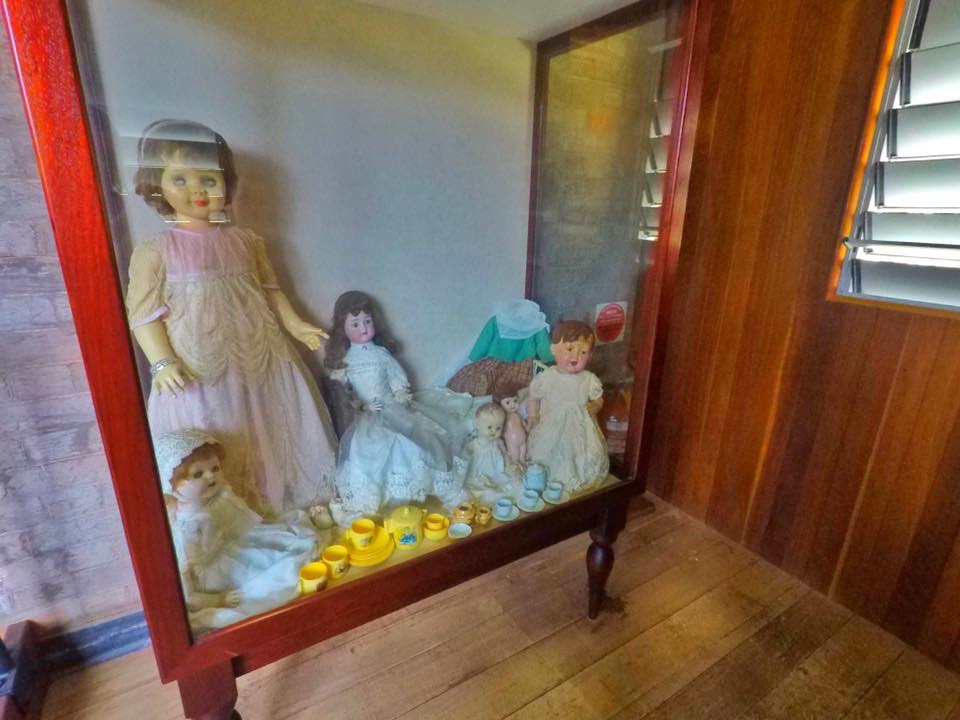 The other exhibits are so very different, one from the other.
Toys, dental equipment, tales from the Palmer gold rush, Chinese heritage, the maritime history of Cooktown, nuns cells and dormitories plus personal stories ond objects from local families make up a fascinating, cultural place to visit. The dental tools really grabbed our attention!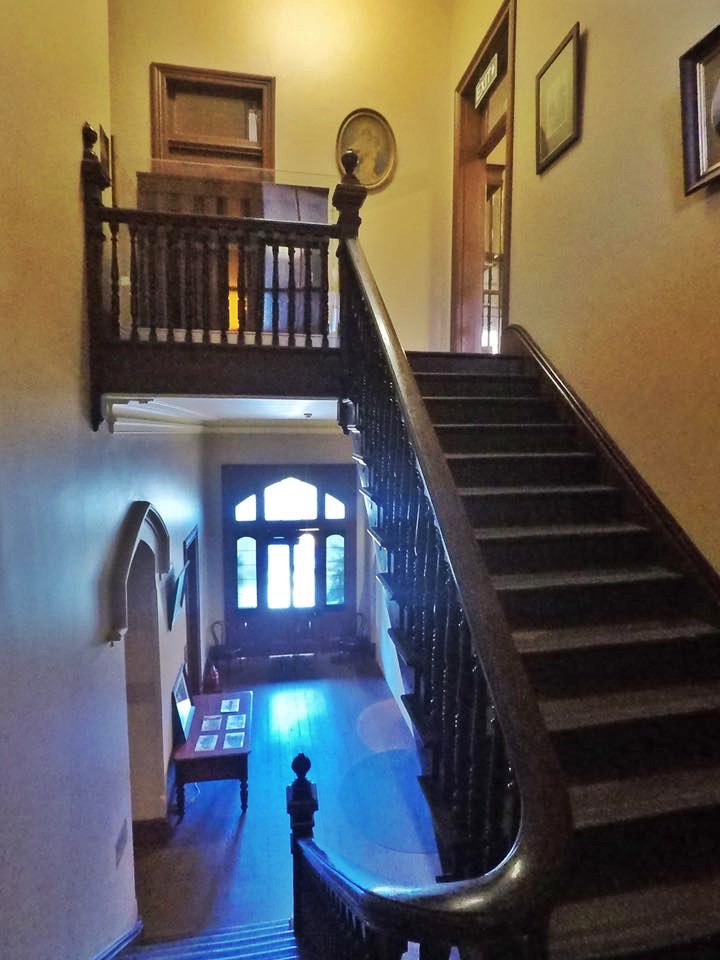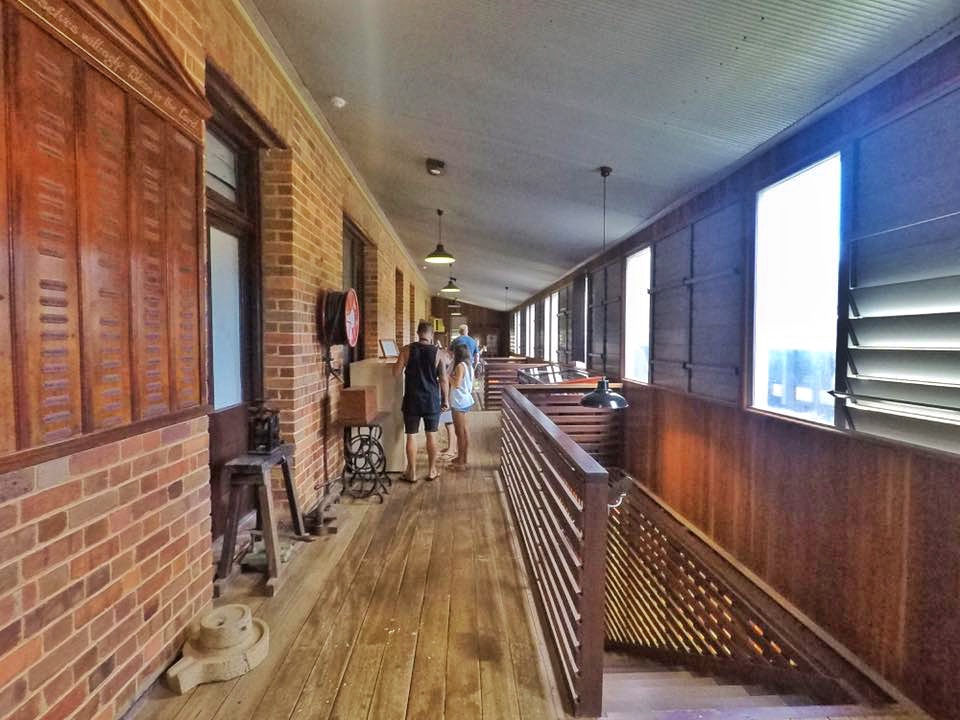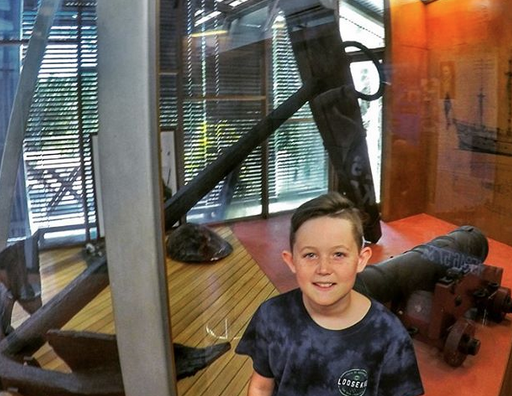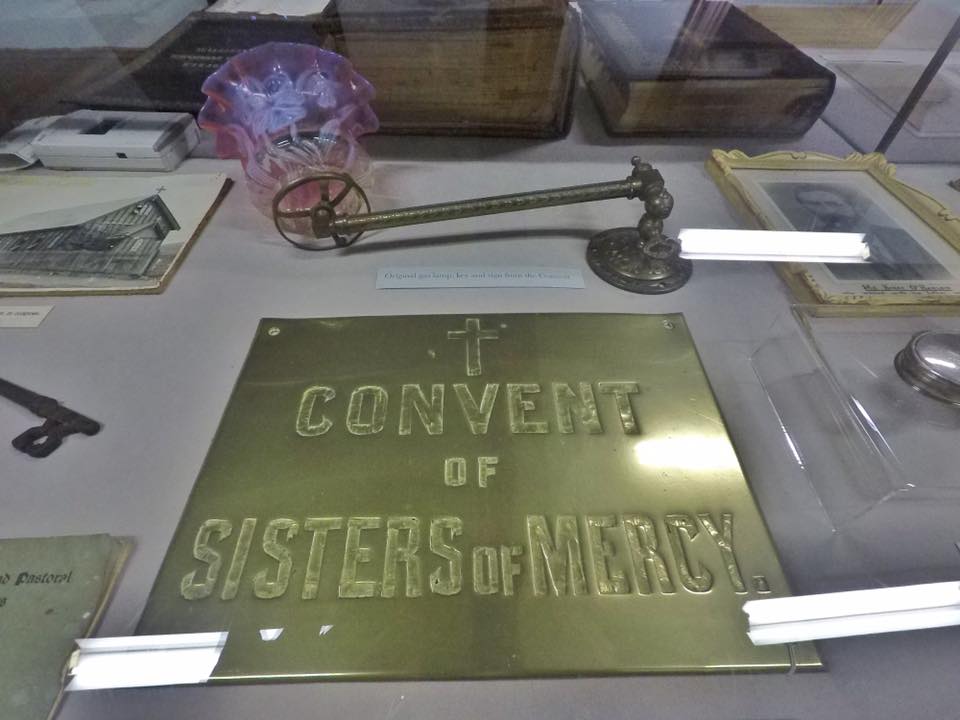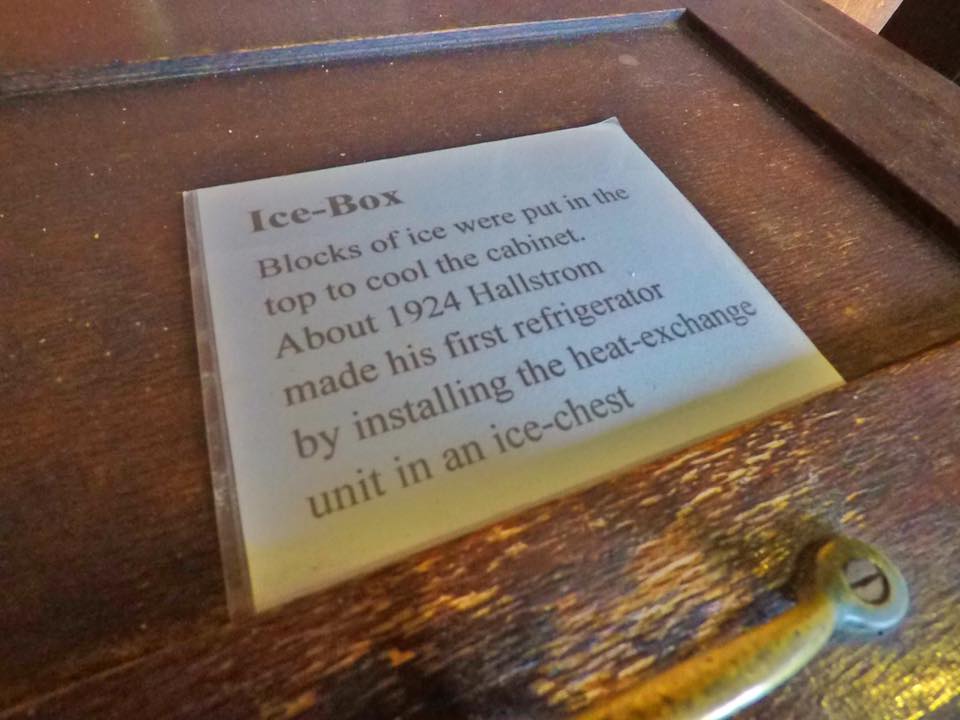 Grassy Hill  – what a view!
The kids imaginations were running wild as they pictured what it must have been like for Captain Cook to navigate his ship through the reef.
Captain Cook himself climbed this 162m-high hill looking for a passage through the reefs.
The 360-degree views of the town, river and ocean are truly spectacular.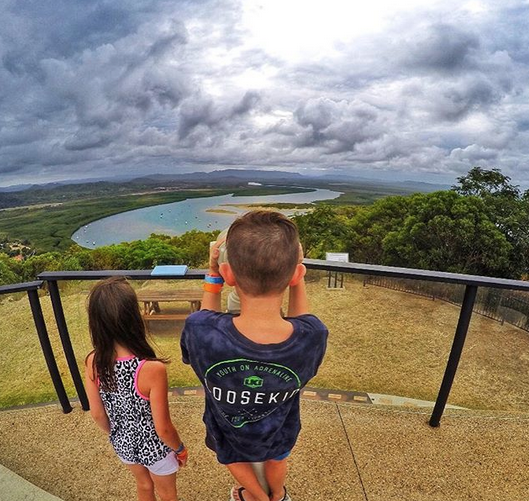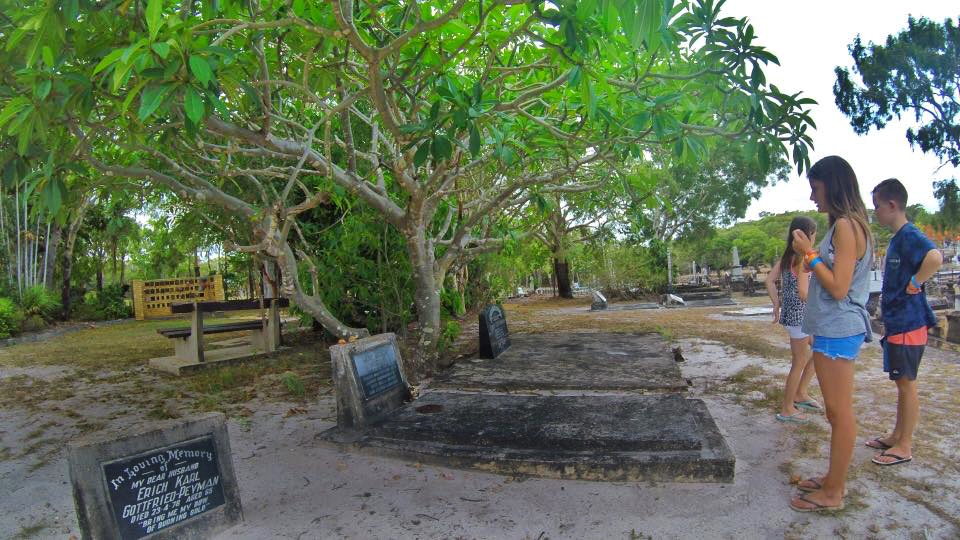 The Cooktown Cemetery took our breath away as we wandered from tombstone to tombstone reading story after story of tragedy, triumph and mysterious events experienced by the people who made up the early settlement of the township.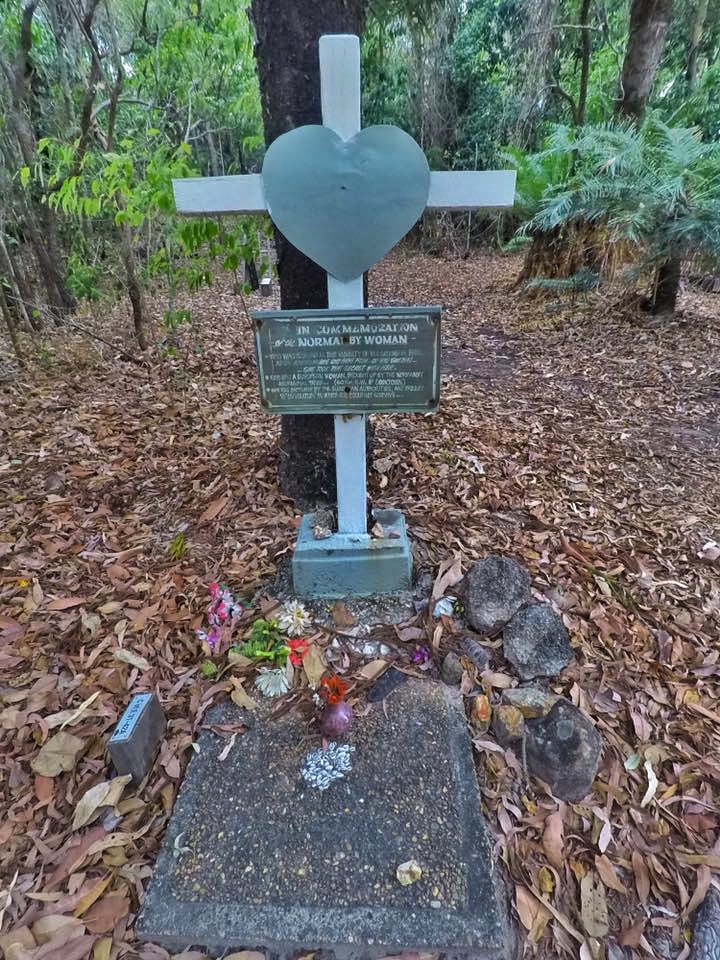 This story was fascinating. A woman raised by the aborigines was brought back into society by authorities and couldn't survive.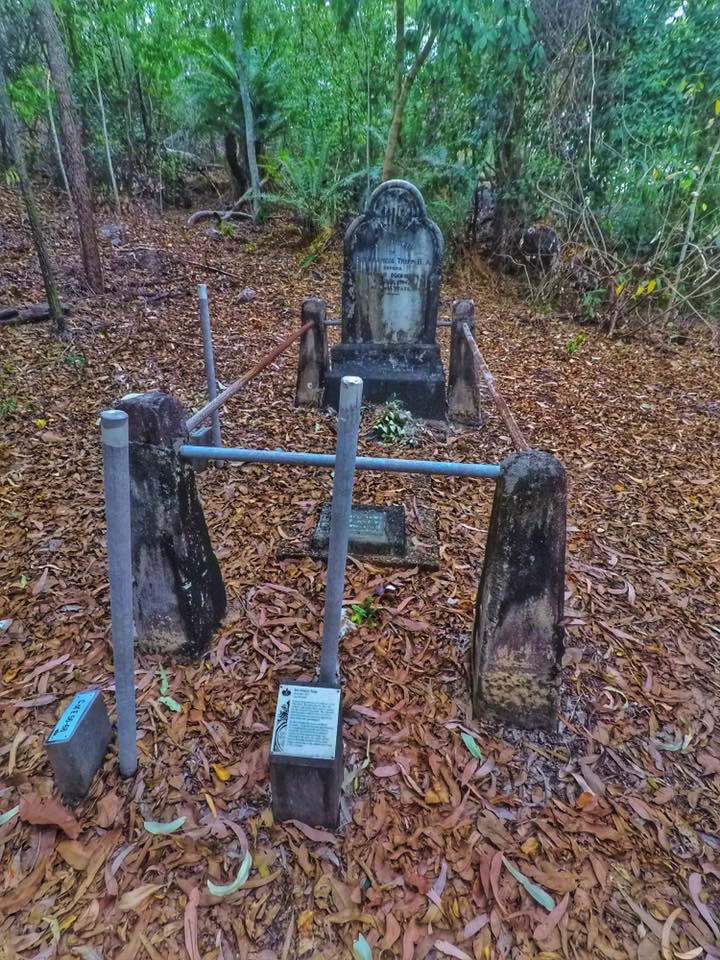 The oldest tomb stone in the cemetery. A priest who died 10 days after arriving in Cooktown.
We went back to the caravan park and asked the lovely lady at reception if there were any 'safe' swimming holes or waterfalls around that were free from crocodiles, and she smiled saying that though many claim to be safe, there weren't many that she recommended. She gave us a little map and sent us on our way to Trevethan Falls.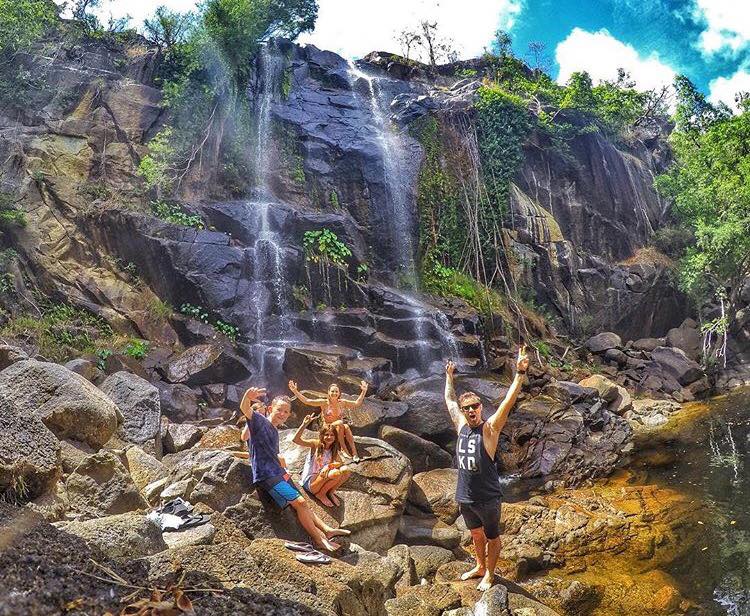 Trevathan Falls is a breathtaking waterfall and fairy-tale like swimming hole that is very well hidden by the rainforest. The locals keep it a secret, and it's easy to see why! It's not marked on the main road, is totally secluded and away from any tourist attractions.
It's a bit of a long bumpy drive to get there, and I'd imagine a very hard road to navigate in the wet.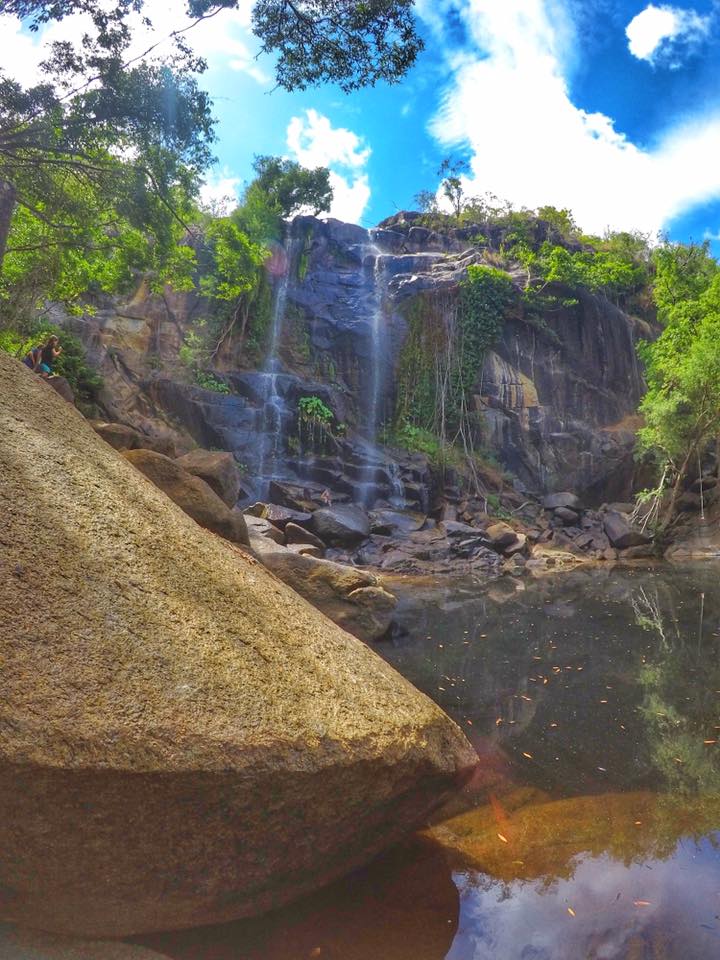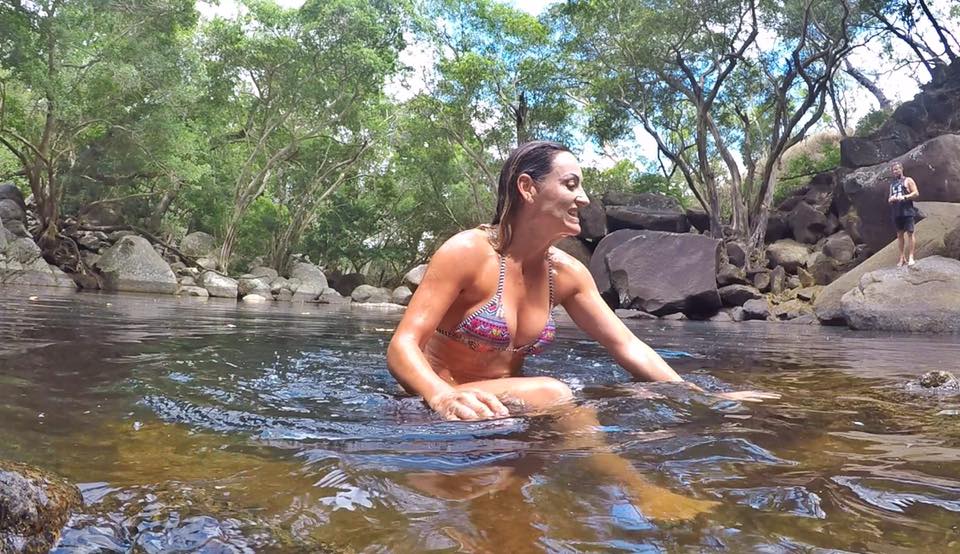 They assured us there were no crocs here…. so I got in.
And then promptly got back out when Chris pointed out that bubbles were rising from somewhere….or something!
A turtle. It was just a turtle!!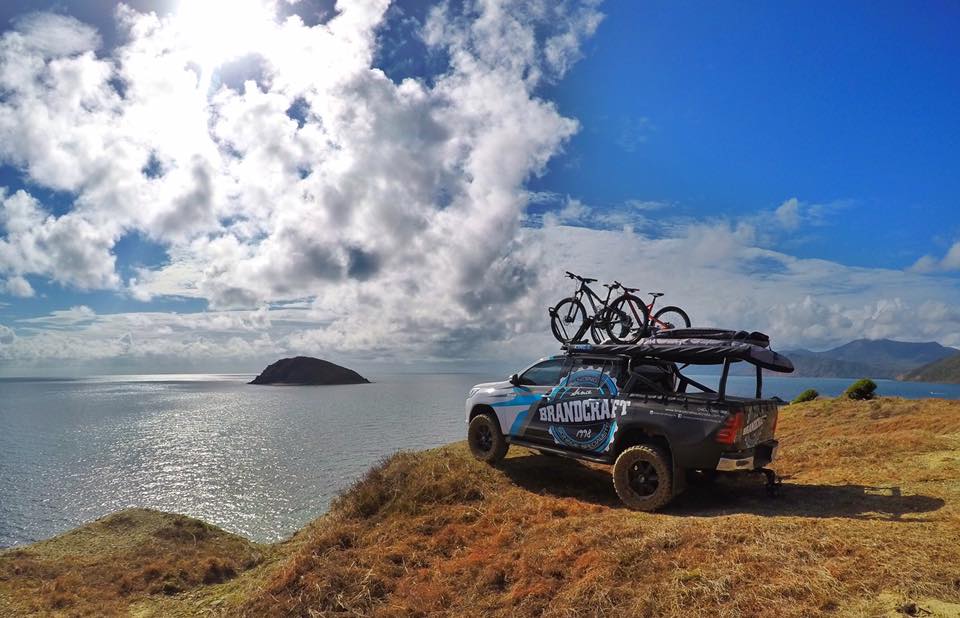 We also took some time to take the kids to see Archer Point, where we had stayed overnight in our vans last year. It was as spectacular as ever, and much easier to get to without the van in tow! We even took the Hilux up a crazy steep track, but we had to turn around as the bikes were on the roof and wouldn't have made it under some low-lying trees. It made for some pretty interesting photos though!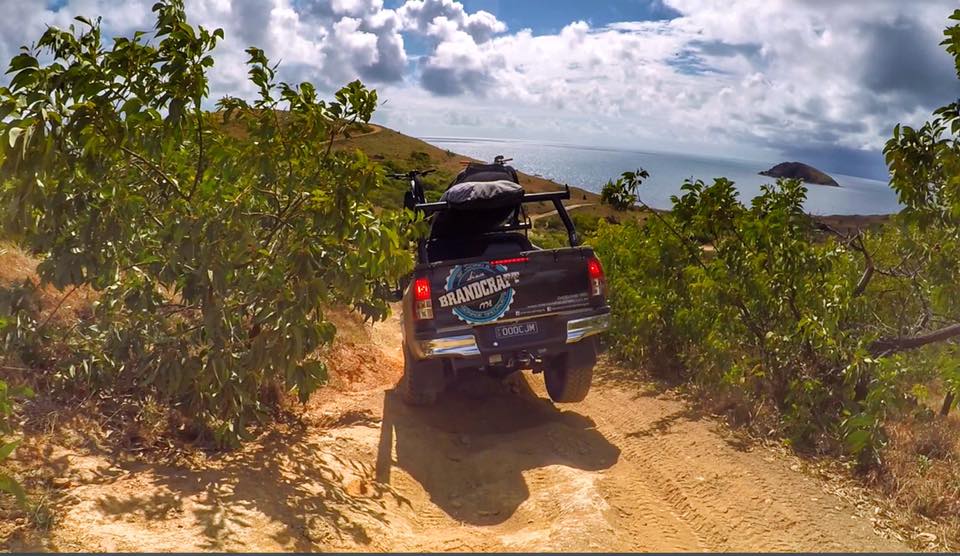 From there it was onto The Lion's Den Hotel where we once again wrote our names on the fan! The kids scribbled on the walls and window sills as well, and we set up our van out the back for a wonderful night.
Unlike last year, the sun was shining (it wasn't raining), the river was lovely (not flooded), and there were no mango's falling off the tree every 5 minutes!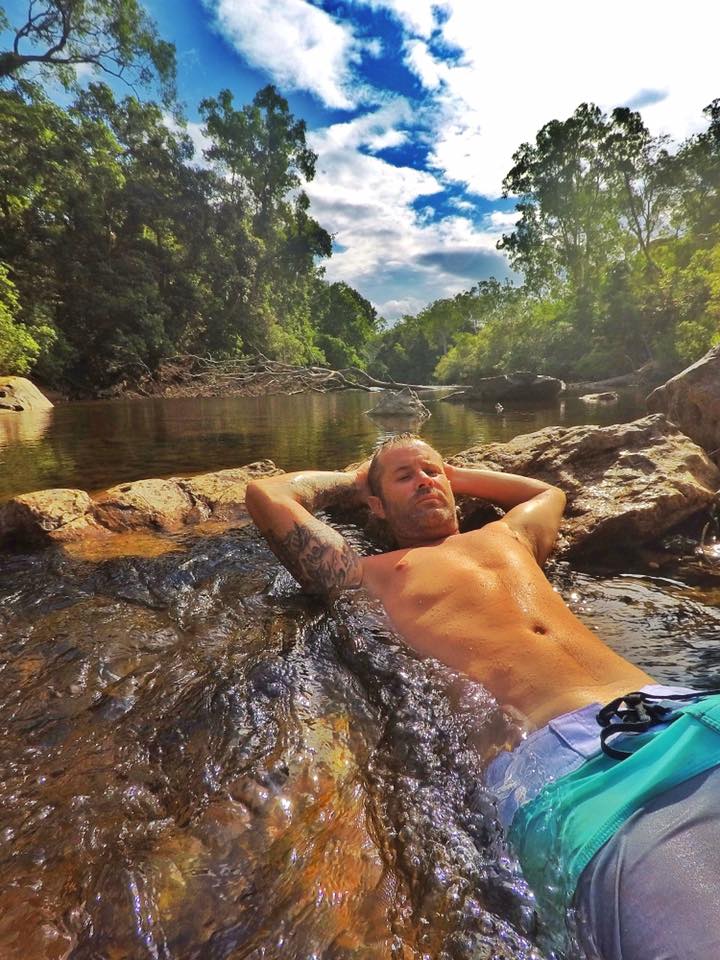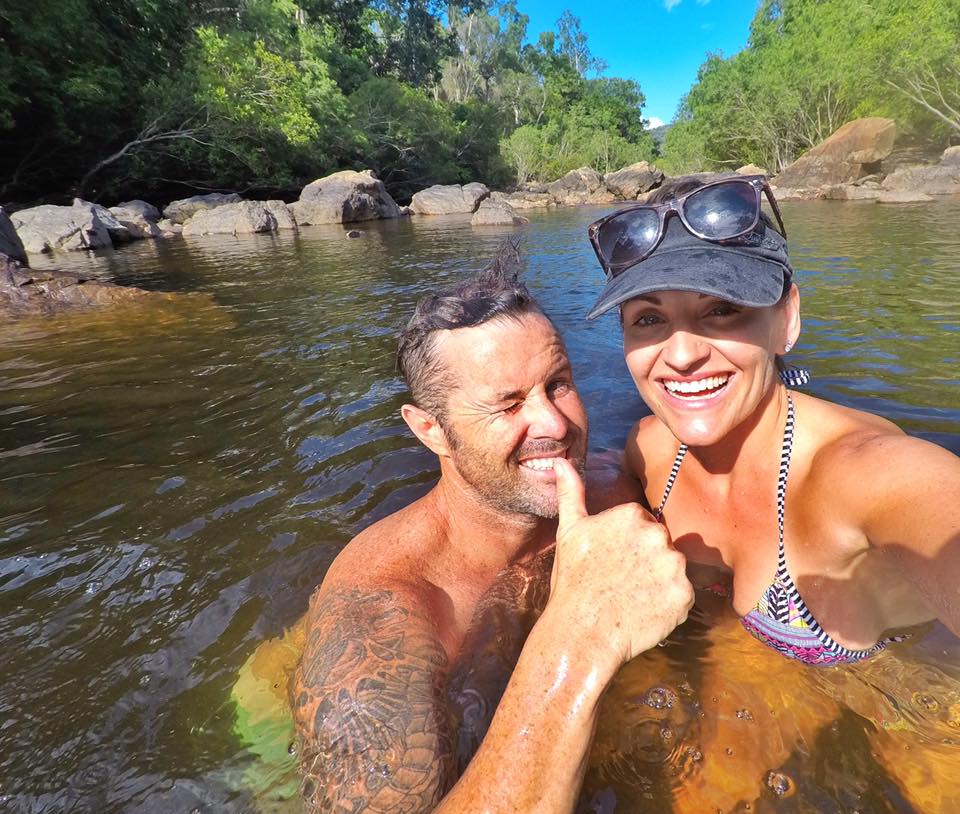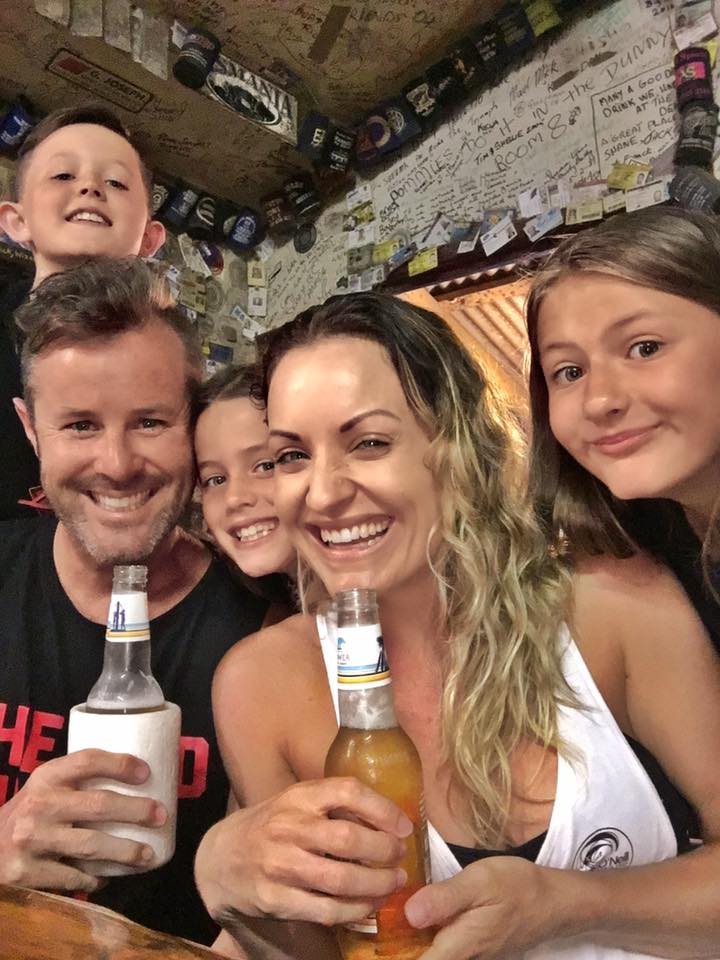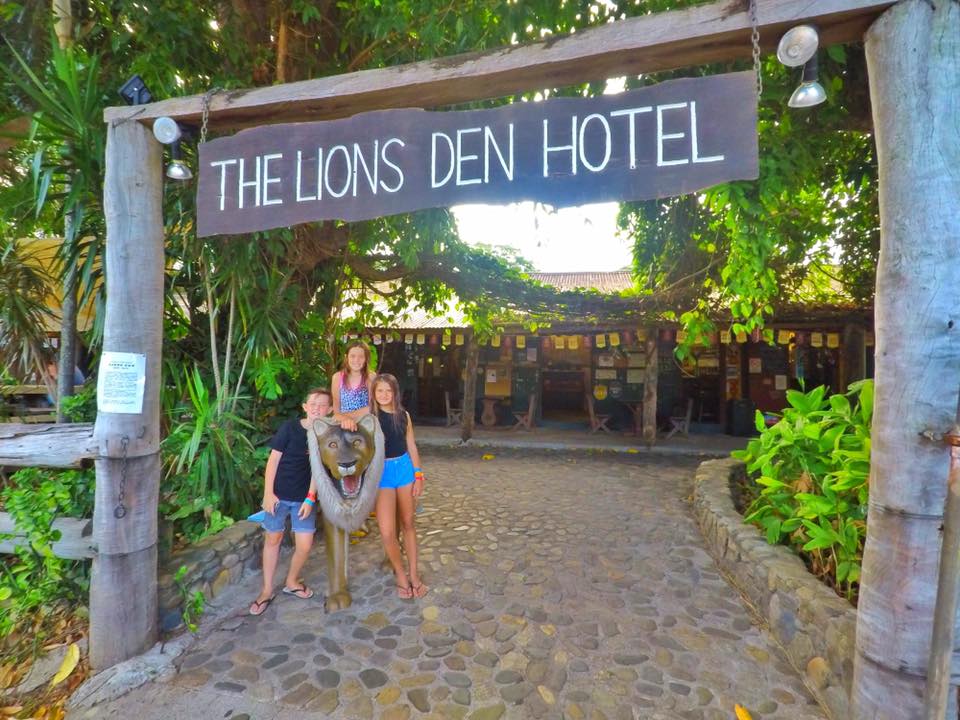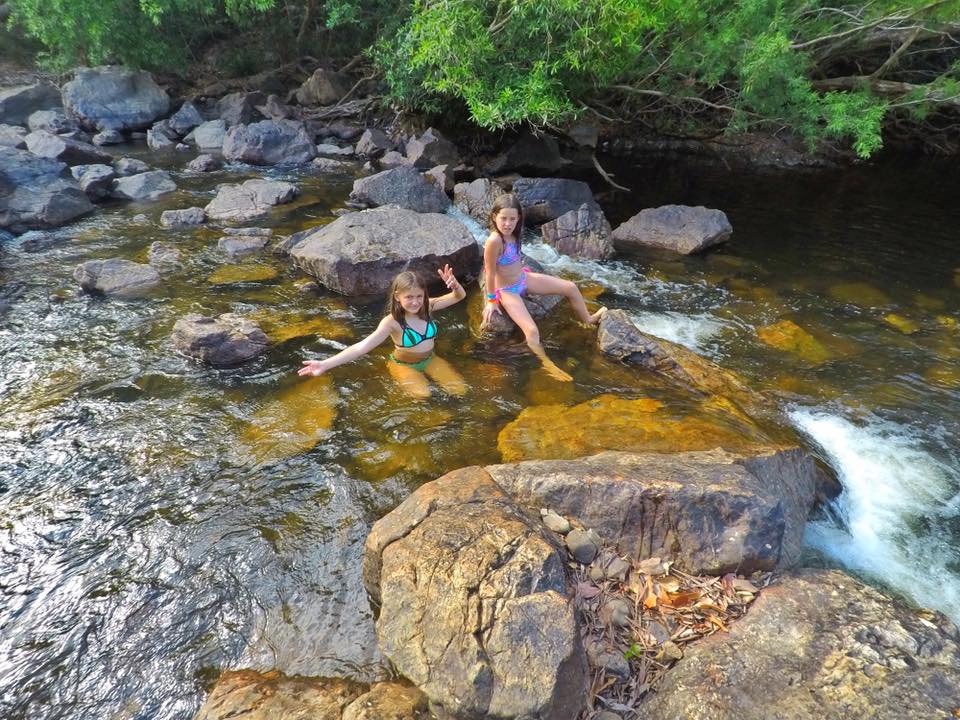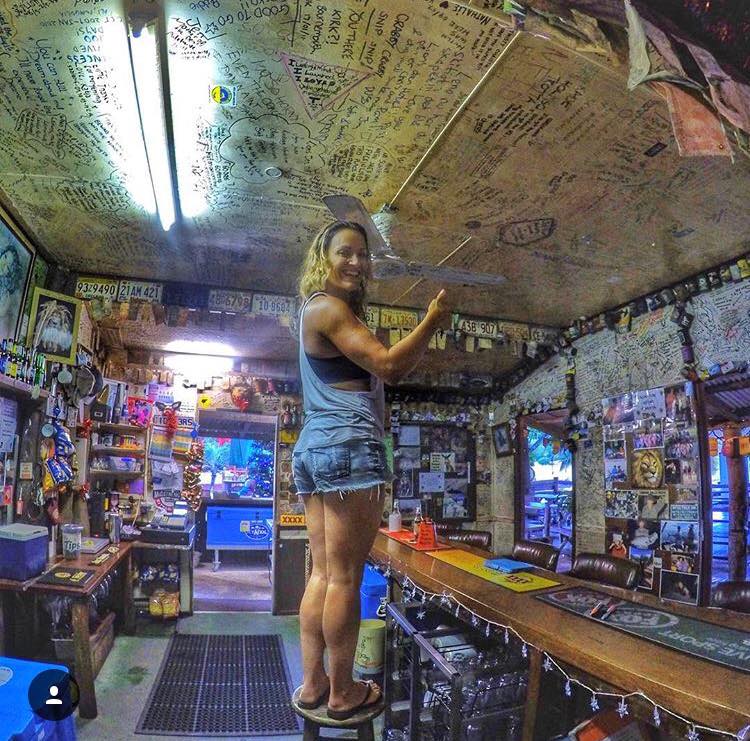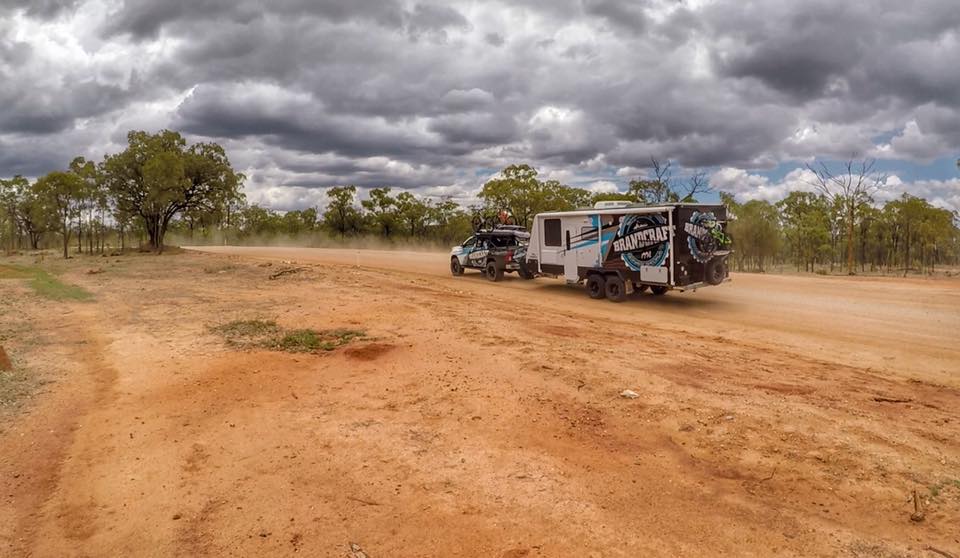 We left the next morning and decided to head back to Cairns with a slight detour through Chillagoe. And what a great detour it was! We headed down a long, dusty road known as Waterfall Way to find a genuine outback town with fascinating attractions like unused smelters, huge caves, giant bugs and lovely people.
Driving into town we could see the tall chimney at the ruins of the old smelter which we had read about and couldn't wait to see! But, we had no idea what else was around, so
we checked into our little caravan park (no slabs here!), leaving the boys to set up and the girls and I went to the Chillagoe Hub Information Centre.
I'm so glad we stopped in as there is so much more to Chillagoe than we thought! We discovered that Chillagoe was the site of an ancient coral reef and today the coral has been transformed into massive limestone bluffs containing over 560 known caves, the largest having over 11kms of passages! Of course, the caves were extremely high up on our list of things to see. As was Balancing Rock, the Chillagoe Weir and of course the old smelter.
We managed to fit the weir, Balancing Rock, Pompeii Cave and the smelter all into the day we arrived quite easily, as everything is so close and easy to get to.
Our first stop was the Chillagoe Weir, which was a huge disappointment as all we could see was stagnant water, definitely not the popular swimming spot we were led to believe that we would find.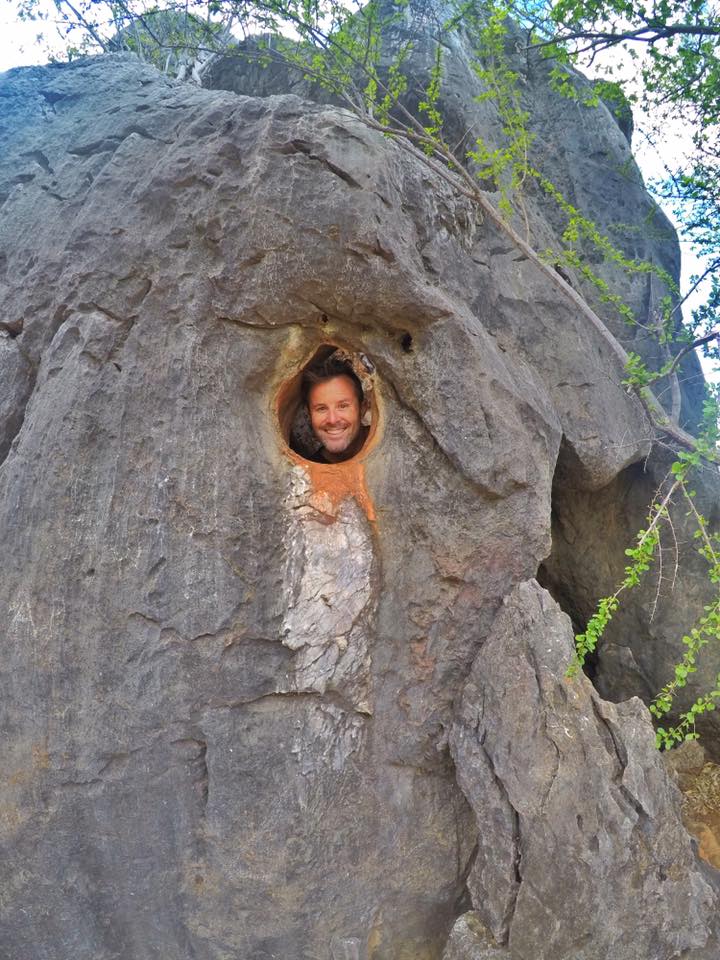 So, we followed the map onto Balancing Rock. It was a fairly short drive and an easy walk to see this magnificent piece of rock balancing on its end! We climbed right up, and the view is pretty special. There are also sorts of curious things to see, like this rock with a hole in it just the right size for Chris's head to fit through.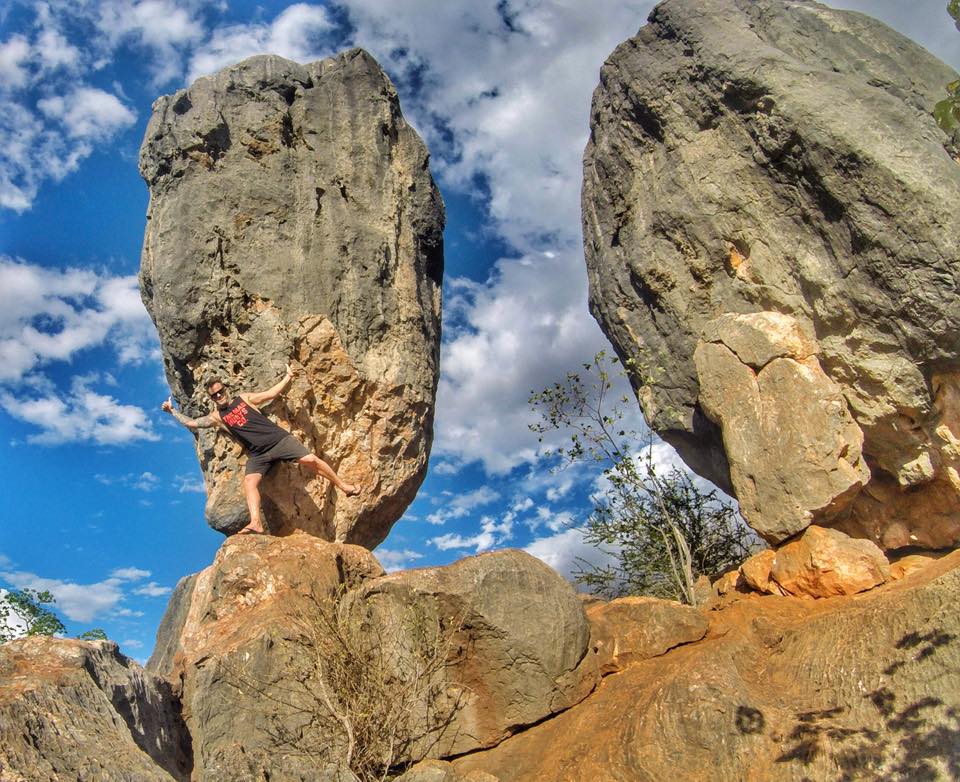 We found a few little caves that you could do self-guided tours of, and Chris guided himself into them while the kids and I waited up the top and held our breath!
Pompeii Cave was fascinating. One HUGE chamber filled with natural light. Chris went down, and we could see his torch flashing up through the ground! We did this after Balancing Rock and before the smelter.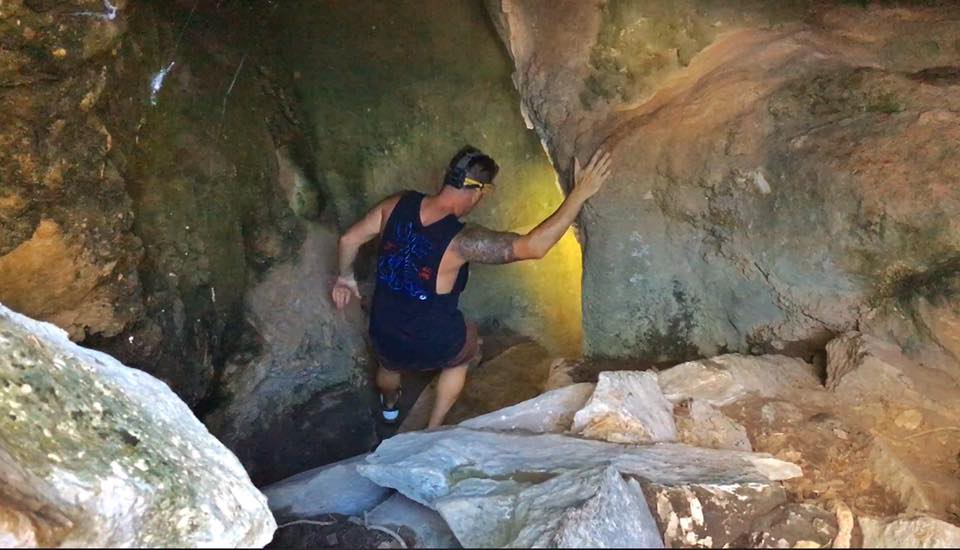 Chris went a little deeper …
The Chillagoe Smelter is like walking through the pages of a history book as you wander around the outskirts and read about what went on here in years past. It is an industrial site with tanks, pits and toxic contaminants like asbestos. This is why the area is roped off. We all loved it, but you don't need much time to see it all.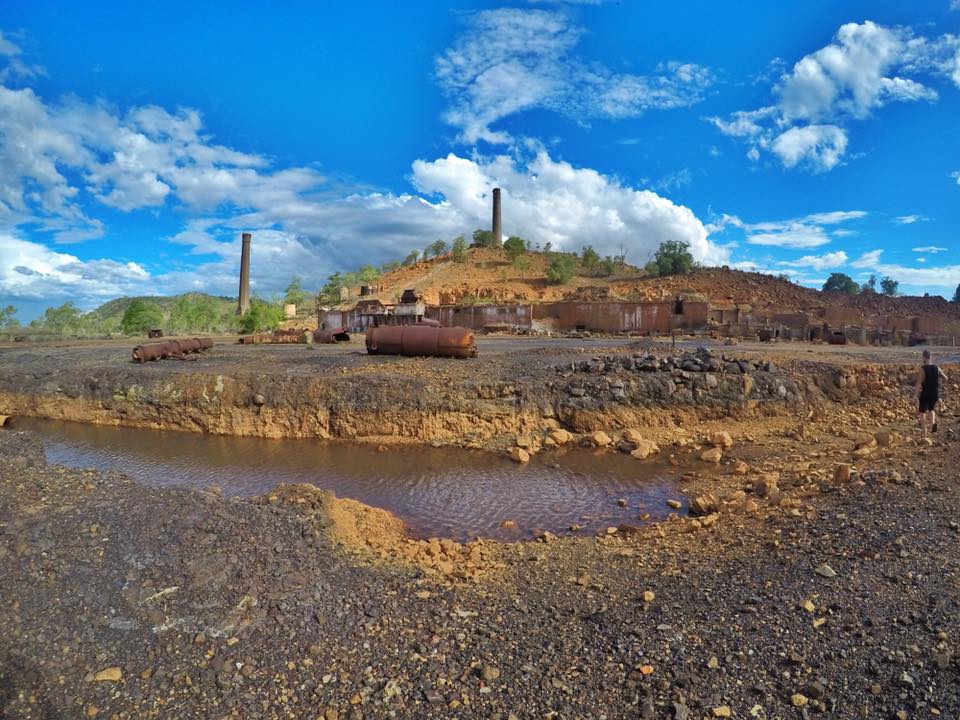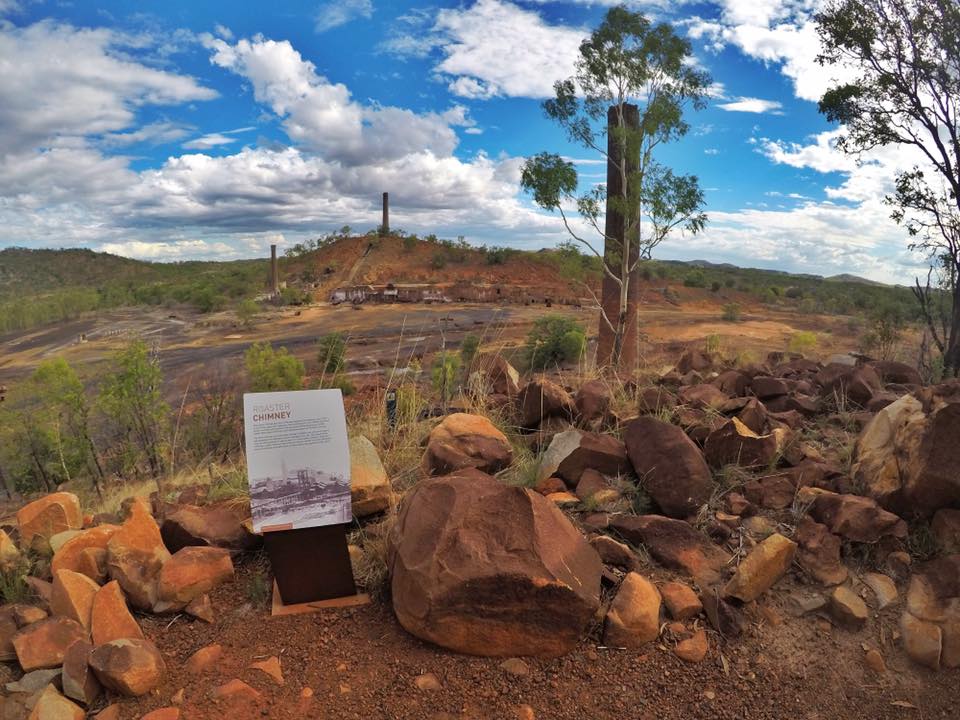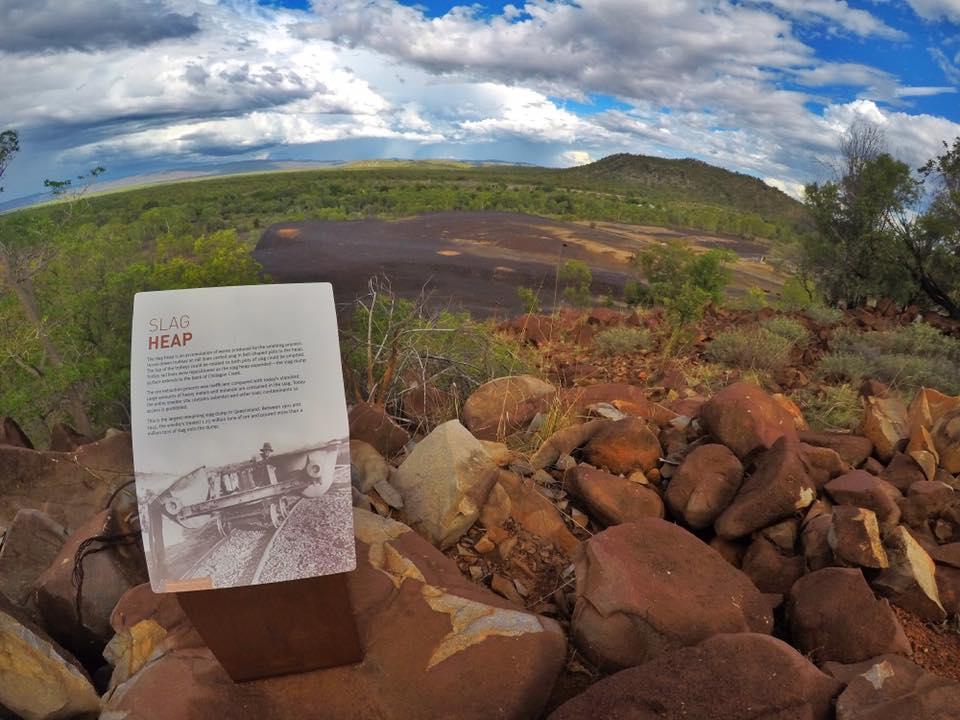 Day 2 we headed off on some guided tours of the bigger caves.
Royal Arch Cave was our first tour. We all met the tour guide outside and were given our own torches. We squeezed through tiny little places and ooh'd and aah'd at the walrus shaped formation and sparkly, black fig tree roots.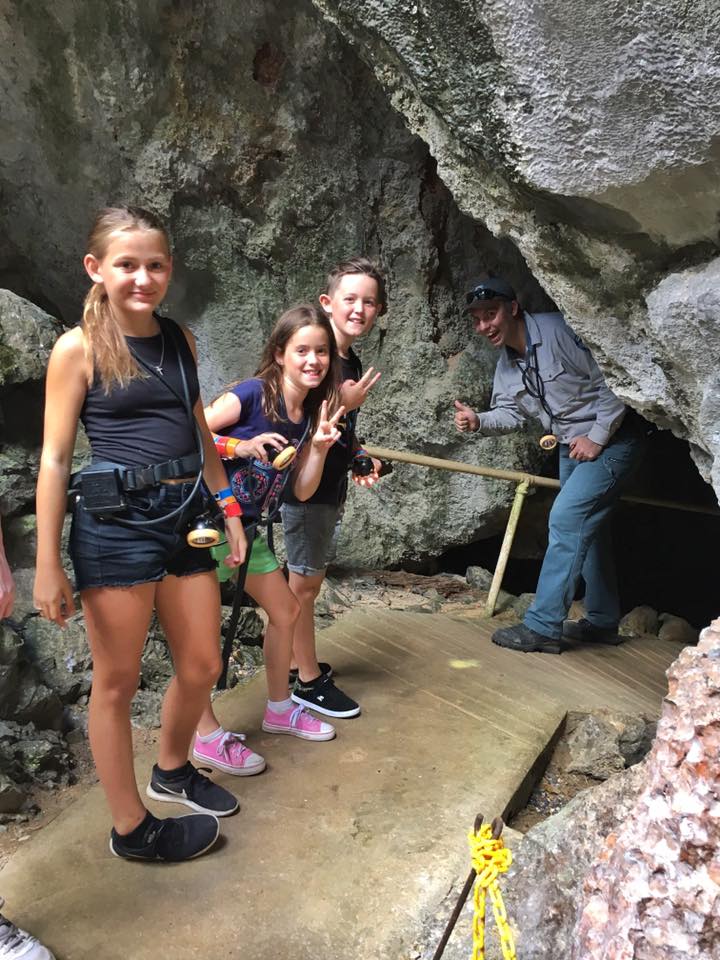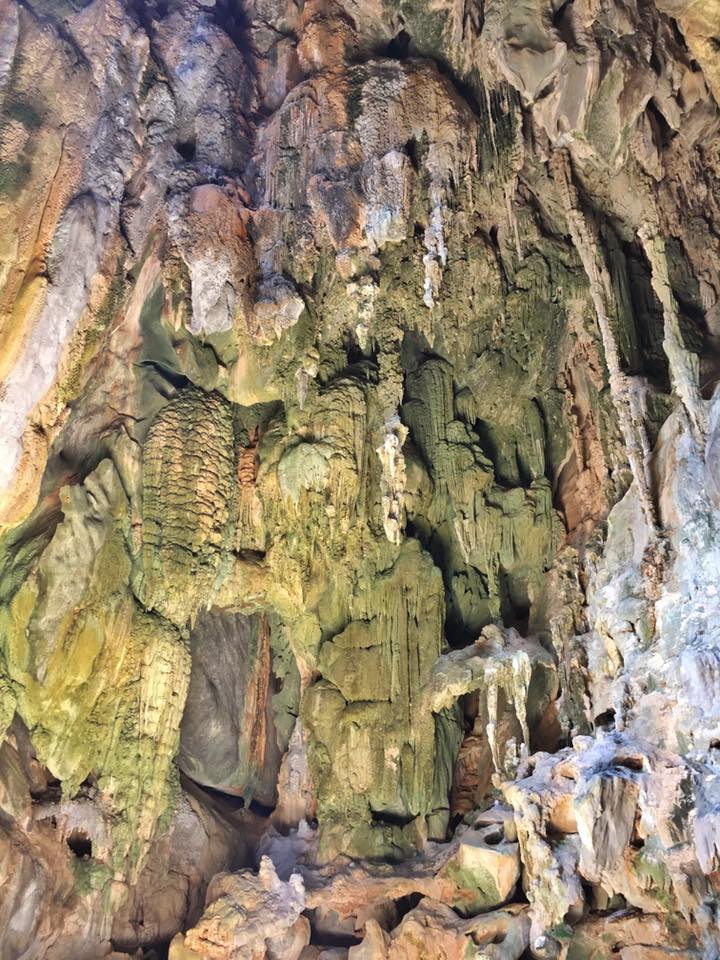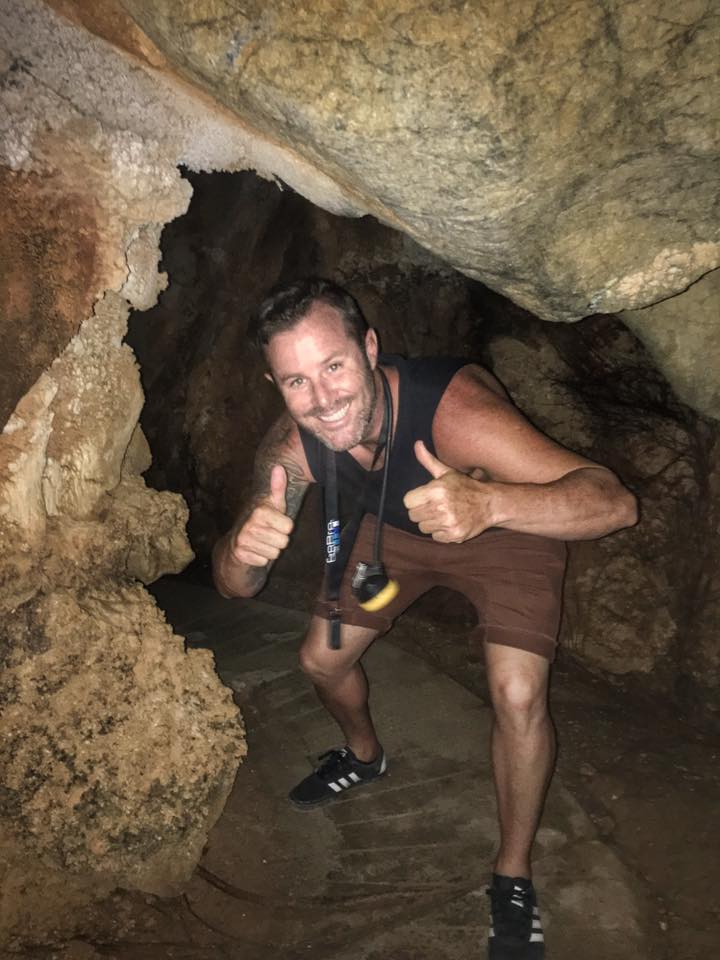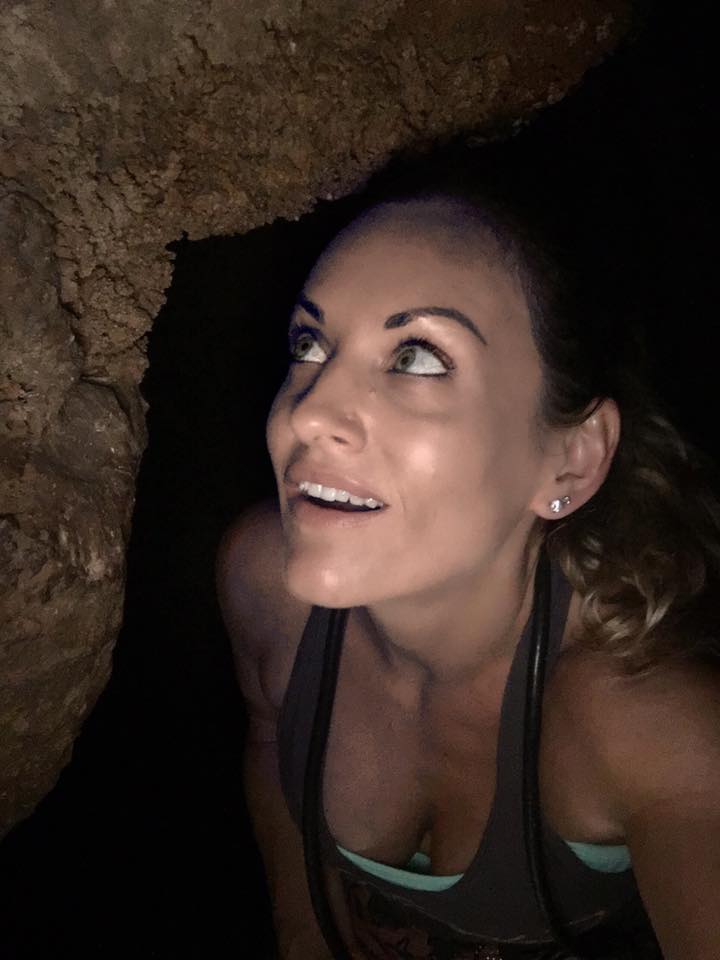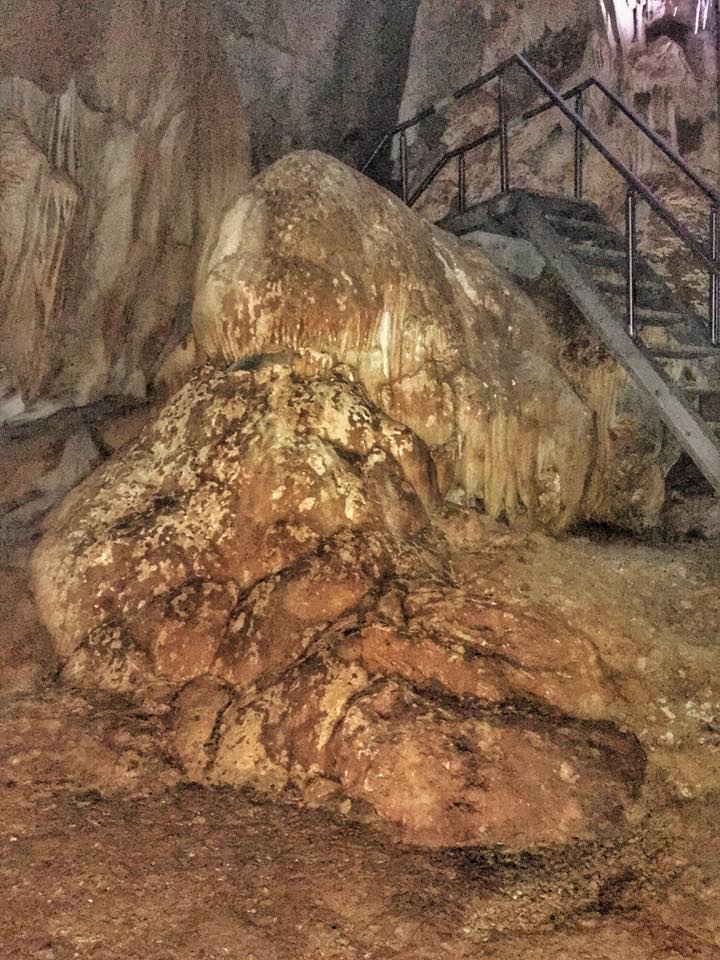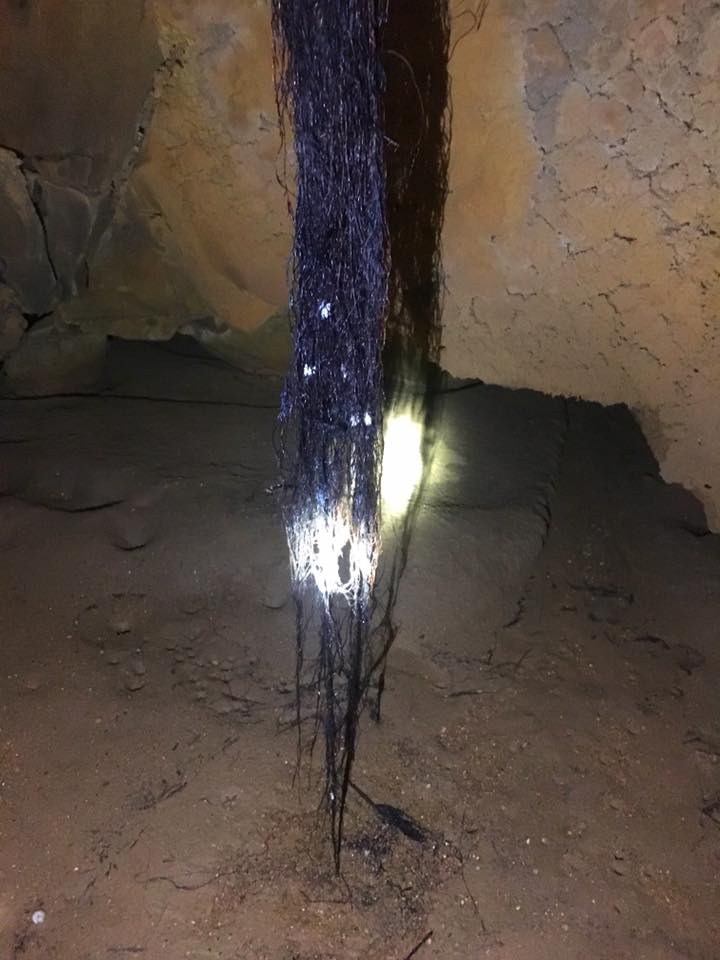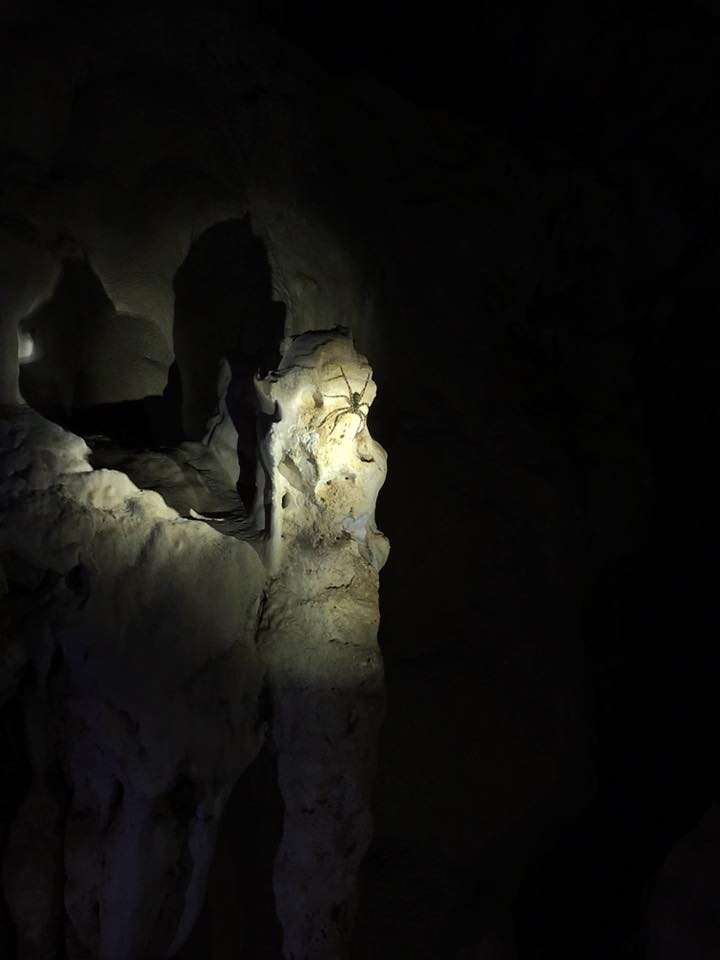 The laundry chute was the kids favourite – they had to scoot through on their bellies, onto their backs and wiggle their way through. We saw cute little bats and not so cute ginormous cave spiders with their eyes glowing in the dark and of course all the amazing chambers and little tiny cracks we had to squeeze through and under.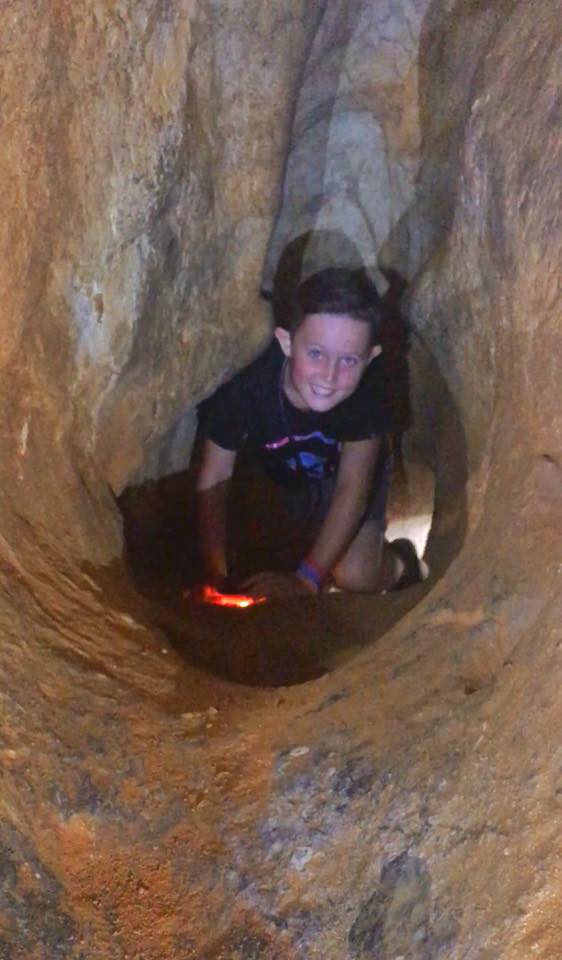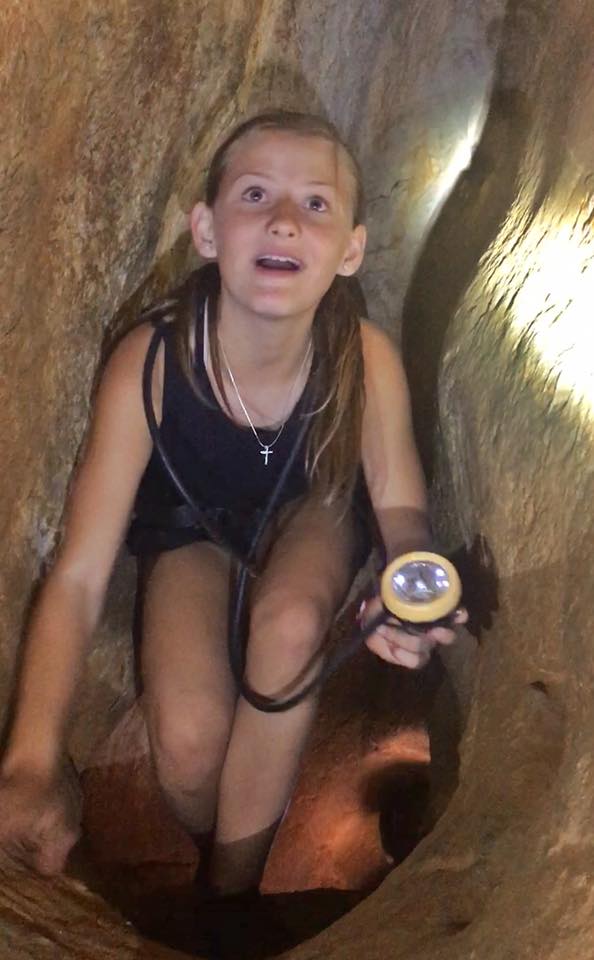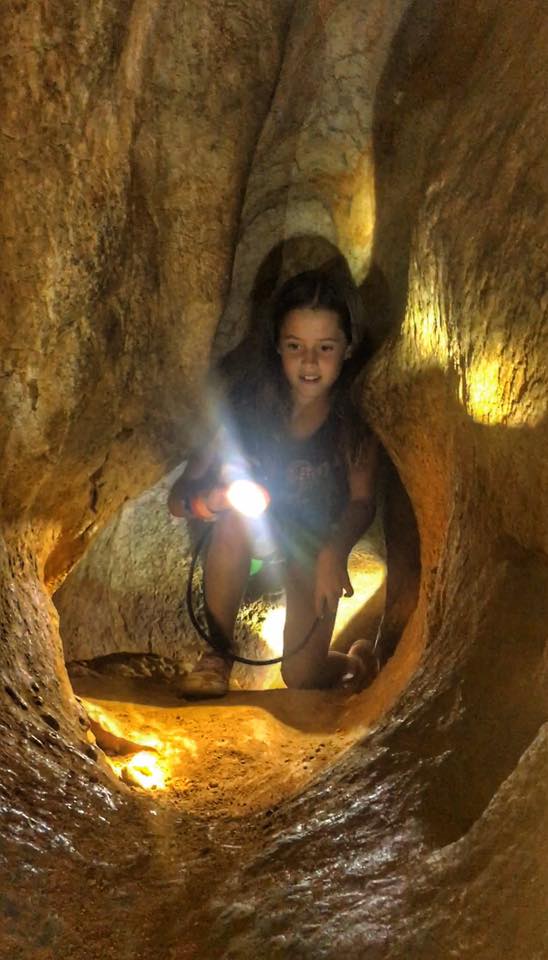 Trezkinn Cave had just been reopened after having all new infrastructure put through and the lighting was incredible. The place is just insane!
From here we took the short drive back to Cairns where we spent time catching up with family for New Years before starting our adventures on our way back home.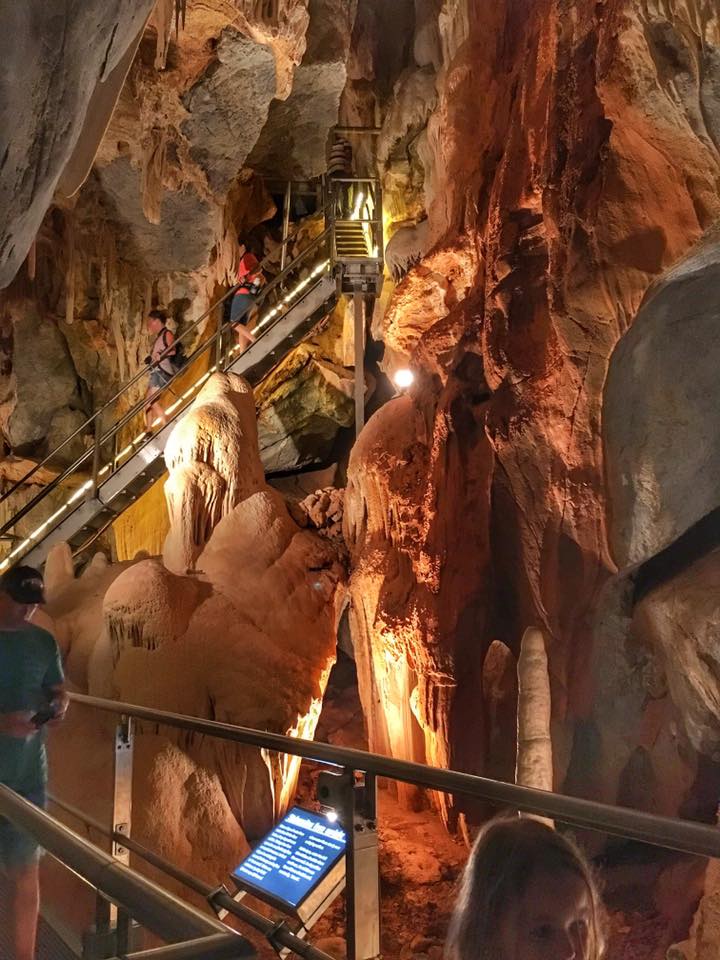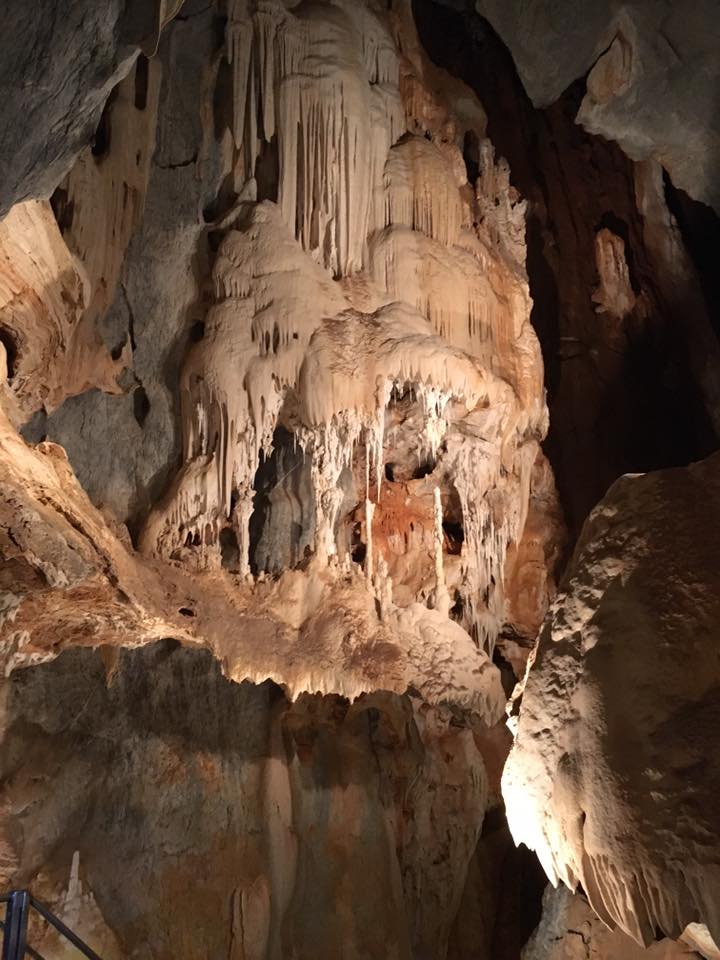 We had to take the kids to Josephine Falls again as they'd had so much fun there last year. We spent an hour or so sliding down the huge natural waterslide and swimming in the rockpool at the bottom.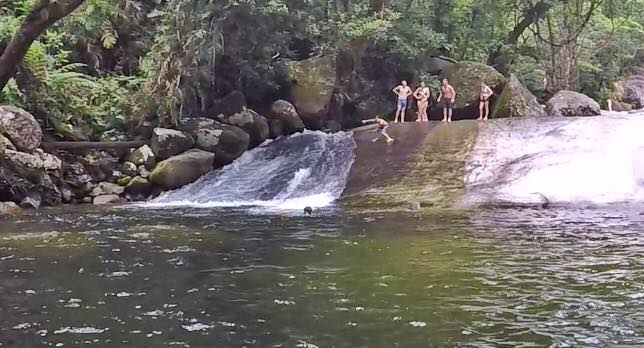 Cooper almost made it on his feet!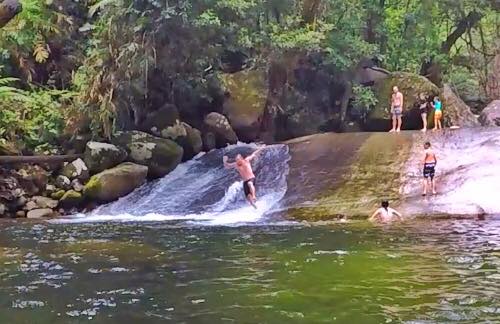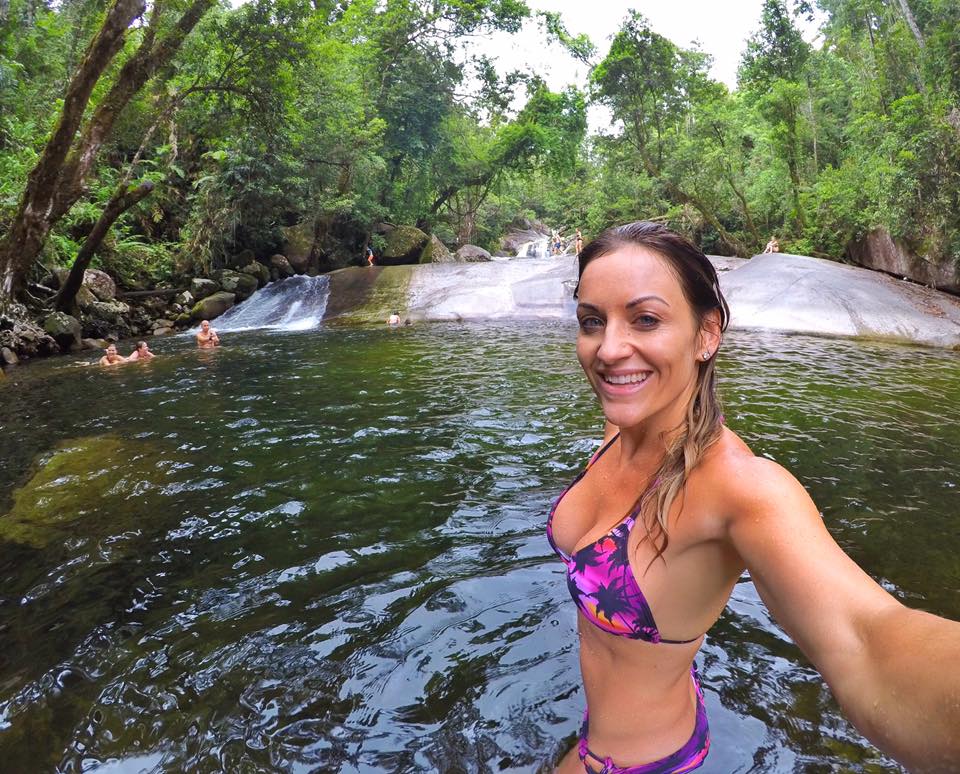 Next it was onto Cardwell for a quick stop at Cardwell by the Sea on our way to Rollingstone. We wanted to get there as early as possible and enjoy the fabulous BIG4 Rollingstone Beachfront Resort. We arrived to be greeted by friendly staff, a lovely caravan park with streets lined with palm trees and absolute beach front sites, which we were lucky enough to secure!
We had a wonderful time and wished we were able to stay another night, but no … we had to leave early the next morning (January 5th) to make our way to our next destination, Emerald!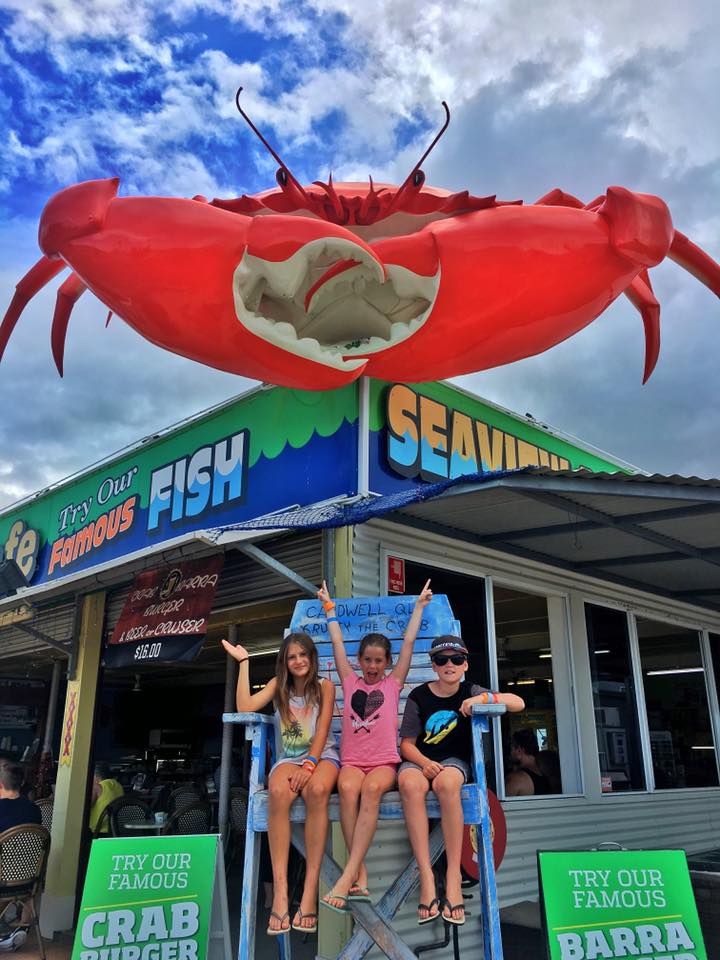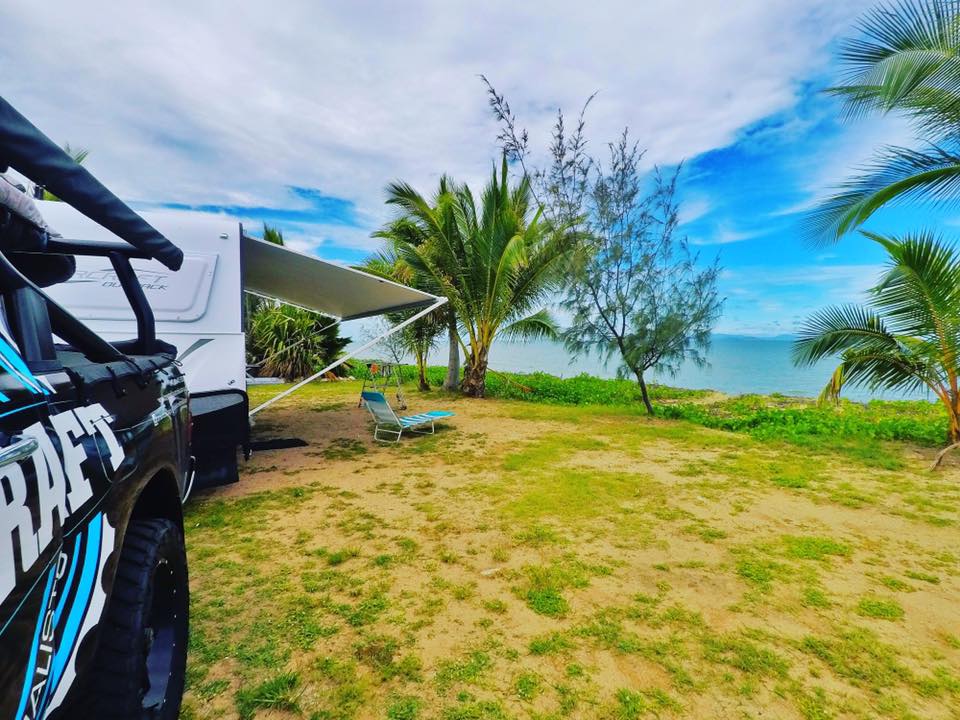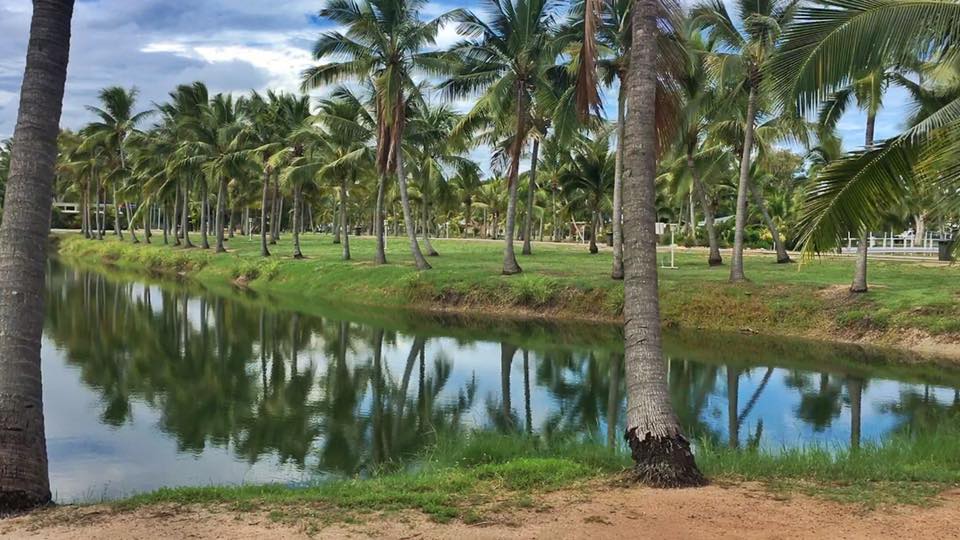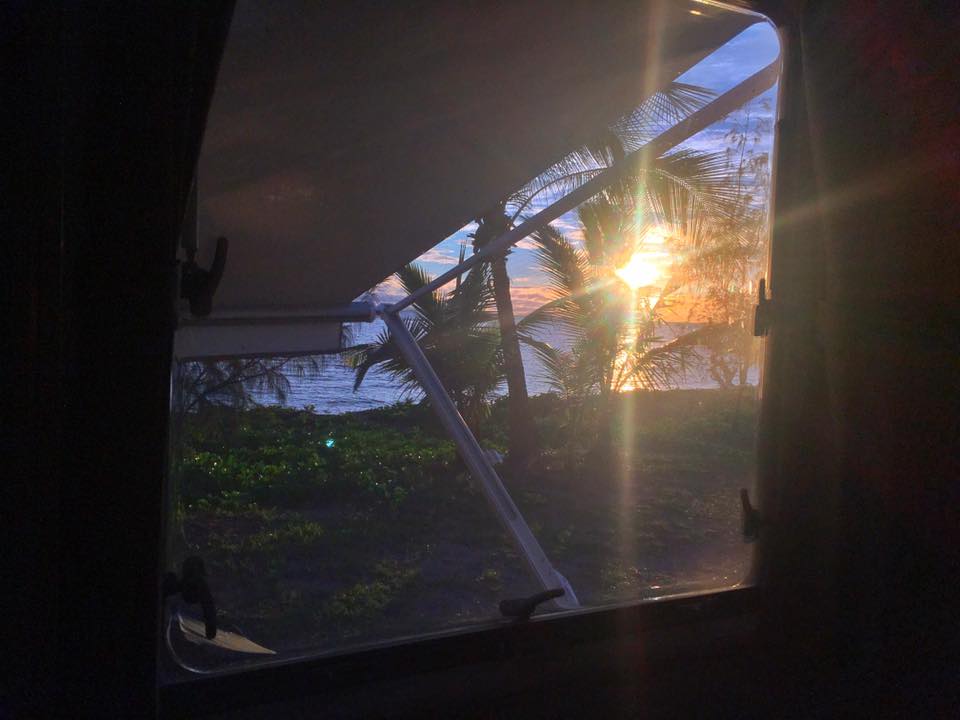 What a view to wake up to!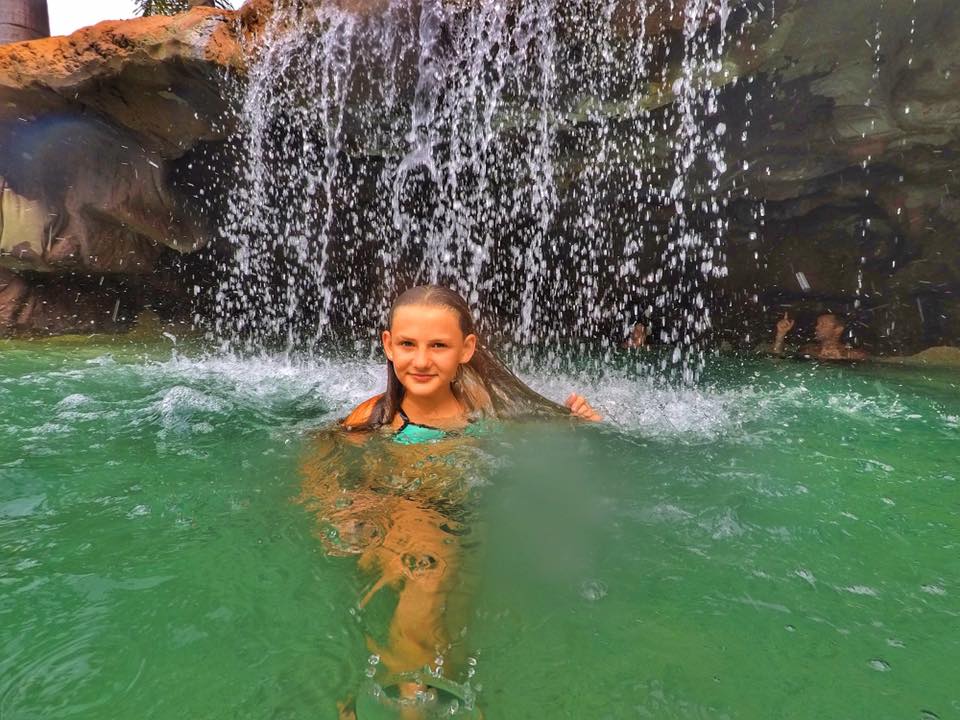 The pool has a waterfall over a cave – very cool 🙂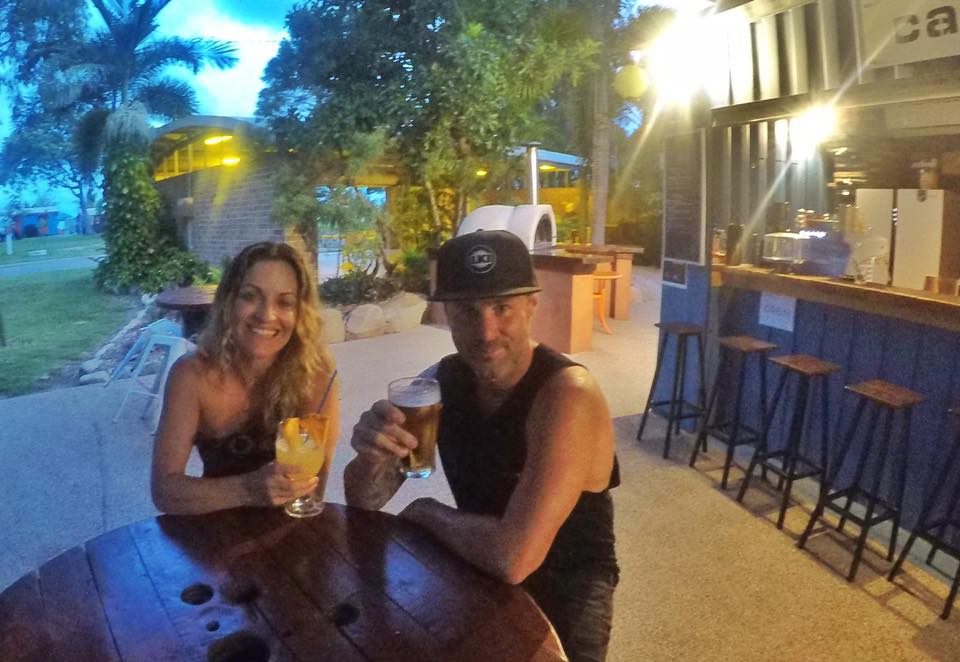 The kids made us cocktails but dropped them in the sand – so the lovely staff gave us real ones from the bar 🙂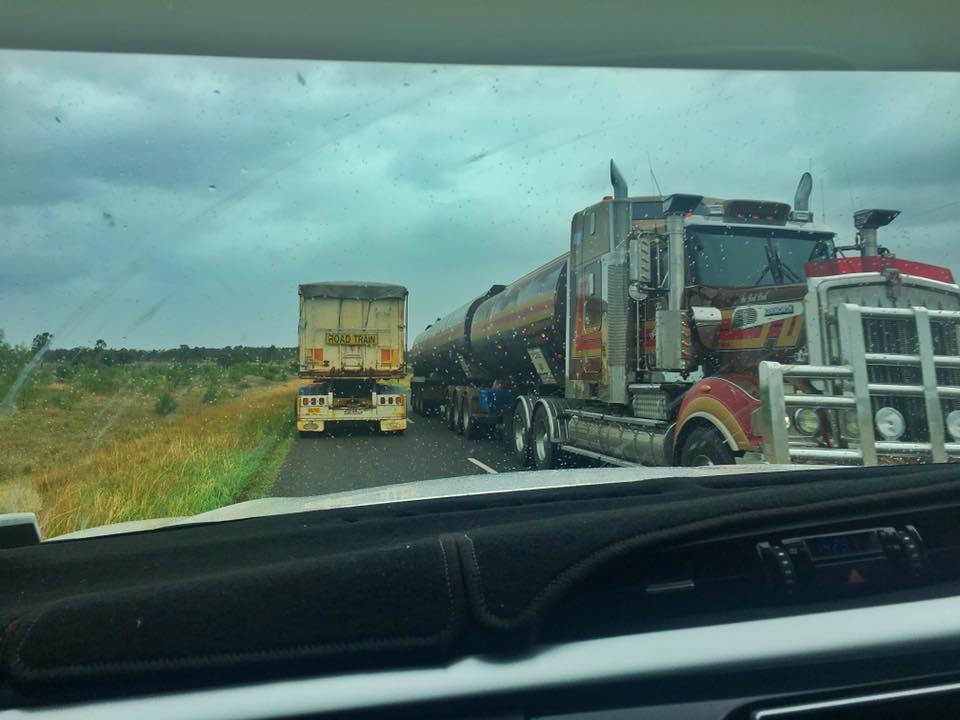 We filled the tank and took extra fuel in case.
The scenery was drama filled and palm-tree void! Open, flat, long stretches of ridiculously bumpy road; our windscreen spattered with both rain and bugs. We were surrounded by road trains and fields of what look like cotton, dead sticks and birds.Some dirt was red, some brown. Some grass was green, some brown. Nearly all rivers were been dry with sandy river beds.
We saw Eagles hanging out by the road … a road which was white, brown and black.Occasionally piles of boulders could be seen close by. Trees were sparse, never completely blocking the view of the open plains.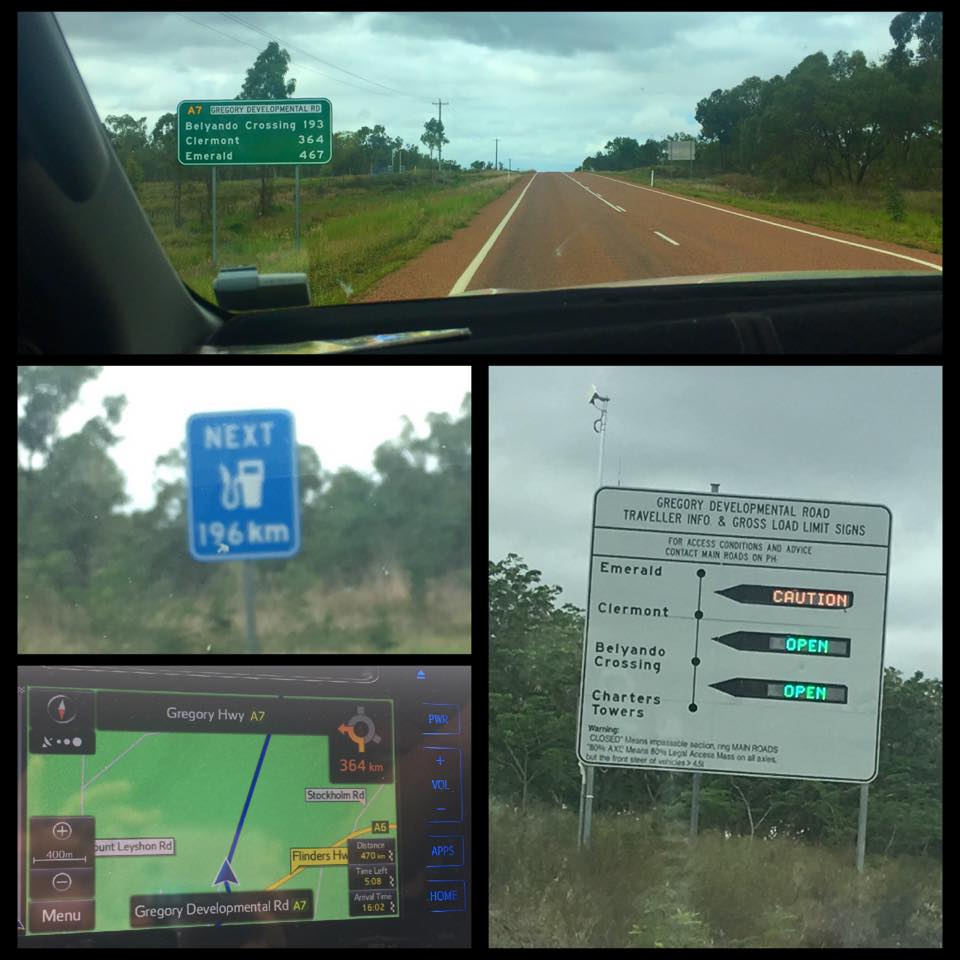 There were a few cows; some alive and grazing, others simply a pile of bones on the roadside. We saw a few rubbish filled 'truck stops' (campsites) that we chose not to stop at … and not much in between!
We also saw a few letterboxes … I guess someone has to tend to the cows and fields of dead sticks!
What an experience that road was. We nearly lost one of the bikes off the roof at one point! We only managed to save it thanks to a truckie passing by that radioed through to let us know.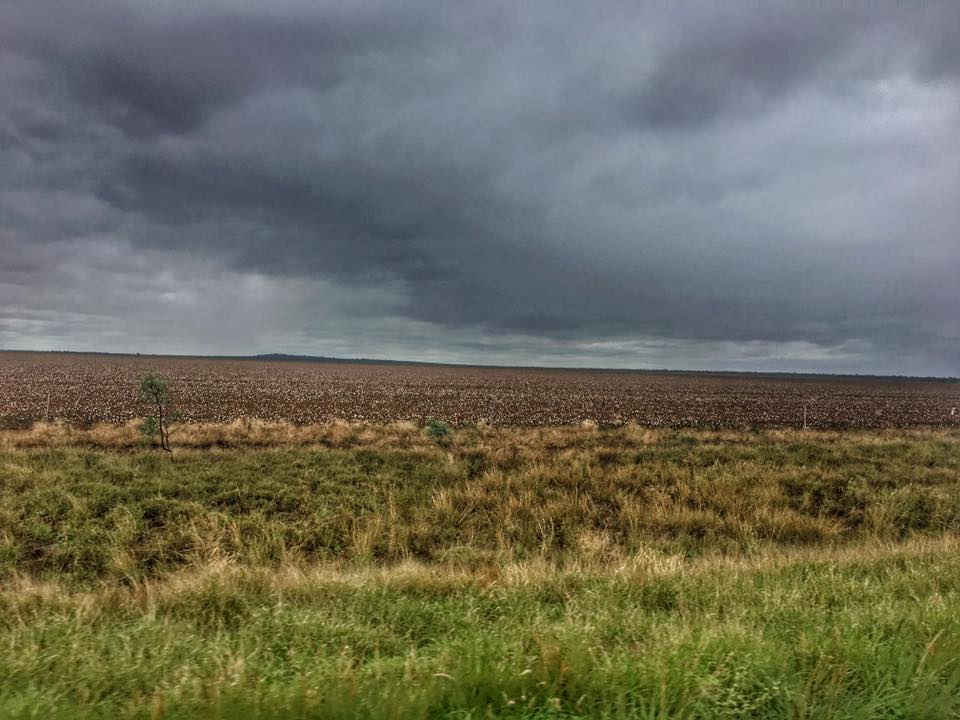 We checked in at the Emerald Cabin and Caravan Village which was almost empty, as was to be expected this time of year. The park was OK, but we found the staff to be a little bit rude. Still, I guess you can't have wonderful people everywhere you go, right?
We had arranged to catch up with some of Chris's friends who live in Emerald and take the kids to the gem fields. Covering almost 900 square kilometres, the Sapphire Gemfields is one of the world's largest sapphire fields, and includes the townships of Anakie, Rubyvale, Sapphire and Willows Gemfields.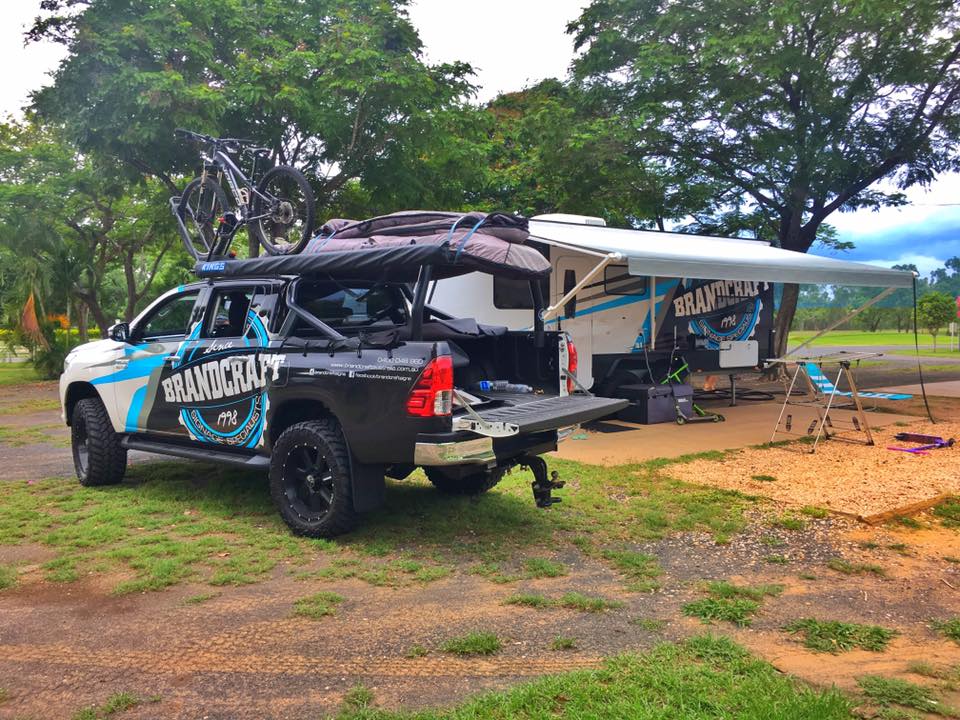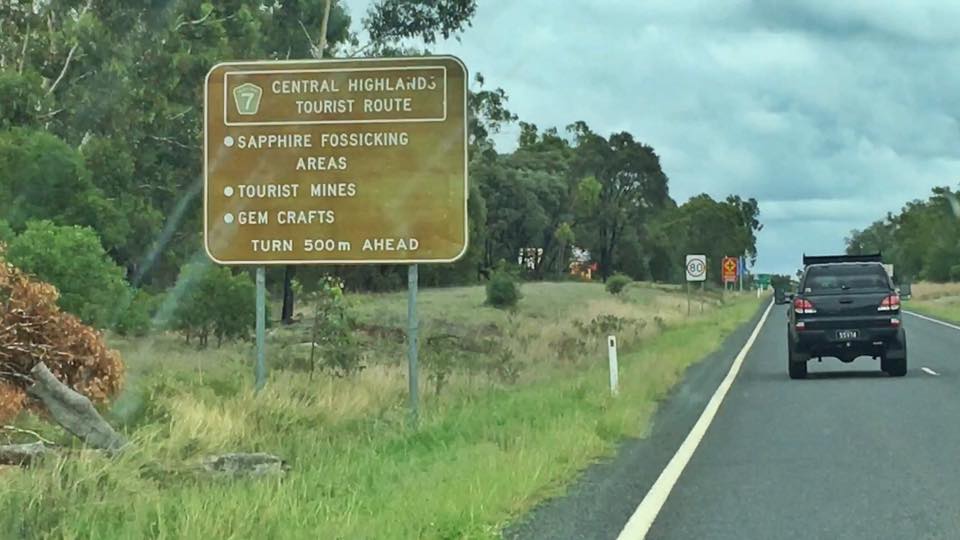 As we drove in, we looked intently out the window pointing out all the little mounds and caravans parked alongside in the dedicated fossicking grounds.
We did a tour of the underground sapphire mine at the Miner's Heritage in Rubyvale and then did some panning for gemstones.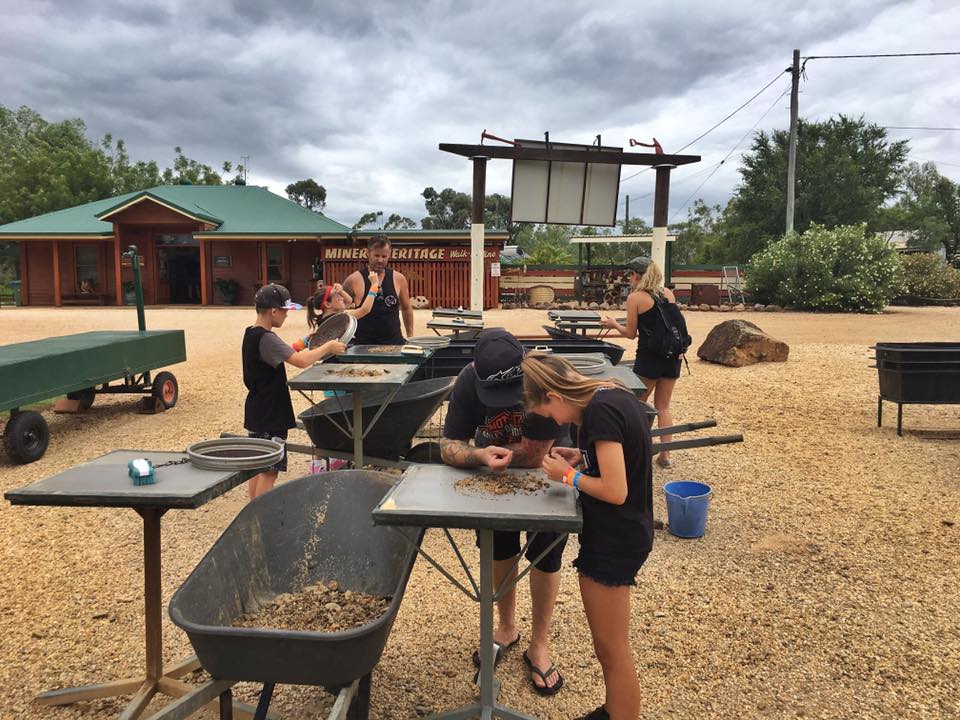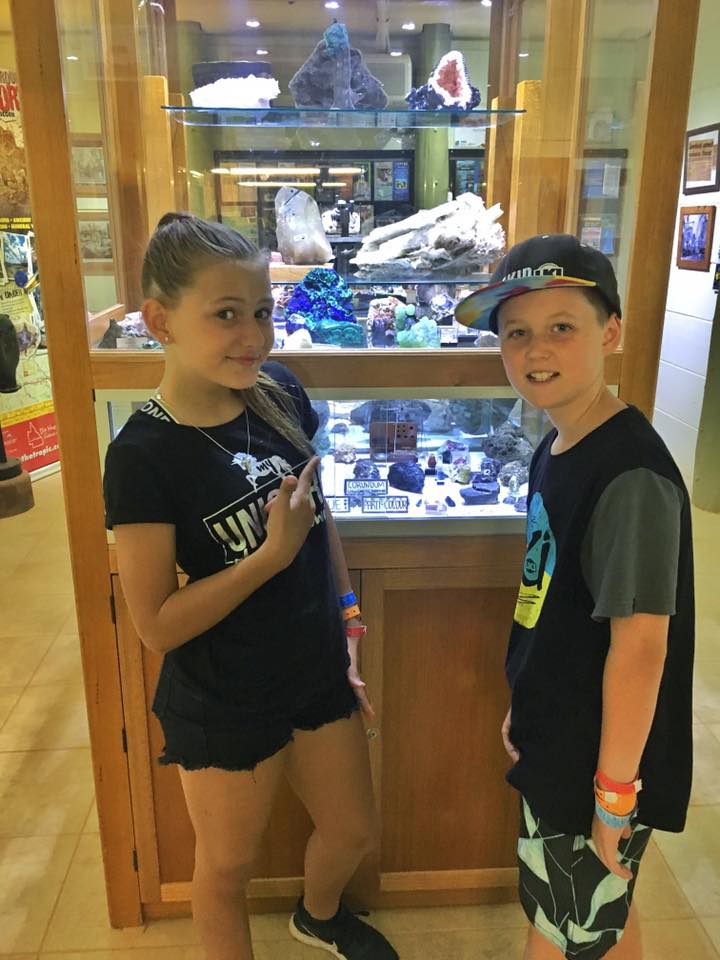 The kids were blown away by what was on display and what was available to purchase in the store, It stirred a fire in their bellies to get out there and start sifting! 🙂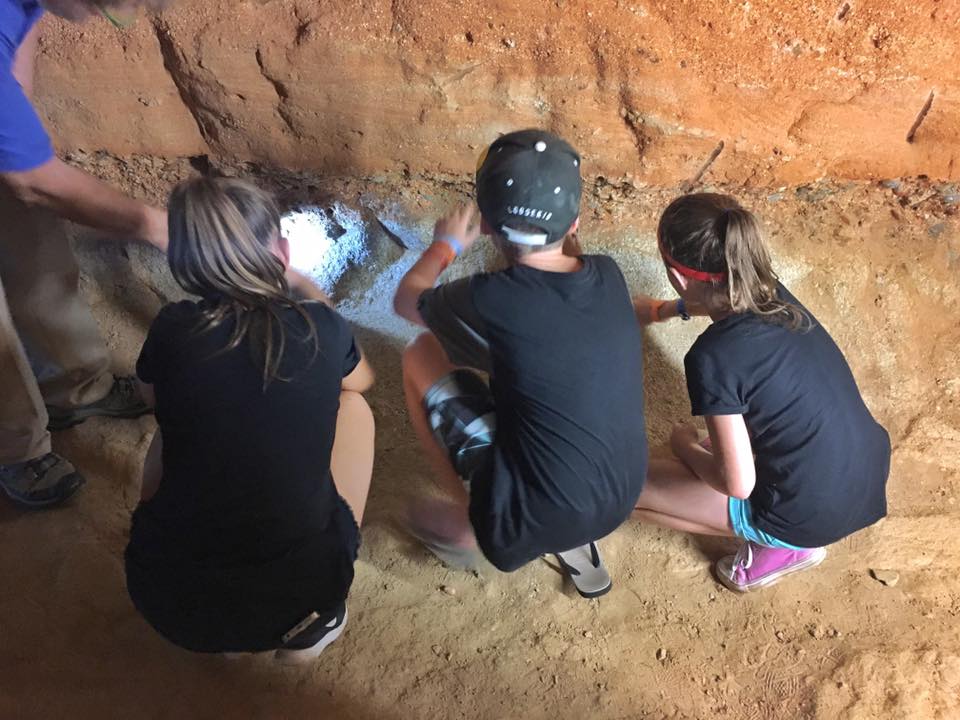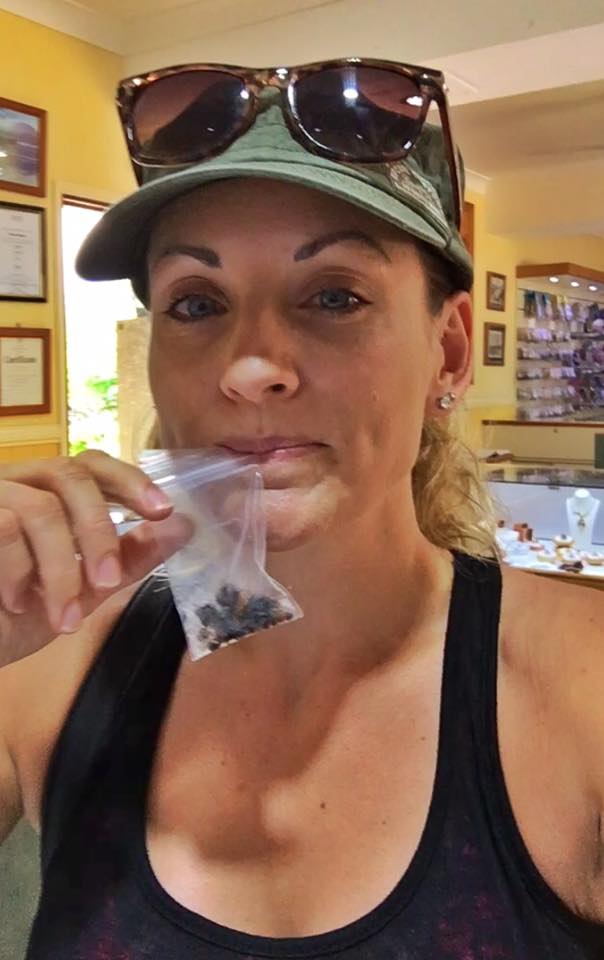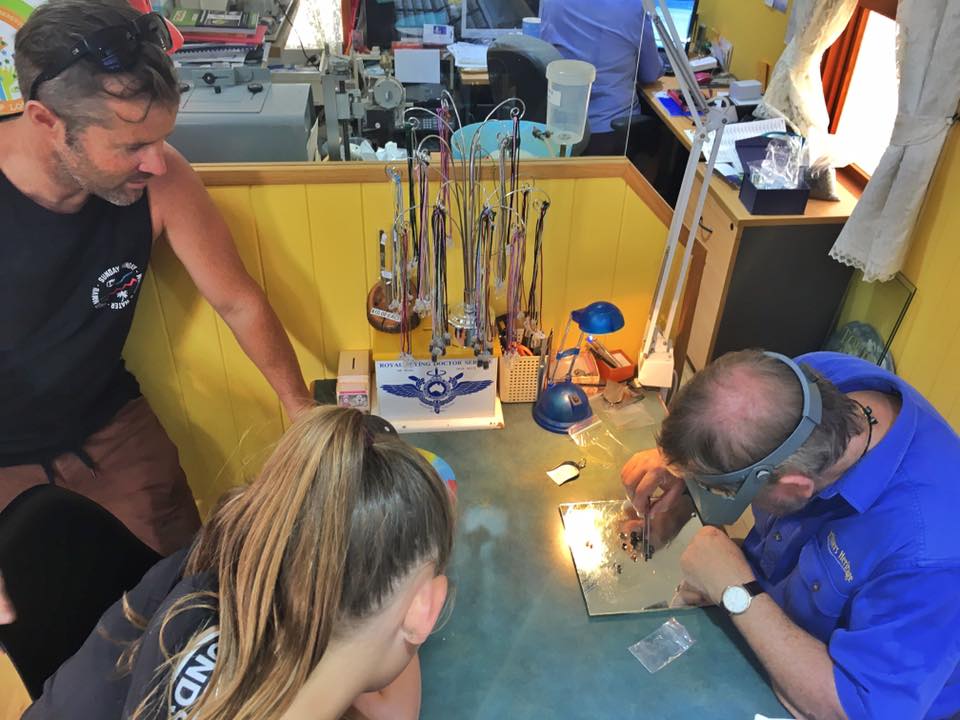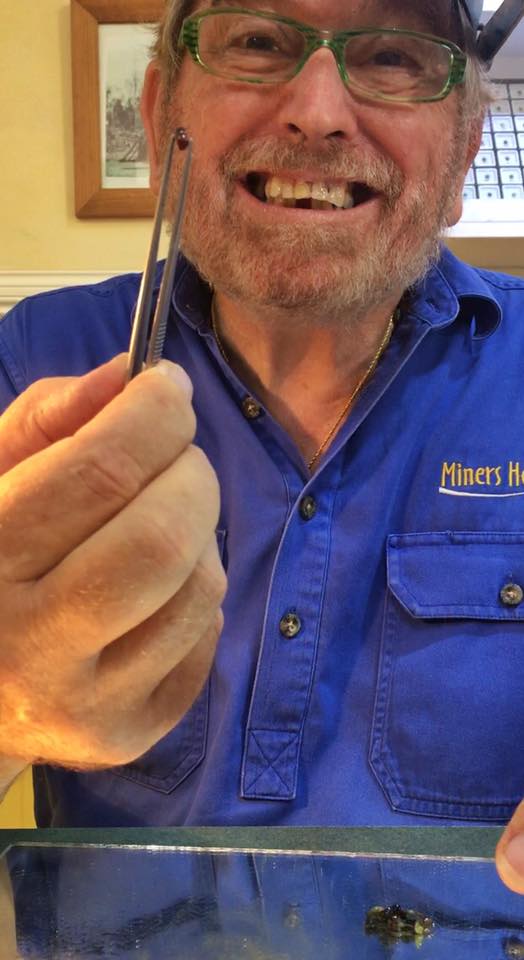 Sifting through a bag of wash yielded a few good stones for all of us. We loved the tour and the little history museum. The kids really enjoyed everything about it – I mean, what kid doesn't dream of finding gemstones in a pile of dirt, right? Lol.
We had lunch at the RubyVale Pub which was delicious. What a cool little place with some very interesting characters!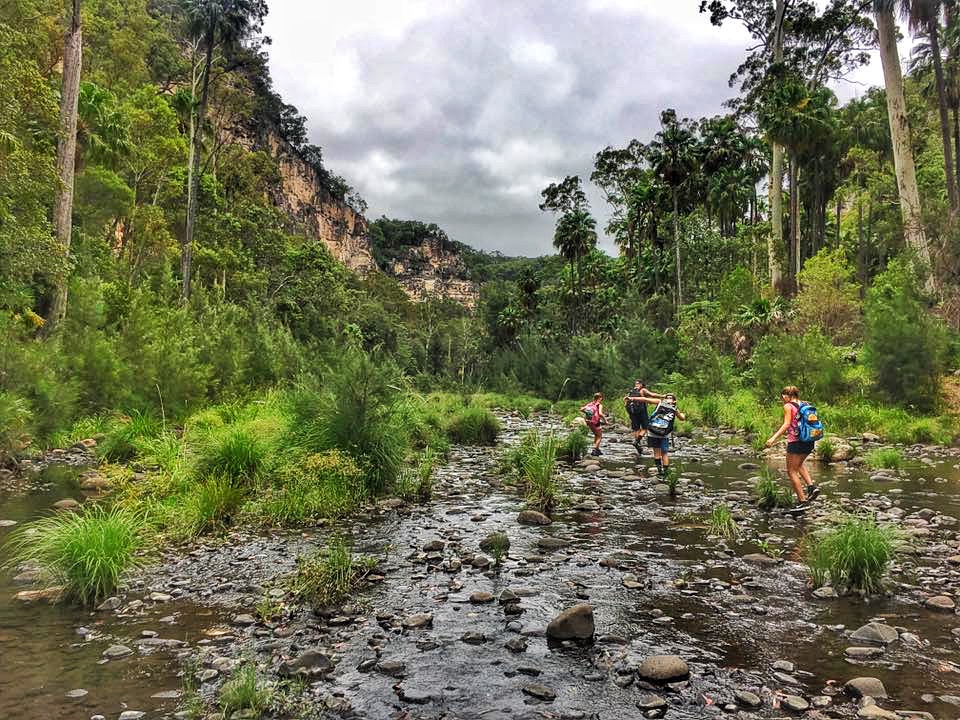 We packed up and hit the road again, this time headed to Carnarvon Gorge. I think we all have mixed feelings about that place! We had a wonderful time and saw some amazing things – but at the expense of our feet! We all ended up in so much pain it wasn't funny.
Still, adventures were had, and that's what Aussie Destinations Unknown is all about, right?
Once in the Carnarvon Gorge National Park, we stopped to check out the memorial of where a plane had gone down. The wrecked plane was still there, lifted high on poles with engines and debris scattered around and the tail and cairn below.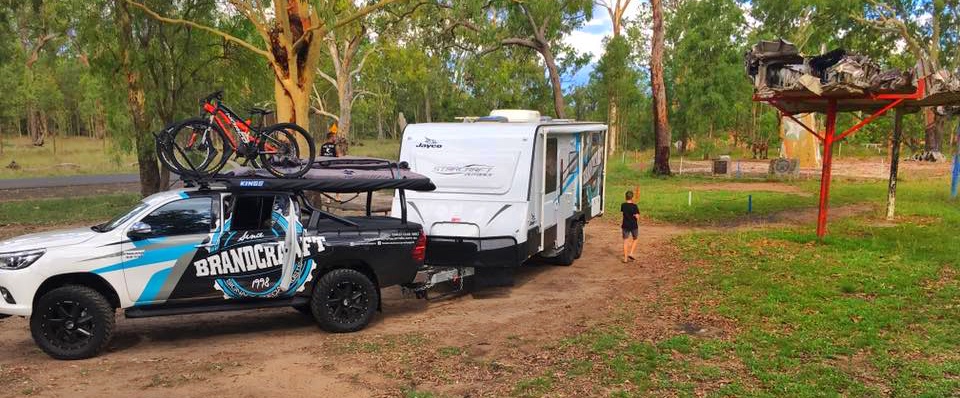 We continued on and checked into the Takarakka Bush Resort, collected our map of all the bushwalks from reception, read the sign advising us to start with shorter walks, and went to park the van and set up.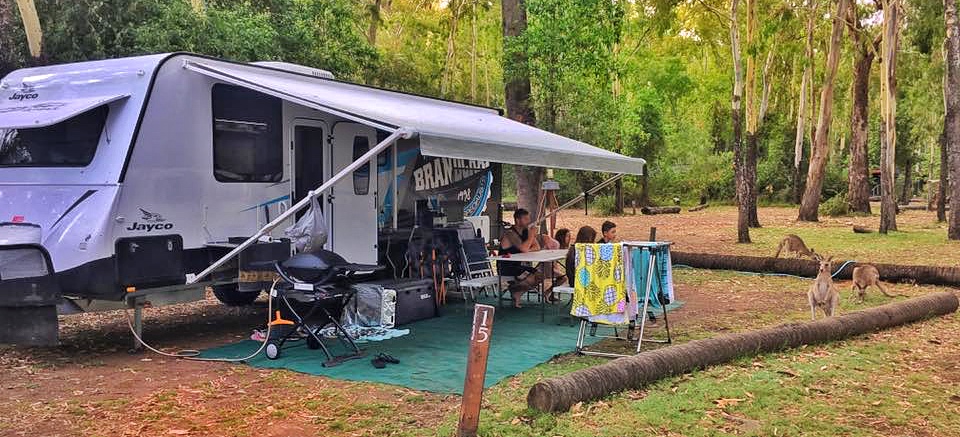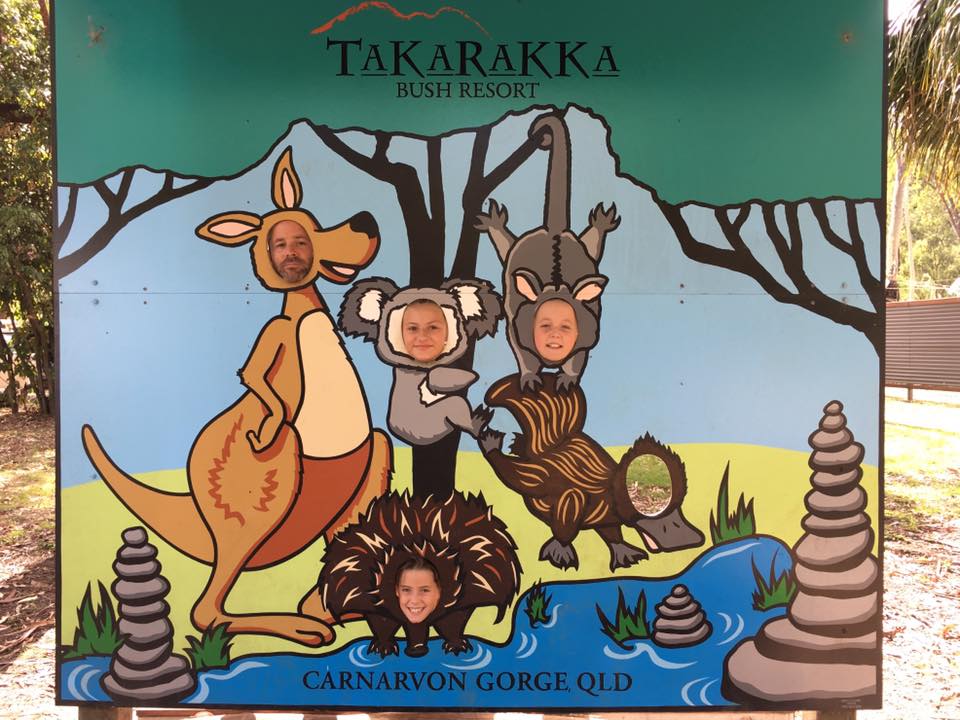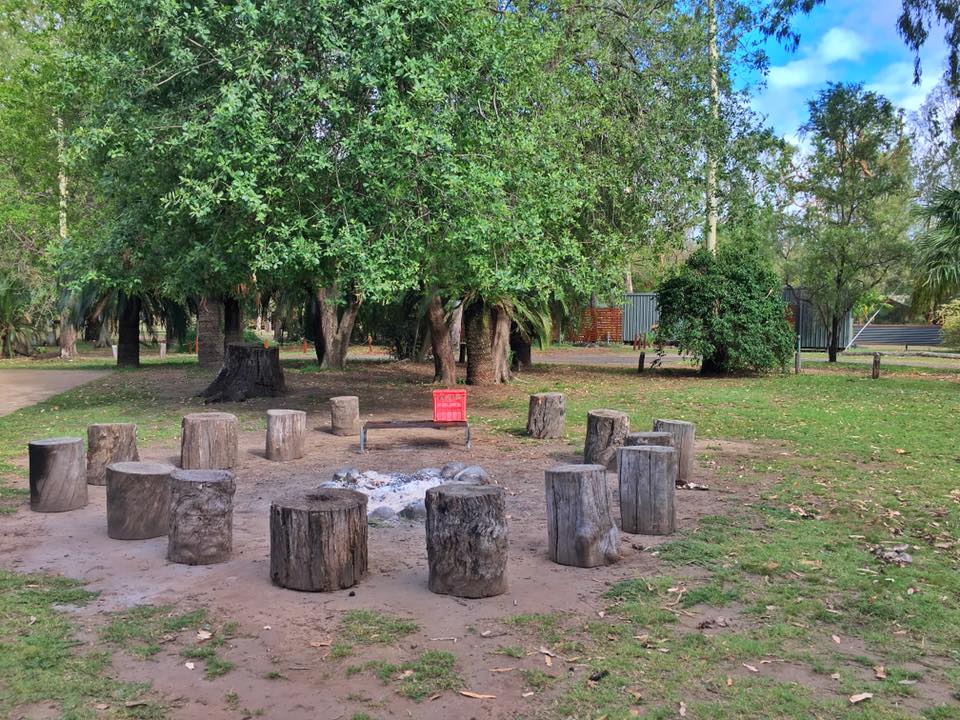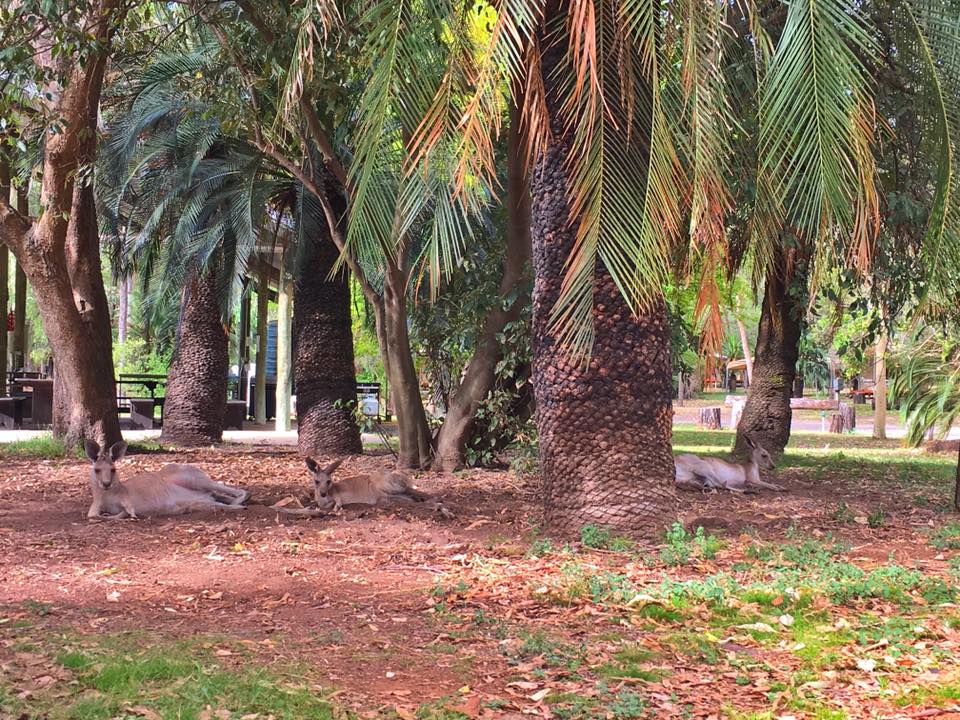 The following day, we chose to ignore the advice we were given, and set out on the full 24km hike through Carnarvon Gorge. With the kids. Without appropriate footwear. What could have gone wrong?
It took just five minutes to drive to the mouth of the gorge where our walking adventures began delightfully as we skipped across the river using the strategically placed rocks to stop our feet getting wet. We found this to be a common occurrence throughout the day as we came to river after river, all dotted with the same handy little rocks.
This place has to be seen to be believed, we have read about it but until you see it for yourself, you can't really grasp its true breathtaking beauty. So diverse.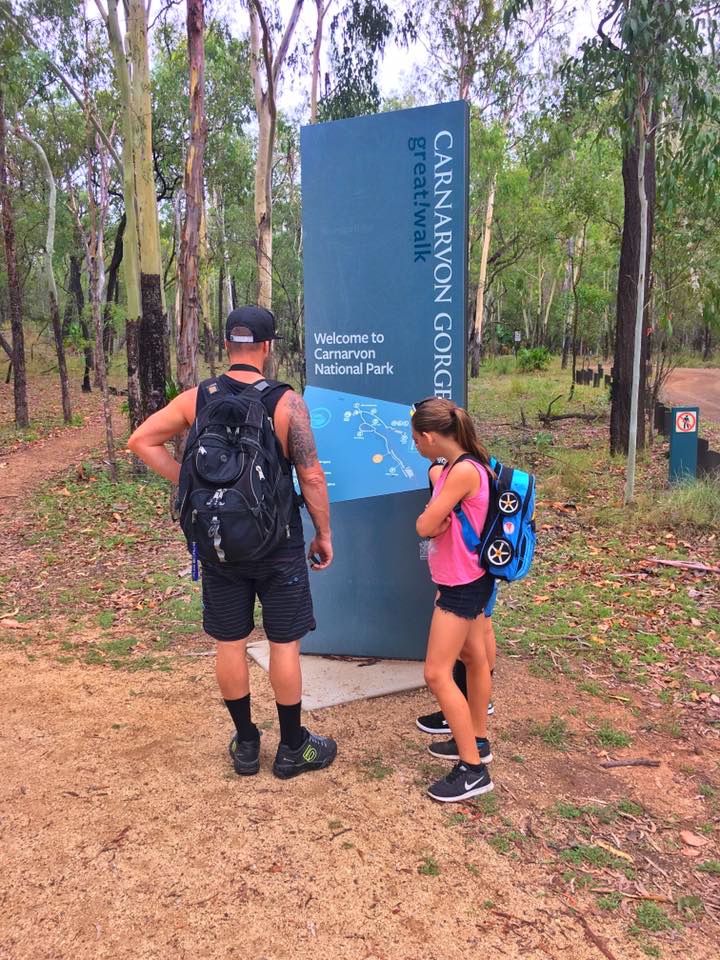 Gum trees, pine trees, palm trees, clouds and spits of rain, scorching hot sun and blue skies, complete stillness, gusts of wind, aboriginal art work etched into the rocks, waterfalls, river, cliffs, sharp rocks, round rocks, pigs, birds, butterflies, snakes, dragon flies, crazy water jumping spiders, sand, water, rain from the sun (we think it was cicada pee – lol) and not many other people at all. Simply breathtaking (literally!)
We honestly had no idea what we were in for, even after reading the brochure. We planned on walking for 5-6 hours …. and ended up with many blisters and aches and pains after doing the full 24ks in 7 and a half hours!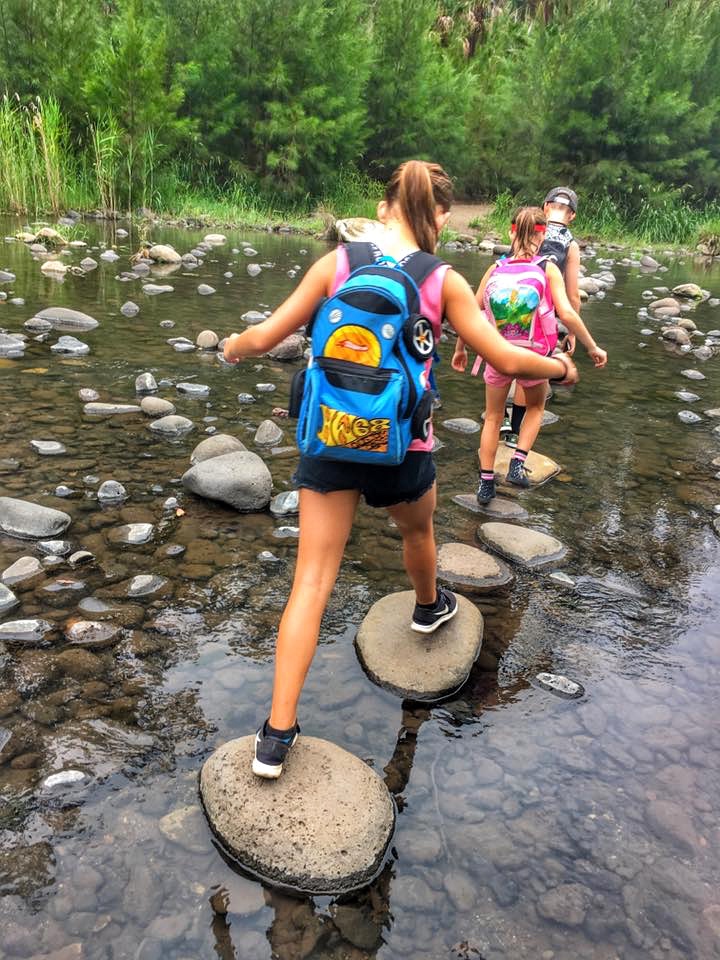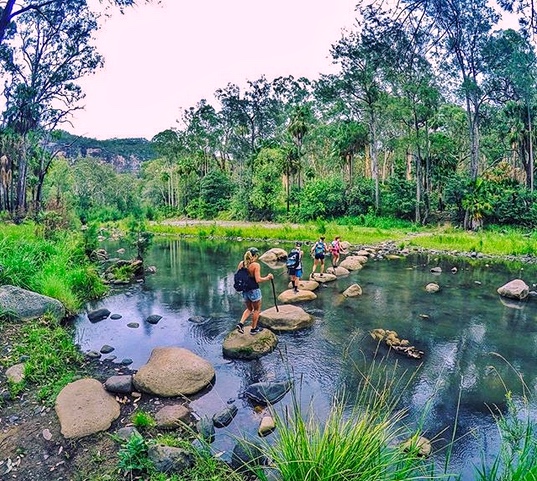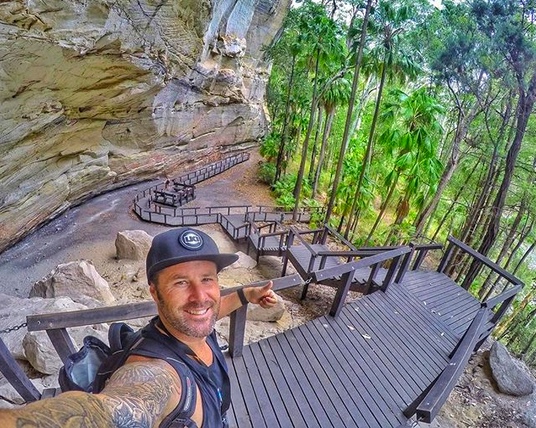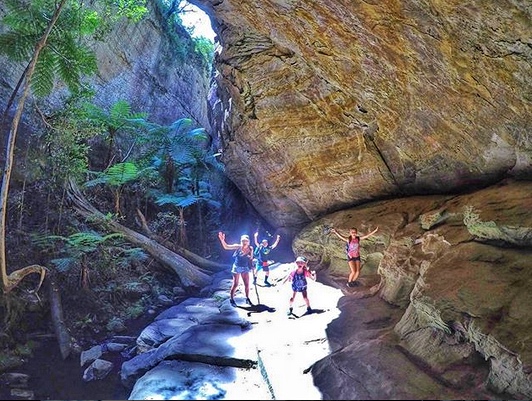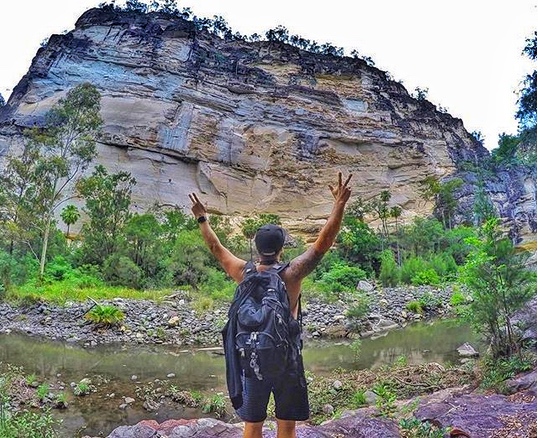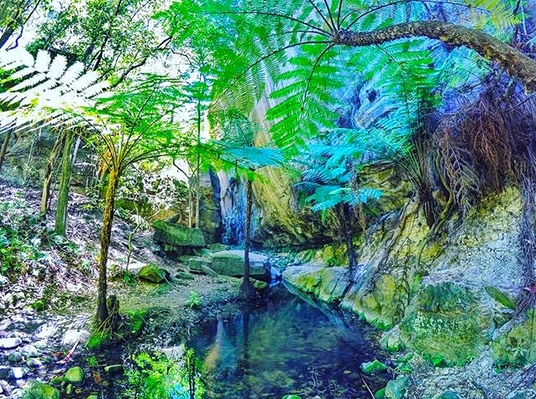 We were very sore at the end and wondered how we would manage the other walks the following day, but we did, and they were just as lovely. We finished our adventures at the Rock Pool where the kids all went for a swim and spent hours jumping off the large rock/cliff and into the cool water below.
We spent 3 nights and 4 days at Carnarvon Gorge and loved all of it (minus the sore feet!). We recommend taking your time and starting with the shorter walks! 😛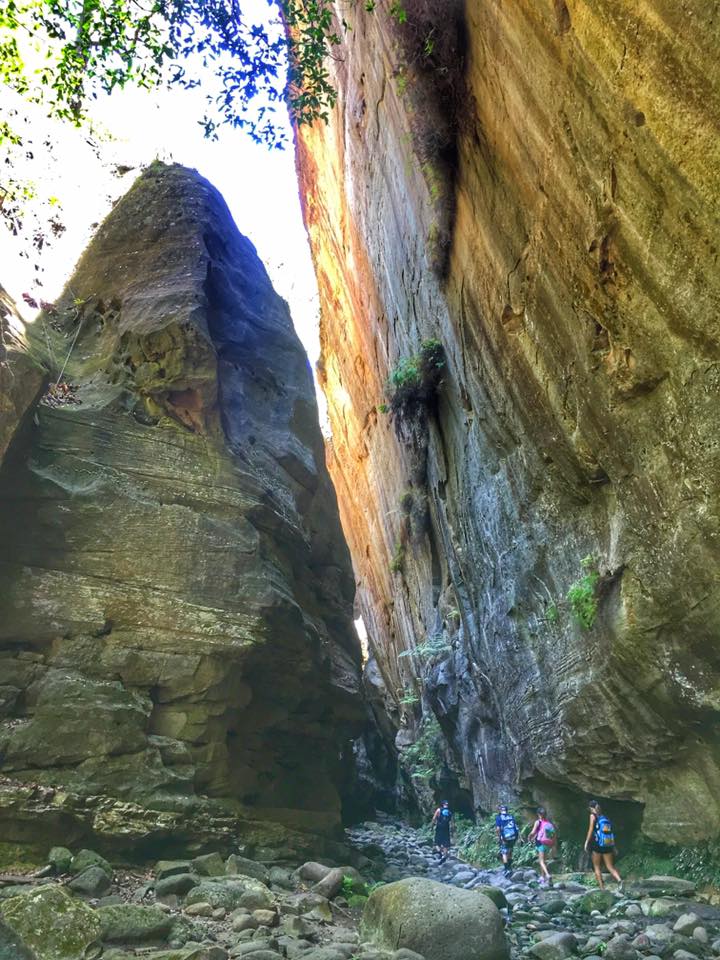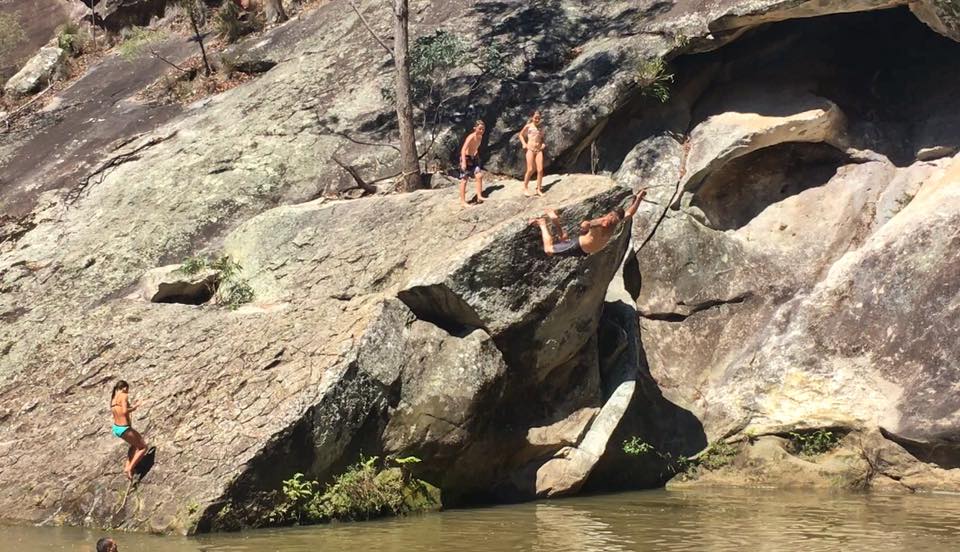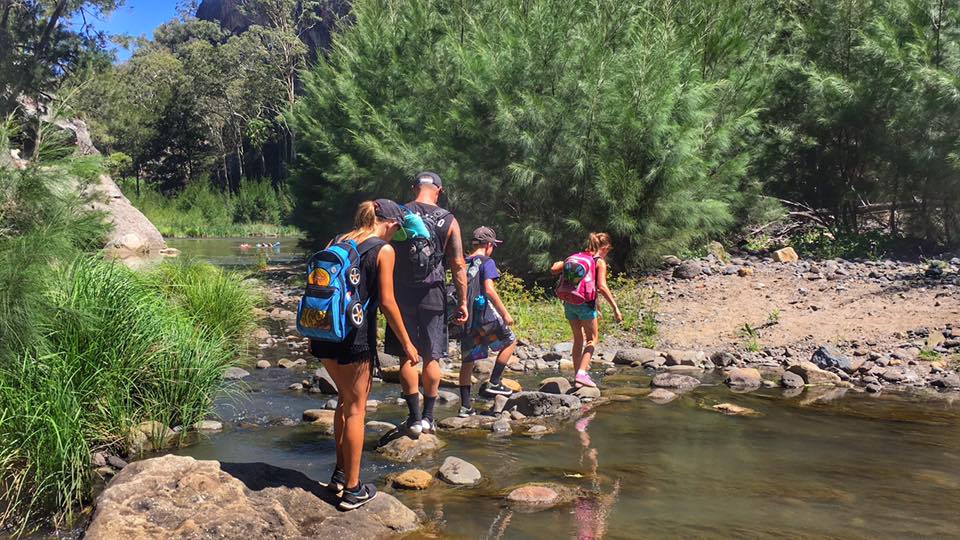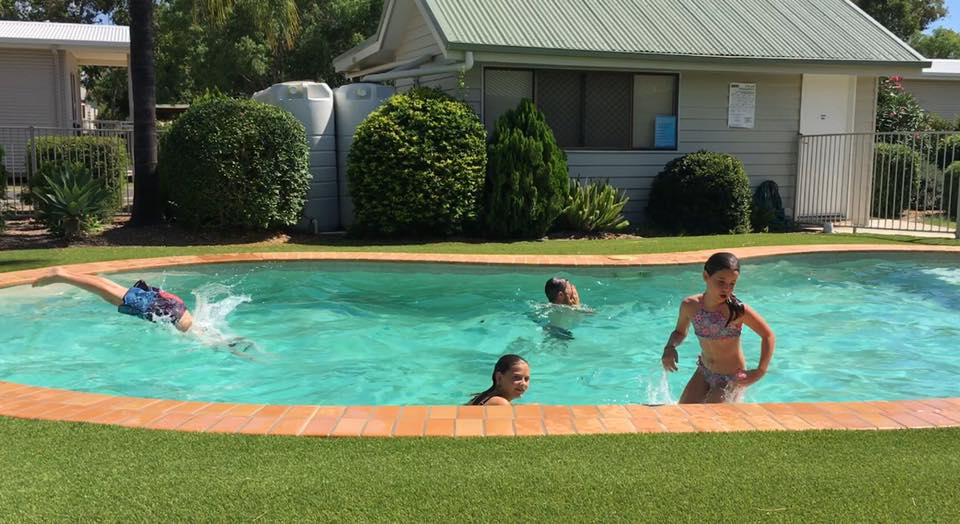 Chinchilla … where it was so hot it was either air con or pool! 39 degrees will do that for you 🙂
From there it was time to head home. We spent our last night at the Chinchilla Tourist Park in Chinchilla where the weather was scorching, and the swimming pool was cold.
This may have been our second trip up to Cairns, yet it was completely different to the year before, and we loved every second of it.
So many words and so many photos, 3 trips North and I still haven't seen all I want to see! I trust this has given you a tiny insight into this incredible part of our planet, and if you made it to the bottom of this post – well done!
Until next time,
Happy planning and safe travels,