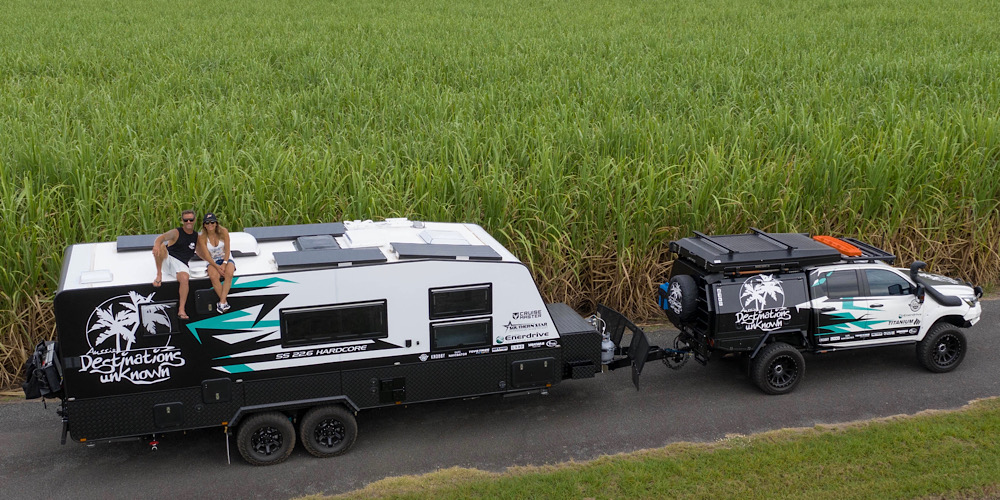 Watch our VAN TOUR Video here
I'd been waiting for this moment. Every time Chris's photos and videos arrived during the build process the excitement increased. Chris knew what to expect because he'd been to the factory. Watched the build happen. But despite the photos and videos, I was nervous. Very nervous. Was I expecting too much? What if… what if I didn't like it? I wiped sweaty palms on my shorts and tried to calm my flip-flopping tummy as Chris backed the Hilux into the Caravans Coffs Coast Dealership and on up to our brand-new Titanium SS Hardcore caravan. (Full list of caravan specs are at the end of this post)
*Please note that we have since upgraded our tow vehicle to a Chev Silverado 2500 .

They let me go in first. Alone. I was supposed to take some photos before everyone else came in, but I was so overwhelmed it took my breath away. All I could do for a few minutes was gaze around me at one of the most luxurious vans I have ever seen. And it was ours.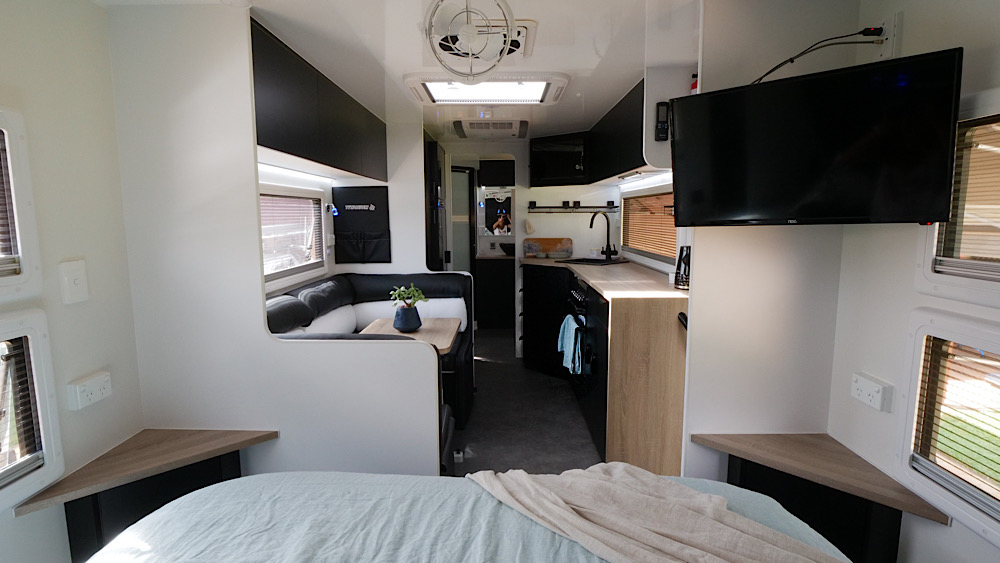 We've had our new caravan for almost three weeks, and I planned for this first post about it to be completely different to what you are reading!
You should be seeing epic video footage of us towing it along beautiful open roads, photos with stunning backdrops and words of excitement and wonder at how well it handles the different terrain, how easy it is to set up and pack up and how we love traveling in our new home away from home. That's not going to happen! I don't need to explain why.
The COVID-19/Corona Virus epidemic has turned all of our lives upside-down and we are scrambling to maintain some sort of normality while home under self-isolation. We are so grateful though to even have our new van parked in our driveway at home, and not stuck down in Coffs Harbour at the dealership!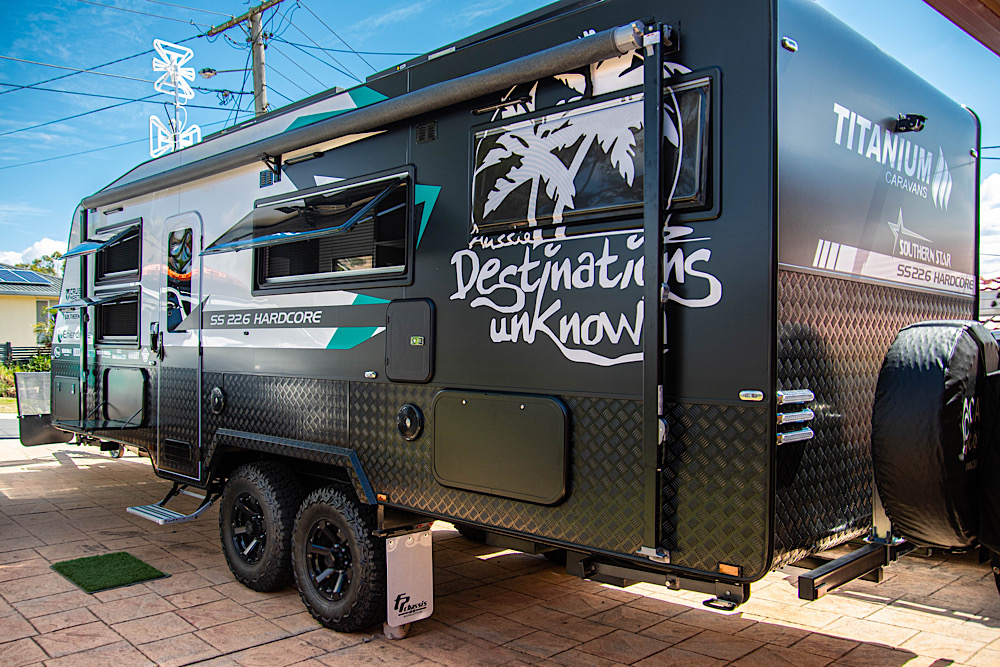 A few weeks ago, as the van was nearing the deadline for completion, the talk about closing borders and non-essential travel was being ramped up. We knew it was going to be close. We were due to collect the van on Friday March 27th but made a spur of the moment decision to head down to Caravans Coffs Coast in Coffs Harbour, New South Wales on the morning of Sunday the 23rd. 
The aim was to pick up the van and hightail it back home to Queensland as quickly as possible. This was the best decision we could have made. The borders were closed on Wednesday 26th at midnight. We made it back home with our new van in tow two days before the original pick up date and just 34 hours before the borders closed down indefinitely. Phew!!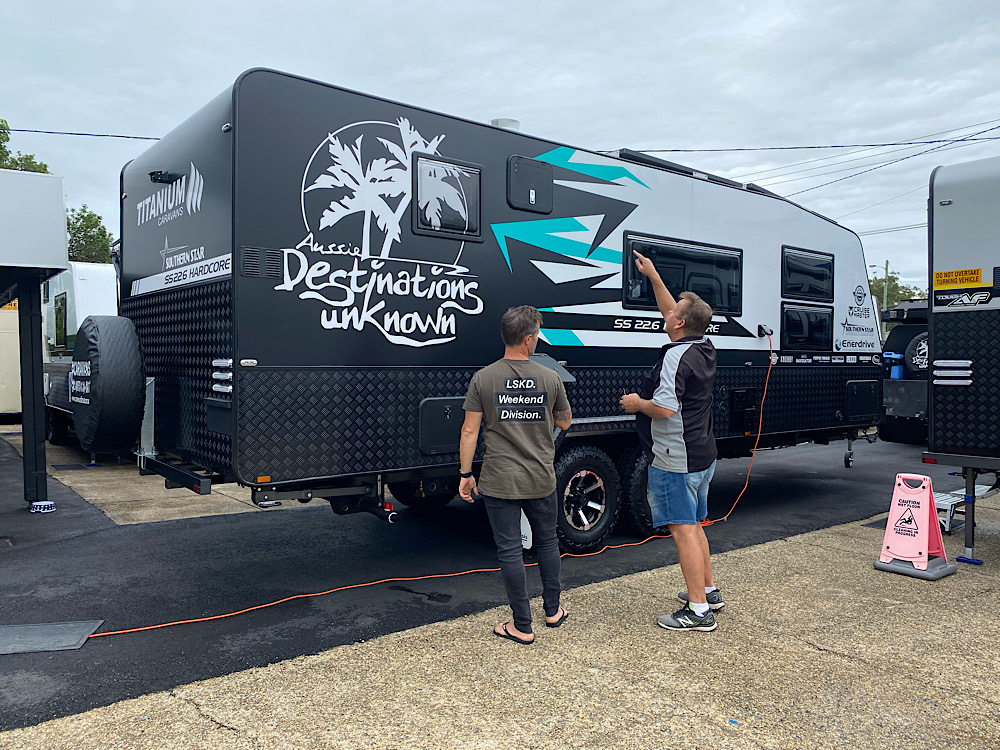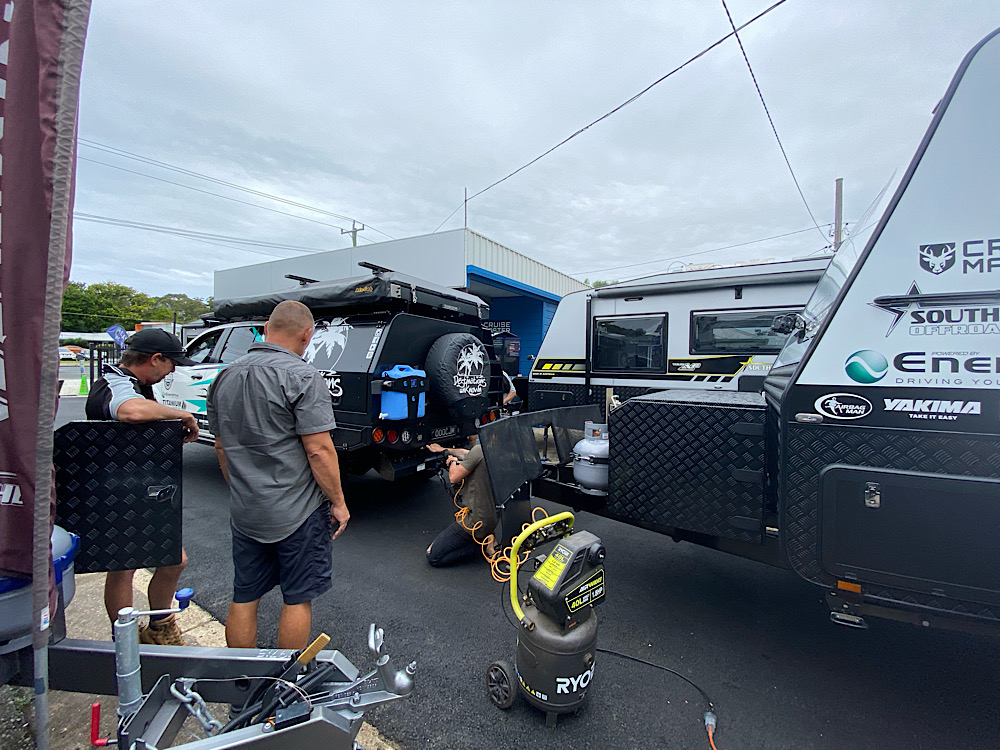 We were disappointed not to be able to stay in Coffs for a few nights to test out the van, and then meander home as originally planned. But you can imagine what a huge relief it was to pull into our driveway with our brand-new caravan. We knew full well if we had have left it until the original pick up date, we might not have had it with us for many months. Check out the video here: https://youtu.be/ozd81c1Vth8
We've used these past few weeks of self-isolation to add our personal touches and we are so happy with everything about it.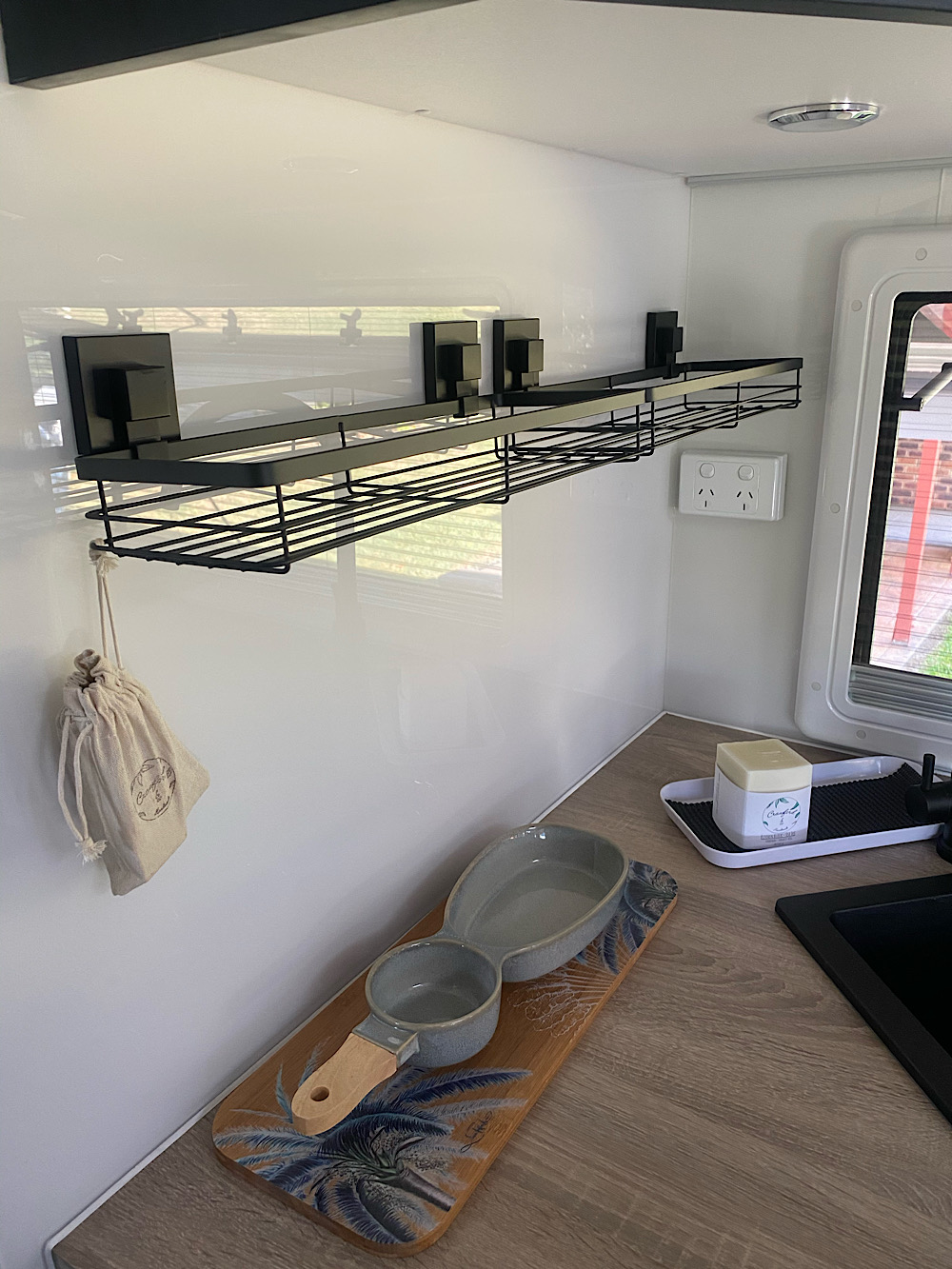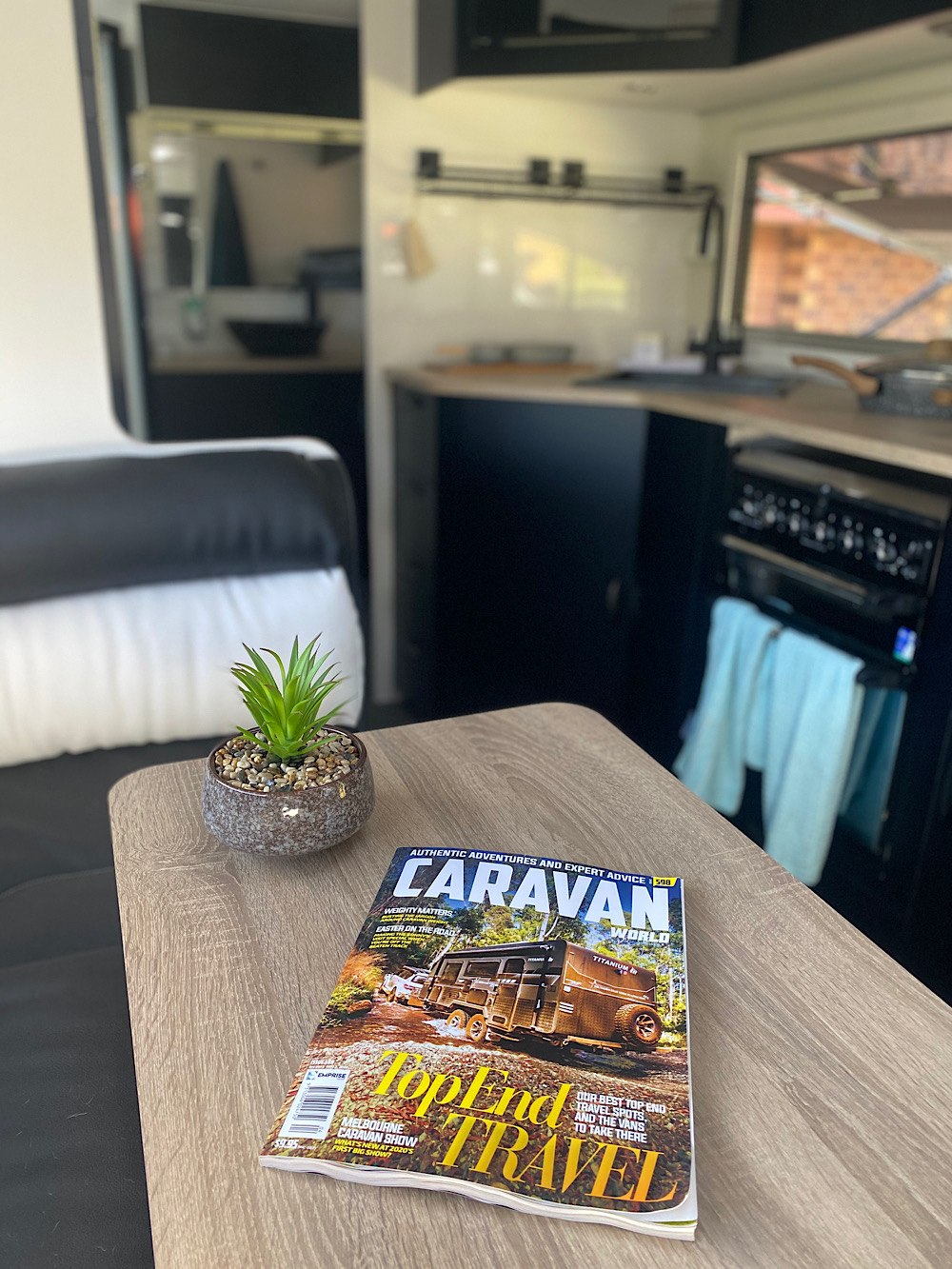 The whole process from deciding to purchase this van right through until pick up has been incredible. The team at Titanium Caravans down in Epping, Victoria has produced our dream caravan. It well and truly exceeds our expectations.  The guys at Caravans Coffs Coast were wonderful to deal with too, making the entire process an absolute pleasure.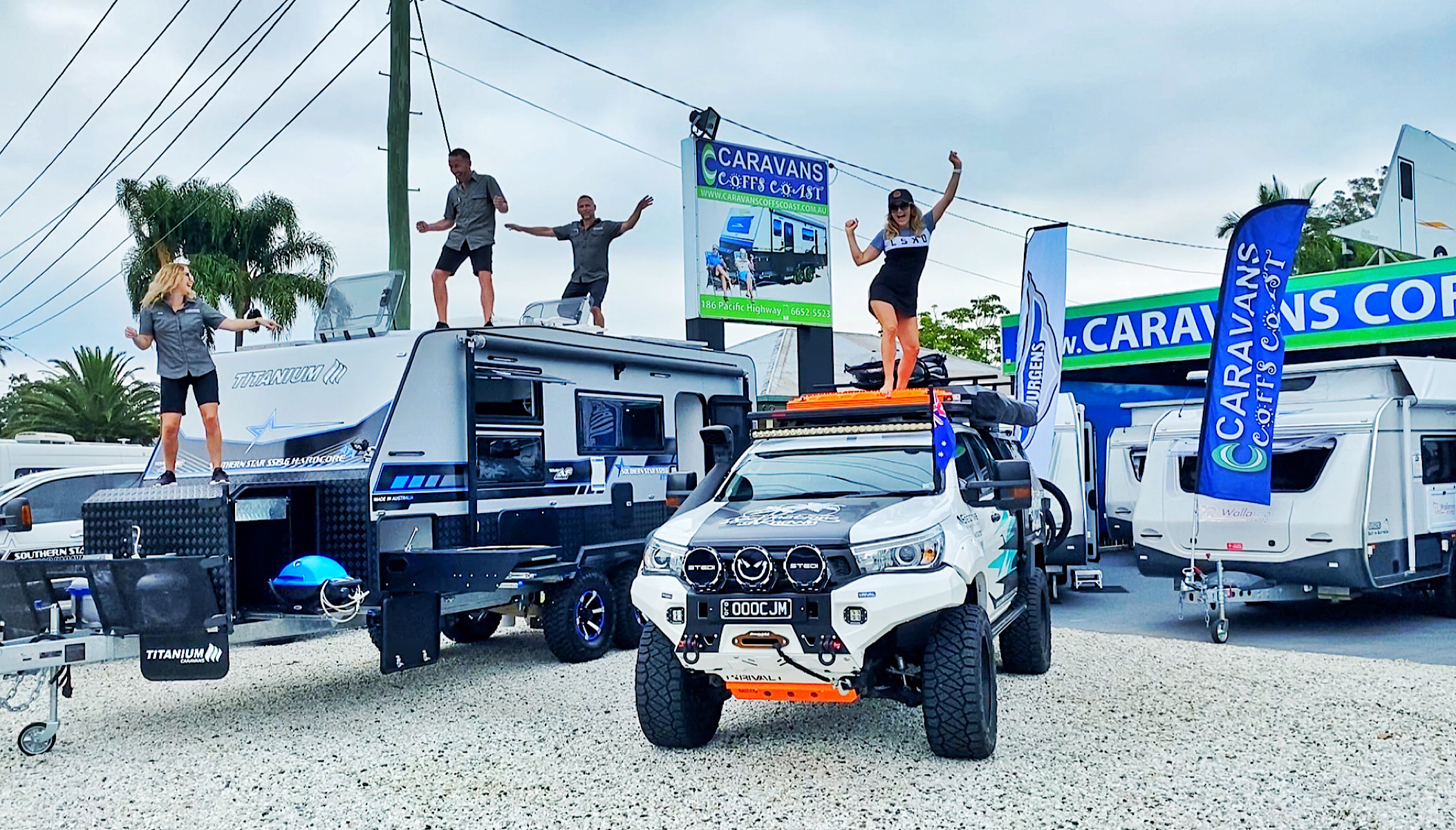 How did we decide on a Titanium van? Well from the very first phone call there was a sense of rightness about our decision. This was confirmed during our first visit to the Titanium factory. We got to meet the team and see the 'well-oiled machine' in action and we also had the pleasure of being shown through the FP Chassis factory.
When it comes to the build of this van, we are fortunate to have partnered with some amazing and very talented people. We got to go behind the scenes; to see how many of the components are put together. Read about our tour through the Cruisemaster Factory Here and watch our Titanium and FP Chassis tour here.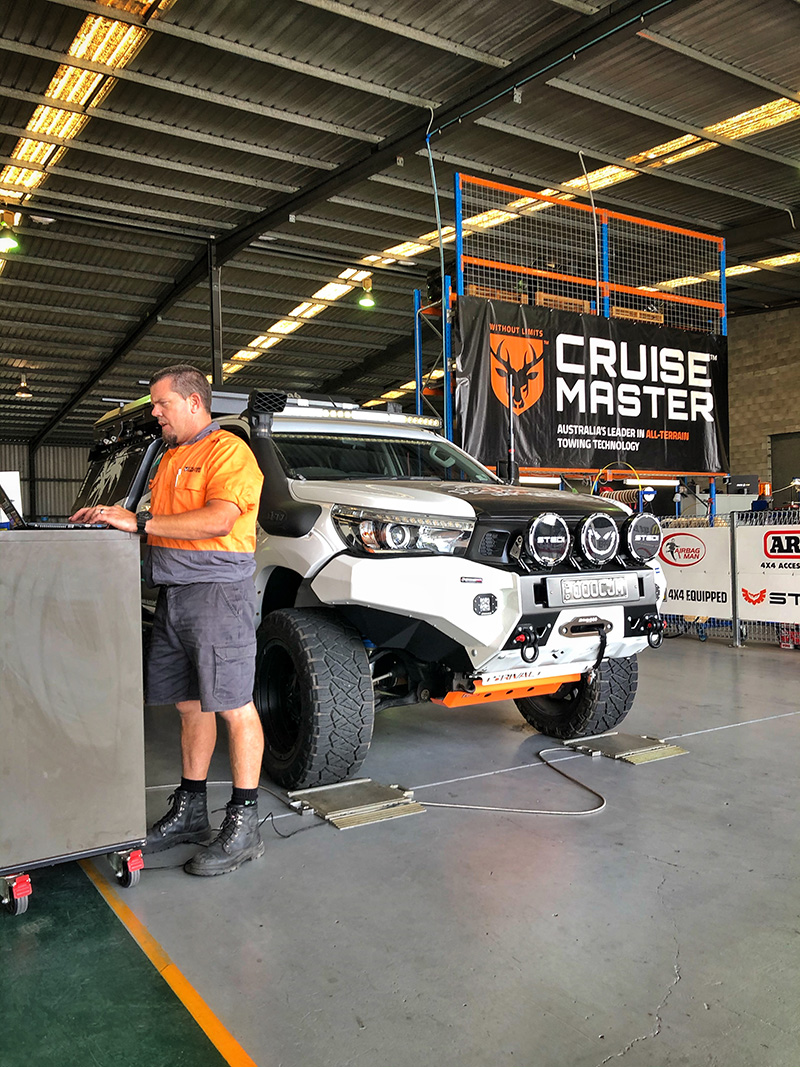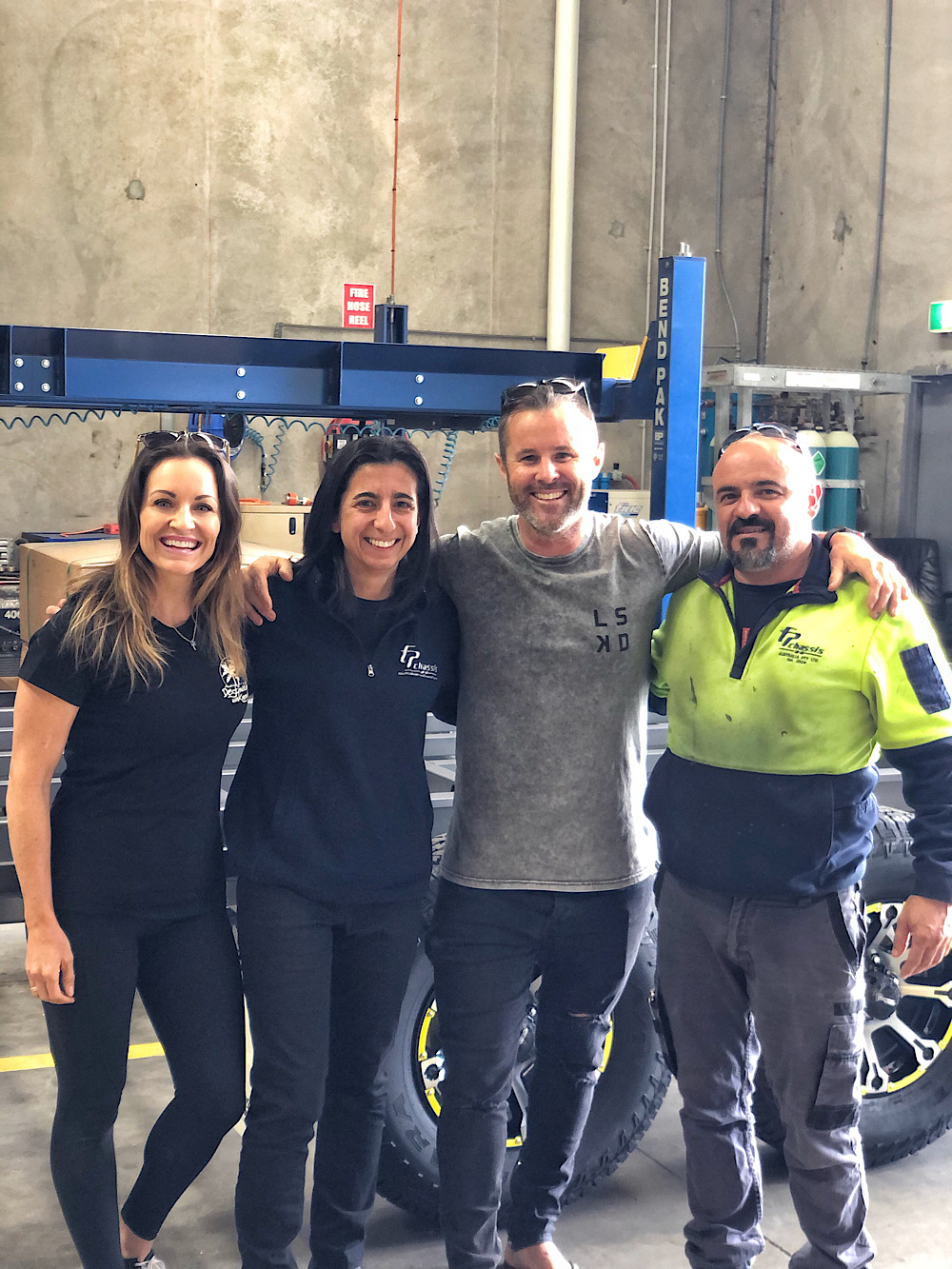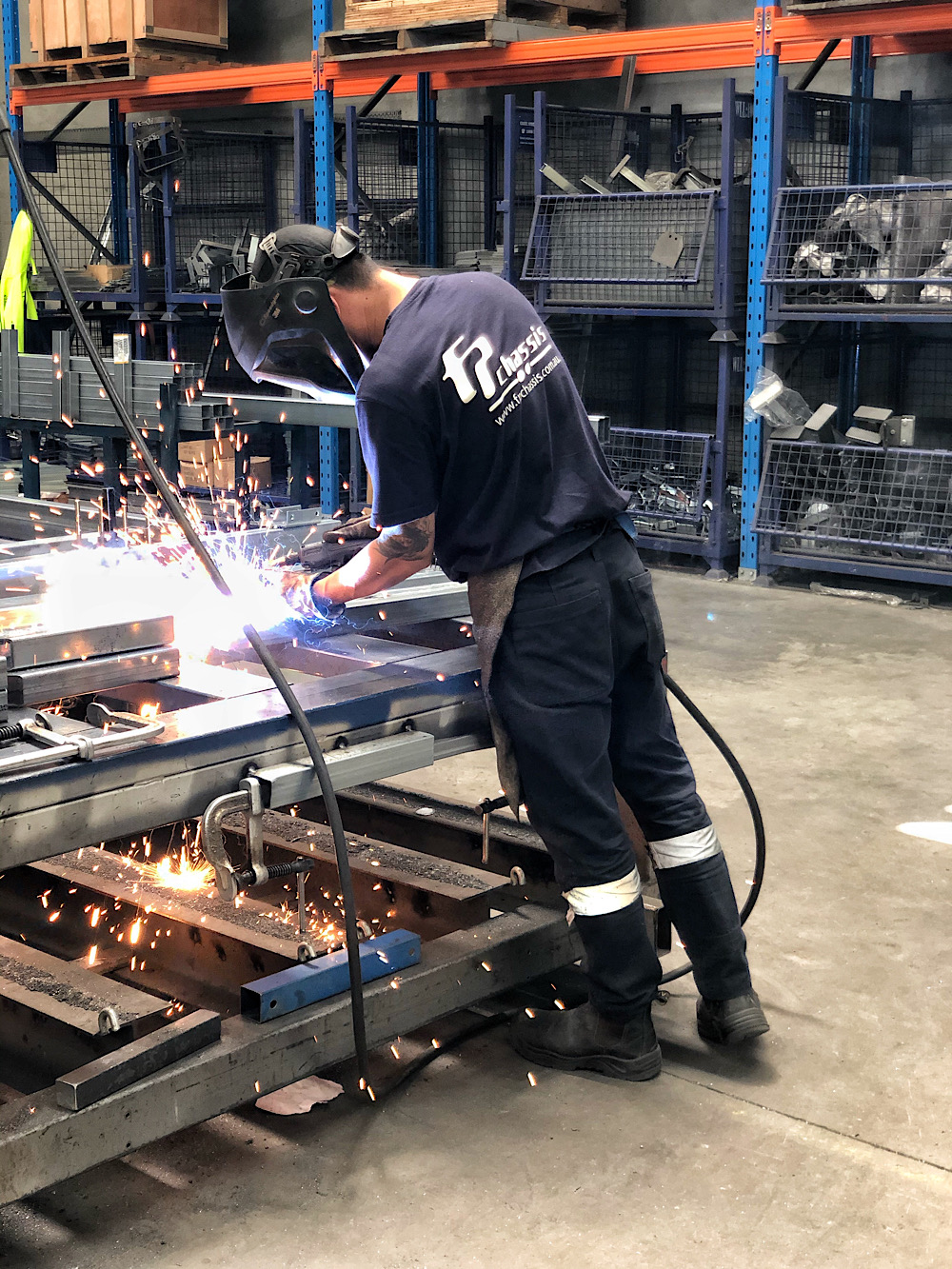 We are sticklers for top quality products, and we have nothing but the best on top of, underneath, inside and outside this van! 
The design process began with us explaining what we wanted, what we needed and why. Then the experts set about explaining what they thought we needed and why and together we have come up with our perfect van. 
The obvious choice for us was the Titanium Southern Star Hardcore and we decided on another 22.6" – this is our third van of this length. We are at a (wonderful) time in our lives where our kids are older and have decided they don't want to join us much anymore, so we didn't have to factor bunks into the floor plan. Do you know how much space you get when you take them out of the picture? Wow – what a difference!
We have been able to add a spacious ensuite with large shower, washing machine, huge window and lots of bench space with heaps of USB's and charging points for all of our camera gear. We have my dream angled kitchen with large bench and lots of cupboards that can fit my Thermomix, thermal cooker and Airfryer (so much YAY!) plus a large pantry and huge 224L fridge. And don't worry – we haven't written the kids off entirely …  if they decide they want to tag along, we can fit two in the rooftop tent and the huge club lounge converts into a bed.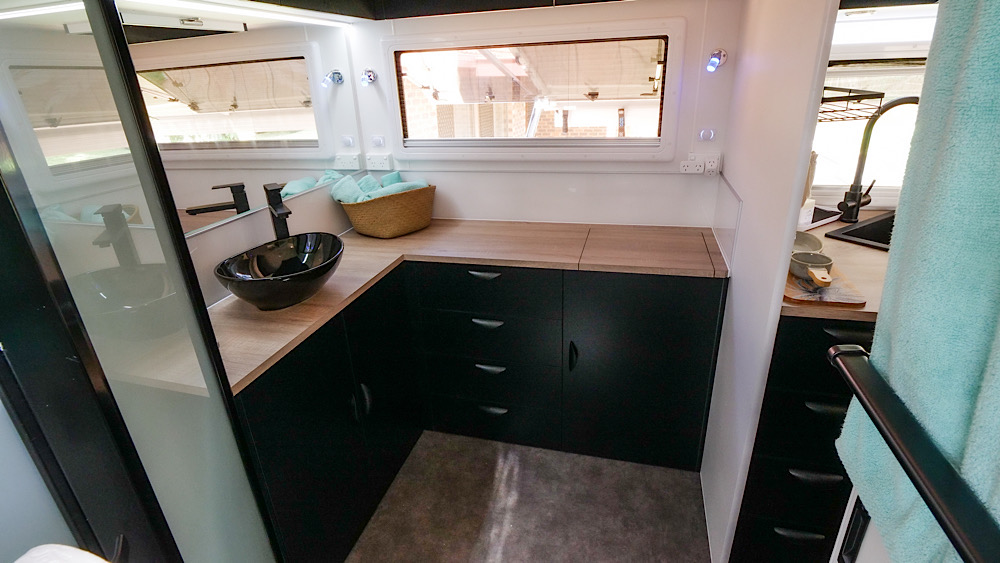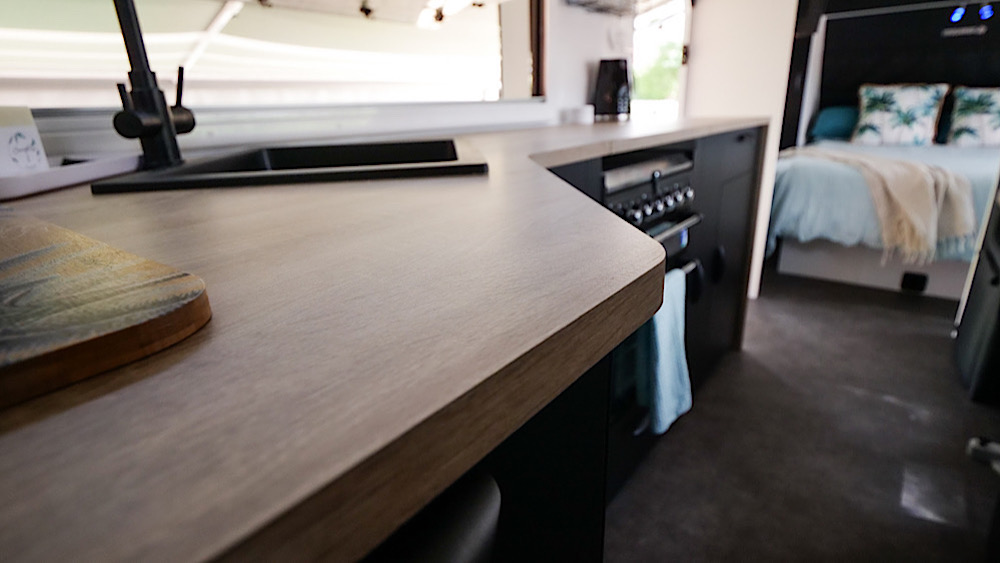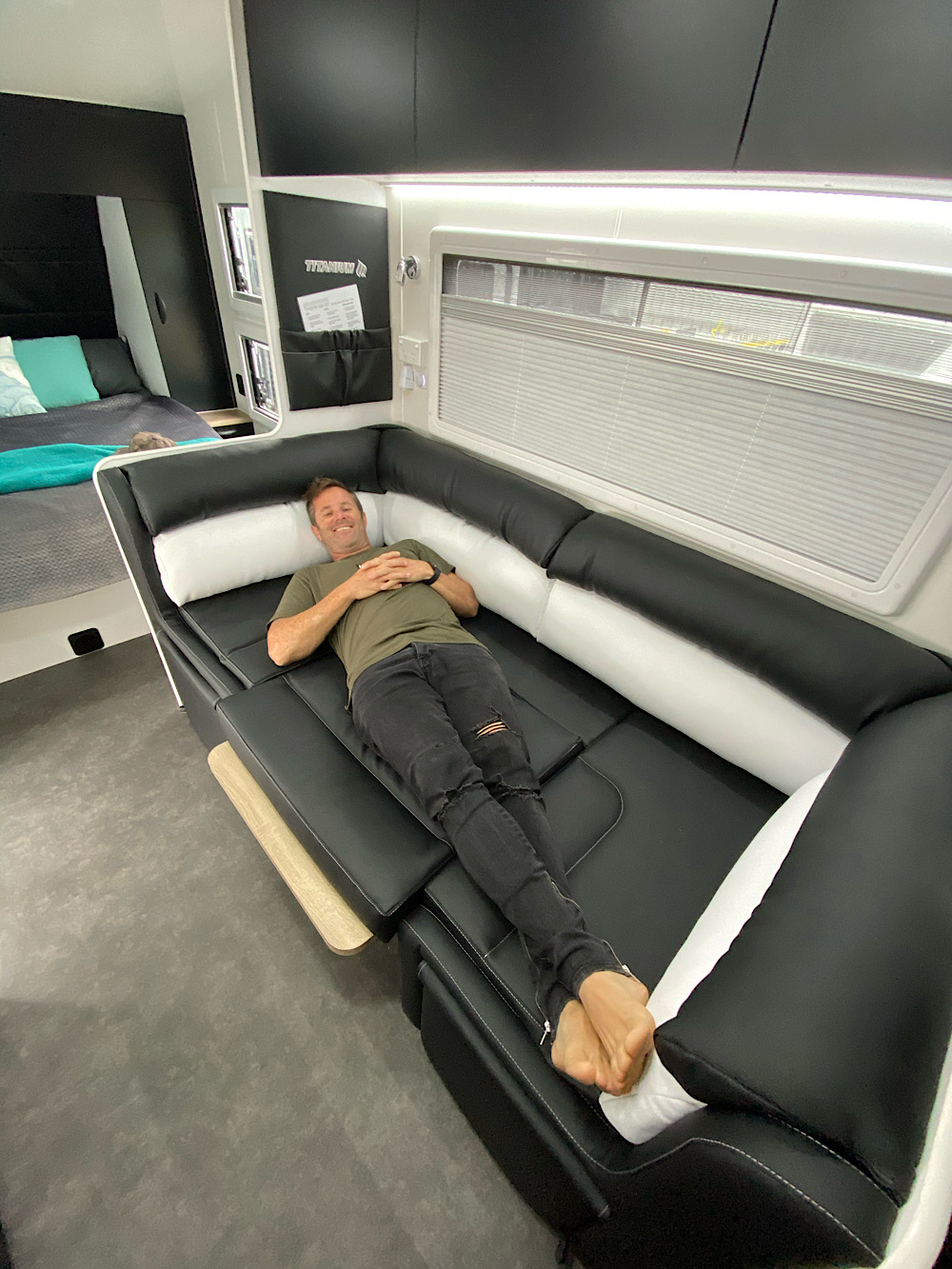 The interior came about after plenty of discussions and looking at samples with the experts, comparing what we've had in previous vans, what we wanted in this van and figuring out how we could make it unique to us.
It was incredible to sit with Phil in the design room and watch the layout changing before our eyes as he manipulated the CAD plans on the screen as we suggested what we'd like. 'Need a cupboard to fit your Airfryer? No worries! Let's make this a little wider to match the measurements and tada!' This man brought a smile to my face more than once, that's for sure.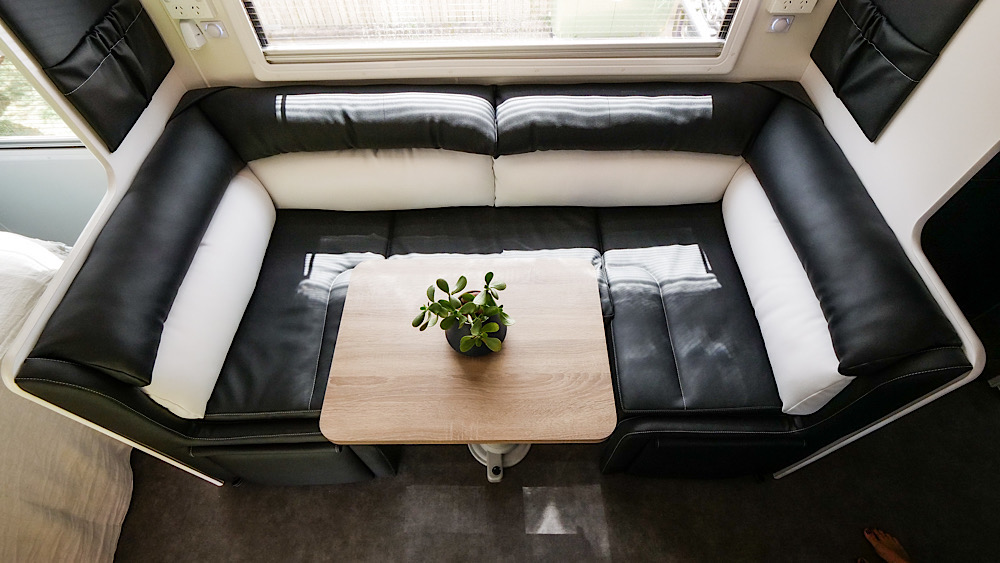 The two toned black and white club lounge, beautiful ensuite, embroidered bed head with full length pocket and the waterfall benchtop in the kitchen are just a few of the ADU touches we added and are so pleased with.
The quality of the build both inside and out is what really took my breath away. The upholstery, cabinetry and finishing are all flawless and I still find myself sitting on the lounge with the footrest up, just admiring and appreciating.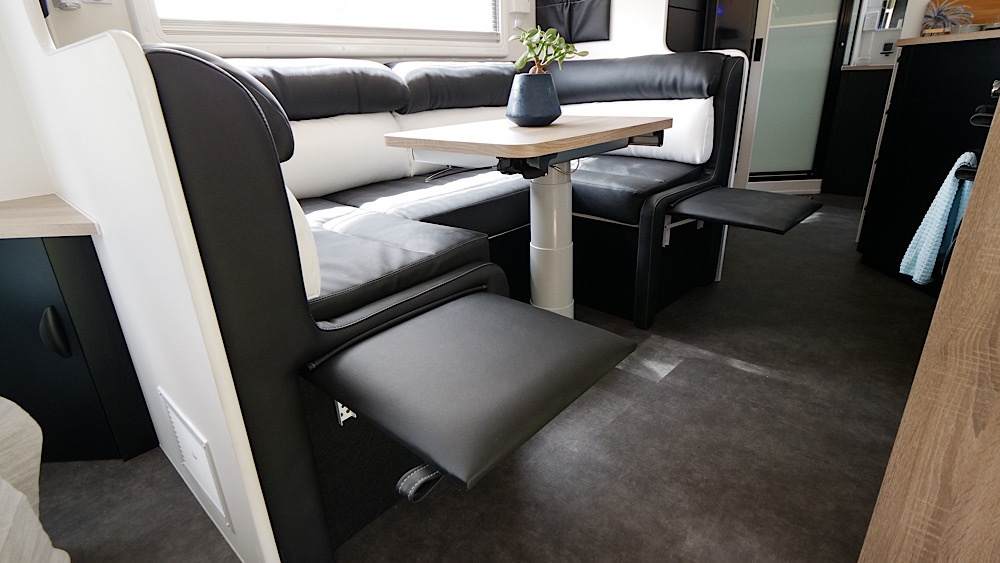 This is a full off-road van that is set up for complete off grid living which again makes me smile from deep in my soul. It's great to know that if this world gets any more chaotic and we have to live in our van, we will be able to do so quite comfortably. The Enerdrive battery system gives us the power we need to run not just the lighting but also the air conditioner, microwave and even my hair dryer and straightener if need be – all without plugging into mains power! Our roof is covered with 4 huge solar panels that pump the power back into the batteries pretty quickly and the car also helps to top them up if necessary.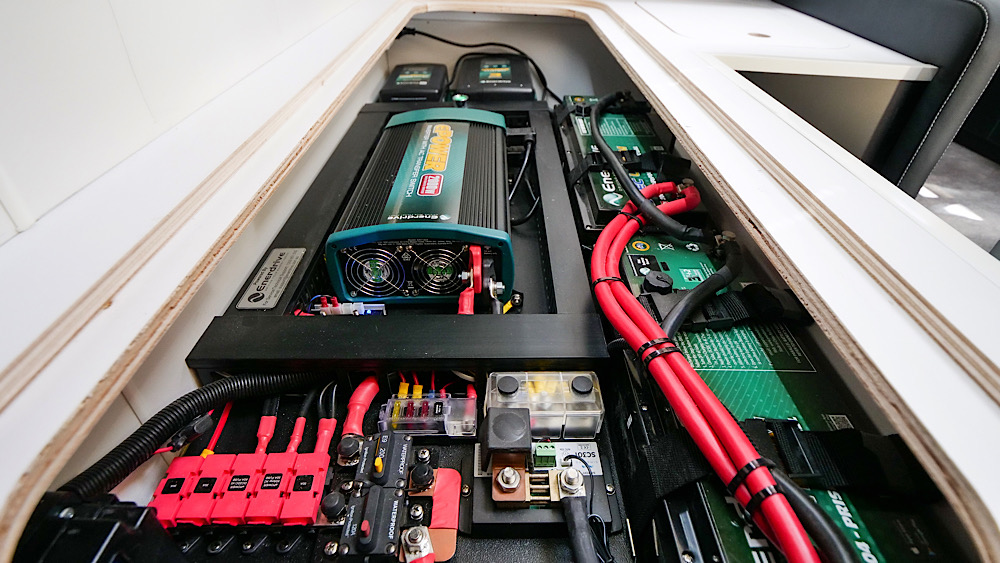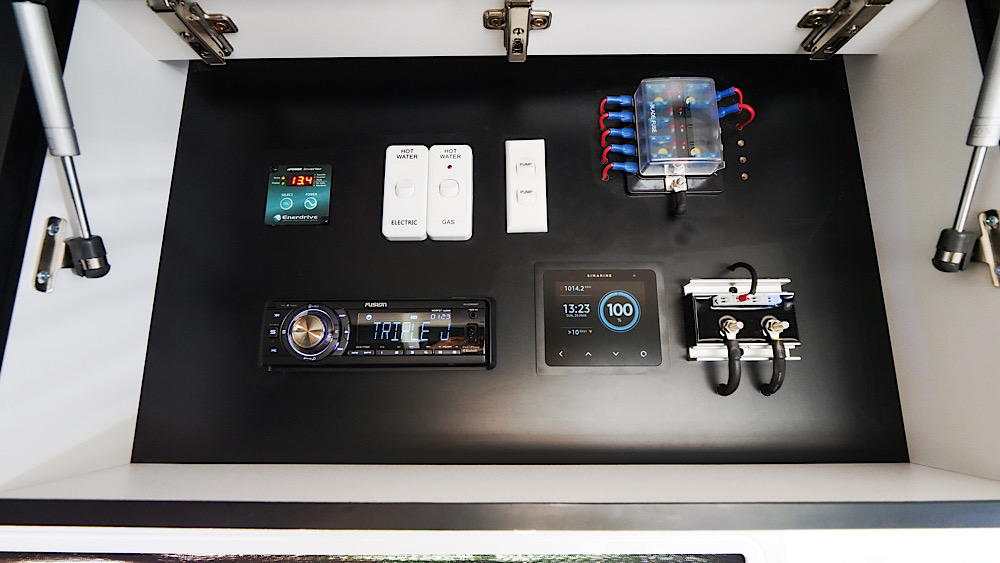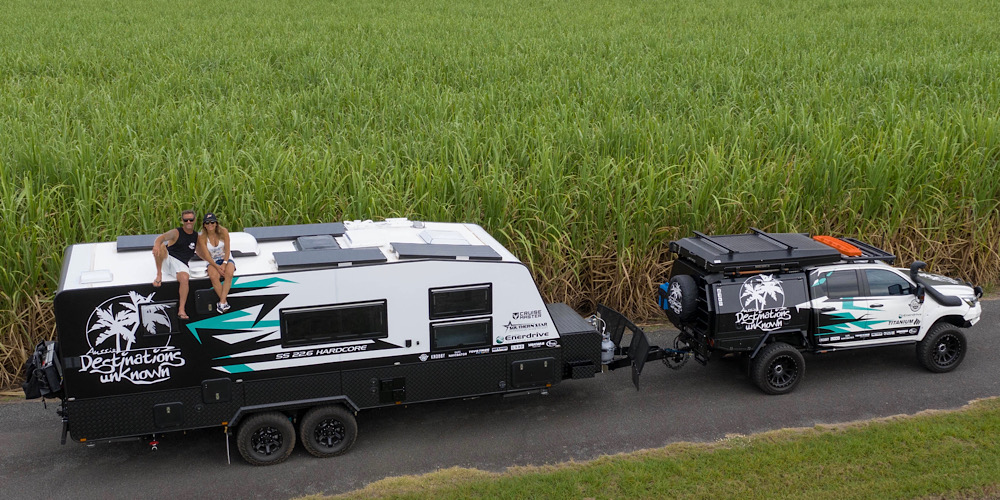 What's under the van makes it more capable than any van we've had before … and I'm so excited to test this out! I mean, if we managed to get the Jayco Starcraft across Middle Track to the surf side of Moreton Island, imagine where this van can take us!
Our SS Hardcore sits well behind our heavily modified Hilux and tows like a dream, even without distribution bars, due to the Cruisemaster Suspension in our custom colour, ADU Teal.  It's a 'tough' looking van with adjustable clearance thanks to the airbag suspension from Airbag Man. (watch our Hilux Bagged Build video here: https://youtu.be/JhqQ_CDtpik)
I love that we don't have to find even ground anymore, and that with the push of a button on the remote control, we can level out the van.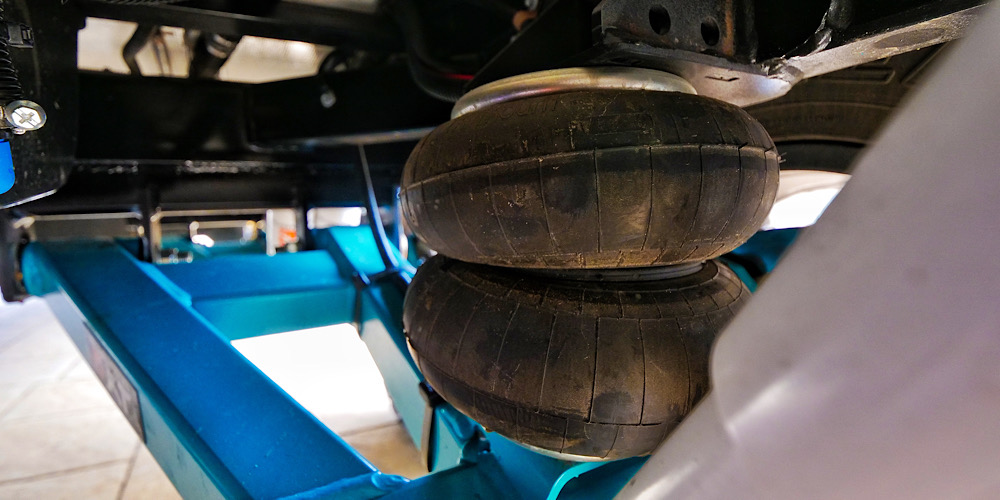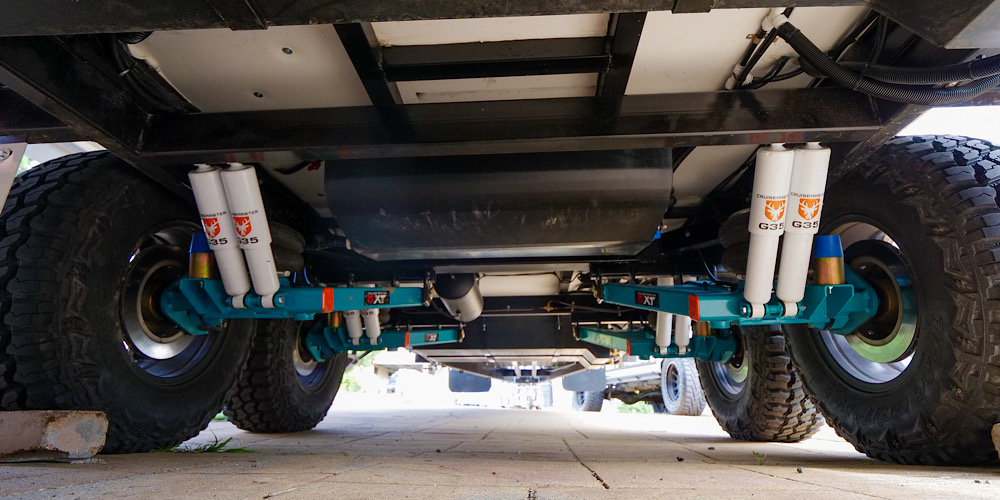 I'm really looking forward to returning to the Outback and testing out the Carafan system that sits proudly in the roof, right by the door as you walk in. This is a pressurising system that pumps the van so full of air that dust can't possibly get in.
And the beauty of this system is that it works even when the van has slowed to let the trucks fly past or even when you are at a complete standstill. This sure would have been handy for our Big Red Bash adventure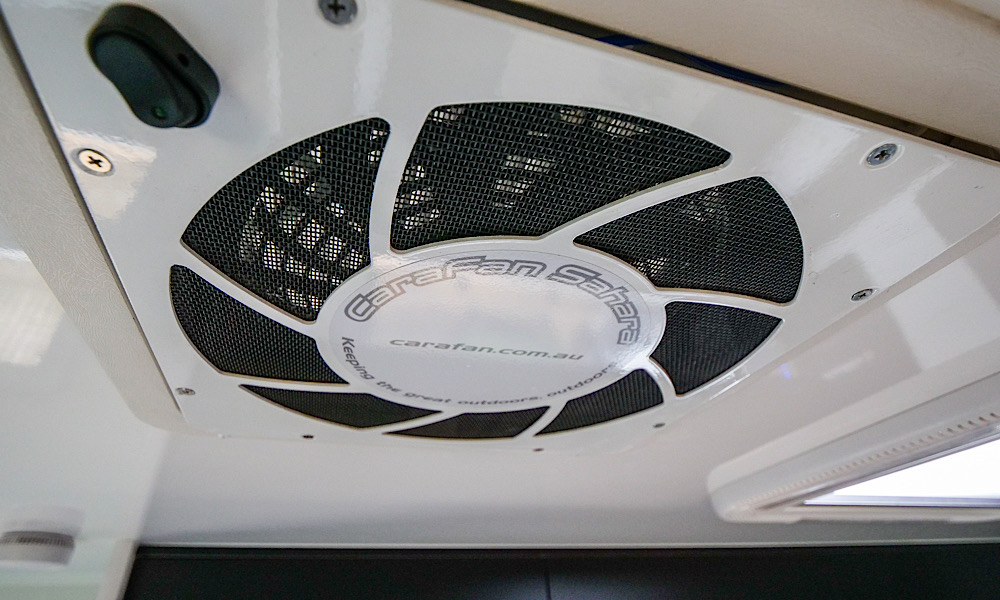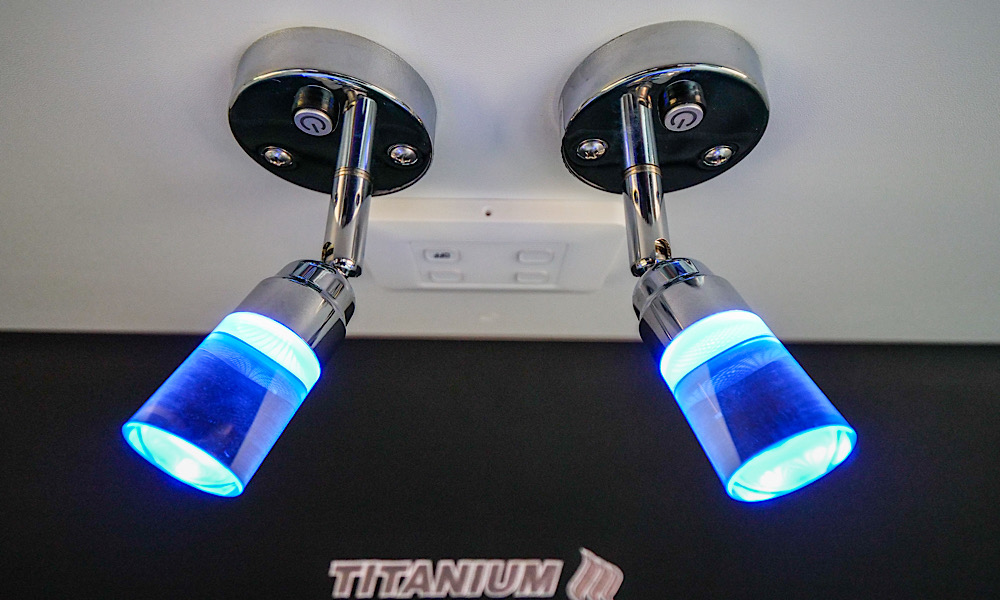 The full-size fridge is big enough for all the fresh food I love to prepare before we head off and while we are on the road. The pantry is perfect for storing all the hard to find ingredients I bring along with us and the full oven and slide out kitchen plus room for all my appliances, all allow me to indulge my love of healthy cooking while we are away. This was very high up on the list when we were looking for our dream van. The slide out kitchen was a last minute addition that we absolutely love. This is Chris's domain … he cooks and cleans out here. Gotta love that!
Another thing that was right up there for me was the option of having the inside lighting change to blue at night. I know most people wouldn't think twice about this, but I love being able to dim the lights before bed to calm the mind before sleep, and if I need to turn the lights on in the middle of the night, I can do so without waking the brain up entirely.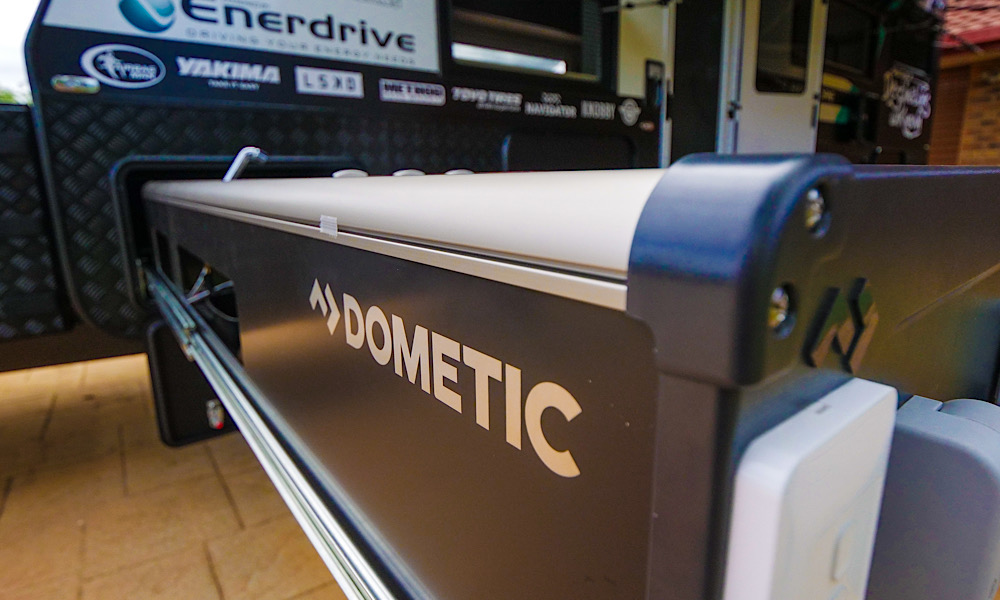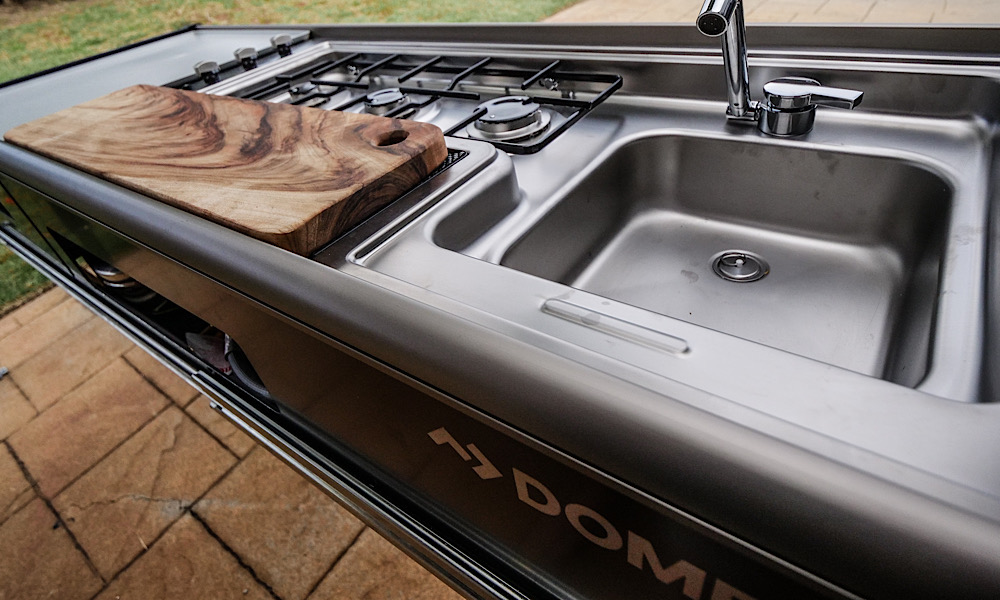 Something that wasn't on my list until it was already on the van was the lighting underneath the van. I'm so surprised that Chris added this and so happy that he did! I had no idea you could get rocklights that danced to music and changed colour just by sliding your finger across an app on your phone! This is the coolest thing and I spend many a night sitting on our Navigator Chairs outside the van just watching these lights. It's kind of like a tropical fish tank, if you know what I mean? lol.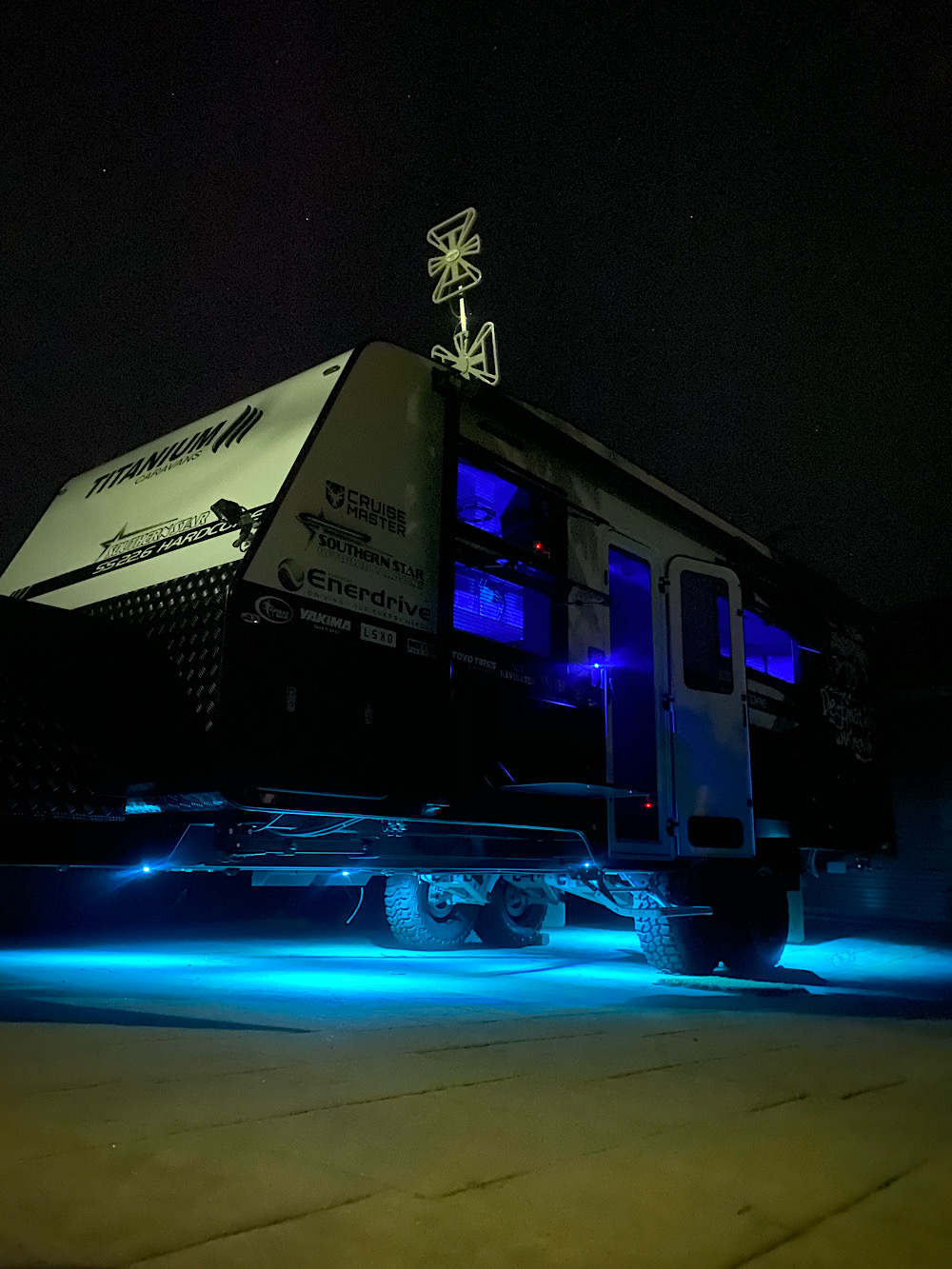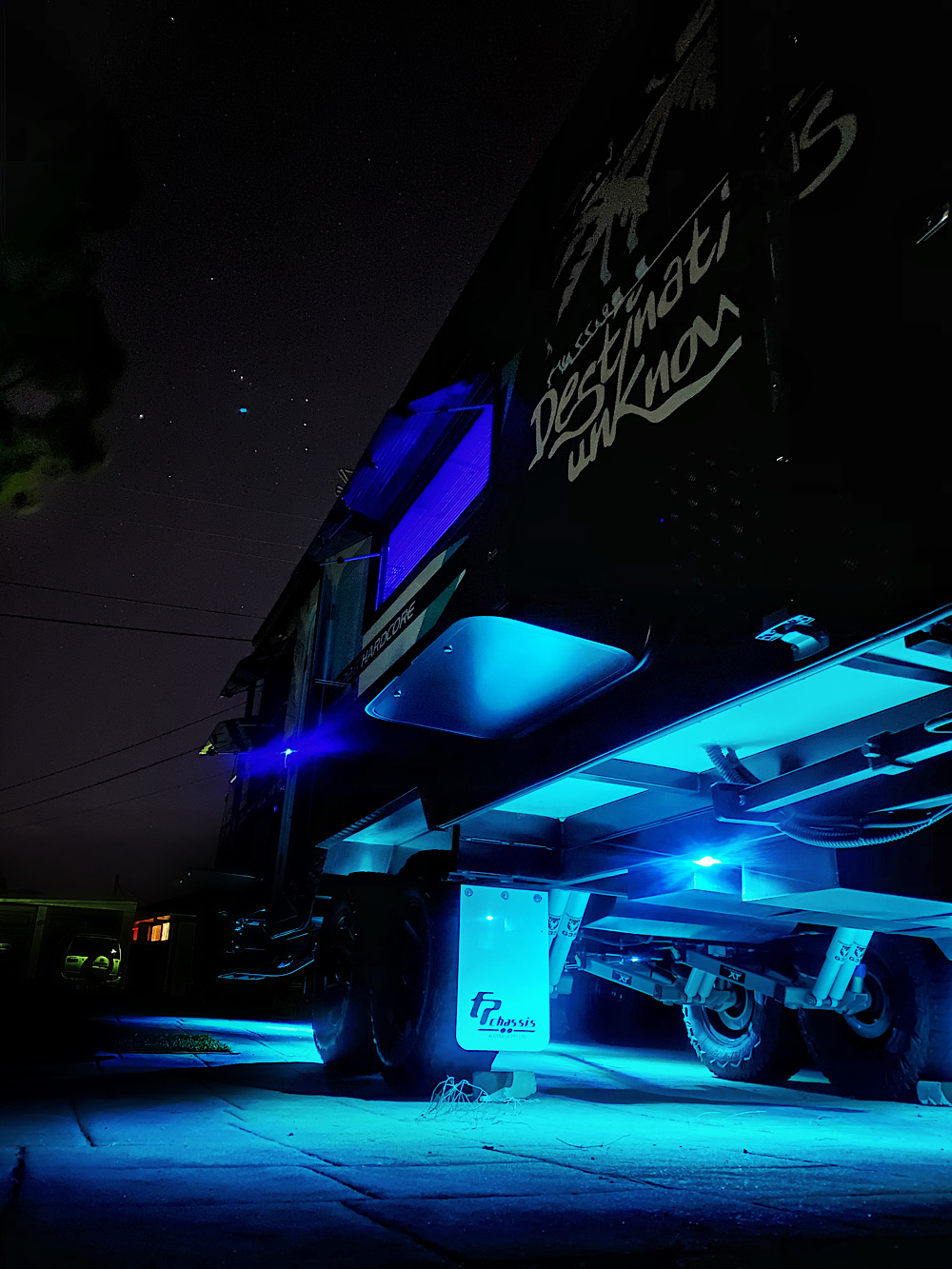 In summary this van is beautifully aggressive, luxuriously tough and exactly what we want and need in a van and we can't thank enough everyone who has helped bring our dreams to life. Now we just need to get it out of the driveway and off adventuring around Australia like it was built to do.
Here are the specs if you'd like to know exactly what went into our Titanium Southern Star Hardcore. Links to purchase items available on caravan rv camping are next to those items.
CHASSIS
4400ATM – 2960 TARE
Tandem axle, 16" Boss IV Rims (Satin black and modified by Chris)
265/75/16 M/T Tyres
3 Arm Bumper
DO45 Coupling
Galvanized Wheel Box
4" Raiser
Drop Legs
Single Alloy Step
Stone Deflector
4" Chassis
6" A Frame
Trail-a-mate Jockey Wheel
Mud Flaps
1 x grey water tank
Black Chassis (option)
Toolbox on A Frame with 1 x Jerry Can Holder (option)
XT Airbag Suspension 3 Wireless Suspension 6 Stud (option)
Disc Brakes (option)
3 x 85ltr Poly Water Tanks (option)
1 x 65lt Poly Water Tank between axles (option)
EXTERNAL
INTERNAL
APPLIANCES
INTERNAL
Sliding Door to Ensuite
Slatted Bed Base
6'2" Pillow Top Mattress
Fire Extinguisher
Toilet Roll Holder
Piano Hinges on all Doors
Metal Sided Drawers
Grab Handle at Entry
Footrests to Club Lounge
Large Ensuite Mirror
Nooks in Robes
Corner Cupboard standard height
Soft close drawers throughout
Black Towel Rails (option)
Full Height Pantry (option)
ELECTRICAL
Enerdrive Lithium Battery System
2 x Lights in Tunnel Boot
12v and 240v External Plug
12 Pin Flat Car Plug
LED Reading Lights
Radio Antenna
TV Inlet/Outelt
Smoke Detector
2 x Internal Speakers
Bargman Handle Light
LED Light over vanity/sink
LED Tail Lights
USB Point at Table
Sirocco Fan in Bedroom
Annex Light x 2 Anti Dazzle with Sensors (option)
240v / 2 x USB Points in Nooks (option)
Flush Mounts USB (option)
Dual Lense Reverse Camera
Rock Lights Under Walls (option)
External Speakers (option)
Blue Light Option on Ceiling and Reading Lights (option)
Light Over Slide Out Kitchen
PLUMBING
Gas/Elec Hot Water System
Frosted Shower Door
Thetford Toilet
Lockable Water Filler
Gas Bayonet
Tap on A Frame
Water Level Gauge
Black Kitchen Sink (option)
Corner Fibreglass Shower with Glass Sides (option)
Black Flick Mixer Taps (option)
Black Shower Rose (option)
Dometic Slide Out Kitchen Plumbed with Hot and Cold Water (option)
Gas Heater(option)
2 x 12v Water Pumps (option)
Black Ceramic Vanity (Ensuite) (option)
COLOURS
Wall Ply: White Leather Grain
Floor: VTX-596 ODIN
Fridge: Black
Black Drawer/Door Handles
Bench Top Laminex: Grey Bardolino H1146 ST10
Splash Back: Arctic
J Mould: Black
Cladding: White
Awning Hardware: Black
Tunnel Boot Doors: Black
Chequer Plate: Black
All External Accessories: Black
Hidden Catches on Overhead Doors (option)
Base Doors: Razor Black Door Handles (option)
Upholstery: Two Tone Volcano and Glacier (option)
OHC: White Furniture/Black Cupboards (option)
Bottom Cupboards: Black Furniture/Black Cupboards (option)
Full Height Bed Head with Embroidered Logo (option)
Magazine Pouches Either Side of Club Lounge and Door (option)
Watch our VAN TOUR Video here