FUNdraise for Farmers 2018 was a huge success and we are so humbled by everyone who pulled together to help make one of our dreams become a reality.
A recent trip to Birdsville was the catalyst for the idea to put together a family friendly outback themed camping weekend to raise money for our struggling Aussie farmers. We saw, first hand, the devastation wreaked by the ongoing drought that we are facing not only here in QLD, but across Australia, and wanted to do something to help.
We spent quite some time researching what was the best way to ensure the funds went straight where they should, without anybody taking a cut of the profit on the way. We found out some shocking truths about 'fundraising' and settled on the Burrumbuttock Hayrunners – volunteers who deliver donated hay across Australia. Each time they do a run it's a mammoth task and costs an unbelievable amount of money. Our funds are deposited directly to the Rotary Club of Sydney who give it straight to the Haryrunners with no fees or money deducted.
This year we have managed to raise $7830 which we are really proud of.

Within an hour of making the decision to take on this somewhat daunting yet very exciting task, we came up with the name FUNdraise for Farmers, made sure the hashtag was available, and Chris designed our logo.

From there it was simply asking people we knew if they'd like to jump on board, and I honestly can't think of many people who said no. Bigriggen was our first and only choice for location and they were keen to get involved straight away.
Bigriggen is one of our favourite camping parks, filled with shaded grassy areas, a beautiful swimming hole and flowing creek/river. Since the Eberle's took over about 7 months ago, they have completely transformed the park into a camping oasis and it's evident how much pride they take in what they do.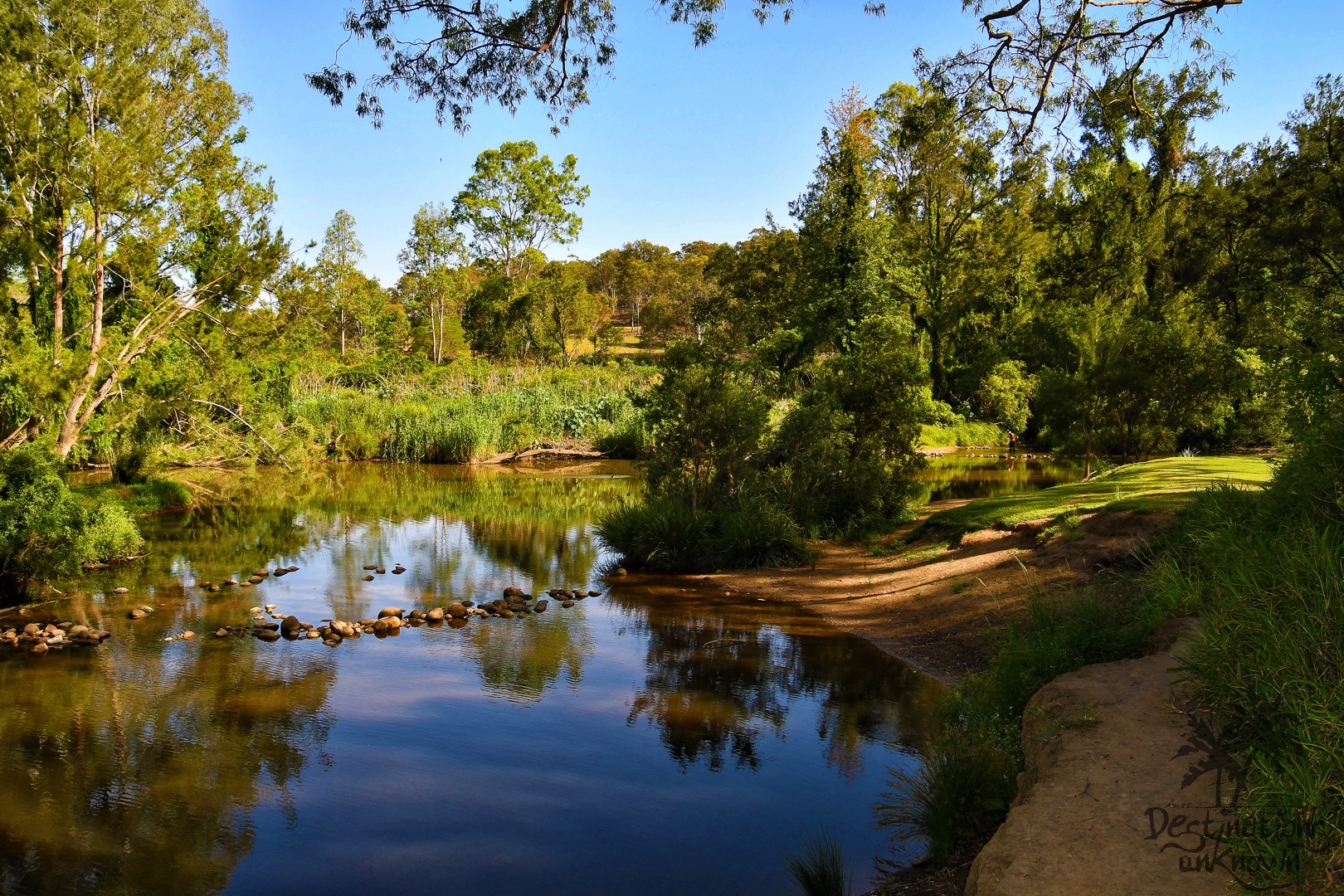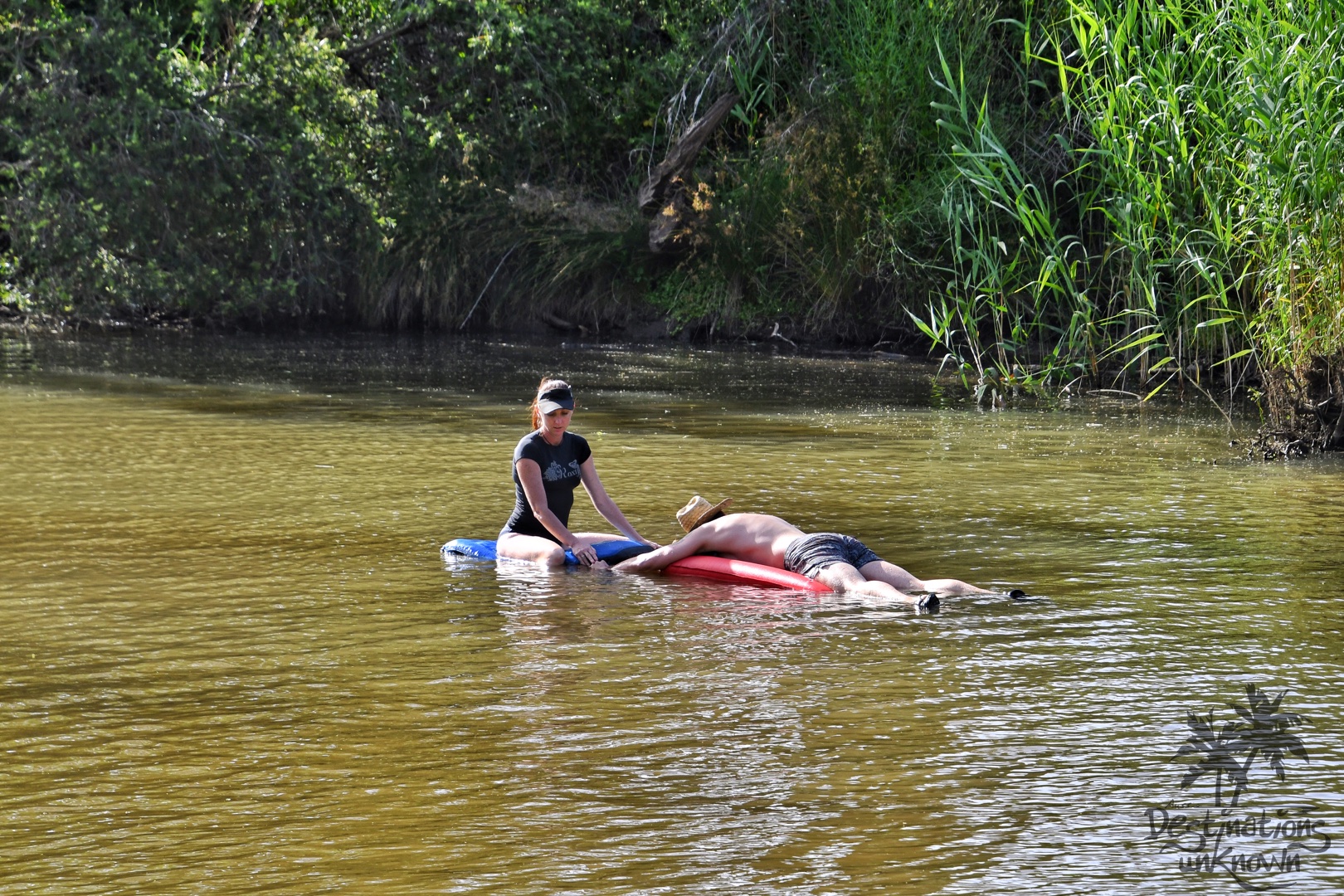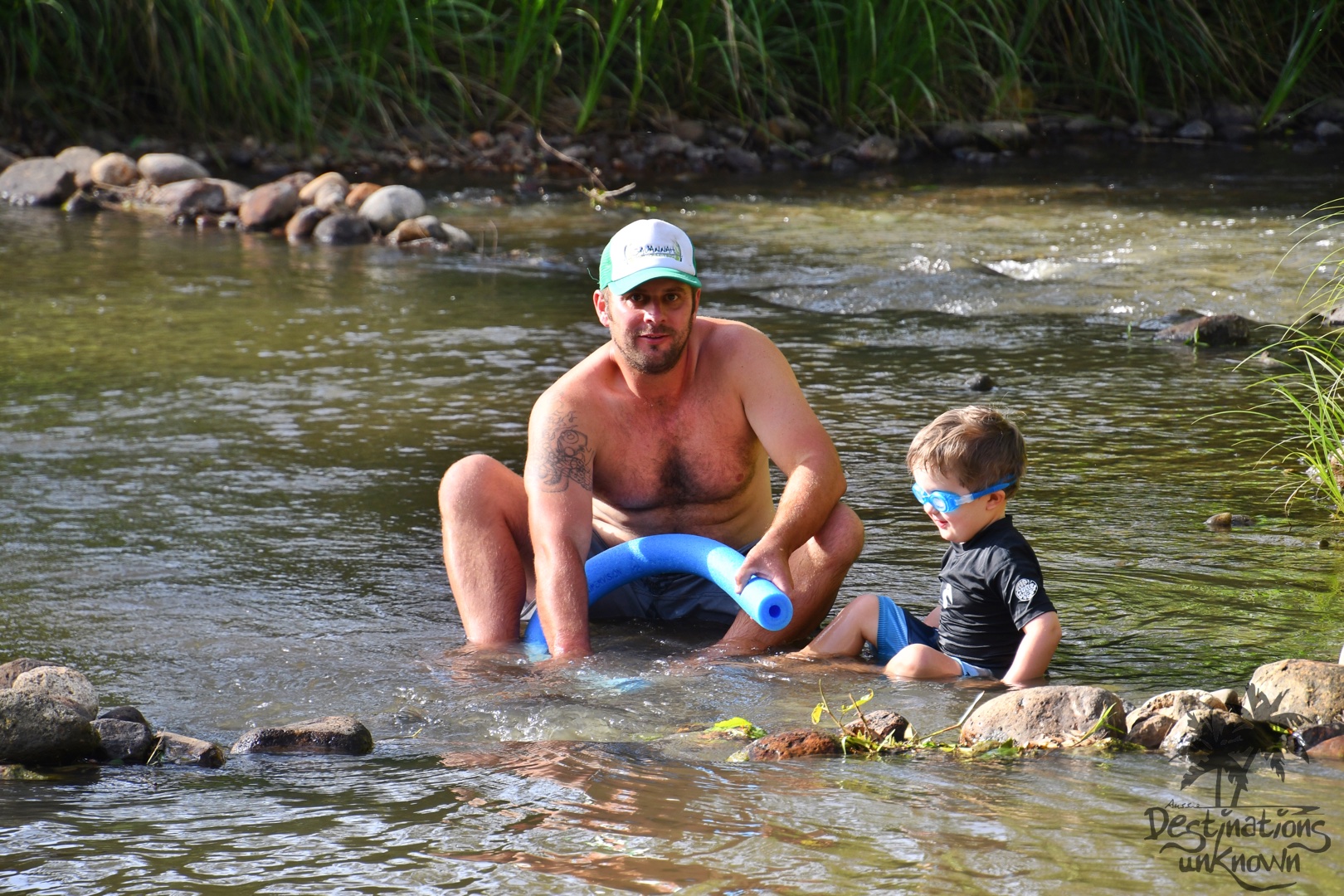 The campground is big enough for people to spread out and do their own thing, or park in groups next to others, or in their own little space. We found out on the Saturday morning that one group of about 5 families headed back down the other end of the park, plugged in the generator and cranked the tunes until 2am … and we didn't hear a thing as we were up the other end in the powered sites!
I know those who entered our Farmer Fun Run on the Saturday got a pretty good idea of how large the park actually is!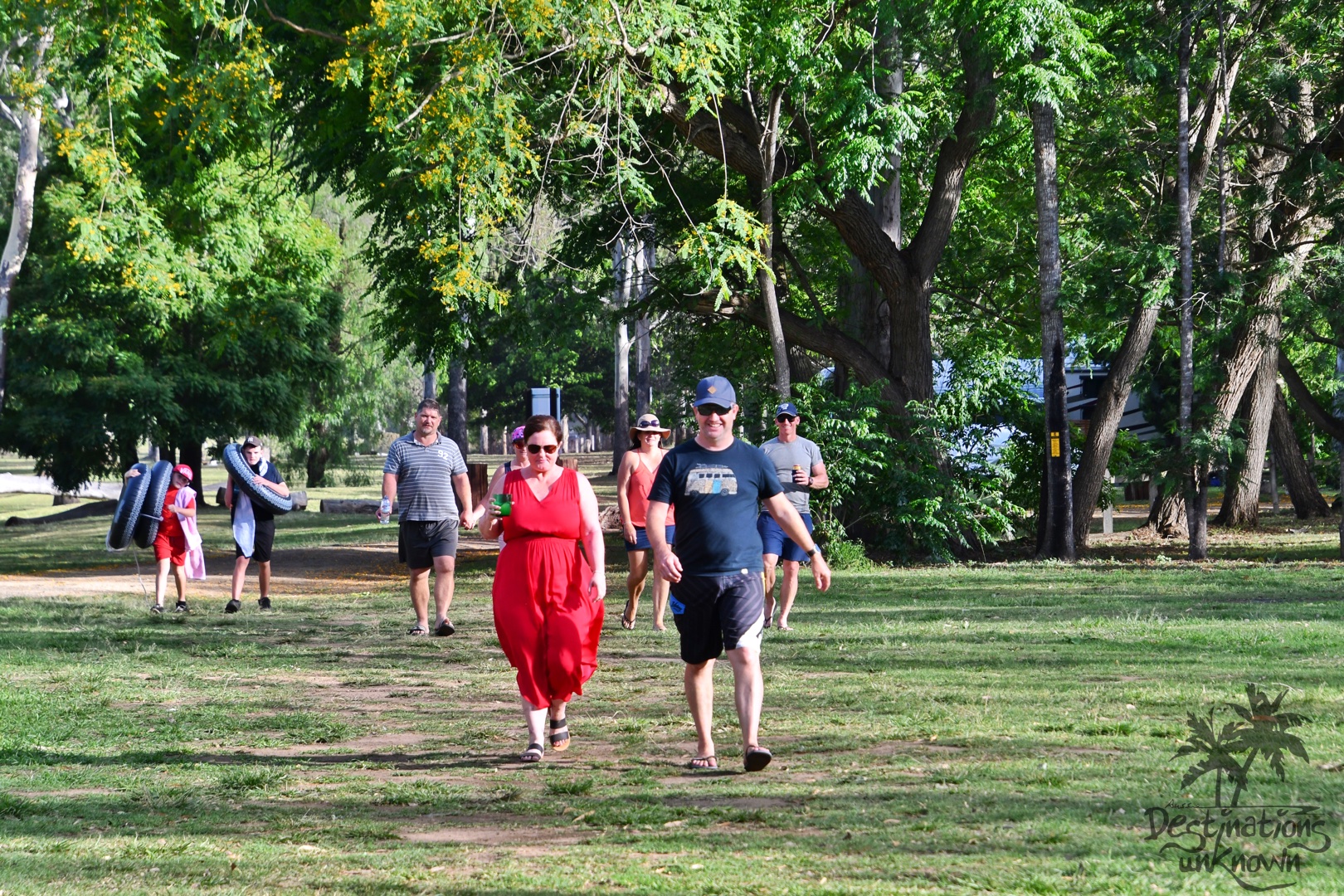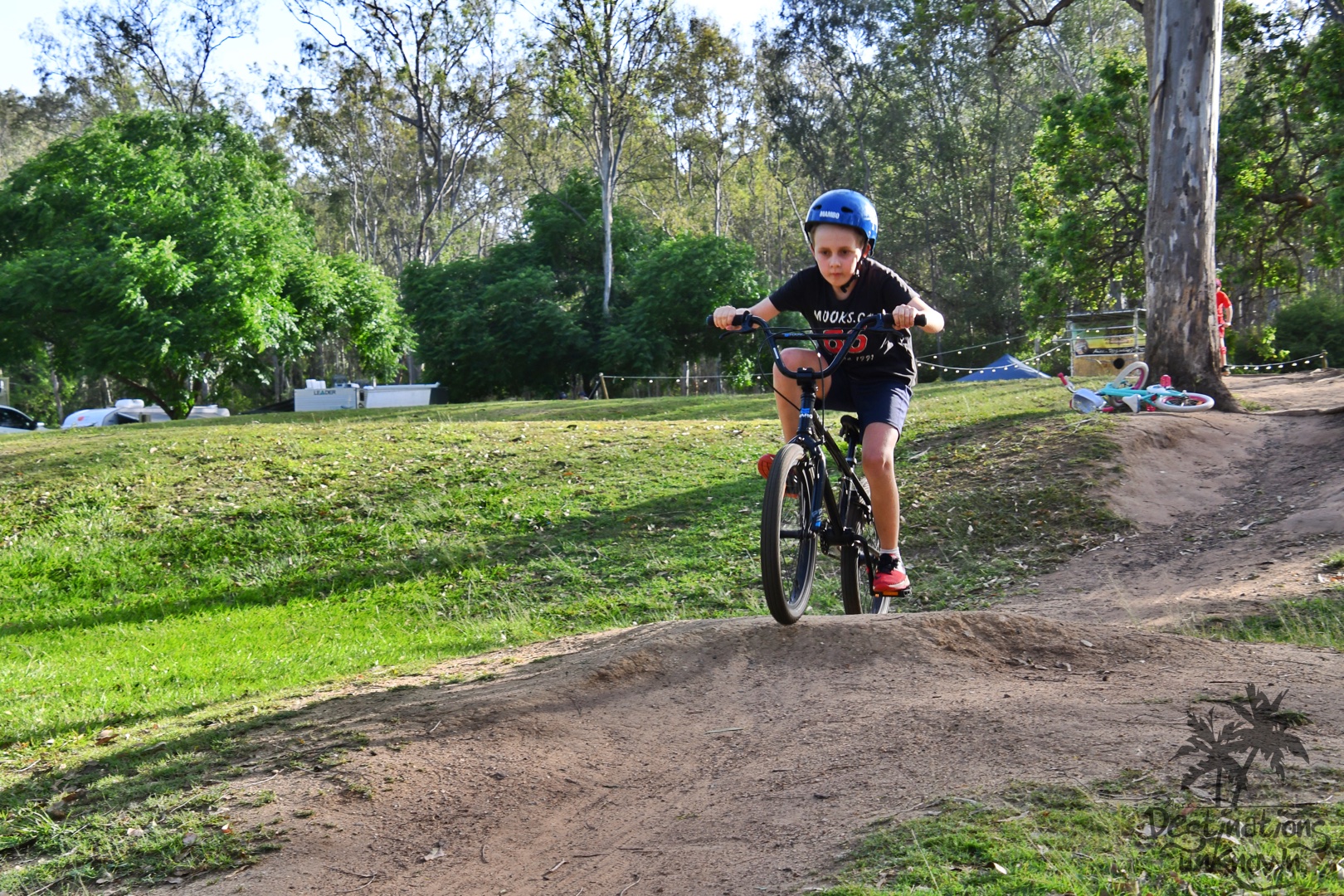 We can't thank Dave, Sheree, Trent and Toni enough for generously offering up the use of Bigriggen for our event, at absolutely no cost. They feel as strongly as we do about giving as much money as possible to our farmers.
Our pile of prizes kept growing right up until the day before the event and volunteers kept putting their hands up offering to help.
There were so many who contributed by sharing, including radio stations and local councils and businesses.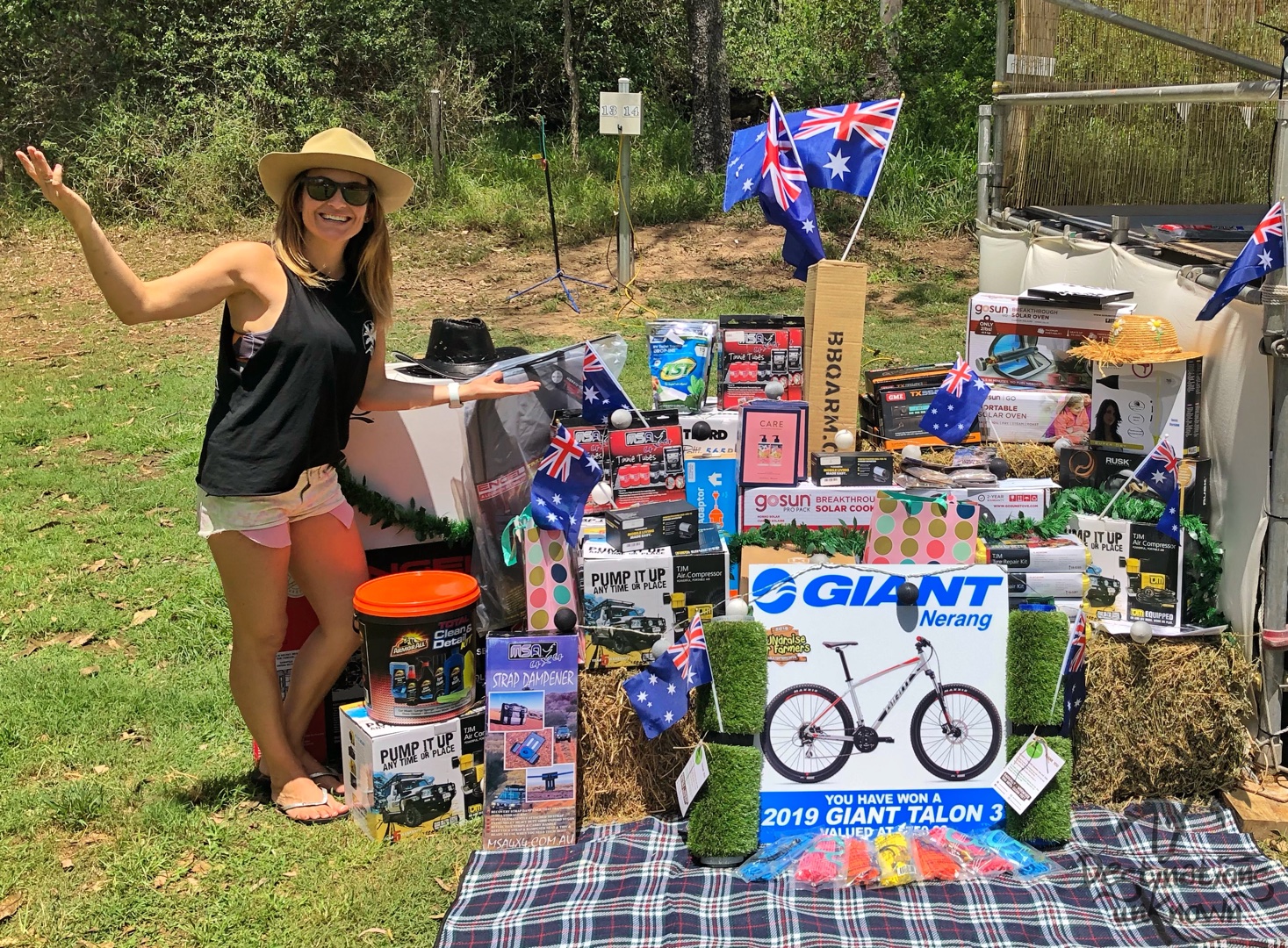 When I arrived on the Thursday, Chris was pretty excited as he'd just been on air with the guys from River 94.9! We'd like to say a huge thanks to them for sharing our event.
Then there were those who helped out by sharing on social media – businesses, individuals, families, couples who travel and share like we do … it really was so good to see. It's amazing what we can do when we all pull together.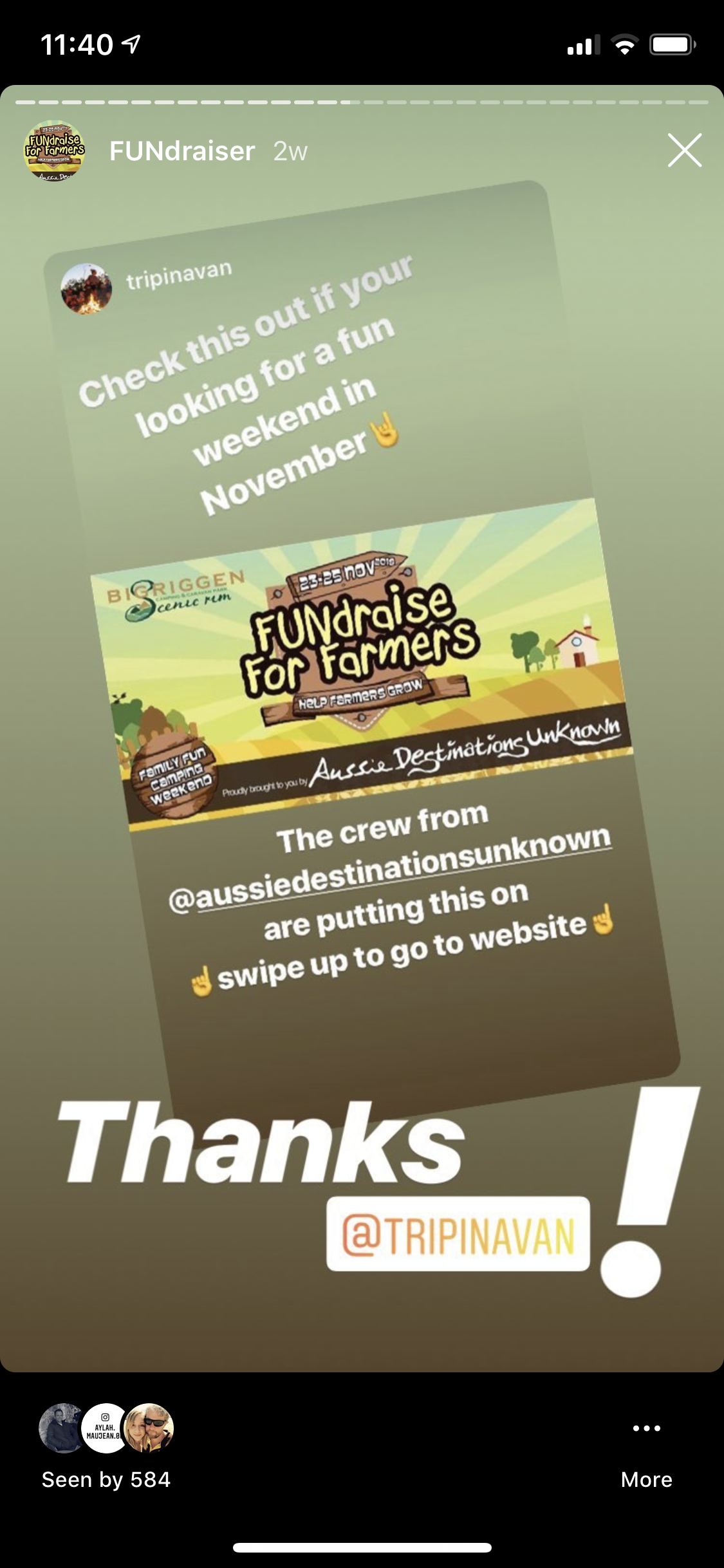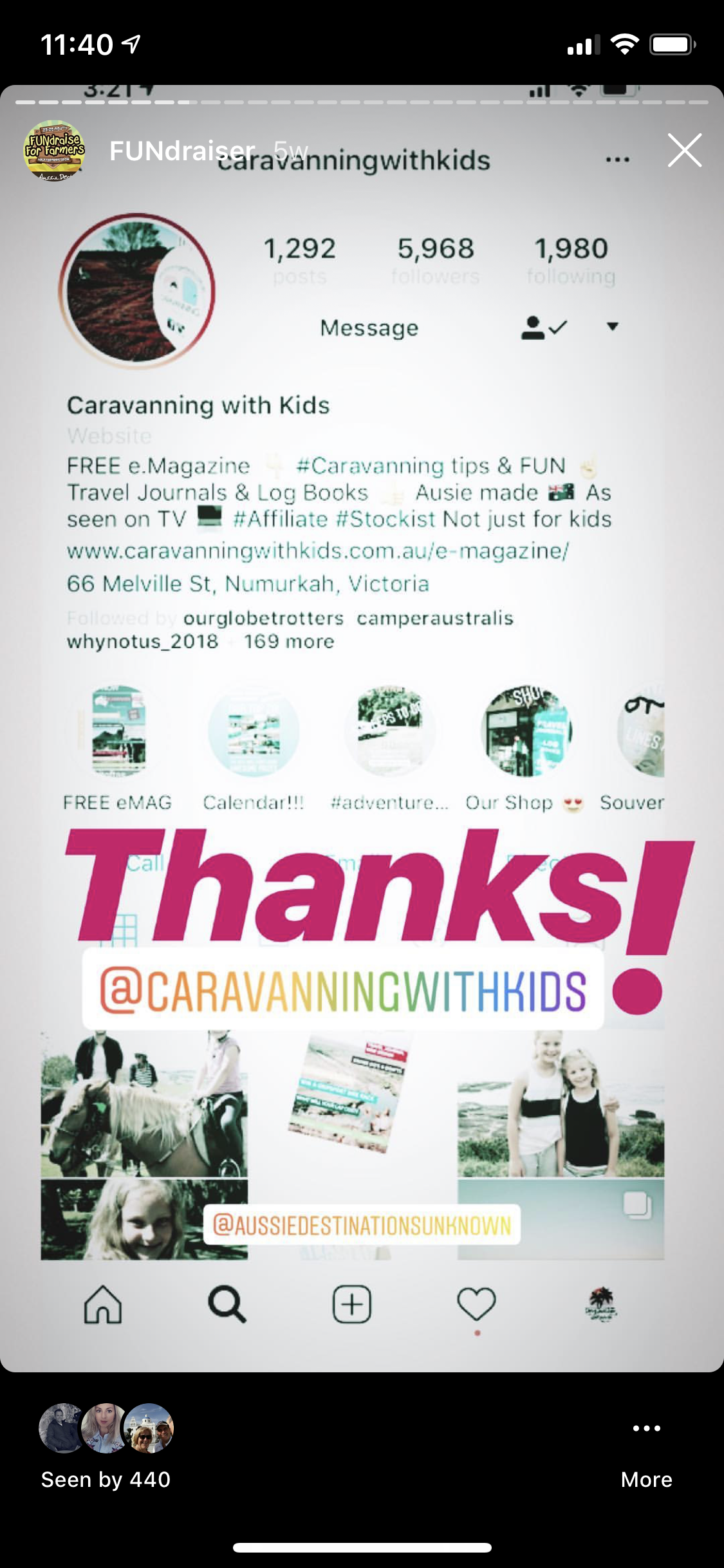 The weekend was the perfect combination of relaxing, fun (and somewhat challenging!) activities, eating, drinking, swimming, resting, riding, dancing, talking, sharing and enjoying the company of friends both old and new.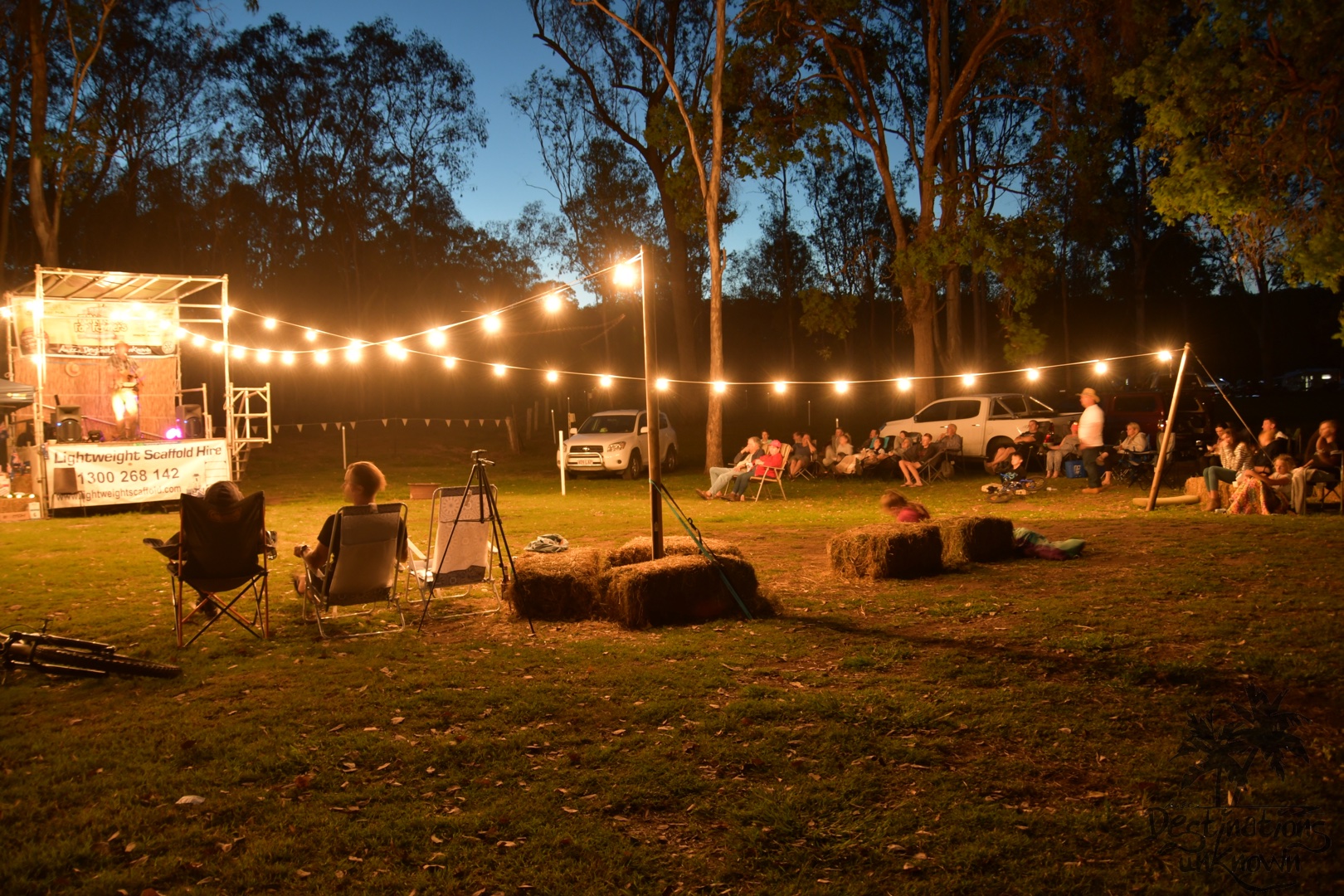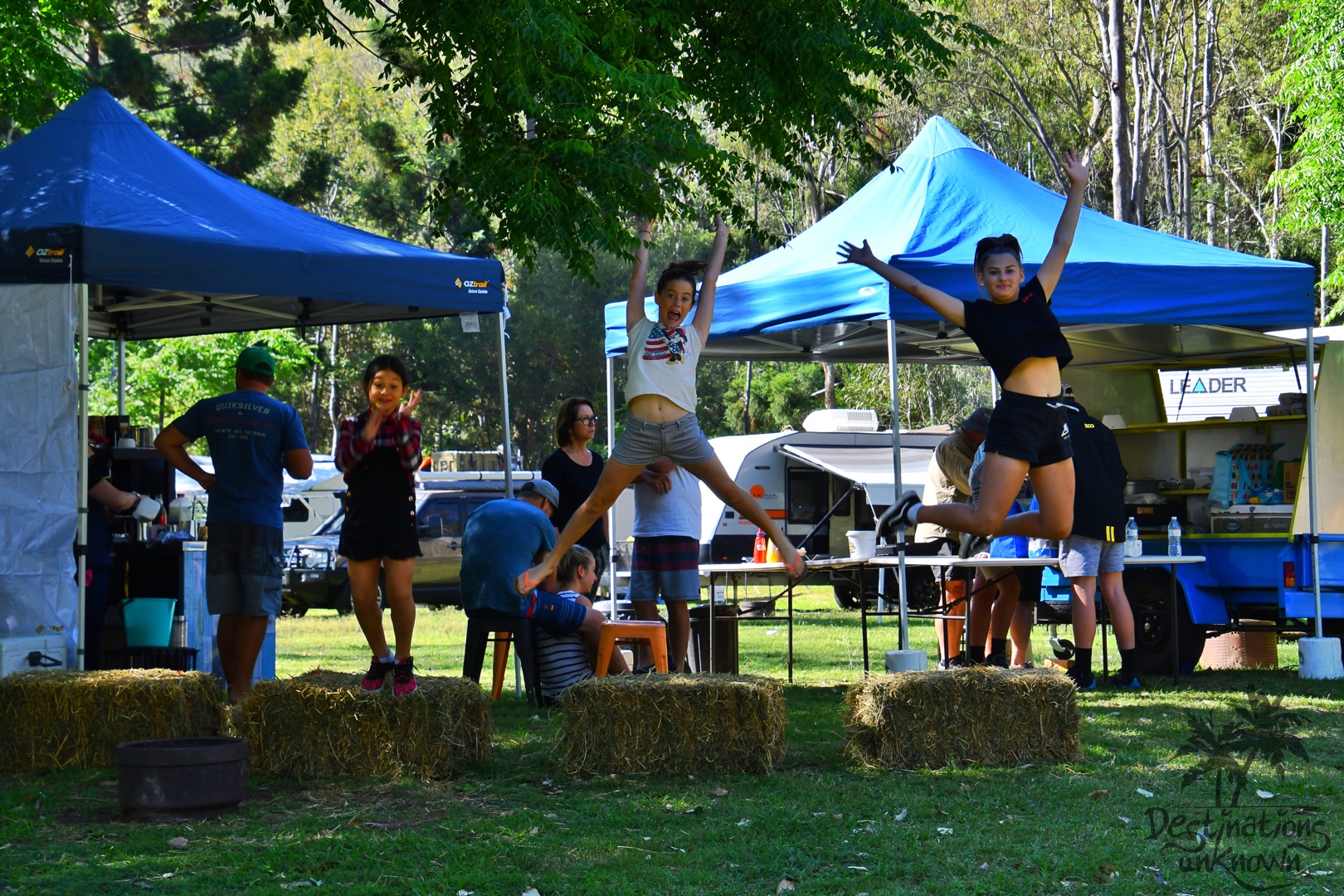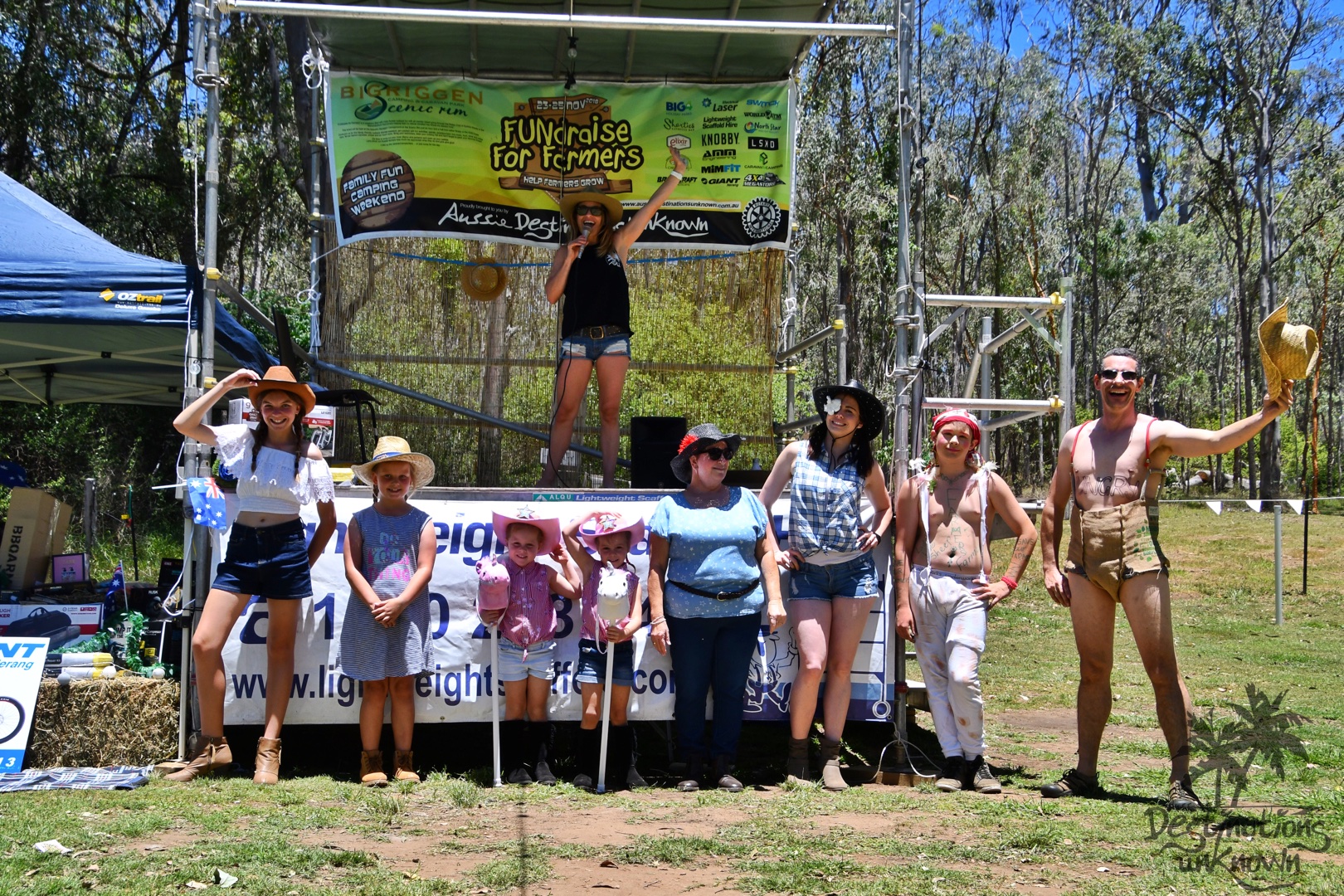 And you can't forget the prizes – we had so many to give out we had more prize draws than songs during Tyson Colman's set on Saturday night!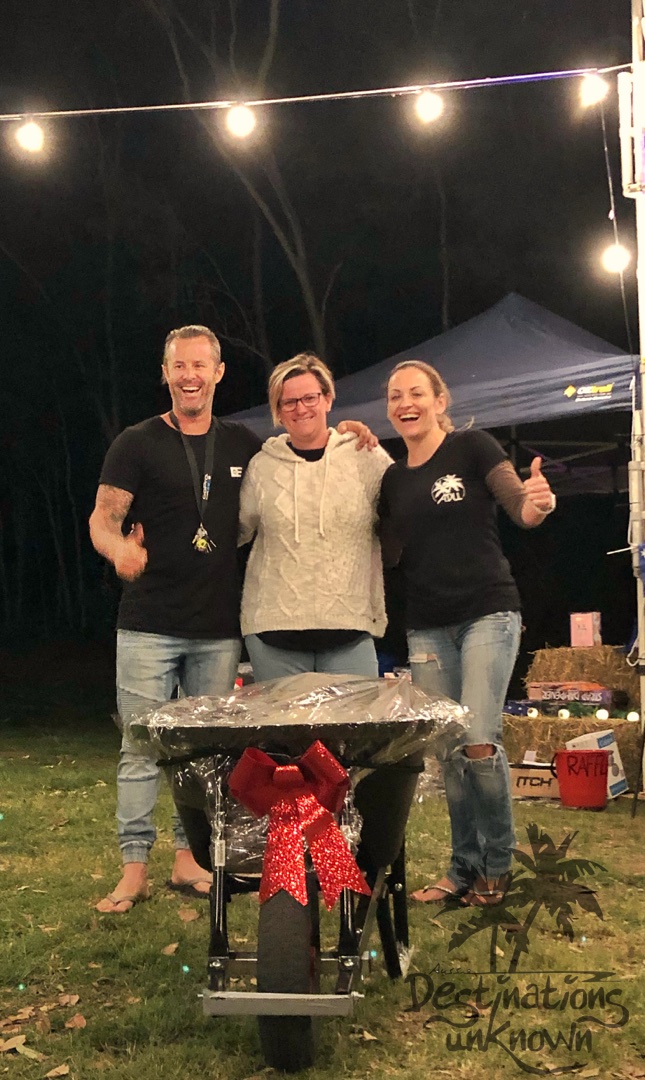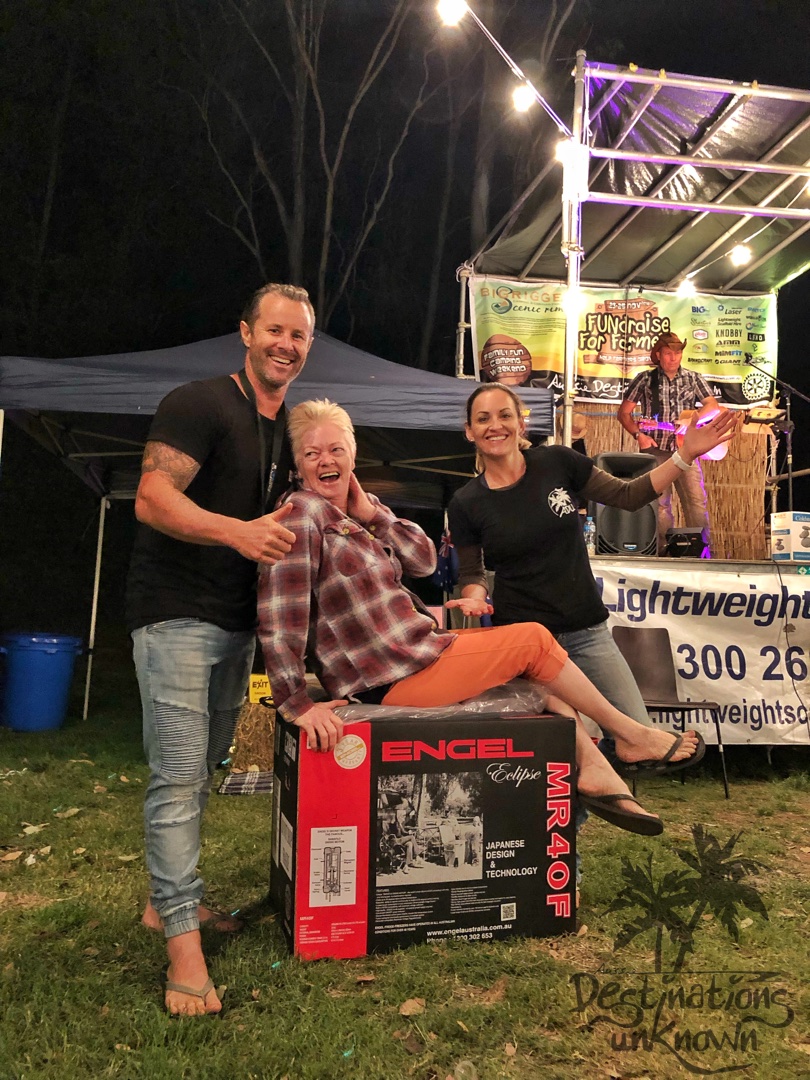 Louise won the Engel fridge just by buying her ticket!
Everyone had a great time from the youngest of kids right through to the 'oldies' and everyone in between. Our aim was to make it fun for everyone, and that's exactly what it was.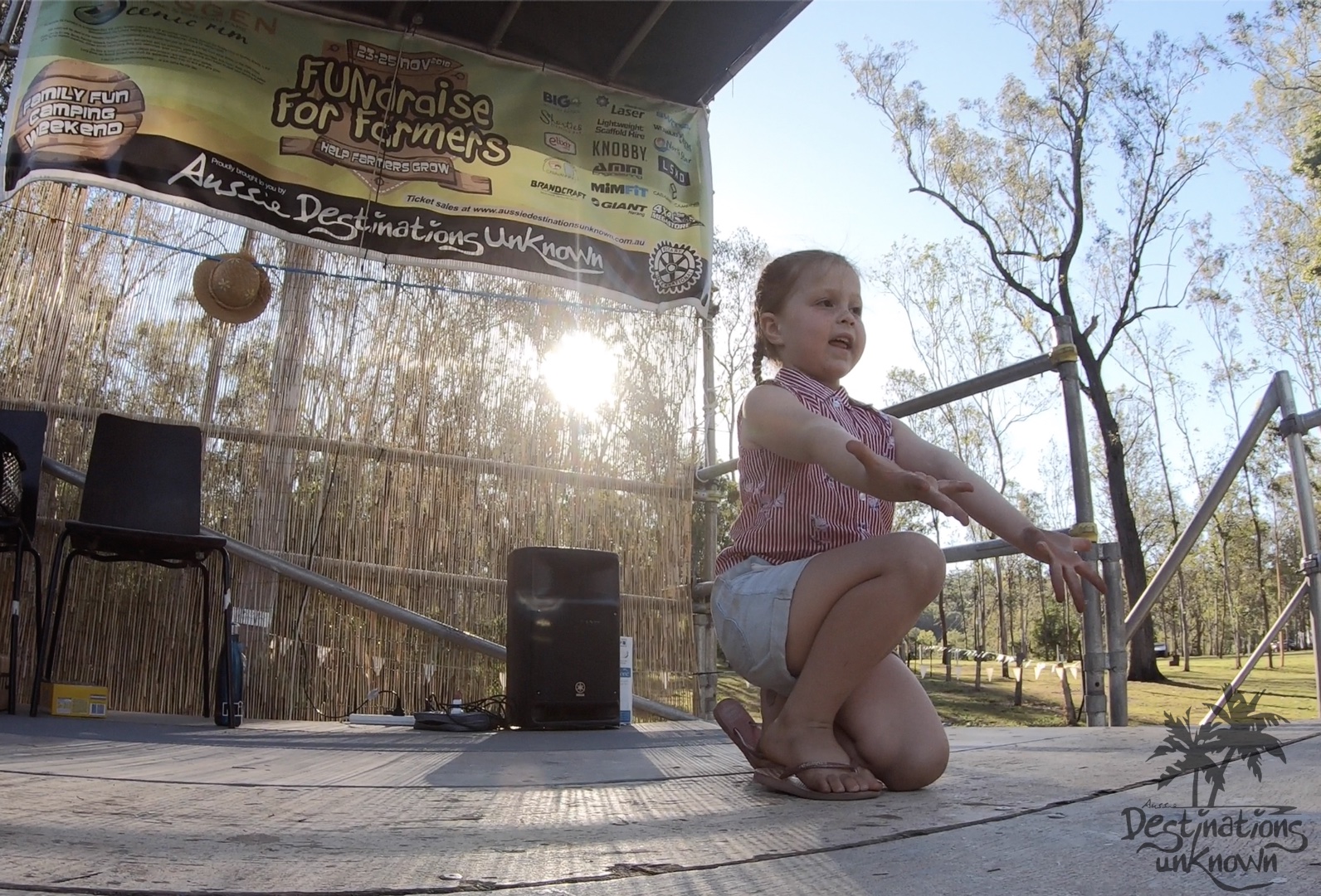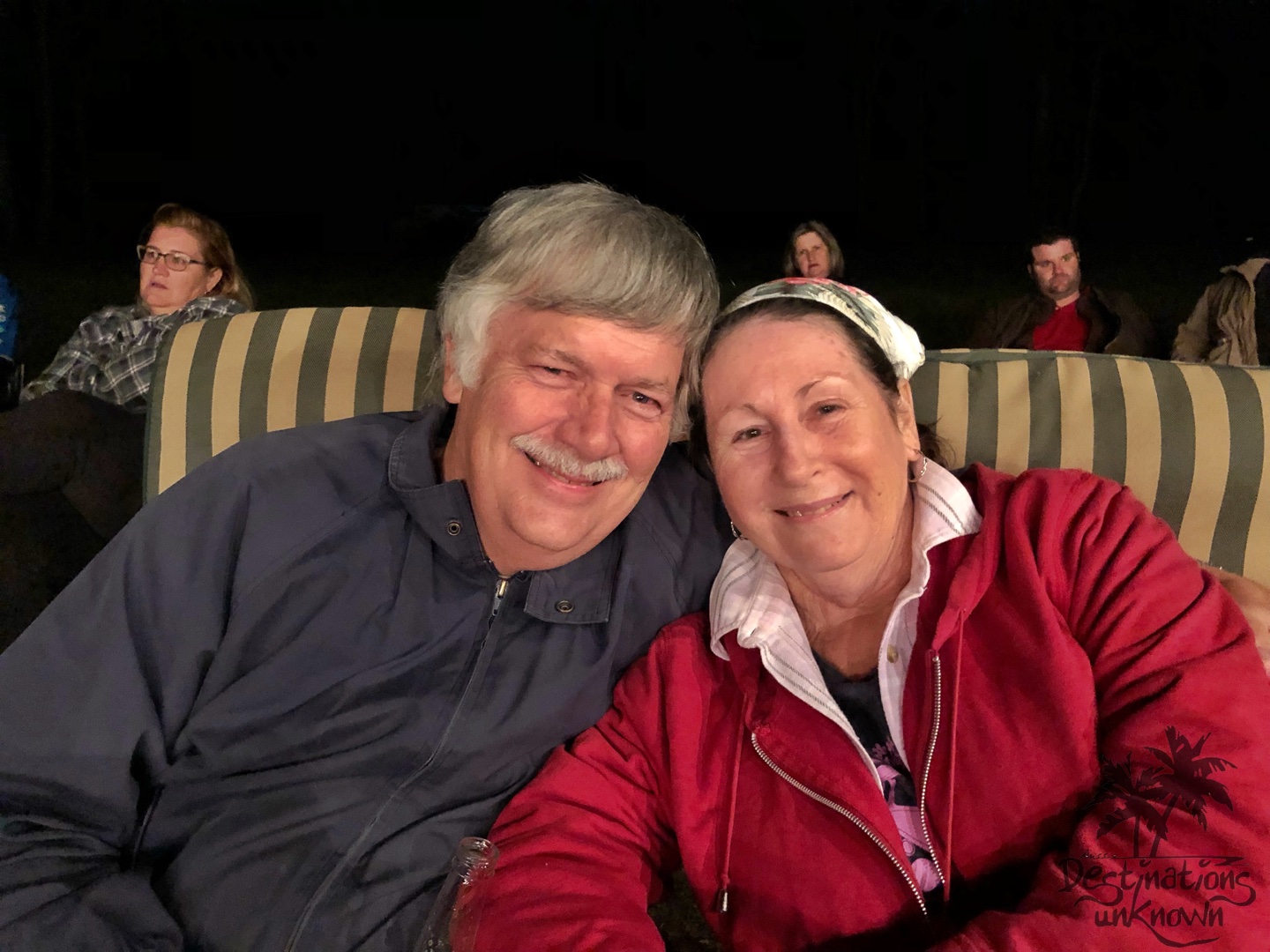 Everything about FUNdraise for Farmers was a huge success and we want to once again thank everyone who helped out. An invitation is extended to anyone who would like to be involved next year, to contact us. It's a great feeling to be a part of something so worthwhile and we would love to have you on board.
We are aiming for a weekend late in October, but the date hasn't been confirmed yet, so please stay tuned.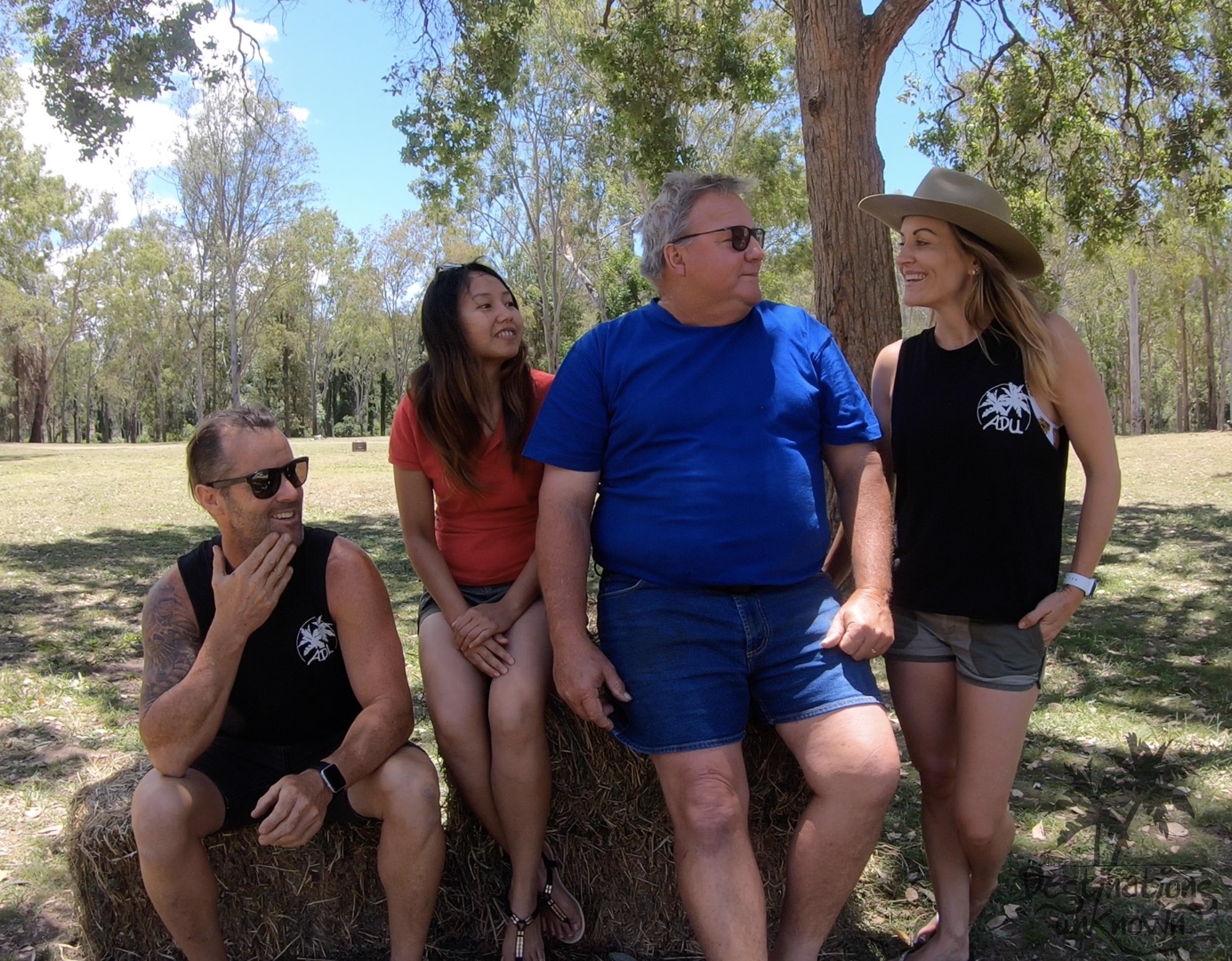 The Eberle's from Bigriggen are as excited about running FUNdraise for Farmers again next year as we are! This is us with Dave and his daughter-in-law Toni.
These people gave their time/money/products/services and we want to say
THANK YOU!
Bigriggen for providing the most beautiful location free of charge and purchasing obscene amounts of tickets in the raffle
Shorties Espresso Bar for raising $1040 in raffles in November and assisting with organising the event
TJM 4x4 Megastore for donating  4 TJM Tyre repair Kits, 4 Trailhead tyre deflators, 4 GME Uhf Radios, a couple of MSA tinnie tubes and an MSA winch dampener
Caravan RV Campingfor donating 1 GoSun Pro Pack, 2 GoSun Go's, 2 Dometic Can Inverters, a Porta Potti Excellence and an Ampfibian RV Power Adapter
Laser Electrical Loganholme for donating a Weber BBQ
Liquid Life and Leisure for donating a weekend at Couran Cove, an Engel Fridge and 2 Muk Mats
BBQ ARM for donating a BBQ Arm Tray Bundle Pack
North Star Resort for donating a $750 Voucher
Beauty Oasis for donating 2 Nakhair Shampoo and Conditioner, Rusk Miracoil Hair Curler and Wahl Ionic Hair drier
LSKD for donating a duffel bag, Hat, T-shirt and Sock Pack
Giant Nerang for donating a Mountain Bike (2019 Giant Talon 3)
Caravanning with Kids for donating Pegless Clotheslines and sharing on social media
World Gym Southside, Aussie Fitouts & MiMFiT members for donating a 30+ bottles of mixed alcohol (spirits, wine, champagne)
Autobarn Loganholme for donating a Car Washing Bucket of Goodies
MiMFiT Members for donating over $300 in cash at various MiMFiT classes during the month of November.
The Lions Club International of Underwood for bringing their BBQ trailer out of the weekend and raising over $400!
River 94.9 for giving us an on-air shout out
Tyson Colman for donating his time and musical talents on Saturday night
Celtic Cowboys for playing up a storm and getting us all dancing Friday night
Visit Scenic Rim for promoting us on social media
Scenic Rim Council for promoting us wherever they could
Vaughn from AMM Engineering and Ange for helping at the event and selling raffle tickets
Trip In A Van for plugging us shamelessly on social media
Aussie Family Roadtrip for coming along helping us set up and sharing on social media
BUSHMAN TENT CHALLENGE
If you only watch one video, let this be it! We laughed so hard our bellies ached and I feel some may have even peed their pants a little. Please note: no one was harmed in the making of this video.
FUN RUN
This was an epic race around Bigriggen, which is not a small place! Such enthusiasm and so many exhausted sweaty smiles at the finish line made for an awesome start to the day 🙂
WEET-BIX EATING
Have you ever tried eating a dry weetbix? These guys had to eat as many as they could in 3 minutes!
TALENT SHOW
The kids did a fabulous job of keeping us all entertained with a talent show on Saturday afternoon.
BOOTSCOOTIN'
We had a great time with no less than 3 dance classes!
(Visited 213 times, 8 visits today)