Sometimes adventuring without the kids is awesome. Of course we love them to bits, but we also love each other to bits and value our 'couples time' and our 'alone time'. When it's just the two of us, we can hike further, relax a bit more, or push ourselves that bit harder. Sometimes it's nice to just think about 'us'. To lie in bed and talk and laugh and watch a movie without the kids in the bunks behind the door. It's nice to read, and meditate and sit in silence. And while the kids are starting to understand the value in this, they've got a few years before they truly appreciate what its like to be 'old' like us 😛
These are the adventures we've had and experiences we've shared as a couple. That's not to say families wouldn't enjoy the location, it's just our experience. There have been many times we've visited somewhere and realised it would be fantastic to 'come back with the kids', and we've done just that! We hope that by sharing our travels with you, that you will encounter something fun and exciting that will spur you on to make that next booking and to head off and try something new.
Dare to Live the Life You've Always Wanted

"It doesn't matter where you're going, it's who you have beside you"
our favourite couple's destinations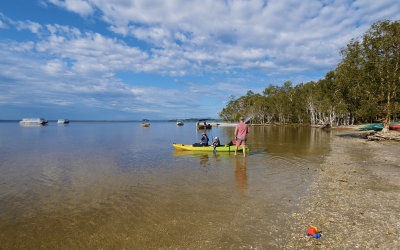 Think an enormous campground on the banks of an enormous flat lake where enormously good times can be had! Habitat Noosa is a 65-acre eco-resort in The Great Sandy National Park on the Sunshine Coast with 500 metres of lake front on the Noosa River. The stunning Lake...
(Visited 730 times, 27 visits today)