🎄🎁 It's time to start thinking about Christmas gifts! And if you're stuck – let me share 13 awesome gift (and some stocking stuffer) ideas that will have your entire family covered (and your mates too!) 😁👌🏼
If you're like me and have family or friends with birthday's coming up during the silly season, why not take advantage of the list below and do some birthday shopping while you're at it?
We work closely with all of these brands, using their incredible products all the time. We love that most are designed and made right here in Australia (you'll see the 🇦🇺 next to the Aussie made products). Aussie Aussie Aussie! 🇦🇺🇦🇺🇦🇺
We are super excited to be able to offer special discounts to our followers and supporters on some of the items listed below, so be sure to enter our code or click on the links to get the discount. 😄
We believe the products are as awesome as the Aussie owned people who have created them and we hope you enjoy them as much as we do 🤙🏼
1. 🇦🇺 bbqarm
Head over to 👉🏼 https://www.bbqarm.com.au and enter the code 🔥ADUCREW🔥 for your discount!
What is it? An Aussie designed and made caravan and camping bbq table (and accessories) for bbq's or gas cookers that easily swings out of the way. Designed for camping and 4WD enthusiasts it can be mounted to your caravan, camper trailer or vehicle. Check out our video here: https://youtu.be/VkLOJRJjUIU
2. 🇦🇺 SLIDE 'N' DRY PEGLESS CLOTHESLINE
👖👙👕No more fiddling with pegs – hanging your washing is fast and easy; Easy on, easy off! It hooks on with a bungee strap and little hooks which you hook onto whatever you like! 🙂Simply slide your washing into the slots to dry. Australian Made.
Check out our videos here:
📹 https://youtu.be/3ziAWUZO-w8
📹 https://youtu.be/B8dWztFcLbE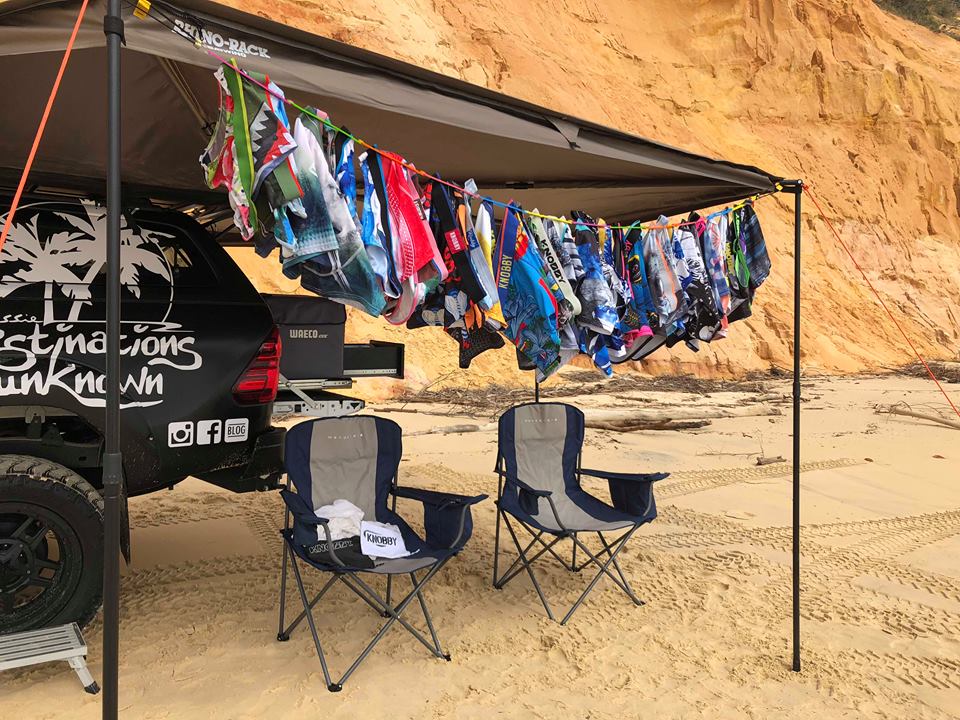 3. 🇦🇺 NAVIGATOR GEAR
This is camp gear of the highest quality designed by people who love to camp and knows what is lacking in the market. Do yourself a favour and check out these ingenious products!
Navigator is an outdoor caravan, camping & adventure brand that provides accessories with a purpose for the modern-day nomad to assist in getting the best experience with as little stress as possible.
Ps … the camp chairs are ridiculously comfy and have built in wine glass and stubby holders!
 4. 🇦🇺 MUST-HAVE STICKERS/DECALS
What a GREAT way to personalise and glam up your car, van or even the walls or windows at home. Chris is a quite a creative guy and has designed have over 60 different designs.
If you can't find what you are after, tell us and we can do a personalised sticker just for you!
These are designed and printed by us here in Queensland.
Head over to our website to order yours now!
Free postage.
5. 🇦🇺 PERSONALISED WALL ART
Transform your boring walls into works of art work digital wall art!
We print your photos (or whatever you like) on an amazing material that can be peeled off and re-stuck without damaging most walls.
Your home, office, business, inside your caravan or almost anywhere you've got walls can benefit from a little Brandcraft magic as well.
These are great for kids bedrooms!
Email us now with your images and preferred size so we can check the resolution and give you a quote.
PRICING: Size: AO – $95Size: A1 – $80Size: A2 – $50
If you would like to get it printed as a wallpaper mural, please send it to us with the size of your wall and we can give you a quote.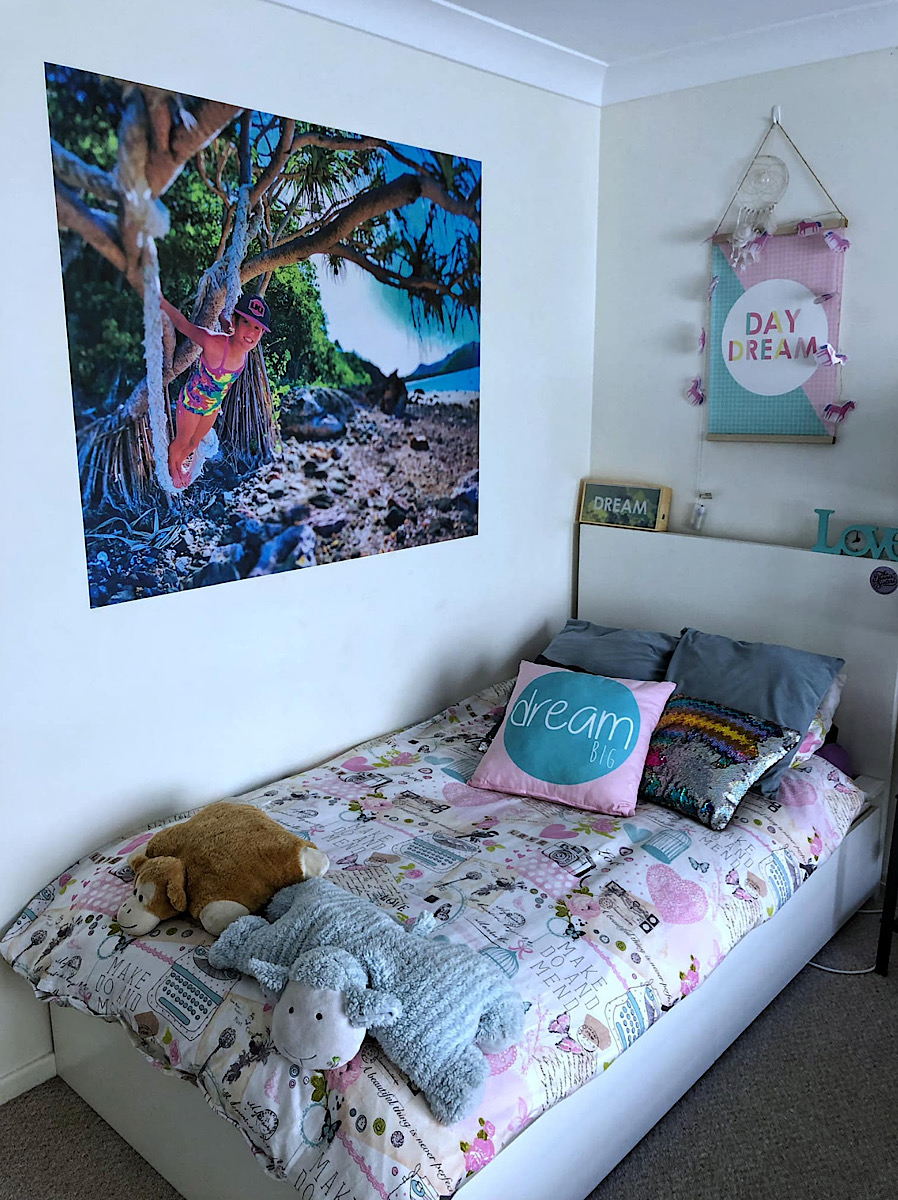 6. MYSTICAL FIRE PACKETS
Perfect stocking stuffers for the kids!!
Mystical Fire is a unique product that creates a brilliant display of colourful flames on wood burning fires! 
With a flick of the wrist as you toss the packet in, you can turn any fire into a mesmerising show of vibrant colours of red, green, blue, pink, orange and violet and more.
7. 🇦🇺 INSULATED STEMLESS TUMBLER
Shaped for comfort and designed for practicality, this Stemless Insulated Wine Tumbler will lovingly take care of half a bottle of wine at a time (355ml) and keep it cool for up to 24hrs.
What's neat is it'll also handle hot drinks and keep them that way for up to 8hrs.
Constructed of BPA-free food grade stainless steel, the tumbler features a splashproof slide-open lid.
These are top-quality, and in our opinion the best on the market.
8. 🇦🇺 INSULATED WINE FLASK
From the people that brought us the Insulated Tumbler, we now have the FLASK! Perfect for camping, festivals and the great outdoors.  No need for ice or an esky! We love these …
Ready to serve and protect, the TraVino Flask will engulf an entire 750ml bottle of wine and will maintain the temp for a whole 24hrs. Featuring a sealed leak-proof- lid, it is the wine bottle where no one bottle has gone before, it is practically glass-less.
9. 🇦🇺 LOG BOOK
The CARAVAN LOG BOOK is an A5 2 part book that will help you keep track of the places you stay and the kilometres that your caravan or camper trailer does.
The front part of the LOG BOOK allows to you note down where you stayed, rate it and jot down some notes that you can refer to later.
The back part allows you to keep track of the kilometres the caravan/camper travels.  There is a FUEL column too and it has been endorsed by the Caravan Industry of Victoria.
10. 🇦🇺 TRAVEL JOURNAL
Whether you enjoy occasional overnight stays, weekends away, international adventures, months of adventures on the road or even sleepovers – The TRAVEL JOURNAL is packed with 92 journal pages to document your daily experiences. Draw, write or attach a photo. The kids just LOVE these! 🤗
This travel journal was proudly designed, developed and printed right here in Australia and is wire bound with a protective plastic sleeve. Everyone in your family will have a wonderful time documenting the highlights and happenings of each and every day and looking back on the memories in the months and years to come. 🥰
11. 🇦🇺 VAN GO CARAVAN INSPIRED PRODUCTS
We love the VanGo collection – a Melbourne-based family run business.
Van Go is an eclectic assortment of wonderful caravan inspired goodies for home, the van, gift ideas and just for fun!
Products are printed locally where possible and are designed in Melbourne.
12. 🇦🇺 LSKD CLOTHING
Head over to 👉🏼 https://www.lskd.co and enter the code 🔥ADU15🔥 for your discount off any non-sale items 👌🏼
I know you've seen us repping this brand non-stop … and it's because we LOVE IT! Men, women and kids … there's something here everyone will love. These guys are based just down the road from us and we love hanging out with the crew. Legends in person and just as legendary with their clothing range.
13. 🇦🇺 A KNOBBY UNDERWEAR SUBSCRIPTION
Purchase here: 👉🏼 https://knobbyunderwear.com.au/and be sure to enter the code 🔥ADUCREW🔥 for a discount off your first subscription.
We are so proud to be partnered up and decked out in the best underwear on this planet. Yup. We know that's a huge call … but it's what we believe. 
It's made right here in Queensland, is supportive, comfy and comes in the funkiest designs every month – delivered to your door! Whoop!
PS. They have recently added a KIDS RANGE to the mix so the whole family can match! Did someone say stocking stuffer genius? 😜
No matter who you are shopping for, you are bound to put smiles on their dials with something from this list! And if you have any questions at all in regards to anything at all … please ask us!
There's nothing we love more than sharing our experiences to make things better/easier/more fun for you.
Ho ho ho and happy shopping!
(Visited 442 times, 4 visits today)